Features & Highlights
Why you should buy this product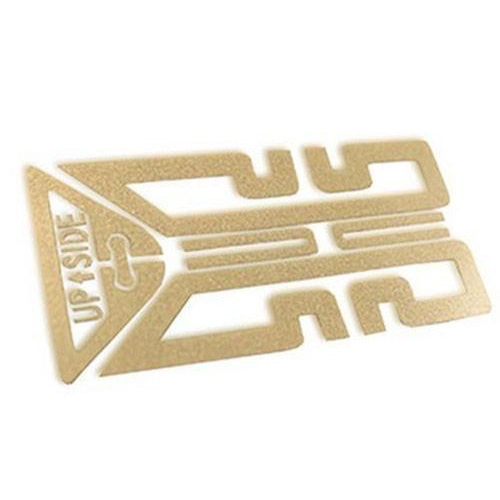 Cell Phone Signal Booster Sticker - As Seen On TV!
You may remember a TV ad for this Cell Phone Signal Booster Sticker. Unlike many As Seen on TV products, our staff of geeks found that this small, affordable sticker actually does what it's meant to do — reduce static and enhance cellular reception while making and receiving calls. Each cell signal booster sticker measures just a few centimeters in total and costs just a few dollars, so our Geek's Review verdict says to give it a go, since you don't have a lot to lose. These low-cost cell phone signal boosters are ultra-thin antenna boosters that you stick to the battery of your cell phone to dramatically reduce static and increase reception quality by up to 50 percent. The unique, stick-on antenna booster features a universal design so it's compatible with most cell phones with removable batteries, including Nokia, Motorola, Ericsson, Audiovox, Samsung, Siemens, Panasonic, LGIC, Nextel, Sprint, Neopoint and Hyundai. It also works with cordless phones, pagers or two-way radios. Please note that the cell antenna sticker is not compatible with any version of the iPhone. The science behind the booster is really quite simple. The small sticker captures stray radiation within the phone and then re-radiates it to improve performance. This tiny product provides the same level of enhanced cell phone performance as a 4-foot antenna, ensuring that you finish all of your most important conversations no matter where you are in the world. This cell phone signal booster works on analog, digital and tri-band phones and is unbelievably easy to install. Simply peel off the backing and stick it to the back of your phone's battery for immediate results. We do not issue returns, exchanges or refunds on this product.
Enhance cellular phones with sending and receiving signals Eliminates static interference and stops dropped calls Works on analog, digital and tri-band phones Fits all cell phones, PCS, cordless phones Captures stray radiation within the phone, re-radiates the signal to improve performance Simple to install, simply peel off and stick onto the back of your phone's battery Not compatible with any version of iPhone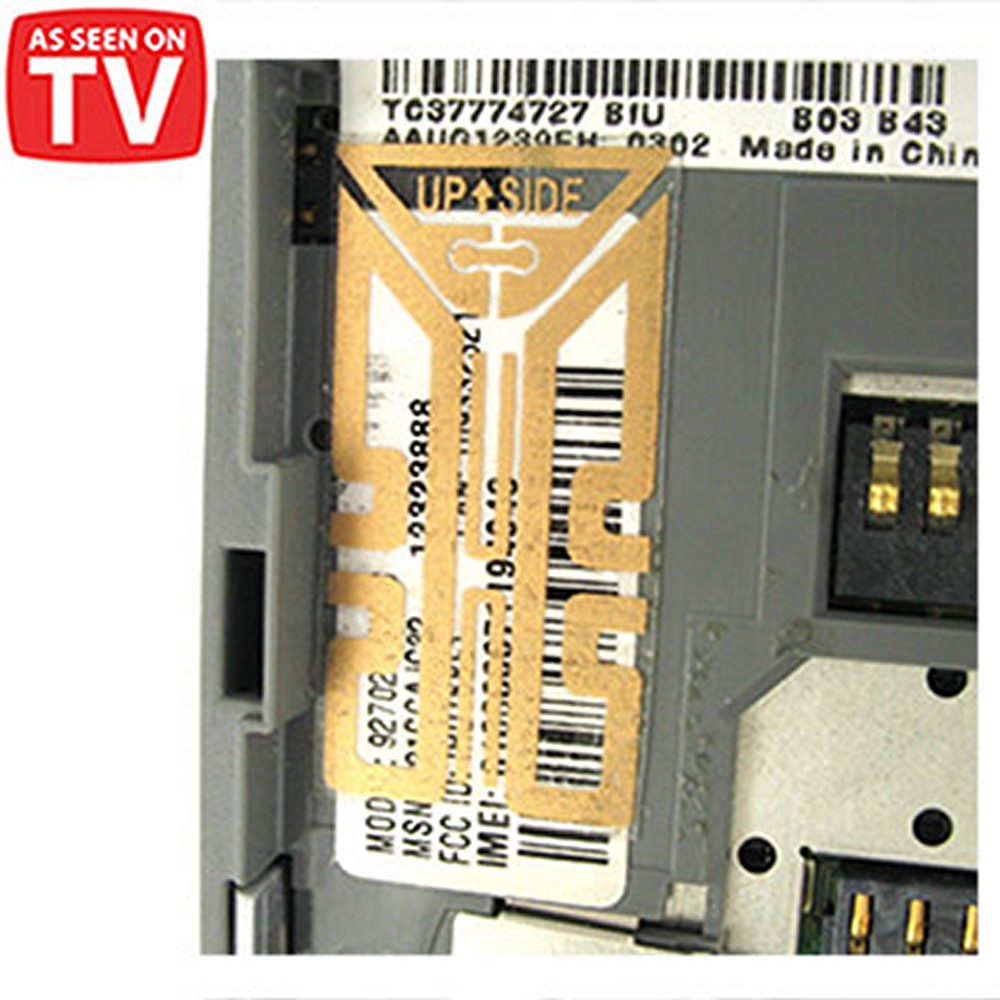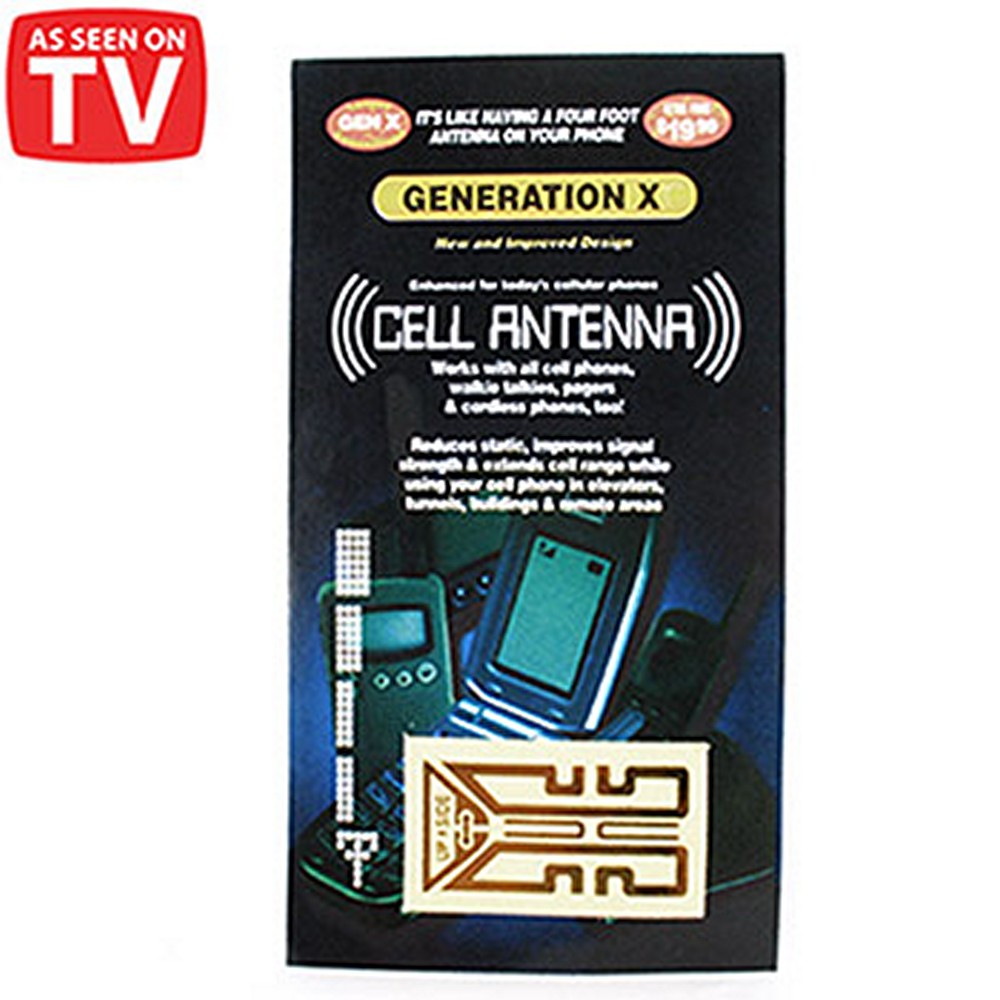 You Might Also Be Interested
Customers Who Viewed This Item Also View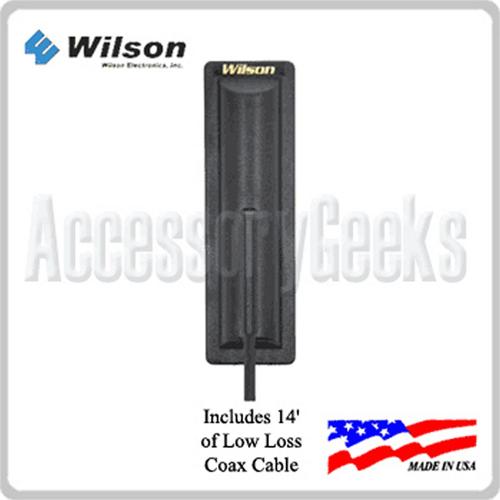 Customer Reviews
Julian Paterson
Aug 25, 2016 12:08:00 AM
improve my signal
This antenna boosters has helped improve my signal service, My husband and I put two on each phone and we have noticed a great improvement to our calls.
Ruth Reid
Aug 24, 2016 12:14:09 AM
work well
They work really well, when I placed antenna boosters on my phone in an area of my house where I normally receive 1 bar and after placing this antennas booster on my phone the bars jumped to 4 bars. I walked around my house and continued to have more than 2 bars which isn't normal in my house.
Phil Wright
Aug 22, 2016 4:41:32 PM
great antenna booster
I noticed a big improvement immediately in cell reception while downstairs. . Reception outside the basement is improved as well. I also noticed that with my new Antenna Booster on my mobile android phone without it the reception was good but with it the service was great. I have purchased several for family and friends over the years and they enjoy the clear reception too. It is important that you handle the antenna with care; put the booster in your phone with clean hands; and must be careful in placing it in the correct location as instructed to get the best reception.
Lisa Nash
Aug 21, 2016 11:51:00 PM
get better signal
This antenna booster really works and make the signal get better reception, I immediately got an extra bar when i used this antenna booster. I would recommend this to anyone with 2 to 3 bars that wants to get a better signal...

Gavin Hart
Aug 19, 2016 12:11:03 AM
work better
There is even a few rooms in our house that I couldn't get service at all. And now has one bar to where I can text but when I used this antenna booster it made my cellphone work better and made the calls so much clear and this antenna boosters really help to add to my cellphones ability to pick up a signal.
Madeleine
Aug 17, 2016 11:37:18 PM
get better signal
I went to purchase one of these earlier and when I realized the benefit, before I experienced poor reception in my house I'll get 2 bars and I have to stick my head out the window to talk on the phone. When I installed this antenna booster, I immediately got an extra bar... I would recommend this to anyone that wants to get a better signal...
Dan Manning
Aug 15, 2016 11:44:18 PM
really work
Works Great!!! this antenna booster really works and make the signal get better reception.The product is effective. When I installed the product, I immediately got an extra bar. I would recommend this to anyone with 2 to 3 bars that wants to get a better signal
Dan Hamilton
Aug 14, 2016 11:32:50 PM
Totally cool
This product is totally cool, before I experienced that my cellphone has no signal inside the thick concrete walls but when I discovered this product I amaze because it can get with the signal inside this building, it also have a good signal even when you at the dead spot on my drive home. It may be helpful if you have a weak signal in areas outdoors. And this antenna booster sticker is easy to install.I recommend this antenna booster to everybody.
Melanie Marshall
Aug 12, 2016 1:35:05 AM
work really well
They work really well ,I recommend it's with a great price and this product easy to install.
Gabrielle Payne
Aug 10, 2016 10:21:43 PM
Great antenna booster sticker
Definitely recommended item, I believe this will also work in remote areas , For me it is very helpful!
Max Lawrence
Aug 9, 2016 10:59:06 PM
best antenna-booster sticker.
This antenna-booster sticker is just enough to be able to use on my cell phone at home.I was glad to see the signal bar of my phone become almost full specially when I was outside of my house.
Ian Wallace
Aug 4, 2016 11:18:45 PM
Works Great!
This antenna booster really works and make the signal get better reception, I tried this item with 3 android phones (Sony Xperia, Samsung Galaxy S4 and LG G5)
Gray
Aug 2, 2016 1:01:06 AM
Effective signal boost
I was glad to see the signal bar of my phone become almost full specially when I was outside of my house! Definitely recommended item, I believe this will also work in remote areas!
Joshua
Jul 28, 2016 9:31:28 PM
2 bar up!
Thanks to this signal sticker I gain 2 bars in phone signal, I live in a remote area and this really do the job!
Emma
Jul 28, 2016 12:07:21 AM
Signal Sticker!
I put this on my phone it soon as I got it I can't tell if it really works good or not because I haven't tried it away from my home
Stephen
Jul 27, 2016 1:10:17 AM
Signal Booster Up
I had put it in my phone and it game me 1 bar more! it really work to me! this is great!
Natalie Richardson
Jul 24, 2016 9:45:56 PM
It takes 2
After reading other reviews, my husband and I put 2 on each of our phones. He got a 2 bar boost and I got a 1 bar boost. Which is awesome when it's 1 bar from 0. I don't know if it works any better than putting aluminum on your phone or something, but it does help. For $4.99 it was worth it because we live in a bad signal area and we've already switched phone companies (and phones) twice. I may put a third on mine and see if it gives any more help. We tried it out of desperation more than anything, but we're very glad it helped. ANY help is worth 5 stars at this point!
Samuel Jackson
Jul 19, 2016 7:29:54 PM
Affordable upgrade!
This sticker really do my phone to enhance the signal bar in affordable price! very useful! thank you!
Kurt A
Jul 17, 2016 10:22:37 PM
booster
this sticker really worked for me it boosted my phone signal with 2 bars
Lucy Jackson
Jul 13, 2016 11:27:04 PM
best bang for your buck
Most of my family work in the oil field and they are constantly up and down mountains and in valleys and creek beds and always having to say "can you hear me now?" Drives us all nuts! So, when I came across a pack for super cheap I had to get it. All the boys love it now that we can hear them all the way on top of a mountain.
blacksmith
Jul 6, 2016 12:26:11 AM
Amazing
I tried these antennas to help my wife with her cell phone issues. They actually improved her cell service so I added one to my HTC EVO 4G LTE, it has helped improve my signal service. If you are having issues I recommend these!
jenniferG
Jul 5, 2016 9:56:50 AM
Great Product!
You never can be too careful when dealing with technology! This product has helped to reduce my headaches, and it even is said to stop hair loss. For the price, why not get one!
james H
Jun 29, 2016 11:00:31 PM
Boosts Signal
This product is totally cool...I even got a signal in the basement of my building where I never got reception before!
Sam S
Jun 27, 2016 11:32:20 PM
Really Working!
Bought this for my grandpa because he lives way back in the woods and nothing could or would get signal out there. Bought this & he now has 3 signal bars plus 3G. Highly recommended.
Ryanchelle
May 14, 2015 1:29:51 AM
Helps in some coverage areas
This is just enough to be able to use on my cell phone at home. Where in coverage is spotty at it's best. Performed just I expected.
Kassandra
May 13, 2015 1:58:53 AM
Very helpful
As promised, it increased the range & reception of my cell phones! I've used these for years on all my cell phones. Very helpful!
CG
Jan 20, 2015 7:33:06 AM
2 months follow-up to my earlier review
I've noticed something worth sharing in the last week. So it's been two months since I purchased this antenna booster sticker and was now noticing a drop in reception quality. My phone's "antenna" display suddenly dropped. Where I was now getting used to getting 2 to 4 bars, it was dropping to anything between 1 and none....Then at the same time, the battery life indicator was crashing real quick. Usually my battery would easily last up to a week with very light usage (I don't use it that much). Now the indicator would lose a bar after 2 days and the battery would die flat within 36 to 48 hours. Never saw that before !
Then I made the connection: the booster effectively draws more battery juice to extend the signal reach. Also noteworthy: the battery was my original, purchased about 3 years ago and I never turn my phone off. Luckily, replacement batteries for my Samsung are also pretty cheap.
So there you go: further evidence that this "Transformer" sticker works !
CG
Nov 27, 2014 10:46:15 AM
Yep, it works !
We own a pair of Samsung Rugby II flip phones (3G) and found that reception was weak both at home (remote area) and at work (concrete block building with few windows). We'd typically get 1 bar at home and often no reception (meaning we weren't even getting calls and weren't able to make calls).
Sure, the instructions are "Made in China", but it doesn't take Einstein to figure them out. Real estate is kinda limited inside the phone's case (I had to remove the ID sticker and place it inside the cover panel), but did manage to fit the antenna right on a metal part.
Works like a charm. Now I get 2 to 3 bars easy - even full 4 bars on Bell Mobility's network.
I've read some critics explaining "why this wouldn't work" and etc... but frankly all I care about is getting better reception. Couldn't care less about the why or why not.
That's what I'm getting and for a few bucks a pop, this is a no brainer !
THANK YOU ACCESSORY GEEKS !!!!
Sarah
Sep 14, 2014 11:01:14 PM
Great Signal Booster!
Super easy to install. now my phone has a better signal now!
Leo Armando
Jun 20, 2013 5:36:00 AM
GREAT SIGNAL!!
At first I was skeptical, but this product has really improved my signal. About a bar of difference but its a HUGE difference :)
Letty Duran
Jan 24, 2013 5:28:52 AM
It worked!!
I thought for it only being $4 that it wasn't going to work, but it actually did! In my house I usually only have one bar, with this signal booster now I have 3 bars. Only thing is the instructions to install the booster, aren't that clear. I read them over and over!

Pros:
Small

Cons:
Not that easy to install with the instructions on the package.
SHARON
Nov 9, 2012 10:14:41 PM
Signal Booster Sticker
Seem to have gave me some extra signal here in the backwoods. But have since changed phone.

Pros:
Gave some extra boost to my signal

Cons:
Hard to put on right
Carey
Sep 15, 2012 2:48:55 PM
MINT!
Good signal now! AAAAAAA!!!!!!!
Terry
Jul 24, 2012 10:21:08 AM
works
seems to improve my signal in a very remote place that I work

Pros:
small
Frank
Jul 24, 2012 10:12:10 AM
No Difference in reception
Cant really see any difference in cell reception. Still only have one bar.
Danny W Nunley
Jul 14, 2012 11:07:58 PM
didn't see any better reception,but we haven't been down to our cabin yet.
no better reception, great service from Geeks

Pros:
Shipping, ease of installing

Cons:
no better reception
Daniel
May 23, 2012 1:16:20 AM
Decent buy
This was a decent buy, one sticker did not do much of a difference. My GF and I have the same phone and there were times were it did not amplify the signal at all. We bought a second sticker and now wherever we go she has 1 more bar than I do. but beware, if there was NO SERVICE where you were dont expect to get service with this.

Pros:
does amplify signal somewhat
Price
easy installation

Cons:
you need to 2 to notice a difference
Jim
Mar 27, 2012 6:11:59 PM
This isnt the cure-all fix but it does help
I was skeptical but the price was right, bought one, but before I could use it my buddy boosted it from me, he placed it in his phone and immediately started getting a signal at his work area that he has never gotten before, now that area was the back corner of his building but still....also whenever he drove around his buidling to the rear and drove over manhole covers while talking his phone would hang up, well now it doesnt.

I bought several to give to friends. I placed mine in my phone and where before at home all I had ever recieved was usually no bars, to one bar and occasionally two bars, well after placing in my cell I now get consistantly two bars though sometimes it goes to one but it hasnt to my knowledge dropped to no bars yet!

Pros:
Its not the cure-all miracle fix for bad reception but it definitely helps your phone!

Cons:
That it wasnt the cure-all fix I was hoping for...i.e. four bars all the time, shrug.
Benjamin W.
Mar 1, 2012 6:39:20 AM
So Worth it!
Never got cell reception with any provider or any phone for 8 years in my downstairs living room and kitchen. With 1 sticker I went from 0 to 1 bar and it would come and go. Added the second sticker and it spiked to 3 bars and stayed at 3. Get This! Nokia E71

Pros:
Easy to install

Cons:
Covers up your bar code on the inside of your phone depending on what you have. I have Nokia E71
Bill
Feb 17, 2012 2:52:24 AM
Cell phone signal booster
So far it does seem to add a little better signal to my phone
Steve
Feb 10, 2012 2:07:24 AM
Skeptical, but it did help!
I figured for $4, it was worth a try... not expecting much. However, to my surprise, it did help me obtain an extra bar of service! I checked the signal, and it was a small increase, but it is hard to say with the signal for sure, as it tends to jump around a bit (hence my need for a boost).
In the end, I can say with some confidence that it did help.
Rob
Nov 14, 2011 12:31:16 AM
it works
Easy to apply. Doubled my bars from 2 to 4 in a basement work location.
Chuck Sheppard
Aug 31, 2011 1:05:21 AM
Good for the money
I barely got 1-2 bars in our home before purchasing the signal booster. Now get 2-4 bars regualry. Used to have to find a corner of the house to get a signal strong enough to talk. Now we can pretty much walk around the house without loosiing a signal. Well worth $5.

Pros:
Quick delivery
Does what it says

Cons:
Directions a little vague but you get the idea.
Britt
Jun 25, 2011 4:47:32 PM
It works
I have a blackberry curve and sometimes i randomly drop signal, after putting the booster in I had two more bars! I can't wait to see what it does for me at work tomorrow where its usually a dead zone.
Dion
Apr 14, 2011 10:07:42 AM
Great item
This item helps a lot on my galaxy s 4g in some places my bars goes down to two or one bars but now it stays at four bars this is a great item a must have .

Pros:
It keeps my phone at four bars that helps with the speed a lot.
Jimmie W. Howell
Mar 30, 2011 11:08:48 PM
ok
hepled a little with signal

Pros:
some help

Cons:
could have done a better job
svetozar
Mar 28, 2011 12:37:28 AM
as expected
antena has inproved my reception about 25%
Kevin
Mar 21, 2011 6:50:00 AM
I though how could these work.
They do, I installed 5 of them and no more dropped calls yea. Our area for one square mile has no cell towers. Our daughter lives 45 mile away from us 4500 elevation and very little reception
and they have better reception.


Pros:
Every thing

Cons:
No dislikes.
allie
Mar 17, 2011 5:40:49 AM
it's okay.
i wasn't too sure where to put it on my droid x....sooo maybe that could have affected how well this thing worked. i don't know. i don't know where the internal antenna is. but i think it still did something for my signal in my dorm room, which is why i got it. even if it's just a tiny boost, it's still something. and i don't think it'll hurt having one of these stickers, anyway.
Anthony
Mar 14, 2011 8:20:45 PM
Works
Noticed a change in call quality, finally able to use my phone in the basement.

Pros:
Cheap, actually causes better reception.

Cons:
No instructions on where to put it specfically with the type of phone you have, instructions are to vague.
Ron
Mar 4, 2011 7:16:46 AM
cell phone booster sticker
Works as advertised. Easy to install. Improved reception 1 to 2 bars overall.

Pros:
Easy to install. Very reasonably priced.
AL
Feb 24, 2011 5:17:36 AM
CELL PHONE SIGNAL BOOSTER
STRONGER SIGNAL

Pros:
STRONGER SIGNAL
nicolas
Feb 9, 2011 5:55:10 AM
Fantastic Item
Not only is this super cheap but I got it about 3 days! Defiantly worth the 5 bucks!!

Pros:
Easy installation.

Cons:
Not a thing!
tn
Nov 22, 2010 4:23:47 PM
Believer!
At first, I didn't believe it. Then I bought one and attached it to my cell phone. Amazing! My cell phone rang louder and I could hear my wife breathing on the phone, in-between her scoldings to me. My cell battery lasts twice as long as it did before since there's no signal (thus, no use of additional energy). It's really shiny!

Pros:
The sticker sticks!

Cons:
"The sellers..."
guy
Oct 1, 2010 9:28:28 AM
cell antenna
i just got this cell antenna work great i had one mark now i have three mark and dont lose connection
Betty Parks
Jul 18, 2010 9:35:15 PM
Cell Phone Signal Booster is great
It really does work. I purchased this for my son who dosn't get very good reception and he know has a bar which i good enough to not get those annoying disconnects.

Pros:
Cheap and works

Cons:
maybe a slightly larger one would get 2 bars
Chris
Jul 13, 2010 4:08:02 PM
I live in a semi remote area. It has given me a bit more reception. Not the greatest, but ok
george
Jul 6, 2010 1:10:04 AM
can't really tell.

Pros:
none

Cons:
none
Brandon Sims
Jul 5, 2010 10:28:49 PM
Antenna Booster Sticker
It actually works. Its not a dramatic increase but i gained 1 bar out of it.
Steve
May 16, 2010 12:57:34 AM
Better reception than old phone.
I cannot tell if this works well or not, because I didn't check the before and after affects on the same phone. The new phone I stuck this on does have better service than my old one in the same place, though.

Pros:
easy to install
Glenn
Apr 9, 2010 1:39:40 AM
It helped
The signal booster I noticed a increase in signal strength.

Pros:
Signal strength increase limited to more urban/city areas where signal exists in the first place

Cons:
Will do little or nothing if you live in a rural area where the signal strength is weak to begin with
Jay
Mar 24, 2010 6:15:52 AM
Good product
I always use these stickers on my phones. I have old i315's and i355's that I use for business (push to talk feature) and I always put these stickers on all of them. They may not give you some extreme signal boost, but they deffinately give you another bar. I would say it does exactly what it claims it does. And for just being a little sticker, it's pretty impressive by what it does.

Pros:
Small, no protruding antenna or external equipment.
Long life.
Easy to apply.
Effective.
Works on all phones.
Clearer calls.
Less dropped calls.
Mario
Mar 22, 2010 7:33:14 AM
Fast Shipping
I am very surprised when got my order in 3 days. I was expecting the normal 5 to 7 days. Very good keep the good work.
Sorry But I have not tested the antenna yet. I will write a review as soon as I install the antenna.....

Pros:
Fast delivery

Cons:
None so far
Louie
Feb 26, 2010 2:13:23 PM
Marginal improvement
I bought this signal booster because I work in an "explosion resistant" building within a chemical plant and my cell has no signal inside the thick concrete walls. The product did not help with the signal inside this building, but I noticed that I now have a good signal in a known dead spot on my drive home. It may be helpful if you have a weak signal in areas outdoors, but don't expect too much improvement if you need a better signal inside a large or fortified building.

Pros:
simple to install
jeff miller
Jan 25, 2010 9:15:58 PM
Borderline
It seems to slightly boost the signal

Pros:
slightly boosts the signal

Cons:
doesn't boost the signal that much
Edward Stephenson
Dec 9, 2009 4:56:49 AM
Cell Phone Signal Booster Sticker - As Seen On TV
I tested performance in a known signal zone and noticed opne extra bar of signal strength
Michial
Dec 9, 2009 12:29:23 AM
Cell Phone Signal Booster Sticker
More bars within the Concrete building show up on the phone. Less cell dropage so far.

Pros:
Easy installation
Mary Beth
May 17, 2009 5:00:00 PM
Yes it works
I had ordered the signal booster from you, and the battery from someone else. I have to tell you, the signal booster actually gave me an extra bar, consistently! That is why I was SO disappointed when my new battery arrived, and it all disappeared! I think if I had not had the booster in, I might not have had a signal at all!
Mary Beth
Mar 18, 2009 5:00:00 PM
Extra bar wherever I go
OK, I bought this thing because it would be a small loss if it did not work, and great if it did anything. I have a T-Mobile Dash, have had a few years now, and the signal is there, but not the greatest. I put this thing on about a week ago, and it has consistently had an extra bar of signal any time I check it. It is not a miracle product, but effective enough to make me pretty happy!
Judi Helman
Oct 8, 2008 5:00:00 PM
REALLY WORKS!!!
My daughter's cell phone would not work in her college apartment room. Also, her phone would continuously be looking for signal, draining her battery within hours. After inserting the booster, her calls then came through, and the battery now lasts for days. I'm buying more of thesefor my family members!
Cori
Jul 27, 2008 5:00:00 PM
Cell Signal Booster
It Does work!!!! Worth the money
mario
Apr 8, 2008 5:00:00 PM
singal Booster sticker
it works
Pam Cohn
Aug 17, 2007 5:00:00 PM
It works
It works very well. Usually get an extra bar or two and I now have connectivity where I did not in the past.
David Wells
Feb 22, 2007 4:00:00 PM
Antenna Booster Sticker
The Antenna Booster Sticker seemed like it helped boost the signal about 1 bar. For the price, any signal improvement was probably worth it.
Shaun Huffman
Feb 16, 2007 4:00:00 PM
Works
It works decently, but it only made a 1 bar difference on my ppc6700.
Write Your Own Review