Made for Dual USB Port Car Charger Adapter (3100 mAh)
Features & Highlights
Why you should buy this product

"I found the CODAWheel particularly useful when I'm driving. Driving and using a mobile phone is not only dangerous, but it's also the law to not have any physical interaction with a mobile phone while driving, even though I still pick my up calls whenever I don't see any cops around. I admit it, it's very hard to contain myself from picking up my calls and reading my texts while driving. Especially those important calls that I wouldn't want to miss. The CODAWheel kept me from causing any stir with police while answering all of my calls and texts while, most importantly, keeping my eyes on the road and driving safely."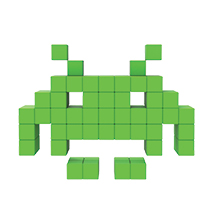 - J.T.,
Gamer_Geek, Editor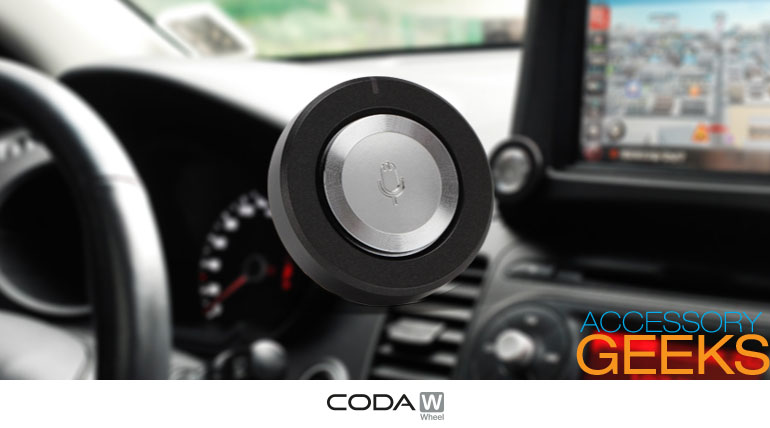 CODAWheel: Bluetooth Remote Control Button
for Apple iPhone 4/4S/5/5S/6/6 Plus (iOS 7.0 +)

---



What is a CODAWheel?

The CODAWheel is a remote control button with integrated Bluetooth wireless technology for smartphone devices. About the size of a half-dollar coin, the CODAWheel's primary purpose is to facilitate the use of your smartphone device through voice command while driving in a car. Voice command services, such as Siri® or Google Now®, can be used hands-free with the help of the Bluetooth wireless technology of the CODAWheel.
---
What can the CODAWheel do?
Working together with the [CODAButton] App from the Google Play Store and the App Store,
the CODAWheel can perform quite a handful of tasks that typical Bluetooth remote controls cannot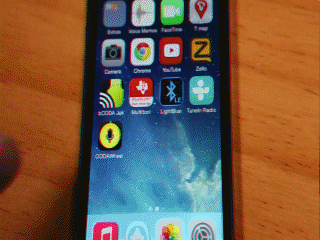 ---
CODAWheel Features



Activating Voice Command

The CODAWheel's single button exploits the voice command features from Siri/Google Now to carry out the voice-recognized tasks such as:

Initiating mobile calls, sending SMS and email
Recording voice memos
Updating schedules
Checking traffic conditions



Music Control with Voice Command

Controlling your smartphone's music player, music streaming service, or internet radio such as Pandora&reg and Spotify&reg in your vehicle has never been easier with the CODAWheel

A single click will Play/Pause
A double click will skip to the next song
A triple click will go back to the previous song
A long press on the button will enter your smartphone into the voice command mode to let you speak the song of your choice



Camera Shutter Release Mode

The CODAWheel can be used as a camera shutter remote for taking special shots via your smartphone, such as group pictures or selfies. No one has to be left out from the group pictures to take the photos and selfies are so much easier―just run the camera application and push the button on the CODAWheel to initiate a hands-free photo taking experience


The CODAWheel works especially well with a Selfie Stick. Just attached your phone to the attachment head of a Selfie Stick and click on the CODAWheel to take well-spaced and wider-range group or selfie shot. For more info on Selfie Sticks and how they work, click here



Video Recording Mode

Along with taking photos with the CODAWheel, you can also switch to the video recording function on your phone and start video recording with a click of the CODAWheel. Also a very useful function when used together with a Selfie Stick.




Group Voice Chat / Voice Recorder

Enjoy a hands-free group voice chat on your smartphone device by using your CODAWheel with Zello, a free Push-to-Talk App. With just a click on the CODAWheel, you can participate in a safe group voice chat and activate the voice recorder function on Zello.
---
Compatible Apps
The CODAWheel is continuously evolving to become the one and only in-vehicle universal remote control
that serves reliable functions for various third party apps
Current applications which are compatible with the CODAWheel are:
Voxer / Zello (Group Voice Chat, Android/iOS)
If you and your friends are Voxer or Zello users, CODAWheel becomes a push-to-talk button right on the steering wheel.
Just give it a push, and you are talking instantaneously with your friends, live and for free.
This feature will be useful for communicating in multi-partied group travels or errands.
Communication can is made using the vehicle's internal hands-free device, while the CODAClick operates as the Voxer's and Zello's push-to-talk button.

Candy Camera (Android only)
Candy Camera is one of the most popular camera application that provides various real-time filters,
camera effects, and photo editing tools to easily enhence photos, especially self-camera photos, taken on your smartphone
With the CODAWheel, you can easily control camera shutter release, switch filter effects, and take selfies without shaking
VoiceCaddy+ (Android only)
Turn your smartphone into a caddie on a round of weekend golf with the CODAWheel
Upon installing VoiceCaddy+ app on your smartphone, CODAWheel interacts with the app and becomes a vocal caddie at your fingertips
Click to hear the yardage to the hole, select the targeting green, toggle units between yards and meters, and much, much more
---
How does the CODAWheel work?
Design
Made with careful consideration to detail, the CODAWheel meshes well with the details of any vehicle
CODAWheel's sleek and edgy design is a perfect new accessory for your car
The CODAWheel's sleek and modern design is eye-catching, stirs curiosity, and sends a new form of excitement
The button is made to fit perfectly within your fingers, while the overall size of the product is small and can be attached anywhere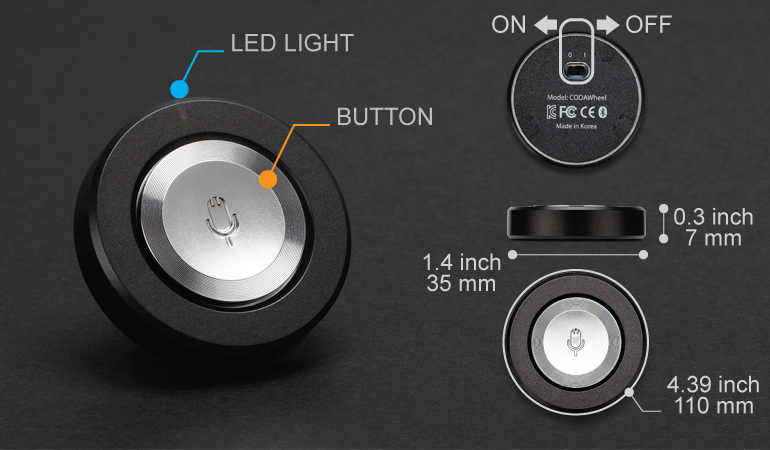 ---



Pairing the CODAWheel

Press the button on the CODAWheel for 15 seconds until a green and red LED light flashes alternately
Once you come to this stage, the CODAWheel is now ready for paring
| | |
| --- | --- |
| From your smartphone device, go to the "Settings", then Bluetooth settings and turn on Bluetooth on your device | |




Once your Bluetooth is turned on, your smartphone should detect the nearby CODAWheel
Click on "CODAWheel" when it is detected, complete the displayed request, and now your CODAWheel is paired to your device!
---
Content
Includes:
CODAWheel
Double-sided tape
Velcro sticky back fastener
Manuel
---
Requirements and Specifications
Requirements
-iOS 7 with Siri
-Android 4.3 (latest Jelly Bean) or later:
Note: CODA Button App will NOT install if your phone does not meet the version requirement
Before you purchase CODAClick or CODAWheel, you must first check your phone version by going to Settings > About phone
To manually update your phone to the latest version of Android, go to Settings > About phone > Software update.
Specifications
- Bluetooth 4.0
- Dimensions: 35.85mm(W) x 35.85mm (H) x 7.15mm (D)
- Weight : 9.0g
- Range: up to 50 meters (depending on phone)
---
CODAWheel vs. CODAClick
CODAWheel and CODAClick are pretty much the same product with the same hardware and software but, as you might have guessed, the CODAWheel is made for driving a better driving experience and keeping your eyes on the road. The CODAClick, on the other hand, is made for everything use and can be attached to your phone and be worn as a pendant accessory. They look alike but dress differently. They serve the same purpose, just in different places. The CODAWheel and CODAClick both work in conjunction with the same CODAButton App, allowing them to be at their fullest. Click here for more information on CODAClicks
---
You Might Also Be Interested
Customers Who Viewed This Item Also View