Office Products & Supplies
Features & Highlights
Why you should buy this product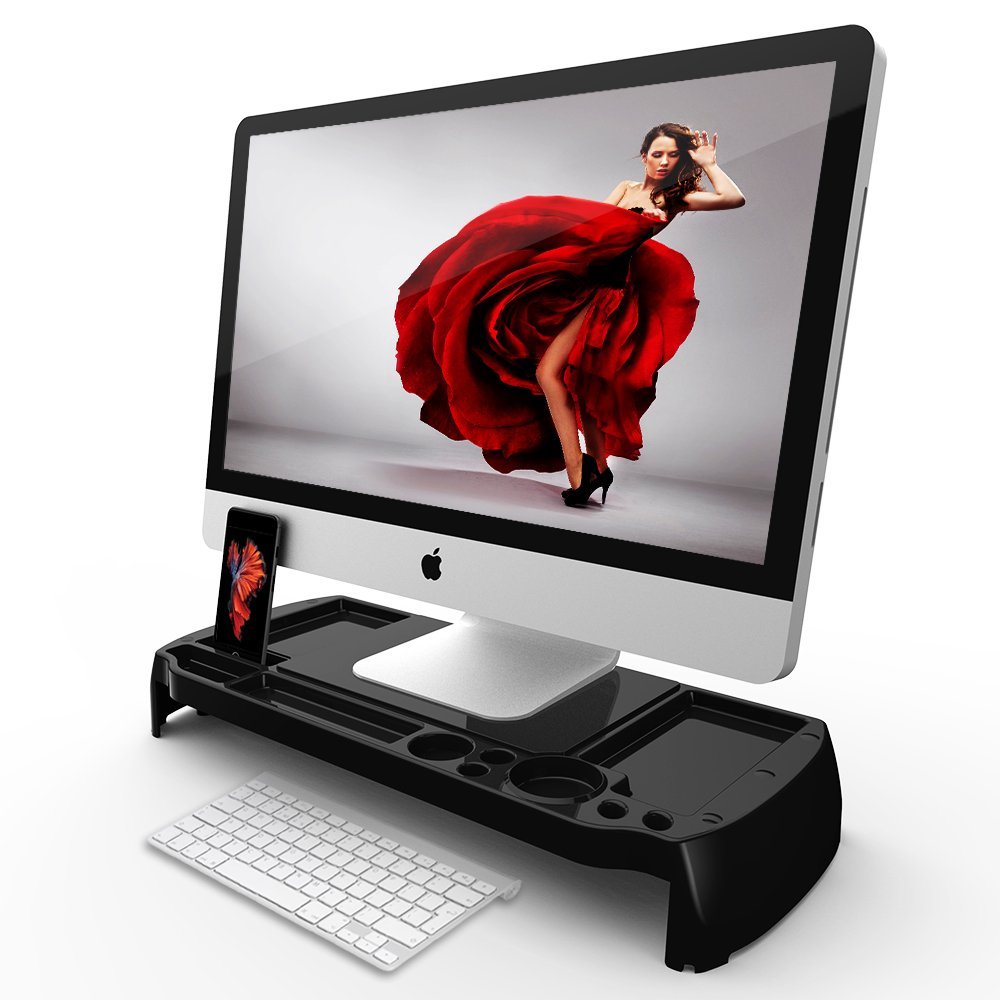 Eutuxia Monitor Stand - [Sleek Black] [Plastic] Slim Universal Monitor Laptop Multimedia Stand with Desk Organizer
The Eutuxia Monitor / Laptop Stand with Desk Organizer is a great desk accessory to have to improve the visual organization of your desk. With the extra space under the stand, you can store your keyboard, stapler, note pads, and much more!.
Slim and modern design enhances the visual organization of any desk Additional storage under the vertical space allows you to maximize your desk utility Accommodates monitors, laptops, printers, and fax machines Dimension: 1.36 lbs / 19.5" (length) x 9" (width) x 3" (height) Material: Plastic Color: Black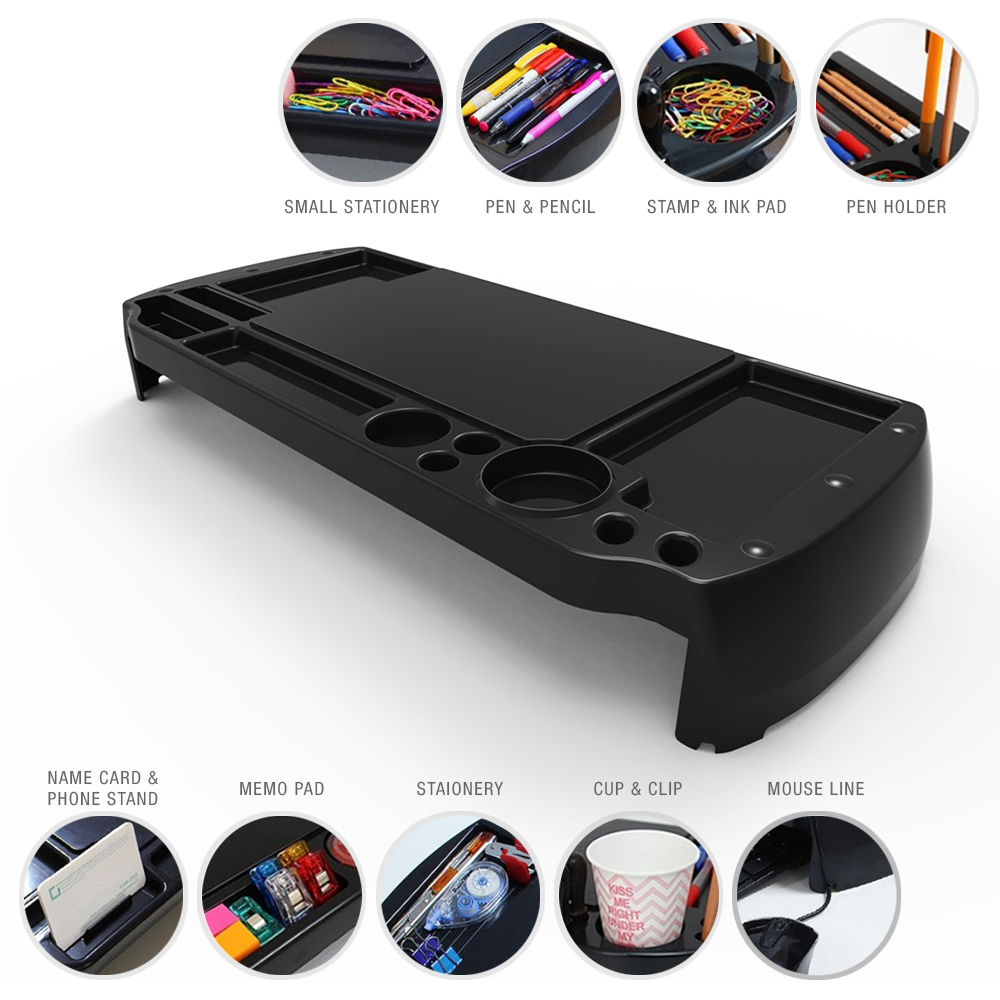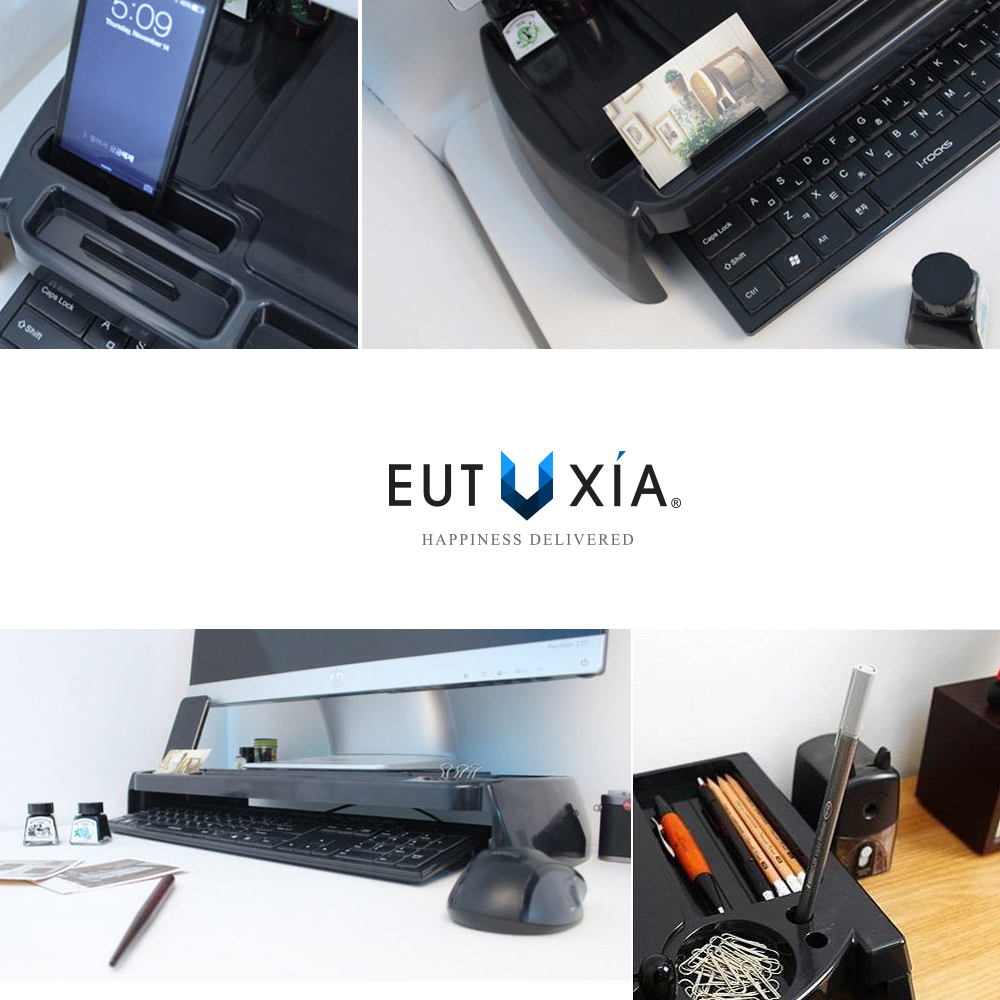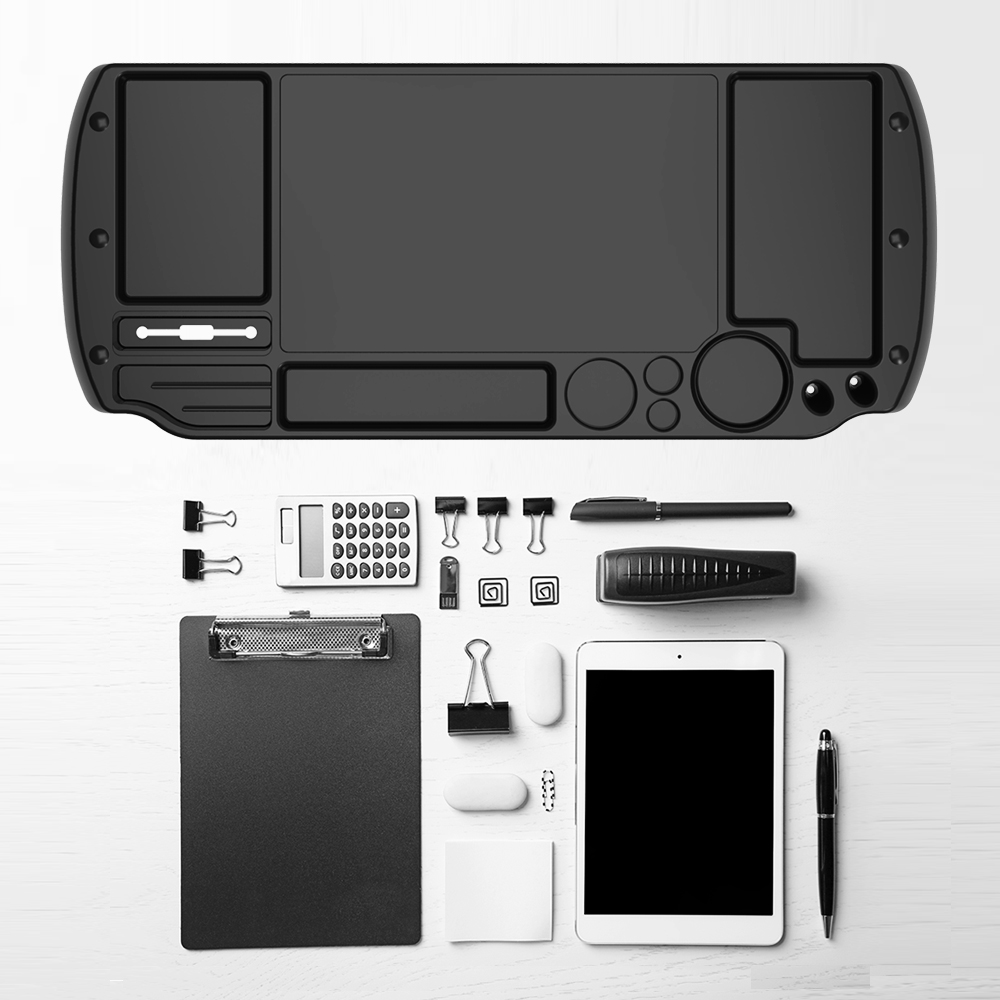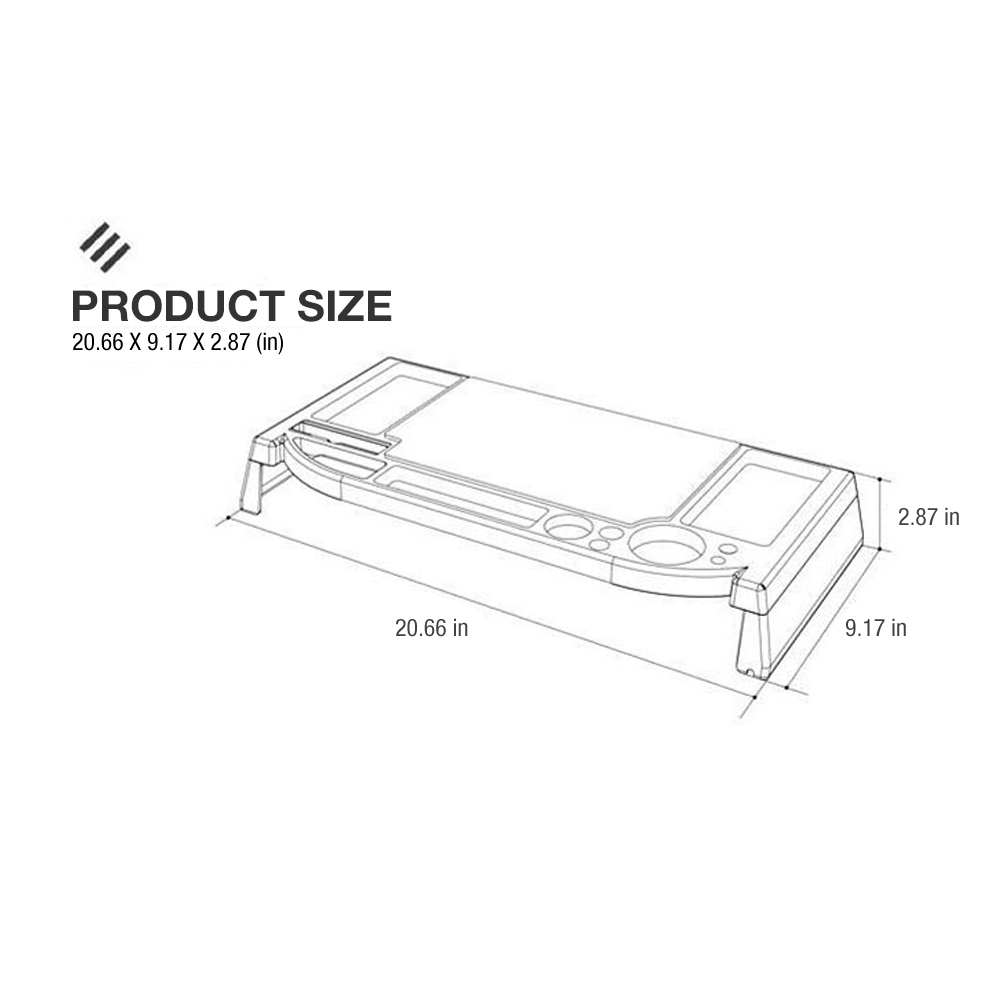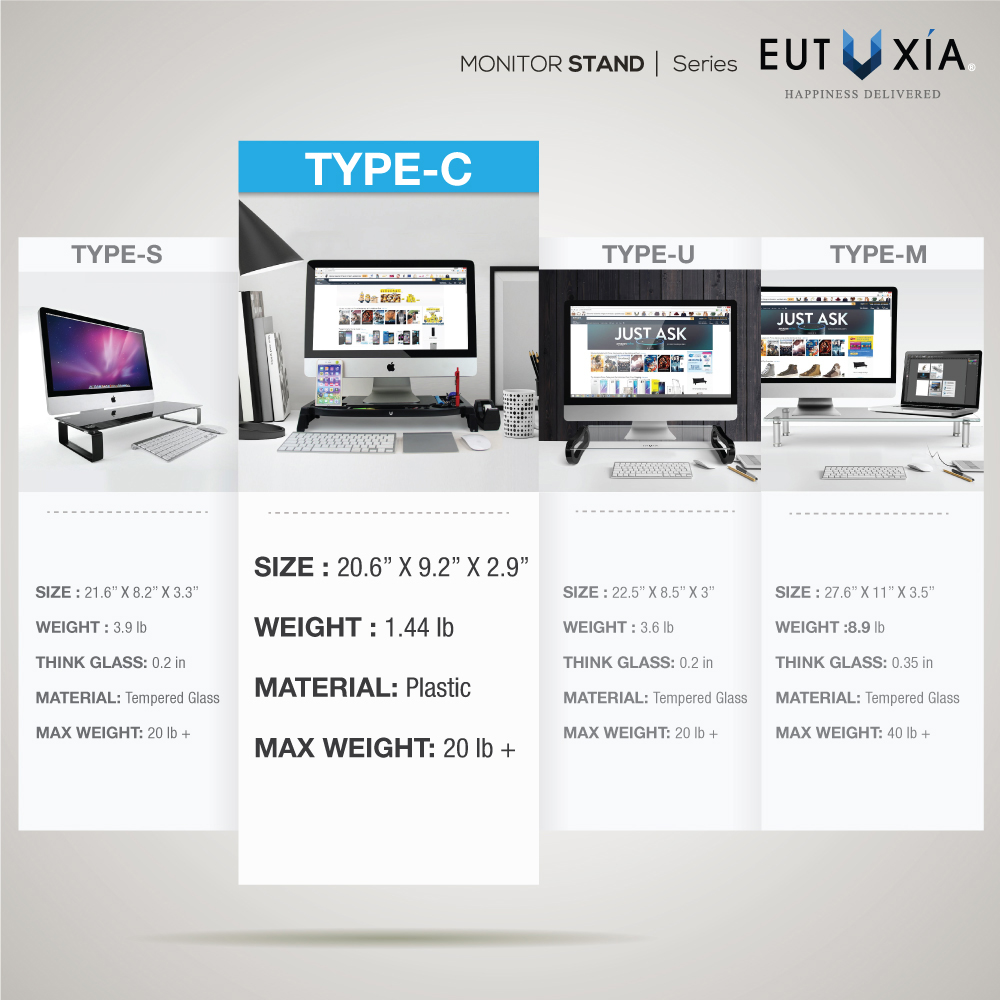 You Might Also Be Interested
Customers Who Viewed This Item Also View
Customer Reviews
Andrea Fraser
Dec 1, 2016 10:51:02 PM
well made quality
Wonderful! It keeps my work area neat, tidy and organized. Well made quality product, sturdy enough to hold my Monitor. I like the extra slots for my stuff. For the price this is an excellent little stand that worked perfectly for me. Highly recommend
Stephanie Stewart
Nov 30, 2016 10:10:46 PM
very useful and functional
Perfect little monitor stand for my small office areas. I love the extra storage for my everyday items. Very useful and functional! I will buy one as a gift for my sister. Highly recommend
Dorothy Blond
Sep 27, 2016 6:05:03 PM
very grateful
My monitor might be heavy, but it works well use this stand. It helps level out my displays and gives my set up a cleaner look. Very grateful in this product!
Ken Jackson
Aug 1, 2016 2:15:58 AM
Sleek
Looks great! Easy to assemble. Sturdy and well built.
Been using it for a 27" monitor. I have a unleveled table, but I haven't noticed the stand moved or anything.
Can be easily cleaned. Would recommend!
ICE
Jul 11, 2016 3:43:20 AM
Novel concept.
This was such a novel concept. In the past I had used highly sophisticated devices in which to elevate my monitor on my desk, such as phone books, a box, a brick, and even a car jack. But with this monitor stand, I was able to reclaim desktop space while simultaneously making my neighbor happy when I raised the car off his chest with the car jack I returned to him. Now I can look upon my monitor in pride at the proper eye level. I don't know what I did without this stand.
organize
Apr 6, 2016 3:01:17 PM
nice organizer
nice organizer for your desk
Wolfman
Feb 18, 2016 6:10:26 AM
Perfect
This monitor stand is exactly what I was needing. It sets the monitor up and the keyboard fits perfectly underneath the stand when I am not using it. I would recommend this to anyone trying to organize their desk space. Its a great addition to any office at home or at work.
Ann
Jan 6, 2016 11:49:49 AM
Simple and Functional.
Great for organizing all the small items on your desk and keeping them accessible, stylish, and neat. Simple storage design allows for all your basic offic supplies to be stored (post-its, paper clips, pens, etc.). Reasonably priced.
JTMorrell
Nov 3, 2015 7:25:35 PM
Perfect
This stand works much better than the box that I had my monitor standing on. For someone needing their monitor to stand taller than it is, this is a wise choice :-)
Reno
Jul 7, 2015 7:33:22 PM
Satisfied
Satisfied with this product. Functional and sturdy.
JCW
Jul 2, 2015 4:41:25 PM
MONITOR STAND
Works for me, saves space on my desk.
Write Your Own Review