Office Products & Supplies
Features & Highlights
Why you should buy this product
Eutuxia Monitor Stand [Type-U] [Black] Slim Universal Monitor Laptop Multimedia Stand with Desk Organizer
The Eutuxia Type-U Monitor / Laptop Stand w/ Desk Organizer is a great desk accessory to have to improve the visual organization of your desk. With the extra space under the stand, you can store your keyboard, stapler, note pads, and much more!.Slim and modern design enhances the visual organization of any desk Additional storage under the vertical space allows you to maximize your desk utilityAccommodates monitors, laptops, printers, and fax machines
Slim and modern design enhances the visual organization of any desk
Tempered glass with full metal legs provide strong lasting support and cable management
Additional storage under the vertical space allows you to maximize your desk utility
Accommodates monitors, laptops, printers, and fax machines
Dimension: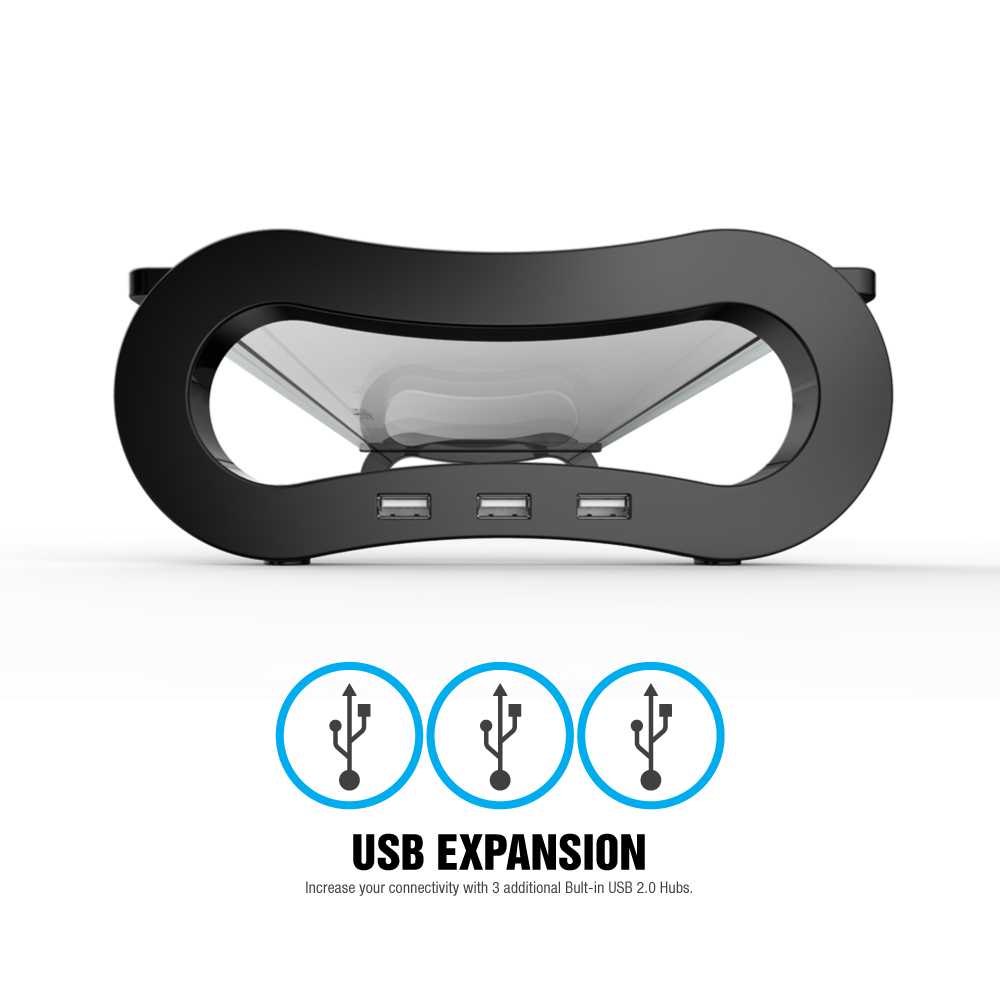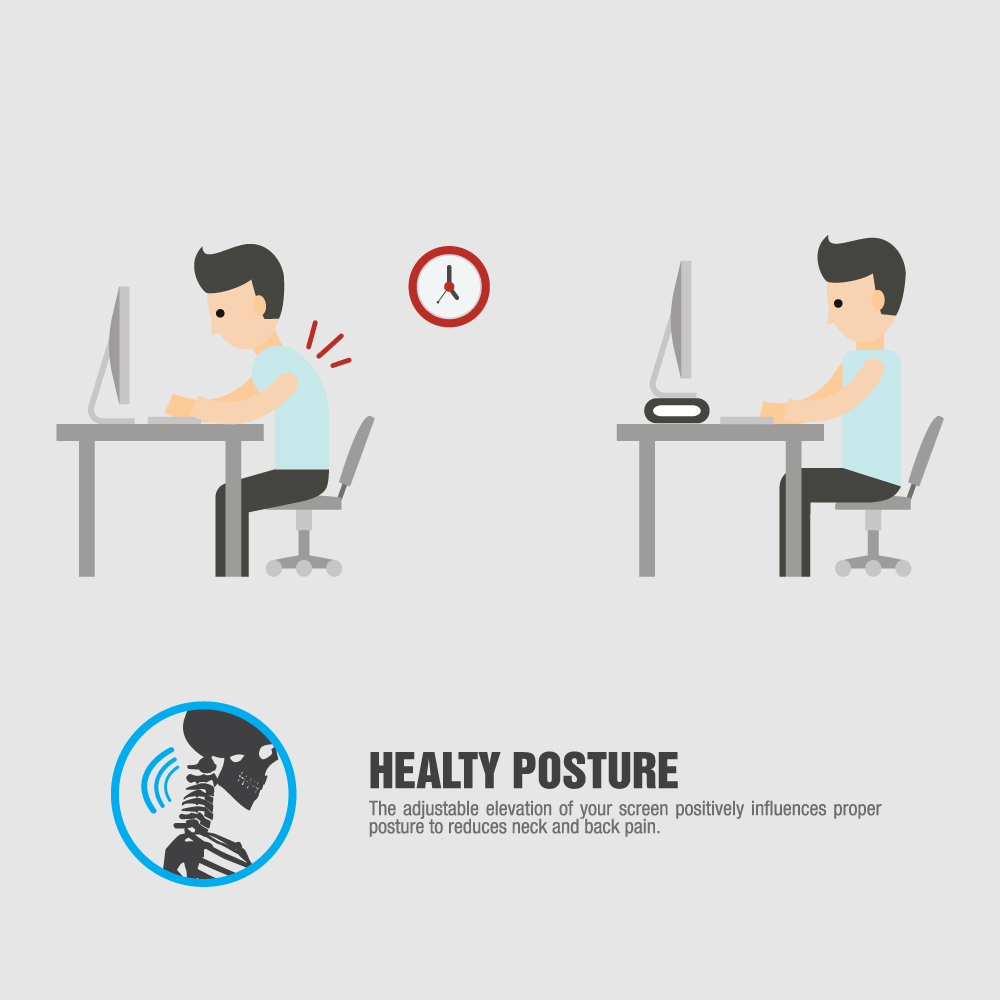 You Might Also Be Interested
Customers Who Viewed This Item Also View
Customer Reviews
Lukas Walker
Jan 12, 2017 11:46:31 PM
perfect in every way
Perfect in every way. Sturdy and sleek. I love this desk. I am dealing with neck/back issues, perfect an eye level. I would recommend this desk for anybody who has to sit a computer for any length of time.
Marlene Quinn
Jan 11, 2017 10:15:34 PM
very sturdy stand
Stand itself was very sturdy. Perfectly fits together , keeps my working area clean, tidy and organized. I love it! More reason to work, simply I'm inspired doing things well in good.
Julie Russel
Jan 10, 2017 10:36:04 PM
looks great
It holds my 27" iMac monitor safe and securely. This is beautiful stand that gives a positive and good ambiance on my working station. Seems durable, sturdy and looks really nice. I love it! Reasonable price.
Claire Bell
Jan 9, 2017 11:30:43 PM
elegant and well made product
Elegant and well made quality product. It helps a lot with my neck pain issue. A good temper glass, easy installation, sleek and gorgeous for a great price.
Kimberly Wilson
Jan 9, 2017 12:23:41 AM
smart purchased
I am very pleased with this unit. It was easy to put together, the stand does not tip over, keeps my work station clean and super cool to work . With reasonable price, smart purchased.
Chloe Thomson
Jan 5, 2017 8:03:21 PM
stands works great
It was easy to put together. This stand works perfect for my needs and supports my monitor perfectly. I would definitely recommend it to others.

James Scott
Jan 4, 2017 10:32:03 PM
strong and looks ggrorgeous
Absolutely love this item. This is strong, sturdy and beautiful. It has a clean ,modern, looks gorgeous and give an extra work space. I can slide my keyboard out of my way when I need writing surface.

Michelle Hart
Jan 3, 2017 9:41:02 PM
works great and great space saver
Works great, just the right height for me. Very wide base that holds my keyboard underneath that keeps my work station tidy and clean. Great space saver.
Kylie Ross
Jan 3, 2017 12:45:36 AM
perfect for my needs
Looks great! Easy to assemble. Sturdy and well built. Nice heavy glass stand. Perfect for my needs. With reasonable price!
Rachel Terry
Dec 30, 2016 2:51:58 AM
great product
I love my work station! This monitor riser gives and motivate me work more. Great product for amazing price!

Jenny Jackson
Dec 28, 2016 8:30:33 PM
perfect height for me
Simple, nice, sleek and does the job well. Perfect height, very sturdy, and I love the organizational compartments!

Rose Paige
Dec 28, 2016 12:30:07 AM
beautiful riser
I love this beautiful riser on my desk! It has an elegant looks and nice outstanding solid quality. It makes my working area clean, tidy and well organized. Reasonable price and definitely recommend it!

Lily Hudson
Dec 26, 2016 9:34:54 PM
fantastic monitor riser
Fantastic and Very sturdy. Served it's purpose and keeps my desk looking trendy and organized. The price is very reasonable and highly recommended.
Irene Pullman
Dec 22, 2016 11:53:53 PM
easy to assemble
Very easy to assemble. This stand is perfect height for me! Simple, study and very well made. I would definitely recommend this to my friends and loved ones. With reasonable price!

Abigail Mclean
Dec 21, 2016 8:04:06 PM
i love the design
I'm very surprised. Everyone at my office is jealous! I love the design and it makes my work area super cool and nice ambiance. I would definitely recommend this. The price was also great!

Jasmine Dyer
Dec 20, 2016 10:16:43 PM
eye level and more comfortable
I am extremely pleased with my purchase and consider it money well spent. The riser itself is exactly what I needed for my work space area to bring my monitor up to eye level and feel more comfortable than resting on my desk. Best gift idea! Highly recommend
Gordon Mathis
Dec 19, 2016 10:51:46 PM
keeps my area clean and organized
Seems durable and it looks nice and pretty. The materials feels great and the whole thing is very sturdy with nice spacious for my keyboard and mouse to move with a lot of space. Keeps my work area clean and organized. Amazing product and price is great!

Cameron Martins
Dec 18, 2016 9:31:59 PM
durable and looks great and fantastic!
Exactly what I wanted for a monitor stand. It has slim and modern design that enhance the beauty of my work area. A strong tempered glass and cable management . Durable and looks great and fantastic! Best gift for my love ones.
Dorothy Graham
Dec 15, 2016 4:21:37 PM
looks great
Helped organize my monitor and it looks great!!! A beautiful well designed modern and sleek looking stand. It make lesser my strain on my neck. The glass stand is awesome! I definitely recommend to everyone looking for a great monitor stand.

Steward Lee
Dec 14, 2016 9:11:08 PM
easy to assemble
Easy to assemble and I love this! It's exactly what I needed to get a little more desk space, more USB outlets, and raise up my computer/monitor. In addition, it looks pretty sleek on my desk at work! Highly recommend
Zoe Mitchell
Dec 13, 2016 9:56:29 PM
completely satistied
Great monitor stand. Even my colleagues love it. It does everything I need. It is great for putting my monitor beneath and leaving the keyboard just where i need it. Easy to install, and completely satisfied. Worth my purchased.
Kylie Stewart
Dec 13, 2016 12:19:33 AM
excellent
Just amazing! I just got this monitor stand with joy and excitement to work again. It has made work so much better, durable, solid and i love it! Excellent, works well, simple and straightforward. Highly recommend

Jennifer Hart
Dec 11, 2016 11:43:41 PM
amazing stand
Looks amazing does not get better than this! It was great and simplistic stand. looks great on my glass desk.
Joan Brown
Dec 8, 2016 10:31:46 PM
looks pretty and sleek on my desk
Pretty awesome monitor stand. I love it! It's exactly what I needed for. It looks pretty sleek on my desk at work!
Write Your Own Review