Features & Highlights
Why you should buy this product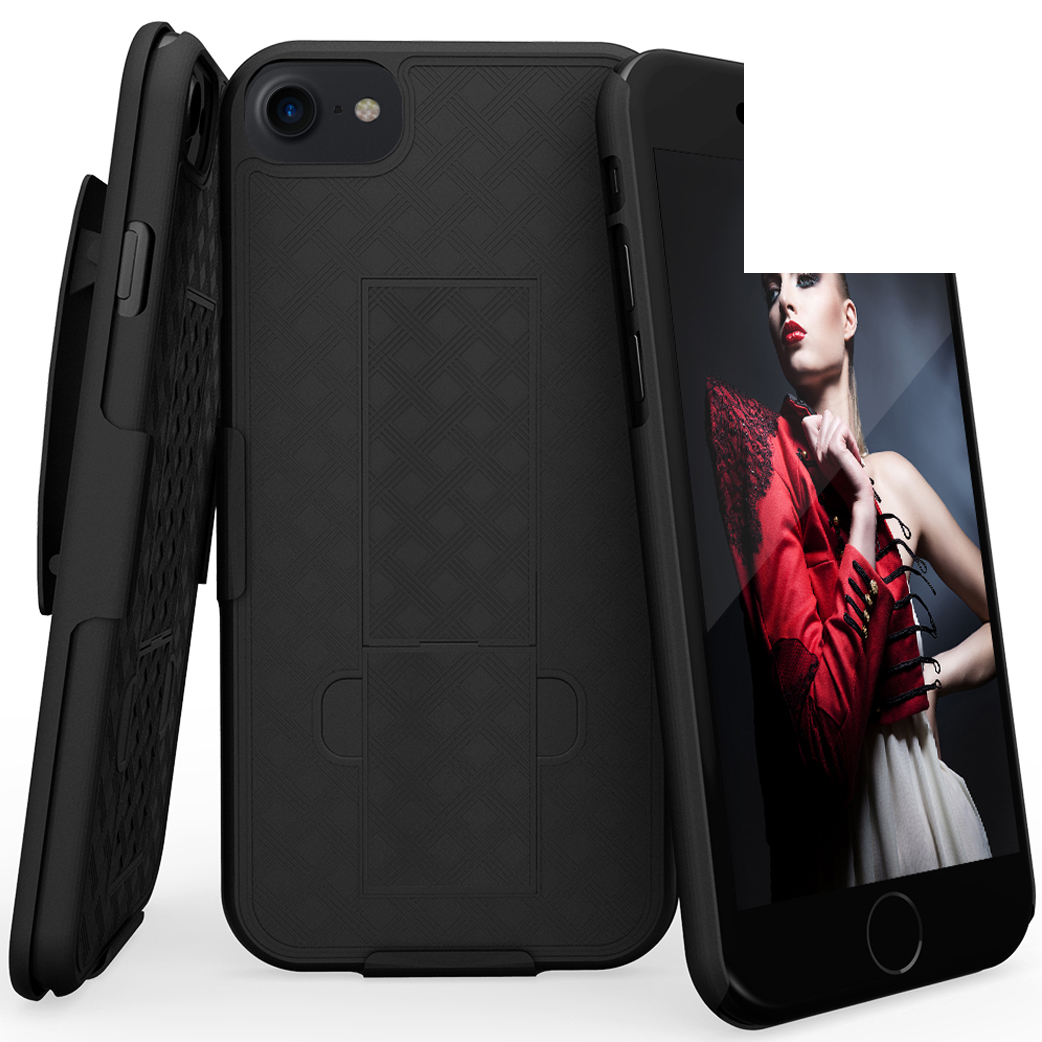 Apple iPhone 7 (4.7 inch) Holster Case, REDshield [Black] Supreme Protection Slim Matte Rubberized Hard Plastic Case Cover with Kickstand and Swivel Belt Clip
This holster case is great for quick drawing your phone for usage!
A quality product and made especially to fit your APPLE IPHONE-7. It's stylish and protective.
Quick draw your phone and slide out your phone from the holster that clips on to your belt or anywhere securely.
Prop up your phone for great viewing position with the built-in belt-clip kickstand.
Features:
- Perfectly designed for APPLE IPHONE-7
- Easy access to all functionalities, including all buttons, camera, headphone jack, and charging port
Custom cut to fit your APPLE IPHONE-7
Durable and lightweight
Case slides securely into holster
Hard matte, anti-slip surface
Textured lines for added grip
Rubberized plastic with swivel belt clip
Built-in belt-clip kickstand props your phone up
Quality Made holster to perfectly fit your APPLE IPHONE-7
Color: BLACK
Rubberized hard polycarbonate plastic shell slim case with holster clip.
Hard plastic exterior protects your phone from scratches and abrasions from falls and drops.
Extra grip and traction to surface: fits easily in your hands and gives your phone anti-slip protection!
The ultimate protection for your Apple iPhone 7: ant-scratch, anti-shock, and anti-shatter.
Sturdy holster and belt clip make your phone easily accessible even when your hands are full.
**Phone may fit inward or outward please refer to pictures and directions on the holster.
Important Disclosures
Phones with extended batteries may not fit the case.
Phone or Device, if pictured, is for demonstration purposes only and is NOT included.
Using product with hand sanitizer or alcohol products may cause case to bleed.


Cellphone case name Supports Samsung Galaxy S7 Devices From Verizon, AT&T, Sprint, and T-Mobile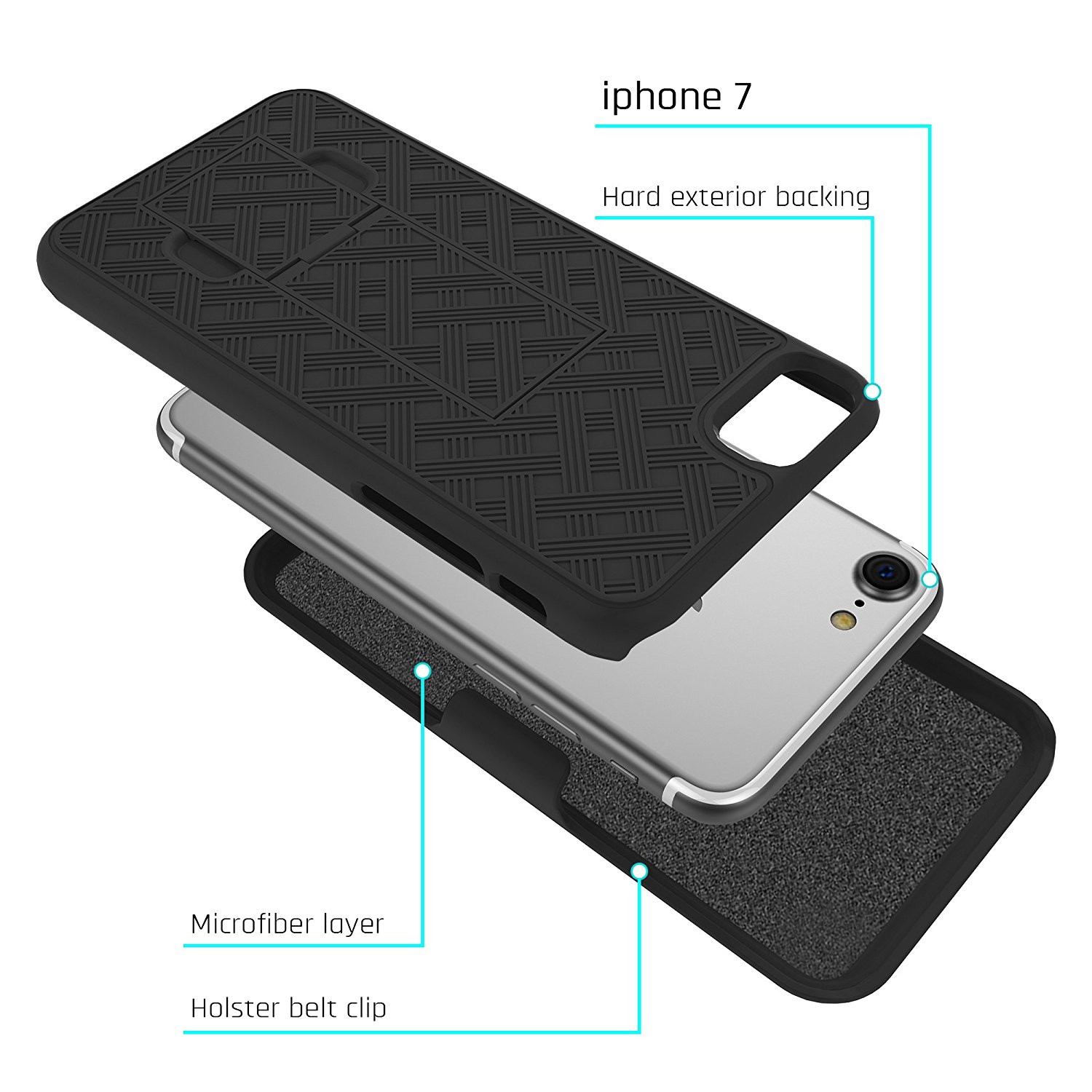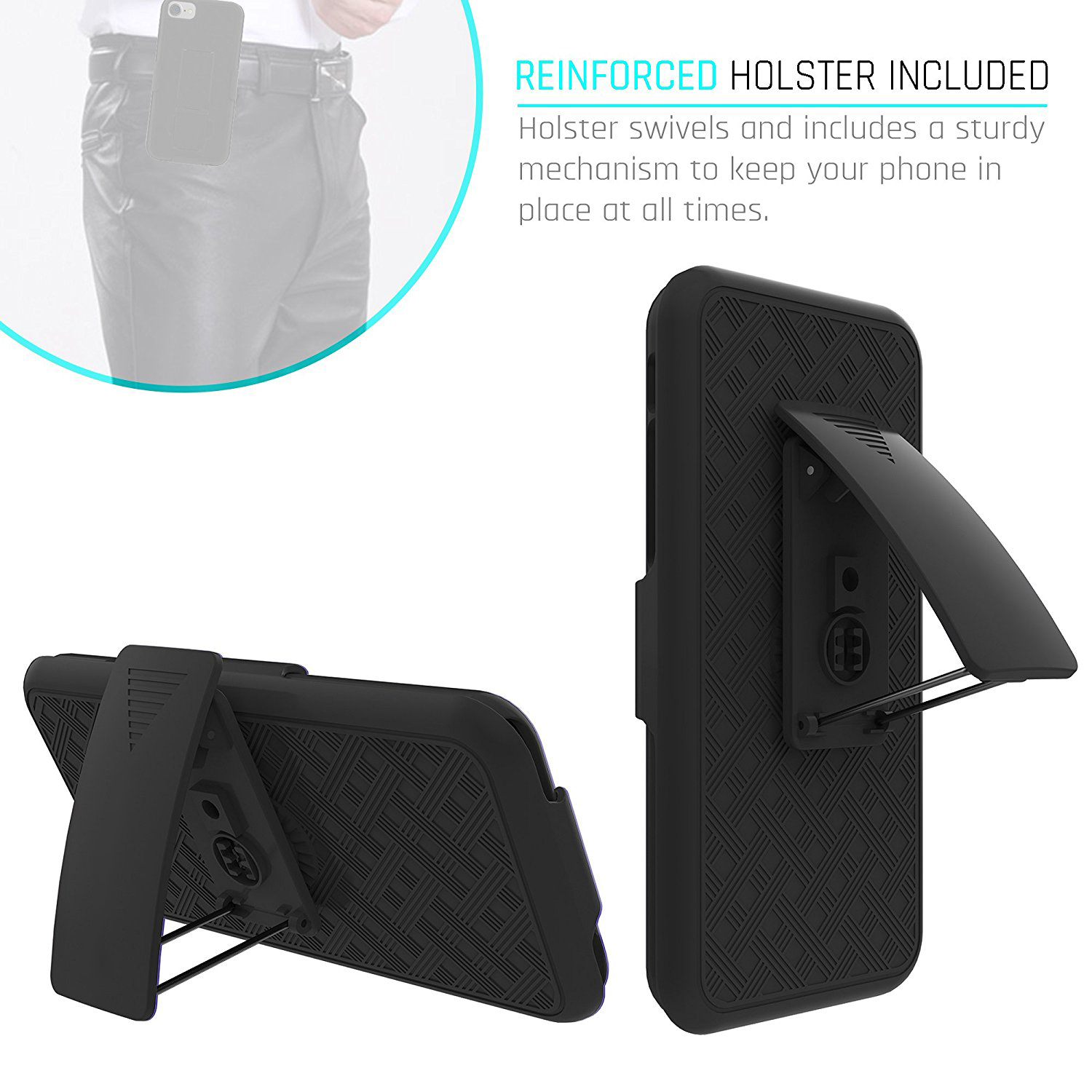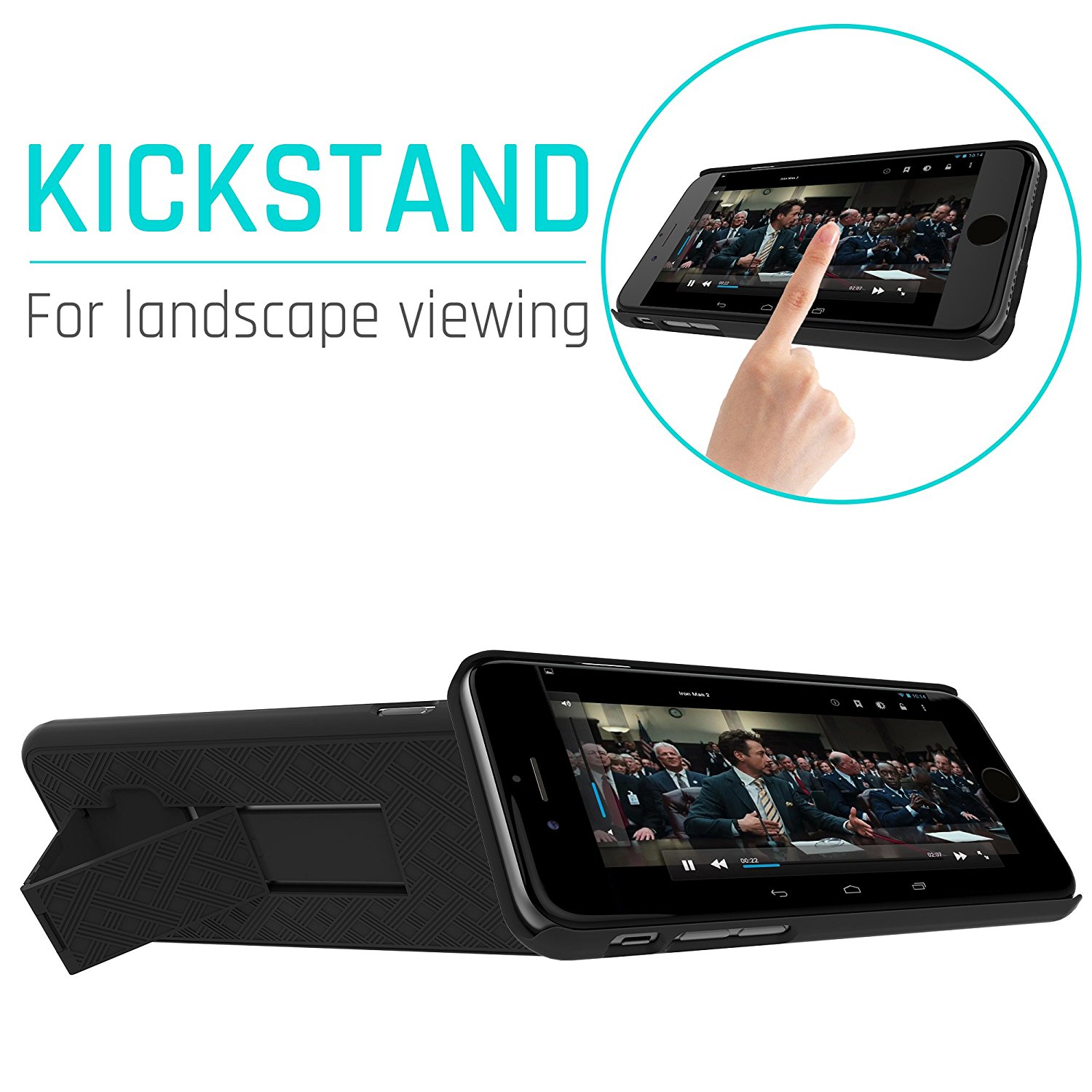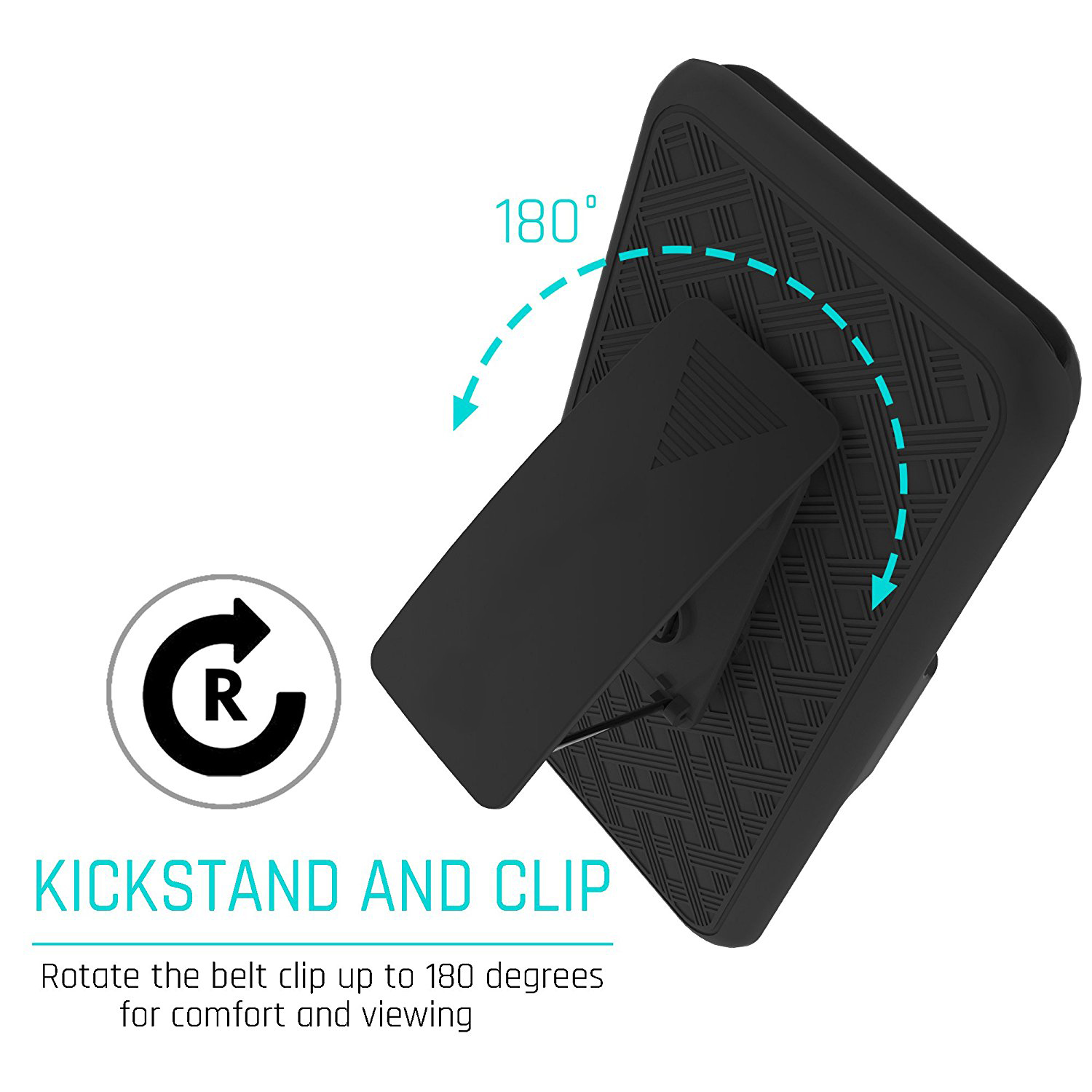 You Might Also Be Interested
Customers Who Viewed This Item Also View
Customer Reviews
Michael Clark
Jan 15, 2017 7:42:15 PM
pretty good looking
Pretty good looking in basic black. This case was easily in and out of its holster and yet is quite securely on my belt.
Julian Simpson
Jan 11, 2017 9:11:40 PM
quality made holster case
Quality made holster case that fits on my iPhone 7 phone. Perfectly designed and gives an excellent protection. Functional and reasonable price. Highly recommended.
Ian Peter
Jan 9, 2017 10:31:27 PM
great quality and i love the design
Perfectly designed, great quality and finish. It gives an excellent protection on my phone. Very reasonable price.
Mary Quinn
Jan 8, 2017 10:42:14 PM
everything was just fine and perfect
Everything was just fine and perfect fit for my iPhone 7. Very pleased, my phone feels very protected! Price is also great!
Dianne Edmund
Jan 4, 2017 9:29:14 PM
feels great and look good
Feels great and look good. Impressive case! Durable, hard plastic, simple yet so pretty and I love it!

Nicholas Lee
Dec 28, 2016 8:19:19 PM
great price and quality
Great price and quality! This slim matte rubberized case is perfectly fit on my iPhone 7 phone. Durable, sturdy and good enough to protect my phone. I love the kickstand and the belt clip. I'm happy with my purchased. Highly recommend.
Edward Clark
Dec 26, 2016 6:46:46 PM
price is awesome!
Case was very nice looking and has a great feel. Fits perfectly on my iPhone 7 and give the protection needed. The holster seems more secure than I expected. The kickstand is very substantial. The price is great!
Joshua Nash
Dec 21, 2016 8:16:03 PM
well made case
Well made case, fits my phone nicely, and has the proper cut out for my camera. The case and holster more than meet my expectations for quality and function. Solid construction and fine fit and finish, it protects all edges of the display surface. Highly recommended

Lucas Lewis
Dec 19, 2016 10:27:06 PM
best case for me
Best case ever for me. The case itself is slim yet very protective, I love the kickstand feature I can watch videos on my phone without holding it, and the belt clip is great. It job well done, works for me! The Price is very reasonable.
Frank Clark
Dec 15, 2016 3:12:24 PM
fits my phone well
Very happy with case with belt clip. Fits my phone well. Need this type of case due to my work area. It was durable, sturdy and gives protection on my phone. Highly recommend
Leonard Knoxx
Dec 12, 2016 9:58:28 PM
very inpressive with this case
Very impressive with this case, I love the looks and feels so great! Fits perfectly, I dropped my phone multiple times and apparently there is no scratches and abrasion on my phone. Thank you and very satisfied
John Churhill
Dec 6, 2016 6:08:13 PM
absolutely love this case
I absolutely Love this Holster Case for my iPhone 7 phone. It provides a supreme protection, durable, stylish, and well made product. The kickstand and belt clip give an extra feature that gives securely and protection to my phone. The price was right. Highly recommend
Nicholas Nash
Nov 30, 2016 9:08:57 PM
it hold tight and good protection
Very nice holster case, with great fit on my iPhone 7. It has a high quality, durable and good for the price. This case is solid and rugged, with the bonus of belt clip and kickstand. It hold very tight and good protection. Highly recommend
Kimberly Hill
Nov 28, 2016 8:06:33 PM
durable and functional
Highly durable and very functional! Perfectly fit on my iPhone 7, Ii like the fact of being slim matte rubberized and it has hard plastic cover. Fantastic! Highly recommend
Boris Black
Nov 28, 2016 1:55:58 AM
awesome case
Awesome Case! Made of Great quality leather like material which will help for durability. Fits great on my iPhone 7, great hold.
Wanda Turner
Nov 23, 2016 7:25:48 PM
feels and look great
Just got my iPhone7 last week and I bought this holster case. It was perfectly fit, every button works well, and with special design it looks very fashionable and cool. I love it!
Andrea Ball
Nov 22, 2016 6:49:52 PM
nice holster case
Very nice holster case for my new iPhone 7, it is slim design. Pretty durable, I have dropped my phone several times, amazing no damage on my phone. Thank you for this wonderful product it saved my expensive phone.
Jonathan Gray
Nov 15, 2016 7:11:14 PM
great phone protection
Easy to install, protects my phone well. It fits nice in my hand and allows me to use the phone without annoyance. I love the kickstand and belt clip. Thank you:) Happy in my purchased.
Kevin Brown
Nov 13, 2016 7:19:21 PM
simple to install
Very well made holster case for my iPhone 7. Fits great, this case was very simple to install to my phone, I would definitely recommend to others and order again if needed.
Steven Clark
Nov 10, 2016 7:52:46 PM
highly recommend
High quality and good for the price! Fit for my iPhone 7, very durable, and sturdy. One of the best case I had ever had. I definitely recommended to others.

Victor Cameron
Oct 24, 2016 8:04:02 PM
very well protected
Quality material that provide grip and feels good in my hand, it holds my phone tight. My screen, buttons, camera are very well protected. Happy with this holster case.
Edward kelly
Oct 12, 2016 6:40:36 PM
i love this case!
Simply love the kickstand! The clip is perfect, durable, sturdy and good looking. It has a strong and supreme protection in my phone. Well made product with good price.
Warren Howard
Sep 27, 2016 6:47:04 PM
Best case ever
I am grateful to have this supreme protection to my expensive investment. It is convenient to use, the case is really nice, sturdy and durable. Highly recommend
jack
Sep 22, 2016 5:43:49 PM
value the price
The case itself looks elegant, fits well, sturdy, really gives protection for my expensive investment. Value the price:)
Write Your Own Review