Made for Motorola Droid Turbo 2
Features & Highlights
Why you should buy this product
Motorola Droid Turbo 2 Holster Case, REDShield [Black] Supreme Protection Slim Matte Rubberized Hard Plastic Case Cover with Kickstand & Swivel Belt Clip
This Motorola Droid Turbo 2 Edge Rubberized Hard Case w/ Holster Stand - Black is great for quick drawing your phone for usage! A quality product and made especially to fit your Motorola Droid Turbo 2. It's stylish and protectant for your Motorola Droid Turbo 2. Quick draw your phone and slide out your phone from the holster that clips on to your belt or anywhere securely. Prop up your Motorola Droid Turbo 2 for great viewing position with the built-in belt-clip kickstand.


Custom cut to fit your Motorola Droid Turbo 2
Durable and lightweight
Case slides securely into holster
Hard matte, anti-slip surface
Textured back for added grip
Rubberized plastic with swivel belt clip
Built-in belt-clip kickstand props your phone up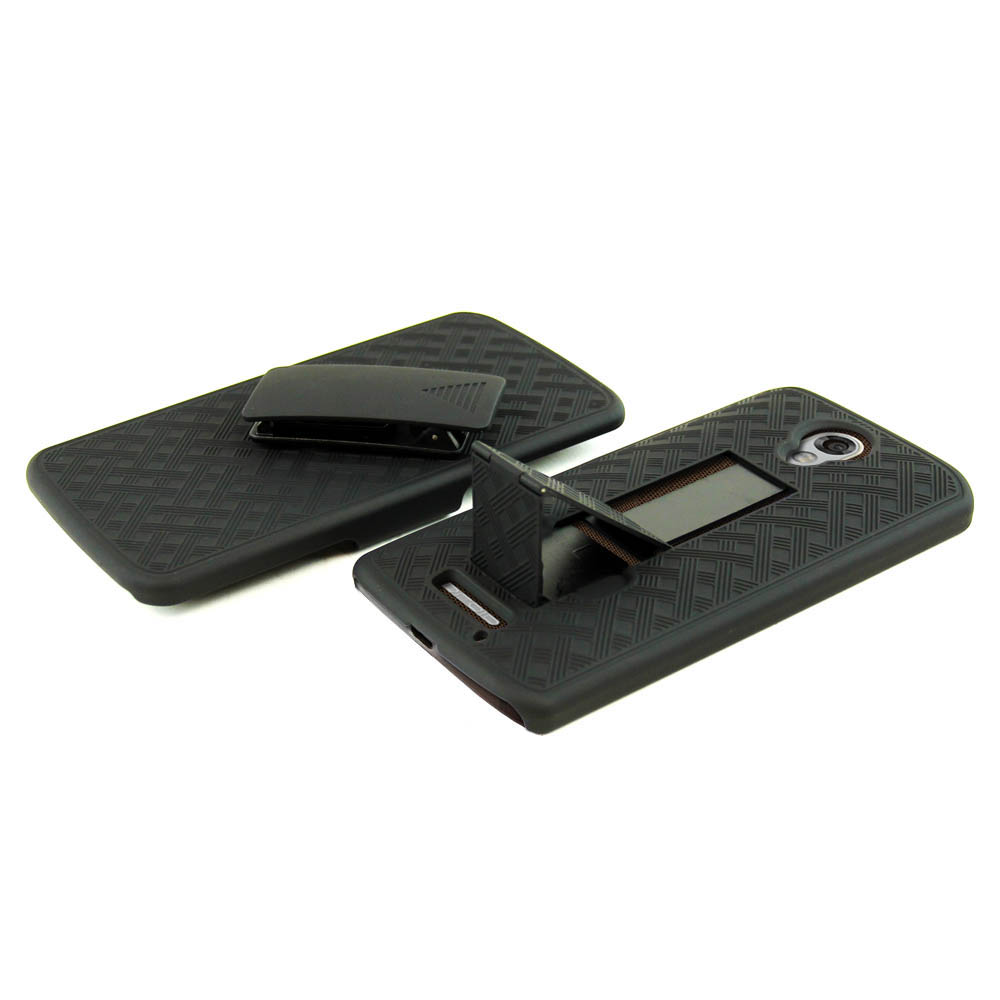 You Might Also Be Interested
Customers Who Viewed This Item Also View
Customer Reviews
Felicity
Oct 19, 2016 11:53:32 PM
Love it!
Fits great and serves its intended purpose. Love it! Just what my husband needed.
Edward Brown
Oct 18, 2016 8:47:44 PM
fit great!
I love this case it gives a supreme protection and very convenience to use. Fit great! durable, sturdy, easy to install, slim and i love the kickstand. I am satisfied customer, highly recommend.
Michael
Oct 17, 2016 10:27:28 PM
very durable
Fits my Motorola Droid Phone perfectly. The plastic is clear and the edges are strong. Very Durable, sturdy and i like the way it protected my phone. thank you
Dominic Gordon
Oct 13, 2016 7:30:09 PM
love the kickstand!
Great quality and they seems a supreme protection to hold up to a fair amount of abuse. I do occasionally manage to snap the clip off the back. I love this case and always get compliments on it. love the kickstand!
Leonard Parsons
Oct 11, 2016 8:09:08 PM
excellent case
Protection is Perfect! Good case, i love the kickstand it still stands in portrait mode. Very happy with this case.
Warren Hudson
Oct 10, 2016 5:12:39 PM
Satisfied
Very well built and sturdy holster case. It holds my phone very securely and easy access. Price was decent. Thank you

Liam Chapman
Oct 9, 2016 7:45:37 PM
happy for this
Very well built and sturdy holster. It holds my phone very securely, the clip itself is strong, and easy to use. Happy on my purchased.
Simon Ferguson
Sep 27, 2016 6:11:35 PM
Great Quality!
I like it's concept, soft rubber case, does a good job protecting my phone. It is very easy to remove the phone from the belt clip when you need to make or answer a call. Highly recommend
Sam Chapman
Sep 21, 2016 11:44:37 PM
great value
Excellent case. fits well, durable and is not bulky. I love the way its protect my investment. Great value for price.
Sebastian
Sep 20, 2016 8:44:49 PM
good protection
Exactly what I was looking for. This case fits great, sturdy, stylish, it provides good protection in my investment. High recommended.


Robert Clark
Sep 15, 2016 7:20:23 PM
Good deal
Good case for the money. I like how slim it is compared to may last case, which was a beast. I feel like I have a new phone.

Luke Anderson
Sep 14, 2016 5:33:11 PM
Great case
Very happy with this case, quality product, fits great.

Gabrielle Wilson
Sep 13, 2016 9:50:57 PM
Great Quality!
Great fit and protects well! Durable with great value of price.

Simon Wilson
Sep 7, 2016 10:50:52 PM
i love this case
Just what I wanted and expected, cute, functional, sturdy, and the strap and belt is great for carrying and clipping onto belt loop. Exactly what i was looking for. Highly recommended. I love this case.
Leonard Hamilton
Sep 6, 2016 11:43:25 PM
Great case
Great case protection for my Motorola Droid phone. The case fits perfect, exactly what I wanted, i love Kickstand and its Belt clip, great product.
Lucy Brando
Aug 28, 2016 10:25:21 PM
Exactly what I was looking for!
Great case, protects the phone in case you drop it and you barely know its on the phone and it has a kickstand which I love! . Gives me the ability to grip my Droid Turbo phone, and is a cool case. Fits in my pocket, still. Protects my phone very well. Case holds phone snugly and still allows full access to phone features. Additional belt clip holder holds snugly as well and is perfectly adjustable on your belt. The belt clip seems sturdy and well made. Exactly what I was looking for!
Calai Pratt
Aug 25, 2016 11:58:12 PM
great proctection
It is very attractive and useful for my Motorola Droid ,It is easy to go on and off, it is slim and slides in and out of the holster nice and easy. I use this case mainly when I work outside and want to be hands free and do not want to carry a purse with me. It is also a good all around protection for my phone even tho this phone has a shatterproof screen.
Faith King
Aug 25, 2016 12:15:26 AM
It protects my Droid Maxx
It protects my Droid Maxx 2. I am very happy with this purchase. It shipped very fast too. I am love i, his belt clip is perfect. Very easy to insert and remove and fits perfectly. This is great quality and good if you don't keep you phone in a protective case normally, but want a belt clip holster for special events. The phone just slides right in and stays secure.
Diane Duncan
Aug 18, 2016 11:57:57 PM
Best phone case I have ever had.
This is a very nice case and the clip is one of the strongest I've had the honor of being able to use. It turns in many directions to keep it out of the way of work but still accessible and the case allows easy access to the power port and the earphone port . I have always enjoyed this style of cellphone case, as the clip means everything to me. I like to have it clipped to the inside of my pocket, and this case allows me to easily accomplish this. Best phone case I have ever had.
Cameron Johnston
Aug 17, 2016 1:09:35 AM
it works for my phone
This product helped boost the bars where I do not have to be outside anymore to get a strong signal. It also have helped reduced drop calls and interference.The antennas do give me a few extra bars which is nice.

Alan Wallace
Aug 17, 2016 12:59:44 AM
love this case
I love this case!! It fits my the Motorola Droid very well it protects the phone well and I've gotten many compliments on it.The kickstand works pretty well when used horizontally but for vertical use the phone topples over. The kickstand needs to be slightly longer to support the additional size and weight of the Motorola droid Turbo 2 properly.. I'm very pleased with this case and highly recommend it.
Write Your Own Review