Made for Samsung Galaxy S6
Features & Highlights
Why you should buy this product
Samsung Galaxy S6 Case, REDshield [Black] Supreme Protection Slim Matte Rubberized Hard Plastic Case Cover with Kickstand and Swivel Belt Clip
This Samsung Galaxy S6 Rubberized Hard Case w/ Holster Stand - Black is great for quick drawing your phone for usage! A quality product and made especially to fit your Samsung Galaxy S6. It's stylish and protective for your Samsung Galaxy S6. Quick draw your phone and slide out your phone from the holster that clips on to your belt or anywhere securely. Prop up your Samsung Galaxy S6 for great viewing position with the built-in belt-clip kickstand.
Custom cut to fit your Samsung Galaxy S6
Durable and lightweight
Case slides securely into holster
Hard matte, anti-slip surface
Textured lines for added grip
Rubberized plastic with swivel belt clip
Built-in belt-clip kickstand props your phone up
Quality Made holster to perfectly fit your Samsung Galaxy S6
Color: Black
**Phone may fit inward or outward please refer to pictures and directions on the holster.
Important Disclosures
Phones with extended batteries may not fit the case.
Phone or Device, if pictured, is for demonstration purposes only and is NOT included.
Using product with hand sanitizer or alcohol products may cause case to bleed.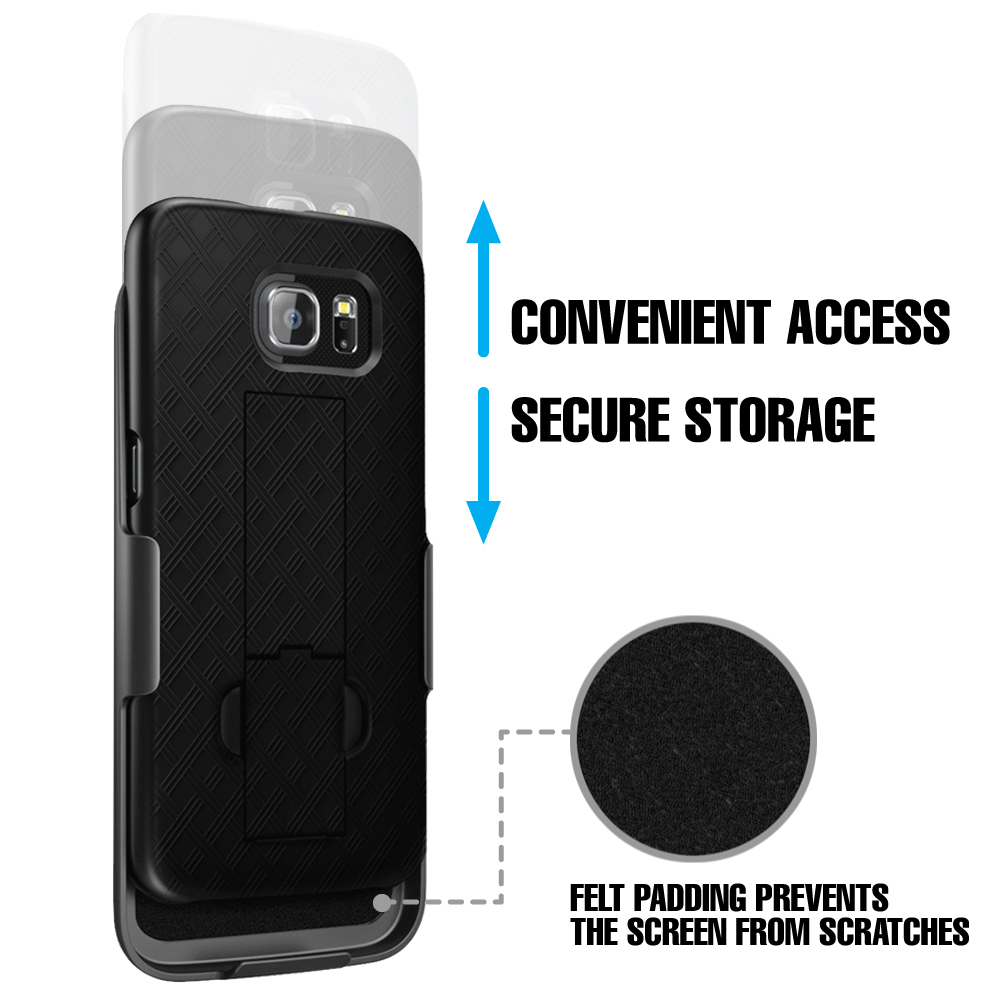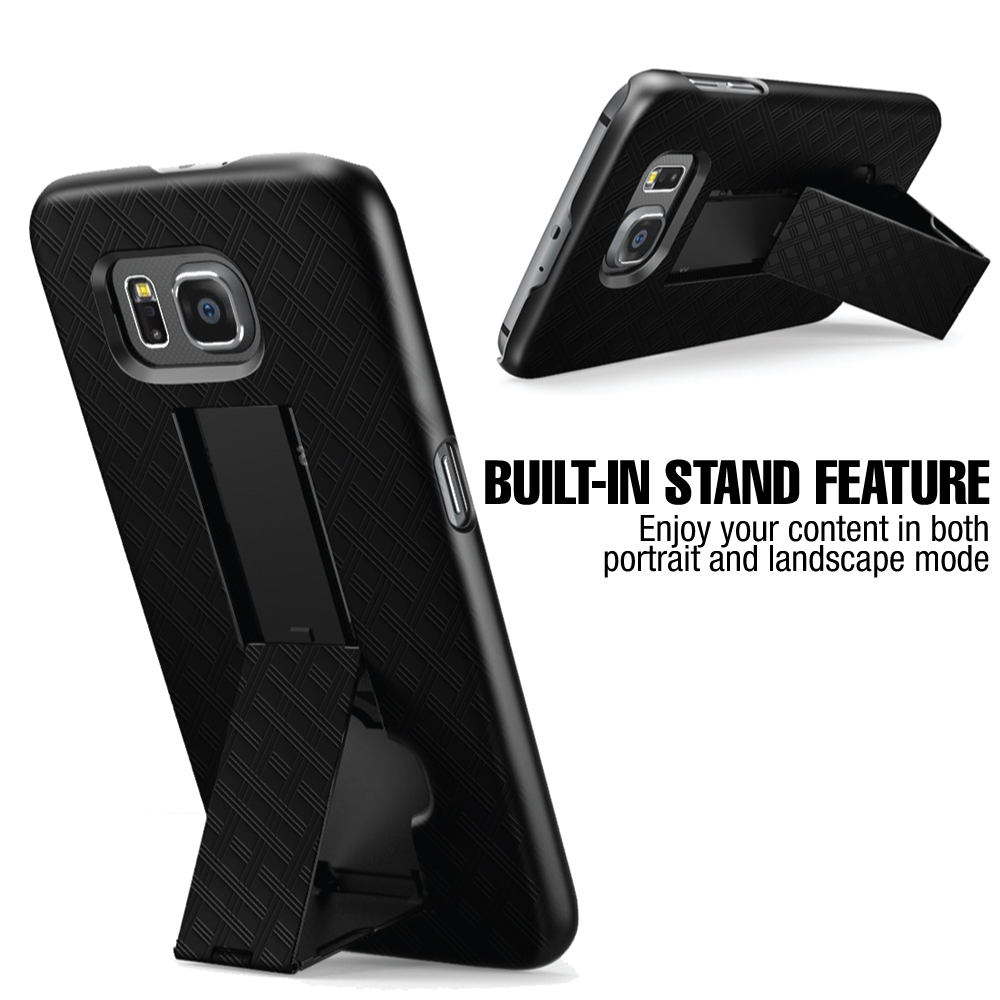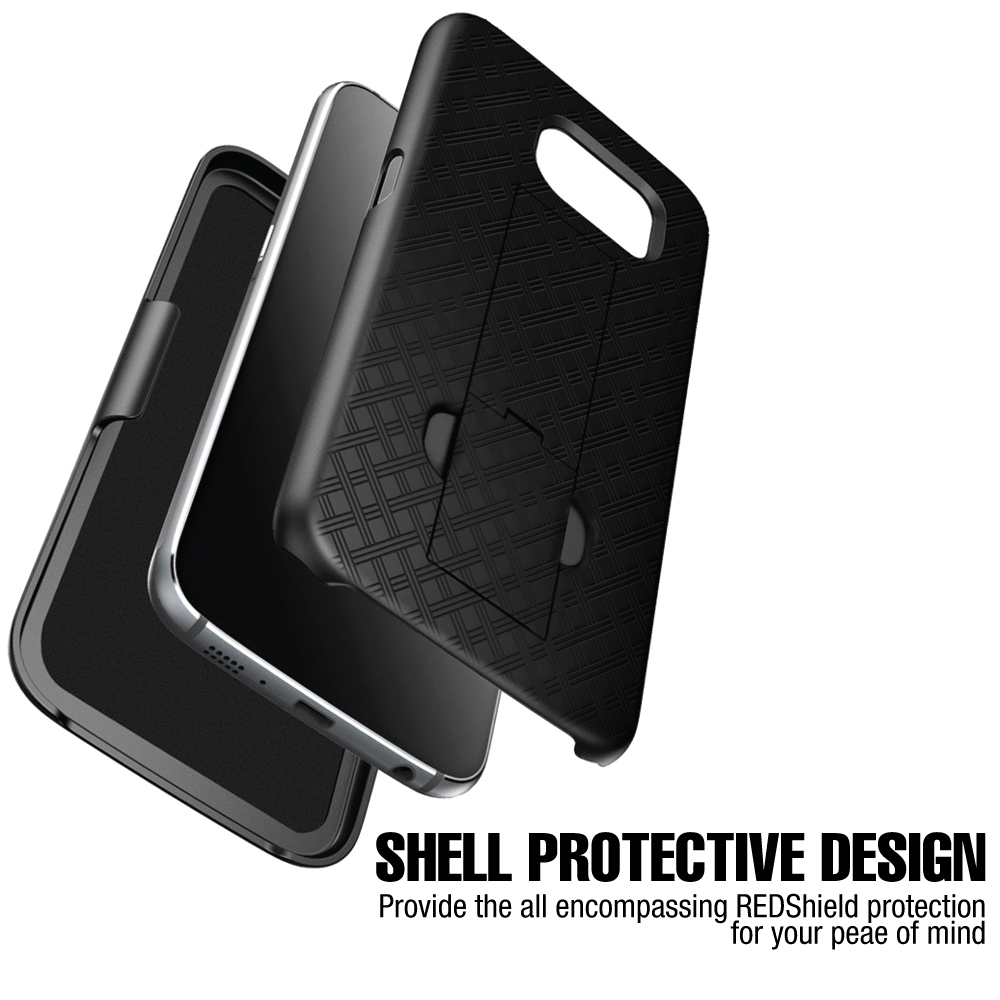 You Might Also Be Interested
Customers Who Viewed This Item Also View
Customer Reviews
Nick Gordon
Jan 17, 2017 8:59:57 PM
simple black yet stylish
Simple black color yet stylish and I love it! This case was solid, durable, sturdy and fits great on my Galaxy S6 phone. Well made product with fair price.
Jame Jaclson
Jan 16, 2017 8:15:29 PM
quality made holster case
Quality made holster it fits very well on my Galaxy S6 phone. Belt clip and kickstand was great! It is built in props my phone up, amazing and i love it!
Edward Duncan
Jan 12, 2017 10:03:04 PM
great protection
Awesome feature! Kickstand and Swivel Belt Clip that provide a great protection on my phone. The screen protector is easy and very clear. Price is right for well made case.
Joshua Black
Sep 18, 2016 6:33:35 PM
fits well
Great case! Fits really well, super stylish, has great grip, It is a good cool looking case.



Carlos David
Sep 13, 2016 8:30:43 PM
Great case
Prime time! Great case, well made, perfect fit, slim low profile. Can't beat the price. If you need a slim case, this is the one. Highly recommended.
Rose Kelly
Aug 17, 2016 12:48:36 AM
Fantastic hard case
The case that goes on the phone is nice and durable and the case fits well on my Samsung Galaxy 6.It gives me the confidence that if I drop my phone that I will be protected. Also it has a clip that I can carry in my waist so my phone doesn't get lost or damaged when I go running, or to the park with my kids. I would highly recommend this case,
John
Aug 2, 2016 1:35:14 AM
incomparable price and quality
This is an amazing holster case for my Galaxy S6. This beats every other case I have previously used. It feels well protected. Another thing I like is that I can use the kickstand to watch my movies hands free. There's a nice lip at the front that provides protection to the face as well.
Charles King
Jul 25, 2016 8:51:27 PM
Really Good On Galaxy S6
This is a really good case and holster for the S6. I've had holster cases for all of my previous phones. This fits the phone really well. Very tight fit. Good materials and feel to this case. I'll be buying this brand from now on.
stan
Feb 18, 2016 8:29:45 AM
perfect
Much easier to remove and insert phone than other holsters I've used.
Greg
Jan 13, 2016 11:24:47 AM
Just what I needed.
Slim case and holster. Upon receiving it, I was very happy that the product was as advertised.
Rich
Dec 11, 2015 7:51:04 PM
Perfect
Just what you said it was ,very satisfied
Jeniseso
Nov 22, 2015 2:51:09 PM
Very good case/holster
As I was expecting it. Slim, easy to remove phone and the holster seat very nice on the belt.
gli
Oct 14, 2015 10:49:16 PM
Great Fit!
Nice case, slim, no bulk; love the ease of removing the phone from holster.
MichaelH
Aug 12, 2015 6:18:08 AM
Like it
I like this case / holster. It is simple, effective and not bulky and inexpensive. There are no sharp edges and the case is dimpled to facilitate grip. I would recommend.
Write Your Own Review