Features & Highlights
Why you should buy this product
Heiz **Extreme styling with result*Professional Ceramic Versatile Flat Hair Iron For Beauty Enthusiasts
The Professional Ceramic Versatile Flat Iron **Heiz** The most advanced ceramic coating infused with Far Infrared (FIR) heat and negative ions provides fast and smooth hair styling. It delivers straighter, less frizz, silky, shine, and healthy-looking results. Aside from straightening, the Heiz Flat Iron curls and flips hair gorgeously. With rapid heating and 3D swivel cord, this flat iron provides you with a quick and easy way to the ultimate salon finish.
Quick, strong heat: Short heating time and powerful heat recovery for fast and convenient one pass styling Straighten or curl: The versatile, multi-functional iron allows users to make various styles. Cushion and tilt: Plates sit on a silicone air cushion to minimize hair getting caught or pulled Ceramic coating: Advanced special ceramic coating technology for shiny, bouncy and healthy hair 2 free gifts - guard cap and pouch mat, for safety and convenience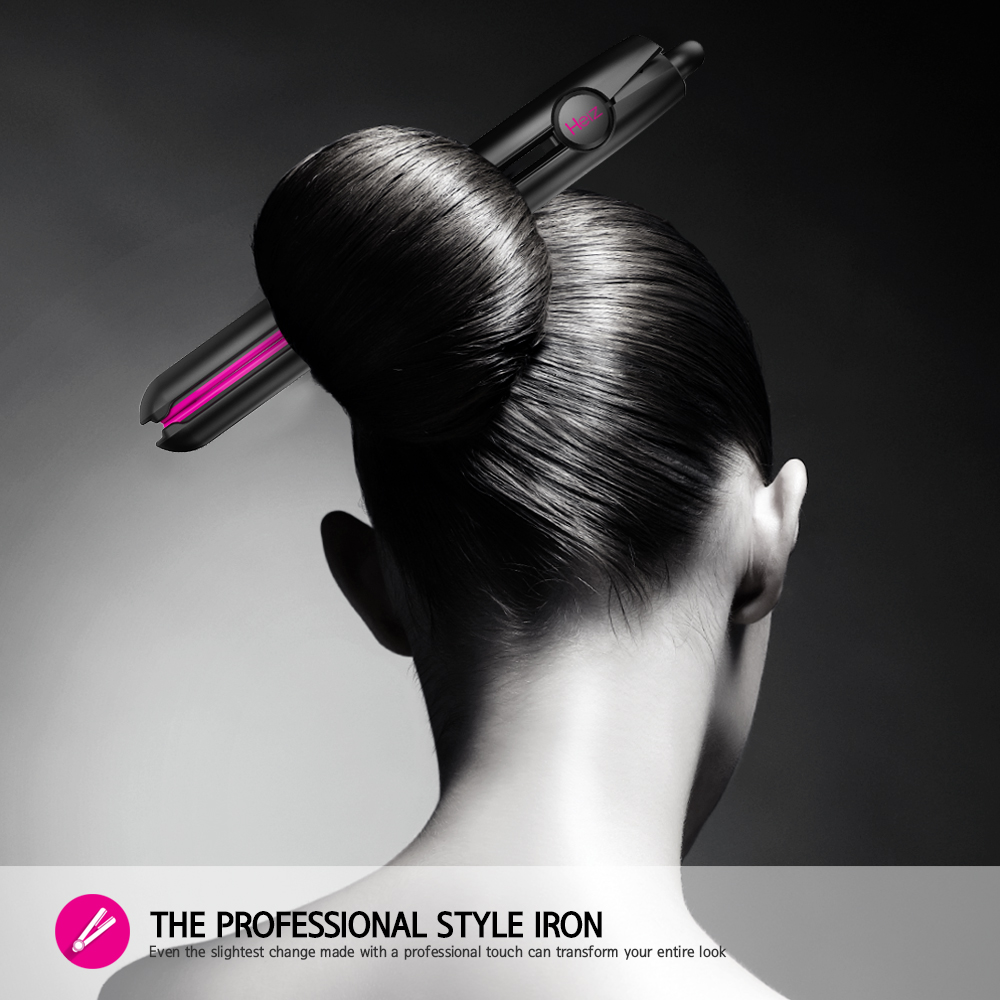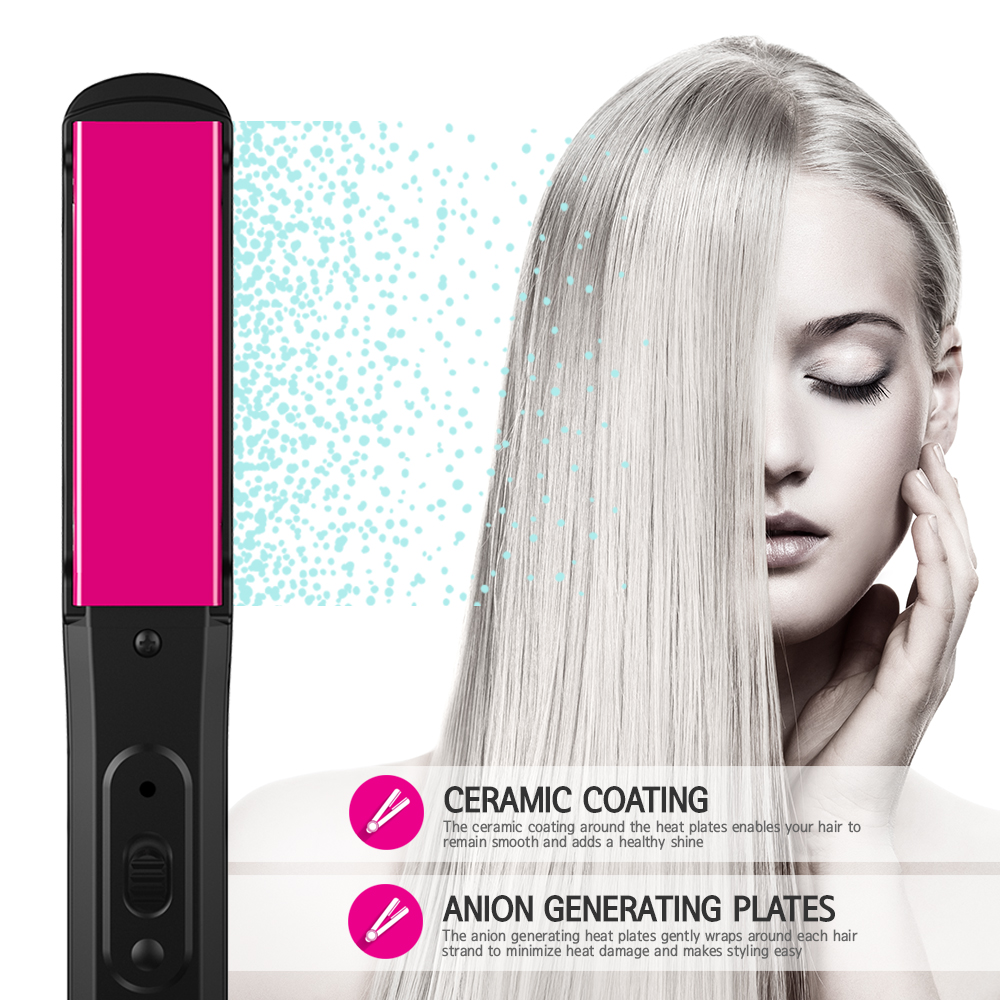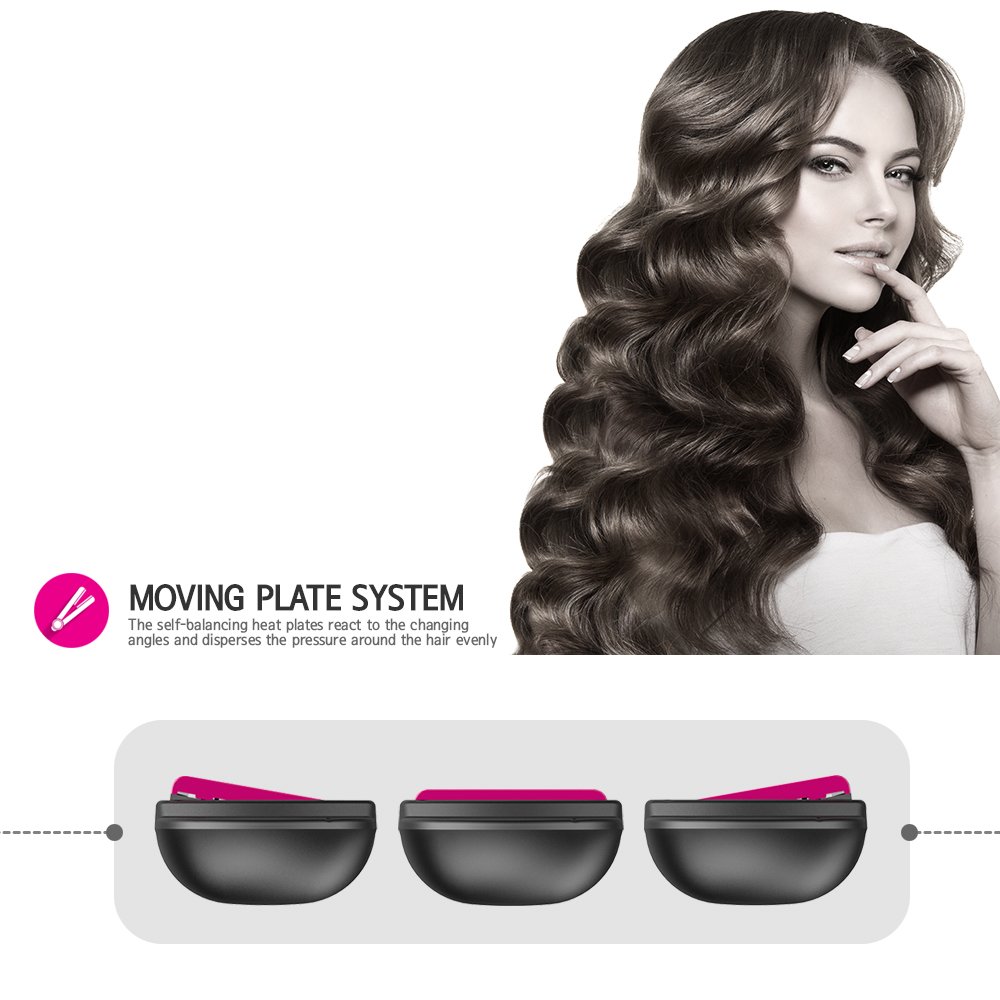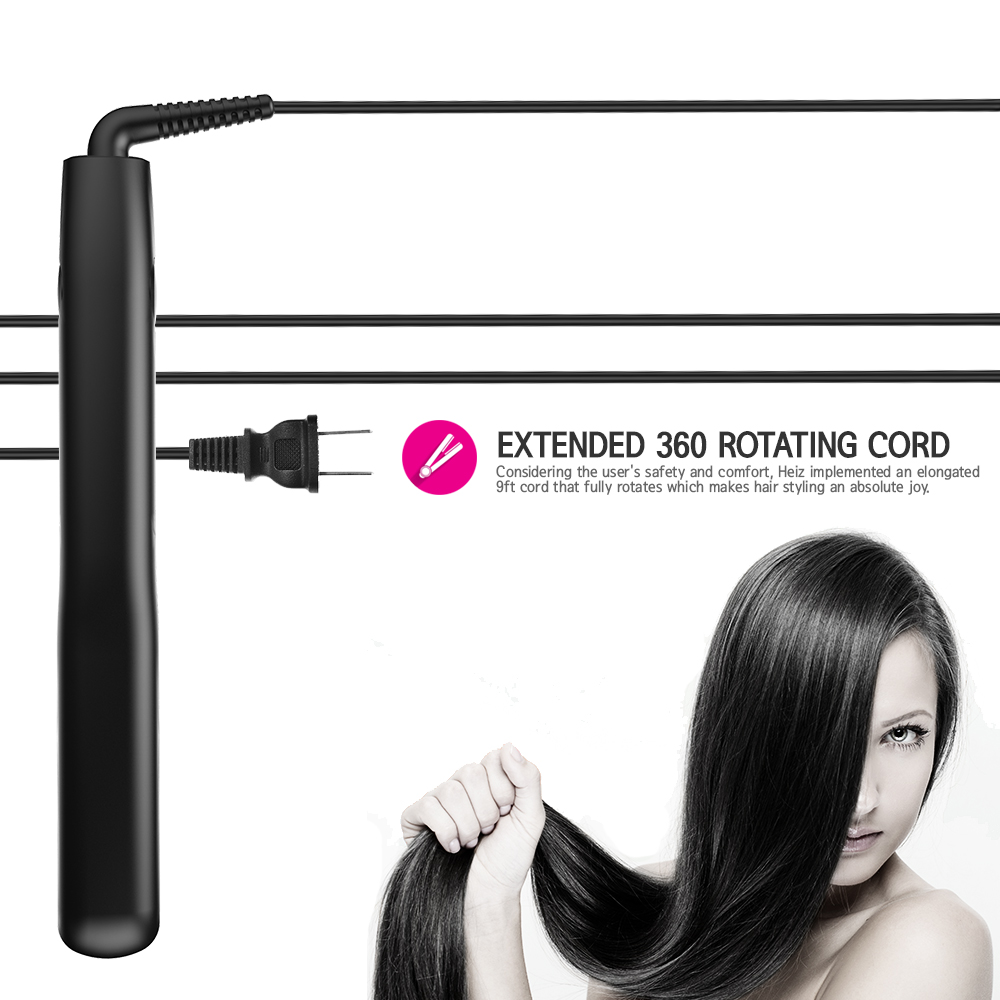 You Might Also Be Interested
Customers Who Viewed This Item Also View
Customer Reviews
Leigh ann
May 7, 2015 11:18:48 PM
Can't go wrong for the price
I used this iron for 3 weeks now. If you are looking for an affordable iron you can't go wrong buy one which heats up really well and right away. I had the my old flat iron for three years,but it was not like this that heated up easily. It makes my hair silky, soft and takes away frizziness. Why do you spend hundred dollars when you have this kind of product which have a quality one.
Shimella
May 7, 2015 8:35:04 PM
Highly Recommended flat iron
The first time I started to straighten my hair, it was doing just as much as my $15 straightener. Then I tried to curl my hair with it and oh my gosh! Amazing curls that lasted!! I curled my hair sometimes and it performed so well. The next day I straightened my hair and went to Six flags (which when I go, my hair usually frizzes up in about an hour) but surprisingly, it lasted all day! no frizz, no waves! A couple days later, I tried to straighten my hair again and it was amazing! My sister was even like "Your hair looks so good!" (This means a lot because my hair is usually super frizzy and wavy). I love this hair flat iron and would 100% recommend it!
Angelique
May 7, 2015 8:26:52 PM
I love this affordable flat iron
I enjoyed using this flat iron..The iron is ready to use within 30 seconds and does a great job straightening or curling my hair.

The Heiz flat iron comes with a heat resistant cap and a black travel pouch that also works as a place mat for the iron What I like most about this item is that it leaves my hair shiny and soft. It is worth the buy
Maria Luisa
May 7, 2015 1:10:19 AM
Such a wonderful product
It does a great job of strengthening. I've been using this almost 3 weeks now without any problems at all. I like to use it to curl my hair and it really works pretty well. It leaves my hair stays smooth and shiny. I am very satisfied with the quality that this products gives.
Madelaine
May 7, 2015 1:04:04 AM
Pretty good straightener
I bought this Heiz flat iron after my previous iron stopped from working which was twice expensive that this one. I just used my old iron that only lasts for three months.

Pros:
Heats really quick
Straightens and curl my hair softly
My hair looks so shiny and not frizzy

Cons:
I just used this for a week and let see if how long it will lasts without issues


JL
May 6, 2015 2:08:24 AM
Outstanding
I received my product within expected date and arrived in an excellent condition. The package looks so lovely. It came with protective pouch mat and guard cap that were kind of pleasant surprise for me. This is the first time I saw this brand, but based on the result so far I am absolutely convinced. I have a naturally curly hair that is sometimes so hard to iron but when I used this, this leaves my hair smooth and shiny. With my previous flat irons, I've had some issues with my hair getting caught in the hinge but so far I haven't had any unexpectedly pulled hair. I recommend this flat iron and it is perfect package as a gifts.
Ecka
May 6, 2015 12:31:00 AM
Just what I needed
I've gotten so many compliments on my hair since using it. So far I love this straightener. It gets my wavy and frizzy hair slick straight. What I love the most about this are the two buttons (heat and on/off) are in a spot that I can't accidentally hit them and it gets job done so well.It is just beyond my expectation. Shipping was fast as well. My straightener arrived the day I got the email from Amazon that it was shipped and telling me I could expect it in about a week. I've already recommended this straightener to two of my co-workers, who were very excited about the price and what it's done for my hair.
Booom Booom
May 5, 2015 12:10:12 AM
This one deserves five stars
I love this Flat Hair Iron that really gives my hair stunning look. Thank you!!
SAM
May 5, 2015 12:05:14 AM
This is more than what I've expected
I have to say I used different kinds of flat irons over the years so I considered myself as a little bit of an expert and I was a little skeptical when I ordered this as I considered it's cheaper side . As I have a very thick, medium long hair, it usually takes a long time to get my hair done, but it is really easy to use. It really heats up very fast and also curl my hair which works out well. This is better that I expected
Minaj
May 4, 2015 11:56:55 PM
Great price for awesome hair straightener!
I have bought a lot of different flat irons before and this is really the cheapest one. It is one of the best hair straightener I've ever had.

I received it promptly with everything offered. This is not only designed to straight hair but it leaves a soft feels hair afterwards.

The best thing is that it does such a great job, I only have to hold the piece of a hair once and don't need to go over and over again. Thanks for making the best flat iron ever!!!
Write Your Own Review