Features & Highlights
Why you should buy this product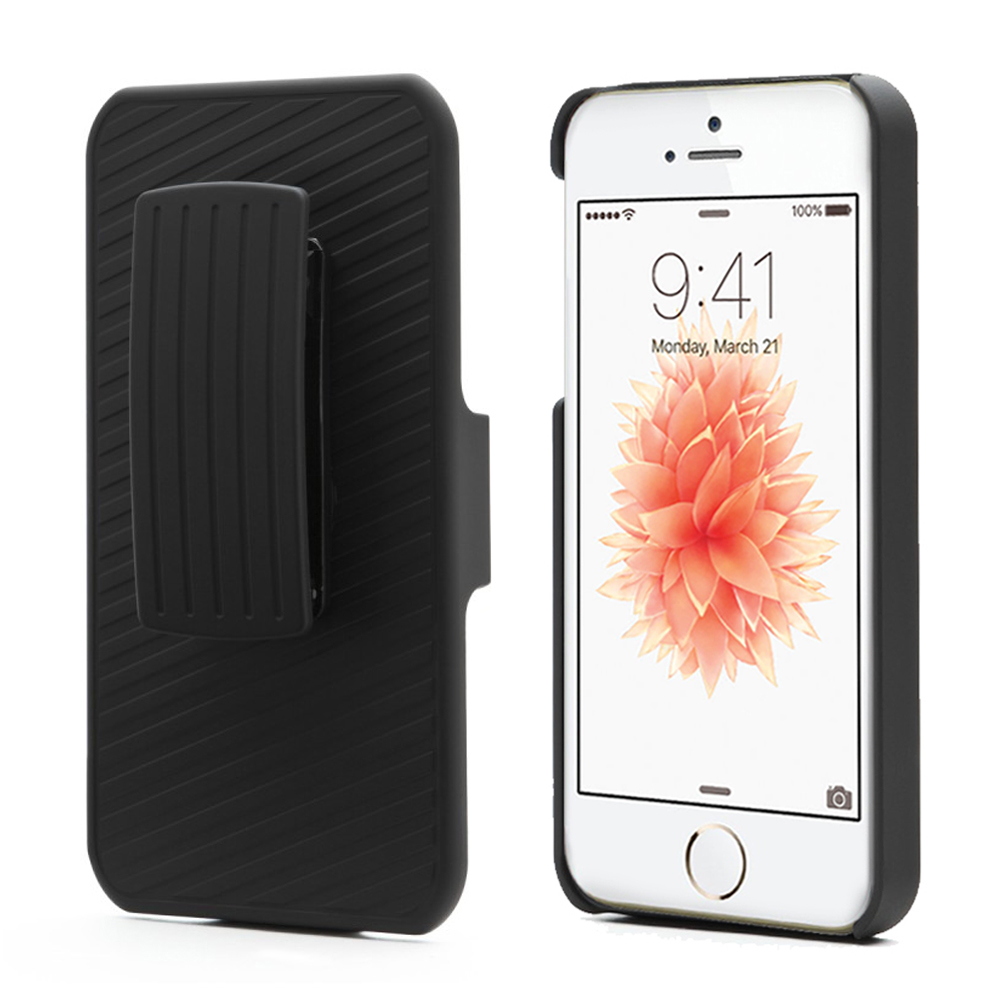 Apple iPhone SE / 5 / 5S Holster Case, REDshield [Black] Supreme Protection Slim Matte Rubberized Hard Plastic Case Cover with Kickstand and Swivel Belt Clip
This Premium Apple iPhone SE/5/5S Rubberized Hard Case w/ Stand & Holster w/ Stand & Belt Clip - Black is great for quick drawing your phone for usage! A quality product and made especially to fit your Apple iPhone SE/5/5S. It's stylish and protectant for your Apple iPhone SE/5/5S. Quick draw your phone and unclip your phone out from the holster that clips on to your belt or anywhere securely.
Custom cut to fit your Apple iPhone SE/5/5S
Durable and lightweight
Case clips securely into holster
Hard Matte anti-slip surface
Hard case has a built-in kickstand
Rubberized plastic with swivel belt clip
Quality Made holster to perfectly fit your Apple iPhone SE/5/5S
Color: Black
**Phone may fit inward or outward please refer to pictures and directions on the holster.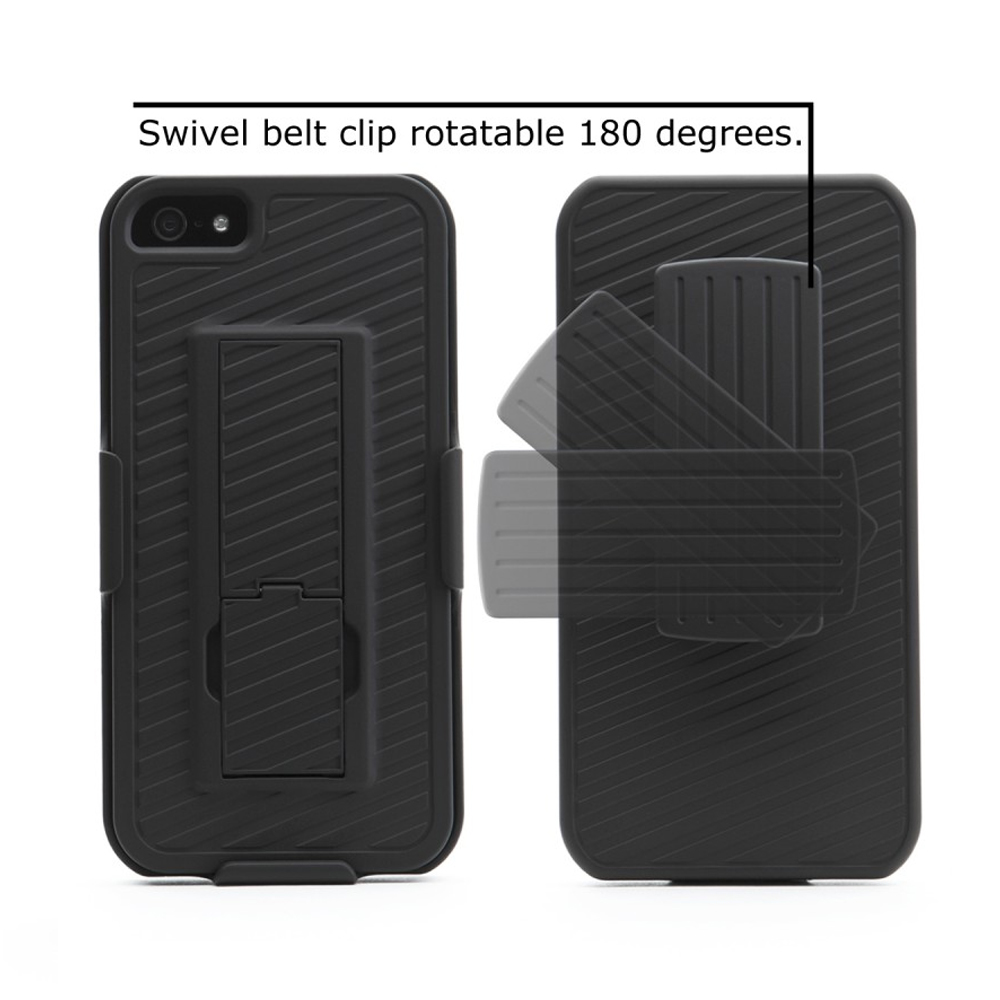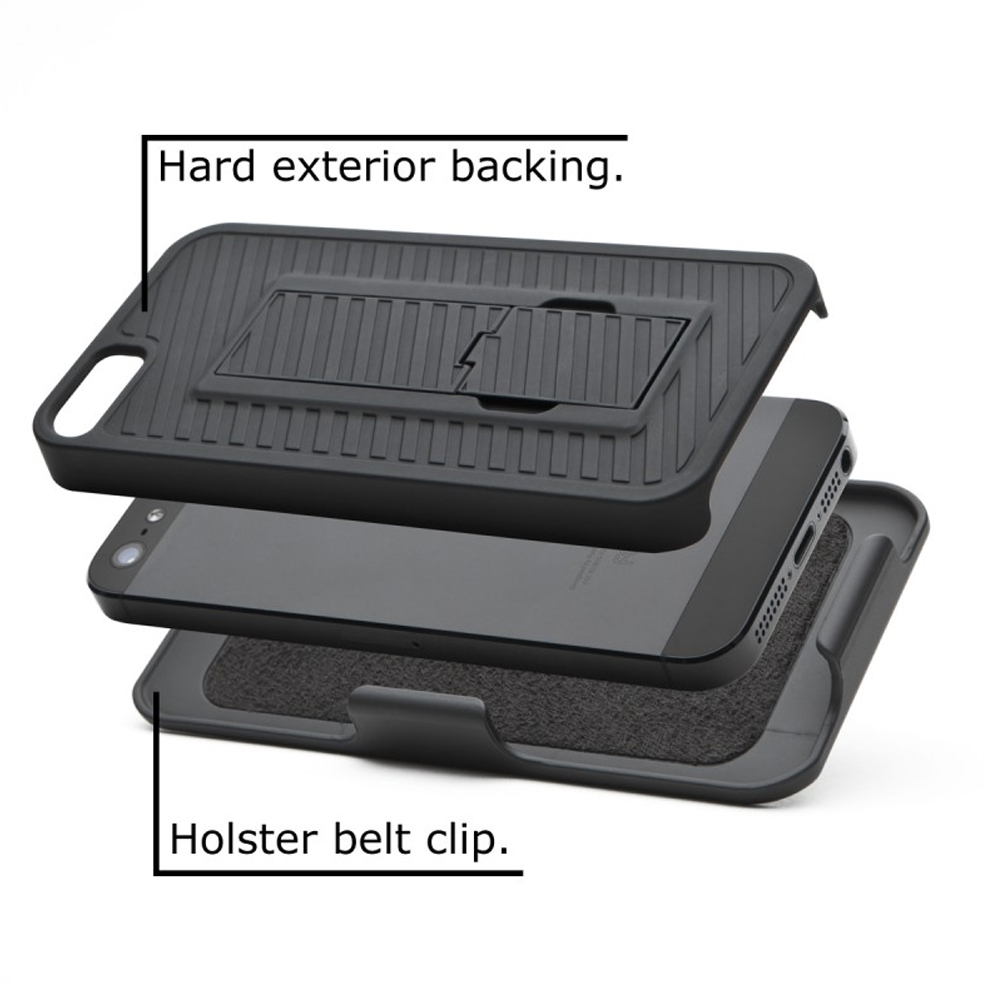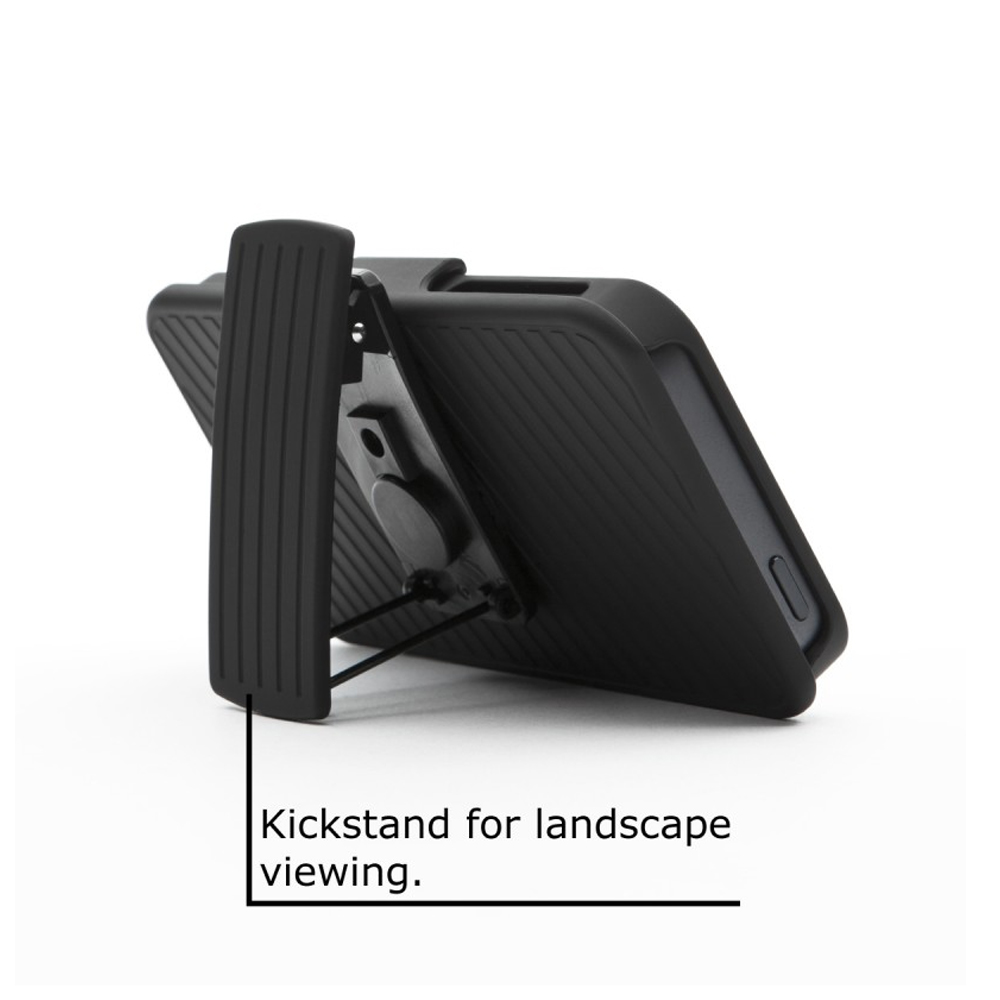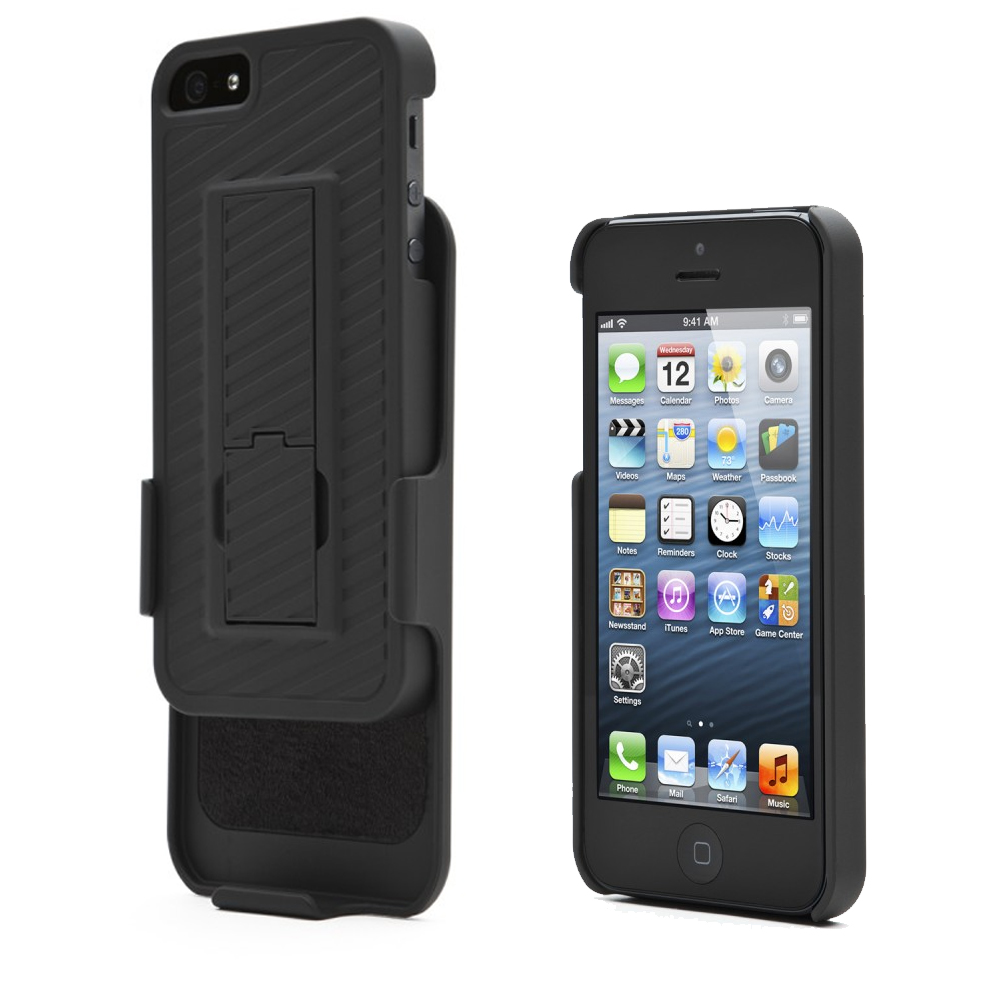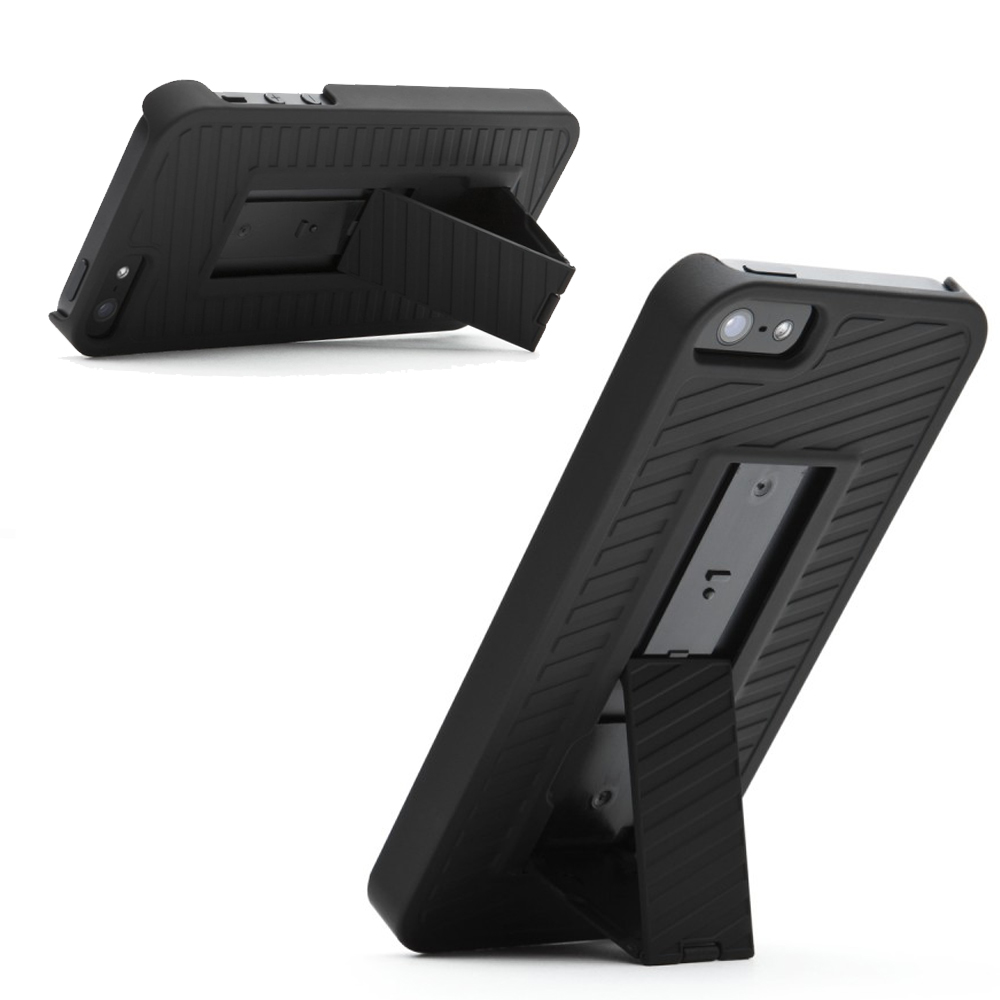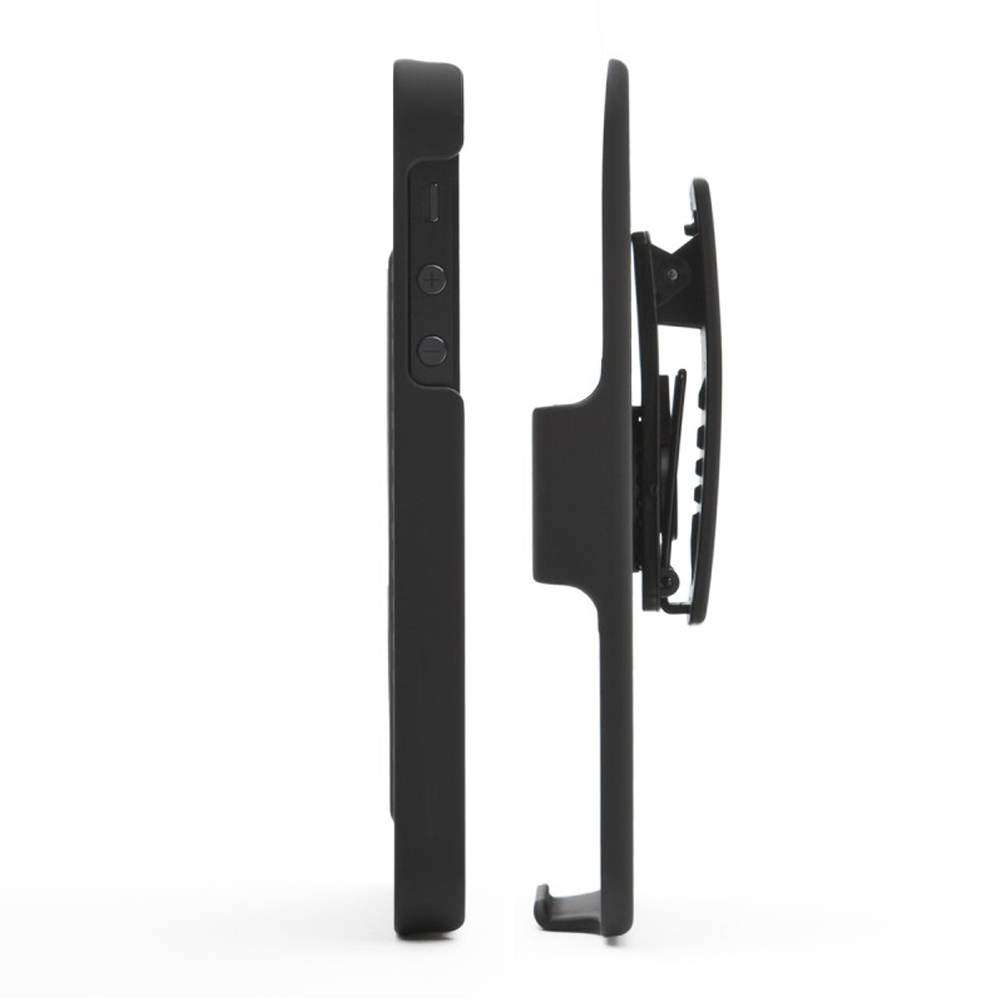 You Might Also Be Interested
Customers Who Viewed This Item Also View
Customer Reviews
Richard Smith
Mar 23, 2017 11:07:24 PM
seem sturdy and protective case
The case itself was made well enough to secure my phone. It seems sturdy and protective holster case. I'm glad to have this at reasonable price.
Jack Jones
Mar 21, 2017 11:19:23 PM
great value for the price
I love the feel of this case. Durable, a good rubber grip, and worth it for the protection. Great value for the price.
Lucas Clark
Mar 20, 2017 7:32:39 PM
so far so good
First one that was both sturdy and lightweight and have a masculine look. So far I'm totally pleased and it works as expected.
Joshua James
Mar 19, 2017 10:05:54 PM
perfect case for me
Perfect! I'm very happy with this. It does just what I wanted. Durable, rubberized and with built in kickstand. Great case for the price.
Edward Chapman
Mar 16, 2017 8:20:17 PM
quality made holster case
Quality holster case. Excellent fit and very durable. Well built case and nice Looking. With reasonable price!
Max Knoxx
Mar 14, 2017 8:42:36 PM
fits my phone perfectly
Fits my phone perfectly. Nice and thin but durable! Very stylish and comfortable to used. Also a great protective case with belt clip, kickstand and amazing price!
Leonard Hudson
Mar 13, 2017 8:02:40 PM
quality holster case
Quality Holster case. It feels relatively sturdy, durable, looks nice and has access to all ports. Keeps my phone safe and secured. Highly recommended.
Dominic Blake
Mar 12, 2017 8:27:39 PM
well and fits great case cover
Well built case and nice looking. Fits my phone perfectly. Durable and lightweight that provides a great protection and great kickstand and swivel belt clip. Price is great!
Jacob Graham
Mar 9, 2017 10:01:59 PM
perfect for my lifestyle
My wife just make the right decision when she pick this case. Perfect for my lifestyle and with great protection. I like the design and very comfortable in my hand. Well made of rubber and with swivel belt clip.
Jack Gibson
Mar 7, 2017 5:30:32 PM
well made quality with great protection
I love this case! It makes my phone look so good! Exactly what I needed! Perfectly fit on my iPhone 5S and this is well made quality case with great protection. Price is right.
Joshua Short
Mar 6, 2017 8:27:46 PM
nice and stylish case
It's very nice case, stylish and was a great deal! It provides the protection needed for my phone.

Abigail Dowd
Mar 5, 2017 10:59:04 PM
best value case
Best value case and very sturdy. This holster is the best. Easy to remove the phone run. Kickstand allows to view my phone either in portrait or landscape mode.

Owen Hart
Feb 28, 2017 6:36:01 PM
awesome product
Awesome product. I like the case just fine. Slim, light weight, perfect fit. It even has a built stand. The price is just perfect.
Leonard Miller
Feb 16, 2017 7:12:22 PM
look great and feels good
Look great and feels good! I love the feel of being rubberized, sturdy, durable enough for the protection needed. Totally recommended.
Luis Manning
Feb 13, 2017 10:00:33 PM
I really love this case
I really love this case. I can prop the phone upright or on its side for movie watching. Awesome price!
Nathan Russel
Feb 9, 2017 7:39:24 PM
best case ever had
Best case cover I've ever had! I have drooped my phone several times and have no crack. Amazing, this is sleek and durable. Very glad to have it! I would highly recommend it!
Dylan Lewis
Feb 8, 2017 7:25:15 PM
it holds my phone firmly
Holster holds my phone firmly, it is easy to grip texture. I love the design and the rubberized texture. Durable and fits great on my iPhone. Best buy!
Nickson Anderson
Jan 24, 2017 9:22:13 PM
awesome holster case
Awesome belt clip holster it works great for me. It's easy to get my phone in and out of it. Fits perfectly on my iPhone 5S phone. Price is right.
Robert Kelly
Jan 15, 2017 8:03:08 PM
very nice case
Very nice case. This is durable and lightweight yet give a protection and securely of my phone. Quality made holster and perfectly fit on my iPhone 5s. Great value!
Austin Clark
Jan 10, 2017 9:22:58 PM
case is great
Grip is smooth rubbery so it feels so well. The holster clip rotates so I can wear it vertical or horizontal and the inside holster has some fuzzy padding to protect my screen. Great product for the price.
harry Lee
Jan 9, 2017 11:53:07 PM
excellent case
Excellent case! Fits great for my iPhone 5S phone, very solid built case that is easy to hold and offers an excellent grip. Durable and sturdy. Price was great!

Lucas Fisher
Jan 4, 2017 10:01:39 PM
well made slim case
Well made Slim Matte Rubberized case, this is easy to install and provides super protection. Sturdy, kickstand and belt clip is an excellent value!
Gavin Newman
Jan 3, 2017 7:52:30 PM
great looks and feels amazing
Great looks and feels amazing! It is very slim rubberized hard plastic but has a smooth surface to slide on. The holster clip holds onto my belt very nicely and swivels well. It also has a kickstand built into the holster, it protected my whole phone better.
Owen Layman
Dec 27, 2016 11:54:45 PM
i love the kickstand
I love the kickstand, the belt clip is a big bonus for me. This case was durable, sturdy and perfectly fit for my iphone 5S. Looks great and feels good. This case is slim and stylish while providing the protection I need. Highly recommend
James Ellison
Dec 26, 2016 6:54:56 PM
excellent case
Excellent Holster case! Fits perfectly on my iPhone 5S, Durable and lightweight and helps with grip. The kickstand on the back of the case is very handy and useful. It gives a protection and security needed. Highly recommended.
Michael Hill
Dec 19, 2016 9:53:01 PM
i love this case
I works perfectly for my needs. Very versatile, I can put my phone clipped to my pants. I love the kickstand and hard plastic case. It provides an extra and supreme protection on my phone. No worries about damages and scratches. Highly recommend
Blare Cameron
Dec 18, 2016 10:06:45 PM
looks and feels great
Perfectly fits on my phone, durable and sturdy holster case. Looks great and feels great! Amazing Price.
Bella Bower
Dec 15, 2016 2:55:26 PM
solid and perfectly hold my phone
Great holster case. This is a solid and perfectly hold my phone. Slim and stylish while providing all the protection I need. The belt clip and kickstand are big bonus for me. It was convenient being able to attach to my pant.
Michelle Jacson
Dec 11, 2016 10:12:02 PM
best case so far
Good case for the money. Has a kick stand and detachable belt clip. Best case so far!
Richard Clark
Dec 8, 2016 9:52:30 PM
great case ever
Great holster for "on the go..." Makes it easy to retrieve my phone and very sturdy! Best case I ever had. Highly recommend
Frank Davies
Dec 8, 2016 12:12:03 AM
I love this holster case
I love everything about this holster case. This is durable, sturdy and it provides a great and wonderful protection on my phone screen. I definitely recommend this one.
Frank Nash
Dec 5, 2016 9:43:56 PM
all in all a good case can offer
Clip fits on my iPhone 5S perfectly. I can load with screen facing in or out. It seems very sturdy so far, I like the holster case its slim matte rubberized, and kickstand. It provide a supreme protection. All in all a good case offers on my phone. Super like:)
Nathan Nollan
Nov 29, 2016 6:54:44 PM
great fit, durable and sturdy
Great fit on my iPhone 5S phone. It provides good protection, durable and sturdy. I love the kickstand, the case clips securely into the holster. It simple and easy to install. Highly recommend
Colin Burgess
Nov 22, 2016 8:53:57 PM
excellent case
I love these textured, snap on my phone. Clip fits on my iPhone 5S perfectly. Seems very sturdy and give supreme protection. Highly recommend

Jason Bell
Nov 15, 2016 6:34:36 PM
it nicely and looks wonderful
Very well build holster case perfect fit in my iPhone 5S. It goes a nicely and looks wonderful, nice grip and a sense of security in case it falls. Highly recommended.
Justine Butler
Nov 1, 2016 7:52:40 PM
love this case
I absolutely love this case for my iPhone 5 S! Great Holster , Kickstand and belt clip fits perfectly, seems durable and sturdy. It gives a supreme protection on my phone against scratches, crack and abrasion. Highly recommend

Dominic Clark
Oct 26, 2016 7:09:45 PM
amazing case!
It protects my phone from daily drops. Fits perfectly, Durable and sturdy. This case feels amazing in my hands, It's got a nice grip and sharp, solid feeling. Happy with my purchased
John Carlo
Oct 18, 2016 9:51:00 PM
worth it!
Glad I bought this! This case look and feels great specially the rubber made, it helps increase friction so that the case wont go sliding over the place. The stand works well too, and value the price, worth it!


Jonathan Fisher
Oct 16, 2016 5:54:19 PM
completely satisfied
Case is durable, sturdy, reliable, slim. Its offer a lot of protection in my iPhone 5s, fits great! Comfortable and easy to use, completely satisfied in this product.

Sam Peter
Sep 29, 2016 6:26:47 PM
solid case
Absolutely wonderful, excellent concept. A good solid case for my Apple 5S. I like it looks so stylish. great price. thanks.

Richard Hudson
Sep 26, 2016 11:02:01 PM
excellent case
Excellent price for this supreme case protection. It seems as good as the original. I absolutely love this case for my iPhone 5S. Highly recommend!
Joe Lambert
Sep 15, 2016 7:33:07 PM
love it!
I absolutely LOVE this case for the iPhone 5. Great price too.
Lanie Mclean
Sep 14, 2016 6:13:17 PM
supreme protection
I gave it to my mother and she love it! exactly what she needed. Simple with supreme protection.
Nelson Davidson
Sep 12, 2016 8:30:05 PM
supreme protection
I have been using this case for about a week now and I really happy with it. The material seems good quality it feels good on the hand and gives it a nice grip. The design itself is simple, sturdy, and supreme protection. Highly recommend.
Alexander morgan
Sep 11, 2016 11:51:36 PM
happy
Perfectly fit to my iPhoneSE, quality product, well made, durable, the belt clip and kickstand really protect my phone. Absolutely happy for the case and great price too.

Derick Clarkson
Sep 8, 2016 5:52:29 PM
Great Quality!
It's protect my phone from scratches, shocks, accident drops and collision. Good quality. I like it. Simple and gorgeous.

Christopher
Sep 8, 2016 12:08:00 AM
Best case ever
I was so impressed that I bought this case, I recently dropped my phone from the stair… I could not believe when I got down to it, No scratches, no broken glass. For me this is the Best case ever.

Anne Churchill
Sep 5, 2016 5:31:45 PM
Highly recommended
I was introduced this Apple iPhone Case, Protection and kickstand by my friend. Amazing! I am very happy with my purchased, it is exactly what i am looking for. Great sturdy case, fits perfectly, seems like it, could not break when fall, pretty well and i love it!

Irene Chapman
Sep 2, 2016 12:27:15 AM
Quality Product
I bought one for my husband and he really likes it, the color is so masculine. It seems to be very durable a quality product, Hard case has a built-in kickstand, and made perfectly to fit Apple iphone 5S.

Mariz
Aug 31, 2016 1:33:02 AM
works perfectly
I bought it for my i phone 5 the case fits nicely into the belt clip, which works perfectly as well. It's very slim and even fits nicely in front pockets..The holster clip rotates so you can wear it vertical or horizontal and the inside holster has some fuzzy padding to protect the my iphone screen when you slip it inside the holster. When I put it all together the thought came to me "I should buy an extra . . . but I see no need to as this holster will lasts for the life of the phone."

Stewart Turner
Aug 31, 2016 1:26:33 AM
happy
Great for the price, i am happy for this.

Betty Allan
Aug 30, 2016 12:30:26 AM
best buy
It works very well for my iphone , the belt holster has a nice belt clip that allows the case to be carried at any position - vertical to horizontal - and keeps it there! Case does fit snugly into the holster, but that is what you want - no chance this phone will fall out of the holster while you are walking.
Lash Gray
Aug 23, 2016 11:16:17 PM
very good case
Love this case when I wear jeans as it clips to my pocket & is protected. My IPhone fits in it perfect. Very good case I use it a lot.Great case. It looks attractive, it feels sturdy and the feeling has a nice rough texture all around the phone, and the phone is easy to slide off the holder by just one easy pull.

Alisony Nite
Aug 22, 2016 5:03:44 PM
excellent case
This product is as durable as it looks and believe me when I say I have butter hands and drop my phone often. The design is nice for a business environment when you don't want to put a bulky bullet proof cover on your phone but still of course need some level of protection.The holster has a secure clip to keep the encased phone from falling out, yet it's easy to release it when you want to, and it has a nice secure clip to hold it in your belt.! I love it and would POSITIVELY recommend it.
Anderson
Aug 17, 2016 1:12:56 AM
excellent one
it was excellent product protects my phone and with the belt clip it is easy to carry the phone in a protected cradle but it is easily accessible when needed. The phone fits easily into the clip and the clip holds the phone tight. I would recommend purchasing an additional display cover for protection of the front of your phone.

Sue Paige
Aug 14, 2016 11:40:56 PM
it protect your phone
It is very durable and protects the phone wonderfully, it protects the phone really well and is still not too bulky to fit in his pocket. The two piece design is really cool and seems very durable. It is a silicone layer with a hard plastic outer shell. And the kickstand is an added bonus. I would recommend it to anybody need in that extra security and style to their phone !

Michelle Hudson
Aug 7, 2016 8:36:23 PM
Great case!
The entire holster is nice looking, functional and performs as advertised. I will recommend this to anybody looking case and the phone fit in the holster perfectly and securely. Very happy with my purchase.
Jessica Manning
Aug 4, 2016 11:54:41 PM
Awesome case
This case leaves the phone about as small as possible while providing enough protection for my use, and making the phone easier to hold with the textured grip. And is easy to insert/remove with one hand. In years of carrying it on my belt, I never felt like it would come loose or fall out and have used it on roller coasters and such.
Jake
Aug 2, 2016 1:31:57 AM
Worth buying and worth waiting for.
If you need a belt clip, the optional cover with the belt clip provides a great option to hold the phone securely, provide additional protection, and allows you to easily connect to a belt, bag, waistband, etc. Very easy to put together also. Worth buying and worth waiting for.
Graham Foster
Jul 27, 2016 1:24:23 AM
This case protects my phone from my clumbsiness
I really like the way this IPhone protector works. It protects the glass face because the face is recessed by the case. Additionally, there is a rubber shock adsorber that fits around the phone so that it is protected whenever I give the phone the drop test - which I do not recommend but this case really helps when it happens. This case has a really nice feel in my hand; it just feels good.
Connor
Jul 25, 2016 8:46:28 PM
Perfect for any businessman
I purchased this for my son, a business student, and he said that this is just the phone case he has been looking for. He actually dropped it in the parking lot out of his pocket and the case didn't even have a mark on it! This is a great, reliable phone case that has that lifetime warranty (which knowing my son, he will need it), so it is definitely a case that I am glad I bought for him!
Samuel L
Jul 24, 2016 9:37:02 PM
Sturdy. Protect my iPhone very well.
This is a great phone case for the Apple iPhone 5S. This case feels very sturdy and it can most definitely protect my phone from phone damage such as dropping your phone, it fits very well on my phone. The belt design helps me insert the case with my phone on my waist, I will not forget my iPhone again, it protects the phone well too, glad to my purchase.
Jack Walker
Jul 21, 2016 8:25:28 PM
Compact!
This product is well made and compact. I use the clip when I am on the treadmill because I do not like the arm band type of phone holders.
Anonymous
Jul 19, 2016 7:51:11 PM
It's a Jewel!
It's rare when something far exceeds your expectations. This shell holster is very well made, stays in place, easy to use, and I'm confident it will not break. it's a jewel.
Aaron Watson
Jul 18, 2016 8:29:11 PM
Great cases for the IPhone 5s
I had a previous one for the iPhone 4 in black. It is super slim and you can use it multiple ways. Phone facing in or out, two different orientations, without the clip or with. The clip is awesome as it lets you prop the iPhone open and use it as a reader when you forget to take your Kindle with you! The grip is MUCH better than gel or plastic cases. Perfect case!
Nelson N
Jul 17, 2016 10:48:58 PM
Strong enough for the field
i work on an ambulance and was looking for a strong, nice, sleek case. until i came across this shell its great durable and strong enough to withstand my job in the field ! the best part is, it supports my new iPhone 5S! i recommend this case to everyone looking for a sleek durable case with a holster and a stand ! you cant go wrong! great seller great pricing!
Edwardmor
Jul 6, 2016 12:34:32 AM
Recommended.
This is a great functional belt clip case combo. Having so much fun with the kickstand. Fits perfect with the iPhone SE. The edge feels grip.
Elijah Lee
Jun 29, 2016 11:09:19 PM
Perfect Fit with belt clip
the quality if this phone case exceeded my expectations. I am definitely impressed. The kit comes with the phone case (with kickstand) the holster for the belt. The holder clips on to your belt, or purse. It Stays in place really well it also has a soft side for the phone to slide Into. The case is awesome. The case fits on the phone so well. All the cut outs fit. The case I'd a hard rubber type case. Has the lip on the front to protect the screen. And the kick stand is amazing. The phone slides right into the belt clip. It stays in really well. I am super impressed with this case!
Tom T
Jun 27, 2016 11:43:30 PM
Great product, Great price.
Great product, Great price. Easy to use. Meets all my expectations for price point. Doesn't bulk up my cell phone but still provides protection. Clips onto my belt securely but will just as easily clip to a women's hand bag.
Greg
Mar 14, 2016 2:21:59 AM
Nice product
This item is more flexible than similar belt holsters yet holds the phone snug. Slips in and out nicely.
IPhone Case
Jan 21, 2016 7:31:35 AM
Great Product
This case fits like a glove, it is a lot better then the one that I was using.
Ken
Jan 9, 2016 4:54:09 AM
Great Product
I had a very similar case for y old IPhone that I purchased at Verizons tore for over three times the cost. Very satisfied with this product and company' s service.
Pauli
Jan 1, 2016 9:56:45 PM
Excellent
Perfect product at a great price. Thanks so much
Pete
Nov 21, 2015 5:13:46 AM
quality item received it in two days.
Exactly what I wanted except the phone fits to tight in the holster and is hard to slide out. Without the case it's to loose and with the case to tight. I sanded the rim of the case and the phone now slides in and out easier.
Amy
Nov 19, 2015 9:14:46 PM
Very functional!
I love having my phone clipped to my waistband or the strap of my purse. It's never lost:) I only wish I could have found it in a different color.
frank
Nov 9, 2015 7:25:06 AM
excellent
good price and exactly what I wanted
George
Nov 4, 2015 7:19:17 PM
AWESOME
Very happy great price and product
Kentv
Oct 31, 2015 4:34:46 PM
Very pleased
Can't be beat for the money. I've been through 3 iPhone holsters from Verizon which last a few months and cost 27.00.
iphone5
Oct 21, 2015 8:54:28 AM
fantastic
love the product
tennis
Aug 20, 2015 9:59:14 PM
very satisfied
very happy so far. had it for one day. bought first one at verizon and it was not useable. extremlly hard to take out of case.This price was less than half from verizon which was made from a better material. hope this holds up.
macdale
Aug 8, 2015 7:15:01 PM
OK, but.....
The holster should have a hole cut in it for the camera as well so that you could just unclip it and take a picture instead of having to slide it out of the case.
Rick
Jul 12, 2015 8:53:18 AM
Awesome Product
This thing fits like a glove. The phone slides in and out as smooth as can be. Very durable.
iPhone Case
Jul 11, 2015 11:04:14 AM
Exactly what I was looking for
I have an android phone with a holster that I really like. When I got an iPhone for work, I wanted the same thing and this holster exactly fits the bill. It's compact, sturdy, has a swivel clasp, and a stand that's useful to prop the phone up. The order arrived in 3 days and the product was in perfect shape.
Write Your Own Review