Features & Highlights
Why you should buy this product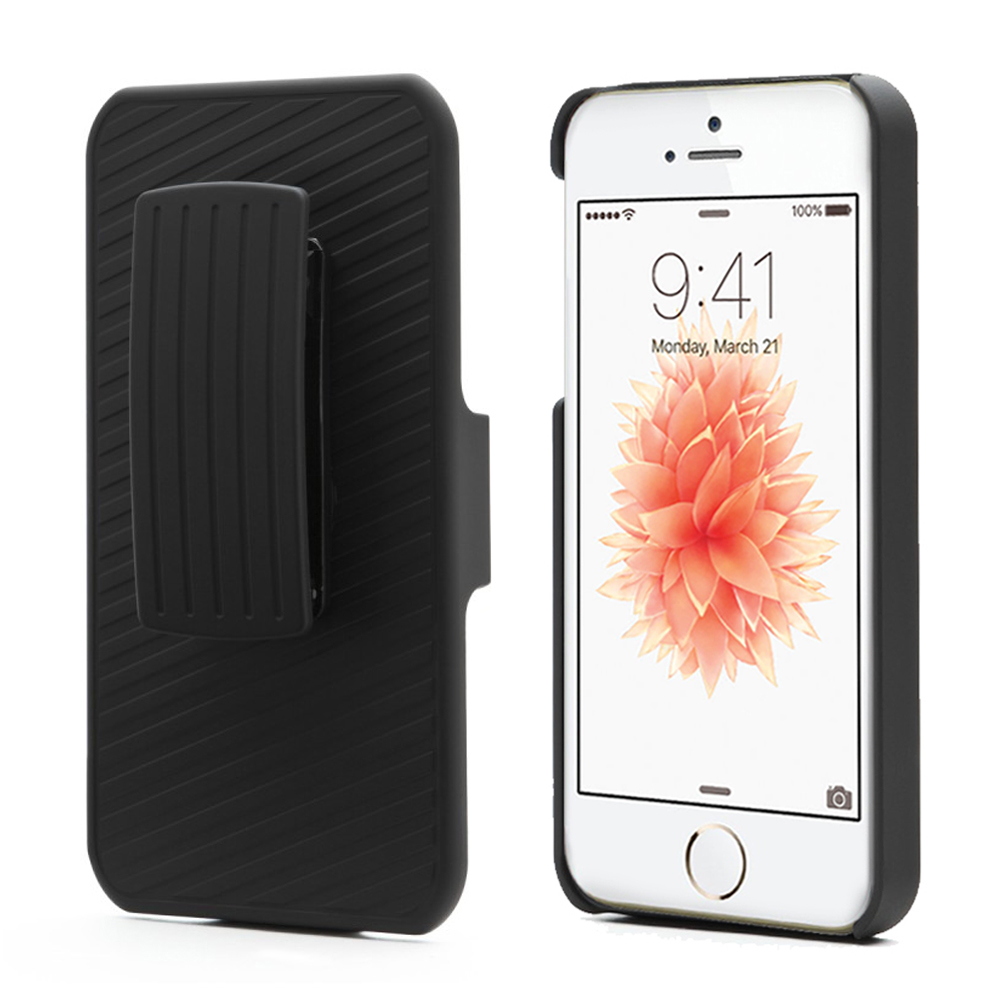 Apple iPhone SE / 5 / 5S Holster Case, [Black] Supreme Protection Slim Matte Rubberized Hard Plastic Case Cover with Kickstand and Swivel Belt Clip
This Premium Apple iPhone SE/5/5S Rubberized Hard Case w/ Stand & Holster w/ Stand & Belt Clip - Black is great for quick drawing your phone for usage! A quality product and made especially to fit your Apple iPhone SE/5/5S. It's stylish and protectant for your Apple iPhone SE/5/5S. Quick draw your phone and unclip your phone out from the holster that clips on to your belt or anywhere securely.
Custom cut to fit your Apple iPhone SE/5/5S
Durable and lightweight
Case clips securely into holster
Hard Matte anti-slip surface
Hard case has a built-in kickstand
Rubberized plastic with swivel belt clip
Quality Made holster to perfectly fit your Apple iPhone SE/5/5S
Color: Black
**Phone may fit inward or outward please refer to pictures and directions on the holster.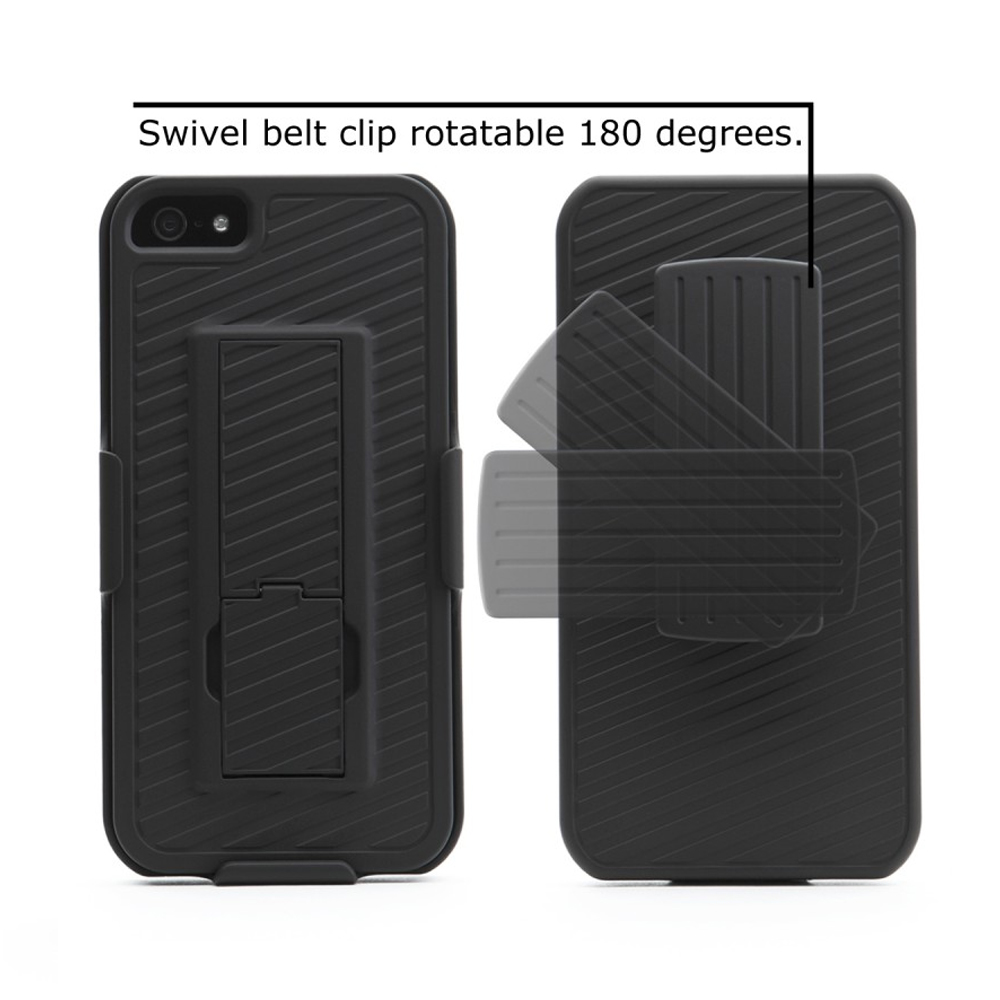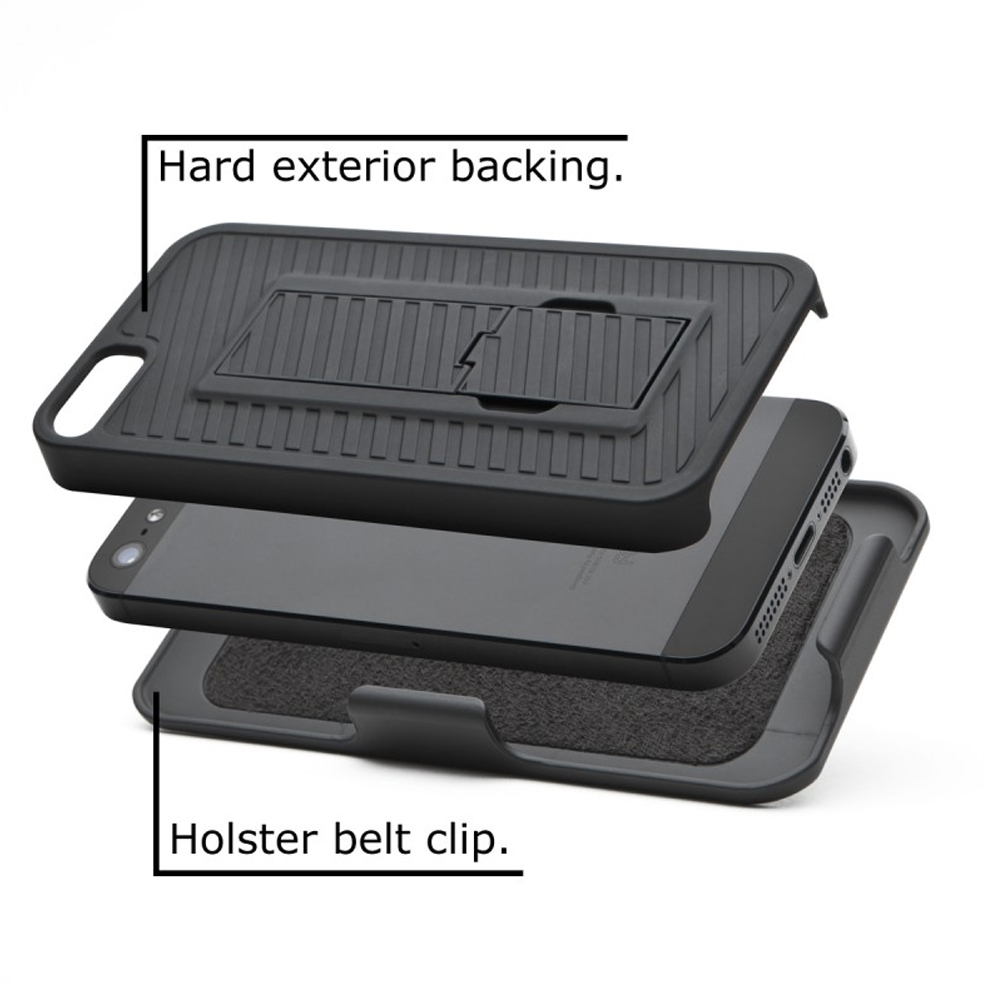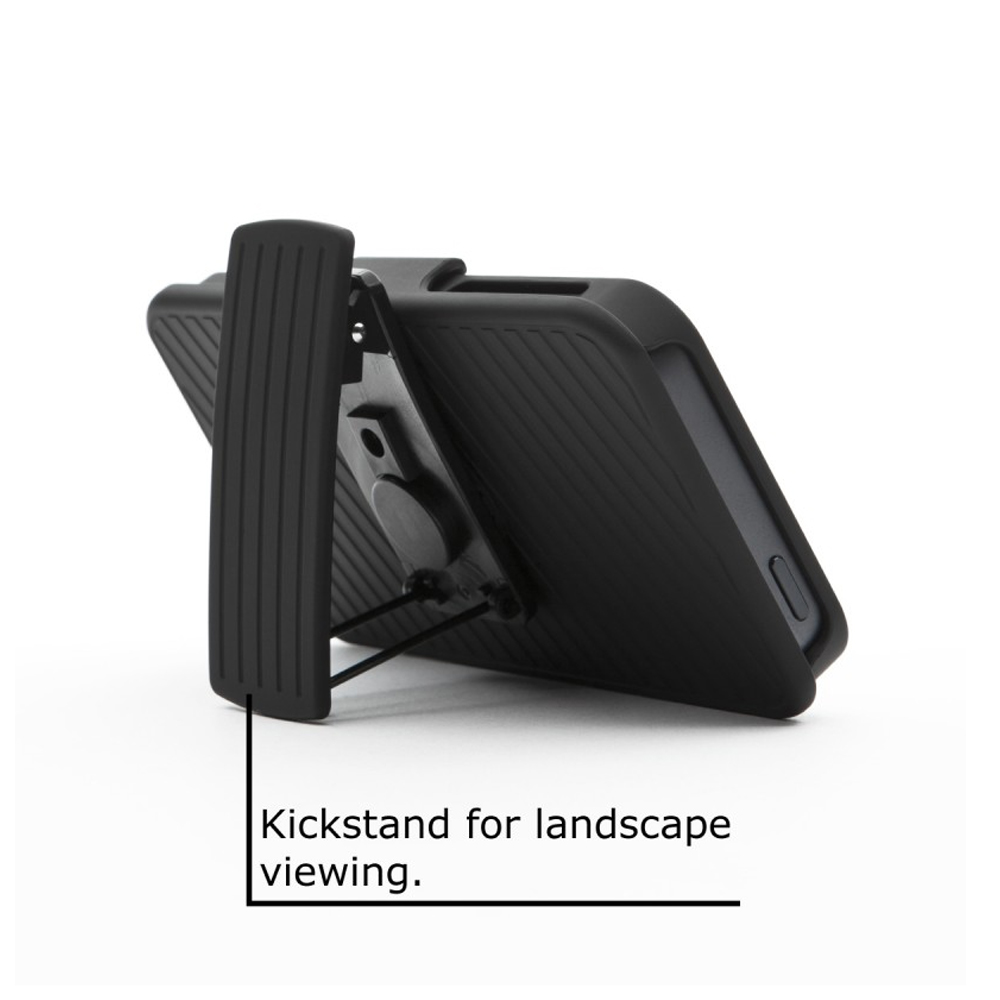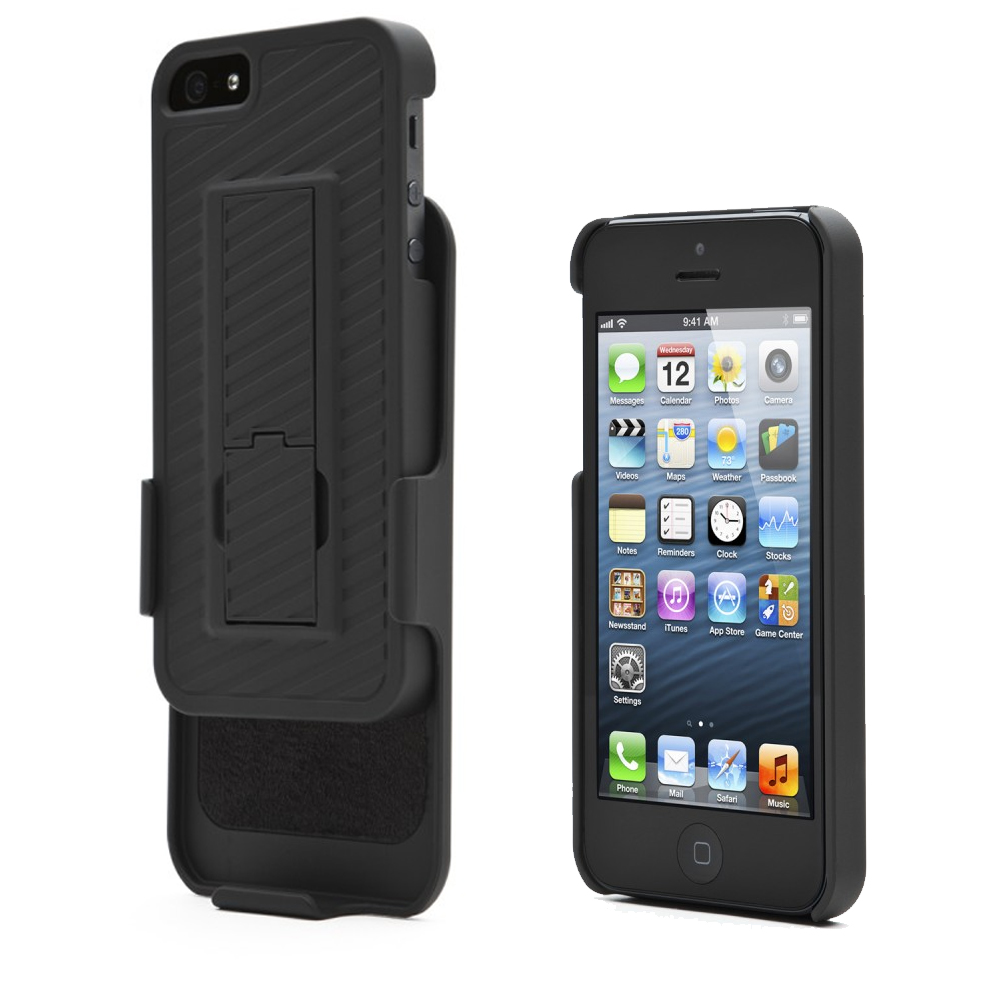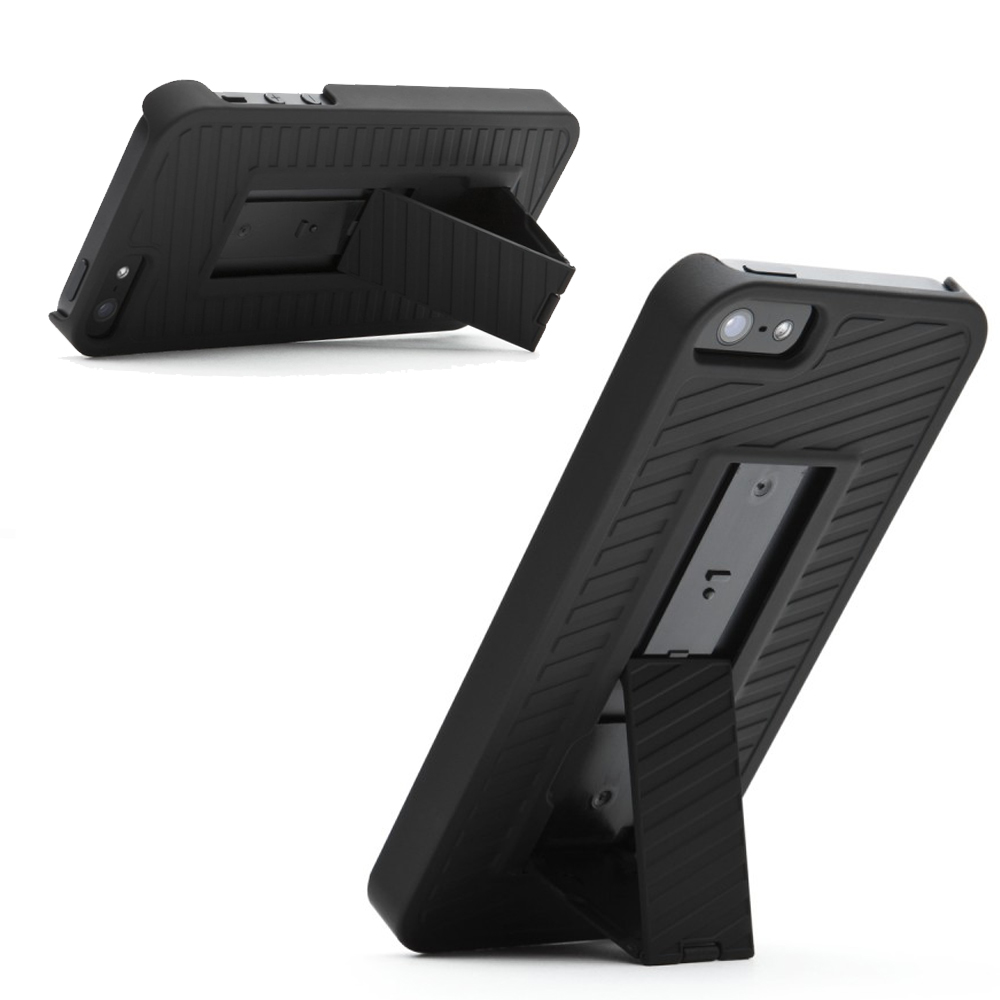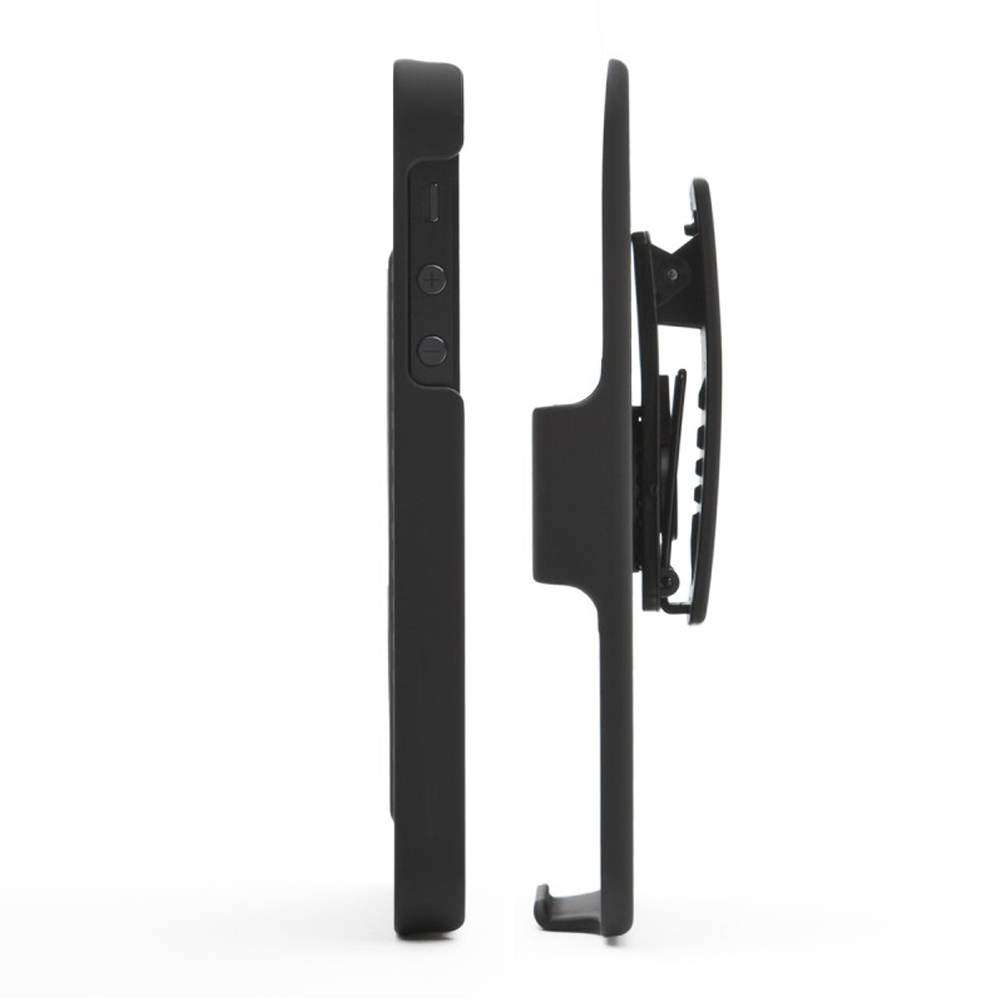 You Might Also Be Interested
Customers Who Viewed This Item Also View
Customer Reviews
Greg
Mar 14, 2016 2:21:59 AM
Nice product
This item is more flexible than similar belt holsters yet holds the phone snug. Slips in and out nicely.
IPhone Case
Jan 21, 2016 7:31:35 AM
Great Product
This case fits like a glove, it is a lot better then the one that I was using.
Ken
Jan 9, 2016 4:54:09 AM
Great Product
I had a very similar case for y old IPhone that I purchased at Verizons tore for over three times the cost. Very satisfied with this product and company' s service.
Pauli
Jan 1, 2016 9:56:45 PM
Excellent
Perfect product at a great price. Thanks so much
Pete
Nov 21, 2015 5:13:46 AM
quality item received it in two days.
Exactly what I wanted except the phone fits to tight in the holster and is hard to slide out. Without the case it's to loose and with the case to tight. I sanded the rim of the case and the phone now slides in and out easier.
Amy
Nov 19, 2015 9:14:46 PM
Very functional!
I love having my phone clipped to my waistband or the strap of my purse. It's never lost:) I only wish I could have found it in a different color.
frank
Nov 9, 2015 7:25:06 AM
excellent
good price and exactly what I wanted
George
Nov 4, 2015 7:19:17 PM
AWESOME
Very happy great price and product
Kentv
Oct 31, 2015 4:34:46 PM
Very pleased
Can't be beat for the money. I've been through 3 iPhone holsters from Verizon which last a few months and cost 27.00.
iphone5
Oct 21, 2015 8:54:28 AM
fantastic
love the product
tennis
Aug 20, 2015 9:59:14 PM
very satisfied
very happy so far. had it for one day. bought first one at verizon and it was not useable. extremlly hard to take out of case.This price was less than half from verizon which was made from a better material. hope this holds up.
macdale
Aug 8, 2015 7:15:01 PM
OK, but.....
The holster should have a hole cut in it for the camera as well so that you could just unclip it and take a picture instead of having to slide it out of the case.
Rick
Jul 12, 2015 8:53:18 AM
Awesome Product
This thing fits like a glove. The phone slides in and out as smooth as can be. Very durable.
iPhone Case
Jul 11, 2015 11:04:14 AM
Exactly what I was looking for
I have an android phone with a holster that I really like. When I got an iPhone for work, I wanted the same thing and this holster exactly fits the bill. It's compact, sturdy, has a swivel clasp, and a stand that's useful to prop the phone up. The order arrived in 3 days and the product was in perfect shape.
Write Your Own Review