Geeky Gifts Not From Grandma
Features & Highlights
Why you should buy this product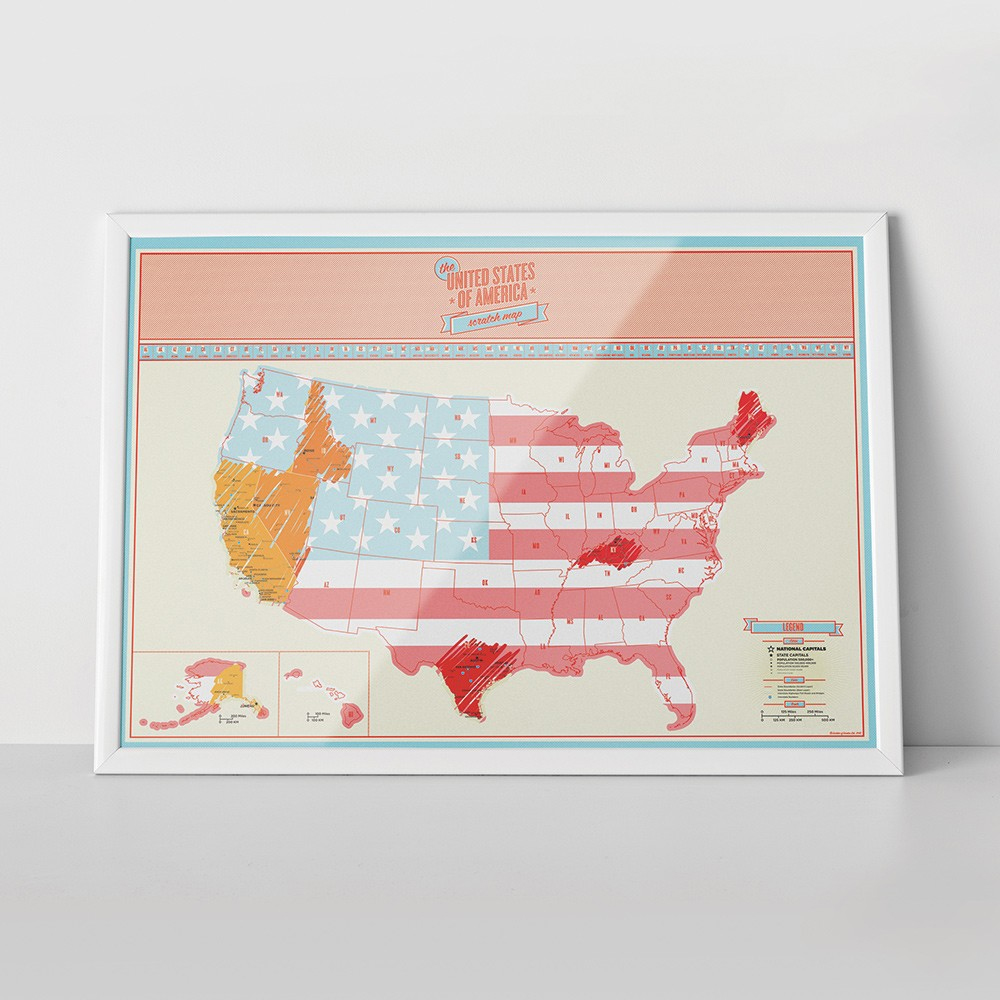 Travel Scratch USA Map - Track Places Where You've Been To!
Where in the United States have you already been Its not always easy to keep track of states and destinations that you've been able to visit. Travel Scratch Map is very useful tools for the traveler, and that is to track the places where you've already been to. The USA Scratch Map is pretty and presentable enough to hang on your wall for all to see. If you've been to a certain destination already, just get a penny and start scratching away at the foil covering that area on the map to reveal a colored version of the map below it. USA scratch Map is brilliant! Its the perfect way to show off where you've been traveling while livening up your wall with a colorful world map. Scratch Map is an amazingly high quality, upper-massive wall map, featuring a top foil layer.You get a unique, slick looking wall map to start with, and the idea is that you then scratch off all the places you've visited to reveal a whole new USA below, featuring color and geographical detail. The result is a totally unique and personalized USA map. What a great gift for the go-getting traveling-type! The Scratch Map comes packaged in a slick tube so its also easy to transport.
Scratch off visited destinations' to reveal the United States map underneath
The intricate geographical details will also serve as a reminder of how many states you have not visited
This scratch map is an ideal gift for people who love to travel and explore the USA
The scratch off USA map will motivate you to get out of your comfort zone and explore!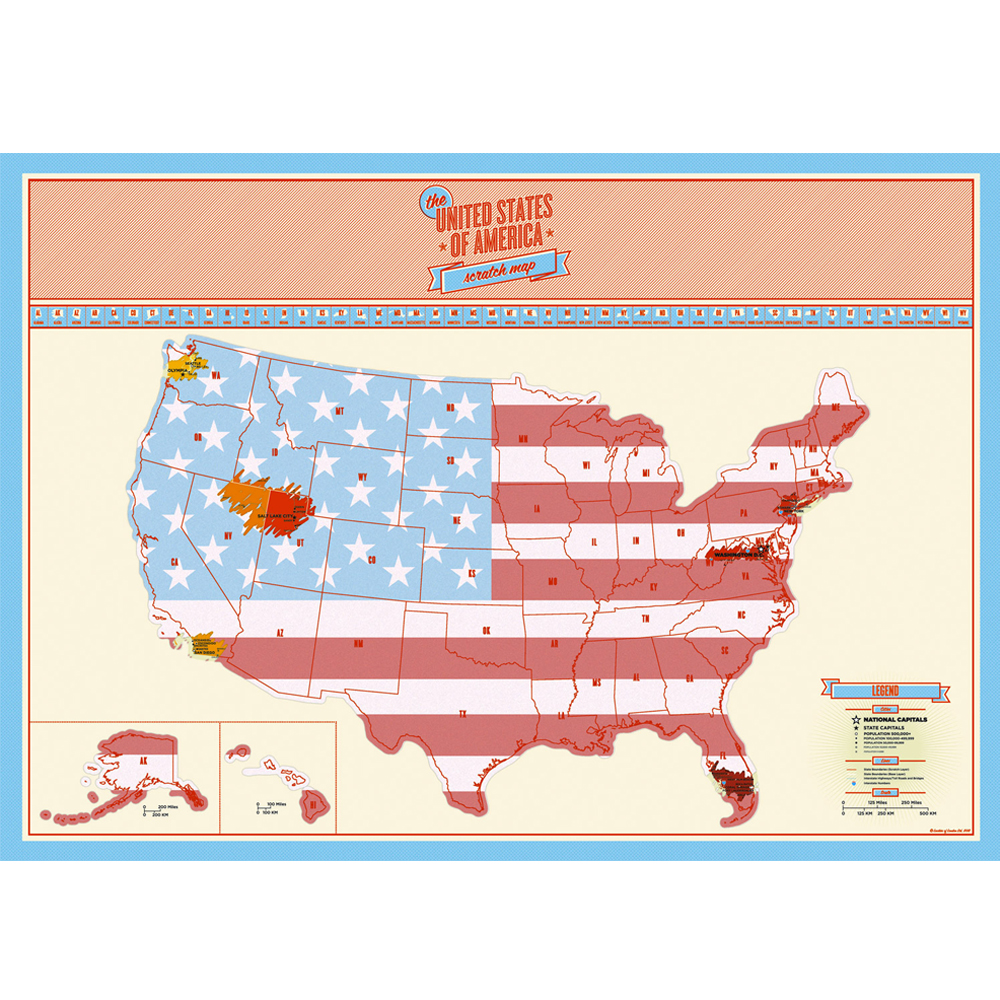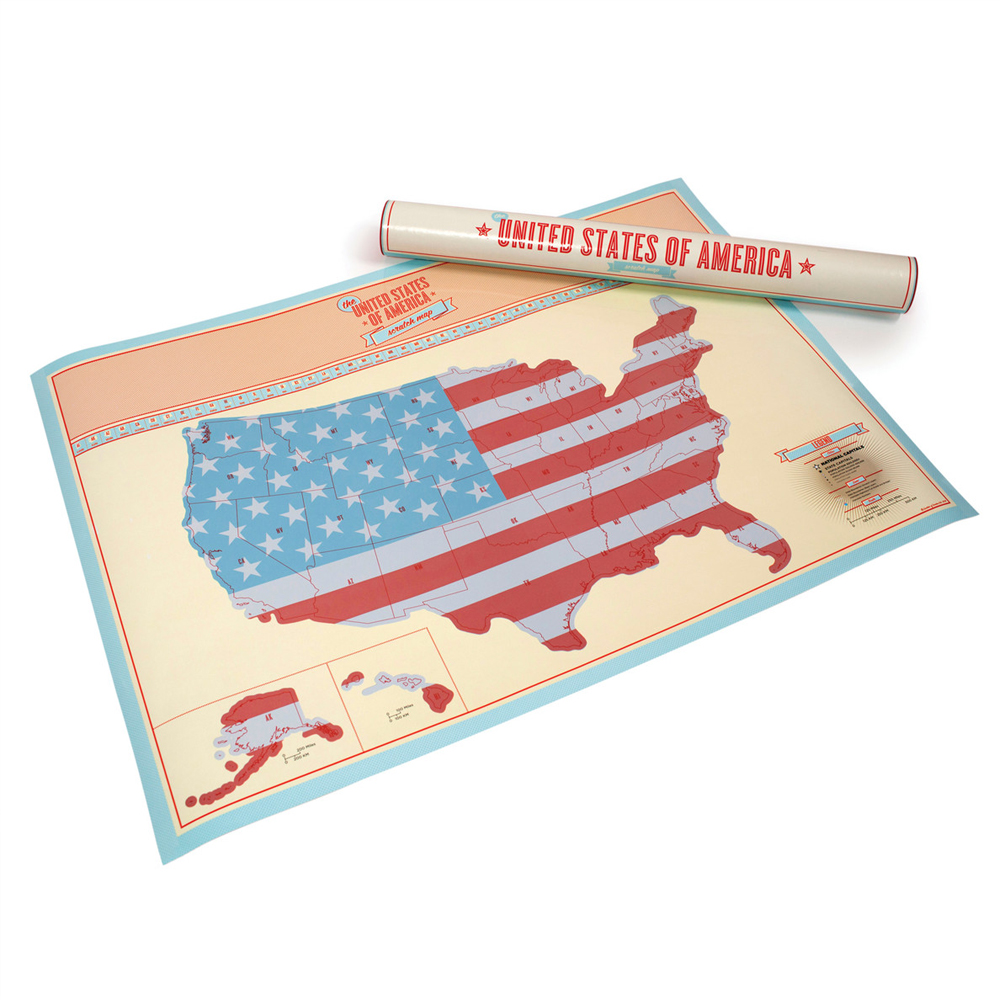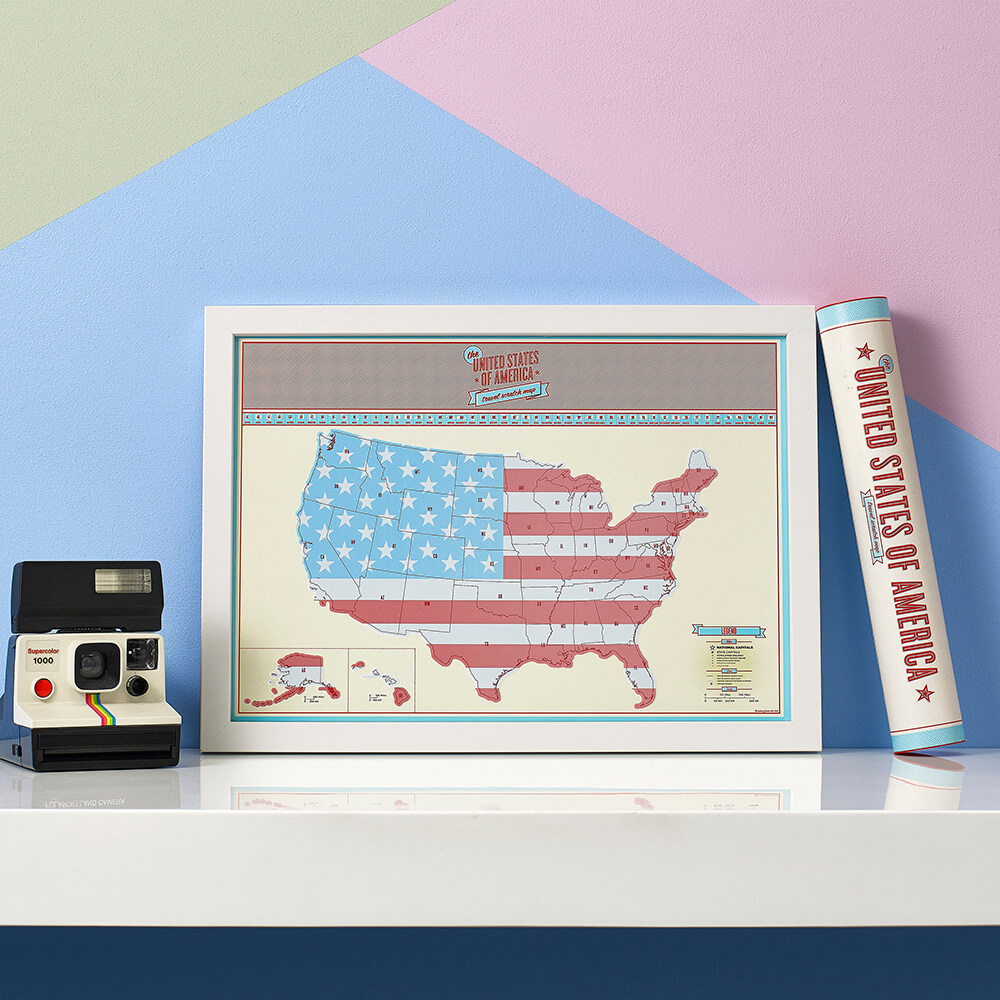 You Might Also Be Interested
Customers Who Viewed This Item Also View
Customer Reviews
Brandon Butler
Dec 18, 2016 10:01:50 PM
great for my grandson
Great for my grandsons learning states to go out and explore! Good and perfect gift for my love ones. Highly recommend.
Kyllie Hills
Dec 15, 2016 3:39:29 PM
pretty and cool gift idea!
Pretty and cool gift idea! I love using it! Unique scratch US map. Quality is awesome. And I appreciate it, comes with outlines for all 50 unites states. It gives and motivate me to travel more and explore.
Diana Miller
Dec 12, 2016 11:02:42 PM
perfect for what I needed
Perfect for what I needed, easy to mount on a cork board for the kids to post, where they have been. Everyone in my village loved looking at my US map and learning about the States! Best gift idea
Penelope Kelly
Dec 4, 2016 4:49:27 PM
great USA Map
Map is exactly as expected. Great colors, nice and clean printing, and good quality. Perfect map of USA. Great price and definitely buy more for my friends this Christmas.
Megan Hughes
Nov 30, 2016 8:46:41 PM
perfect US Map
I got this Map to plan out my goal of traveling the US and this map is perfect to do so. The print is clean and it looks very professional with most of the major cities marked and highway lines. Highly recommend for those who want to travel in US!
Adrian Allan
Nov 22, 2016 7:09:51 PM
perfect and best gift
I am very impressed! Beautiful, great colors, nice, clean printing and arrived on time. Perfect Map of USA. I plan to buy more for my friends as gift this Christmas.
Michelle Lawrence
Nov 8, 2016 6:21:23 PM
Going to get all 50 states!
A great idea. I bought one for my wife as christmas gift. As we visit states around the US we are scratched them off in hopes that one day uncovering all of them! We have hit about 10 states so far... wish us luck on the remaining 40...:))) I really like this map.


Julia Handerson
Nov 6, 2016 5:11:06 PM
exceed my expectations
Awesome to look at! It is a great learning tool and cities are easy to locate from coast to coast. The print is large and beautiful. This map is a perfect motivation tool to encourage my family to go out and explore in different state.
Yvonne Zoe
Nov 3, 2016 11:09:47 PM
I love my US Map!
Gives a cool visual to see, everything in here has a memory, our moments that never be forgotten.:) It has a great scratch cover and high quality. I highly recommend
Samantha
Nov 2, 2016 9:55:03 PM
fantastic
I was looking forward to scratching it all off! This USA map has a great amount of detail, very high quality and incredibly reasonably priced for what you get. What a unique idea, educational as well as fun!!! very impressive. Happy in my purchased.
Michelle Clarkson
Nov 1, 2016 7:43:51 PM
great for road trips with kids
Life is a Journey! This is a clever idea, we travel a lot as a family, after a state is visited, my kids scratched off to reveal and they have so much fun for scratching! I definitely recommend this for frequent travelers and those who enjoy a form of memorabilia of their travels!
Irene Brown
Oct 31, 2016 7:47:31 PM
pretty cool!
Fantastic and Unique Idea! It gives us a way as a family to plan trips together and see where we have been! Scratching is so much fun! I definitely buy more for my family and friends as a gift. Thank you
Katherine Kelly
Oct 30, 2016 6:37:27 PM
quality impressive
It's a great fun scratching off! I found myself to take an obligatory vacation and motivate to go out and visit all states of USA. This US map is well detailed and quality impressive, it looks nice and neat. Really love it and love to travel more! Thank you for this beautiful tool to track my next destination.
Marlene
Oct 27, 2016 11:11:34 PM
wonderful idea
A really fun and inexpensive way to keep track of States visited! This is very educational tool for my kids and with the whole family, it is good for all ages. So, it is a life long journey. thank you for this wonderful idea. Grab one and go out to explore USA... Have a safe journey!
Write Your Own Review