Office Products & Supplies
Features & Highlights
Why you should buy this product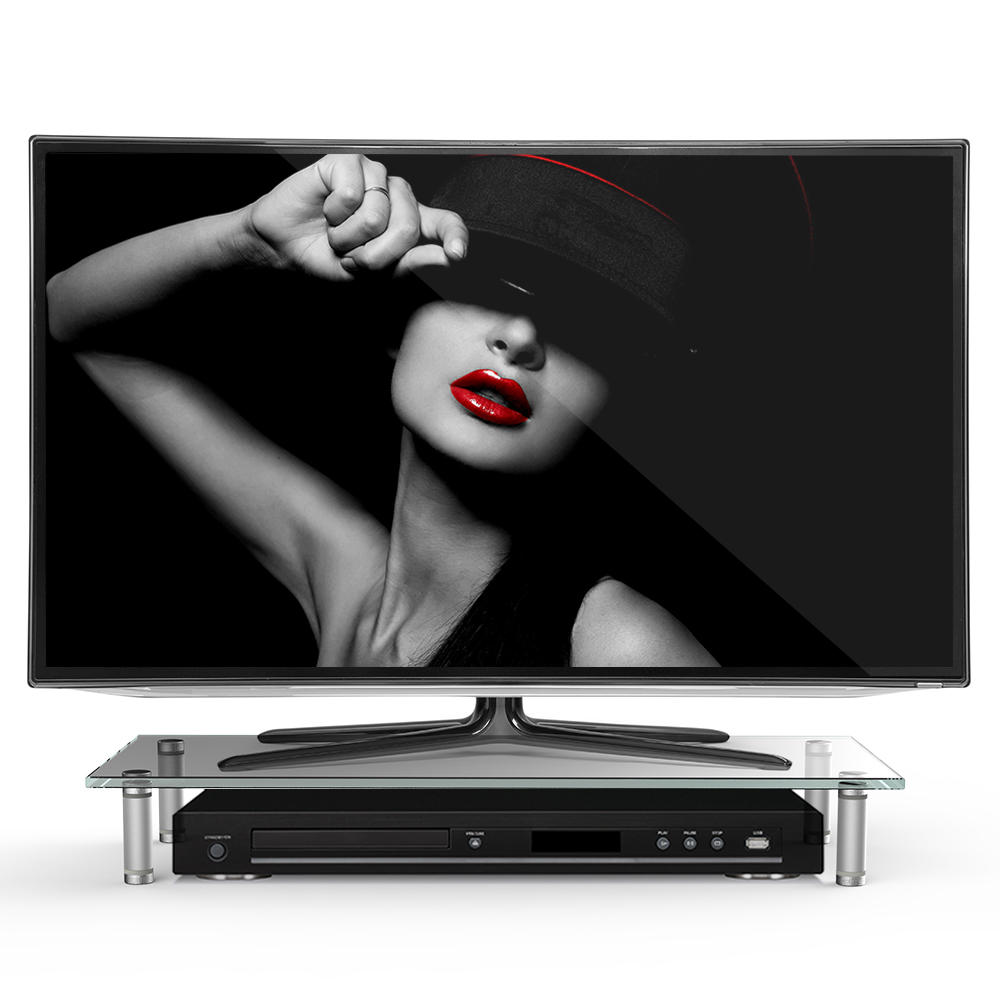 Tempered Glass TV Stand, Eutuxia Heavy Duty Widest 27" Tempered Glass Universal Mutiple Monitor Laptop TV Multi Media Desktop Stand Riser and Organizer
The Eutuxia Monitor / Laptop Stand with Desk Organizer is a great desk accessory to have to improve the visual organization of your desk. With the extra space under the stand, you can store your keyboard, stapler, note pads, and much more! Slim and modern design enhances the visual organization of any desk Tempered glass (0.3 inch) with full metal legs provide strong lasting support and cable management Additional storage under the vertical space allows you to maximize your desk utility Accommodates monitors, laptops, printers, and fax machines Dimension: 8.9 lbs / 25.8" (length) x 11.3" (width) x 1.9" (height) Color: CLEAR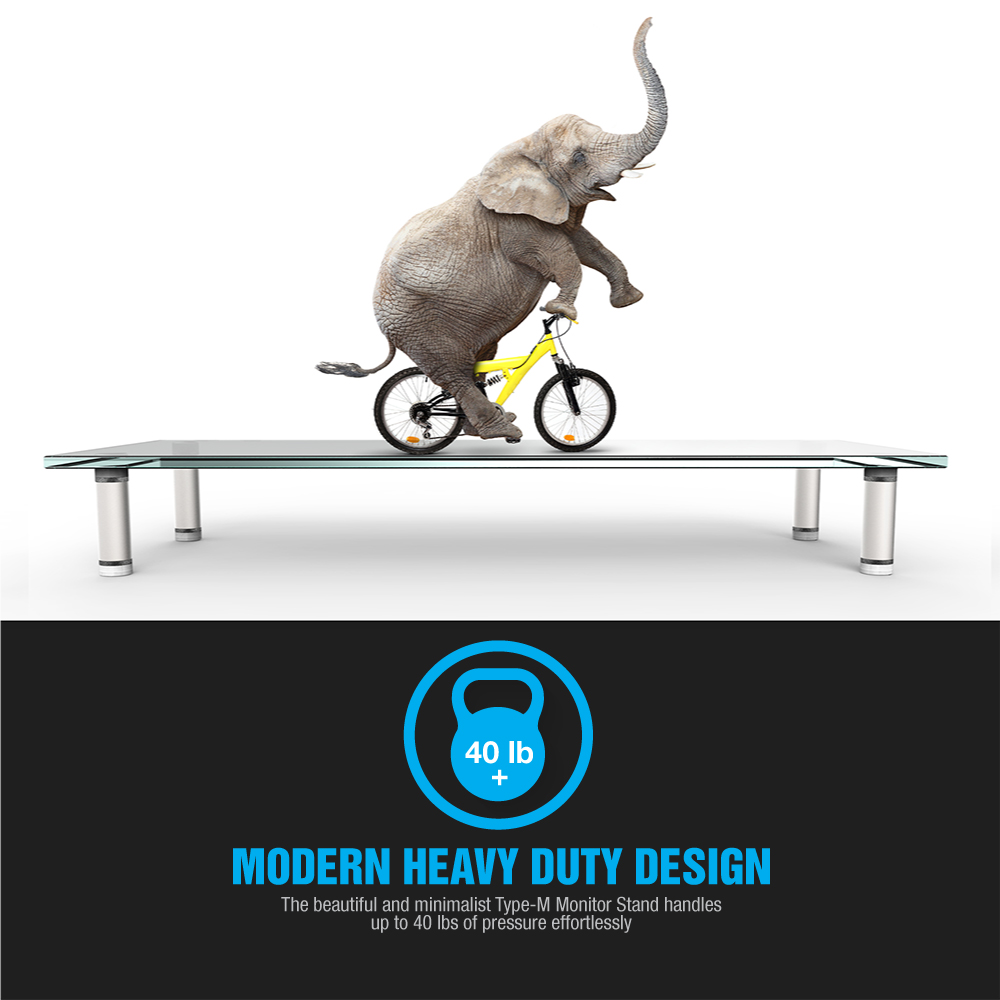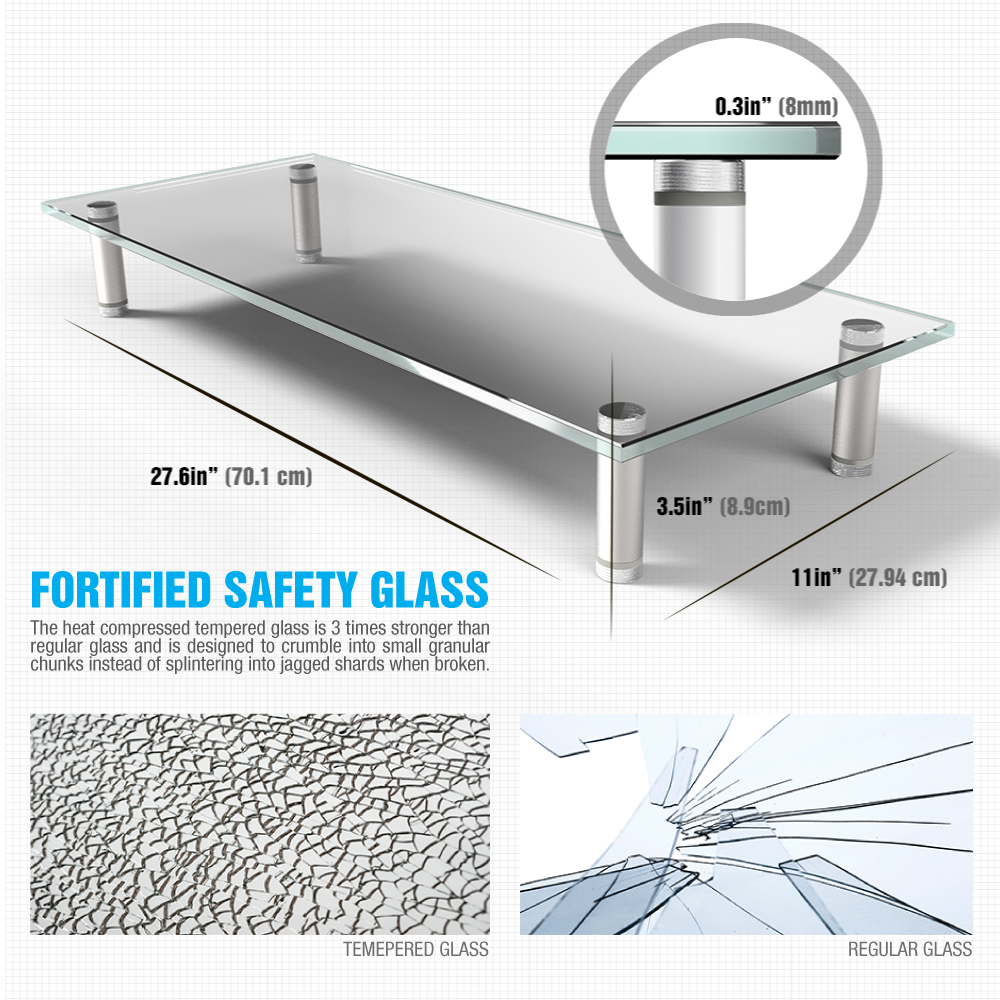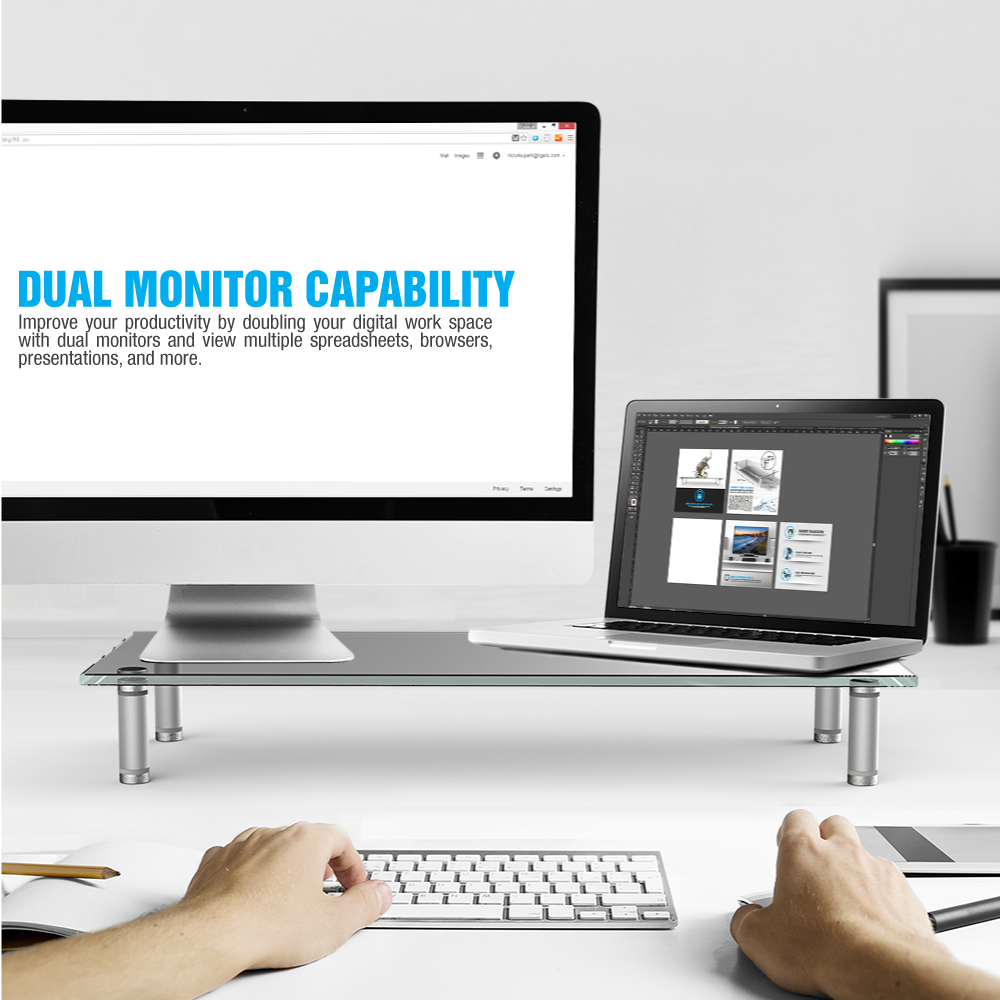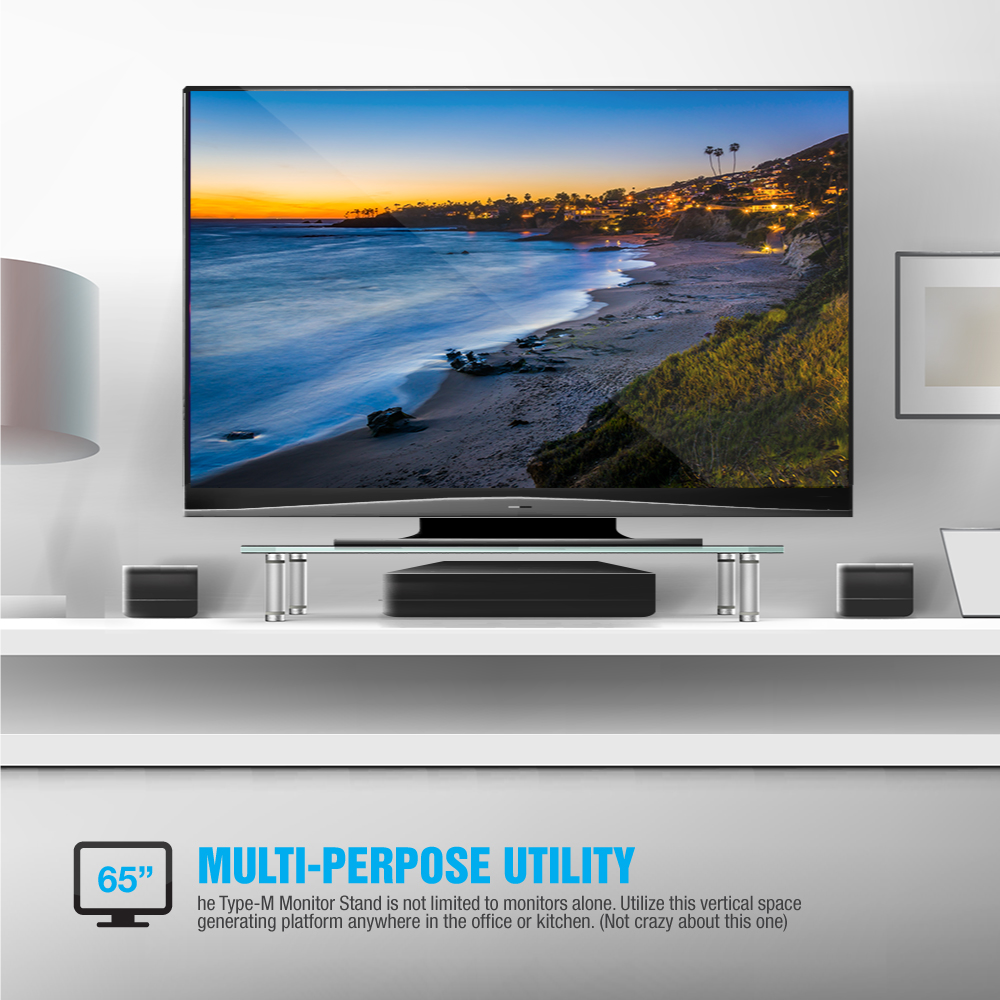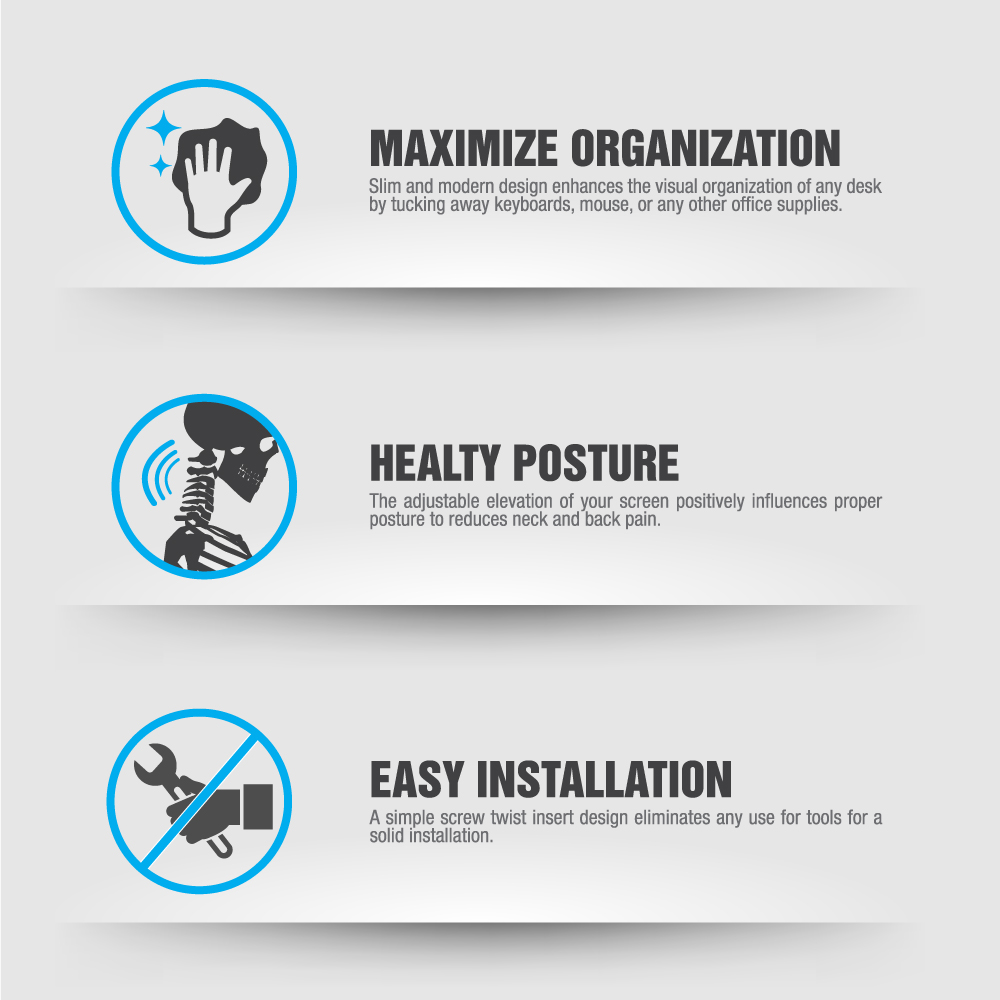 You Might Also Be Interested
Customers Who Viewed This Item Also View
Customer Reviews
Faith Smith
Jan 19, 2017 7:58:08 PM
perfect height for me
Perfect height for me. It elevated my monitor to prevent neck and back pain issues. It securely holds my monitor and keeps my desk area clean and organized. I Love it!

Kevin White
Jan 18, 2017 9:40:59 PM
great buy
Great buy! Have it on my desk at work so i get more desk space, able to slide my keyboard underneath and type still. A cord organizer much more functional and beautiful!
Ruth Underwood
Jan 18, 2017 1:24:48 AM
just the right height for me
Just the right height! Room to slide my keyboard away for more desk space. Looks so elegant and Reasonable price.
Pippa Tucker
Jan 16, 2017 10:19:22 PM
I love this tempered glass
I love the tempered glass, slim and modern design that keeps my work area clean, tidy and organized. Highly recommended.

Lilian Morgan
Jan 15, 2017 10:04:21 PM
simple and functional
Simple and does the job well. Made of sturdy plastic, great way to help keep my desk area neat, clean and organized. Price is right.
Wendy White
Jan 12, 2017 11:19:54 PM
beautiful and functional
Truly beautiful work of art and materials and build are extremely high quality. Easy to assemble, simple and the top of this riser was made of tempered glass enough to hold and secure my monitor.
Dominic Robertson
Jan 11, 2017 9:47:34 PM
happy with my purchased
I was very happy with this riser. This is something clean a tempered glass and a simple for my workstation area. Perfectly for the height, functional and with reasonable price.
Karen Greene
Jan 10, 2017 10:21:33 PM
its looks good and do my job
Just simple but yet classy, sturdy and sophisticated monitor stand. Perfect for my laptop docking station and Mac mini underneath to save some space. It's look good and do the job. Price is right.

Lauren Turner
Jan 9, 2017 10:59:26 PM
perfect size for my desk
Just what I needed. It brought my laptop up to my eye level. Perfect size for my desk, great space saver and utilizes my space well.

Jennifer Taylor
Jan 8, 2017 11:57:03 PM
excellent quality
It looks beautiful, Excellent quality and great looks. It seems sturdy and exactly what I needed. And I love it!

Natalie Young
Jan 5, 2017 7:55:26 PM
stylish and very useful
Very stylish and useful. It works great for my needs. Keeps my paperwork in front without interfering my keyboard. Pretty cool, just love it!

Irene King
Jan 4, 2017 10:23:26 PM
great looking monitor
Great looking monitor stand, just like the pictures! Super easy to put together, works perfectly to keep my computer station organized. Pretty awesome!

Liam Simpson
Jan 3, 2017 8:22:38 PM
it saved my desk
Perfect height for me! It elevate the height of my monitor to prevent my neck and back pain from long working time. Great to slide my keyboard up under when not in use. It saved my desk.
Molly Mathis
Jan 3, 2017 12:14:45 AM
easy to assemble
Assembly was so simple. Very solid product, looks and feels high quality. The tempered glass was perfect to looks beautiful and sophisticated. Reasonable price.
Sophie Terry
Dec 30, 2016 2:39:32 AM
very useful
Very useful, Clean, tidy and make my work station organized. This monitor riser has a well made quality, looks so good and adorable.

Gabrielle Nixon
Dec 28, 2016 8:23:14 PM
just got the perfect stand for me
Perfect! I can slide my keyboard out of the way when I need more desk space, it is sturdy enough to hold my monitor. Reasonable price and highly recommended.

Michelle Jacson
Dec 28, 2016 12:20:22 AM
simple and elegance
Simple, elegant and sophisticated monitor riser. The glass was very thick and enough to support the weight of my monitor, super easy to assemble. Just the right height to store some of my computer accessories underneath. Awesome! Clean, tidy and space saver for my work station I love it!

Nicholas Gray
Dec 26, 2016 8:04:51 PM
it looks beautiful and very functional
I'm very pleased with my purchase and would recommend this to others. It looks beautiful, functions well, and cleans up my desk. It works well and the price was great!
Mitchell Morgan
Dec 22, 2016 11:41:45 PM
great purchase
Great purchase for the price! It looks good and fairly easy to assemble. I am very satisfied and I plan on buying another one for my sister as a gift for Christmas. Highly recommended.

Audrey Kelly
Dec 21, 2016 7:55:15 PM
great gift this xmas
Amazing quality, beautiful product and they also give a fantastic looks on my desk. Good value for the price and quality! Great gift idea this Christmas.

Angela Chapman
Dec 20, 2016 9:37:43 PM
i love this riser
Perfect size for my keyboard to slip under! Looks great, easy to assemble, sturdy and well built. I love this riser. The price is awesome!
Joan Miller
Dec 19, 2016 10:43:43 PM
a great buy
Stores my wireless keyboard and track pad underneath. it seems durable and looks nice. It was just the perfect size I was looking for in a monitor stand. Thanks for such a quality piece at an affordable price! A great buy!

Nicholas Oliver
Dec 18, 2016 9:06:20 PM
height works great for me
The height works great for me to put my monitor. A beautiful well designed modern and sleek looking stand. I feel much more comfortable working in its tempered glass. I'm very glad I bought this stand, best gift for Xmas.
Rina Tucker
Dec 15, 2016 4:14:38 PM
beautiful stand
Beautiful stand. It's sleek and gorgeous for a great price. The height was just perfect for my computer. The shipping was fast and the packaging was secure. I definitely recommend it to others. Best gift too!

tracey Peterson
Dec 14, 2016 8:44:47 PM
stand looks great
I'm very pleased with my purchased and would recommend to others. Stand looks great, stable and USB hub works great. Also, the keyboard fits neatly below it and stand height is just right.
Sally Paige
Dec 13, 2016 9:16:03 PM
solid and sturdy
High quality for a good price. This great product is perfect for my work place area. Perfect for my office. Solid and Sturdy. Absolutely love it! Best gift and unique gift for Christmas.


Angela Knoxx
Dec 12, 2016 11:26:41 PM
it works great!
I have more energy to get work done with this monitor stand riser. It's sturdy, solid and give the correct posture. It works great
Joan Henderson
Dec 11, 2016 11:16:07 PM
i am very impressed
Everyone at my office is jealous! I am very impressed, perfect for my needs. The tempered glass help lighten up my desk. Really happy with these!
Michelle Ferguso
Dec 8, 2016 10:05:47 PM
best gift ideas
Good stand for a single computer monitor. I bought this for my coworker as a gift and she loves it. Her desk is super small so this helped give her to boost she needed for the height of her monitor. Best gifts idea!
Kimberly Jackson
Dec 8, 2016 1:11:08 AM
looks great and plenty of room
Very sturdy, looks great, and plenty of room. It was something I have needed forever, but finally got around to purchasing. It freed up a lot of extra space on my desk and the monitor is at a better eye level. Highly recommend
Rebecca Lambert
Dec 6, 2016 8:36:00 PM
perfect for my monitor
Perfect for my monitor. The product seems quality and allowed me to put my monitor on top and below can create more space on my desk. The tempered glass is highly appreciated, with a modern feel and nice stand! Highly recommend
Irene Russel
Dec 5, 2016 10:45:11 PM
build quality stand
Very attractive, the build quality is good, and i love the tempered glass. This product seems quality and allowed me to put my monitor on top of the riser and slip my laptop below the riser to create more space on my desk. Wonderful! I would recommend this to other.
Teresa Lee
Dec 4, 2016 5:11:23 PM
Fantastic product
Fantastic! Easy to install. This is really great, and I love it, my monitor sits very well on it. Stand looks great, stable and USB hub works great. Also, the keyboard fits neatly below it and stand height is just right. Happy with my purchased. Definitely recommend

Audrey Graham
Dec 1, 2016 11:00:45 PM
durable and easy to install
Easy to assemble and durable. This monitor stand is very attractive and useful. I love the look of my new office! It motivates me to work and worked longer:) A must have!
Marlene Smith
Nov 30, 2016 11:11:51 PM
i'm glad i made the purchased
It was exactly what I was looking for, this monitor stand is fantastic and perfectly fit for my laptop at work. The glass and brushed silver legs make it a classy look on my desk. I love it and I glad I made the purchased.

Write Your Own Review