Nokia Lumia 635 Accessories
At Accessory Geeks, we pride ourselves on our big collection of Nokia accessories. We haven't built this collection without extensive planning. We've put a lot of effort into searching the world for the best Nokia accessories and then negotiated favorable prices that we pass on to you, our lucky customer. If you're looking for Nokia Lumia 635 cases or for just about any other type of Nokia 635 accessory, you'll find the right one at the right price at Accessory Geeks. We're not just saying that, because we back up our quality merchandise with a no-holds-barred 90-day return policy. Plus, we ship our deeply discounted stock of Nokia Lumia 635 cases directly to you in the U.S. or Canada. We have Nokia 635 pouches and cases that are good looking but which will also defend your Nokia against accidents, prolonging its useful life as well as its good looks. Accessory Geeks also carries a wide variety of Bluetooth accessories for your Nokia Lumia 635 so you can keep your hands on the steering wheel and your eyes on the road while you're driving. More and more states are outlawing cell-phone use without Bluetooth or other hands-free devices, so a Bluetooth accessory from Accessory Geeks not only can make your driving experience more pleasant and safe. It also could save you the time, embarrassment and expense of getting pulled over by one of your local area's finest and being handed an expensive ticket. Our Nokia Lumia 635 accessories don't stop at Bluetooth headsets, of course. We have oodles of other accessories for this phone. Our batteries can serve as backups to prolong usage or inexpensively replace a malfunctioning battery. You should always carry one or two spares. We have chargers that work at home, in the office, on the road and even in the woods. Besides our cases and pouches, we have screen protectors that will help keep your Nokia Lumia 635 looking as young and fresh as the day you bought it, while our stands and data cables will help it live up to its full potential as part of your digital world. Check out our lineup of Nokia Lumia 635 accessories and see what Accessory Geeks can do for you.
Featuring Products For Your Device
Don't miss these deeply discounted deals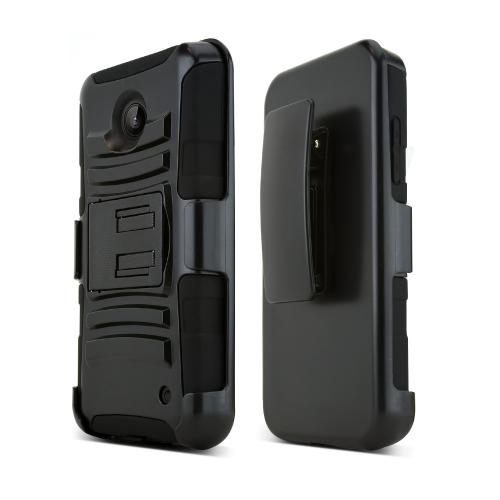 There are no products matching the selection.