Features & Highlights
Why you should buy this product
Protect your LCD screen with this Premium AT&T Tilt 2 / SPRINT& VERIZON HTC Touch Pro 2 High Quality Screen Protector! Prevent scratches on your & Sprint HTC Touch Pro 2 (CDMA)screen. Keep the screen in pristine shape and prevent accidental scratches from marring your phone's LCD screen. This screen protector features a pre-cut screen protector to fit the dimensions of your phone. Find out more about screen protectors at our Screen Protectors FAQs page! Premium AT&T Tilt 2 / SPRINT& VERIZON HTC Touch Pro 2 High Quality Screen Protector features Crystal clear screen protector for & Sprint HTC Touch Pro 2 (CDMA) Pre-cut to fit the dimensions of your screen Protects exterior and interior screens Prevents Glare Protects against scratches, scrapes and abrasion Removes without leaving residue Resists finger-prints Easy Installation*Please be advised package may or may not include 2nd screen protector if the phone has a interior screen or exterior screen, assume 1 is included. Please refer to pictures. **Compatible with Sprint & Verizon HTC Touch Pro 2, AT&T HTC Tilt 2, US Cellular Touch Pro 2 **Phone or Device, if pictured; is NOT INCLUDED, this is an accessory compatible with your device Package includes 1 x Screen Protector Cleaning cloth Screen Protector Installation Make sure the screen protector is clean. Clean the screen thoroughly. Expose 1/2 inch of the screen protector. Align the exposed section with the edges of the screen. Make sure not to touch the adhesive side. Make sure the Screen Protector is properly aligned and gently press from one corner and disperse pressure throughout. Premium AT&T Tilt 2 / SPRINT& VERIZON HTC Touch Pro 2 High Quality Screen Protector
You Might Also Be Interested
Customers Who Viewed This Item Also View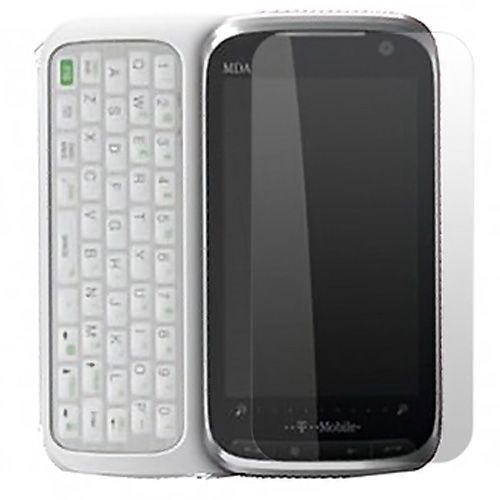 Customer Reviews
Raymond
Jul 4, 2010 1:27:05 AM
Excellent
Just be careful not to make any air bubbles while putting it on.

Pros:
Looks Great

Cons:
Air bubbles just be careful
Terr
May 12, 2010 3:59:46 AM
HTC touchpr 2 screen protoctor
Good price,

Pros:
Does it job

Cons:
Has a glare and difficult to align
Vitah
Feb 24, 2010 4:02:31 AM
i love it!!
i ordered a plastic case for my HTC touch pro2 and had the case engraved. i love the idea of being able to customize my items! accessory geeks once again has come through for me with a great product, great prices and timely service. i will continue to purchase ALL of my cell phone and ipod accessories from u guys.

Pros:
being able to customize my accesssories, the case fits my phone perfectly, prices are great and delivery time is great as well

Cons:
not being able to customize the color, font or size of the text to be engraved. so on some cases the color and standard font size they used to engrave the case with may not as be as noticeable as u would like.
Write Your Own Review