Features & Highlights
Why you should buy this product
Protect your LCD screen with this HTC Thunderbolt Premium Screen Protector! Prevent scratches on your lcd screen. Keep the screen in pristine shape and prevent accidental scratches from marring your phone's LCD screen. This Premium Screen Protector features a pre-cut Premium Screen Protector to fit the dimensions of your phone. HTC Thunderbolt Premium Screen Protector features Crystal clear Premium Screen Protector Pre-cut to fit the dimensions of your screen Prevents Glare Protects against scratches, scrapes and abrasion Removes without leaving residue Easy installation **Actual Phone or devices, if pictured; are not included *Please be advised package may or may not include 2nd Premium Screen Protector if the phone has a interior screen or exterior screen, assume 1 is included. Please refer to pictures. Package includes 1 Premium Screen Protector 1 Cleaning cloth(if pictured) Premium Screen Protector Installation Make sure the Premium Screen Protector is clean. Clean the screen thoroughly. Expose 1/2 inch of the Premium Screen Protector. Align the exposed section with the edges of the screen. Make sure not to touch the adhesive side. Make sure the Premium Screen Protector is properly aligned and gently press from one corner and disperse pressure throughout. HTC Thunderbolt Premium Screen Protector


You Might Also Be Interested
Customers Who Viewed This Item Also View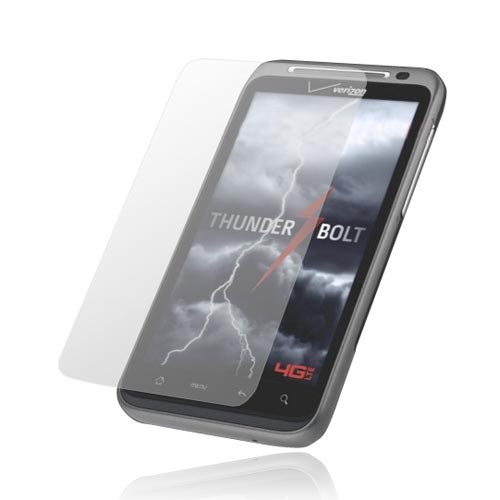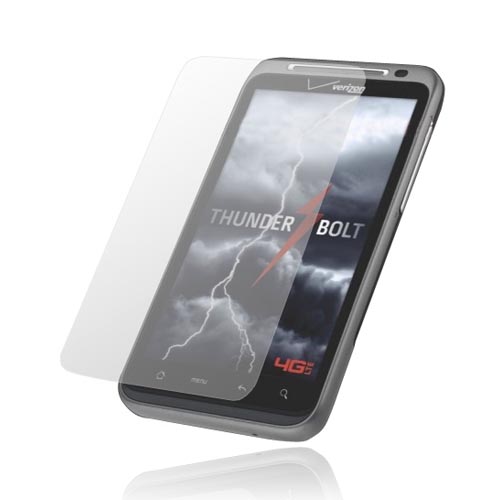 Customer Reviews
Adam
Oct 4, 2011 6:08:43 AM
Best Screen protector I've ever had
I just received this in the mail today and it was a perfect fit! Not to mention EASY to put on and left NO air bubbles. Looks great and covers the entire screen, home buttons included. My only drawback is that it feels a little sticky to the touch at first, but already after about 5 minutes of fooling around on the phone, it already feels easier. Great product!!!

Pros:
Perfect Fit!

Cons:
Sticky to the touch at first, but it gets easier with use.
Byron
Apr 20, 2011 6:39:02 AM
Made for Thunderbolt!
Verizon sold me a screen protector that was too small for the Thunderbolt and charged more than Accessory Geeks. I will always buy my phone accessories from Accessory Geeks they have a good selection to choose from and good prices and shipped my itmes fast!

Pros:
perfect fit
easy to apply
Write Your Own Review