Chargers
Find the cell phone charger that is compatible with your phone now! Select using your cell phone chargers manufacturer, carrier, or type below.
Features & Highlights
Why you should buy this product
Charge your Samsung Galaxy Tab on the road with the Samsung Galaxy Tab Car Charger - Black! Don't get caught with a uncharged battery! This incredible Samsung Galaxy Tab Car Charger - Black is built to conveniently travel with you. Even when you forgot to charge your phone you could still bring the charger with you in your car. It is conveniently made for you to charge you phone while you are on the road Samsung Galaxy Tab Car Charger - Black features Made for the Samsung Galaxy Tab Charge in your car Allows phone usage while charging your battery LED light indicator Plug it into car DC outlet Input: DC (12V-24V) Output: DC 12V+- 5% Color: Black
Important Disclosures:
*Samsung Galaxy Tab pictured is for demonstration purposes only and is NOT included. Samsung Galaxy Tab Car Charger - Black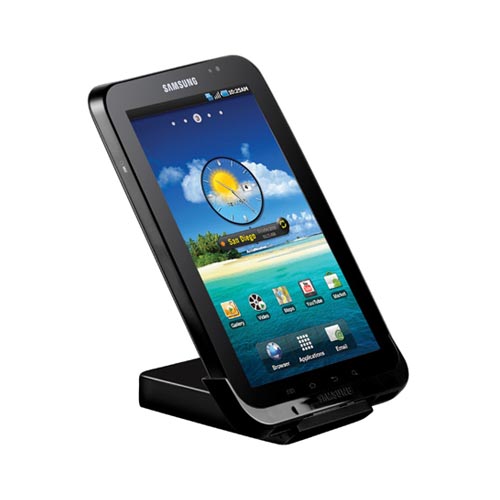 Customer Reviews
Geek's Staff
Oct 25, 2011 5:23:29 AM
Geek's Staff Review
Hey guys, Maxine here with accessorygeeks.com and I have in front of me the Samsung Galaxy Tab car charger.
Now this is great if you're using your Galaxy Tab as a navigation device or if you're just using your Galaxy Tab excessively and you need to charge it while you're on the go.
This will plug in to your cigarette lighter car port and it will charge from that to your Samsung Galaxy Tab.
So all you need to do is plug these bad boys in and you are good to go.
It's a great little device just to have in the glove compartment of your car just in case you need a little extra juice for your Samsung Galaxy Tab while you're travelling or on the road or just going from place to place so definitely a worthy investment.
It's only $9.99 on accessorygeeks.com.
So check it out, let us know what you think and don't forget that you got it from a geek.