Features & Highlights
Why you should buy this product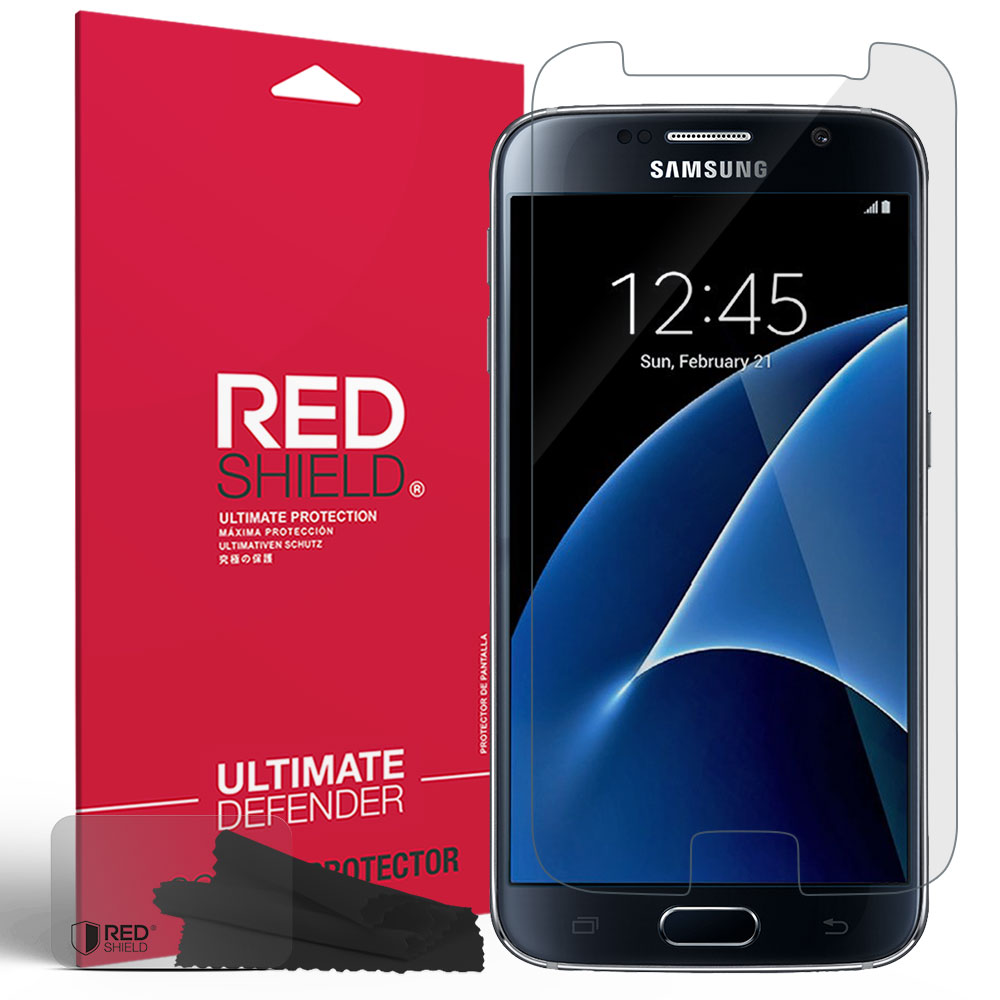 [Samsung Galaxy S7] Screen Protector, REDshield [Crystal Clear] HD Ultra Thin Scratch Resistant, Bubble Free, Protective Screen Guard Film
Prevent scratches on your LCD screen. Keep the screen in pristine shape and prevent accidental scratches from marring your phone or device's LCD screen. This screen protector features a pre-cut screen protector to fit the dimensions of your Samsung Galaxy S7.
Samsung Galaxy S7 Screen Protector
Crystal clear screen protector
Pre-cut to fit the dimensions of your screen
Protects against scratches, scrapes and abrasion
Removes without leaving residue
Easy installation


Cellphone case name Supports Samsung S5 Active Devices From Verizon, AT&T, Sprint, and T-Mobile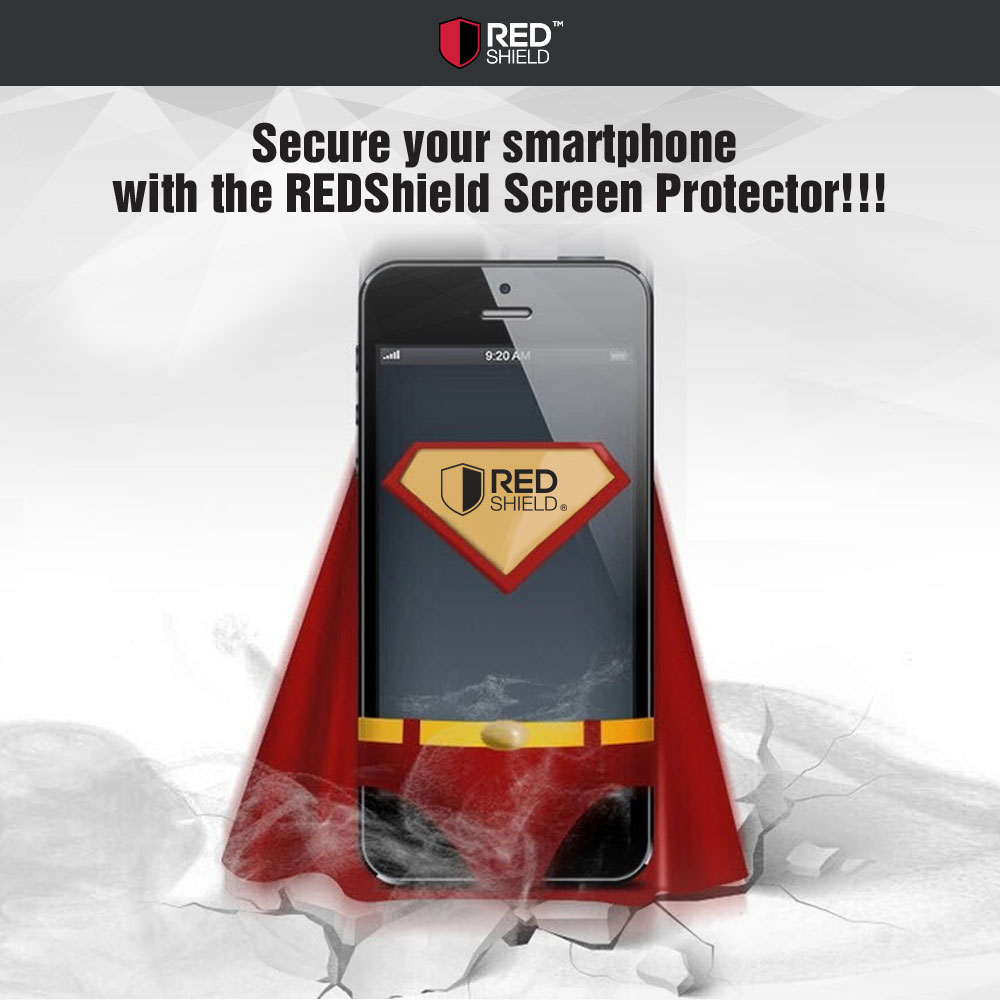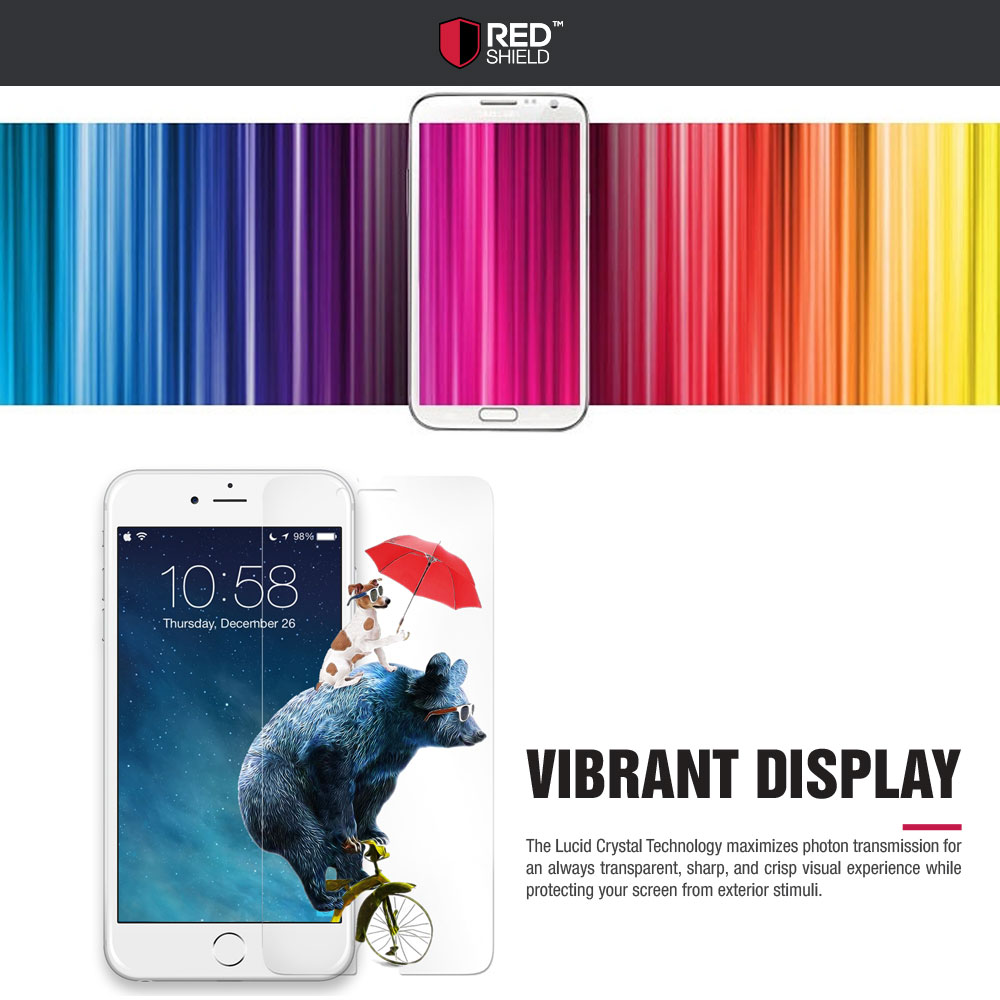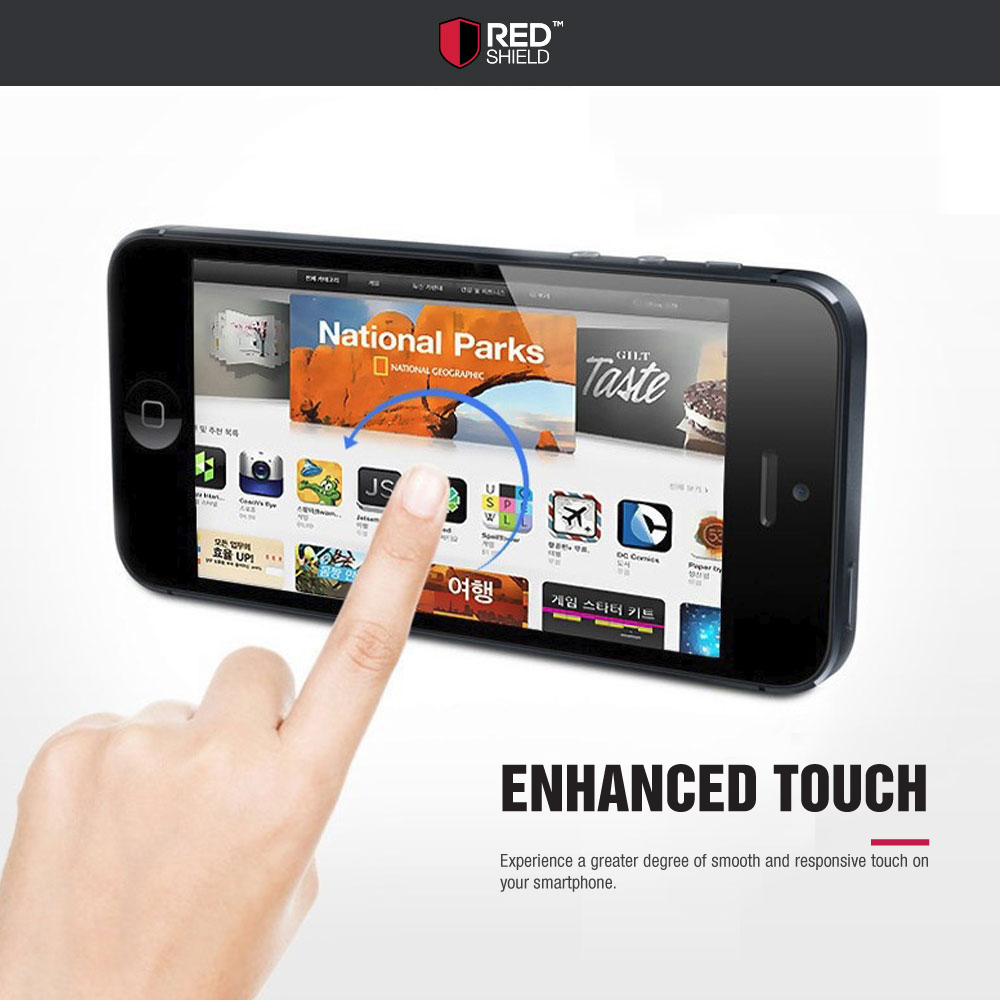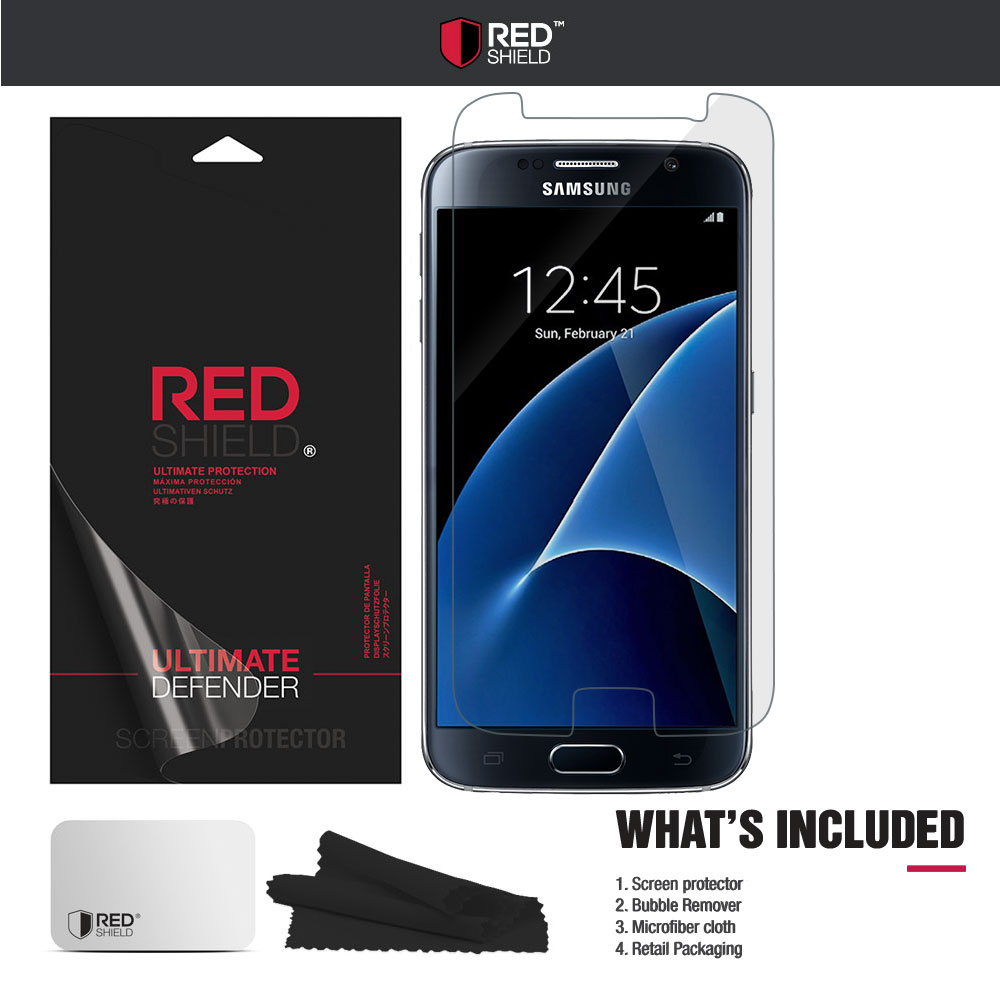 You Might Also Be Interested
Customers Who Viewed This Item Also View
Customer Reviews
Paul Graham
Feb 28, 2017 6:52:45 PM
quick installation
A clever instruction with the sticker hinge. Quick installation, no bubbles and perfect fit on my phone.
Dave Anderson
Feb 22, 2017 6:59:37 PM
awesome screen protector
Awesome screen protector it saved my Galaxy S7 life! Dropped it several times but my screen remained unscratched. It is well worth it!
Brando Brown
Feb 21, 2017 4:01:16 PM
solid screen protector
Solid product. Comes with all the stuff to help you clean and square up before you install. Love it!
Claire Hunter
Feb 9, 2017 7:09:38 PM
excellent fit
Excellent fit! Easy to apply, no bubbles, and protect my phone and does a fine job of preventing scratches. Great for the price!
Ana Black
Feb 2, 2017 10:50:42 PM
great screen protector
So far a great quality at a fair price! This screen protector protect my phone on sudden falls and scratches. Easy to apply, best buy!
Gordon Bower
Jan 16, 2017 7:40:24 PM
fits great for my phone
Keeps my phone secure and protected. Fits great for my S7 phone and I love it!
Michael Tucker
Jan 5, 2017 7:41:08 PM
great screen protector
Great screen protector, Easy to apply and have no bubbles. Great product for the price.
Keith Hill
Dec 28, 2016 7:37:48 PM
great screen protector
Awesome screen protector. Great sensitivity and ability to swipe across the screen. It works great to protect my phone screen. Great price and highly recommended.
Michael Ince
Dec 22, 2016 10:49:30 PM
looks great
Perfect! I can do it! It was easy to put it on. No bubbles at all. This screen protector is good quality, excellent touch response. Looks great! Highly recommended.
Liam Langdon
Dec 21, 2016 7:13:13 PM
awesome clear glass
Awesome Clear Glass is definitely the way to go for a screen protector. I love mine and the screen is so much clearer now and the colors seem to be so much brighter too. Highly recommend
Robert Kelly
Dec 19, 2016 10:05:12 PM
so far so good screen protector
Easy to put on. This screen protector are great and perfectly fit on my Galaxy S7 phone. It protects against scrapes, abrasion and scratches. Very clear crystal protector. Amazing price. Highly recommend
Leonard Hart
Dec 13, 2016 7:32:42 PM
durable screen protector
Durable screen cover. I have dropped my phone many times and not only did my screen not shatter, this screen protector did not either. Easy application, i love the tempered glass crystal clear. Highly recommend
Jake Rees
Dec 12, 2016 10:56:59 PM
fantastic screen protector
Fantastic screen guard film. This is really cool, durable, and sturdy enough to take a numerous fall. I dropped my Galaxy S7 and there is no scratches or crack because of this screen protection. thank you:)
Paul Hill
Dec 11, 2016 10:30:10 PM
quick and easy to install!
Quick and easy to install! Glass is definitely clear and has no bubbles. Its offers a supreme protection for my phone. Happy in my purchased.
Lilian Fraser
Dec 4, 2016 4:18:46 PM
perfect screen protector
Fits nice and snug and is so perfect! Looks great with my Galaxy S7, easy to install, no bubbles, simply great! Price is good, and highly recommend
Warren Wright
Nov 23, 2016 5:56:10 PM
easy to install, simple and very smooth
Easy to install and very good material to protect my phone, No bubbles or gap and perfectly fits in my Galaxy S7 phone. So simple, and very smooth highly recommend.
Carolyn Brown
Nov 15, 2016 4:54:20 PM
Best clear screen protector!
Best screen protector I have ever had for my Galaxy S7. 100% super clear transparent and sensitive, it is also anti-fingerprint and has great feel. I definitely recommend this product.
Dorothy
Nov 10, 2016 7:05:49 PM
Saved my Galaxy S7 Screen:)
It absolutely saved my life this morning. I dropped my phone from our stairs, i looked and saw the crash but when I removed the tampered glass screen protection, my Galaxy S7 was in perfect condition! I almost cry of happiness. I ordered a new one and have been recommending to all my friends.

Thomas Lee
Nov 3, 2016 9:59:42 PM
it make so easy!
Great Screen Protector for my phone. Fits extremely well, I drop my phone and it managed to crack around the front camera. No bubbles, best shield for my S7 Edge. It makes it so easy!
Isaac Burgess
Nov 1, 2016 6:07:19 PM
Best screen protector!
Fantastic screen protector. Fits great! it gives an extra protection on my Galaxy S7. I was able to follow the instructions and it was so easy. The texture is smooth and shinny. Worth it!
Bernadette
Oct 31, 2016 6:45:42 PM
super clear
I have learned how to put it on myself this time:))) The best screen protector I have ever had, 100% super clear transparent and sensitive. It is also anti fingerprint and has a great feel. Highly recommend
Caroline
Oct 30, 2016 5:36:00 PM
excellent material
It's much better than I expected. The material is excellent, incredibly strong, amazing clear, and simply does not scratch. It feels just like I am touching my actual Galaxy 7 display, has a smooth, luxurious feel to it. Easy to install and no bubbles. Highly recommend

Felicity
Oct 25, 2016 7:33:16 PM
best and clear protector
Extremely easy to use and apply, it has no bubbles, got the best and clear screen protector for my Galaxy S7. Well designed, fits good and perfectly covering the whole area of my screen. Thanks
Virginia Gibson
Oct 24, 2016 8:11:55 PM
it saved my phone screen
Excellent screen protector! It protects my phone screen from cracks and scathches! Very easy to put on without any bubbles or debris under the glass.
Sebastian Hill
Oct 19, 2016 11:26:24 PM
great protection
My phone feels safe now! There are no bubble on my screen. Easy to install, great quality product, very clear. Really recommended.
Alexandra
Oct 18, 2016 9:06:19 PM
fantastic
Best screen protector so far, super beautiful, fits perfectly in my Galaxy S7. Clean and easy to install, no bubbles crystal clear display. Happy in my purchased, thank you.
Luke Lambert
Oct 17, 2016 9:43:49 PM
well made protector
Very much impressed in this screen protector! great protection for my phone, fits perfectly, easy to install and happy with the price.
Harry Duncan
Oct 16, 2016 5:44:31 PM
Great buy!
Perfect and high quality. Easy to apply just follow instruction. Looks and feels nice, I love the way it protect my phone against scratches. Great Buy!
Carolyn Chapman
Oct 13, 2016 5:51:57 PM
Excellent protector!
My phone screen is beautiful with this on! I am glad I bought it! Fits my phone very well, excellent screen protector and super easy to apply! Definitely recommend.

Thomas
Oct 6, 2016 5:42:55 PM
Great Quality!
Amazing Screen protector! it is very nice, easy to install. Good quality, durable and sturdy. no worry about bubbles. Highly recommend
Keith Gray
Oct 5, 2016 6:54:22 PM
fantastic Screen Protector
Fantastic screen protector. Easy to install, Bubbles free. Very happy the way it protect my Galaxy S7. Highly recommend

Jasmine Lee
Oct 4, 2016 7:35:14 PM
amazing
Amazing! I dropped my phone and did not get damaged. Its protects against scratches, scrapes and abrasion, I really appreciated this screen protector!


Allan Graham
Oct 2, 2016 5:32:19 PM
value the price
Great fit, no bubbles. This was so easy to put on my phone by myself. No sticky residue when it peel it off. My screen is clear, value the price. thank you
Donna Grant
Sep 26, 2016 8:26:29 PM
happy for this
Easy to install. It is very nice screen protector and it works well with my Gallary S7. I love the way it protects my phone against scratches, scrapes and abrasion. Thank you and happy for my purchase.

Nico Gaspar
Sep 21, 2016 10:54:48 PM
looks fantastic
Excellent product, easy to install, looks fantastic, its fit my phone perfectly, it give protection against scratches, scrapes and abrasion. Great value of price, i'm happy on my purchased.
Thomas Morgan
Sep 20, 2016 8:11:12 PM
Excellent screen protector!
I was satisfied in my purchased. This screen protectors protects my investment against scratches, scrapes and abrasion. Easy to apply, high quality and excellent value. Thanks
Neil Grant
Sep 19, 2016 11:31:04 PM
supreme protection
I was amazed in this screen protector, it can be easily wiped, easily to apply, no bubbles, with supreme protection. I feel like I have a brand new phone. . Satisfied in my purchased.
Brian Brown
Sep 18, 2016 5:54:10 PM
great value
Keep my expensive investment in good hand! It keeps my phone supreme protection, perfectly fit, sturdy, thank you for this case protector.
Jonathan Brwon
Sep 15, 2016 7:11:07 PM
Best screen protector
Easy to installed, I've dropped my device and luckily these screen protectors saved it from any potential damage to the screen. It's small price to pay to protect my expensive investment. Highly recommended.

Andrew Gray
Sep 13, 2016 9:37:06 PM
Best screen protector
Best screen protector ever. I love the way it protect my phone. Highly recommended.
Madeleine Morrison
Aug 30, 2016 11:25:30 PM
Excellent protector!
I really liked this screen protector, good quality, fit well, the edges are ever so slightly curved so that they fit the 2.5D glass on the GS7 perfectly. Instruction were easy to understand and follow. Excellent protectors! You must try it.

Amie Ball
Aug 30, 2016 10:52:49 PM
very high quality of protector
I was so excited because it looked very high quality and durable,when i got this screen protector in the mail, i brought my phone right away to try it and see how it works and what quality it has And I was surprised because it was very easy to apply and it did not leave any bubbles or dirt inside the screen and the screen protector,the process of applying it did not require any hard work. and the results was amazing.

Amy Miller
Aug 30, 2016 1:28:17 AM
I would recommend
I have tested it for scratch resistance with my keys to simulate the phone in my pocket and it didn't scratch. If I did look closely I could see the scratches but it was nothing too visible. It is also fingerprint resistant.I would recommend this protector to anyone, especially because of the price and peace of mind it offers.
Wendy Jackson
Aug 25, 2016 12:39:33 AM
best protector
Great screen protector for Galaxy S7. This Screen Protector was so easy to put on. I was really surprised at how easy and perfect it went on. The instructions were pretty easy but basic. I used the alcohol free cleaning sheet it came with, then I used the dry sheet also which dried up everything. I used the lint removed all over the screen to make sure nothing was on there and then I peeled the clear sheet off. I lined the screen protector on the phone, let it go and it pretty much applied itself to the screen. It was the easiest thing ever. I turned on the phone and was amazed at the clarity of it and the touch screen was not affected by the thickness of the screen protector.
Lauren Ball
Aug 21, 2016 11:37:48 PM
amazing proctector
It was the easiest screen protector to install that I have ever tried. It fits good,looks great and no bubbles, which is a first for me. I can not attest to how well it protects for it has only been on my phone for a few days but I'm sure it will work as well as any other screen protector. What really impressed me was how easy it was to install and how great it looks. Also really like how it significantly reduces finger print smudges. Very happy with this purchase. It was excellent product its is easy to install and fits perfectly on the galaxy S7 .
Stephanie Davies
Aug 16, 2016 11:32:55 PM
impressed and satistied
Very impressed and satisfied with this product and would definitely recommend it!!! The kit comes with the cleaners and everything you need to get started and get it on the phone without any bubbles. If you get any, just warm the screen by running on it with your finger then work them out. It was easy to apply and it is working really well. I highly recommend this screen protector to everyone who needs one! I really love this screen protector and I believe everyone else who gets this screen protector will be happy with it!
Evan Campbell
Aug 15, 2016 11:33:20 PM
very nice protector
Very nice screen protector and everything in this kit is useful . I needed a screen protector for my Samsung Galaxy S7 Edge. This was perfect. I applied it easily. You just need to make sure your phone and hands are free from dust before applying the screen. It sealed to the edges mostly. It is case friendly after it completely dries, which is very important. The screen is still responsive after the screen is applied.
Trevor Butler
Aug 12, 2016 1:44:44 AM
Very nice screen protector
This is the best protection to keep your phone "as new". The glass is very clear, so you can hardly tell there is anything covering your screen, and the touchscreen works perfectly,I highly recommend this screen protector because the installation is very easy.
Harry Newman
Aug 4, 2016 11:37:59 PM
useful
It is useful and very nice screen protector, and everything in this kit is useful. I didn't have any problems with bubbling or placement, so that was good.
Robert Oliver
Aug 2, 2016 1:28:07 AM
Great product and Great customer service
I love the protector. It is a bit of a challenge to get it exactly right, but the directions video is great. These things are an EXACT fit, so be sure you have it aligned perfectly before it cures.
Nevaeh Clark
Jul 28, 2016 11:21:35 PM
Easy to install
Packaging comes with all you need to install successfully, includes two pieces of screen protectors, worth the price!
Elijah Smith
Jul 28, 2016 4:43:21 AM
Great protection
This product works great protected by phone completely. It got put to the test sooner than I wanted to because I accidentally dropped my phone but this screen protector absorbed all the impact leaving no cracks or scratches on my phone so all. I will be definitely ordering the same product from these guys
Cecila Morales
Jul 27, 2016 1:14:25 AM
Best protector for S7
Finally I good screen protector for the S7 and it's ridiculous curved screen! This is the third or fourth protector I've tried and all the others just didn't cut it. This one covers the whole screen and doesn't peel up on the edges! It is made of plastic but it feels almost like glass! I've had glass screen protectors on all my devices for years and was really pissed that there were none for the S7 but this one is almost as good, to the point where I don't notice
Matthew
Jul 24, 2016 9:34:31 PM
Perfect S7 Screen!
It was fairly easy to install the screen protector the instructions are very straight forward.
I do love the fact that this screen protector leaves the resolution of my screen be in comparison to the matte protector which distorted the images a bit.
It fit my phone Samsung s7. I change my phone case often and it doesn't mess with it at all.
Annabelle Evans
Jul 19, 2016 7:57:24 PM
You can't go wrong with the Redshield Galaxy S7 Screen Protector
The REDshield is the best fit and cover of any screen protector I've ever bought. I previously bought a cover for the Galaxy S7 that fit ok but didn't quite reach far enough to the rounded edges of the S7. I was often trying to type on nothing since there was a gap between each side of the letter on the left or right side. The REDshield screen fits perfectly. I also like that it's solid, nary a bubble or crease or lack of fit across the device. Highly recommended.
warmachine
Jul 14, 2016 8:38:49 PM
Great product!!
I like the fact that it doesn't take away from the sensitivity of the screen and therefore never have any issues with getting into my apps. Very sturdy and is good with fingerprints! Great product!!
Joseph G
Jul 13, 2016 11:07:16 PM
The Perfect Match
I was skeptical when I opened the package, but it proved me wrong. After, several tries of different screen protector for my phone I finally find the perfect match. Easy to install and very clear. Does not affect screen sensitivity at all.
Hannah Peterson
Jul 12, 2016 4:34:37 AM
No bubbles!
Putting the screen protector on was pretty self explanatory, however the instructions on the back was very easy to follow. I really liked the small card they send, it helps smooth out the bubbles.
alexanderC
Jul 11, 2016 3:17:27 AM
Galaxy s7 screen protector!
it is easy to install and went on absolutely bubble free. clear in color but this does not in any way interfere with the clear clarity of the screen. It's perfect fit in the screen and very protective. it protect your phone from minor scratches and damage and make you feel more secure when using the phone.
Ellie
Jul 8, 2016 1:58:33 AM
A must buy!
it was one of the best products I have got for my new phone.It was easy to open and easy to put on you phone..everyone need this product. .
Aisley
Jul 6, 2016 12:31:18 AM
Excellent!
The screen protector was easy to put on. Just took a few seconds. I flattened it out with a credit card when I was done. Make sure you clean the screen really well before you put it on. Also, give it a day or so to work the bubbles out. Mine had bubbles at first, but they disappeared on the second day.
Jonas Hill
Jul 5, 2016 9:33:05 AM
Great product "Read Instructions so simple"
Bought for my wife's phone. No bubbles, read instructions before you install, (turn off ceiling fan, 1 spec of dust will show up) I learned the hard way. Very simple.
Capper
Jun 29, 2016 10:57:27 PM
Awesome screen for the price!
It was very easy to install so it will be for everyone, Packaging is good, clear and fine cuts. I would say that this item is great for it's price!
CoolDude
Jun 27, 2016 11:26:42 PM
Easy Installation!
This screen protector really fit my S7 phone screen & I didn't have hard time installing it!
Write Your Own Review