Geeky Gifts Not From Grandma
Features & Highlights
Why you should buy this product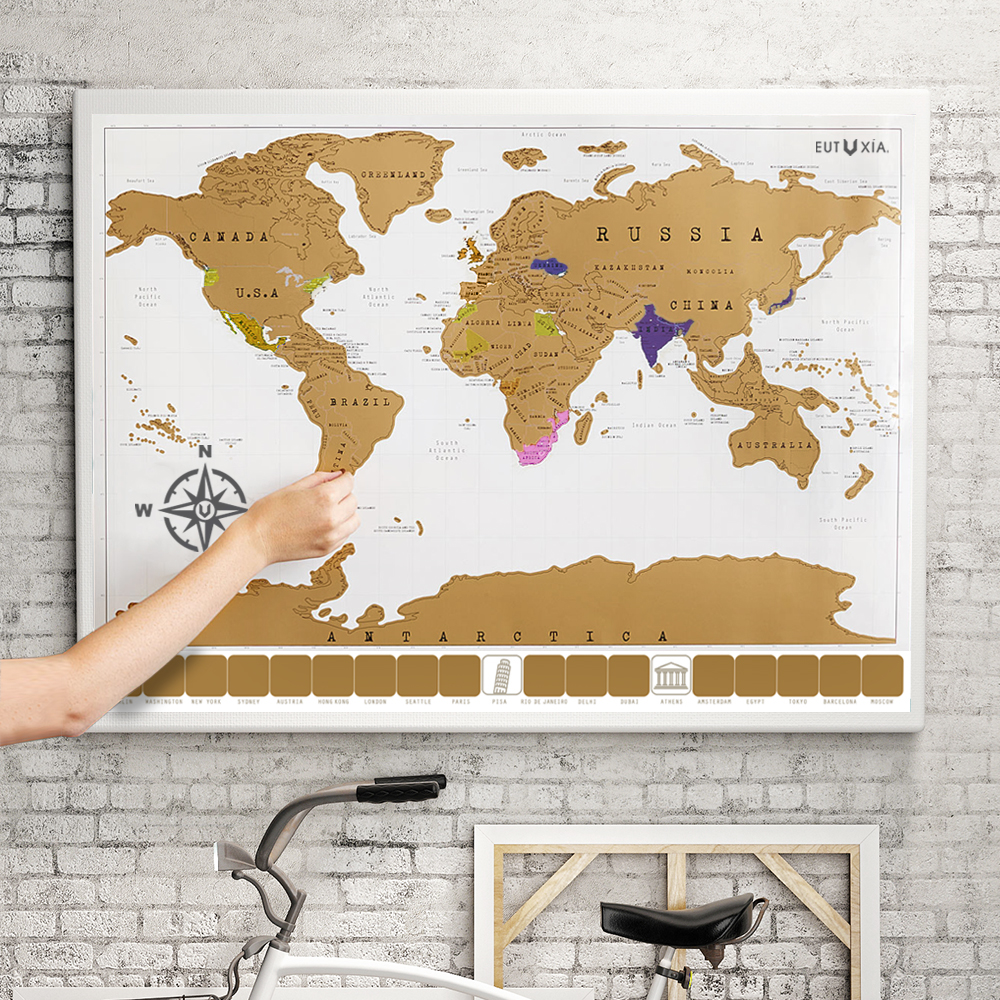 Travel Scratch World Map (34x20 inch) - Track Places Where You've Been To!
Where in the world have you already been Its not always easy to keep track of countries and destinations that youve been able to visit. Travel Scratch World Map is very useful tools for the traveler, and thats to track the places where youve already been to. The Scratch Map is pretty and presentable enough to hang on your wall for all to see. If youve been to a certain destination already, just get a penny and start scratching away at the foil covering that area on the map to reveal a colored version of the map below it. Scratch Map is brilliant! Its the perfect way to show off where youve been traveling while livening up your wall with a colorful world map. Scratch Map is an amazingly high quality, upper-massive wall map, featuring a gold top foil layer.You get a unique, slick looking gold wall map to start with, and the idea is that you then scratch off all the places youve visited to reveal a whole new world below, featuring color and geographical detail. The result is a totally unique and personalized world map. What a great gift for the go-getting traveling-type! The Scratch Map comes packaged in a slick tube so its also easy to transport.
Size 34"x20" Scratch off visited destinations' to reveal the world map underneath The intricate geographical details will also serve as a reminder of how many countries you have not visited This scratch map is an ideal gift for people who love to travel and explore the world The scratch off world map will motivate you to get out of your comfort zone and explore!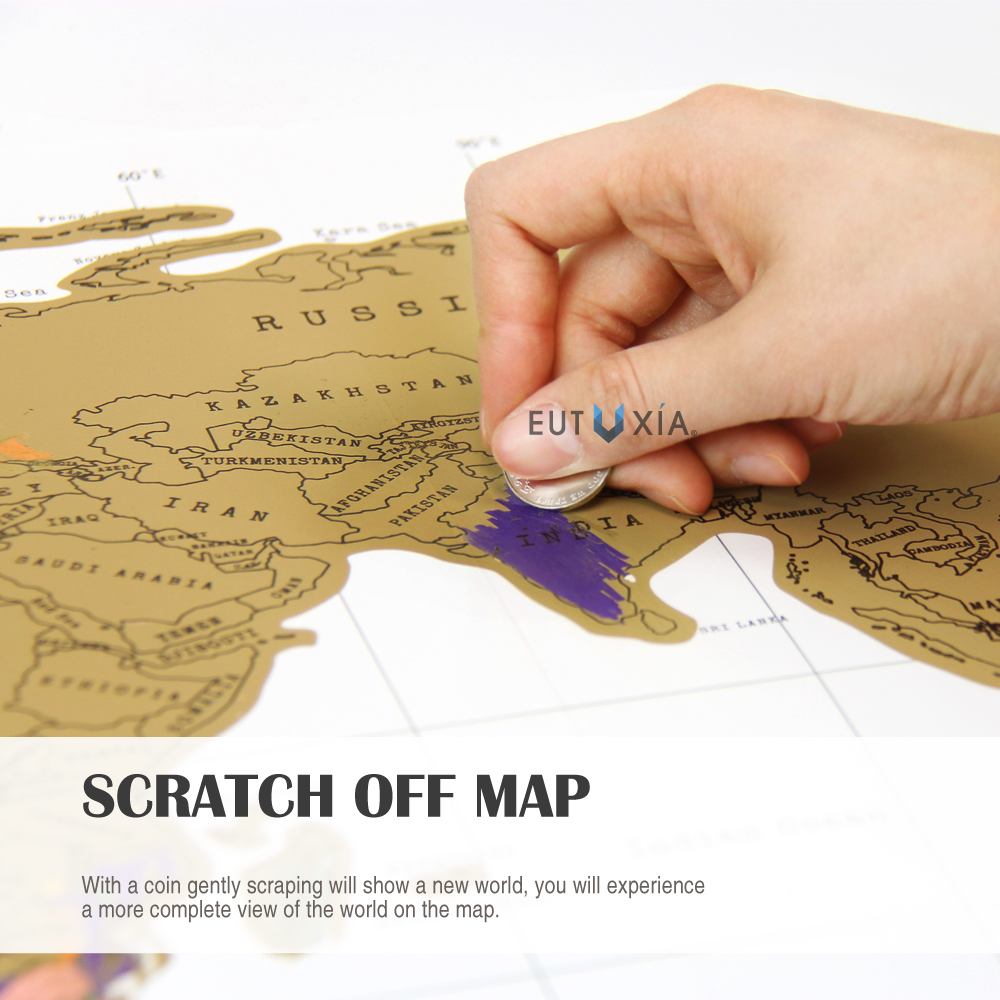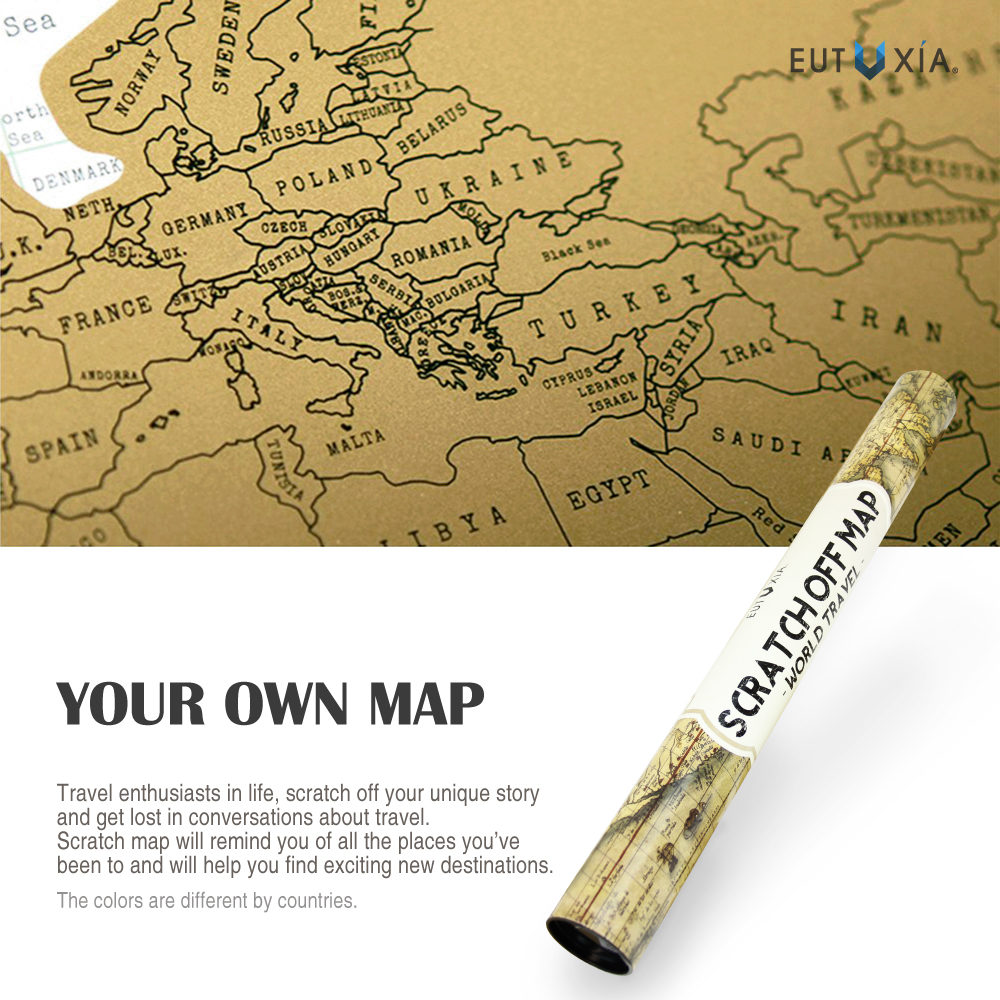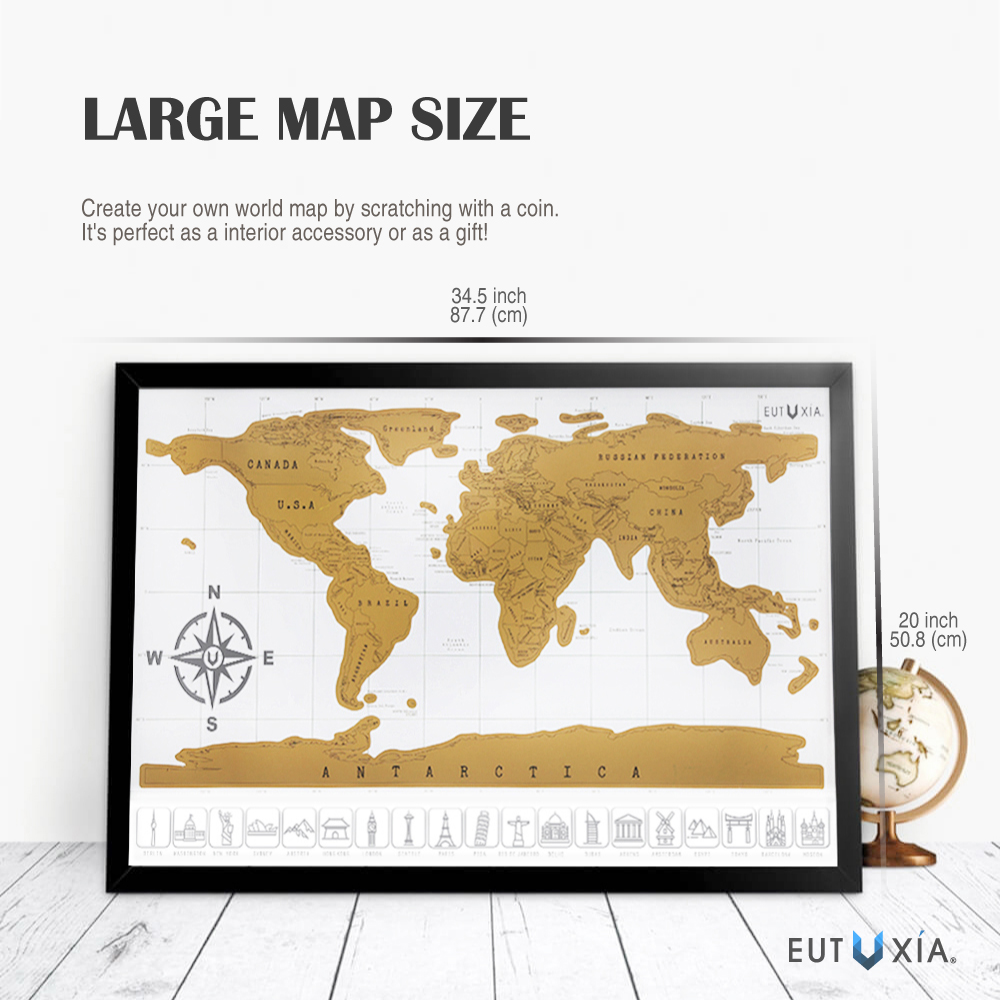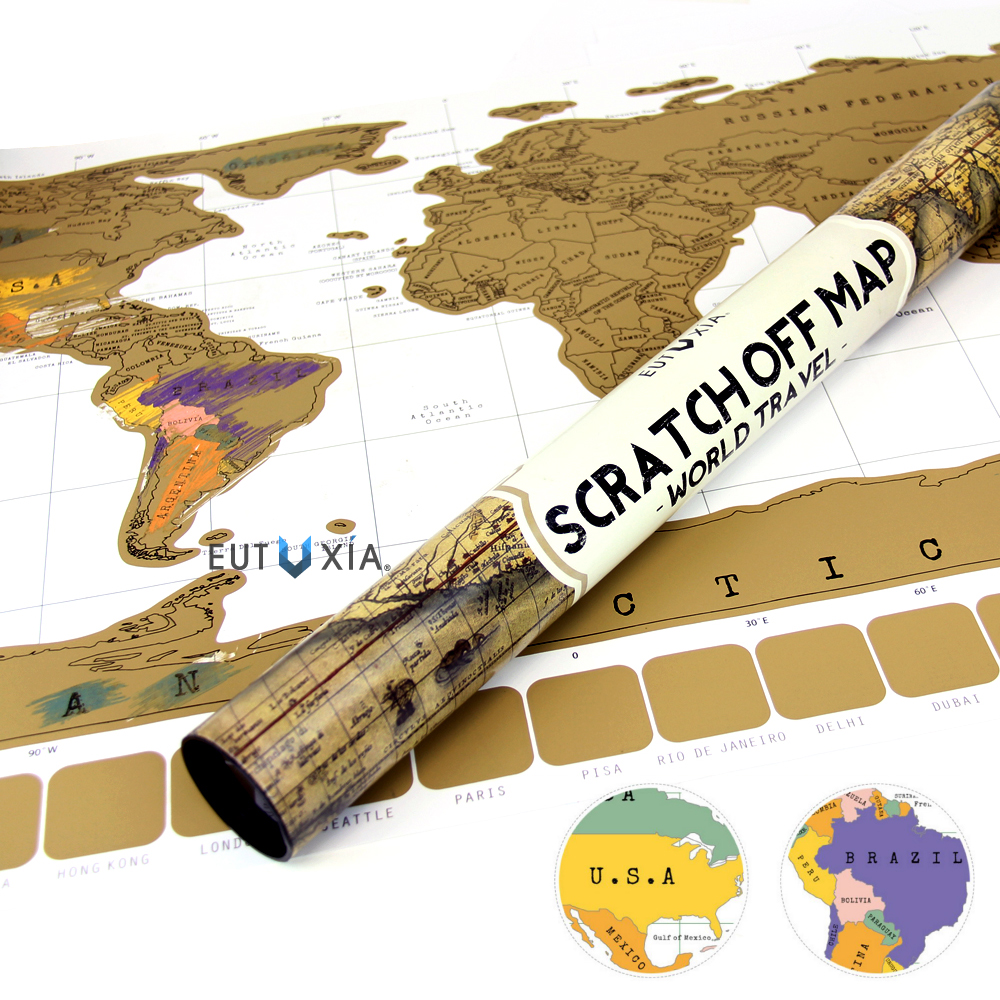 You Might Also Be Interested
Customers Who Viewed This Item Also View
Customer Reviews
Simon Taylor
Jan 18, 2017 1:03:07 AM
looks great on my wall
Great way for finding places you may not know. Looks great on my wall. Pretty cool and I love the colors! Reasonable price.
Isaac Brown
Jan 15, 2017 7:34:40 PM
love this pretty map
I absolutely loved this world map. It reminds me of all the places I want to travel. This is a good size map and the quality is really nice.
Nikita Hill
Jan 11, 2017 10:24:53 PM
pretty scratch off
Pretty scratch off World Map. I love this poster and everyone who sees it in my office comments on how much they like it. The colors are very beautiful being a more traditional type showing geography or country boundaries.

Dan Clarkson
Jan 10, 2017 6:57:15 PM
Map was amazing and well worth it
I bought this as a gift for my mother as a recent retiree she's been planning a number of trips. And she loved it and motivate her again to go out and explore. This Map was amazing and well worth it.
Amanda Bell
Jan 9, 2017 9:04:35 PM
sweet world map
Very vibrant colors and look great on our living room. Sweet world map. Takes me back to when I was a kid in elementary school. Just awesome looking at countries, continents, and oceans so beautiful map.
Lilian Hemming
Jan 4, 2017 9:31:49 PM
nice map
Really nice map. I put it in our hallway at school. Our kids are tracking letters from all over the country, and everyone at school is enjoying the map. It is a good quality paper, and the colors are very bright. It looks great hanging on the wall.
Irene Duncan
Jan 3, 2017 6:15:58 PM
a truly beautiful map
A truly beautiful map. Just hang it in our living room and everyone was jealous and impressed in person. Looks great! Price was amazing.
Bella Butler
Dec 30, 2016 12:48:53 AM
good learning tool for the kids
Very good learning tool for my son, this helps my kids get a visual when we discuss events or the news. I hung it in our kitchen, where most family conversations occur. Price is great!
Jennifer Hart
Dec 28, 2016 8:08:04 PM
very informative
Good quality, sturdy material and very detailed World Map. A great map for my desk. My son can easily look up countries while studying. Very informative. Thank you
Anna Davis
Dec 27, 2016 10:58:46 PM
beautiful map
Beautiful World Map. It is a nice laminated poster that serves as decoration in my bedroom. It is detailed and clear. High quality, it was very motivating to look at and think about all the other places I want to go. Great Price!
Caroline Bell
Dec 26, 2016 5:54:58 PM
just want I wanted
Just what I wanted. It looks great on my wall. Really cool item for geography buffs and great for finding places you know about but may not be sure where they are in the world. Very useful. Highly recommended.
Emily Black
Dec 22, 2016 7:57:48 PM
pretty cool world map
Pretty cool! Everything was packed perfectly, bigger than excepted. My kids are enjoying it! It's hanging in our living room, they are excited in our next destination. A great way to document our travel experiences.
Dorothy Davidson
Dec 21, 2016 4:20:55 PM
great looking and great teaching tool
What a very amazing map of the World. The coloring is much better than pictured. The size is perfect your able to see everything, and this is so educational along with being a great looking, stylish on my wall. It is a scratch off but I have not done yet, also a great teaching tool. All around this is awesome!
Carolyn Butler
Dec 20, 2016 6:59:33 PM
excellent value
Excellent value. Great product. Does exactly what I wanted to do. I really loved that there is so much details for cities and countries around the world. Highly recommend
Michael Gray
Dec 19, 2016 9:47:22 PM
very useful
Very pleased with this purchased, exactly what I expected. A great way to document my travel experiences. Also perfect for my kids erase, scratching and identifying trips or place they've been! They have fun scratching.
Sarah Davidson
Dec 18, 2016 9:51:23 PM
our life journey
We love to travel! This world map motivate me and my husband to go and explore the beauty of the world. "Our Life Journey" . Thank very much for this wonderful and unique world map. I will definitely recommend this product. Great price too!
Dina Hills
Dec 15, 2016 4:10:34 PM
good quality map
Good quality. I just hung it on the wall using double contact type. It looks awesome! The quality is remarkable and the size is what I was looking for. Just what I needed for my office. Price is also great!

Claire Churchill
Dec 14, 2016 6:29:09 PM
great world map
Great map. It seems sturdy enough for the price. I love being able to see where all this stuff in the news is taking place. Map was packed in a plastic case and then in a cardboard box. Arrived in perfect condition. No problems. Highly recommend
Joseph Gill
Dec 13, 2016 7:25:18 PM
simply the best travel world map
Simply the best travel world map. Beautiful colors, high quality, such attention to detail. I have fun scratching this map. Satisfied with my purchased.
Joanne Brown
Dec 12, 2016 7:19:22 PM
a great way of travel experiences
Easy to read. I love this world map! A great way to document my travel experiences. Thank you.
Michelle Blare
Dec 11, 2016 8:09:42 PM
great buy!
Great buy! It looks so nice and luxurious. It's very high quality, especially for the price. Best gift idea for Christmas. Highly recommend
Nestor Blake
Dec 8, 2016 8:50:20 PM
fantastic world map
Fantastic World map! Big & beautifully perfect in our living room. My kids really like to scratch it! I would definite recommend this to others.
Bernadette Bell
Dec 7, 2016 4:53:11 PM
best gift idea
My Granddaughter loves history, geography, and it's hanging on her wall with her fingerprints all over it! Best gift idea to loved ones. Highly recommend
Jessica Brown
Dec 6, 2016 5:44:10 PM
Beautiful World Map
Beautiful Map! I got this for my husband for Christmas to put a bulletin board so we could mark all of the places we have been, both together and separately using colored map tacks. The size and details are overwhelming. Best gift idea for Christmas!
Abigail Adam
Dec 5, 2016 7:38:44 PM
looking forward to filling it up!
Great World Map. I was looking forward to filling it up!!! Scratching is fun! Really nice map worth my money. Great gift for my world traveling parents. Highly recommend
Dorothy Bowel
Dec 4, 2016 3:25:03 PM
looks great to frame!
Absolutely perfect! Great map. This map is a high quality product and looks great framed. I have a great time scratching the places I have been. Cant't wait to travel more, so I can put more color on this map. Beautiful map! Best gift for Christmas!
Diana Fraser
Dec 1, 2016 9:23:58 PM
fun and unique give away!
Scratching the World Map is fun and unique gift for loved ones specially the travelers. Very huge and has a great detail. I built a frame and came out Great! Nice and fantastic gift idea!
Joan Ferguson
Nov 30, 2016 8:03:59 PM
best gift for christmas
I was very happy on this World Map. Yesterday I needed and used it for our bulletin board in our school and it saved my life! So much grateful! I world definitely buy more for a give away this Christmas:) Great price!
Julia Jackson
Nov 29, 2016 5:33:59 PM
it look nice and great!
It look nice and great for quick reference. High quality world map, with rich vivid colors. We have displayed it on our living room, we scratch and pins marking the places we're traveled to. We love it and having fun scratching on it! Best gift too!
Katherine Gibson
Nov 28, 2016 2:34:22 PM
Just what I needed
Just what I needed for my office. Wonderful World Map. Big enough to look at, and perfect fit for frames. Awesome detail, has every country I want to see on the map. Best gift too!
Marlene Dixon
Nov 28, 2016 12:47:22 AM
nice world map
Nice world map! Always love having world map in my office at work. It reminds me of all the places I want to travel. This is good size map and the quality is really nice.
Yvonne Wilson
Nov 23, 2016 6:03:22 PM
Unique and perfect gift!
Perfect for my kids and I teaching them about the world. I have been laminated it to allow the kids to use a dry eraser marker to help identifying distances, trips, or places they've been! I bought another map as a gift and it was perfect!
Abigail Allan
Nov 22, 2016 4:53:15 PM
great to navigate my next travels
I just hung it on the wall, and its beautiful, it looks awesome! Great to navigate my next travels, and motivate to worked hard. I totally recommend!
Abigail Black
Nov 21, 2016 6:53:13 PM
great map and best gift too!
Great Map! I have a great time scratching the places I have been. I can't wait to travel more, so i can put more color on this map. Thank you and highly recommend, best gift too!
Bernadette Bond
Nov 20, 2016 5:10:14 PM
great idea for travelers
Great idea, very cute and personalized! It seems like it is a made very well. This is a great gift idea for a travelers. I also like that this world map gets my children's attention and they have been asking a lot of questions about different countries and where they want to go and the names of them, it really helps them learn in a fun way. I am super happy with my purchased.
Rachel Gray
Nov 17, 2016 5:01:36 PM
great gifts
It looks amazing on my office wall. Beautiful! Great gift for my traveling parents. I would definitely recommend this well product for someone is looking for a best gift this christmas.
Bernadette Graham
Nov 16, 2016 6:29:02 PM
great gitf ever from someone special
It makes a great gift I received from my someone special my best friend and looks great hanging in my room. It reminds me about our friendship, and we plan and motivate to go together around the world! I am glad to have this!
Marie Hemington
Nov 15, 2016 6:18:28 PM
I would be proud to give this as a gift.
Very good map to track the places we have been visited. This map is an interactive and visual way for the kids learn geography and appreciate the distances. I would be proud to give this as a gift.
Alexandra Murray
Nov 14, 2016 7:25:45 PM
great gift for my love ones
Exceed my expectations. Beautiful! Great gift for my world traveling parents. They really love it! And excited this coming December to travel again. Very useful, educational and works well. I would buy more for my relatives and friends as a gift this Christmas!
Madelaine Baker
Nov 10, 2016 6:41:38 PM
happy with my purchased
Just bought this for my teenage daughter and she absolutely love it! Color is beautiful, looks great, and great talking piece in our house! Happy with my purchased.
Elizabeth Lambert
Nov 8, 2016 6:52:44 PM
educational and interesting
My daughter helped me hang it on my wall and we have been planning trips and memorizing country names for weeks. Good to have and better than a boring photograph. It's educational and interesting. I definitely buy more for christmas season as a gift for my love ones.
Alexandra Brown
Nov 7, 2016 6:45:22 PM
best gift for christmas
Looks great framed in my office and I absolutely buy more as a gift for my love ones this coming christmas. Happy and highly recommend
Stephen Morris
Nov 3, 2016 10:10:05 PM
just simply WOW!
Awesome World Map! This is fun to use with my kiddos and we mark all the countries we have been and places we want to go in the future. The material is durable, high quality, and waterproof. I like it very much and recommend it to everyone!

Emily Buckland
Nov 2, 2016 7:37:39 PM
nice and georgeous
Extremely impressed with this world map, it is beautiful! such a clever way to show off all our memories that come along in our travel. It is also nice enough to hang on the wall. Gorgeous!
Anne Brown
Oct 31, 2016 6:28:33 PM
easy to scratch and so beautiful!
I absolutely love this world map! So Beautiful and very educational we are always looking for fun ways to learn and expand on learning. Easy to scratch, this was all good fun!
Amanda Lopes
Oct 27, 2016 5:51:25 PM
fantastic
Scratching is so much fun! What a great idea! Looking forward to reveal all the places I have already traveled and as time goes on "scratching" more and more! Fantastic product and very unique.

Lauren Clarkson
Oct 26, 2016 6:50:48 PM
easy to scratch
Absolutely perfect! I love the concept of this idea, scratching all countries that i have been through and motivate me and my family to go out and explore to travel. Beautiful quality material, cool and it's actually pretty easy to scratch.
Bernadette Green
Oct 25, 2016 7:11:33 PM
get out and explore!
Great quality, my family have a reason to travel more. Great gift and amazing just to help you to get out and explore! This world map is covered with a scratch off layer. Grab one too, and Enjoy your travels!
Olivia Jocson
Oct 24, 2016 7:47:30 PM
pretty cool!
I have a great time scratching the places I have been. Can't wait to travel more, so i can put more color on the map. Absolutely perfect! Looks pretty cool and easy to scratch. Happy in my purchased.
Jasmine Bailey
Oct 23, 2016 9:13:51 PM
have fun!
It is wonderful! What a creative idea, from digital world return to work hand, it is simple and interactive. I was excited and I bought all my children and grandchildren a world map! Scratching is fun!
Elizabeth
Oct 18, 2016 12:29:12 AM
simply beautiful!
Great map to track my next destination. We put this map in our living room, everyone who sees it comments on how beautiful it is. The colors and artwork are exquisite. And the fact that it already comes framed, is a huge plus!
Emmagrace
Oct 16, 2016 7:44:21 PM
have fun!
Very detailed, good quality, I can scratch this with a coin or other object. Considering the beautiful texture of this map, i can use it as a centerpiece in my living room as it is very eye cathcing. Scratching is Fun! Have one and experience the joyful feeling! thank you

Samantha Glover
Oct 13, 2016 7:48:49 PM
Very useful and worth it!
I absolutely love this Travel Scratch Map! There are many useful hints and different information on the map that makes it a great piece for my living room. I am really looking forward to continuing to use this through my travel journey. Very useful and worth it!
Elizabeth Duncan
Oct 10, 2016 5:39:42 PM
beautiful map
Absolutely perfect! Beautiful map! This map is a high quality that looks great framed. I will buy more for my friends and love ones this coming season as gift.
Wendy Hart
Oct 5, 2016 6:42:28 PM
super cool!
Super cool map of the world. Scratching is fun! Let's get out of our comfort zone, explore and be excited!
Jennifer
Oct 4, 2016 7:26:00 PM
lots of fun
Lots of Fun! Scratching this travel world Map, I was excited, what will be the next Journey? Thank you for this product. Highly recommend
Dorothy Gibson
Oct 3, 2016 7:28:25 PM
very useful
I bought this for my kid geographic class. Its awesome! We framed it without the glass, Love the concept of scratching and we easily track the places of our next destinations. thanks
Jessica Sanderson
Sep 29, 2016 6:57:20 PM
scratching is fun!
One of my life goal is to travel the world, this scratch maps are wonderful way to track my significant progress.
And they also will serve the double purpose of serving as educational aids for my children. As they all get older and start to learn about geography. thanks

Gabriel
Sep 29, 2016 2:48:34 AM
feel excited
Everytime I scratch my World Map, I feel excited to go around the world. More fun and I want to explore different places using this map.

Felicity Jones
Sep 26, 2016 8:32:59 PM
Great gifts!
I bought this map as a wedding gift for my friend who travels all around the world, and she marrying a man who does the same thing! They loved it and had their first post-honeymoon, eventually they argue over who could scratch out which countries... Great gift!
Ellen Churchill
Sep 25, 2016 5:05:37 PM
fun and easy
Very easy to used and it gives a motivation to go and explore around the world, easy and fun to scratch these World Map, my kids loved it too.
Eladia
Sep 20, 2016 8:21:49 PM
very useful
We do a lot of traveling in our family. So we are always searching for new and different ways to involve our daughter not only in the planning of trips but in the memories of the trips. This Travel World Scratch Map is very convenient, great price and very useful, memories always remain. Thanks!

Carolyn Belle
Sep 13, 2016 8:44:58 PM
lots of fun
Lots of fun! Traveling is my life. In this World Map I really enjoy scratching it. Great product, best gift for love ones.
Alexandra Abraham
Sep 12, 2016 7:08:43 PM
excellent map
Very easy to scratch and I can't wait to fill out more of it. The quality was amazing and everything is excellent. I'm definitely getting more of these for my love ones. I was excited to scratch off and to visually and see where the next adventures will be. This is great showpiece to highlight my journey. Wanna be travelers in my life! Many thanks for this.

Michelle Jones
Sep 11, 2016 10:57:04 PM
lots of fun
I really like this Travel Map, i actually bought this for my kids for educational purposes and they have gotten a lot of joy out of it. The scratch off part of it is appealing to them and they get learn at the same time. Very fun Map! Good quality, value the price. Super cool idea. Highly recommended.

Stephanie
Sep 6, 2016 11:03:41 PM
Useful
It was a perfect product for what I was looking for. I love to travel, and this is very useful. Perfect gift for love ones, Great price.
Bernadette Butler
Sep 5, 2016 5:47:25 PM
Useful
Yes, I love this Travel Scratch World Map, my family love to explore and travel a lot and its very useful tool, high quality, thanks for creating this unique idea. Surely, will buy more for this coming season of Christmas as gift for my friends and relatives.


BethH
Sep 1, 2016 7:03:33 PM
Wish there was more detail
I like the map and the material it's made from. However, I am very disappointed that it is not more detailed. I wish that the individual US states and Canadian provinces were marked like the African countries are. I ended up scratching off all of the US and Canada even though I haven't been to all states and provinces. :( very disappointed.
Jennifer Robertson
Aug 25, 2016 11:43:16 PM
fantastic travel map
This is fun for travelers because it visually exposes the areas where you have traveled, and gives you a constant graphic reminder of where in the world you have been, and where in the world you have yet to explore. It is helpful to have a standard world map for reference as you are mapping out your journeys, because there are no dividing lines to tell you where one area ends and another one begins.
Edward Pullman
Aug 23, 2016 10:56:25 PM
simply Awesome map
It was great to look at and the scratching off part has been easy. The paper is thick and the packaging it came in is good. The map itself seems to be accurate and it is fun to use and scratch off as we travel. Names for big cities can sometimes be in places where you might not expect them to be. Also each continent is a different color. I think it would be nice to see a version that has each state or country a different color instead of all the same. All in all though, this has been a great purchase that fills our wall and gives us a reason to go explore.
Rose Morgan
Aug 22, 2016 4:57:07 PM
Great scratch map
I finally picked this travel scratch World map and I am happy with my decision. This one looks very nice and has good quality. It's fun and proud to record my visited countries on a map.. Scratch layer comes off cleanly and easily. I would definitely recommend!
Alexandra
Aug 22, 2016 12:18:24 AM
excellent gift
This map is perfect for anyone who likes to travel. A quick reference of the places you've been which makes a perfect conversation starter. This would make a great gift for anyone in the service or their family members. I loved the look of this map and the concept. I am quite happy with this product and would recommend this to anyone who travels or as an excellent quality gift for a traveler.

Knox
Aug 18, 2016 12:21:34 AM
very cute map
These made are very cute, I have been looking for some sort of map to start marking off places where we have been.The quality is wonderful, the map has a nice thickness to it while allowing it to still be rolled up easily for storage in the tube. It is also a beautiful map that can be displayed in your home to showcase where you've traveled to and represent the wonderful adventures you've been on. I think this is a fun and great product to display your travel memories.

Anna Lee
Aug 15, 2016 12:44:03 AM
amazing map
This map is amazing , seriously just love this thing, It's nice and big, it's classy, & it's a more unique way to mark the areas you've visited. I also love that at the bottom you can scratch off an entire continent, in just a few inches. I'm going to hang up all my favorite travel photos around the map.
Faith Mathis
Aug 12, 2016 2:52:15 AM
amazing travel map
I bought this travel scratch map as a gift for a friend who enjoys traveling and she's had a ball scratching off all the places she's visited and I was impressed with the overall quality of the piece, and she is really excited to start scratching off countries.

Sally Stewart
Aug 10, 2016 10:30:38 PM
Amazing map!
This scratch map is amazing, every time we go anywhere, we get excited about coming home to scratch off another piece of the map! We have it displayed in our living room and it's always a great conversation piece. It also helps us decide where we want to go next based off where we've never been. I recommend this product.
Austin Buckland
Aug 9, 2016 11:54:45 PM
cool map
The travel scratch world map arrived in excellent condition and easily tracks all the places I've gone to.
Felicity Bower
Aug 9, 2016 12:40:16 AM
Great map!
I was very impressed for this map .I recommend very one to gave it as a gift to my best friend or relatives who loves to travel.

Wanda Powell
Aug 7, 2016 8:43:15 PM
Impressive map!
I was very impressed! This is a great alternative to marking a traditional map with pins (we didn't want a punch of pins in the wall) and visually is very appealing.
Jasmine Churchill
Aug 4, 2016 11:46:30 PM
Must have for travel
So cool to cross off everywhere we visit and inspiring to want to travel to even more places!And this map is nice as a gift for someone who likes travelling
Diana Paterson
Aug 2, 2016 1:29:51 AM
Fun gift idea
Got this for my husband as part of his birthday gift as we like to travel together a lot. We haven't used it yet but are excited to do so. I plan to frame it one day with pics of places we've been to together.
Ethan Hunt
Jul 27, 2016 11:46:47 PM
Great for travelers!
So fun to scratch off places I've been. I bought three for my international friends, and they loved it as a gift. I kept mine at my parents' home and couldn't wait to scratch it off after I had been traveling overseas for half of the year.
Vanessa Stampey
Jul 25, 2016 8:44:34 PM
so cool. Seriously
So, so cool. Seriously, what a neat idea. We gifted one to our in-laws and they love it. It's been really fun for them to scratch off where they've been and they framed it without glass so it makes a nice "interactive" wall hanging.
AnthonyV
Jul 24, 2016 9:57:36 PM
Very Trendy
Great piece of decorative art for the young professional. I put mine into a frame and hung it on the wall. I get compliments all the time. Some trimming or folding required.
Sophia Moore
Jul 21, 2016 7:40:36 PM
Wonderful!
My dad and his wife do a lot of travelling so I thought it would be a wonderful gift. The item came very quickly and was shipped in a really cool looking tube. My dad is very hard to shop for but this was a hit! They had never heard of scratch maps before and loved the idea of it. They LOVED the gift :). I recommend for anyone who enjoys travelling!
lauren
Jul 18, 2016 8:42:58 PM
Best Gift!
Pretty cool gift for a traveler. I did give this as a gift, but was able to see the person get it started with where they had been. The only downside is that some of the countries are very small and hard to get with a coin. Otherwise, it looks great and will be even better once it is framed.
Avery Davis
Jul 14, 2016 8:42:06 PM
Scratch Off World Map
This is a scratch off map. This map is a fun way to keep track of your travels and up coming travels. You scratch off the states or countries you have been to leaving all the places you have yet to travel. This is a great conversation piece and something the whole family can be involved with. Its is a nice size : 34x20 inch that you could frame and use it as art on your wall. It is easy to scratch off and a lot of fun for kids. My family has had fun re telling vacation stories after being reminded of all the places we have been.
Olivia S
Jul 13, 2016 10:51:40 PM
Excellent product
This map is just what I was looking for to list our travels. I do wish there were lines on the US for the different states. The colors are brilliant, and the gold does not rub off unless you want it to. The additional info on the bottom is a nice touch.
Emily Sanders
Jul 13, 2016 2:12:12 AM
Beautiful map!
Beautiful map that is very easy to scratch off. Even though it is done with an eraser, it works perfectly. I can't wait to get mine framed tomorrow so that it is even easier to use and to show off to everyone that comes to my home and visits. Excellent price for an excellent product. I bought one for my brother in law who travels a lot and... one for myself ;)
Mturner
Jul 12, 2016 4:30:03 AM
For now and the years to come!
I am a world traveler...this map is wonderful for tracking all of my adventures, and those to come!!! Hoping the grand-kids will value seeing where all their grandparents traveled.
Ryan B
Jul 7, 2016 6:17:46 AM
Very Happy With This Fun Interactive Map!
Delivered as promised in excellent protective packaging. I'll be giving this as a gift to a world traveling friend. I'm sure he'll be delighted as he often touts his list of the countries he's visited. Great fun!
Lbernard
Jul 5, 2016 9:53:44 AM
This is so cool. I have been looking for just the right ...
This is so cool. I have been looking for just the right frame, but could wait no longer so I hung it up for now. We love globes and maps so this fits right in. And I can scratch off all the places we travel to. Thank you so much.
Margaret
Jun 30, 2016 9:47:31 PM
Excited!
I am now really exited about this Map I got one now and I will gonna use it! Yeah!
Ashley
Jun 30, 2016 7:47:03 AM
Wanderlust buddy!
As a wanderlust, this keeps me track of all the places I've been to. Another memory keeper besides photographs! This helps me remember memories from places I've visited and encourages me to journey on countries I haven't scratched yet! To more mountains to climb and seas to sail!
Bernard2
Jun 29, 2016 10:43:03 PM
I really like this map
I really like this map! It was one of the only ones I could find that included states. The only caution I advise is to be careful when scratching off locations. The first one I did I was unaware of this and scratched off some of the color of the state. Other than this it has worked out great and fits well in a frame.
kevin sy
Jun 27, 2016 11:17:43 PM
my new travel item
I love traveling and this new map is very useful for what I do, thanks for this map!
Henry C
Jun 24, 2016 6:20:10 AM
So cool!!
I absolutely love this map! It's awesome being able to track where you've been, as well as show off all the countries you've been to. It also gives you a perspective on just how big the world really is. Mine came in perfect condition and wasn't scratched at all. I would recommend for anyone who's well travelled or just wants a unique map to hang!
Phoebe
Jun 23, 2016 9:14:34 PM
Awesome purchase!
I wanted something fun to put on my wall and love traveling so i bought this. a few reviews got me scared that it was going to get scratched, but there were only a few down at the fun facts. most positively recommend for anyone who likes traveling or wants to more ( please note most of the map is taken up buy russia, and china, so it will look like you havent been to many places if u havent been there)
jumpingbeans
Jun 22, 2016 8:16:52 PM
Pretty Fantastic
Like others, I was a bit worried my map would be a bit scratched when it arrived, but eh. Surprisingly, I was lucky enough to only find a few scratches here and there on mine. The foil is pretty heavy duty though, so I can't really see how it could have been much worse; it takes some real elbow-grease to scratch anything off of mine.
Billy
Jun 22, 2016 8:15:54 PM
Perfect for a Traveler!
I'm a travel nerd so this is perfect for anyone who would like to keep track of, and put their travels on display. Good size, highly recommended!
Albert Lee
Jun 22, 2016 8:14:23 PM
LOVE THIS!
I've been wanting this FOREVER, and my boyfriend got it for me [: It's a lot bigger than I thought it was going to be, which is always a plus! I think it's def worth the price. Also, mine wasn't scratched off at all when it came in the mail, which I was expecting it to be a little from shipping. Completely, 100% brand new and amazing! I have yet to start scratching it off yet, but I'm really excited!
Wilson
Apr 21, 2016 1:40:31 AM
Perfect For My Wall!
I love traveling and this, will really help me, A LOT! I will scratch those countries soon, Thanks
Ken Chan
Apr 21, 2016 1:32:28 AM
Great Purchase! Great Map
Love this map!!! it's really easy to frame and even easier to scratch off. It looks really great in my apartment as decoration, and the back of the map has a few really cool sections that you can write notes about your trips on. I bought one for a summer trip I went on with my partner, and another one for a total of where I have been my whole life. Great purchase, I've even bought some as gifts to friends and family. Really thick paper.
Jen
Apr 21, 2016 1:28:15 AM
Awesome Map!
This is such a perfect gift for people who love to travel. It comes in a gorgeous tube. it's perfect. The travel map I use has pins and every time we move they fall out or get bent... After buying this as a gift for a friend, I'm now seriously considering starting over with mine, using this instead of the pins. What a great idea..
Manny
Apr 20, 2016 11:15:47 PM
Great great deal
I am Loving it!

It's beautiful and looks exactly as pictured! I find the coins works best to wipe off the places you've been. It's fun and has some interesting facts on it! Highly recommend it and it is worth the price.

Mot mot
Apr 20, 2016 11:03:41 PM
The packaging was good
I gave it as a gift to my map lover friend.

She loves the quality of the map and the fun whimsy of remembering a trip she took with a little scratch off section. The stories flow and she loves it. It is large and very nice looking.
J.J
Dec 7, 2015 3:05:13 PM
Scratch Maps
I ordered this as a gift for Christmas. I was so surprised to receive it in 2 DAYS !!! And I was extremely happy with the quality of the maps. I am sure my sons are going to love this. They have traveled all over the world and Im sure this will be a fun gift !!
Write Your Own Review