Geeky Gifts Not From Grandma
Features & Highlights
Why you should buy this product
Portable Apple iPhone SE/5/5S/6S/6S Plus/7/7 Plus Cooling Fan [Black] - Use Your Phone to Cool Off!
Cool off the easy way with this adorable mini fan for lightning compatible devices. Just assemble the blade to the fan, plug into your device, and cool off!
Pivoting head works in portrait or landscape mode
Connects easily via phone charging dock
Uses minimal battery life
iPhone model works with any iPhone that uses a lightning cable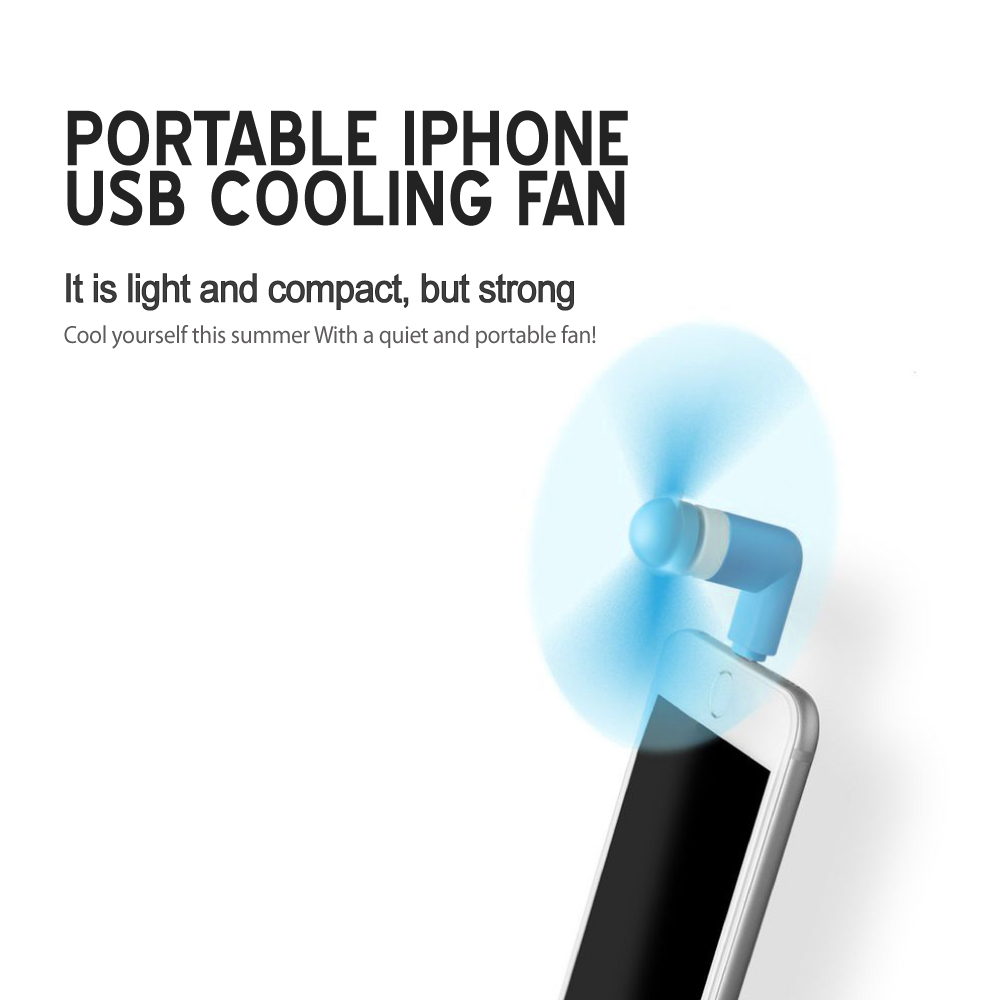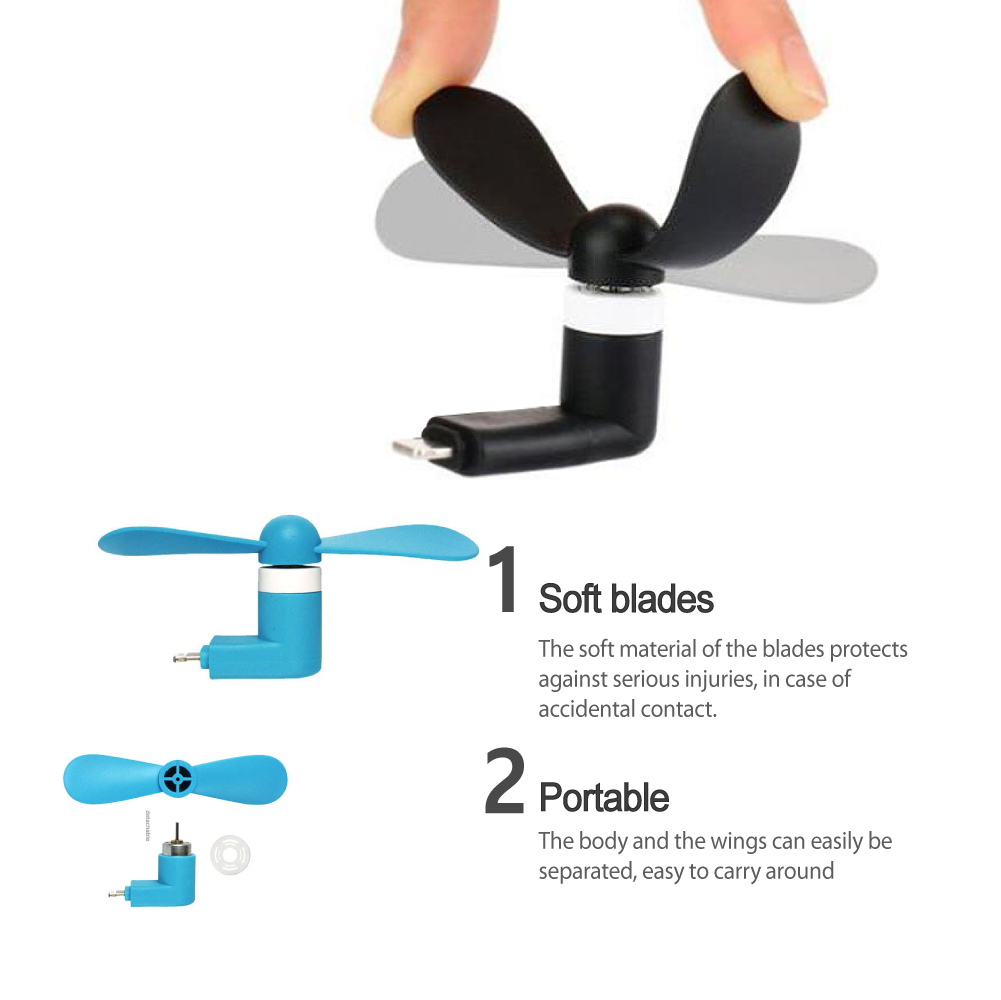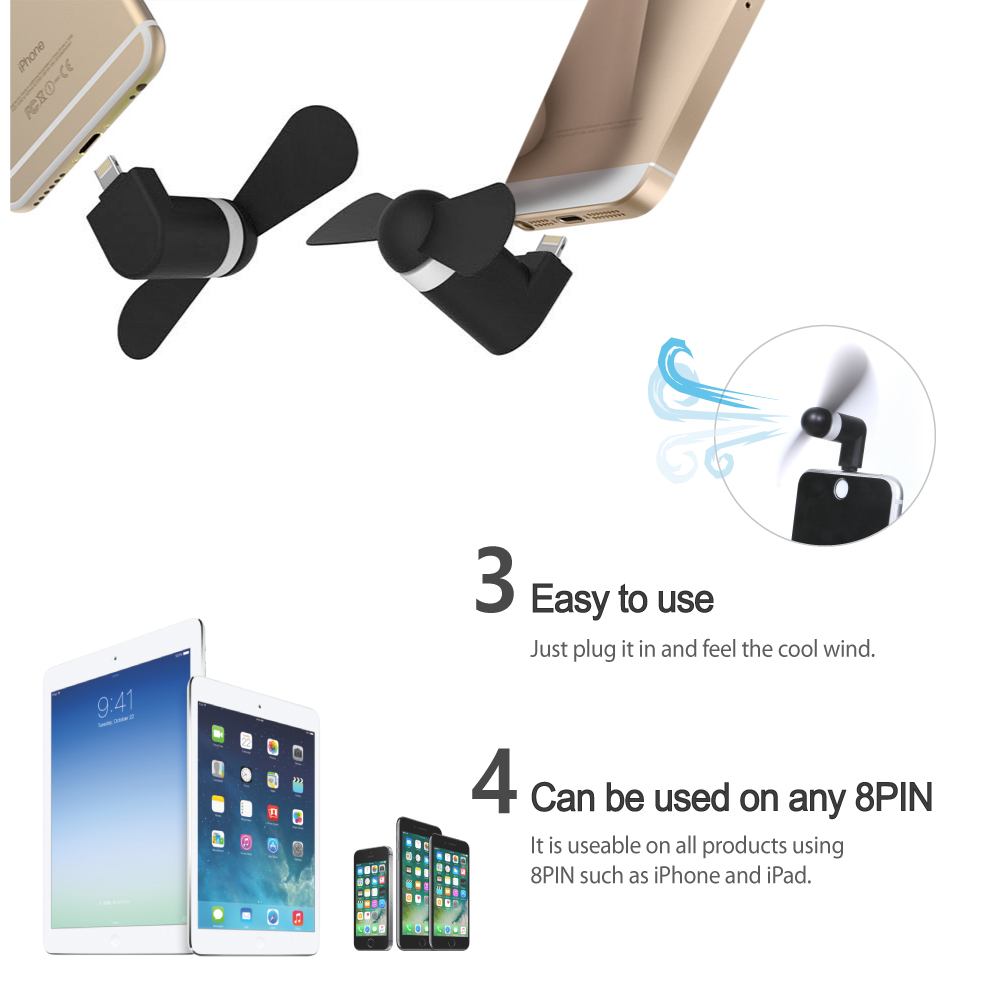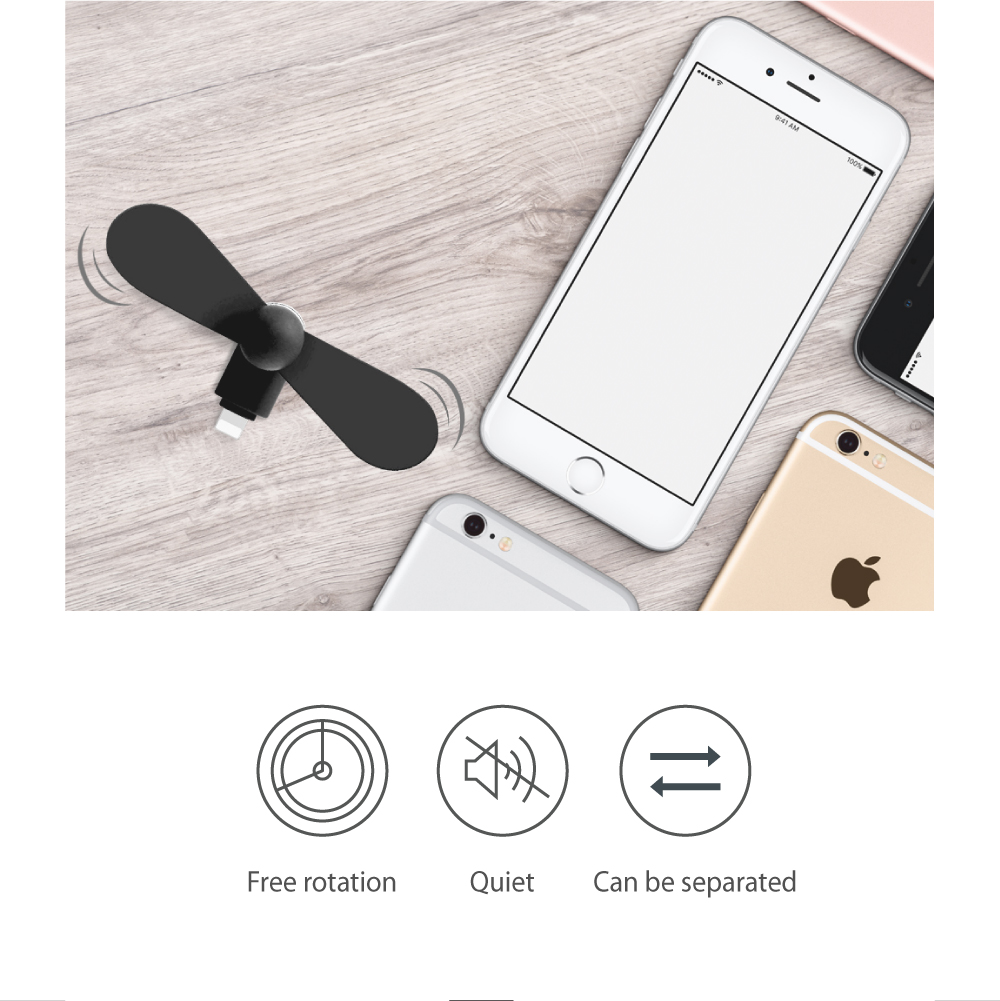 You Might Also Be Interested
Customers Who Viewed This Item Also View
Customer Reviews
Emma Ellison
Mar 19, 2017 8:11:02 PM
so much fun
So much fun with this little fan. I was surprised how much air it produces, quite breezy. It was quick fix for a moment. Perfect for the summer hot flashes. Thank you.
Bella Arnold
Feb 23, 2017 4:24:43 PM
pretty cool
Pretty cool! Surprising how well such a small fan can do the job of moving air. Great price!
Kylie Mcdonald
Feb 16, 2017 4:15:41 PM
perfectly fits for the bill
I love this cutie fan! It blows a pretty good breeze for its size. Its small and it does not take any space at all to carry. Perfectly fits for the bill:)
Katherine Greene
Feb 12, 2017 10:11:56 PM
awesome little fan
An awesome little fan. It puts out a nice breeze and works well. Small and nifty gadget for my iPhone. Easy to put together, the blades was made of bendable plastic yet durable. Kids loves it!
James Gibson
Feb 6, 2017 7:12:38 PM
great little fan
Great little fan! keeps me cool in times needed. Very affordable and well built product. Easy to set up.
Jason Kelly
Feb 3, 2017 2:22:46 AM
very convenient to carry
I absolutely love this usb mini fan, very convenient to carry in my purse. Super cool!
Kylie Gibson
Jan 25, 2017 6:38:40 PM
keep me cool!
Keep me cool! Very cute cooling fan and I can take it in my travel. I find it very interesting.
Andrea Belly
Jan 18, 2017 7:13:02 PM
works extremely well
Great little fan attached on my phone. Works extremely well, and provides just the right amount of air circulation. Very useful! The price was cool!
James Gill
Jan 5, 2017 6:11:17 PM
well made mini fan
Well made mini fan perfectly for my iPhone 7 Plus. Very useful it provides a good amount of air for my office. Easy to use and very handy. I really recommend it for the price.
Rebecca Lambert
Jan 4, 2017 9:39:26 PM
very useful
It really does the job handling my heat flashes! Very useful.
Melanie Mackay
Dec 30, 2016 1:17:27 AM
cool me down
I use this everyday to cool me down. It works great, durable, and the price was perfect. Great buy!
Faith Hamilton
Dec 20, 2016 8:42:00 PM
great fan, great price
Great fans! Great price! This fan worth the price. Small, simple and easy to use. Highly recommend
Leonard Hill
Dec 19, 2016 9:00:37 PM
efficient and easy to set up
Very pleased and impressed with the quality. Efficient and easy to set up. It makes me feel cool, best gift and reasonable price.
Claire Davidson
Dec 14, 2016 6:45:44 PM
pretty cool!
Pretty portable for my iPhone 6S fan works as well as can be expected for such a little fan. It generates a soft breeze when plugged in my phone port. This fan are worth the price. Highly recommend
Jhonny Lee
Dec 11, 2016 8:16:05 PM
works like a charm!
Perfect to keep me cool! Easy to install and it was pretty cool! Works like a charm!
Katherine Ellison
Dec 4, 2016 4:14:17 PM
love this little fan
Love this little fan, just enough air to keep me cool! Works well on my iPhone, puts out a lot of air. Good price! I will another one for my sister. Highly recommend
Jennifer Hill
Nov 29, 2016 5:41:18 PM
small fan but has a lot of power
Great product at a great price! This is an awesome little fan! It may be small but it has a lot of power, it works really well. I will buy one for my sister as a gift. It works on my iPhone 6S Plus. Highly recommend
Joe Fraser
Nov 21, 2016 7:47:37 PM
best gift for my wife!
Best Gift Ever for my Wife , and she Love it! Thank you for this small but fantastic cooling fan!
Dorothy James
Nov 20, 2016 6:00:27 PM
perfect for keeping my baby cool
I love this fan! It's perfect for keeping my baby cool. Fits in my purse or pocket and really make some breeze air. Nice for road trips and perfect in outdoor events. I am glad to have this little fan. I will buy more for my friends this Christmas.
Johanne Hilson
Oct 16, 2016 7:49:27 PM
stay cool!
Perfect to help me stay cool! So easy to use and very safe! Yes I put my finger in the fan and nothing bad happened. lol... I love it, I will be buying more for gifts.
Claire Butler
Oct 10, 2016 4:23:59 PM
It works!
It worked great cool me down quickly! Easy to use and small enough to carry with me anywhere. Happy for this product, thank you
Jessy Barlington
Sep 22, 2016 11:21:47 PM
great idea
Great Idea, I keep it in my pocket in a small pouch all the time. Really cool! great value of price.
Lalaine Ortizo
Sep 12, 2016 5:54:09 PM
super cool
I keep it in a small pouch all the time. Love it! Everyone wants one when they see mine. This little thing can blow air pretty powerfully. Great idea, super cool.

Vanessa
Aug 31, 2016 2:02:09 AM
lucky to have
I am lucky to have it! Works great.

Wenn
Aug 31, 2016 1:11:11 AM
awesome ideas
I think this is one of the most awesome ideas really cool everyone.I was so excited because it is such a small little fan that I could easily keep in my pursed. It was working great and really helped when it was super hot outside!! I have the Iphone 5s and it was working fine for me.

Edward Allan
Aug 23, 2016 11:26:34 PM
great idea
It was a great idea !This little thing can blow air pretty powerfully and it was easy to keep it in my pocket in a small pouch all the time so I can bring this cooling fan very where I go.
Diane Mills
Aug 23, 2016 1:18:48 AM
great product and awesome idea
great product and awesome idea!!! these usb- fans are the most convenient thing in the world just plugs into your phones charging slot and works perfectly! It definitely cools you down! It is the perfect size, you can keep it in any pocket of your purse or backpack.
Liam Lucas
Aug 19, 2016 12:41:36 AM
Awesome fan
This fan actually blows cool air, with amazing power! It barely even uses any phone battery!. It is perfect for school, church, perfect amount of air and quiet. I would recommend this fan to help keep you cool.
Audrey
Aug 17, 2016 1:11:09 AM
amazing fan
This little cooling fan is surprisingly strong, its silicon blades are sturdy and in the perfect curvature form to slice through the air at a relatively high speed and this fan actually blows cool air, with amazing power! It barely even uses any phone battery!

Michael Carr
Aug 16, 2016 12:50:36 AM
nice little fan
this is a nice little fan to put on the bottom end of your phone on a really hot day. This fan can be plug into a regular usb port or a micro usb port once you pull out the extension. This fan does drain your battery if you leave it on for a long time but it might be worth it. I would recommend this highly if you are in need of a small little portable convenient fan.
Leah Kelly
Aug 2, 2016 1:07:40 AM
Grab and go!
Have you ever been outdoors and the weather is too hot to bare? Wonder to yourself why didn't I bring or buy a fan? Not only is This product helpful but it's compact as well. It gives off a generous amount of air flow and doesn't drain your battery low, which is why I was skeptical about fan power. I had the fan blowing for about 20min and it made my battery level descend 3%, Which I find reasonable. Grab and go!
HudsonL
Jul 25, 2016 8:53:08 PM
The BEST
Love it. I recently went to Europe and was stopped on the street by people wanting to know where I got it.
Emily Miller
Jun 30, 2016 9:27:44 PM
Works great!
Great little fan! My mom is going thru menopause so she has hot flashes all the time. I thought this would at least be a funny gift if it didn't actually work, but when she tried it, it worked great and it blows nice and strong for its size! It was well worth what I paid for it.
Write Your Own Review