Features & Highlights
Why you should buy this product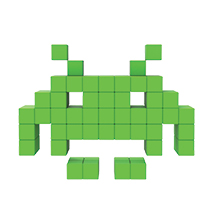 Geek's Reviewed
The Monitor Stand and Desk Organizer with 3 USB Ports & Cup Holder is a great desk accessory to have to improve the visual organization of your desk. With the extra space under the stand, you can store your keyboard, stapler, note pads, and much more! The Monitor Stand also features a cup holder so you can have your favorite beverage in front of you while doing work!
White Monitor Stand Desk Organizer w/ 3 USB Ports & Cup Holder - Made w/ Ultra-Strong Tempered Glass
TheWhite Monitor Stand Riser Desk Organizer w/ 3 USB Ports & Cup Holder - Made w/ Ultra-Strong Tempered Glass will give you a brand new, cleaner experience whatever your job may be. By simplifying your working environment it will improve your efficiency.The glass is tempered which makes it much stronger than regular glass, and if it does happen to shatter (it wont) the shards will be rounded and not sharp enough to cut. Keep all your cords and peripherals in check with the three USB ports, cup holder, and smartphone dock! This is the perfect addition to any office or home and utilizes the same minimalistic design that has made Apple so famous.




Four positions for Cup Holder and Smartphone dock (two in the front, two in the back)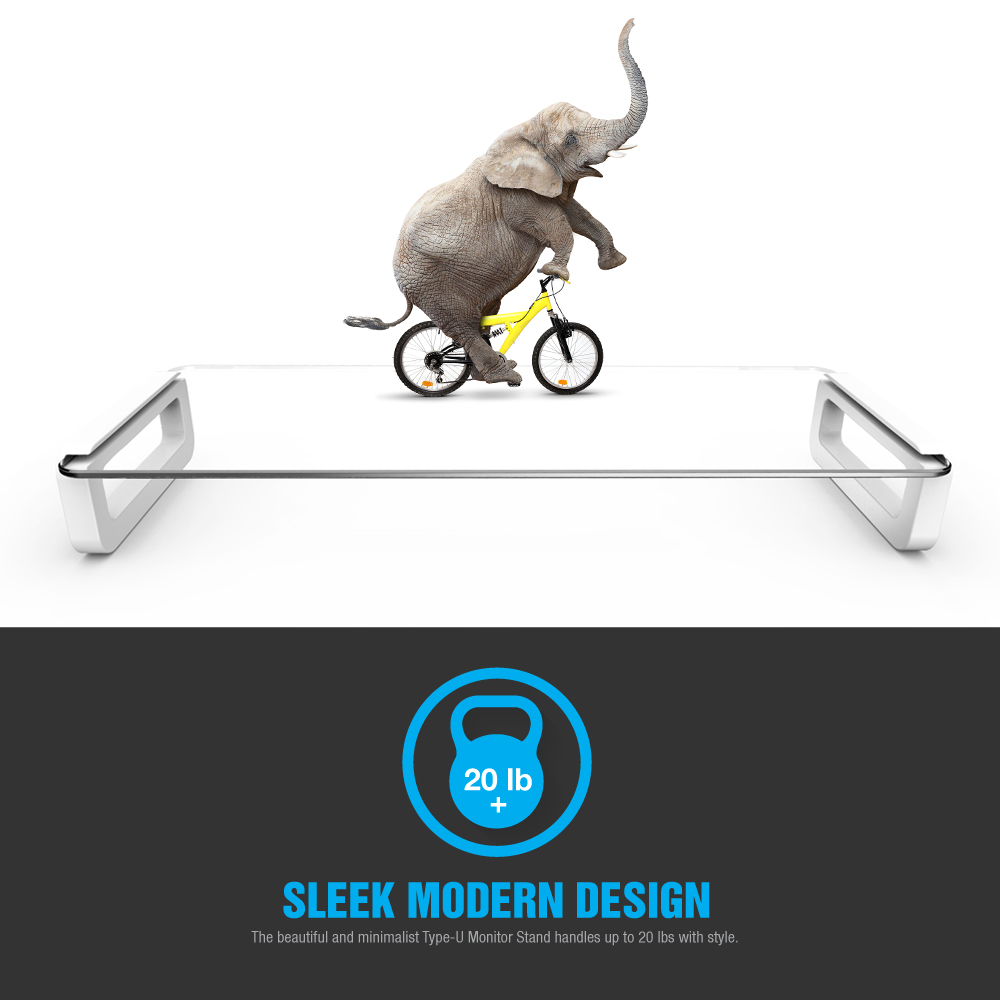 Phone dock is compatible with all Apple iPhone and Samsung Galaxy S models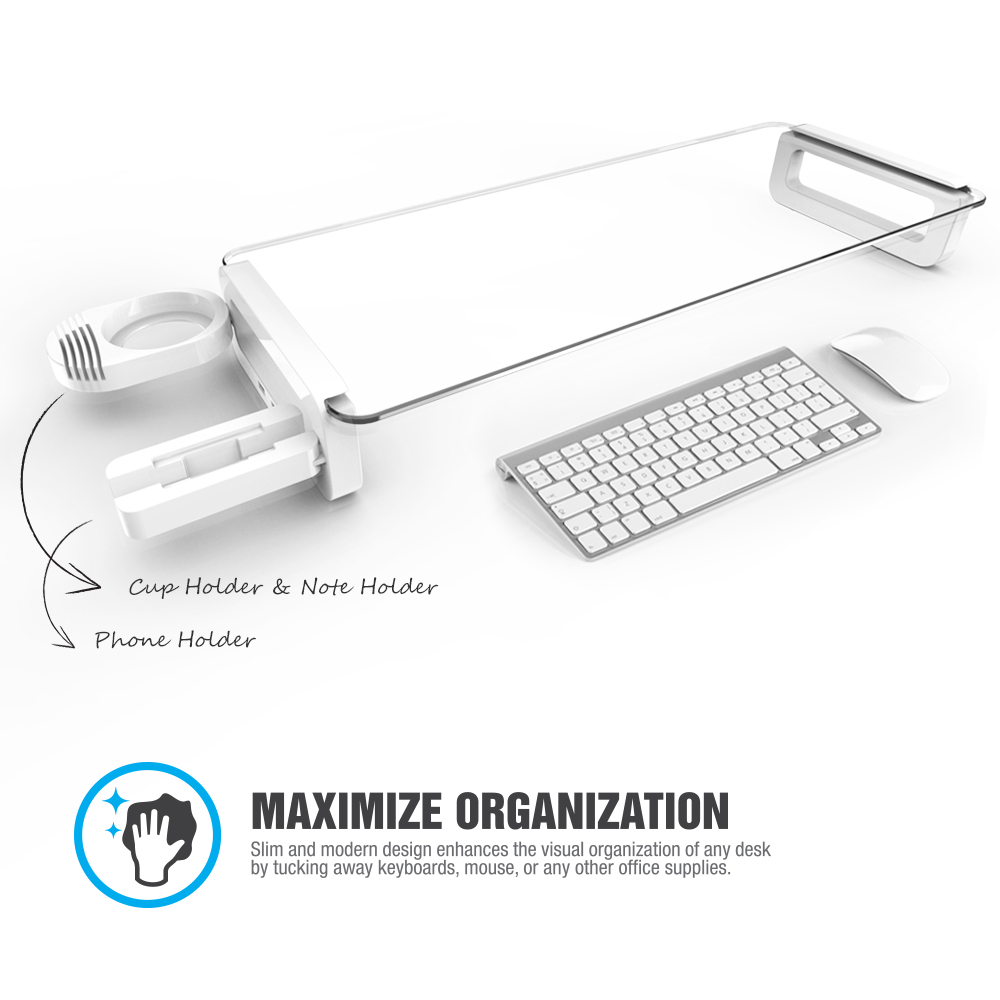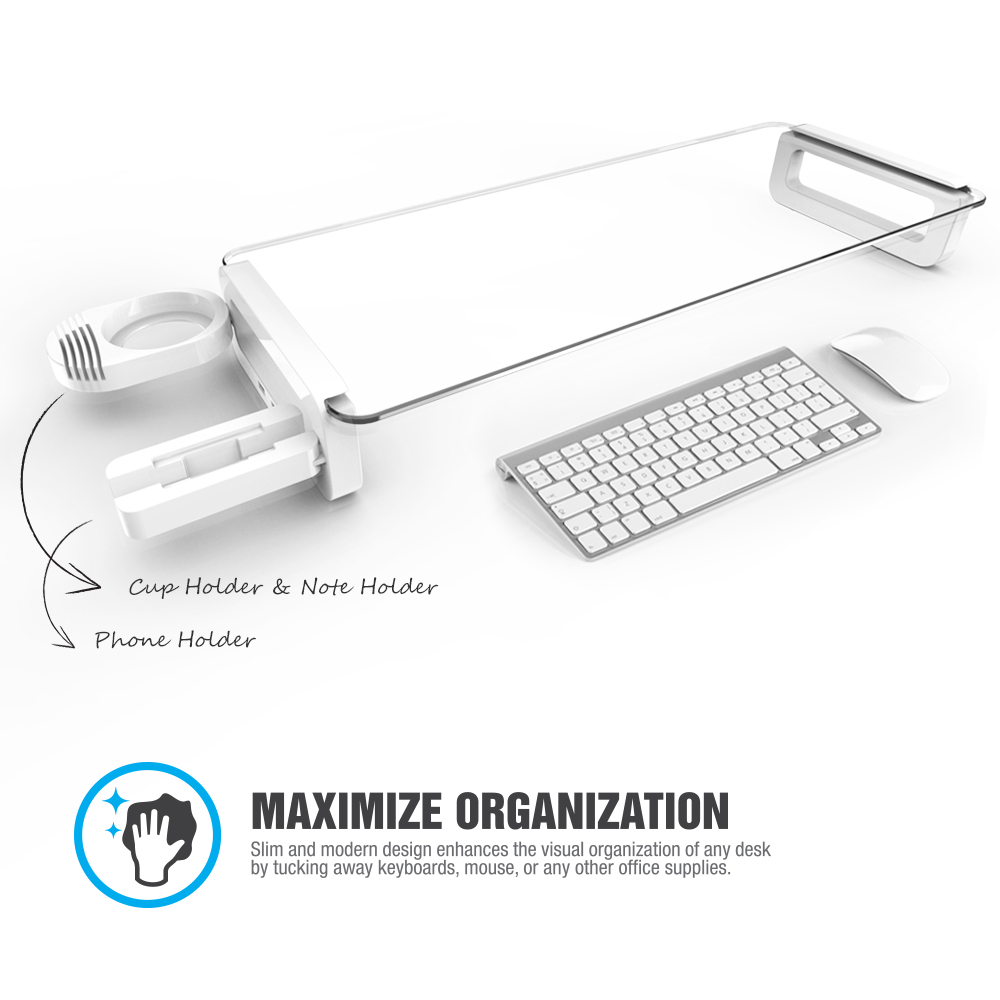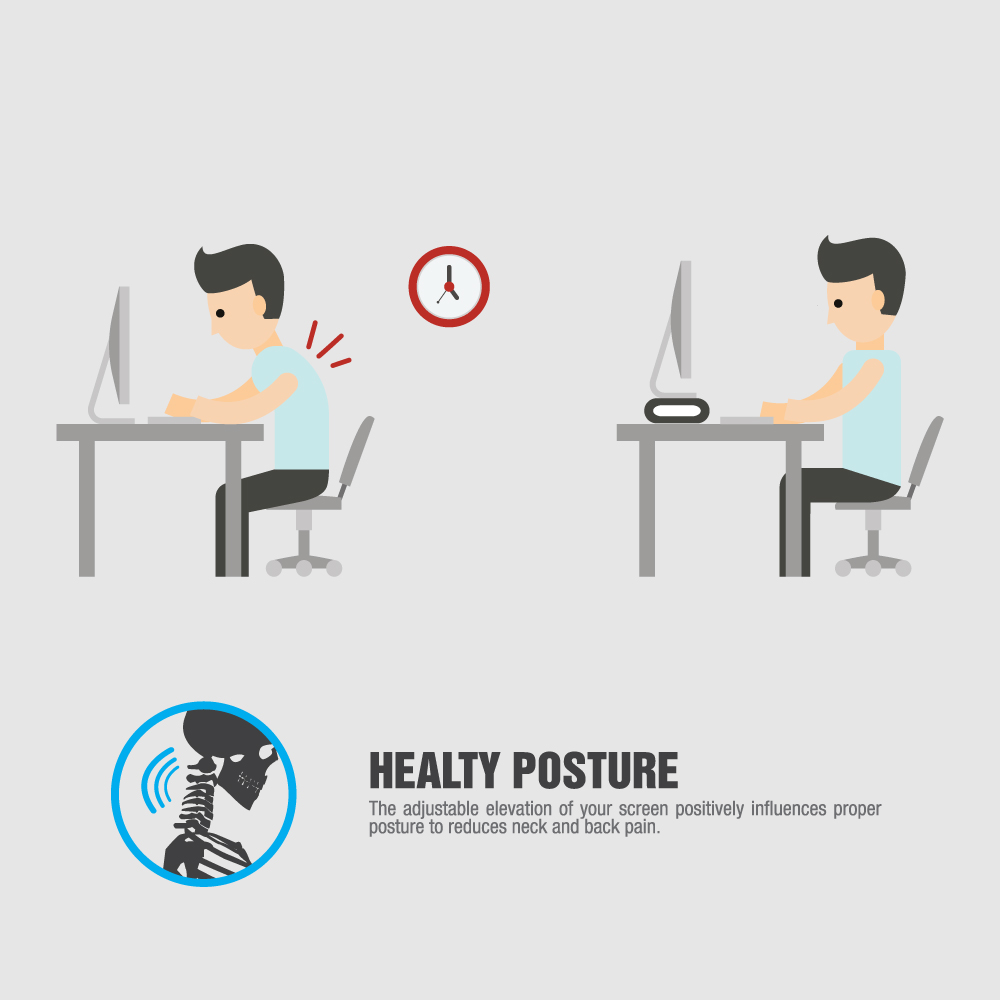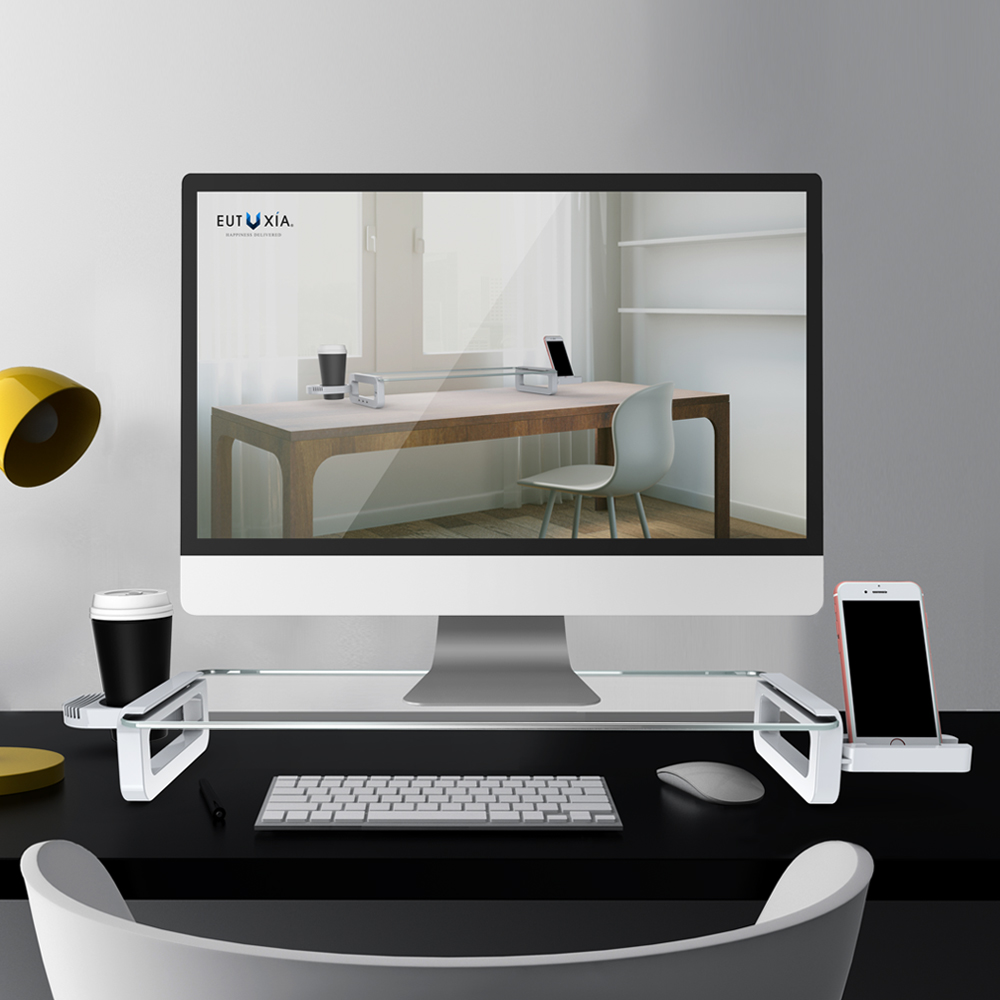 You Might Also Be Interested
Customers Who Viewed This Item Also View
Customer Reviews
Vanessa Newman
Dec 8, 2016 2:09:46 AM
pretty awesome stand
Pretty awesome monitor stand. This is very attractive and perfectly hold my monitor. I also love having the extra port allows me to always leave cables to charge my phone. I love the cup holder and phone holder. Highly recommend

Samantha Martin
Dec 6, 2016 8:44:15 PM
beautiful monitor stand
Very sleek, great cup/ cell holder features. easy to put together, I'm simply in love it! This is beautiful, sturdy and highly practical for anyone seeking a neat stand with extra USB port. I definitely recommend this stand!
Jessica Hills
Dec 5, 2016 10:51:06 PM
design is clean, simple and it looks great
Raising my monitor has alleviated my neck strain, and the ability to create an extra work space by storing my keyboard beneath is fantastic. Design is clean and simple,and looks great! I think I might get another one for my sister as a gift.
Tracey Lyman
Dec 4, 2016 5:13:02 PM
easy to assemble !
Great Product! Easy to assemble and works perfectly to keep my computer station organized, leaving extra room on my desk. This piece is very beautiful, immensely sturdy, and highly practical for anyone seeking a neat stand with extra USB ports. Also a great value for my money! I'm simply in love with it!

Bernadette James
Dec 1, 2016 11:09:25 PM
perfect and excellent for my needs
Perfect and excellent for my keyboard and desk calendar. Heavy quality, sturdy and I love the tempered glass that makes my work area clean. The cup holder make my day wonderful and convenient. Highly recommend
Vanessa Lee
Nov 30, 2016 10:32:53 PM
nice and convenient
It is sleek, stylish, and keeps my desk neat and tidy. This Monitor stand organized everything I was using, and I can put my coffee on my desk without worrying about it spilling on my papers. Nice and convenient! Quality is excellent. Highly recommend
Vicki
Sep 30, 2015 6:24:30 AM
disapointed
I bought this with a groupon and have just been using it as a stand. Love it. I actually put a cup in the cup holder to hold my pens and pencils.I've never needed to use the extra USB ports until today. Today I tried to plug in my phone to charge and the USB ports seem to have a short in them. Unfortunately since I hadn't used them yet and didn't realize this until now it's no longer in the window to be returned/exchanged. Love the idea and having the stand but not happy with the ports.
Ralph
Nov 18, 2014 10:02:22 PM
Looks pretty on my desk
The stand is a great addition to my new white desk in the office. It is very functional (although I do not use any of the attachments, cup or phone holder). It was very easy to assembly.
Roy
Nov 18, 2014 9:54:14 PM
Great product
This item has greatly improved my desk space as before i was using a stack of books to have my monitor at the level I wanted. Looks great and lets me store stuff under the monitor. Love the usb hub that is built in as well.
Lucille
Nov 18, 2014 9:52:30 PM
Highly Recommended !
Love this item, I can put my stuffs on it, and more space for using on desk. Highly recommend !!
Keith
Nov 18, 2014 9:40:41 PM
Works like a charm
Arrived in timely manner, extremely easy to assemble. The usb ports are awesome and really like the way you can move cup holder to either or front or back. No issues at all and constantly use it daily.
Eric
Nov 18, 2014 9:39:37 PM
Totally worth the price !
I thought that this buy was one I would regret for the money I spent on the item. However, I am surprisingly pleased with my expensive purchase. I use the glass shelf for my Macbook Pro 13 inch as I hook it to an additional monitor to have two screens. It provides me with the space on my desk to fit a wireless keyboard that is ergonomic. Great setup!
Ruth
Nov 18, 2014 9:37:30 PM
Glad to have this
It has helped my desk space
It is very durable and clean look I just love it
Glad I got it !
Sharon
Nov 18, 2014 9:34:42 PM
More efficient work space
This is a great product. It allows so much more desktop work space. It also hides the keyboard out of the way when needing more desktop space. Love this product. I also can charge my devices from the USB ports which are built into the side. Helps to make a more efficient, neat desk area. Thanks for a great product.
Jerry
Nov 18, 2014 9:33:00 PM
Exactly as advertised
Keeps my monitor off my desk and provides extra space. Would recommend to anyone who needs a monitor lift that matches mac aesthetics.
Timothy
Nov 18, 2014 9:31:43 PM
Great seller !!!
This is a great product and the seller was fantastic!! I have an iMac and it is perfectly stable.
Barbara
Nov 18, 2014 9:30:30 PM
Very nice !
Sturdy, nice looking, Covers my keyboard, basically does what it's suppose to do.
Jeffrey
Nov 18, 2014 9:29:13 PM
Classy and Useful
I was tired of messing with USB hubs that cluttered up my desk. I wanted a hub that could either attach to the desk or one that was part of a monitor stand, and this stand fit the bill. It's a really nice product, especially at this price. The glass base is made of tempered glass, so it's really sturdy. The legs are plastic, but they seem strong enough that I am not worried.
Gary
Nov 18, 2014 9:26:41 PM
Worth it !
Really love this monitor stand. Sleek and easy to assemble. It fit my rather large Microsoft keyboard underneath to free up my desk space. Cup holder is a little silly in a good way!
Matthew
Nov 18, 2014 9:25:19 PM
Easy to assemble
I love the three USB ports on the side. It is wide enough to fit my ergonomic keyboard underneath. Easy to assemble. The cup holder is not very useful, but I don't really care about that option.
Edward
Nov 18, 2014 9:23:34 PM
Serves it's purpose
I wish the USB drives were on both sides of this board, but other than that, it truly serves its purpose.
George
Nov 18, 2014 9:21:11 PM
Exactly I was hoping for
I really wanted a simple way to organize my desktop when I had my smart phone and USBs, and this UBoard was way nicer in design and functionality than I expected. It is sleek, stylish, and keeps my desk neat and tidy. I hate looking at wires, as they make my work space look messy, and this product organized everything I was using, and I can put my coffee on my desk without worrying about it spilling on my papers.

It was very easy to put together. I just needed a screw driver. Coming from a person that is not the most proficient at building things, this was really nice and convenient.

Overall quality is excellent and I will definitely be recommending this item to friends and family!
Write Your Own Review