Features & Highlights
Why you should buy this product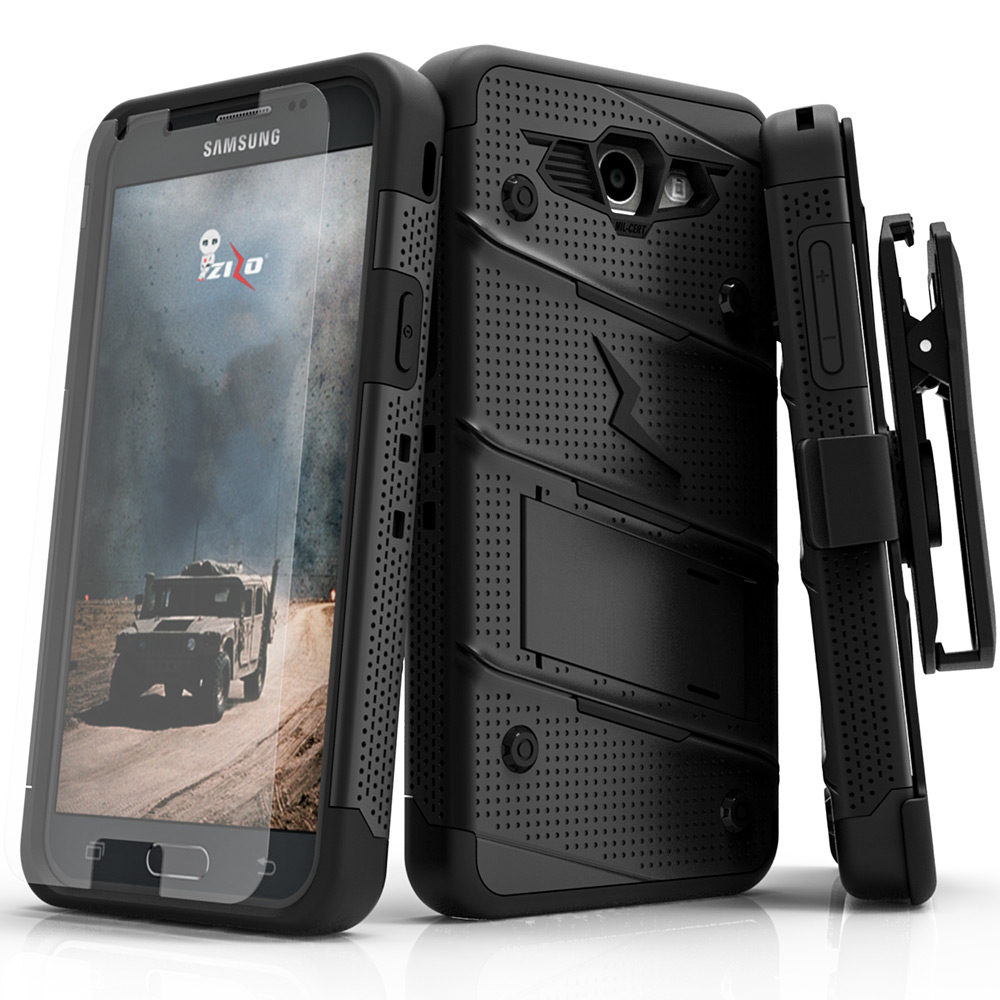 High-strength, metal hook included for ultimate security. This highly durable kickstand allows for hands-free viewing at various angles. Heavy-duty, yet lightweight case prevails through bumps, drops and shocks. Its slick exterior design allows for easy access to your device. Inside cover made from thermoplastic polyurethane to absorb shock and prevent damage to the device. Cover created with multiple layers for ultimate protection. Holster included features a rubber textured, swivel clip for maximum durability and comfortable wearing. The Bolt Cover, is truly attractive, protective, sleek, and most of all EXCLUSIVE! Protect your phone with style through this sleek case. The screws act as shock absorbing stoppers to keep your phone safe and secure. The rubber texture keeps the phone case from sliding everywhere when set down on flat surfaces! Adds to the unique design as well. The interior is a Thermoplastic polyurethane material that snuggly hugs the phone, while a multiple-layered rubberized coated hard-shell tightly snaps and protects the phone itself. All buttons are strict clear-cuts in the TPU to make it easy to press. All openings are precise in the cover to make it just, exact. Enhanced to make the most user friendly experience! Lean, lightweight, accurate, and ultimately elegant. PACKAGE INCLUDES: Bolt Cover, Holster, Kickstand, Key Ring, Tempered Glass Screen Protector, Lanyard, Hook, ID Holder, and other Additional Accessories.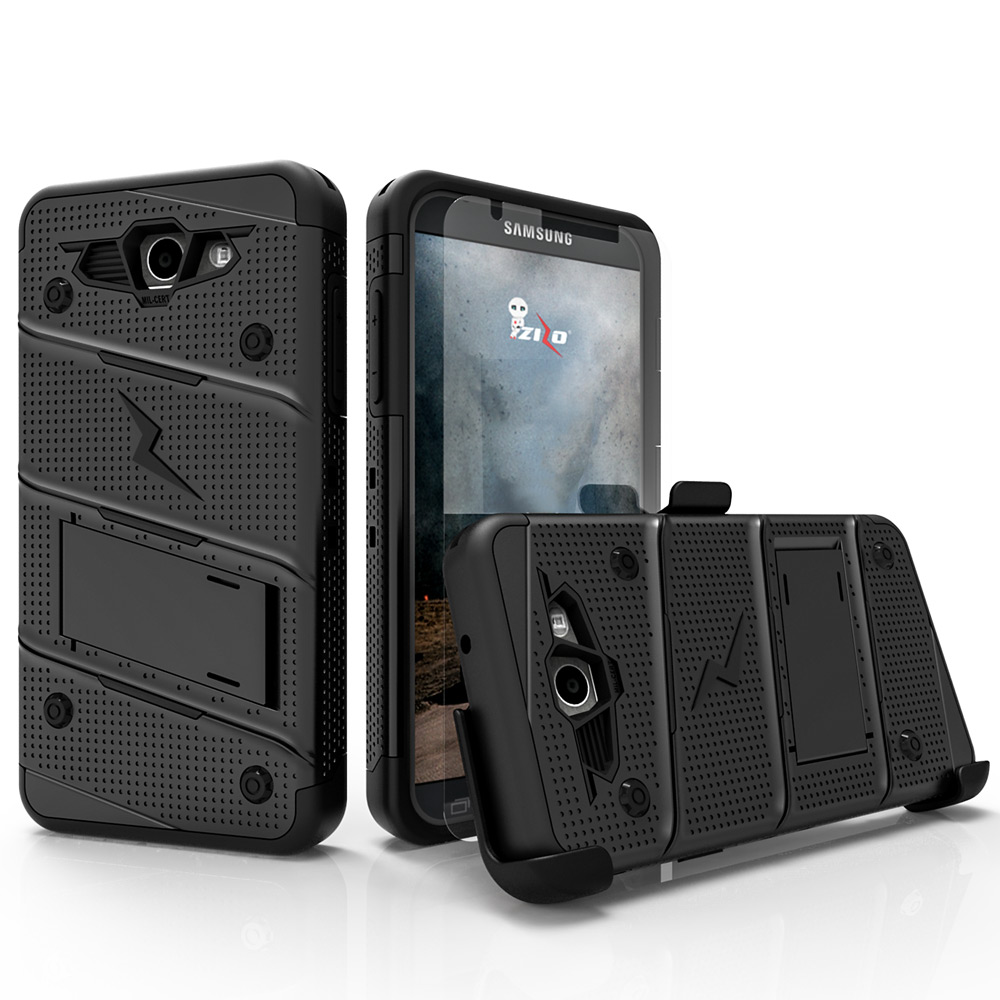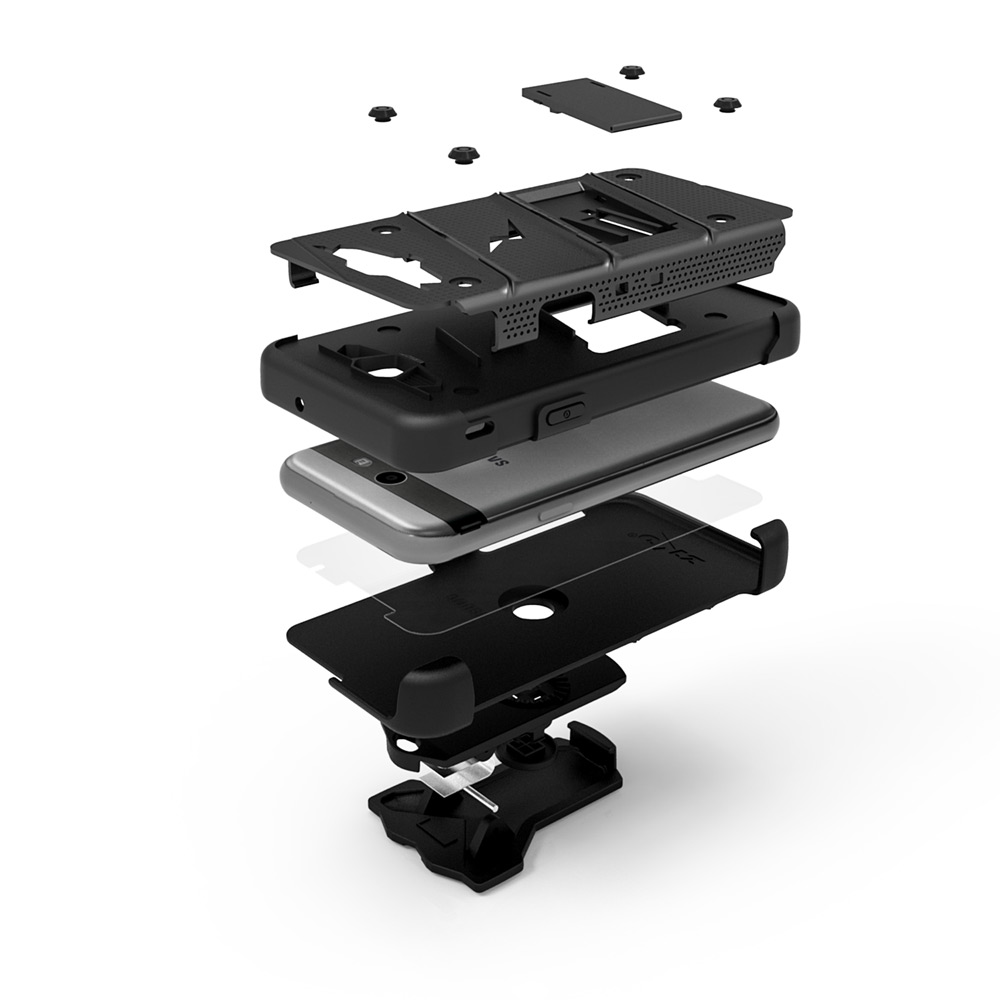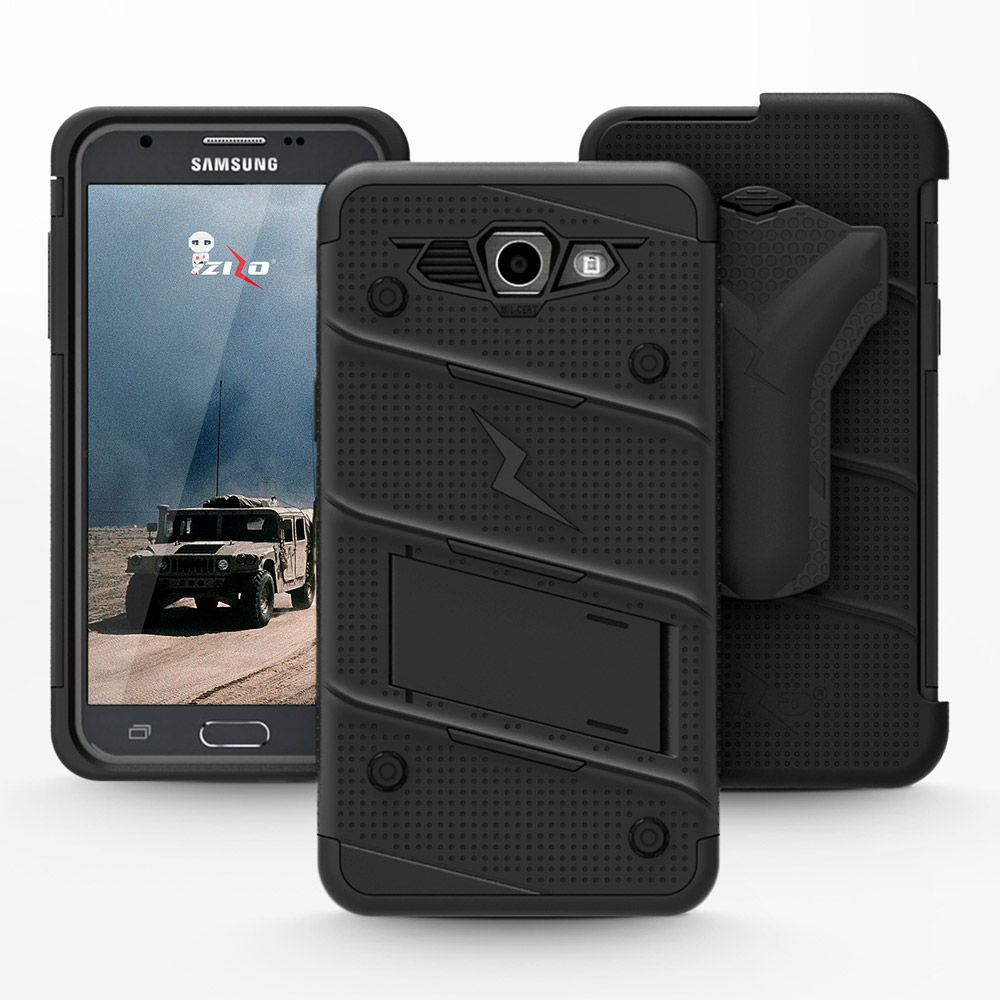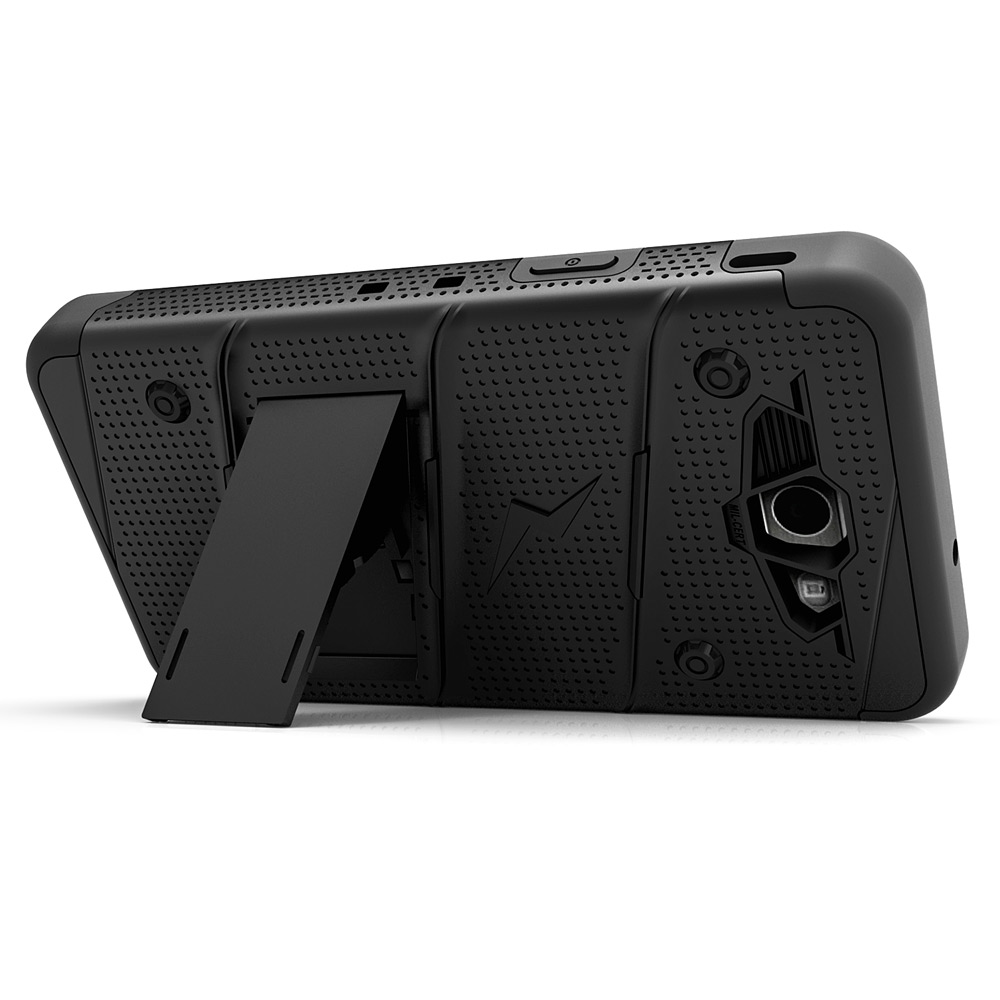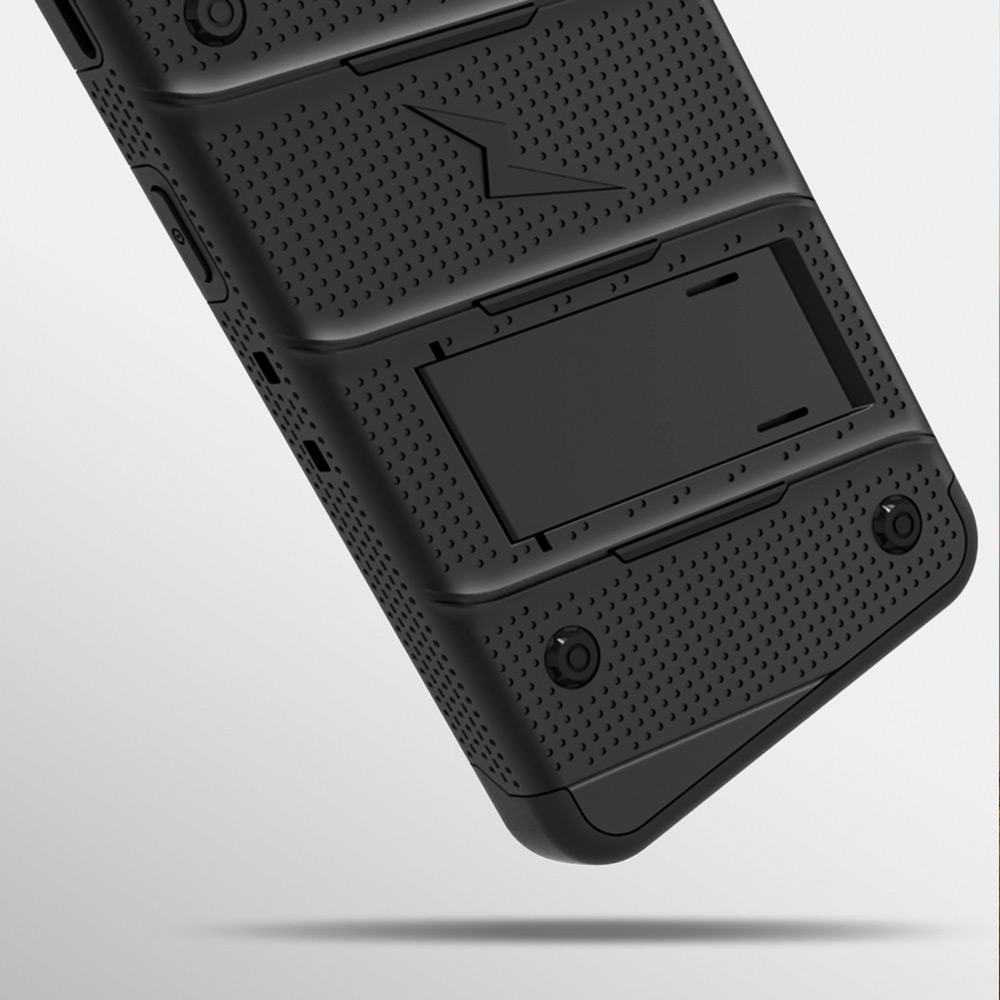 - Color:BLACK
You Might Also Be Interested
Customers Who Viewed This Item Also View
Customer Reviews
Anton Jocson
Jun 12, 2018 9:27:06 PM
kickstand was great
Great case! Love the color, design, and functionality of this case. Good application process instruction for the tempered glass screen protector. Kickstand was great too!
Joe Marshall
May 23, 2018 9:04:01 PM
still my favorite case
Still my favorite case! I use my phone outdoors, in the gym, and in the shop constantly be it for music, taking calls, etc. Very satisfied with the design and protection it gives.
Oscar Taylor
May 8, 2018 6:54:15 PM
excellent fit and functionality
Excellent fit and functionality. With kickstand holster for hands-free viewing of my favorite movies, reading my email and more. Very light with ultimate protection.
Arnold Vera
Apr 26, 2018 10:37:35 PM
best value
Best value case and very sturdy. Easy to remove and super like the rugged design plus screen protector and great protection. Very satisfied.
Edward Dylan
Apr 18, 2018 7:02:20 PM
good looking case
Good looking and functional case for my Samsung Galaxy J7. Also, it provides an adequate protection on my phone. Great belt carrier and kickstand were perfect for hands-free viewing.
Boyeth Fox
Apr 17, 2018 12:38:03 AM
great fitting case
Great fitting case and special military standard. It looks very nice, comfortable to hold and durable. Very satisfied!
Joshua Clark
Feb 6, 2018 10:11:18 PM
super good case
Super good case! This is lightweight, durable and really cool! With tempered glass protector, kickstand and belt clip. Get a lot of protection for what you pay. Worth the money!
Joseph Burgess
Nov 13, 2017 7:59:25 PM
very functional and good protection
Best case for walking with my phone. Very secure and no worries about my phone falling out of the case. Very functional, good protection and great price!
Madelaine Smith
Nov 9, 2017 5:19:36 PM
great workmanship
Great workmanship! Quality of this case is excellent. I was very happy after getting the back case. And the best this was I got a tempered glass free with the case, which was like a cherry on the cake.
Brian Black
Nov 5, 2017 9:46:15 PM
protection was great
The protection was great. I love this case! It's different, very well made and looks great. I've received lots of compliments.
Jonathan Clark
Nov 1, 2017 5:01:19 PM
gorgeous case
Gorgeous case! This is well made product and fits the bill for me. The ability to wear it on a lanyard around my neck is a great bonus and great other features. This case would be perfect, easy to hold, very protective and attractive.
Nicanor Smith
Oct 31, 2017 6:05:32 PM
great case
My new case was great! It seems like well made and it protect my phone safe and hold up well. It's not bulky with the belt clip and great protection.
Robert Robinhood
Oct 17, 2017 11:58:08 PM
heavy duty case
Heavy duty case cover. I love the rugged design, simplicity and functionality of this case. The kickstand was super great! Definitely recommend this product. Awesome!
Sonia Park
Oct 12, 2017 8:31:45 PM
perfect case
Perfect! I absolutely love this holster cover case. Sturdy, durable and great protection. With reasonable price and definitely recommend to others.
John Hill
Oct 9, 2017 8:31:22 PM
perfect for protection
I bought it for my husband, he loves the color, feel and look of the case. This makes a solid yet not bulky phone cover. Case comes with a tempered glass screen cover. Perfect for protection.
Edward Jocson
Oct 5, 2017 6:53:39 PM
a great way of protection
Nice rugged cover case, fits my phone wonderfully. I really enjoy the flexibility of the bumper around the sides. A great way of protection.
Write Your Own Review