Features & Highlights
Why you should buy this product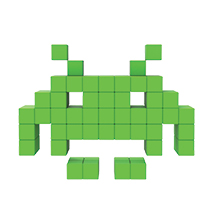 Geek's Reviewed
My boss keeps telling me this pen is something MacGyver would use. I'm too young to know who he is, but what I do know is that this pen is quite handy. People who are active with their hands especially in work will find this pen very useful. If you spend a lot of time in your garage fixing little things here and there or just want to be resourcefully handy when a device or tool isn't working correctly, this is the pen for you! If you are also very tech savvy and keep a smartphone or tablet around you, the stylus feature of the pen is a plus. Just turn the pen over and you've got yourself a nice stylus.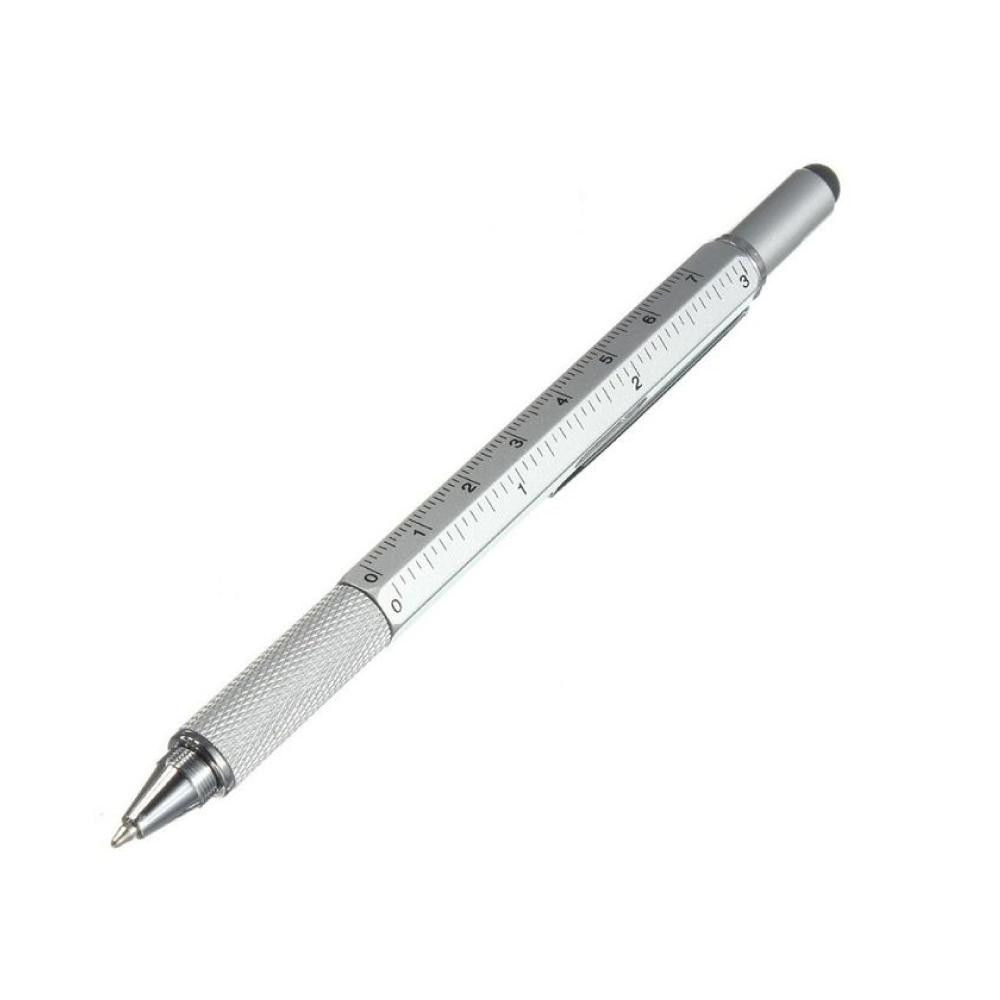 6 in 1 Pen Tool w/ Pen, Flathead Screwdriver, Level and Ruler [Silver]
The pen that does more than just write! You would be wrong in assuming that this is your average Joe pen - it's much more than that. The 4-in 1 Pen Tool is not only sleek in design, but it also comes with an inbuilt flat-head, a Phillips Screwdriver, a ruler, and a spirit level! The 4-in 1 Pen Tool w/ Pen, Philips Screwdriver, Flathead Screwdriver, & Ruler [Silver] is easy to use. Simply twist the grip to use the pen, or unscrew the cap to reveal the screwdriver then pull out the screwdriver head. Reverse it to use the alternate head type. The ruler and spirit level are just as easy to use - simply lie the pen on its side to measure any object or find out if it's level and straight! The 4-in 1 Pen Tool w/ Pen, Philips Screwdriver, Flathead Screwdriver, & Ruler [Silver] is the perfect gift for the handyman in your life.
Phillips flat-head screwdriver Inches /cm ruler Level Refillable Ink Color: Silver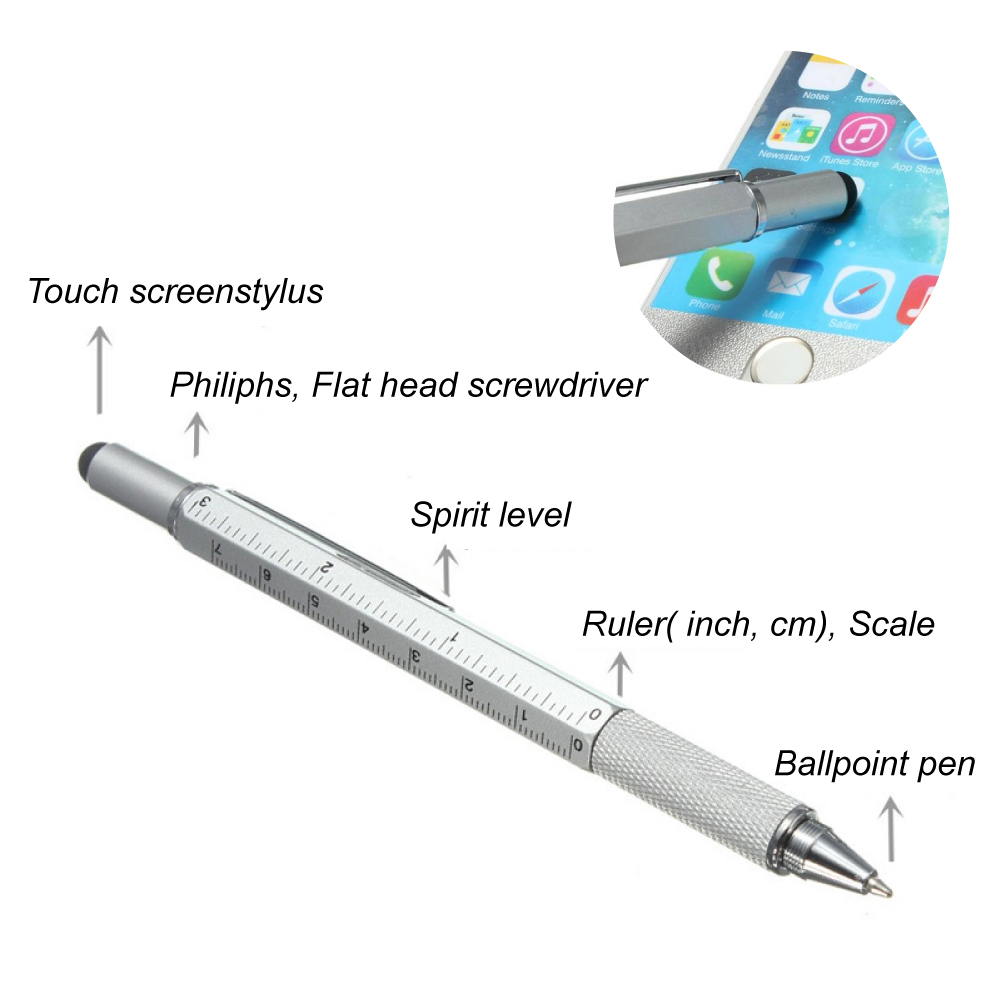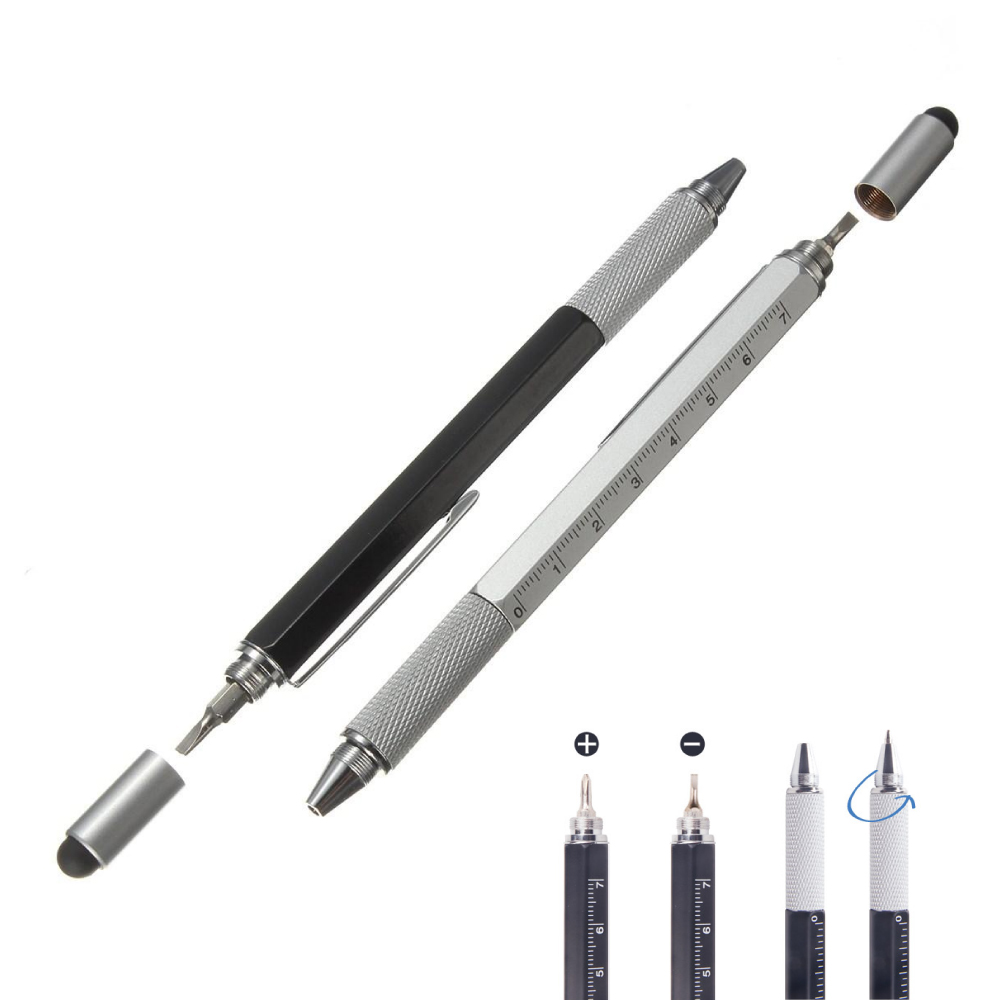 You Might Also Be Interested
Customers Who Viewed This Item Also View
Customer Reviews
Ricky Gomez
Jun 14, 2018 8:03:41 PM
very useful pen tool
What an incredibly useful pen tool! It is sturdy without being heavy, this makes a great gift too, and it works pretty well! Totally recommend to my friends and family.
Nolly Fox
Apr 18, 2018 7:30:52 PM
work smoothly and nicely
The pen mechanisms work very smoothly writes nicely. I actually used the screwdriver once and the measuring function could be handy too. Overall, lots better than anticipated.
Nelson Brown
Mar 19, 2018 8:51:56 PM
smart pen!
Excellent quality, workmanship, and pricing. Easy to hold in my hand, the stylus works on my kindles and the pen works and writes very well. Smartpen!
Joanne Buckland
Jan 9, 2018 10:31:14 PM
very useful
Very nice, smooth writing, good feel and I was impressed with how quickly it arrived! Very useful and have had friends ask where I got it from:)
Olivia Hudson
Dec 19, 2017 4:59:44 PM
great utility pen
Great utility pen! I gave it to my son for college. It holds his phone and it is sturdy enough to take a beating. Also great gift idea this coming Christmas!
John Walker
Dec 13, 2017 3:37:16 PM
extraordinarily useful
Smooth writing, good feel and extraordinarily useful. This is a great stocking stuffer or thank you gift for someone who works with their hands or writes on the go. Awesome!
Amelia Nuke
Dec 11, 2017 7:40:41 PM
good pen
Good pen! I use these every day for writing, on a tablet, and on a smartphone. I occasionally use the screwdrivers too. Great as a gift!
Lanie Baeley
Dec 10, 2017 9:31:17 PM
so handy to have
So handy to have! My husband really likes this stylus. He loves the way he can change stylus to pen so easily. Great gift ideas:)
James Graham
Dec 7, 2017 7:41:37 PM
great gift ideas
I bought this pen as a gifts for my dad and he loves it. So many cool functions in 1 package! Super cool! This is great gift idea for your love ones this Christmas!
John Mackay
Dec 6, 2017 5:01:26 PM
great utility pen
Great utility pen! I already have one pen like this and love it! I bought these to give as gifts.
Jacob Collins
Nov 27, 2017 6:40:02 PM
very nice pen
Very nice pen, I love the silver color and I bough another set as a gift. This is very useful, good pen a handy stylus and mini screw driver, ruler and level. Perfect!
Collin Butler
Nov 26, 2017 6:40:00 PM
super cool pen
Super cool pen! I already have one pen like this and love it. I bought these to give as gifts to my friends and love ones:)
Betina Howard
Nov 23, 2017 4:18:27 PM
good gift for an engineer like us
My husband really likes this stylus. This is a well designed pen/stylus, all functions works well. I am enjoying it too! Good gift for an engineer like us!

Arthur Mcdonald
Nov 21, 2017 9:10:44 PM
a clever design
A clever design to store all the functionality of this pen tool. This is a great addition to my tech bag, the construction and material are excellent. All piece fit nicely and firm.
Kimberly Mclean
Nov 16, 2017 6:02:20 PM
perfect gift
Perfect gift for my loving engineer dad. He still talks about it and carries it everywhere! I already have one more pen and I love it too. And I plan to buy more to give as gifts this Christmas.
Olivia Mandarin
Nov 15, 2017 3:28:27 PM
a gift for my love ones
I'm very pleased with this pen tool. Especially because there were no transport cost:)) I plan to buy more as a gift for my love ones!
Janna Smith
Nov 13, 2017 4:37:06 PM
great gift ideas
A really wonderful pen and multi-tool and everything works perfectly on it. I will gladly buy more of these as gifts for family and friends as time permits. Great gift ideas!
Michael Hills
Nov 7, 2017 4:38:12 PM
great gift ideas
I absolutely love this screwdriver tool pen! The stylus works well, solid and very useful pen tool! Great gift too:)
Neil Cameron
Nov 2, 2017 11:21:12 PM
what a cool tool
What a cool tool! Very interesting! I love the way this is made. Super strong with great strength, clever design to store all the blades and mini tools. Awesome!
Victor Davidson
Oct 31, 2017 6:13:46 PM
a great utility pen
A great utility pen! This was a cool gadget tool for my dad and uncle both of whom are super tech too guys! They really love it!
Steve Steward
Jul 27, 2017 8:44:02 PM
pretty cool
Pretty cool. I bought one for myself and one for my dad. This is a good pen, with good construction send a premium materials, easy to use and very functional.
Jacob Duncan
Jun 21, 2017 7:50:38 PM
lovely pen
Everything works more than perfectly. It is a lovely pen and makes a great gift. Very handy and functional. Satisfied:)
Dianne Ellison
May 4, 2017 7:06:06 PM
happy with my purchase
Very cool, my husband loved it! He say it's been very useful and meets all his expectations. Just got this pen on Sale! Happy Wifey!
Nicola Hart
Mar 26, 2017 8:24:48 PM
quality well made pen
Pleasantly surprised at the overall quality of this pen. The thickness is very comfortable to grip and it is shaped like a thicker pencil. Very useful.

Leah Peterson
Feb 1, 2017 9:47:42 PM
cute and functional
Cute and very functional. This is a lovely pen and makes a great gift. got one from my grandson. Love it!
Emma Wilkins
Jan 31, 2017 10:52:31 PM
high quality pen and multi functional
I have been amazed by this 6 in 1 tool with pen. High quality pen, multi functional in 6 purposes, and has a comfortable grip. I really love it! Price was great too!
Richard Dowd
Dec 22, 2016 10:28:22 PM
comfortable to use
Very useful and it works! A unique gift idea this coming Christmas. Comfortable to use and durable. Highly recommend
Isaac Dickens
Dec 21, 2016 4:29:35 PM
cute and gift idea
Cute idea. I love gadgets, handy stuff and multi-tools. This is perfect for my needs. I Bought another one for my brother as a gift!
Brian Campman
Dec 14, 2016 6:37:29 PM
neat and well made functional pen
It's neat and seems to be well made pen tool with pen, screwdriver, ruler, level and flathead. Awesome one pen in 6 multi functional pen. It works and very stylish. I will buy more as a gift for my friends and family.
Irene Cameron
Dec 13, 2016 6:55:35 PM
great gift for Christmas
Lovely pen and makes a great gift this coming holidays... I was able to used it specially the little screwdriver, Flathead and ruler. Very cute and functional. I would definitely recommend this well made product.
Oliver King
Oct 17, 2016 10:16:32 PM
Cool!
Really cool pen with multiple functions. The pen writes very well, and it is nice and smooth. I love the small screwdriver. very handy and useful, i will buy more for my loves one.
Ethan Smith
Jul 14, 2016 8:28:29 PM
School days with a twist.
This pen has become my favorite pen in the office and in the field. It's balanced very nicely and the yellow color makes it easy to find. The six sides feel like a large pencil which is very familiar. Most importantly, it writes very smoothly. My pen came with a handy Phillips and flat screwdriver underneath the removable cap.
Marie
May 21, 2015 1:49:16 AM
Does the good job.
Overall it's good. You got what you paid for. Delivered before the day promised! No complaints.
Ana
May 21, 2015 1:44:35 AM
Multifunction pen!
Definitely a unique present. It was a big hit and has been very useful. Looks great and will be a great helper in an every day life.
Write Your Own Review