Features & Highlights
Why you should buy this product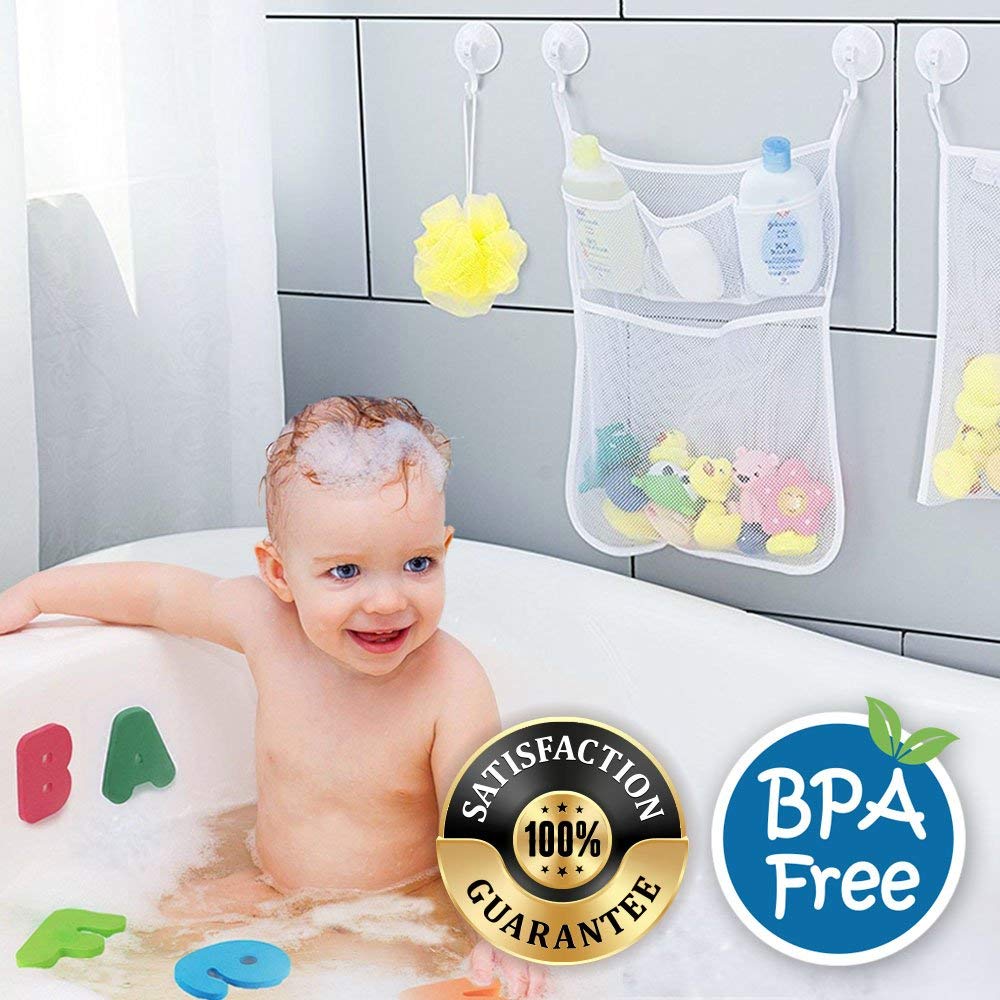 Eutuxia Bath Toy Organizer, Alphabet Puzzle Bundle. Quick Dry Mesh Net Bag with 4 Pockets for Kids Toys and Bathroom Essentials. Mini Letters & Number Pieces Floats in Water, Sticks on Tile Walls.
CONGRATS! Your search for perfect bath organizer kit is finally over! Your children love swimming with toys and you would like to organize space in your bathroom conveniently and inexpensively, right Well with this snazzy bathroom mesh net storage bag, you can do just that! The organizer has ample room to put all the toys your baby plays during bathing and "unload" the edges and corners of your bathroom. Having a bathtime session with your little ones can be very stressful and tiring. They love to cry and give you troublesome time. You no longer have to deal with stressful bathtime with your little ones with these alphabetic and numeral bath toy pieces. Our mini bath toys include 36 pieces. 26 letters (A ~ Z) and 10 number (0 ~ 9). It's a great educational learning experience for your children while they have fun. Educate your children as they play with the pieces. Colorful pieces help bring attention to them. Watch your children as they play with joy.
EASY ORGANIZATION: With this organizer, you can easily organize all the bath toys into one storage bag. It has 3 small pockets and 1 big pocket so that you can store toys and bathroom essentials. You can easily teach your children on organization after their bath sessions. Save yourself from hassle! Parenting is already hard enough.
ALPHABET FUN: Our mini bath toys include 36 pieces. 26 letters (A ~ Z) and 10 number (0 ~ 9). It's a great educational learning experience for your children while they have fun.
BIG ORGANIZER: The mesh net organizer is 19.76 x 14 inches, so it is big enough to store most of your kid's toys, as well as bathroom essentials such as soap, shampoo, toothpaste, etc. The organizer stays flush with the wall so it does not get in the way while taking a bath.
STICK OR FLOAT: These alphabet and number pieces can stick to tile or shower walls when they're wet. You can teach them words or phrases while they take a bath. These pieces also float in the water.
STRESS FREE EXPERIENCE: Bathtime doesn't have to be stressful anymore. No more little ones crying. They can have fun with these letters and loosen the stress that you used to have before.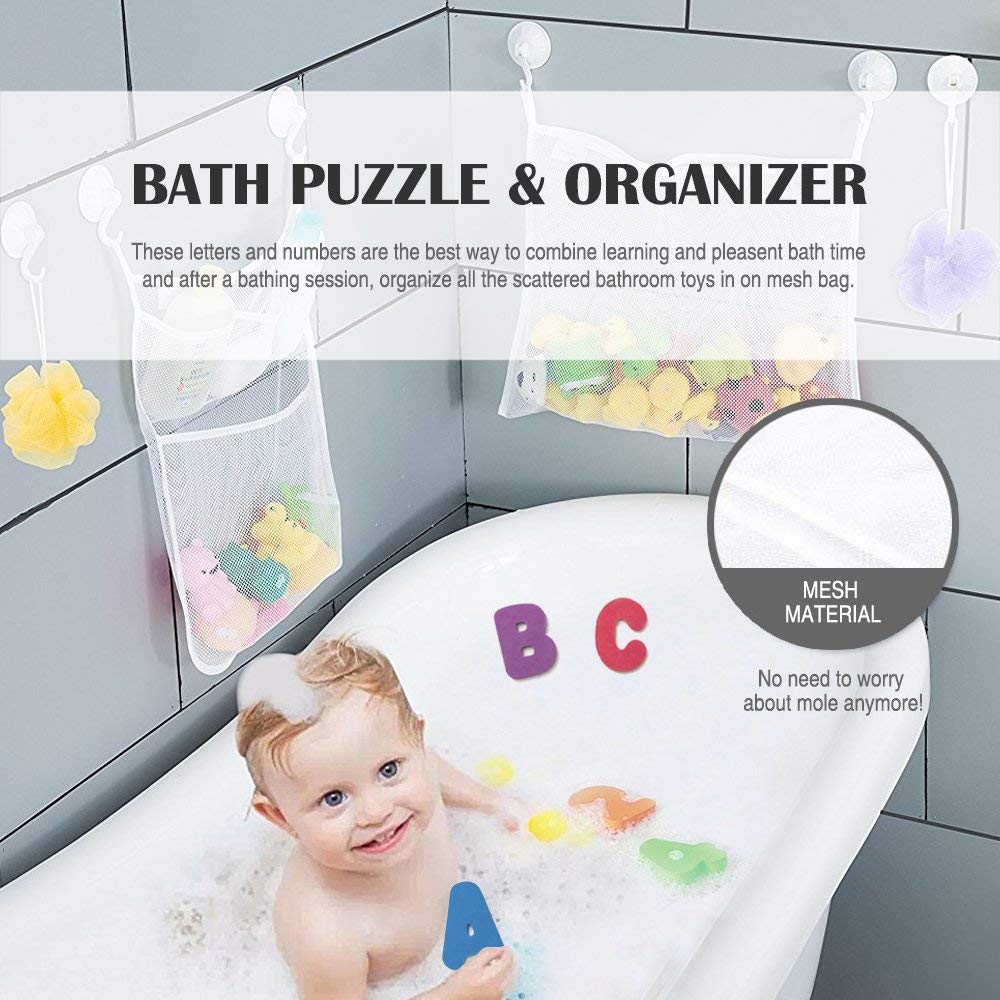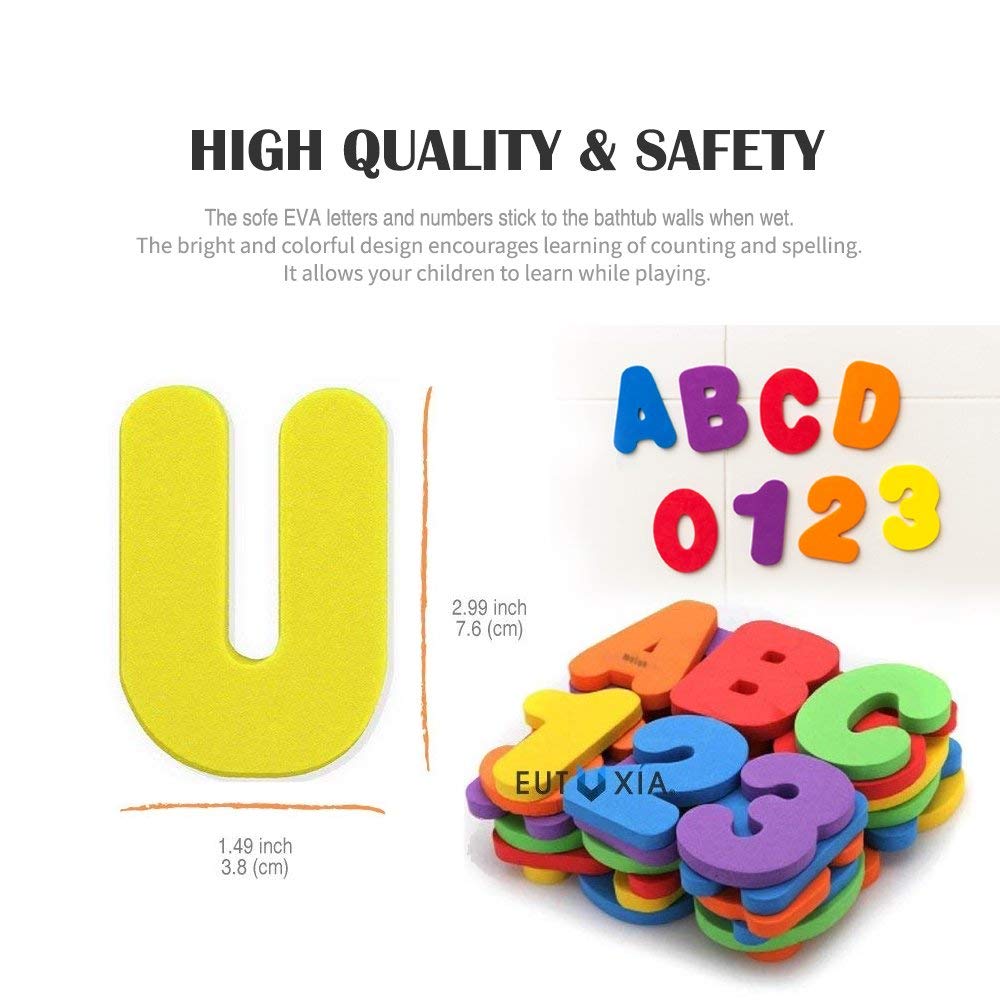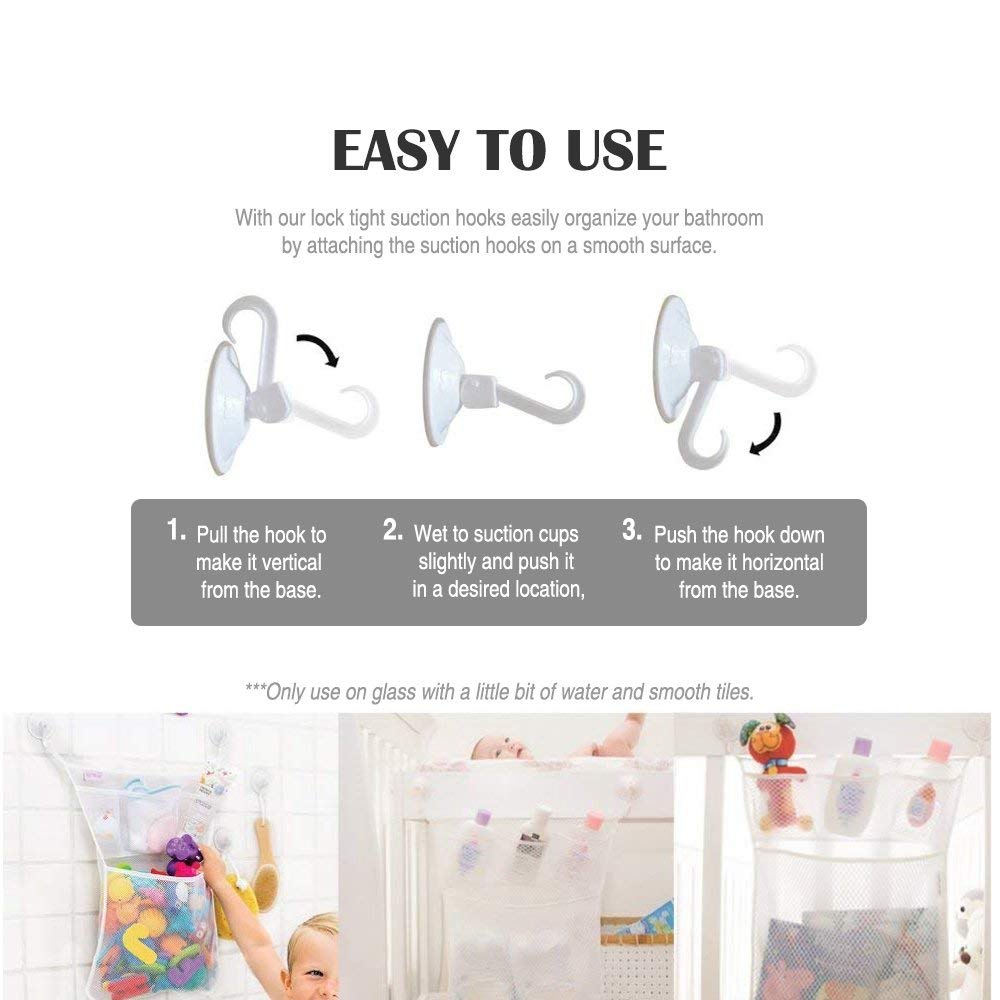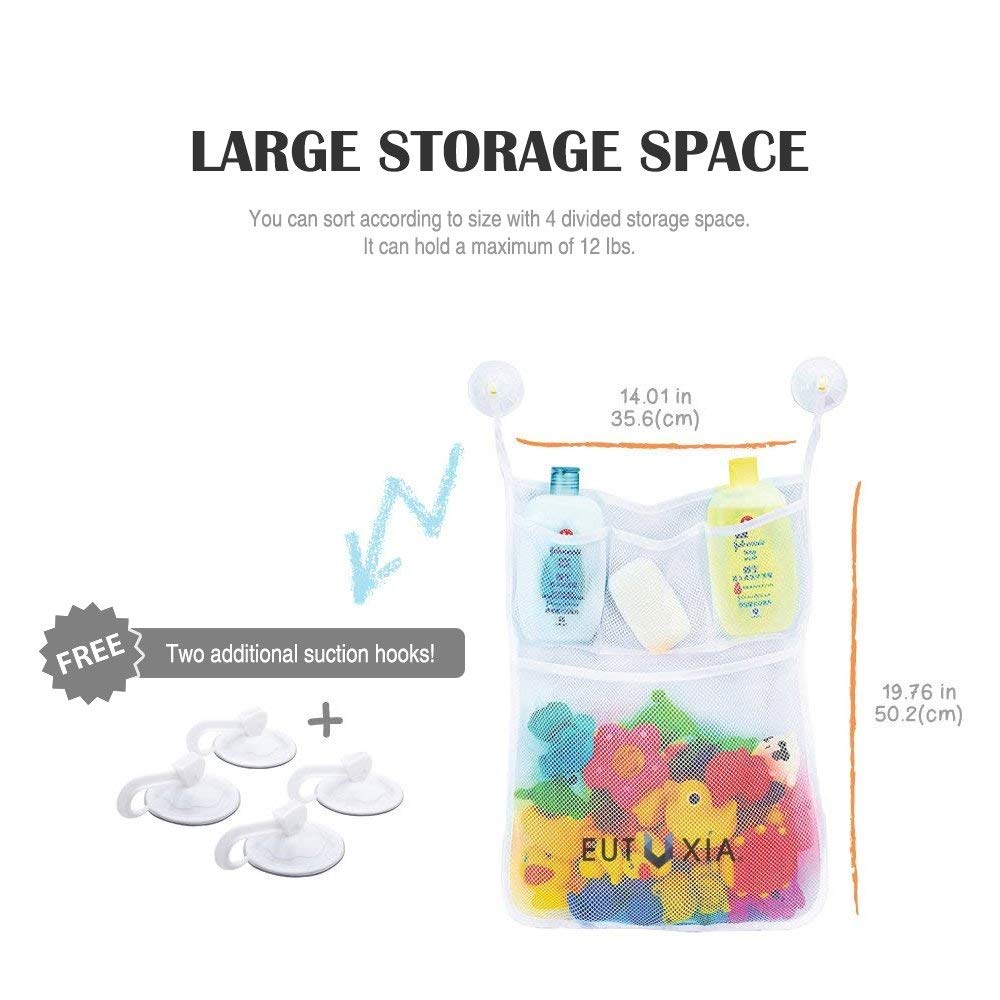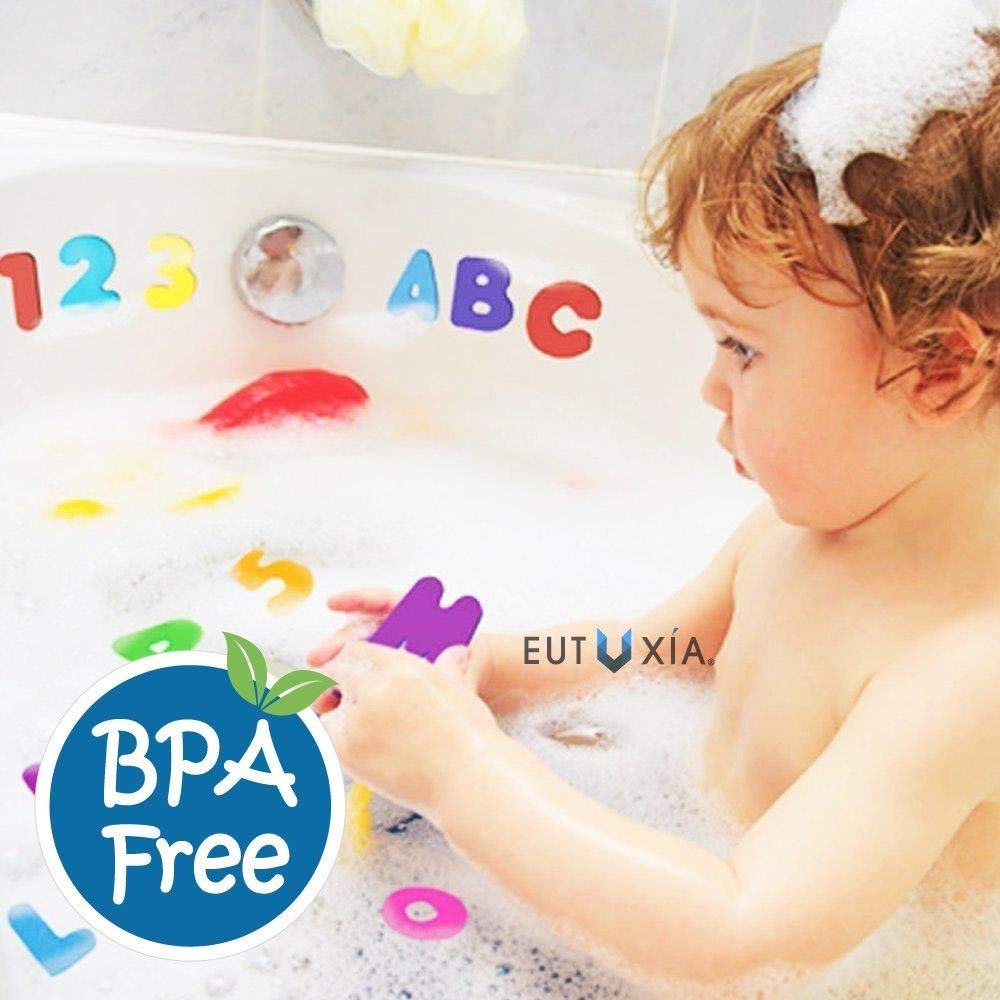 You Might Also Be Interested
Customers Who Viewed This Item Also View
Customer Reviews
Jackie Orleans
Jun 25, 2019 7:45:35 PM
stick very well
These toy storage works great! They stick well to the shower and they even included adhesive pads in case you have issues. My daughter asks to take bathe now just to play with her letters.

Babylyn Bailey
May 22, 2019 9:58:46 PM
high quality materials
Super cute kit and great value! My son loves it! It's colorful and contains all numers and letter - bath time turned to be a learning time with minimal effect. High quality material and safe for kids!

Mylene Brown
Apr 4, 2019 12:32:00 AM
Happy Mom!
This organizer is a great solution for keeping bathroom clean and tidy. I have 2 kids and always get trouble to tidy up my bathroom. Since I bought this organizer the room looks much better! Happy Mom!
Faith Orleans
Apr 4, 2019 12:20:08 AM
great for holding stuff
Easy to use and the net is pretty much as advertised. Exactly as expected and works great for holding my kid's bath toys and keeping some of the shampoos and conditioners out of his reach. Thanks!
Write Your Own Review