Features & Highlights
Why you should buy this product
Battery Tester - For AA, AAA, C D, 9V Buttons, Test Multiple Sizes of Batteries on One Unit!
This battery tester is a great gadget, and it really works. A little arm moves up and down to accommodate the battery, you can place your battery between the two points, and the easy to read display tells you instantly whether you have a dud, or if you can eke out another few minutes of battery life.
Can quickly test the capacity of your battery
Test multiple sizes of batteries in one unit
One movable arm to accommodate the battery
Compact size and light weight- Perfect companion for travel
Size: 4.1"x1.6"x1"
Do you have a lot of batteries rolling around in your car, home, or even office? Worry no more! This battery tester will help you determine which batteries are good to toss in the trash. You no longer need to have a drawer full of batteries that are not usable.
Universal is what makes this product convenient and useful. Our battery tester can test multiple sizes of batteries in one unit. It can check for AA, AAA, C, D, 9V, and 1.5V button cell batteries. It will also work with rechargeable batteries. The adjustable slider accommodates the battery to make it compatible with most batteries as long as it fits within the adjustable slider.
This device requires no additional batteries to operate. It generates power from the battery being checked. Please keep your test times as short as possible to avoid unnecessary battery drain.
Gauge is easy to understand and it will help you easily determine whether to throw away the battery or not. When it's in the RED zone, you can simply toss the battery. When it's YELLOW, the battery juice is low. When it's GREEN, the battery is good to keep.
Device is small and compact. It is lightweight and easy to carry around anywhere. Check your battery life anywhere, anytime. Throw away those useless batteries!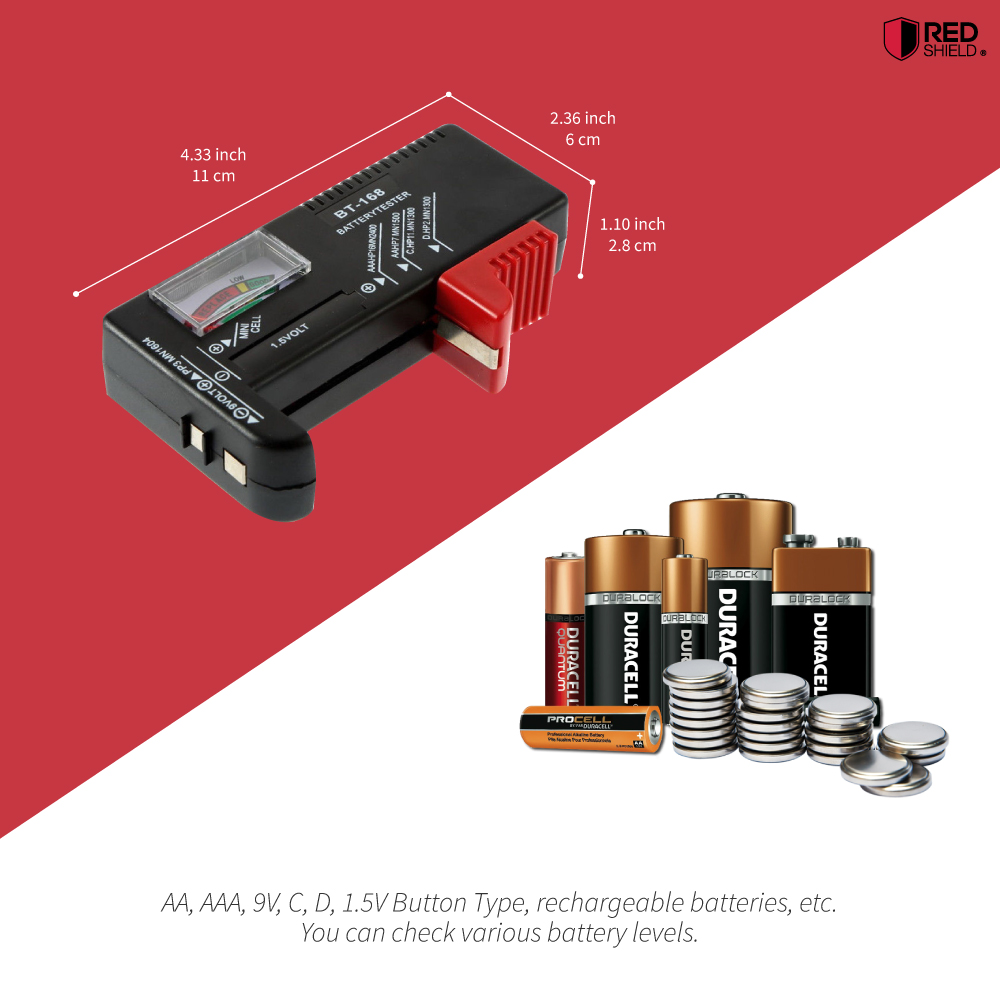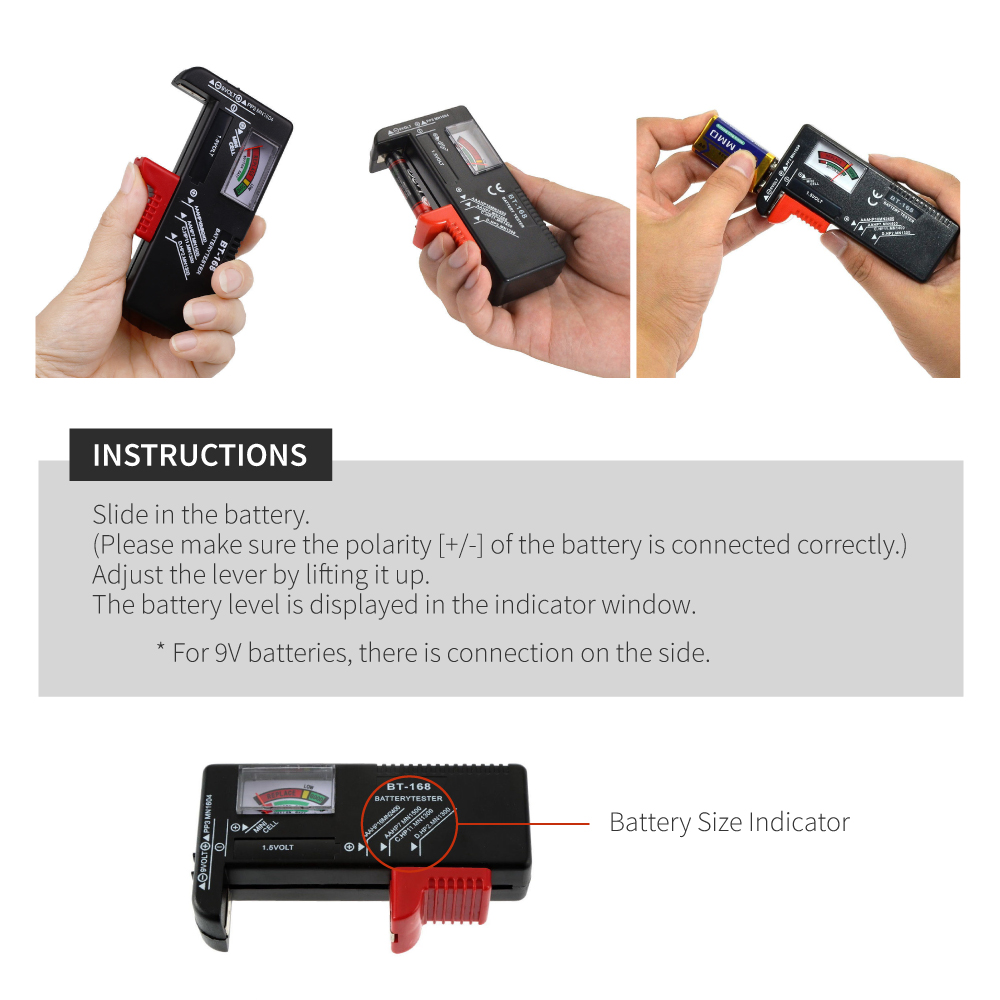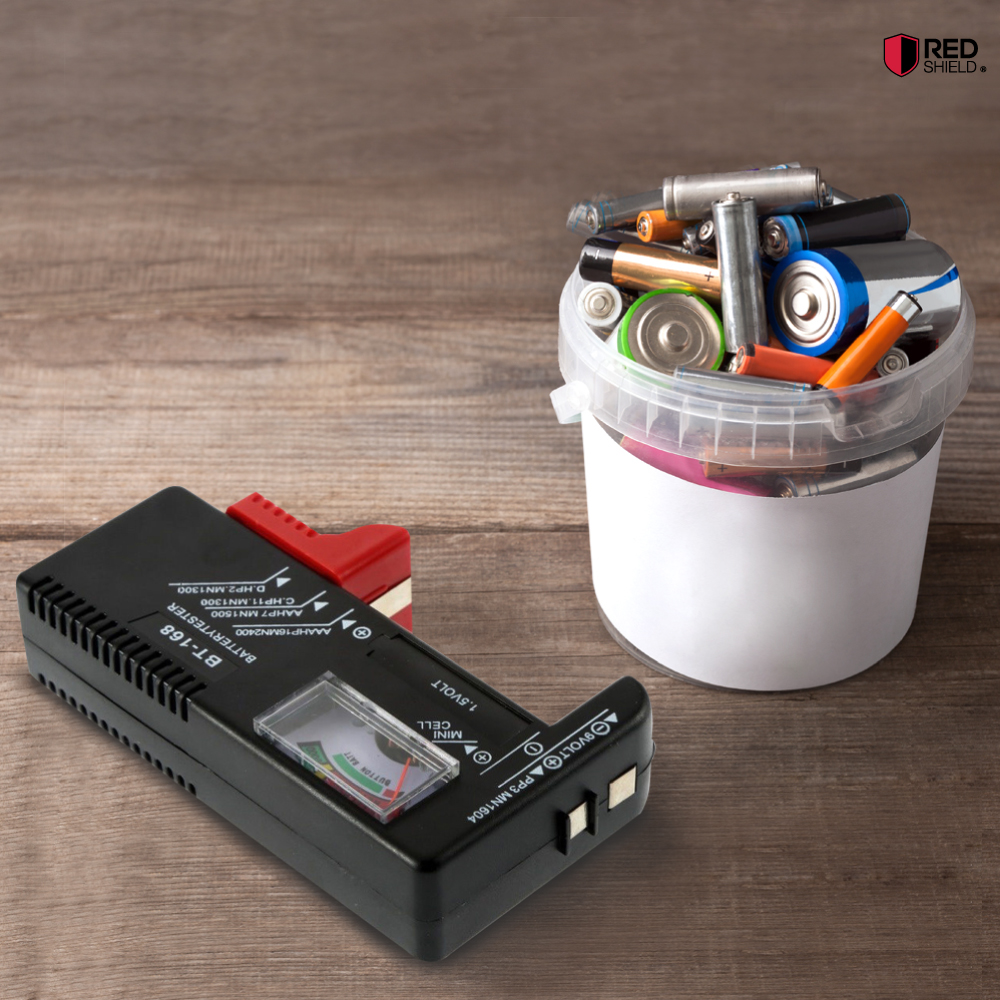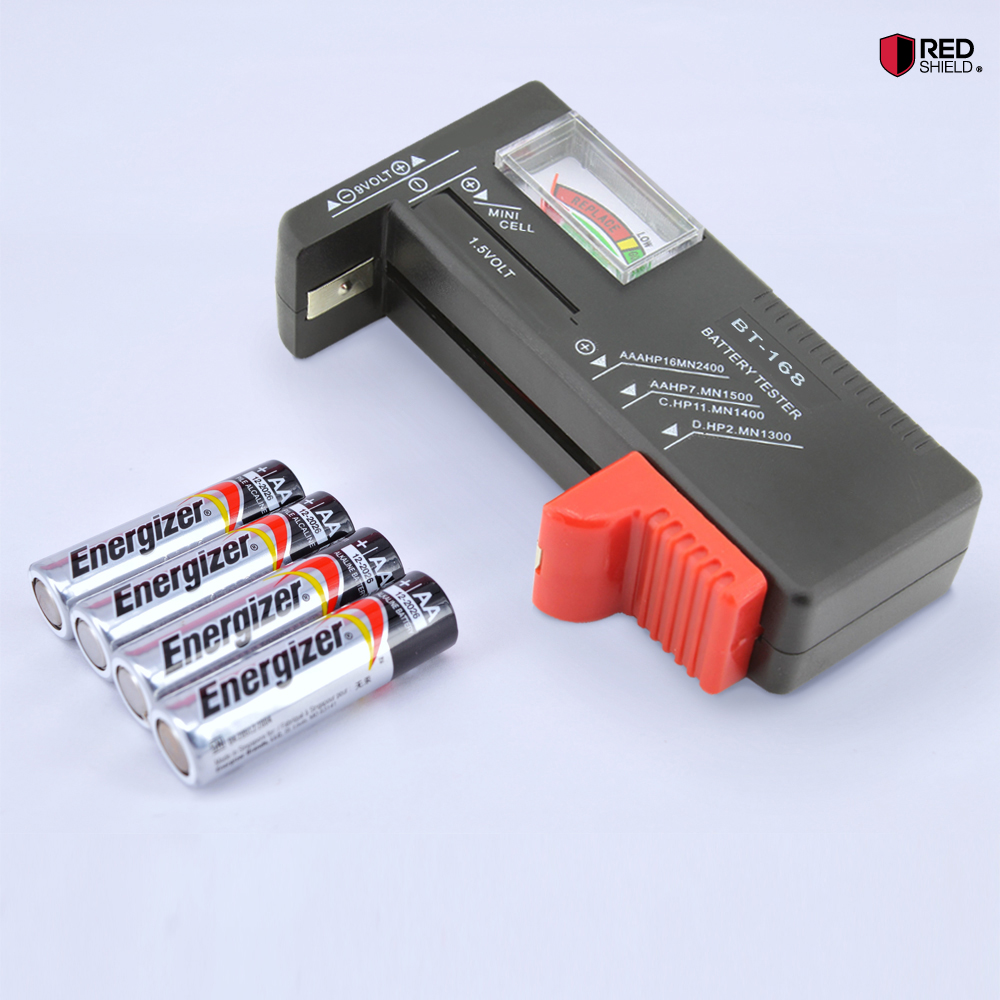 You Might Also Be Interested
Customers Who Viewed This Item Also View
Customer Reviews
Clifford Moore
Nov 26, 2018 6:58:40 PM
saved me a lot of money
Excellent and reliable. Very easy to use and in many cases determined that it's not bad batteries but product broken. This is a great product and has saved me a lot of money. Awesome!
Jasmine Trevor
Nov 18, 2018 11:27:22 PM
well worth the money
Was able to test all the batteries from a multitude of Christmas decorations. Well worth the money when my husband was going to throw all those batteries away.

Harry Santos
Nov 6, 2018 11:51:08 PM
a great purchase
Nice tester, feels solid and it works well. This battery tester should be considered accurate and to give a better indication of in-use life. A great purchase!

Marlon Douglas
Oct 22, 2018 11:29:00 PM
excellent battery checker
Excellent battery checker for my batteries. I use it all the time and it gives easy to read digital reading. It has the numerical ranges on it for what it considered a good or weak battery.
Joe mcdonald
Oct 11, 2018 12:21:22 AM
simple and useful
Simple and straightforward to use. Being able to check the rechargeable is also nice so they aren't over-charge and ready when I need them. Works well so far.
Eric Mathis
Oct 4, 2018 12:42:20 AM
saving your money
This battery tester is very comfortable to use, lightweight, and easy to read. And most importantly: The low power use devices will still accommodate somewhat spent batteries, saving your money!
Eric Jones
Oct 1, 2018 12:36:37 AM
must have for every home
Finally got this great tool to save me dis guarding batteries that still have a life! It is a very good value that performs well. Must have for every home!


Ricj Douglas
Sep 24, 2018 11:39:58 PM
saved me some money
Pretty simple but effective little product. It does exactly as it's supposed to do. Saved me some money by testing batteries before I toss them in the trash.
Teddy Lambert
Sep 16, 2018 10:40:50 PM
works like a charm
Works perfectly for my needs. I use this constantly on all my batteries and it is terrific. Very easy to use and can be used with a large variety of batteries. It saved me a bundle of money. Works like a charm!
Joseph Douglas
Sep 13, 2018 9:10:40 PM
it does the job wonderfully
What a clever device. The less expensive uses a meter to give you the battery condition, this is a digital display. Simple to use, very handy, and accurate. It does the job wonderfully!
Katherine Park
Aug 16, 2018 8:24:57 PM
happy and saved a lot of money
Plain and simple it works and is well worth the price. A must have for anyone who uses regularly or rechargeable batteries on a regular basis. I am very happy and saved a lot of money!
Boyeth Brown
Jun 26, 2018 12:00:31 AM
super easy to use
It actually works good so far, simple and straight forward to use. Being able to check the rechargeable is also nice so they aren't over charged and ready when I need them. Super easy to use!
Martin Louis
Mar 19, 2018 11:41:40 PM
works perfectly
Works perfectly for my needs. This is neat, affordable tool, and I used this tester regularly. I like that the charge indicator is color coded and easy to read.
Eric Hunter
Mar 4, 2018 6:59:20 PM
works great
Works great and was a good price!This battery tester is the most simple to use of any that I have ever had and it does a good job on testing the batteries.
Amelia Douglas
Feb 22, 2018 6:15:35 PM
awesome little tool
Awesome little tool! It works very well and is compact so easy to store. Save a lot of batteries we thought were dead. Very useful and functional!
Rebecca Grant
Jan 18, 2018 7:51:09 PM
good battery tester
Good battery tester. It test all types of batteries that we need for our house, AA, AAA, C,D, and even 9V. I needed the 9V tester to test smoke alarm batteries. Works really well and is easy to use.
Jennifer Cameron
Dec 11, 2017 10:22:35 PM
best battery tester
Very easy to use, batteries fit right in, and the meter reads clearly and quickly. This battery tester is the best! Every household should have at least one.
Peter Hill
Dec 6, 2017 4:49:20 PM
great little battery tester
Great little battery tester at a good price. It appears to work, very easy to use and works with a variety of batteries! Great gift too!
Oliver Gibson
Dec 5, 2017 7:47:22 PM
a handy little tool
A handy little tool to tell whether it's battery dead or not. It saved a lot of batteries we thought were dead and we are able to get rid of the ones which really were dead. Plus it's very affordable.
Sally Mcbride
Nov 21, 2017 1:06:18 AM
work awesome
Works awesome and can not beat it for the price! This little tester works well, it helped us weed through a mountain of old batteries:)
Leah Morris
Nov 16, 2017 8:17:22 PM
works great
Works great. Saved me from taking a brand new remote that came with bad batteries. Quick, easy and economical way to test batteries:)
Stephen Howard
Nov 12, 2017 9:58:03 PM
simple to use
Simple to use, very reliable and it's really versatile to test batteries. I finally got to measure all the random batteries lying around and figure which ones work and which don't. :)
Jean Mclean
Nov 5, 2017 9:35:58 PM
happy:)
So happy with the purchase - just wish I had this earlier in life... i bought one for everyone I know for a little Xmas gift. I saved a lot of money keeping batteries that still have life. Happy:)
Christopher Black
Oct 17, 2017 11:14:10 PM
simple and easy to use
Simple and easy to use. It has saved me much aggravation as I now check my batteries before throwing them away... Serve it purpose.
Eric Brown
Oct 16, 2017 6:45:22 PM
very good quality
Very good quality. It is really compact, simple to use, works as advertised, passive and comes with a warranty. This is one of my favorite tools and I'm very happy to have it in my tool box.


Ryan Dickens
Sep 28, 2017 6:33:41 PM
easy to use
Easy to use, fits all common sizes, and now we're able to clear out a lot of our old batteries we were uncertain about. It saves me a bundle of money and price was right.
Lucas Cameron
Aug 17, 2017 10:09:25 PM
great little tester
Great little tester, it works great and most inexpensive battery tester I ever bought. I keep it in my drawer and use it when the need arises, which is a lot... Great job!
Joseph Morgan
Apr 12, 2017 1:06:21 AM
works very well
Works very well! This battery tester gets the job done and easy to use. It's definitely worth the value of money. I recommend it.
Joan Langdon
Mar 15, 2017 11:29:27 PM
simple but effective battery tester
Plain and simple but effective little product. It does exactly as its supposed to do, telling if the battery is good, low or needs to be replaced. It works for me and happy I purchased this.
Jonathan Dyer
Nov 2, 2016 8:13:48 PM
it works well!
Simple to use and it serve it purpose. Very functional battery tester, make it easy to test all my battery types with digital display and it works.
Bella blake
Oct 6, 2016 5:05:12 PM
excellent product
Excellent battery checker. Gives an easy to read digital reading, I used it and bring this in my travel. Happy in my purchased.
Skylar White
Jul 8, 2016 1:55:51 AM
Nice to have
I am so pleased with my battery tester. I am always finding loose batteries here and there in the house, never knowing whether they were ones that just didn't make it to the garbage can or not. Now I can test them (all sizes) and get rid of them if they are bad!
jkaye
Sep 1, 2015 4:12:08 PM
Very Handy
This really helps cut down on the amount of batteries I have laying around not knowing if they are good or bad. The "D" battery isn't as easy to test because of it's size but that is easily overlooked. Love this product and love the price!
Erick V
Aug 4, 2015 8:56:12 AM
Battery tester
Where has this thing been all of my life? It works just great. Foolproof operation, easy to read scale.
Just put in the battery, read the scale, then decide what to do with the battery. I can see where this would take the guesswork out of saving a lot of old junk batteries just in case they still had some life left! Great product, good price , easy to use. You can't ask for more!
Write Your Own Review