Features & Highlights
Why you should buy this product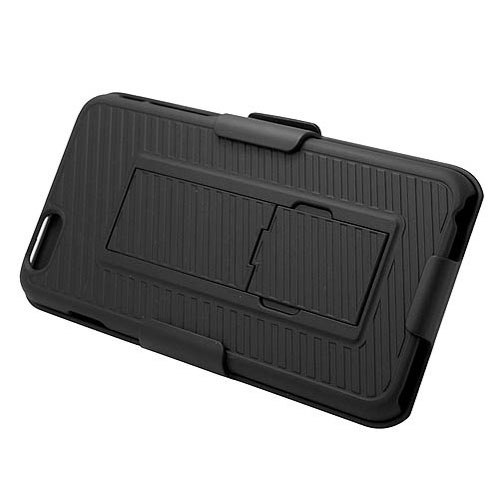 Apple iPhone 6 PLUS/6S PLUS (5.5 inch) Holster Case, [Black] Shell + Holster + Kickstand Combo Case with Belt Clip
This Apple iPhone 6 Plus Rubberized Hard Case w/ Holster Stand - STANDARD BLACK is great for quick drawing your phone for usage! A quality product and made especially to fit your Apple iPhone 6 Plus. It's stylish and protectant for your Apple iPhone 6 Plus. Quick draw your phone and slide out your phone from the holster that clips on to your belt or anywhere securely. Prop up your Apple iPhone 6 Plus for great viewing position with the built-in belt-clip kickstand.
Custom cut to fit your Apple iPhone 6 Plus
Durable and lightweight
Case slides securely into holster
Hard Matte anti-slip surface
Textured lines for added grip
Rubberized plastic with swivel belt clip
Built-in belt-clip kickstand props your phone up
Quality Made holster to perfectly fit your Apple iPhone 6 Plus/6S Plus 5.5 inch and will NOT fit Apple iPhone 6/6S 4.7 inch.
Color: STANDARD BLACK
**Phone may fit inward or outward please refer to pictures and directions on the holster.
Important Disclosures
Phones with extended batteries may not fit the case.
Phone or Device, if pictured, is for demonstration purposes only and is NOT included.
Using product with hand sanitizer or alcohol products may cause case to bleed.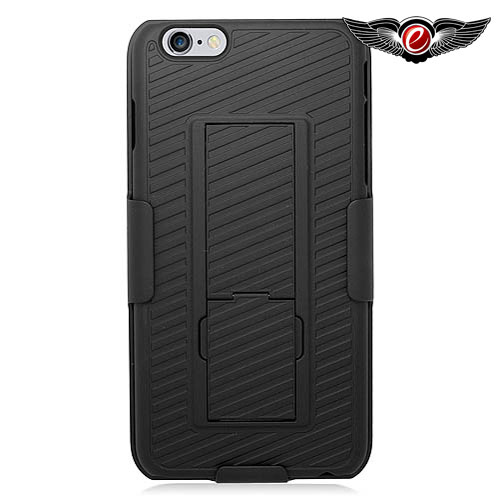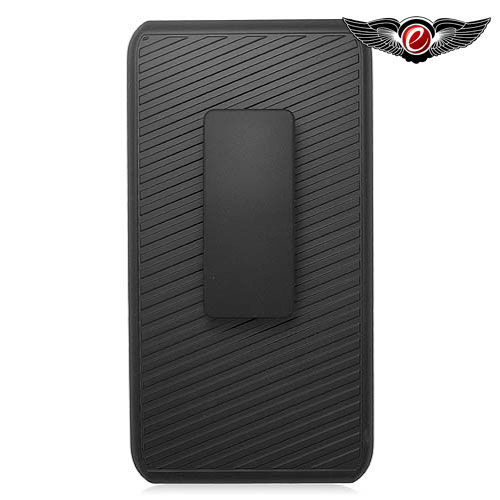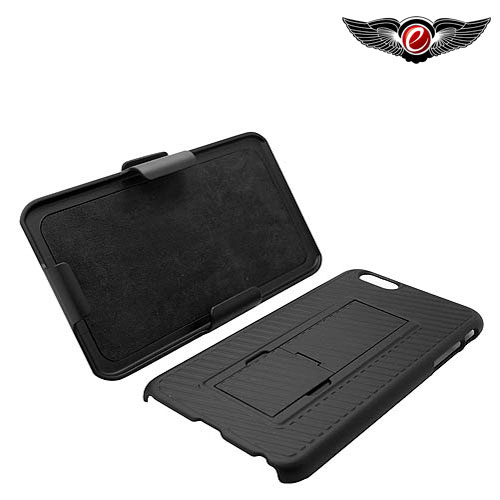 You Might Also Be Interested
Customers Who Viewed This Item Also View
Customer Reviews
Arnold Gordon
Mar 27, 2018 1:12:40 AM
best case ever
Best case ever! This phone fits snuggly but slides easily and securely. Clips hold the phone at the position that I prefer. Happy with the purchase!
Nicanor Cameron
Jan 14, 2018 4:06:05 PM
Great product case
Great product case with built in kickstand, belt clip and I love the texture of being rubberized plastic. Great protection and I can slide my phone securely. Awesome!
Richard Smith
Jan 3, 2018 12:14:27 AM
i love this holster case
I love the stylish holster design. This case is great, smooth, sleek and the belt clip is heavy duty. Fits great for my iPhone 6S and securely props up my phone. Highly recommended.
Arturo Park
Aug 21, 2017 8:07:20 PM
good solid case
Good solid case, it fits perfectly on my iPhone 6S Plus, and survives drops nifty. Love it and well worth the money!
John Gill
Aug 13, 2017 5:21:01 PM
fits perfectly
Fits perfectly, I just received my case and I'm really satisfied! Durable, simple and has a great protection. Thanks Geeks!
Richard Hamilton
Jul 31, 2017 9:08:16 PM
perfect fit
Perfect fit for my iPhone 6S, durable and simple. This is perfect for my lifestyle with great protection. Love it!
Max Smith
Jun 7, 2017 10:42:49 PM
good choice!
Good choice! Strong, sturdy and durable case. Received this case quickly and doing a great job protecting my phone!
Dan Duncan
Mar 30, 2017 10:01:30 PM
great product for the price
Perfect exactly what I was looking for. Sturdy case with very good grip. Swivel clip, kickstand and props up my phone. Great price too!
Peter Gill
Mar 16, 2017 9:59:14 PM
best value and sturdy case
Best value case and very sturdy. This holster is the best. Easy to remove the phone run. Durable and great protection. Highly recommend.

Joshua Hill
Jan 24, 2017 9:03:37 PM
i love this case
I love this case! I love the rubberized plastic that feels good. Sturdy case that provide the protection needed. Reasonable price.
Richard Jackson
Dec 8, 2016 12:48:19 AM
very nice case
Very nice case! Fit my phone great and it was designed for very well. shipping was fast. Well made product. Price is right for the product. Highly recommend
Edward Ferguson
Oct 9, 2016 8:17:40 PM
very well made
Good case for the money, very well made case. I have dropped my phone twice and it did it's job well.
Mr Will
Jun 28, 2015 3:49:57 AM
Well worth it
Great value foe a versatile case
Write Your Own Review