Features & Highlights
Why you should buy this product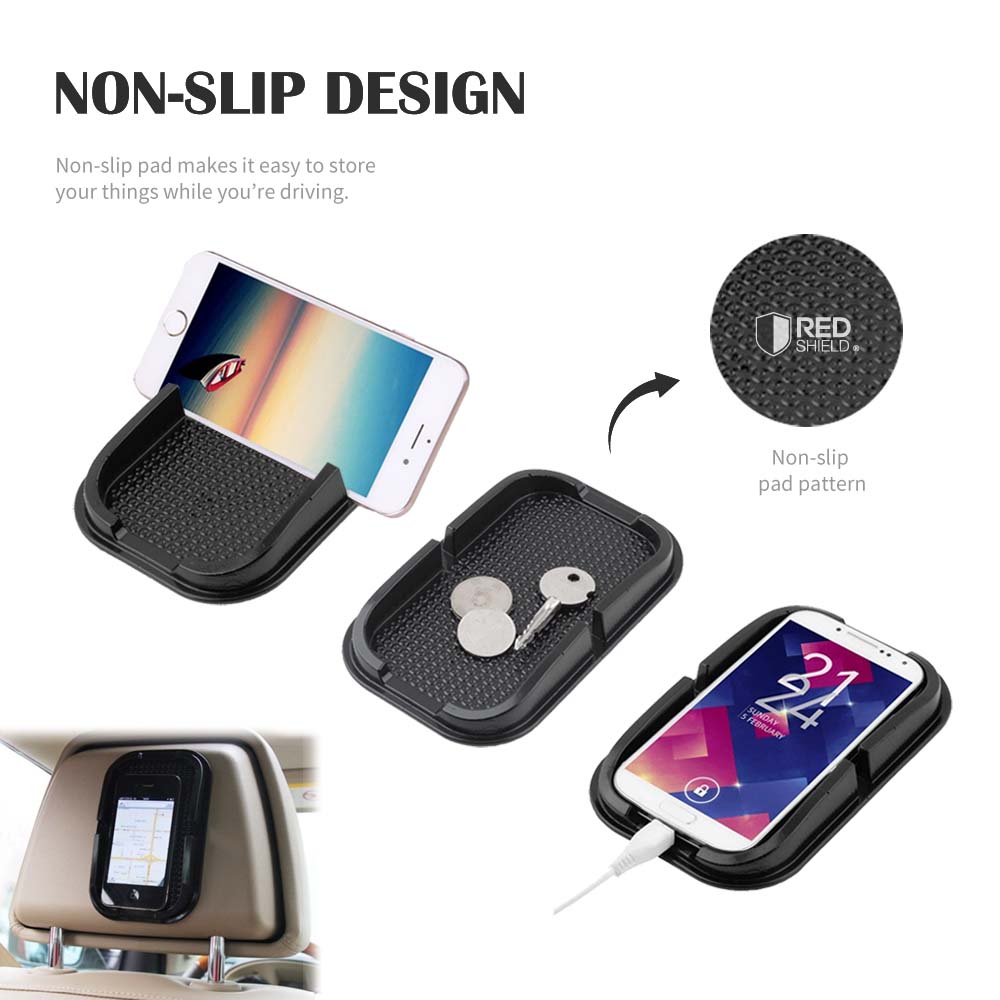 Car Dashboard Holder Cradle Dock Sticky Pad Mat [Black]
It can be placed on the car dashboard.
You can put your key, sunglasses, cell phone, cigarette, coins and other scrap things in it to prevent them from sliding when you are driving.
When you driving, your phone can be fixed vertically in the non-slip pad for easy viewing maps.
Leaves no mark, is reusable and can be washed with water when it gets dirty. It is both non-slip mat and decoration.
Color: Black
Size: 155*100*20mm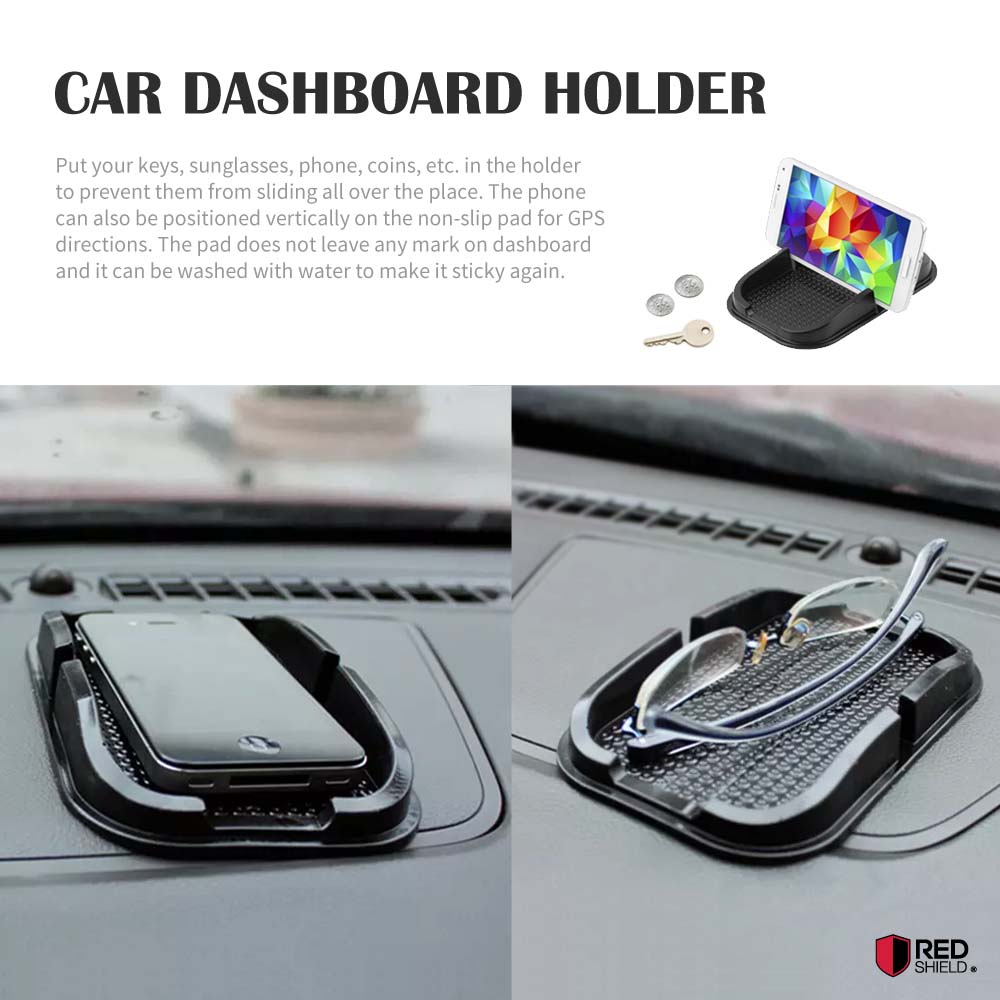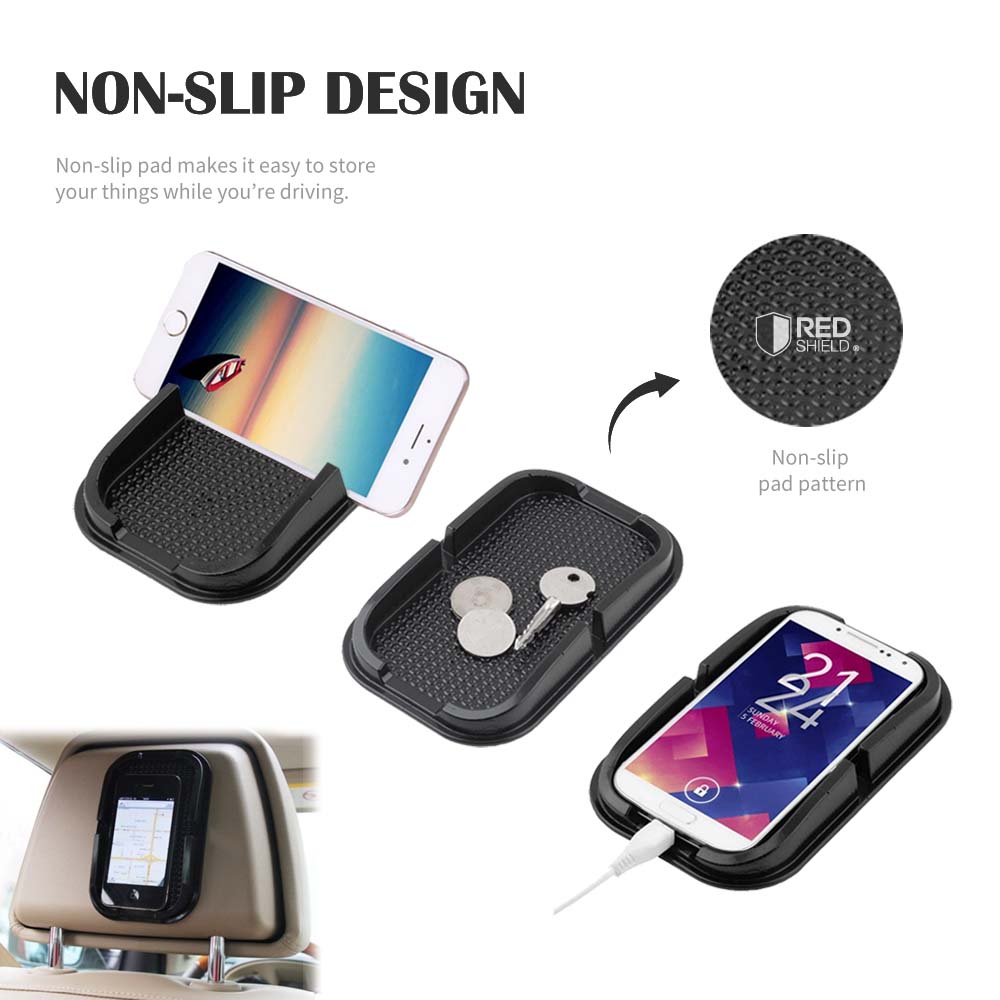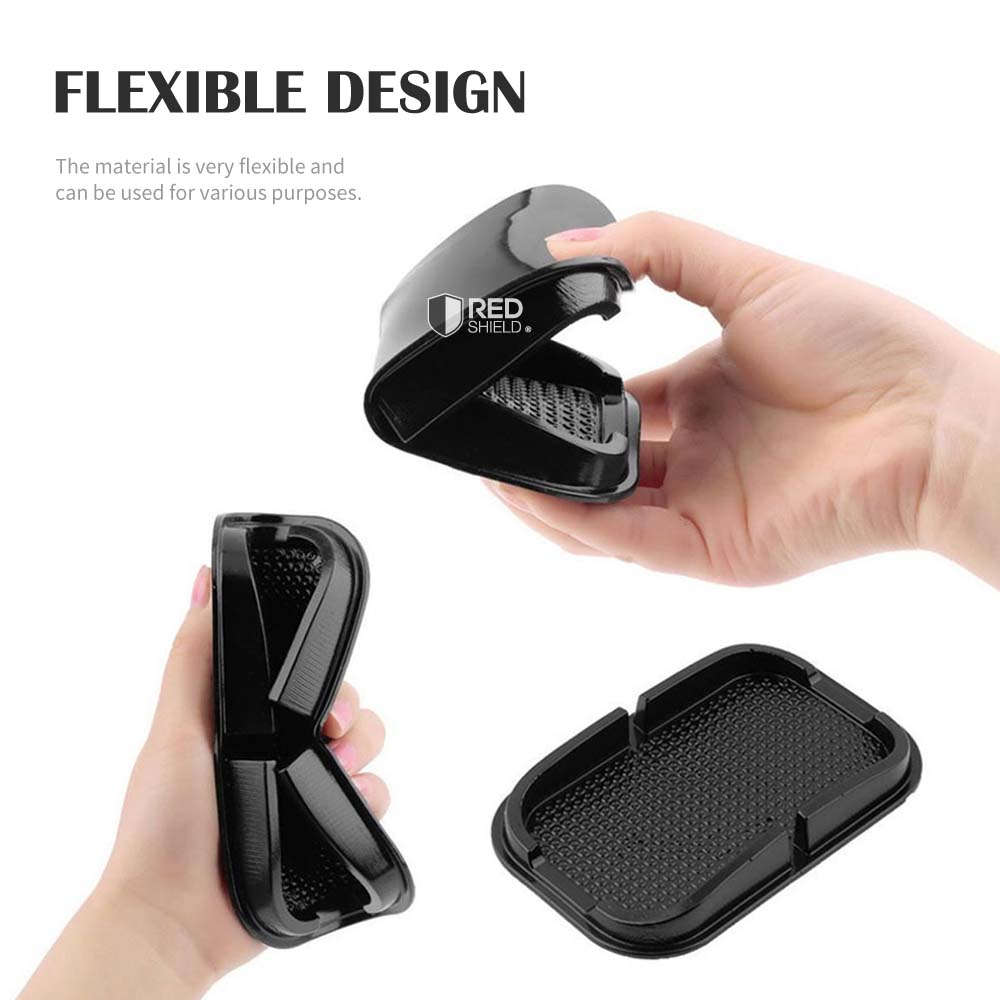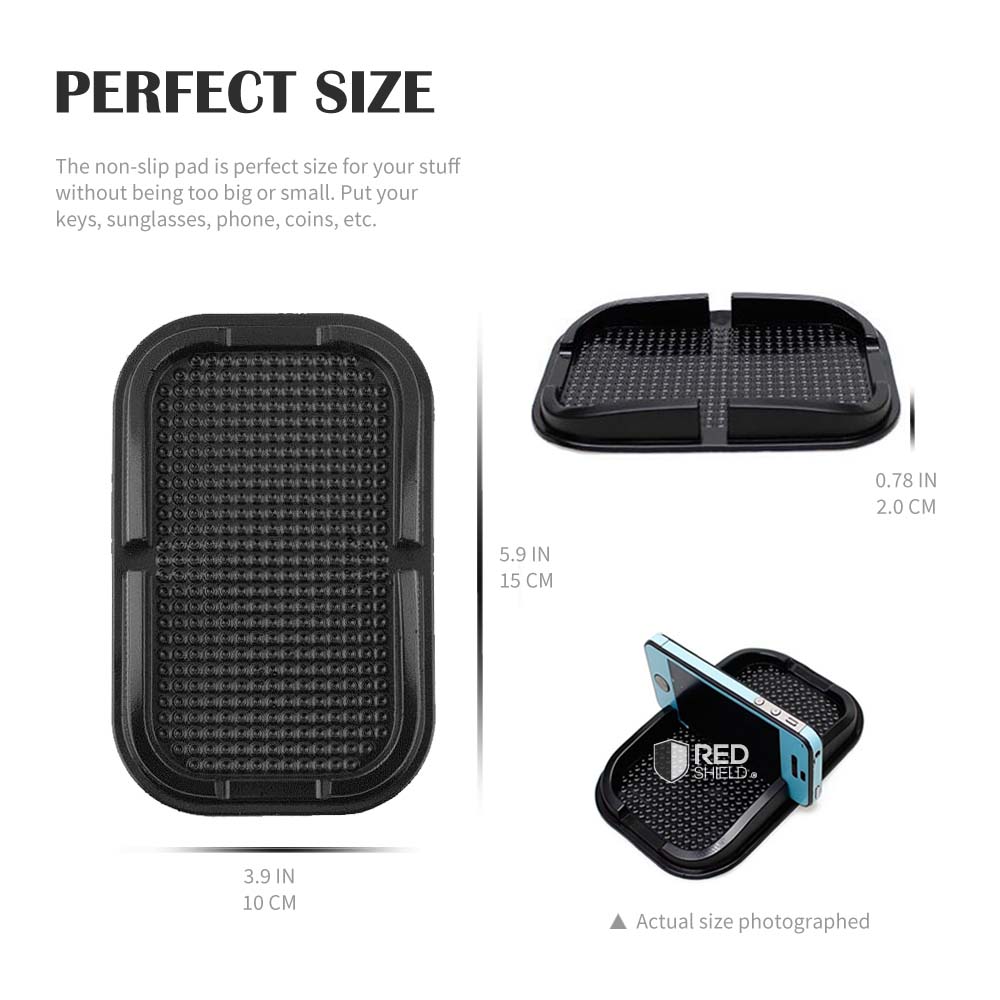 You Might Also Be Interested
Customers Who Viewed This Item Also View
Customer Reviews
Noel Reeves
Jun 10, 2019 8:33:47 PM
stands firmly while driving
Works great and sticks great even on an angle. It has performed perfectly, more versatile since it can stick just about anywhere and it costs much less. Stands firmly while I'm driving!

Joshua Jackson
Jan 30, 2019 8:13:28 PM
really agreat help
Easy to position and set up for the prooper angle so you have direct line of sight to your google map with the GPS makes finding my way around much easier. It's really a great help!

Joaquin Douglas
Dec 17, 2018 12:48:22 AM
perfect for traveler
I love this phone holder! The design is so simple but effective. The pad and my phone stay put on the dashboard of my car and help to adjust the viewing angles. Perfect for the traveler!
Randy Wilson
Nov 13, 2018 11:31:11 PM
it feels secure
Holds various sizes of phones both on their side and upright. It doesn't slide around and my phone feels secure. Keeps my head looking up without obstructing views.

Maryjane Moore
Nov 5, 2018 12:31:14 AM
great product for the price
Used this to get my phone off the center console and up on the dash where I can see while driving. I love how it fits such a range of size phones. Great product for the price!
Leo Smith
Oct 22, 2018 1:15:09 AM
best thing ever invented
Best thing ever invented! The drive can be free to answer the phone and do navigation too convenient! This is flexible, strong and does not move or slide around. Worth buying!
Rick Clarkson
Oct 15, 2018 11:12:44 PM
well worth the money spent
Simple but effective. The phone is gripped very well and it will not fly out. I still needed GPS to make sure I was going in the right way. Well worth the money spent.
Allan Mitchell
Oct 2, 2018 9:13:42 PM
it holds my phone securely
I bought this to hold my phone in my truck. Specifically, used this for my phone when operating the GPS. So I can see the movements without being distracted from watching the road.
Gary Hopkins
Sep 28, 2018 1:48:38 AM
very useful
Awesome! This little pad has been the best investment! I have had to do a lot of traveling in the past two mounts and using a GPS app on the phone was tricky before I found this little gem. Thanks,Geeks!
Manny Hudson
Sep 19, 2018 8:31:11 PM
great for my GPS
Such a simple product yet it's so great! It has proven to be reliable, it stays the phone and never slips out on turns or anything. Great for my GPS!
Joshua Fox
Sep 18, 2018 6:30:24 PM
i love how it works
I love how this works! Keeps it firmly on the dash without moving around and It has great stability. I bought another one for my spouse. Happy!
Jasmine Austin
Sep 10, 2018 11:02:41 PM
great for using maps on the road
Works well for the intended design. It holds my phone well, keeps my head looking up without obstructing views and very handy. Great for watching videos and great for using maps on the road!
Abie Miller
Aug 23, 2018 9:49:02 PM
easy to set up
It fits my iPhone X perfectly and stays on the dashboard. Easy to position and set up for the proper angle so I have been direct line of sight for google map. Thanks!
Claire Hamilton
Jul 25, 2018 10:54:06 PM
works great
Works great! This cell phone holder is constructed of quality material and the base that it sits on snugs to the dash so it doesn't move. The product has many uses it will hold your GPS, phone, keys, even coins and more.
Tracey Owen
Jul 22, 2018 9:41:14 PM
looks great
I use it everyday, very helpful and this has been a lifesaver for me. It looks great on my dash board as well and I've gotten a couple of compliments on it. Good price.
Michelle Douglas
Jul 16, 2018 9:36:38 PM
works great for navigation
Works great and puts my phone at a great angle for viewing. This is durable, stable, and the phone seems very secured. It holds my phone in view for navigation purposes.
Jane Cornish
Jul 4, 2018 7:52:39 PM
drive safely with this product
I can easily see the entire phone display and the sideways for navigation doesn't slide anywhere in day to day driving. A great convenience and incredible value when you consider that you are now driving safely!
Anthony Cornish
May 10, 2018 9:06:33 PM
it was a great buy
Very pleasant design and it really does stick well. This pad is reusable, washable and fits all my needs. It was a great buy!
Jerome Lambert
May 9, 2018 9:02:43 PM
keeping things handy on my dash
I love these little pads for keeping things handy on my dash. My GPS is now held securely where I can easily see it without taking my eyes off the road.
Luke Gibson
May 8, 2018 6:30:14 PM
such a great phone holder
Such a great cell phone holder! It mounted nicely to my dash and the textured look of it blends right in. It's very secure and strong to hold my phone.
Bolet Grey
May 7, 2018 10:27:57 PM
hold my phone well
Arrived quickly, easy to set-up and installation. I have used it with my phone and the sticky pad sticks to the dashboard very well. This is the best car phone holder I have used!
Marlene Douglas
Apr 18, 2018 6:56:21 PM
very useful
I put this on my steering wheel column so that my phone is right in front of me. Keeps my phone from sliding around and is easy to use. Great product.
Maricris Brown
Apr 2, 2018 9:22:10 PM
works well
Works well while being lightweight. Perfect for the travelers like me! Super easy to put the phone in and get it out. It holds the GPS well and stays put on the dash.
Rhona Gear
Mar 5, 2018 8:13:08 PM
hold my phone securely
A simple mat that holds my phone upright when I need to use GPS. The phone is held securely and doesn't slide across the dashboard.
Adrian Forsyth
Feb 6, 2018 10:56:59 PM
works perfectly
Works perfectly even on uneven surfaces. It holds my sunglasses, keys, phone and any other stuff I put on it. I use this every day in my car, love it!
Jenina Park
Feb 5, 2018 8:15:19 PM
i love this holder
I love this holder! I'm using it for my GPS and wonderful for keeping still on my dashboard. I'm glad, no more trying to find slips in the console. It is a perfect fit and suction on the mat was great!
Leonard Cameron
Jan 9, 2018 9:46:41 PM
very convenient sticky pad
So far so good. It really does stick well. A very convenient sticky pad for my car. I'm using it for GPS navigation with my phone. Ant put coins, keys, to charge my phone and more.
John Hill
Sep 28, 2017 6:10:08 PM
works well
Works well while being lightweight. Perfect for the traveler. It stays in place on the dash and it's super easy to put the phone in and get it out. Perfect also for your keys and coins! Very useful.
Carol Mcleod
Aug 16, 2017 5:34:13 PM
Wonderful Pad Mat
Wonderful Pad Mat! This is great! I can put my phone, keys, coins or a pen whatever I don't wan to loose and it stays right here.
Simon Jones
Mar 23, 2017 11:48:33 PM
it much more simpler
Very useful little holder. I will make my travel experience using my phone. It much more simpler because I won't have to look down at my phone.
Lauren Lee
Nov 10, 2016 7:44:24 PM
simple yet effective
I was impressed. The sticky pad roadster is sticky! It does not move at all and holds my phone securely in place under normal driving. I can put also coins, and even my sunglasses. Works well simple yet effective! Thank you
Nelson
Sep 14, 2016 6:34:41 PM
like a charm
It was a great little product, holds my phone nice and tight will not slide around in the dash board. Works like a charm.

Anna Green
Jul 28, 2016 11:19:50 PM
Works great!
I have been using it for a little over a month with my Samsung epic 4G . I just cut out some of the rubber to make the opening on the "mount" wider . It was easy to cut, it actually cut very smoothly. Just cut the tiniest bit out on both sides try it and then cut some more if necessary. You don't want to cut too much. My phone and case fit in very snugly and the "mount" doesn't move at all. It does attract dust, but its easy to clean , just stick it under the tap and give it a wipe. If the bottom gets less sticky because you have been moving it around, just stick it under the tap and give it a wipe as well and its as good as new.
Olivia Clarkson
Jul 21, 2016 8:07:41 PM
just what I was looking for
This is a no nonsense phone holder. It doesn't involve modifying anything in my car, it leaves all my cupholders and air vents free and clear, it just sits on the dash. The phone can rock back and forth after bumps, but not to any worrying degree and my phone has never fallen out.
Laila Carter
Jul 8, 2016 2:26:30 AM
Great product!
Purchased 2; one for my daughter's car and one for mine. They work as described.
Johnny3
Jul 7, 2016 4:01:53 AM
Keeps your car organized. Sticks pretty well.
I like that this sticks pretty well without it being stuck onto the thing. It's easy to take out and stays strong enough. This is a great thing to have when you want to put your phone on top of your car and don't want your phone sliding off. You can keep two phones on this and a couple other things. I would recommend this product if you want something like this. You don't need it but it's nice to have around.
Write Your Own Review