Accessories for Your Vehicle
Features & Highlights
Why you should buy this product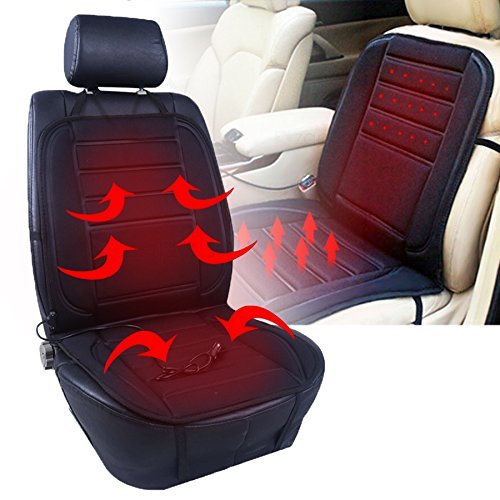 Heated Car Seat Cushion, [Black] 12V Adjustable Temperature Ultra Comfortable Seat Pad Warmer - Plugs Into Cigarette Lighter & Perfect for Winter!
Winter weather wont leave you cold when you use the this heated seat cushion. Great for colder climates, chilly mornings, and for riders who prefer a warmer ride than other passengers. The cushion is made of polyester and features carbon fiber wiring for even, dispersed heating when in use. The cushion has a universal fit making it suitable for most cars, trucks, RVs and boats..
The heated seat cover has black elastic straps that slide over almost any seat to securely hold the cushion in place. Additional straps on the bottom of the cushion and the included hooks can secure the cushion to the underside of your seat. The cushion is light and portable so it is convenient to take from one car to another. Enjoy soothing heat in the comfort of your vehicle..
The high/low/off switch allows you to control the heat setting. Simply plug it into your vehicle's 12 volt DC outlet to use. Once your vehicle is running and your heated seat cushion is turned on, your seat begins to warm.


Features a high/low/off controller temperature control; Carbon fiber wiring for fast, even, and consistent heating.
Simply plug into your vehicle's 12 volt DC outlet.
Straps and hooks secure the cushion to your seat.
Polyester material with carbon fiber wire heating; 4.3 foott power cord.
Super versatile, you can use it on cloth or leather seats.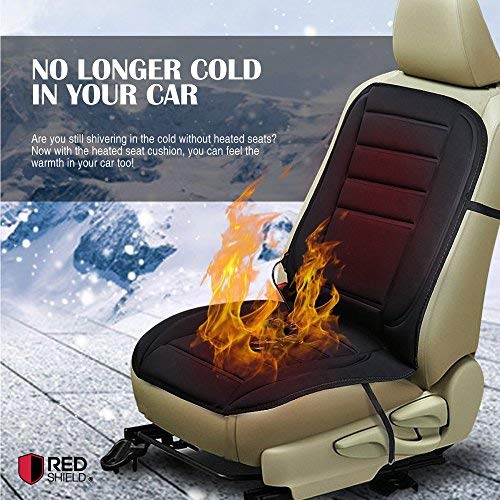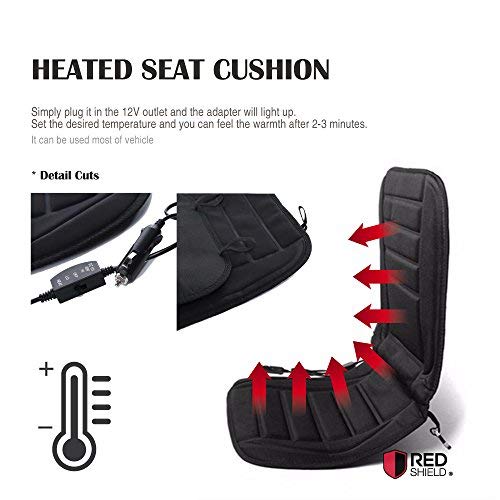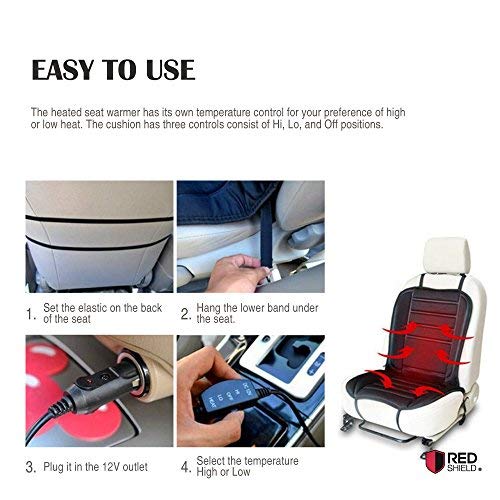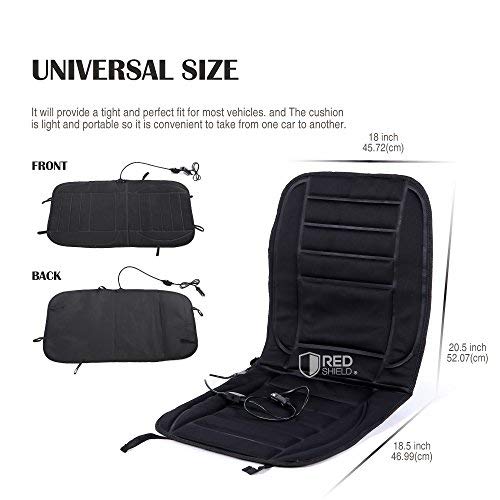 You Might Also Be Interested
Customers Who Viewed This Item Also View
Customer Reviews
Manny Brown
Jun 10, 2019 8:26:38 PM
very useful and perfect fit
Wonderful! It provides ample heat and very comparable to vuilt in seat heaters. Easy installation as well and it blends in with my upholstery for a good match. It was a better fit and very useful.

Joshua Black
Jan 28, 2019 6:05:55 PM
heat up quick
Love it! Heat up quick! Protected me from freezing seats which suck the precious heat right put on me. Has a rubber back so it soesn't slip around on the leather seats.

Rachel Smith
Dec 17, 2018 12:29:38 AM
great seat cover cushion
Great seat cover cushion. We really like these! It fits perfectly, sturdy and just enough padding for comfort we were looking for! It works great in my car to make it more comfortable. Perfect for winter!
Marlene Moore
Nov 13, 2018 11:29:54 PM
great gift ideas
Got it for my dad for Christmas because he is always cold. He turns it on and leaves it on high the whole time, keep it warms! Easy to install and simple to operate.

Harry Dickens
Jan 16, 2018 1:39:26 AM
very happy in this heated car seat
Very happy with this product. It looks cool! It warms up so fast. Even when I don't have the heat on its comfortable to sit on. The quality was great and the price is low. I'm totally satisfied! And I'm about to order another 1 for my other car.:)
Write Your Own Review