Features & Highlights
Why you should buy this product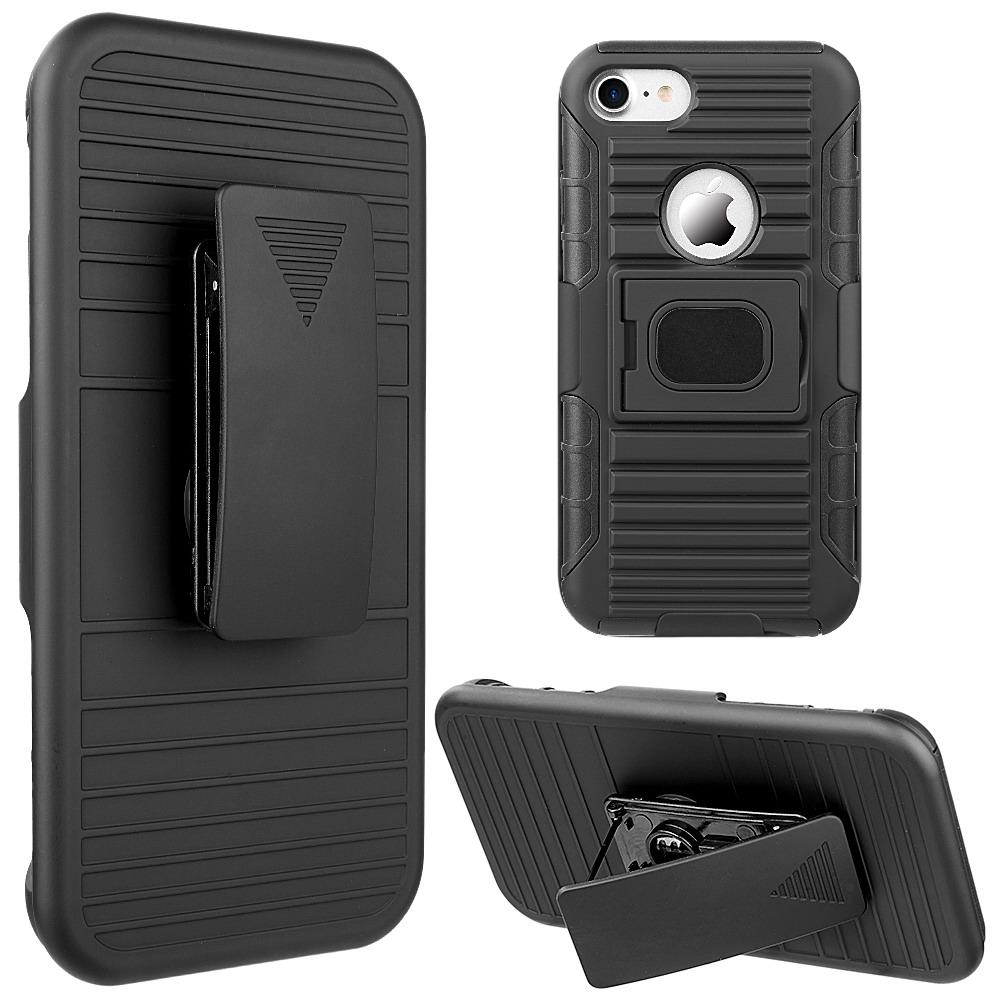 Apple iPhone 7 (4.7 inch) Holster Case, REDshield [Black] Supreme Protection Hard Plastic on Silicone Skin Dual Layer Hybrid Case
If you are looking to provide the ultimate protection for your IPHONE-7, then think about shielding it up inside this fashionable dual layer case with a unique look.
The dual layer technology enhances your IPHONE-7 by adding exceptional grip and impact resistance.
Convenient and easy to apply on to your phone, take it everywhere to bring the spotlight on you and your unique IPHONE-7.
Features:
-Designed specifically for APPLE IPHONE-7
-Easy access to all functionalities, including all buttons, camera, headphone jack, and charging port
-Stand Feature for Face Time, Video Watching & Messaging
-Consists of a soft silicone inner layer to protect against shocks and drops, and hard PC outer layer for reinforcement
-Durable and light-weight
Made for your APPLE IPHONE-7
Dual layers for high level of protection: Hard outer case wrapped over soft rubbery silicone inner layer
Dent and scratch resistant Hard case
Durable silicone material that resists moisture stretches to fit over your APPLE IPHONE-7
Custom-cut with full access to all buttons, ports and speakers
Color: BLACK
*This case was made to fit your device only, and will allow access to all buttons and functions.
Important Disclosures
**Actual APPLE IPHONE-7, if pictured, is not included

Cellphone case name Supports Samsung Galaxy S7 Devices From Verizon, AT&T, Sprint, and T-Mobile<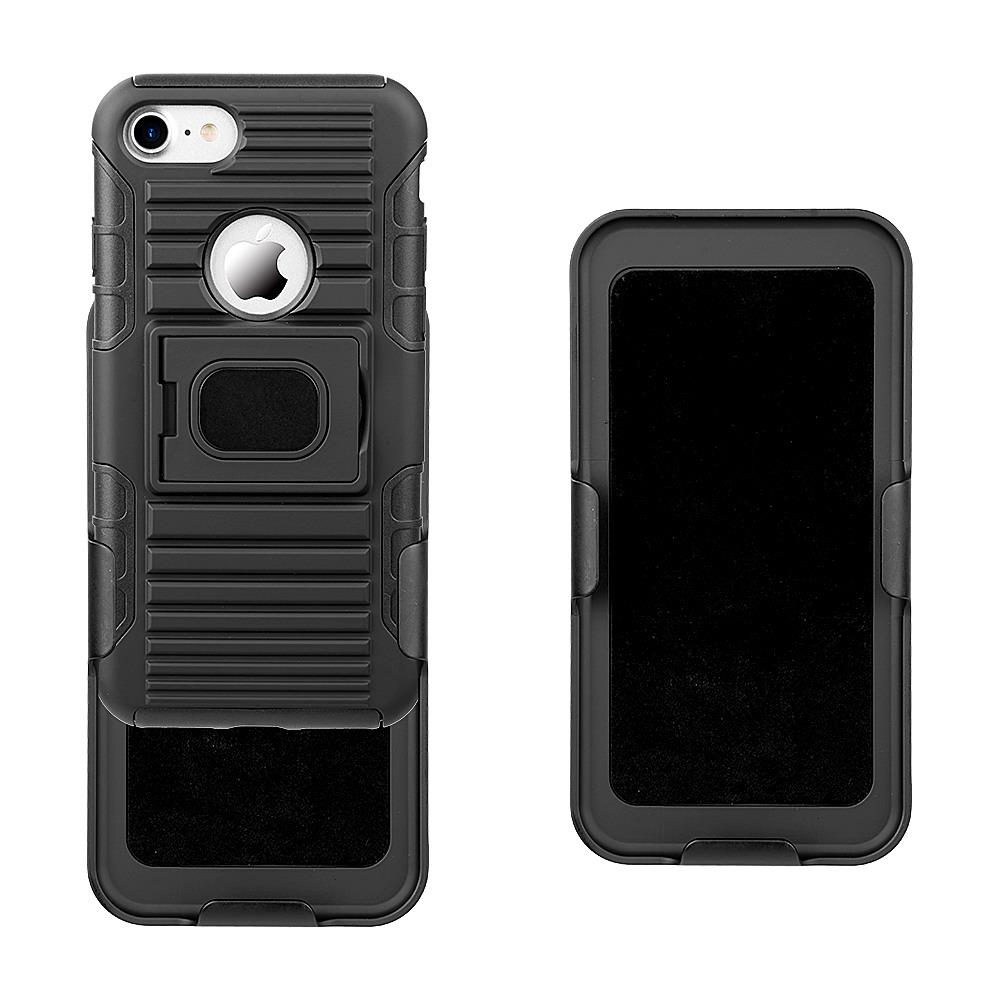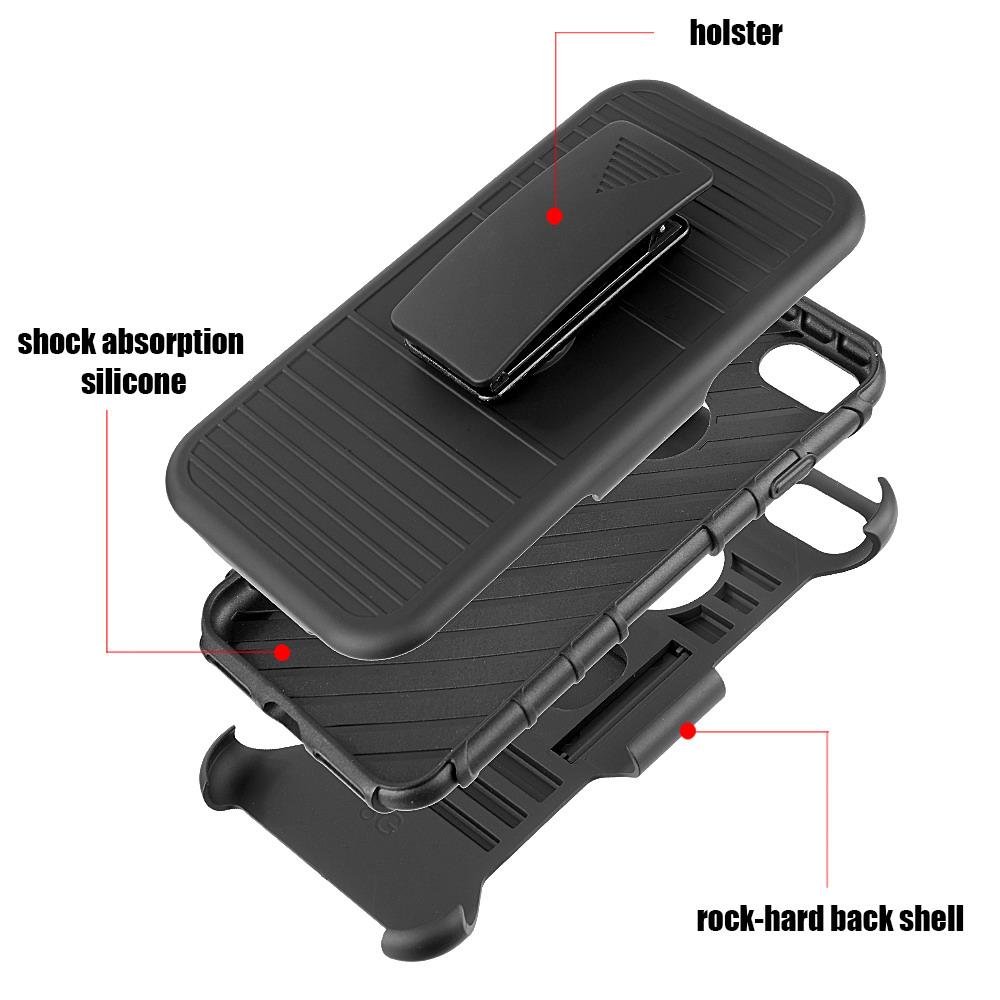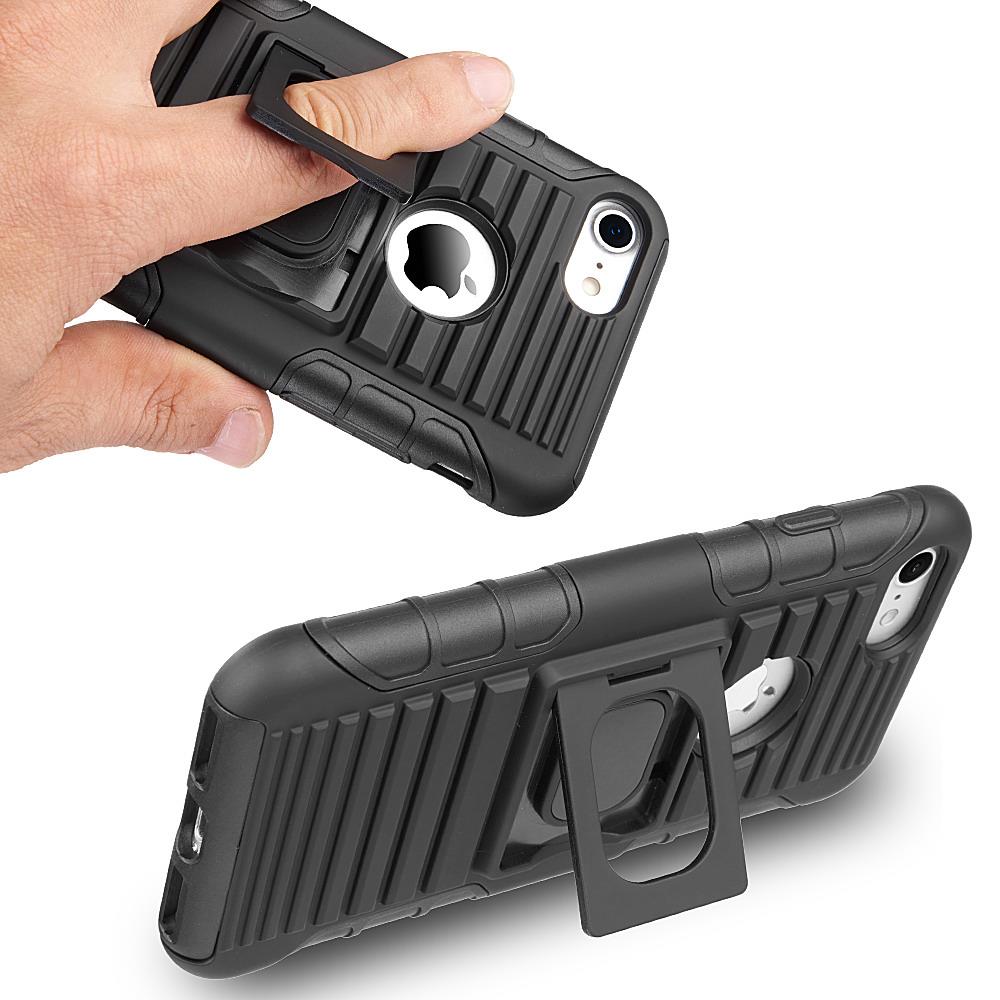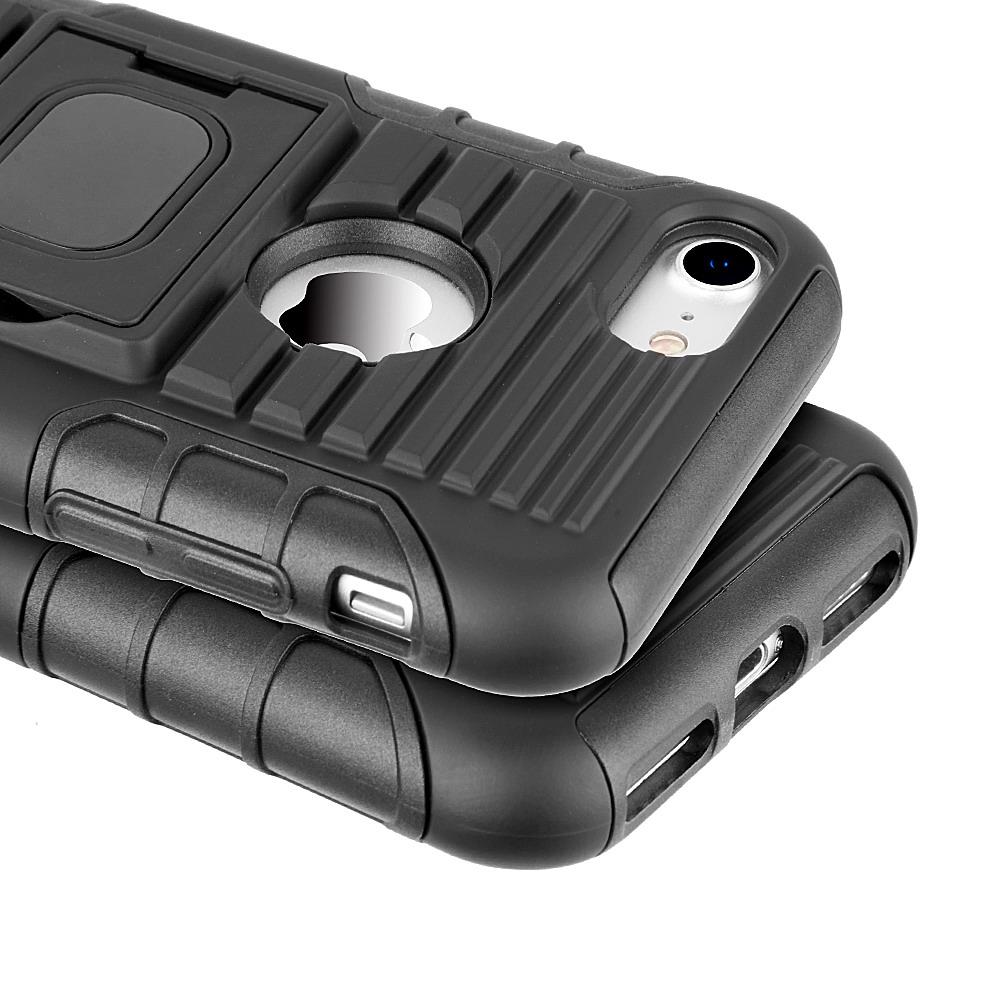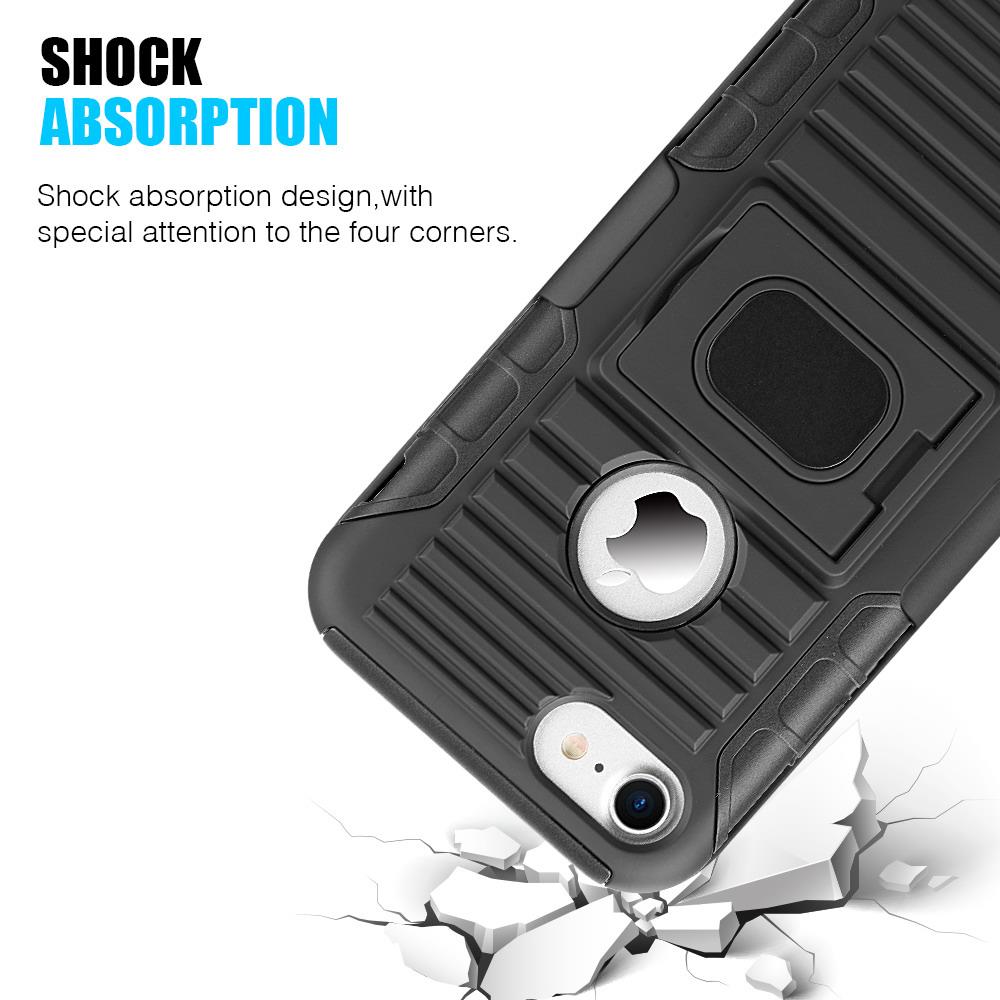 You Might Also Be Interested
Customers Who Viewed This Item Also View
Customer Reviews
Melchor Reeves
Feb 24, 2019 9:59:03 PM
such a great buy
I have been using this holster case and actually exceeded my expectation. A great way of protection and perfectly fit on my iPhone 8. Super like the kickstand and rotating built-in clip plus phone stand. Such a great buy!
Allain Miller
Nov 26, 2018 4:16:42 PM
super love this holster case
The case itself is very nice! It has saved my phone from the few drops it's taken. Great quality, durable, and super love this holster case. Great for traveling on the go...
Noah Randall
Oct 11, 2018 12:07:32 AM
excellent quality
Excellent quality phone case. Easy to install and the ability to watch video horizontally or vertically. I have had many such movable belt clips and this one is excellent!
Pablo Cortez
Sep 13, 2018 8:51:49 PM
great idea for carrying my phone
Great idea for carrying and protecting my phone. Very nice and clean fit and is incredibly convenient for different situations. Definitely, recommend to others.

Alex Miller
Sep 3, 2018 7:26:44 PM
works and hold my phone securely
I have been using this holster case for my iPhone 8, it works and holds my phone securely. The built-in stand comes in handy at times. The durability is good and they protect my phone pretty well!

Joshua Graham
Jul 18, 2018 8:19:33 PM
wonderful case
Wonderful case, inexpensive and versatile. This case is sturdy, very easy to take phone in and out of the holster. Kickstand is nice and can prop up phone while not wearing.
Victor Lee
Jun 8, 2018 7:55:43 AM
i got the perfect case for me
Finally, I got the perfect case for me. This is well made and protects my phone well. The kickstand was great for hands free viewing. Awesome!

Frank Cornish
Apr 24, 2018 4:50:07 PM
slim and well engineered
Slim and well engineered. It keeps my phone so tight and secure. It is so helpful to have my phone on me at all times and still have my hands free. Thanks for the phone stand!
Roland Smith
Apr 11, 2018 5:18:00 PM
fit perfectly
Fits perfectly and is very slim. It has a ridge to prevent the back of the case from scratching, the buttons line up perfectly with the phone. With travel phone stand.
Victor Buckland
Mar 12, 2018 10:44:58 PM
product arrived quickly
Product arrived quickly. It fits well, provides ultimate protection. I've also dropped my phone a few times and it's still fine.
Richard Howard
Feb 15, 2018 10:54:43 PM
such a great buy
Such a great buy for iPhone 8. It fits perfectly and works as it is supposed to. Durable, nice texture to grasp onto and the kickstand is a nice bonus.
John Paul
Jan 24, 2018 10:58:35 PM
Fits great
Fits great, sturdy and durable case cover. And provides great protection too! Thank you for the free phone stand. I been using this in my constant travel.
Liam Douglas
Jan 23, 2018 9:26:53 PM
happy and satisfied
Happy and satisfied! This is durable, with dual layers of protection and love the rugged design. Perfectly fit on my iPhone 8. Exactly what I was looking for! Many thanks!
Jason Tybarks
Jan 22, 2018 6:31:17 PM
clip fits my phone perfectly
Clip fits my phone perfectly. This is durable, with dual layers of protection and it has access to all buttons and ports. Very stylish and comfortable.
Oliver Ross
Oct 23, 2017 12:10:13 AM
free phone travel stand
Thanks Geeks for the free phone stand:) Great for travel. I really appreciated. This is great fit, durable and I love the rugged design. Kickstand was a huge plus and the belt was great too! Best deal for free strand!
Hanna Evan
Jul 13, 2017 12:44:23 AM
excellent quality
Excellent product and excellent service! This case is sturdy, rugged case easy to use and real quality for the money. Also clip works great on my belt, plus the wonderful kickstand.

Isaac Park
Jul 13, 2017 12:14:21 AM
works great
Works great! Stays close to my body and I love the rugged design, so as not to catch on things, perfect on my belt clip. This keep my old phone looking brand new, best case ever.

Victor Greene
May 30, 2017 10:40:10 PM
love this rugged and heavy duty case
I love this rugged and heavy duty case! Nice snug and perfect fit. Well made quality, durable and supreme protective case.
Jason
Oct 25, 2016 8:38:17 PM
great protection
Great case, sturdy and durable! It worked perfectly on my iphone 7. Overall the case holster protects my phone extremely well.
Write Your Own Review