Made for Samsung Galaxy J3
Features & Highlights
Why you should buy this product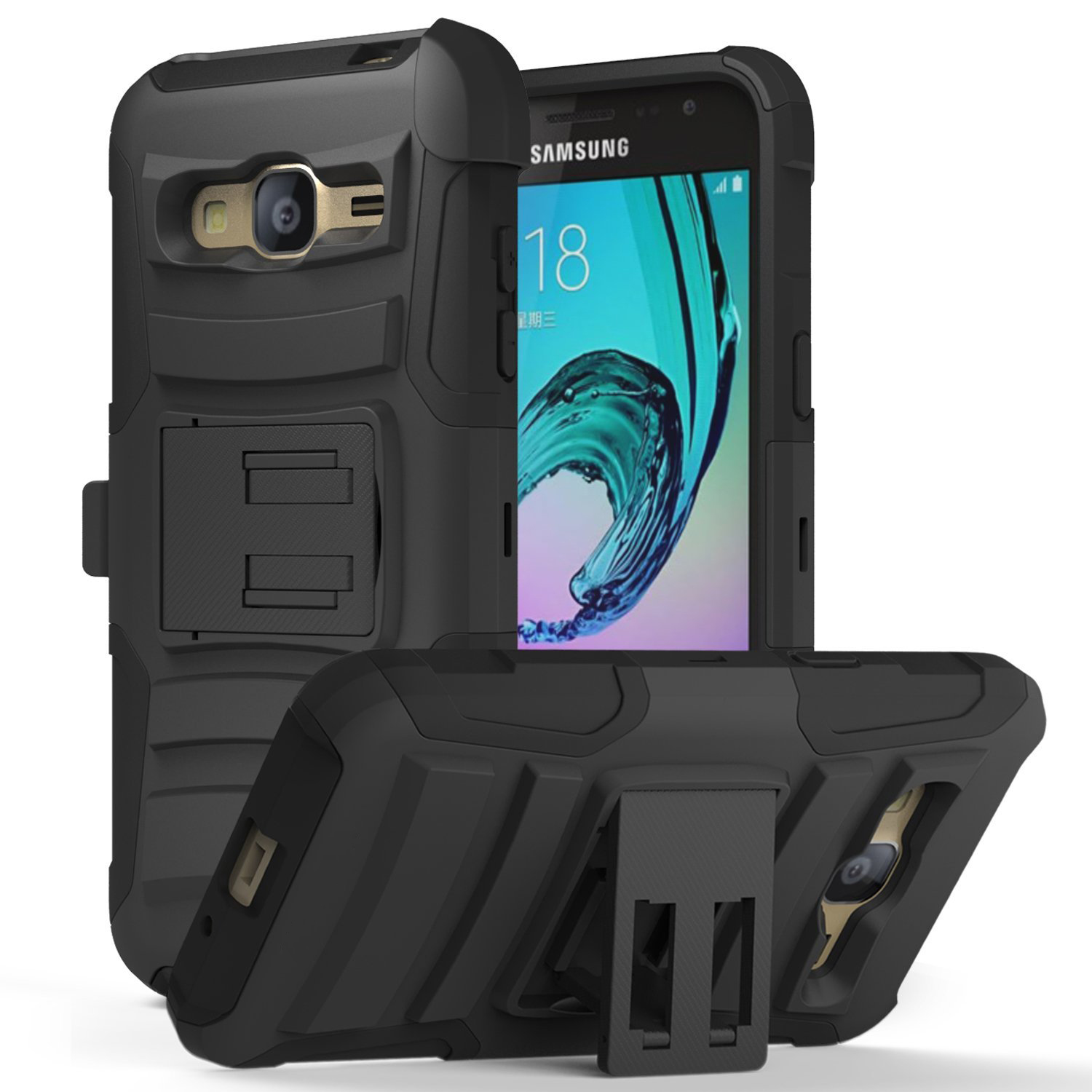 Samsung Galaxy J3 Case, [Black] Heavy Duty Dual Layer Hybrid Holster Case with Kickstand and Locking Belt Swivel Clip
If you are looking to provide the ultimate protection for your Samsung Galaxy J3, then think about shielding it up inside this fashionable dual layer case with a unique look! The dual layer technology enhances your Samsung Galaxy J3 by adding exceptional grip and impact resistance. Convenient and easy to apply on to your phone, take it everywhere to bring the spotlight on you and your unique Samsung Galaxy J3!
Made for your Samsung Galaxy J3
Dual layers for high level of protection: Hard outer case wrapped over soft rubbery silicone inner layer
Dent and scratch resistant Hard case
Durable silicone material that resists moisture stretches to fit over your Samsung Galaxy J3
Custom-cut with full access to all buttons, ports and speakers
Color: Black
*This case was made to fit your device only, and will allow access to all buttons and functions.
Important Disclosures
**Actual Samsung Galaxy J3, if pictured, is not included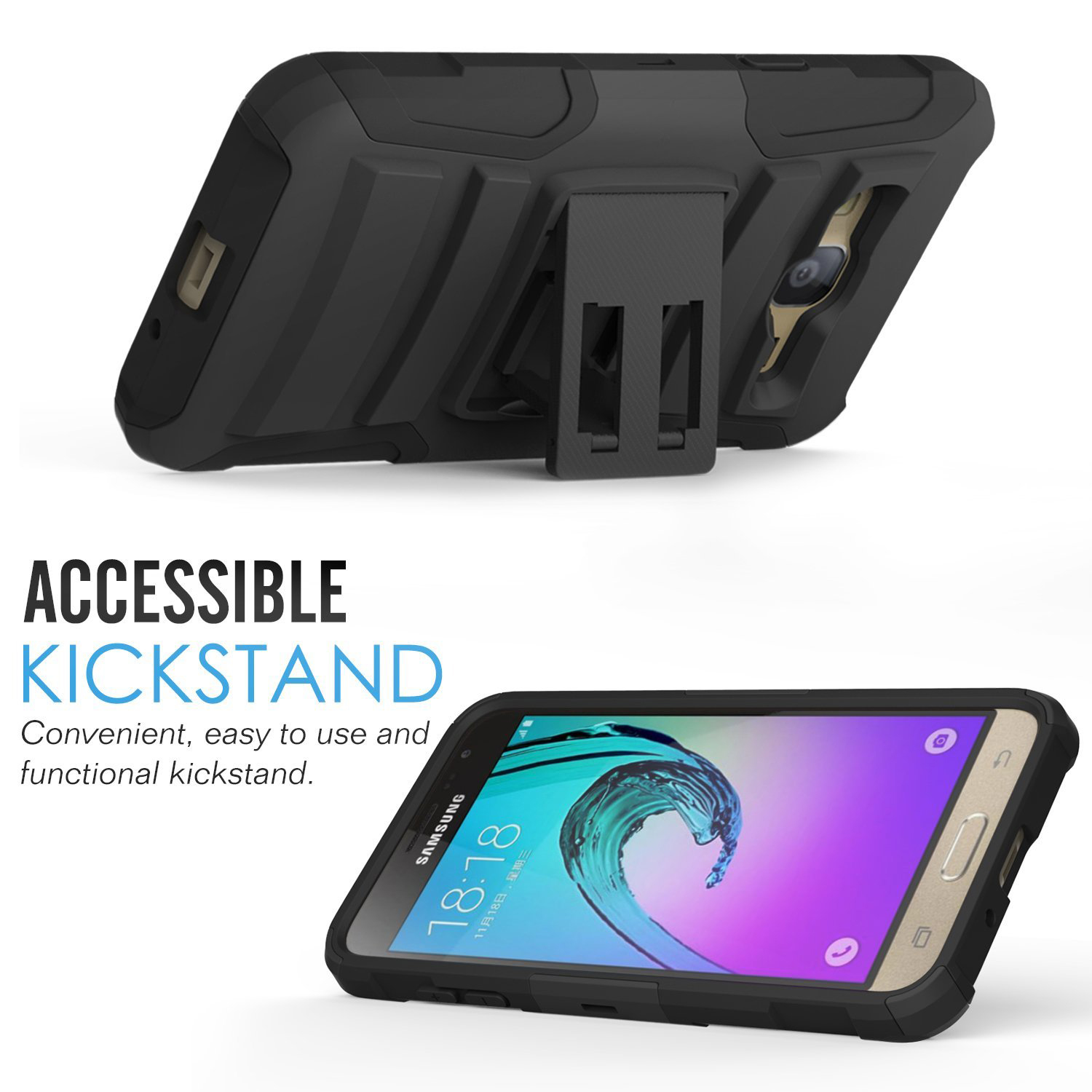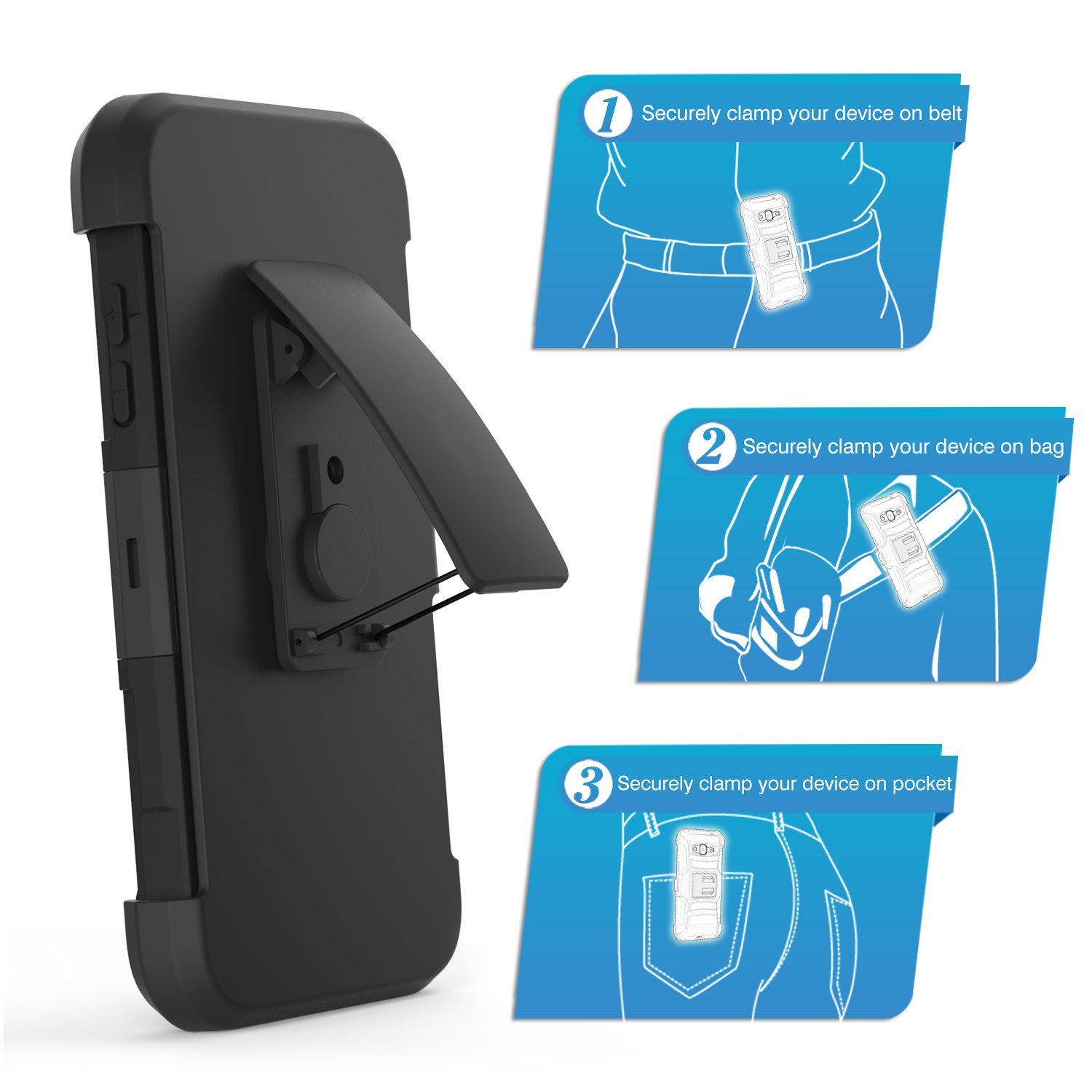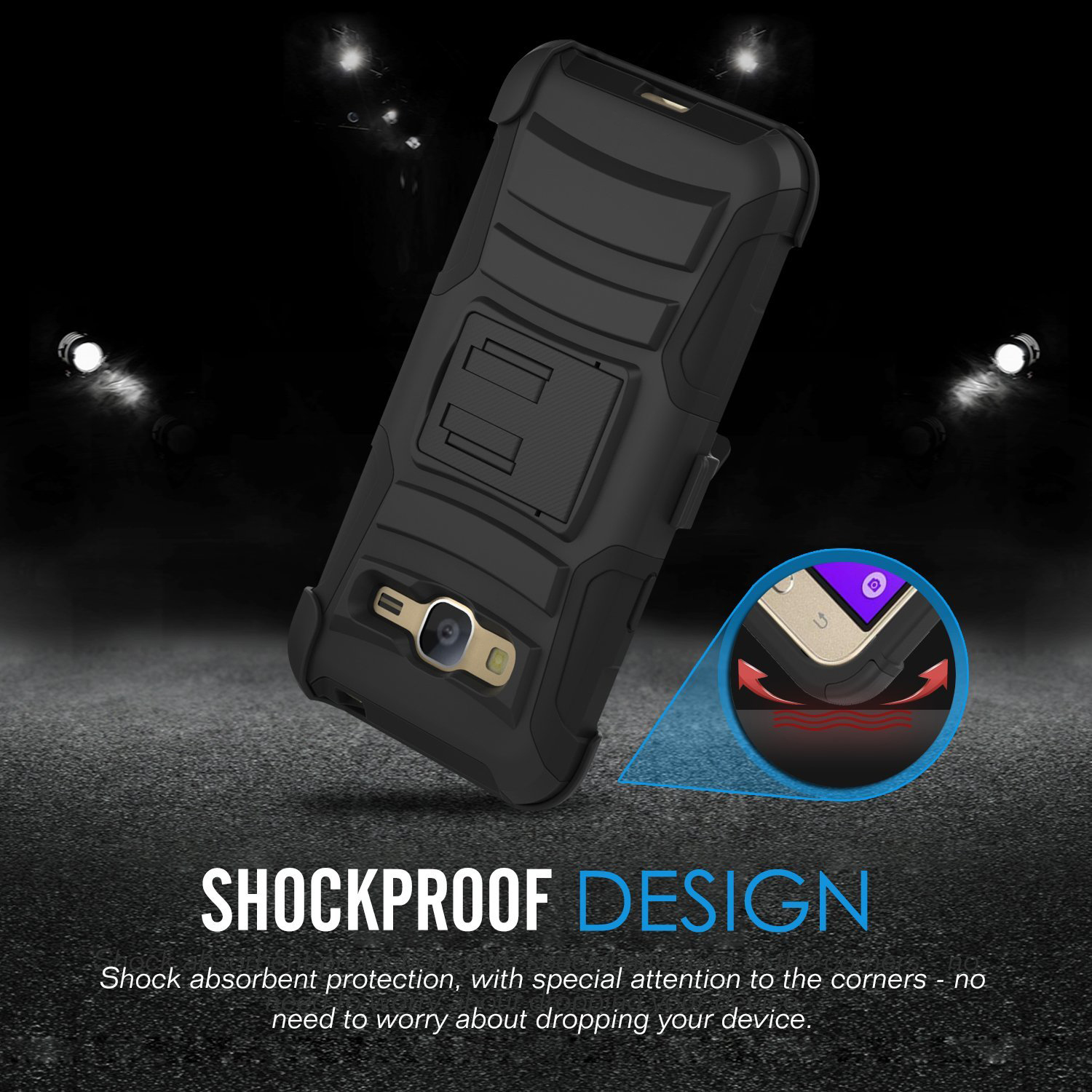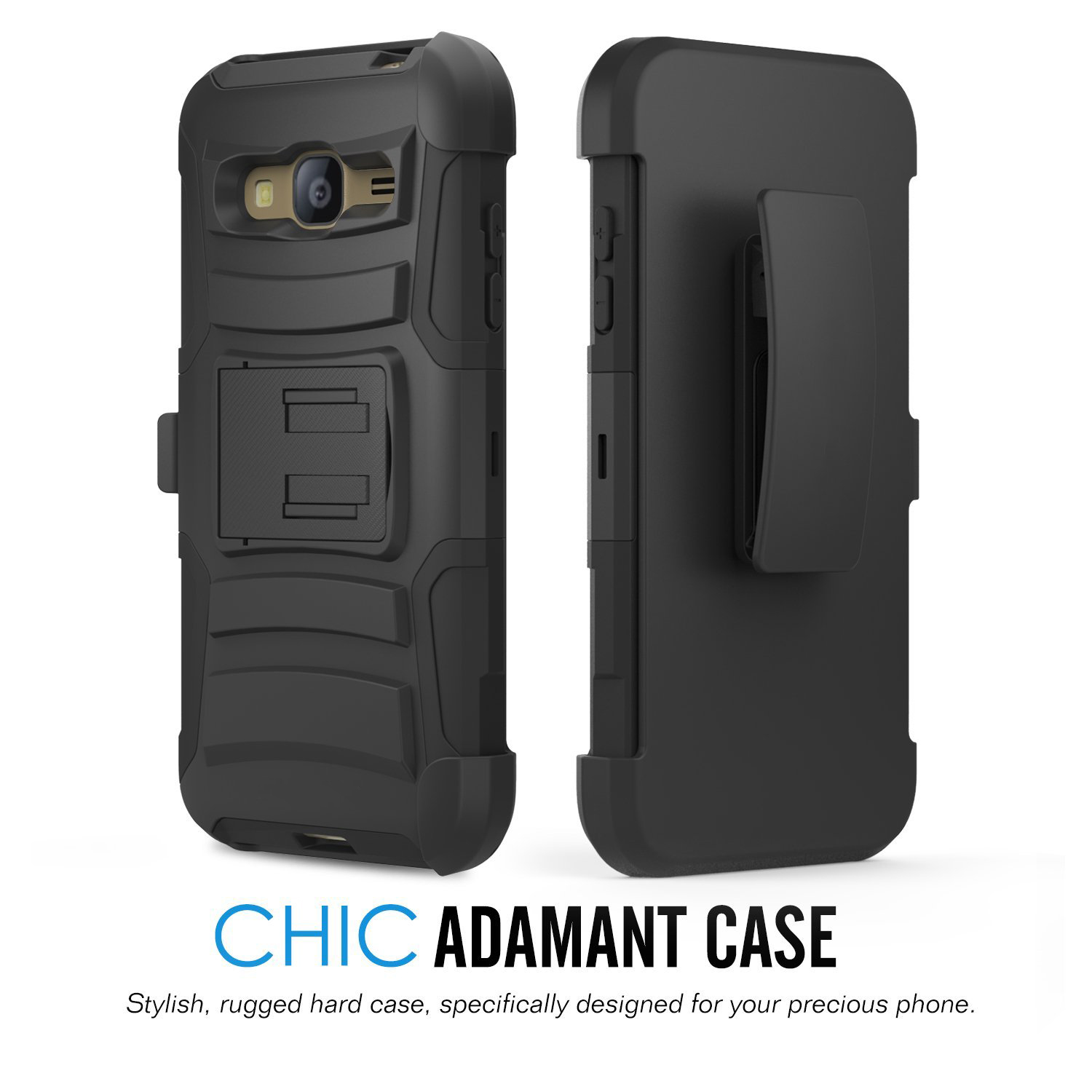 You Might Also Be Interested
Customers Who Viewed This Item Also View
Customer Reviews
Frank Nicholas
May 28, 2018 8:36:47 PM
extremely very durable
Extremely durable Holster case! I dropped my phone once from waist high and it kept my phone protected. The kickstand was great for better viewing.
Martin Jewish
May 23, 2018 10:46:15 PM
provides great protection
Fits perfectly and it seems very durable. This case protects my phone from tumbles and scratches. The hard plastic provides great shock absorption. Worth the money!
Nicanor Howard
Apr 17, 2018 6:51:10 PM
a great value
A great value, heavy duty and durable. I have dropped my phone several times while out running with no damage to my phone.
Nelia Rason
Mar 21, 2018 7:49:03 PM
great phone case
Great phone case it has helped save my husbands phone while at work. He does a construction worker and sweats a lot and does a lot of labor and he has a perfect new phone, thanks to this case!
Bong Clarence
Mar 19, 2018 11:13:52 PM
totally satisfied
I am totally satisfied with this cover. It's excellent quality, price, and functionality. It allows me to carry my phone hands-free by clipping it to my pocket.

Michael Nickson
Feb 25, 2018 11:11:24 PM
keep my phone safe
Priced is right and securely intact keeping my phone safe. I have dropped my phone several times but so far all is well! Definitely worth the value!
Leo Parkson
Feb 22, 2018 9:02:02 PM
works great
Works great! Very convenient, and very inexpensive. It has saved my phone from cracking many times. And loved the way it fits my phone.
Carolyn Smith
Feb 8, 2018 7:41:15 PM
my husband love it
I bought this for my husband as he dropped his phone as few times and wanted to be sure it didn't get broken. He loves it and it easy to hold onto. Pretty cool and great protection.
Michael Smith
Jan 28, 2018 6:33:46 PM
excellent quality
Excellent quality! I like it a lot especially the protection, design and the kickstand. Best protective case I've bought and it's better than expected.
Jason Hill
Dec 7, 2017 6:50:42 PM
great way of protection
A great way of protection! This case has kept my phone safe from drops, splashes of water, use in the garage, and general clumsiness. Truly love it!
Keith Glover
Jun 1, 2017 8:04:21 PM
feels very sturdy
It feels very sturdy without adding much bulk, still fitting in my pockets with ease. Belt clip is a nice added touch and great kickstand. I'm very pleased with it.
Jack Gibson
Apr 20, 2017 7:22:37 PM
rugged case with great protection
Very attractive with rugged design. Durable and provides an extra protection needed. Very much worth the money.
Christian Dowd
Apr 6, 2017 12:12:28 AM
worth my money
Very much worth the money. It was exactly as described. The case fits perfectly, with kickstand and locking belt clip. Winner!
Joseph Gray
Feb 28, 2017 6:21:22 PM
kickstand was great
Just right fit for my J3 phone. It seems sturdy, solid and very nice case. I like the kickstand very useful. Price is right.
Luke Edmunds
Jan 16, 2017 8:07:01 PM
it feels protective
Fits perfectly on my Galaxy J3 phone. I like the built, the rugged design and it works really well. It was good phone case, it feels protective. Belt clip can rotates on vertically or horizontally what a great deal!

John Lee
Jan 5, 2017 6:39:39 PM
great buy
I have to say, this is a nice case. It fits my phone well, feels simple and strong. I love the belt clip and this is scratch resistant hard case. I'm satisfied with my purchase. Price is great!
Collin Harris
Dec 30, 2016 1:07:19 AM
a great case
A great case, perfectly fit for my Galaxy J3 phone. Very attractive, sturdy, simple and provides an extra protection I needed. Highly recommended.
Trevor Wright
Oct 2, 2016 6:24:33 PM
great price
Great phone case, fits perfectly and seems to be quite protective, very durable and love the kickstand.
Paul Jones
Sep 13, 2016 9:26:42 PM
look goods
I really love this case. Fits perfectly, sturdy, well made and look goods.


Carl Blake
Sep 1, 2016 1:51:23 AM
Happy
I love this phone case, so by far the best phone case I've ever bought, very happy with it :)
Emery
Jul 28, 2016 4:50:11 AM
Five Stars
It was exactly as described. Very much worth the money.
Natalia Cooper
Jul 25, 2016 9:01:39 PM
Well made case
The case fits perfectly.soft Rubber encloses phone well to protect if dropped.all ports/slots line up perfectly for speaker ,charger ,etc .the volume @power switches are covered ,and well marked with molded squares to find them easily.phone fits case with either end up ...no fumbling to get it in easily.
Ryder Kane
Jul 19, 2016 8:04:48 PM
A great case for a great phone
I really like this case so far, my phone seems quite safe in it. The inclusion of the screen protector is a huge plus for me. it all came undamaged with everything you need to apply the screen protector. The kickstand does stick, and is hard to open the first few times. all around a steal for $12.99
Write Your Own Review