Made for Samsung Galaxy S8
Features & Highlights
Why you should buy this product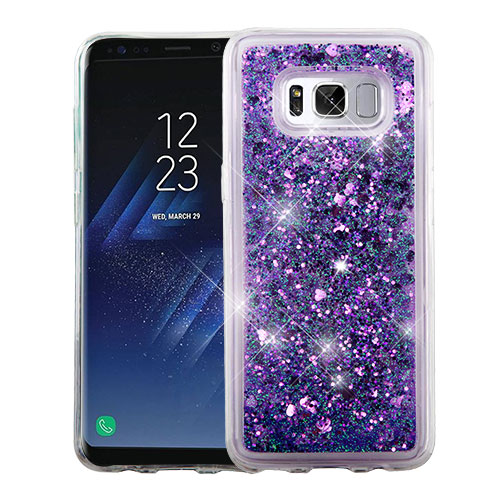 Overview
Most cases are boring or not feminine; this is where this awesome hybrid PC back cover fused with flexible TPU bumper case breaks the mold. In that PC back is beautiful glitter quicksand with either stars or hearts in there!
A blend between highly durable hard materials that you find in many electronics packaging, and silicone for its flexibility and slightly opaque sheen.
Together these elements give your phone, the best possible protection and grip for your phone without having you to sacrifice style!
Features:
- Samsung Galaxy S8 Quicksand Glitter Hybrid Protector Cover
- Scratch-resistant PC back cover fused with flexible TPU bumper
- Extra grip and traction to surfaces
- Extra fine glitter mixed with specks of floating stars or hearts in clear liquid case
- Conforms to your phone like a glove
- Samsung Galaxy S8 features are fully accessible
- The glitter quicksand is super colorful, so make a sparkly fashion statement to your phone's look
- Protect your phone from unwanted scratches and damage from abrupt falls.
- Color:Purple
You Might Also Be Interested
Customers Who Viewed This Item Also View
Customer Reviews
Amvic Reyes
Oct 9, 2018 10:37:49 PM
very beautiful case
Very beautiful case! This is perfect for me. Not bulky and it protects the corners of my phone. Colorful glitters and hearts are fantastic! HIghly recommend.
Fiona Robertsons
Sep 12, 2018 8:53:07 PM
absolutely gorgeous
Absolutely gorgeous! This is good quality and better in person than online pictures. The gems on the side provide extra grip when holding and it prevents the phone from sliding out of my hands. So pretty!
Audrey Andrews
Jul 6, 2018 1:37:59 AM
the glitters flows magically
Better than I expected. It is beautiful, adorable, and the glitters flows magically. Everyone loves this case! It's been dropped multiple times and still no cracks to the case or my phone:)
Write Your Own Review