Features & Highlights
Why you should buy this product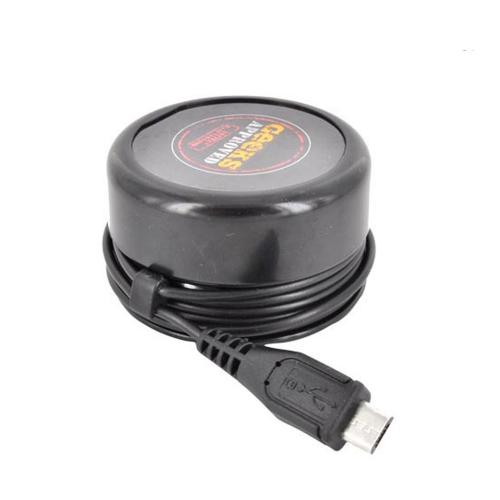 Genuine Geeks Approved Micro Usb Mobile Communicator Rejuvenator (Aka Wall Charger) (1000 Mah) - Black
The Geeks are proud to present you with the Geeks Approved line, which features items that we have personally designed to meet the different needs of ordinary people. We've listened to our own issues as well as ones that you have pointed out and come up with this Mobile Communicator Rejuvenator (aka Wall Charger) that charges Micro USB devices. The easy to use, wrap around design makes sure that your Mobile Communicator Rejuvenator will not become a tangled mess like all your other chargers and cables. The output is a whopping 1000 mAh, so it'll charge your smartphones with ease. The intelligent switching circuit recognizes a fully charged battery and automatically switches to safe mode so your battery doesn't overcharge (and possibly leak/explode)! We're so confident you'll love our product that we're offering a 90 day money back guarantee! Geek out with your gadgets out! And remember, You Got it From A Geek!
90-Day Money Back Guarantee!
Charger that plugs into any standard 100V - 240V wall outlet
Intelligent switching circuit recognizes fully charged battery and automatically switches to safe mode
Does not overcharge battery
LED charging indicator
Short circuit protection
Output voltage: 4.5 - 5.5V DC
Output current: up to 1000 mAh
Weight: 90g (3.1 oz)
Micro USB
Cable length: 36 inches
Brand: Geeks Approved
Part #: GA-MICROIPBK
Color: Black
Important Disclosures
Phone or Device, if pictured, is for demonstration purposes only and is NOT included.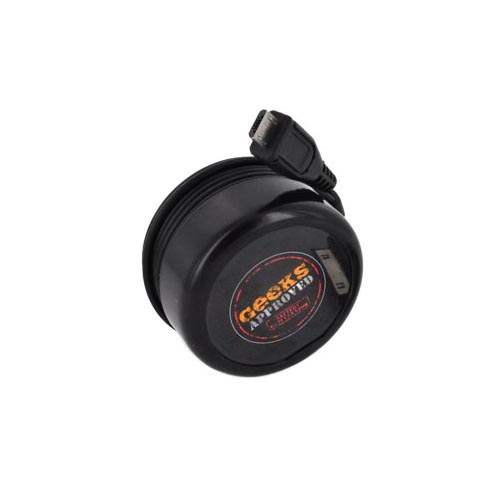 You Might Also Be Interested
Customers Who Viewed This Item Also View
Customer Reviews
R. Garcia
Sep 17, 2012 5:32:08 PM
Portable charger
This charger is great, not only will it charge my Galaxy S2 but also my ipod touch which i listen to alot. Very fast charge and has a cool look to it!

Pros:
Great price, portable, can charge apple products
Chris
Sep 17, 2012 3:54:56 AM
An Overall Nice Charger
For 10 bucks this is really a good charger. Charges my gnex fine, the idevice adapter is handy to have too. The whole thing is compact and easy to carry around (although mine just stays at my company office). There is a red LED that lights up when plugged in, which is nice. I first thought it would turn green when the device is fully charged, but that's not the case. So, if there will be 2nd gen, i'd like to see that feature included. Overall it's a nice little charger that i would probably recommend to a friend.

Pros:
Charges multiple devices
easy to organize
inexpensive


Cons:
would like to see it have retractable features
light stays red even when fully charged.
Michael T.
Sep 13, 2012 11:32:56 AM
Best charger for people who tend to forget things
I tend to lose or forget something on every trip, but now that I have this charger I have less to worry about! I love being able to charge both my Samsung Galaxy SIII and iPod Touch 4 with only one charger. And it's so inexpensive, I bought one for my briefcase, laptop bag, and main luggage bag, so I'll never have to buy another $34.99 piece of crud airport charger again!

Pros:
Easy to travel with
Charges both Apple and Micro USB
Inexpensive
1000 mAh output charges fast

Cons:
1000 mAh output means I can't charge my iPad
Hyemi Lee
Sep 13, 2012 11:19:20 AM
great charger!
I recently took this charger to a short trip over the weekend with my friends. It was so tiny and neat that it fit right into my little bag. What's cool about this charger is that it works with both iPhone and android phones. My friends who forgot to bring their chargers were able to charge their phones with this charger. I love it and i would totally recommend it to others!

Pros:
- charges fast
- good size
- stays neat with cord winding function
- iphone adapter
Happy Camper
Sep 13, 2012 8:20:09 AM
Geeks Approved Line is awesome!
I really like this charger. I was a little nervous because it isn't a name brand. However, the Geeks Approved rejuvenator works wonderfully. It's nice that my roommate can charge his Android phone and then I can charge my iPhone. The cord winder is amazing! I have kitties who like to chew everything in sight. Being able to wrap the cord up has been a surprise blessing! Just say no to cripsy kitties! Thanks Geeks!

Pros:
cord winder feature
easily transported from house to office
adapter for iPhone 4S
foldable prongs
Jenn C.
Sep 13, 2012 6:34:24 AM
LOVE THIS ITEM!!
I love this item because you can use it for multiple devices. I have an iphone and my brother has the samsung galaxy s3 and it's awesome because I can use this ONE charger to charge BOTH devices!

Pros:
-Love that it's portable (carry it with me everywhere as a back up charger
-Love that it can charge multiple devices

Melissa
Sep 13, 2012 5:00:51 AM
Functional and convenient
I love this charger! Not only does it have a micro USB connector, but it comes with an iPhone adapter as well. This makes this 1 charger work for all phones in my house. I like how compact you can make the charger; the prongs fold in and the cord wraps nicely around the whole thing. Super easy to travel with.

I'm not usually a fan of packaging, but even this one is cute, it looks like a shipping/moving box !

Pros:
Works with both iPhones and micro USB phones
Compact
Easy to travel with
Lights up red
Jay
Jul 5, 2012 5:20:35 AM
Appears to work fine.
Believe this charger will work fine for portability. Have tried it and am happy with it.

Pros:
compactness and ability to charge different items.

Cons:
The catch for end of wire after winding it on to the charger. Doesn't hold well. Minor problem.
John Hopkins
Jan 1, 2019 7:31:05 PM
no more tanggling cord
I use it every day! Just keep it there hooked up and it's nice that I don't have a real cord cluttering my space or getting tangled in my things.
Harry Miller
Dec 27, 2018 9:19:07 PM
the length is just right for me
Convenient and compact, this wall charger works great! I'm happy that the cord winds up so I don't have a cord hanging from the table. The length is just right for where I charge it!
Joefer Lee
Nov 13, 2018 10:44:38 PM
quality was good
Works perfectly fine! This is the perfect charger to keep around when you're away from home. The quality was good and it was exactly like it was described.
William Macleod
Aug 2, 2018 10:14:43 PM
just what my wifey wanted
Easy to store and use. Here's a charger for everyone and it retracts neatly out of the way it's not being used. Just what my wifey wanted, so I'm happy!
Andrea Bower
Jul 23, 2018 10:36:59 PM
great cable
Great cable, very helpful, and perfect for travel! Works perfectly as designed, love the wrap-around and tangle mess. Charges fast!
Andy Smith
Jun 24, 2018 10:58:40 PM
charges our phones quickly
Best purchase ever I just love this retractable because it's so convenient and great for traveling. It charges our phones quickly!
Lilian Fox
Mar 19, 2018 10:09:03 PM
pretty cool
Pretty cool! Helpful, convenient and perfect for travel! I like the fact that cord was easy to use, the wrap-around design will become a tangled mess! Thanks, Geeks!
Wanda Hubbert
Nov 30, 2017 3:47:56 PM
excellent charger
Excellent charger! My phone and table are alive again. The charging was quicker than ever and very convenient to use! Many thanks Geeks!
John Gibson
Oct 11, 2017 9:00:01 PM
wonderful
Wonderful USB wall charger. Very useful I have been using this charger everyday and it has worked well. Fast charging, small and convenient to bring anywhere.
Max Lewis
Dec 28, 2016 8:13:09 PM
very handy and useful charger
Amazing Charger. It works for me very well. Very handy, quick charge, neat and organized cable. With incredible price. Highly recommended.
Isaac Gray
Dec 15, 2016 3:32:14 PM
reliable and fast charge
Best USB wall charger ever. I've had so many people compliment it, because it charges my phone so fast!
Peter Hill
Dec 14, 2016 7:28:31 PM
works great!
Works really great! Handy as backup for travel and I love it! The price is very reasonable. Highly recommend
Nathan Lambert
Dec 13, 2016 7:47:32 PM
great fast charger
Very easy to charge the kindle especially when I travelling. Great Fast charger and power adapter. It works very well. Highly recommend
Eric Bower
Dec 7, 2016 5:03:15 PM
very useful and handy
I have been using this charger everyday and it has worked well. No problem. Fast charging, Very handy and with reasonable price. Get yours now, also perfect for gifts.:)
Frank Anderson
Oct 23, 2016 9:28:34 PM
perfect length
I love this long cord, it works excellent! I use it for multiple devices, perfect length, easy to carry and always needed. I was happy in my purchased and the price is right.
bhm guy
Nov 5, 2015 9:22:49 AM
solid backup charger
This is a solid, inexpensive, backup charger. This is the second one I have purchased.
Big Red
Aug 3, 2015 11:53:15 AM
Great little charger!
I keep this one in my travel tote and it has come in very handy! I should have bought more for the price!
Janice W
Jul 7, 2015 5:45:11 AM
Handy Charger and Affordable
I have several of these. I can charge my Kindle or iPhone. The only problem is that the iPhone/iPod adapter seems to wear out or lose it's connection after a while if it's plugged and unplugged too much.
david
Nov 29, 2012 10:02:17 PM
how cool is this!
goodbye messy charging cords in my boat box. the apple adapter lets me charge an iDevice with a micro USB charger. this charger takes the place of 3 I had to carry around. cool. and, the geeks sent free microfiber cloths with each item. thanks geeks!!

Pros:
roll up storage for that plenty long cord
micro USB -iPhone adapter very clever.

Cons:
nothing really, but if you bundled in a micro to mini USB adapter it would replace 4 chargers!
Linda
Sep 23, 2012 1:35:12 AM
Great product and excellent service
This is a great little charger for traveling...nice to have it come with the adapter plug so it will work with either apple or blackberry products. The prongs fold out of the way so they don't get caught on things and the wire wraps neatly around the unit. When you have as many "techie toys" as I have, neatness counts! As usual - Geeks rock!
Britney Thompson
Sep 21, 2012 12:52:54 PM
A charger that adds fun and good look
I didn't know which charger to choose so went for this charger that says Geeks Approved on it. It works well and it's perfect for our family, I have an android phone and my parents use iphone. It also has a different design than other chargers. I'm happy that I don't have to settle for ugly chargers anymore and can find a charger with design feeling at a reasonable price.

Pros:
Good value for multi tip, unique design.

Cons:
n/a
SPK
Sep 21, 2012 9:52:56 AM
The best!
This charger is great! So compact and easy to use! I keep it in my glove box as a spare if I go visit a friend or drive on vacation, and it works amazing for my Epic 4G Touch and iPod! Can't do any better!
Sean
Sep 13, 2012 6:08:15 AM
Perfect for my iPad and Galaxy S2
I was always looking for a charger that can charge my iPhone and my cell phone. Finally, I found this one and this is brilliant product. Working great so far.

Pros:
Work on both apple and samsung
Cute design
Red LED Light at center of charger

Cons:
Maybe auto retractable function?
Marilyn B
May 29, 2012 12:13:26 AM
Cell Phone Charger
I was looking for a charger that would last. This one is what I was looking for...it is made well and is easy to store, especailly with the spool that is used to wind the wire. And, the price was right!
Write Your Own Review