Features & Highlights
Why you should buy this product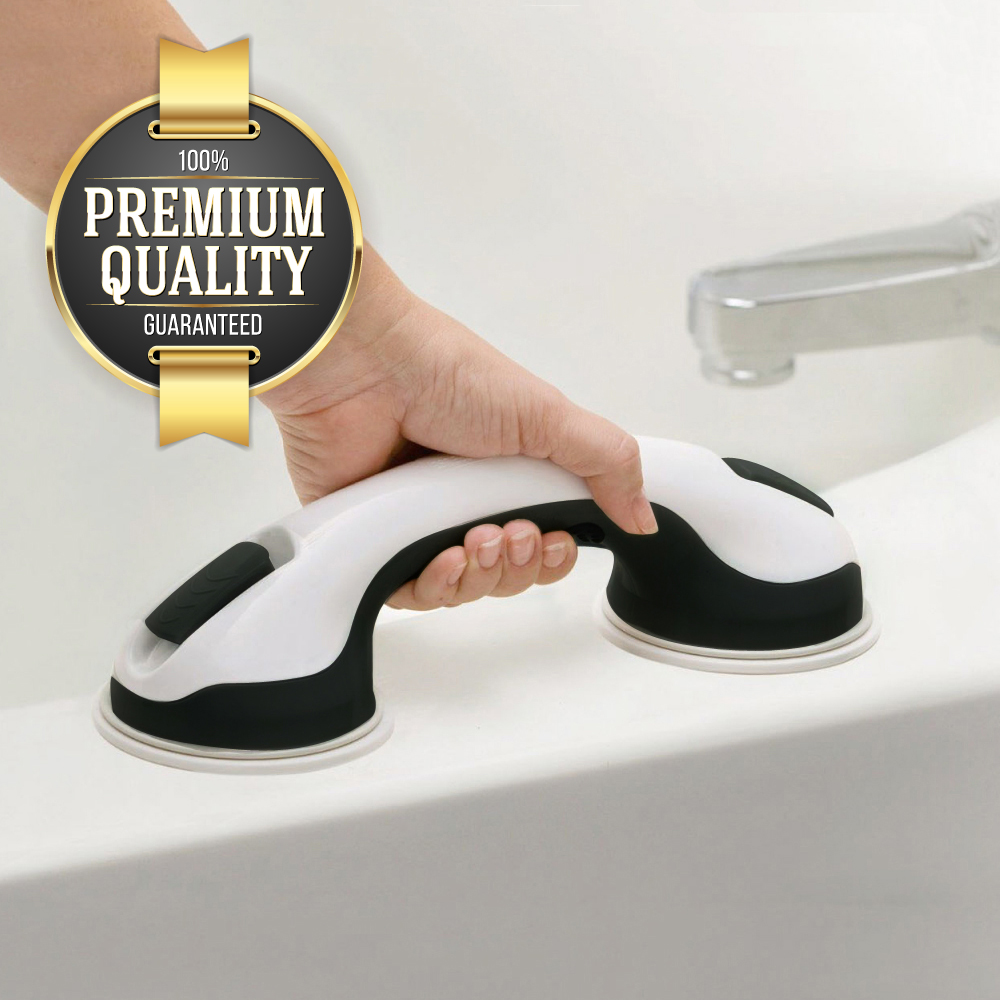 Eutuxia Shower Suction Cup Handle Grip. Balance Assist Grab Bar, Hand Rail Support for Elderly, Babies, Seniors & Handicapped. Safety in Showers & Bathtubs. Anti-Slip. New Improved Suction Cup.
Most people spend time in the bathroom few times a day, either taking a shower or a bath. It can be dangerous when the floors are wet as it can become slippery. The shower suction cup handle grip helps prevent accidents and can benefit all ages. It will be more advantageous to children, elderly, and handicapped. Give yourself and your family the confidence of safety around wet and slippery locations. We also have 2 packs so that you can use it in multiple bathrooms. We also have a bundle with a shower head holder and a grab bar for convenience, safety, and comfortability. Easily adjust the height of your shower so that it can be used by any ages. Buy your bundle today!
It can be very dangerous when the shower or bathtub is wet. Getting in and out can be very slippery, especially for children, elderly, and the disabled. Our shower handle grab bar will prevent accidents and keep you assured with safety. Our updated suction cups have a stronger suction power and will not fall off over time!
The grab bar is sturdy and comfortable. You do not need to worry if your hands are wet as it has an anti-slip feature, thanks to the ribbed grip handles. Providing safety and security in slippery locations helps prevent unfortunate accidents.
Easy to set up without any tools. No drilling is required! It can easily be installed or removed, when you want and where you want. When installing, simply wet the suction cups for a sturdier install and lock the two tabs down to secure it. Flipping the two tabs back up helps for a easy removal. It will not damage or leave any residue on the surface. It is easily portable so take it with you everywhere! Anyone can easily install it.
Due to the nature of the suction cups, the grab bar will only work on non-porous flat surface such as tiles, glass, fiberglass, and acrylics. It will not work on any dry walls. Our newly improved version has a stronger suction power and will not fall off over time! Easily add additional stability to keep you and your family safe!
11.5 inches in length, which is good enough for all ages to use. Simply place the grab bar according to the height of the person that is using it. Please also note that full body weight is not to be applied to the grab bar.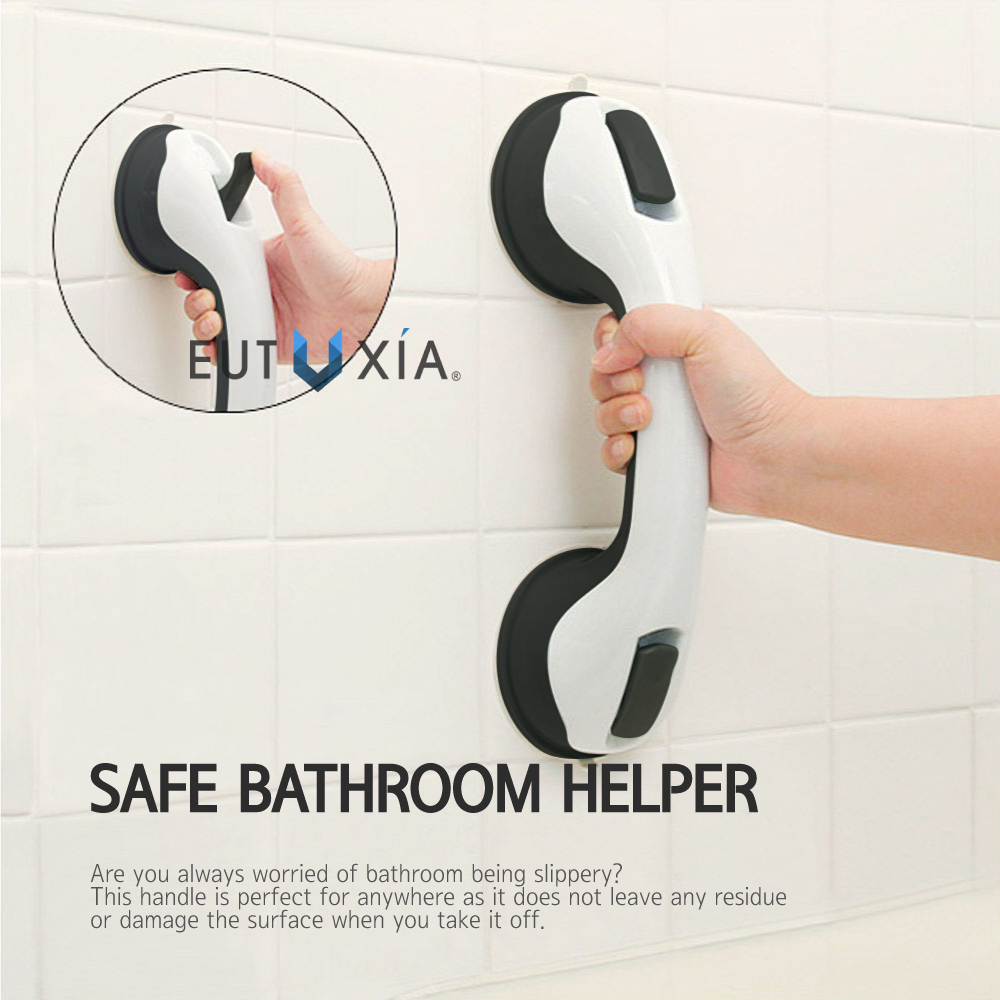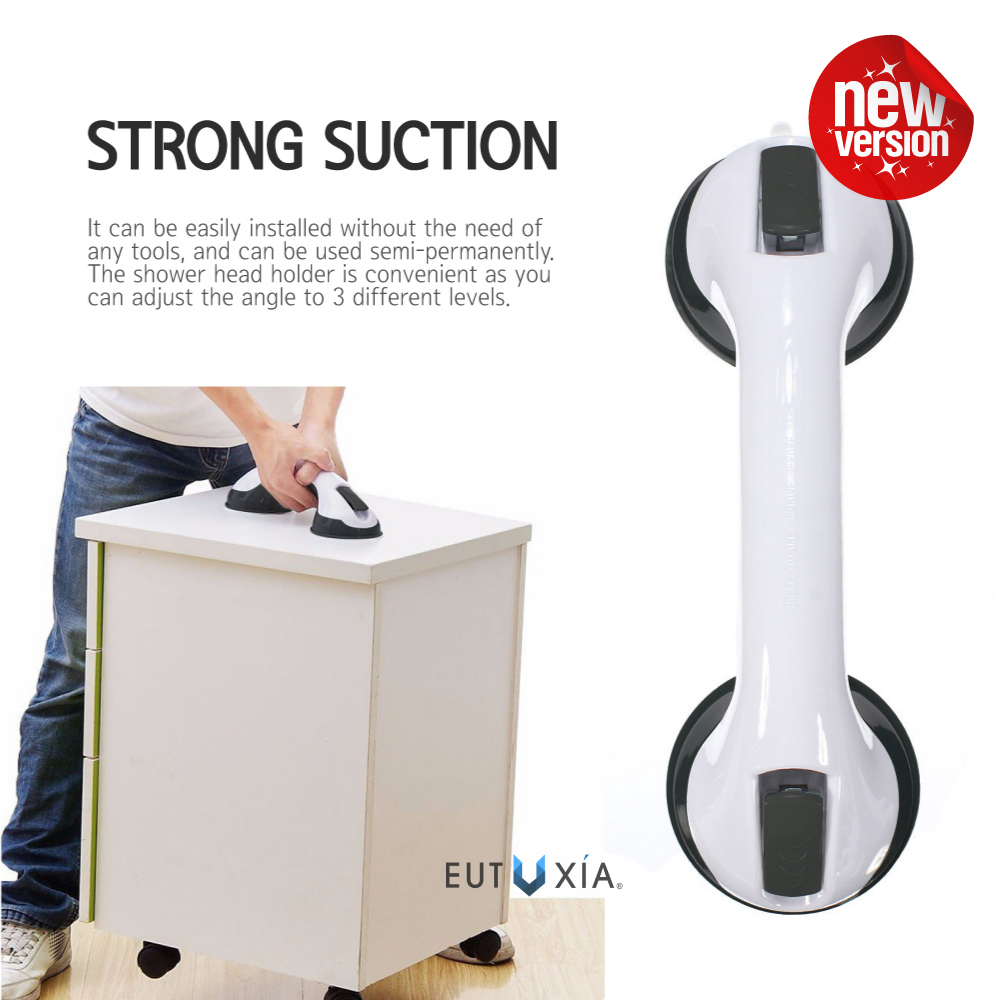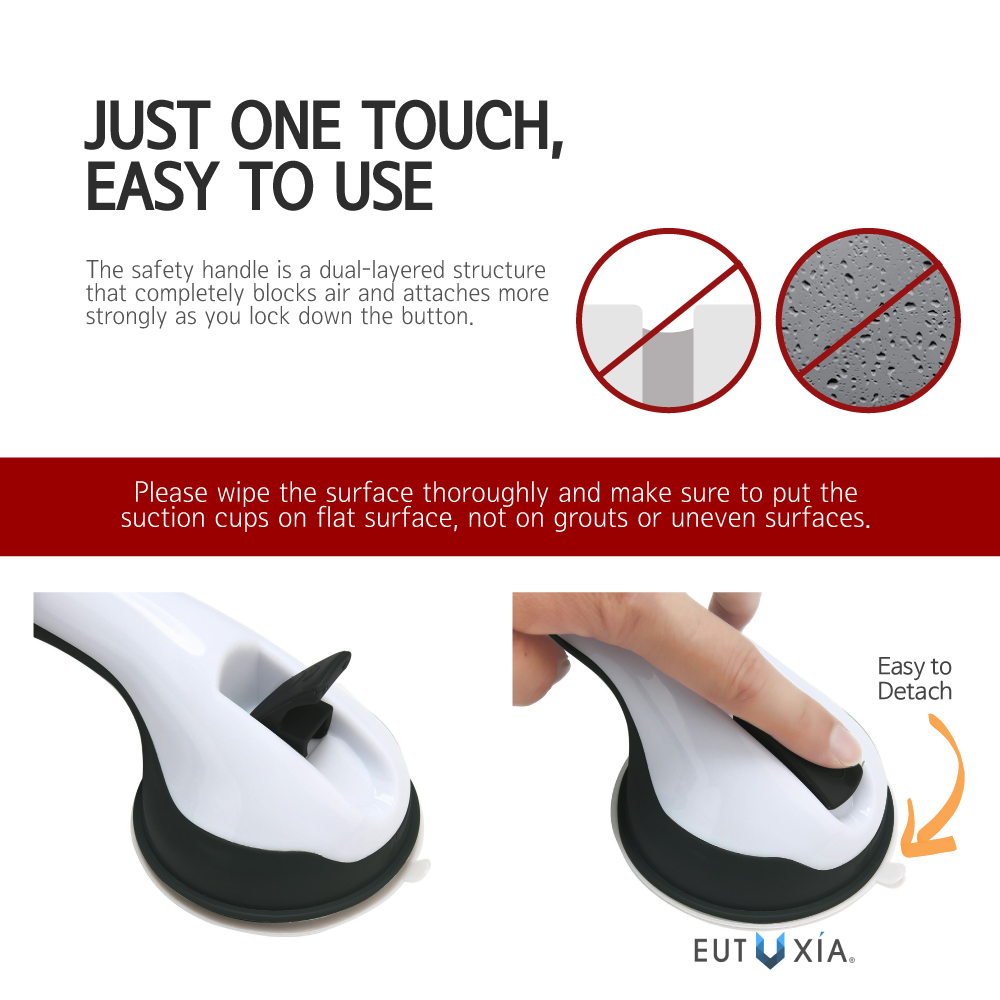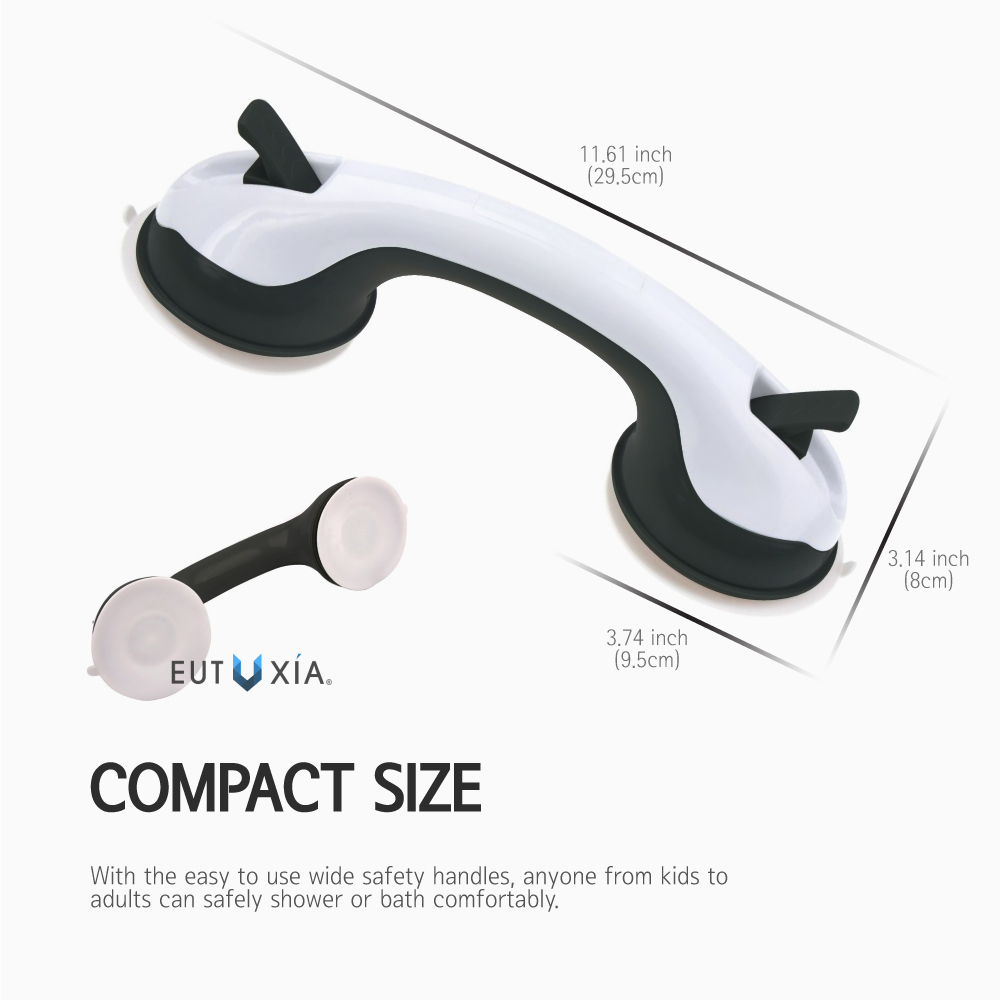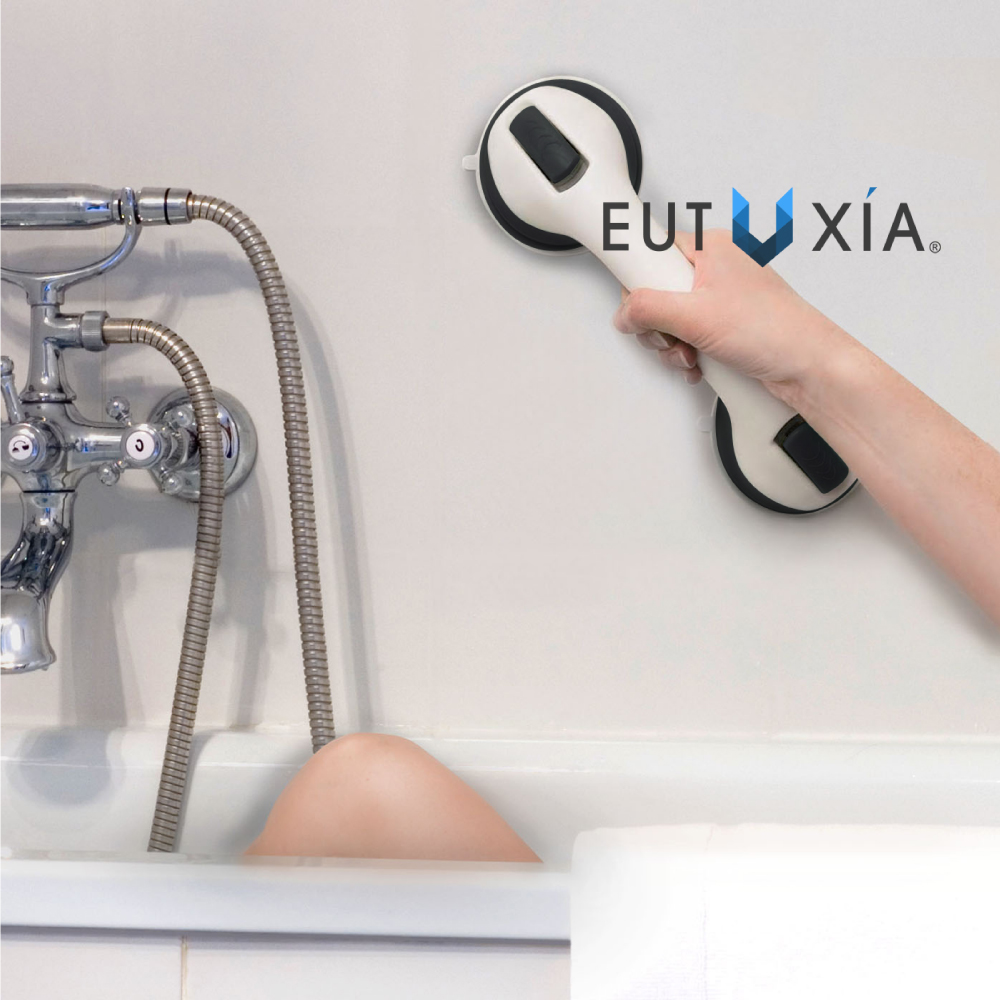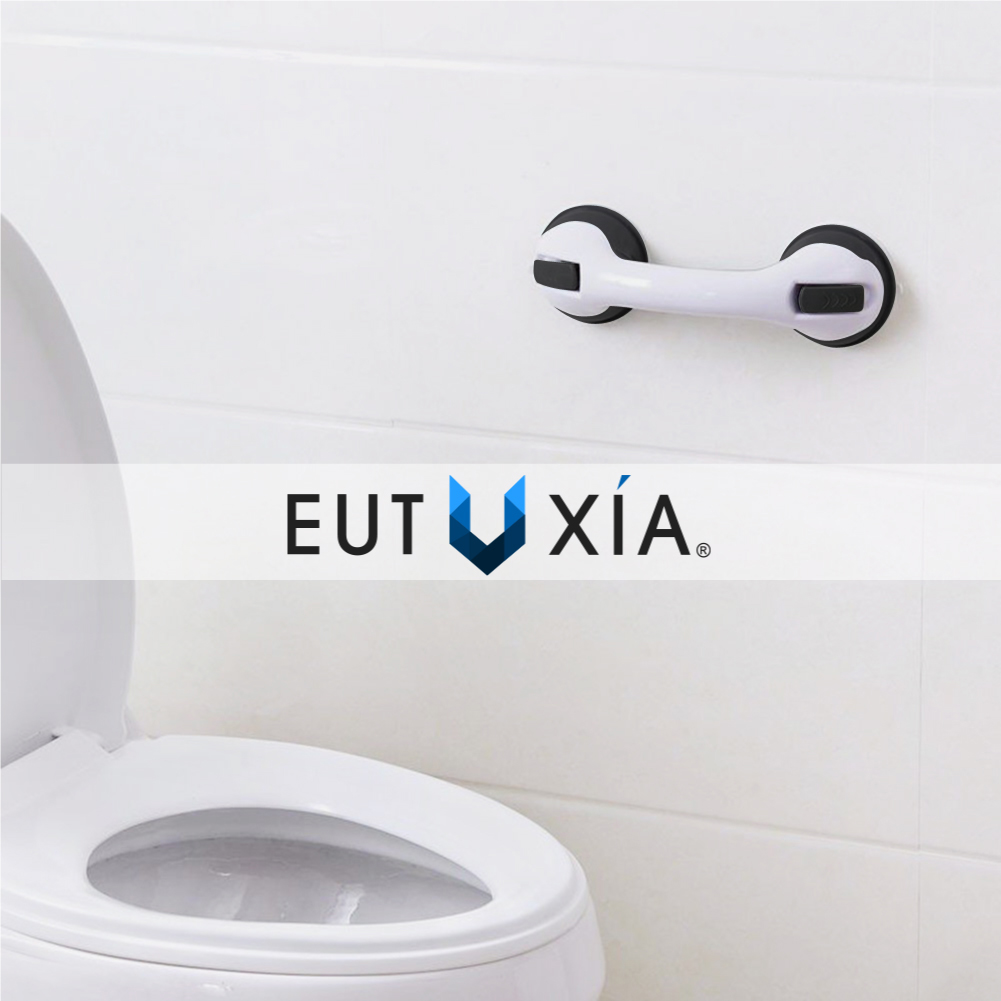 You Might Also Be Interested
Customers Who Viewed This Item Also View
Customer Reviews
Tracey Brown
Dec 9, 2018 11:34:21 PM
very satisfied custormer
Purchased this to help me stand up in the shower and beside the toilet. I had foot surgery and this is easy to install and very helpful. Very satisfied customer.

Mayline Fox
Aug 16, 2018 7:06:58 PM
has great suction and holding power
Beautiful design and has great suction and holding power. I have suctioned these to tile and other surfaces with a strong hold every time. Thanks!
Mith Jocson
May 15, 2018 1:22:13 AM
great safety tool
Great safety tool to have in shower or bathtub. This handle is a super strong grab bar. I definitely recommend this product.
Claire Hudson
Feb 27, 2018 9:02:44 PM
great safety too
My father needs some stability in the shower. This is strong, and hold under lots of pressure and weight. Works well and a great safety tool to have in the shower or bathtub.
Joselito Mcdonald
Jan 11, 2018 7:02:47 PM
quick and easy to set up
Quick and easy to setup! I purchased this grab bar for my elderly father who has trouble standing in the shower. He absolutely loves it! It fastens so tightly to his shower wall, that it makes him feel safe! Thank you.
Irene Mcleod
Aug 1, 2017 8:16:33 PM
high quality
High quality and excellent price. Helped me to add safety features in the shower,with firm suction grip. A must have for anyone!
Write Your Own Review