Features & Highlights
Why you should buy this product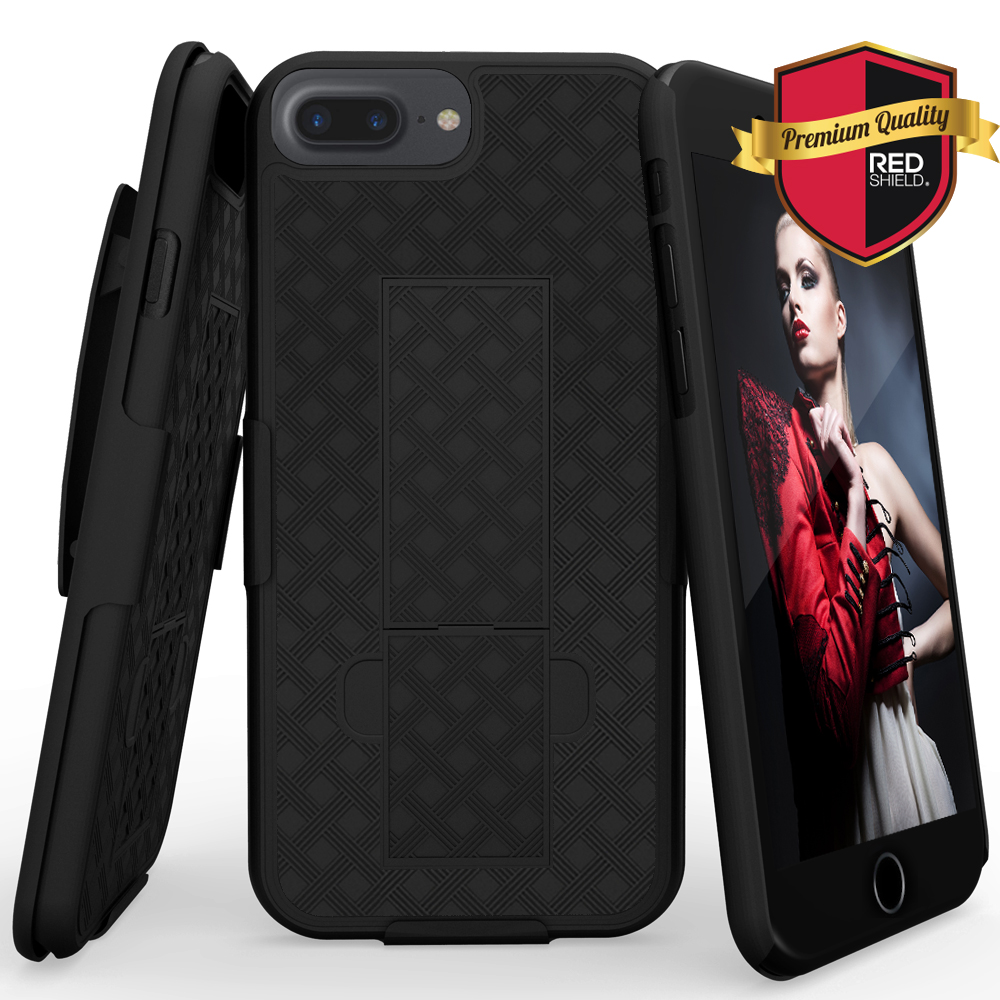 Apple iPhone 7 Plus (5.5 inch) Holster Case, REDshield [Black] Supreme Protection Slim Matte Rubberized Hard Plastic Case Cover with Kickstand and Swivel Belt Clip
This holster case is great for quick drawing your phone for usage!
A quality product and made especially to fit your Apple iPhone 7 Plus. It's stylish and protective.
Quick draw your phone and slide out your phone from the holster that clips on to your belt or anywhere securely.
Prop up your phone for great viewing position with the built-in belt-clip kickstand.
Custom cut to fit your Apple iPhone 7 Plus
Durable and lightweight
Case slides securely into holster
Hard matte, anti-slip surface
Textured lines for added grip
Rubberized plastic with swivel belt clip
Built-in belt-clip kickstand props your phone up
Quality Made holster to perfectly fit your Apple iPhone 7 Plus
Color: BLACK
Rubberized hard polycarbonate plastic shell slim case with holster clip.
Hard plastic exterior protects your phone from scratches and abrasions from falls and drops.
Extra grip and traction to surface: fits easily in your hands and gives your phone anti-slip protection!
The ultimate protection for your APPLE : ant-scratch, anti-shock, and anti-shatter.
Sturdy holster and belt clip make your phone easily accessible even when your hands are full.


Cellphone case name Supports Apple iPhone 7 Plus Devices From Verizon, AT&T, Sprint, and T-Mobile


**Phone may fit inward or outward please refer to pictures and directions on the holster.
Important Disclosures
Phones with extended batteries may not fit the case.
Phone or Device, if pictured, is for demonstration purposes only and is NOT included.
Using product with hand sanitizer or alcohol products may cause case to bleed.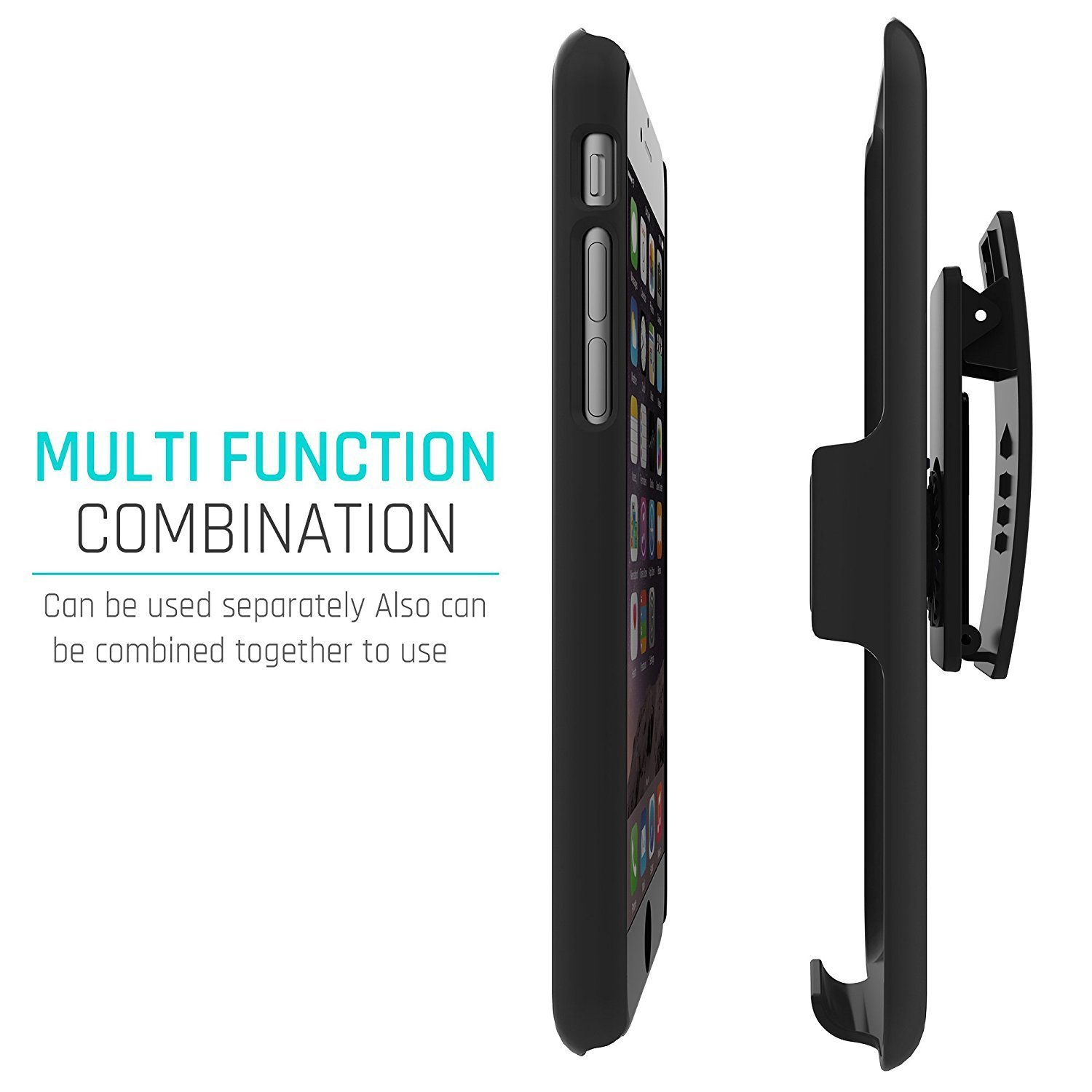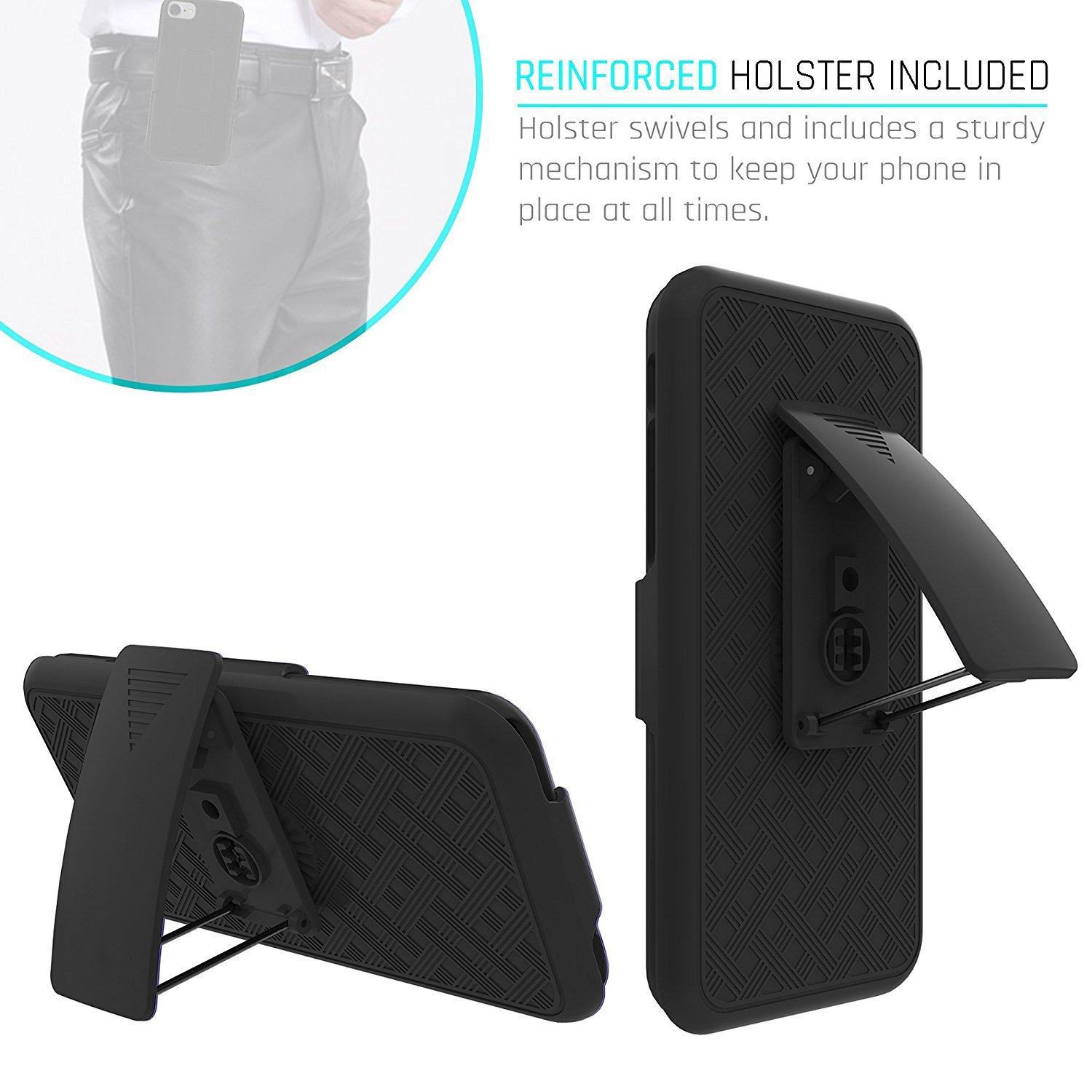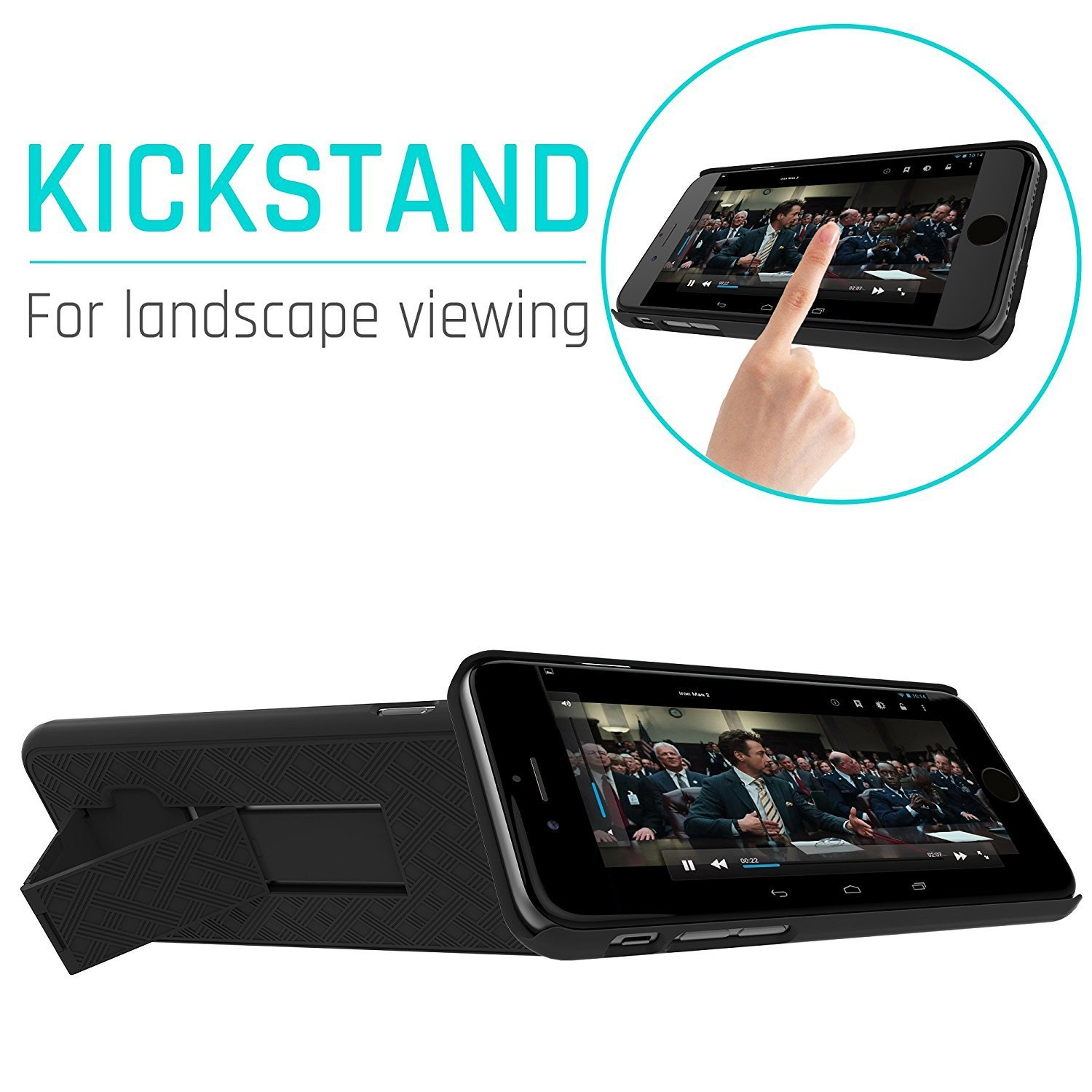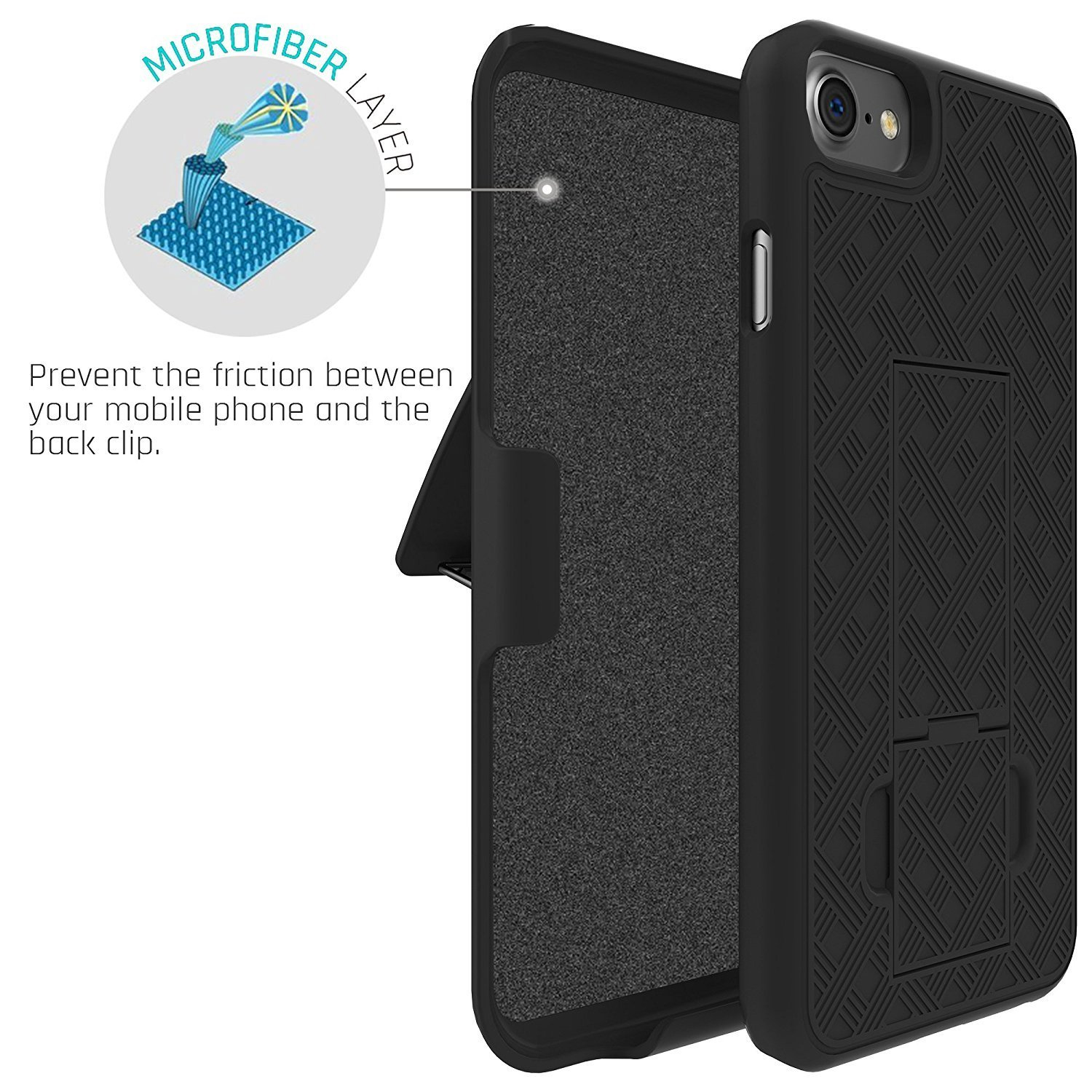 You Might Also Be Interested
Customers Who Viewed This Item Also View
Customer Reviews
James Reeves
Jan 22, 2019 8:26:59 PM
perfect fit in my pocket
Fits well and great hard plastic. It helps to prevent from getting damage when my phone was dropped. Kickstand was sturdy and very functional. Perfect fit in my pocket!
Robert Lim
Oct 17, 2018 9:47:01 PM
very good case
Very good case! This is slim, light and sturdy enough for good protection. With my daily suit in the office and occasionally drop off my phone on the ground, this case is good-, especially for the price!
Leo Young
Oct 10, 2018 8:46:32 PM
very happy with the purchase
Very happy with my purchase. Snap on the case to your phone and then slide it in the holster with the face toward the holster. Super love the kickstand for hands-free viewing.
Frank Hunter
Aug 12, 2018 7:21:05 PM
my favorite holster case
Best buy! This is my favorite holster case and I love the texture and being lightweight. The case protects my entire phone and is easy to carry plus the great kickstand!
Sebastian Paige
Jul 24, 2018 12:32:15 AM
great value and pretty too
Great value and pretty too! It's fit well and appears to give a lot of protection. I have dropped my phone several times but the phone still in good condition. Best deal at it's price!
Nathan Dodges
Jul 17, 2018 8:10:58 PM
it looks good and provides enough grip
Durable case that looks good and provides enough grip for my phone to feel secure at all times. All the ports line up well and the kickstand was great for better viewing.
Leonard Black
Jul 10, 2018 11:56:34 PM
works great
Works great! This phone is held very securely by hip holster, very low profile, and it makes phone look elegant. Clip is very secure plus kickstand for hands-free viewing. Awesome!
Joan Lee
Jun 20, 2018 7:59:11 PM
absolutely love it
Awesome case that fit perfectly to my phone. This is sturdy, durable and offers an ultimate protection. Sturdy holster and belt clip make my phone easily access. Absolutely love it!
Jojo Anderson
Apr 17, 2018 3:02:58 AM
good looking case
Good looking case, strong, and durable. Exactly what I was looking for. A great way of protection.
Kylie Santos
Mar 27, 2018 1:01:02 AM
love this case
I absolutely love this case! It allows me to carry my phone, hands free, by clipping it to my pocket or belt. I have complete confidence that my phone is protected. Fits perfectly and the price is a true bargain.
Tom Black
Mar 22, 2018 11:11:31 PM
Great buy
Great buy! I am totally satisfied with this holster case. The quality, price, and functionality were amazing! So far, this is the best phone holsters we've tried.
frank Howard
Feb 7, 2018 10:47:47 PM
such a great buy
Such a great buy for my iPhone 8. It fits perfectly and works as it is supposed to. This is durable, nice texture to grasp onto the kickstand is a nice bonus. Great product for the price!
Albert Sue
Feb 1, 2018 4:10:47 PM
case is all I need
Case is all I need. This is my second time buying this case. I love it! I clip it on my waistband and when we eat out with the grandchildren. I like the built in kickstand I can lay to phone upright. Thanks for the free travelling stand!
Julian Greene
Jun 20, 2017 6:37:55 PM
works great!
Keep my phone safe and I really mean it. My phone has suffered several strong drops and this case has protected it. Works great!
Isaac Baker
Jun 20, 2017 1:55:33 AM
simple and sturdy case
Very pleased with my purchased. This is simple, sturdy, light and good grip. Exactly what I wanted to hold and protect my phone.

Oliver Robert
Jan 19, 2017 7:14:40 PM
fits my phone perfectly
Fits my iPhone 7 plus perfectly. This case is amazing it give protection, durable, thin sturdy and i love the black color. Just it is a black case! Simple but very stylish.
Bryann Lee
Jan 3, 2017 7:29:33 PM
price was great
Awesome case, well made product, feels great and looks wonderful. Very tough and keeps my phone protected. The price was also great!
Neil Lewis
Dec 21, 2016 7:46:40 PM
great for the price
Can't beat the price, it's very well made with a nice slim matte finish. It fits great on my expensive phone. I highly recommend, this case a great for the price.
Peter Graham
Dec 11, 2016 10:06:42 PM
awesome case
Awesome case and I love it. It's a great protective case with belt clip, durable and lightweight case.
Warren Bell
Nov 21, 2016 9:25:54 PM
excellent case
Excellent case for my iPhone 7 Plus. It's slim but provides an extra protection, durable and sturdy case. The holster holds to belt clip very well. Nice kickstand for holding my phone. Highly recommend
Christopher Black
Oct 27, 2016 10:52:26 PM
fits great
My phone look so handsome with this case on it. It fits perfectly , durable and sturdy. Very attractive, I love how my iphone 7 Plus looks in it.
Kate Pullman
Sep 29, 2016 6:34:03 PM
Awesome case
Awesome case. it was looks expensive despite being affordable. Durable, sturdy, fits perfect in my iPhone 7. The kickstand is very useful. Highly recommend
Nico Baker
Sep 27, 2016 6:24:31 PM
thanks
It covers the screen well and its very easy to install, durable, sturdy with supreme protection. I love the way it hold my expensive investment. Thanks


Write Your Own Review