Made for REDShield Lazy Bracket Flexible Holder Mount [Be lazy in bed or sofa while on your phone, no more phones falling onto face!]
Features & Highlights
Why you should buy this product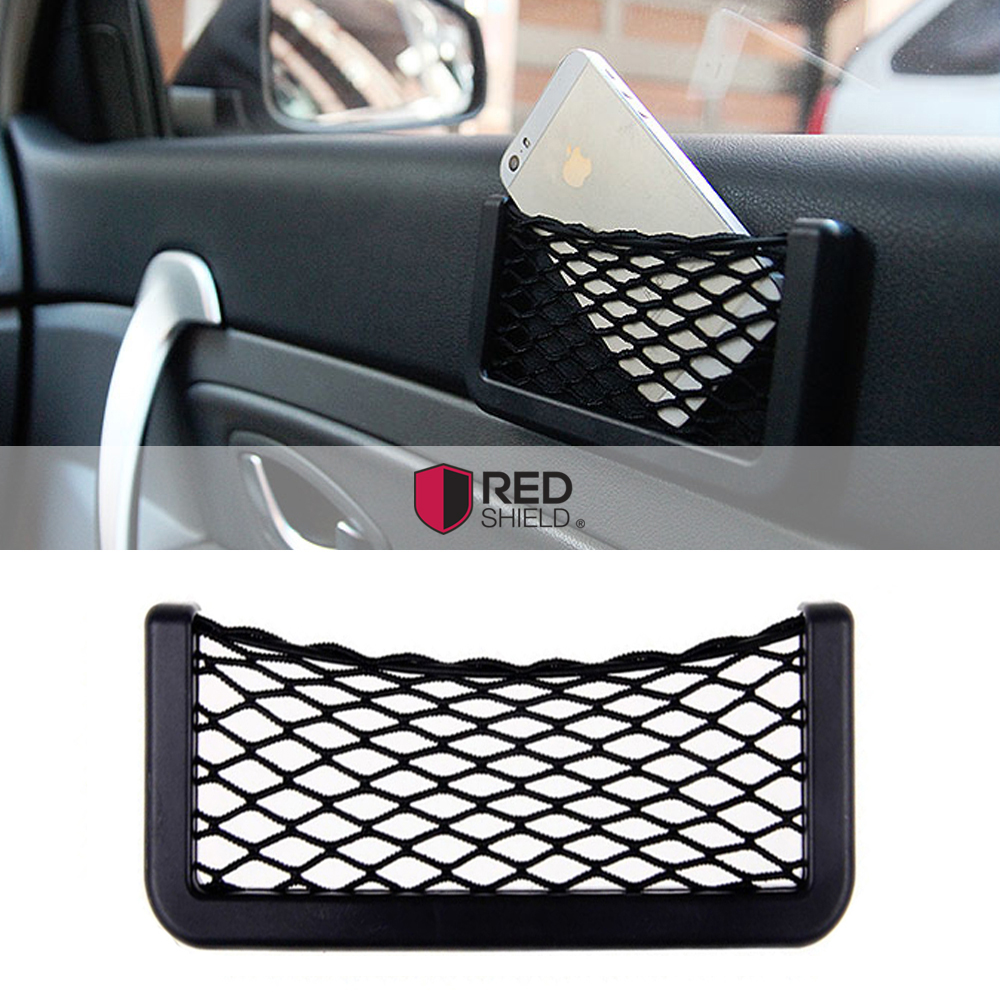 Black Car Net Bag Phone Holder Storage Pocket Organizer [Also great for wallet, keys, pens, and MORE!]
Car Net Bag Phone Holder Storage Pocket Organizer for Apple iPhone 5/5S - [Also great for wallet, keys, pens, and MORE!] With this convenient accessory in your car, you will not have worry about your missing or fallen phone and essentials any longer. Daily essentials such as cellphones, tissue bags, lighter, cigarette, keys, pen, and even jewelry can be stuffed in this sturdy, high quality nylon net bag . Stick it just about anywhere in your car to start organizing your phone and essentials!
Can hold your phone, cigarette, card or other things
Product dimension: 14.8*7.8*1.8cm/ 5.8* 3.1* 0.7 inches.
High quality ABS plastic and nylon material with 3M double-sided adhesive tape.
Can hold your phone, cigarette, card or other things.
Elastic mesh and strong scalability make it overcome the sagging problem without scalability.
Simple and fashion design, easy to install and use.
Color: Black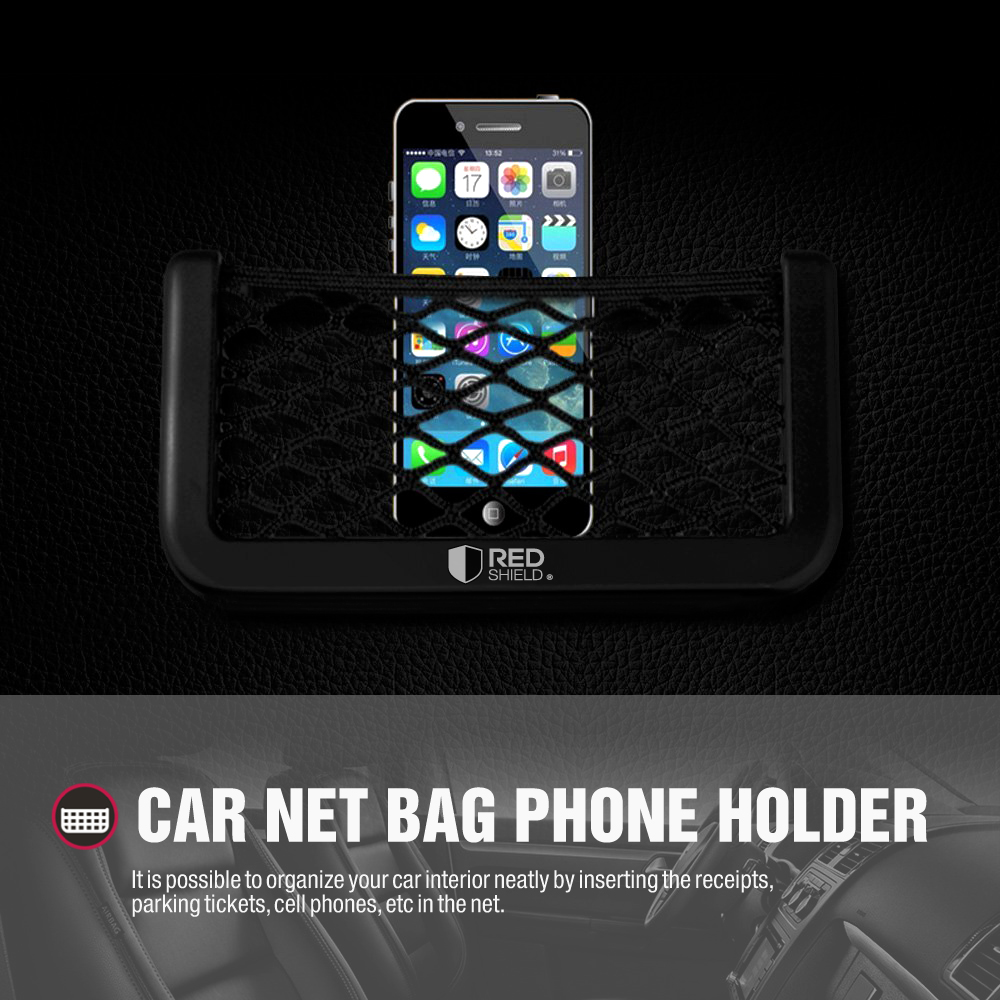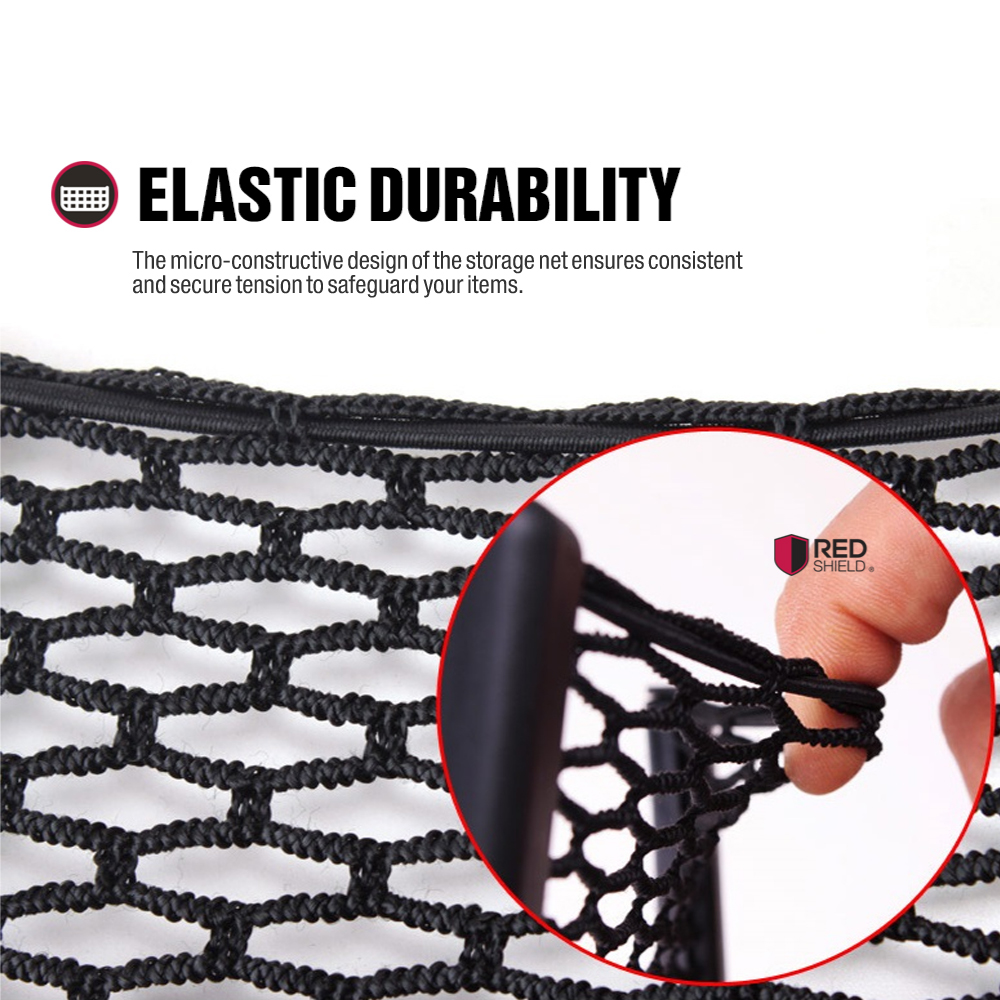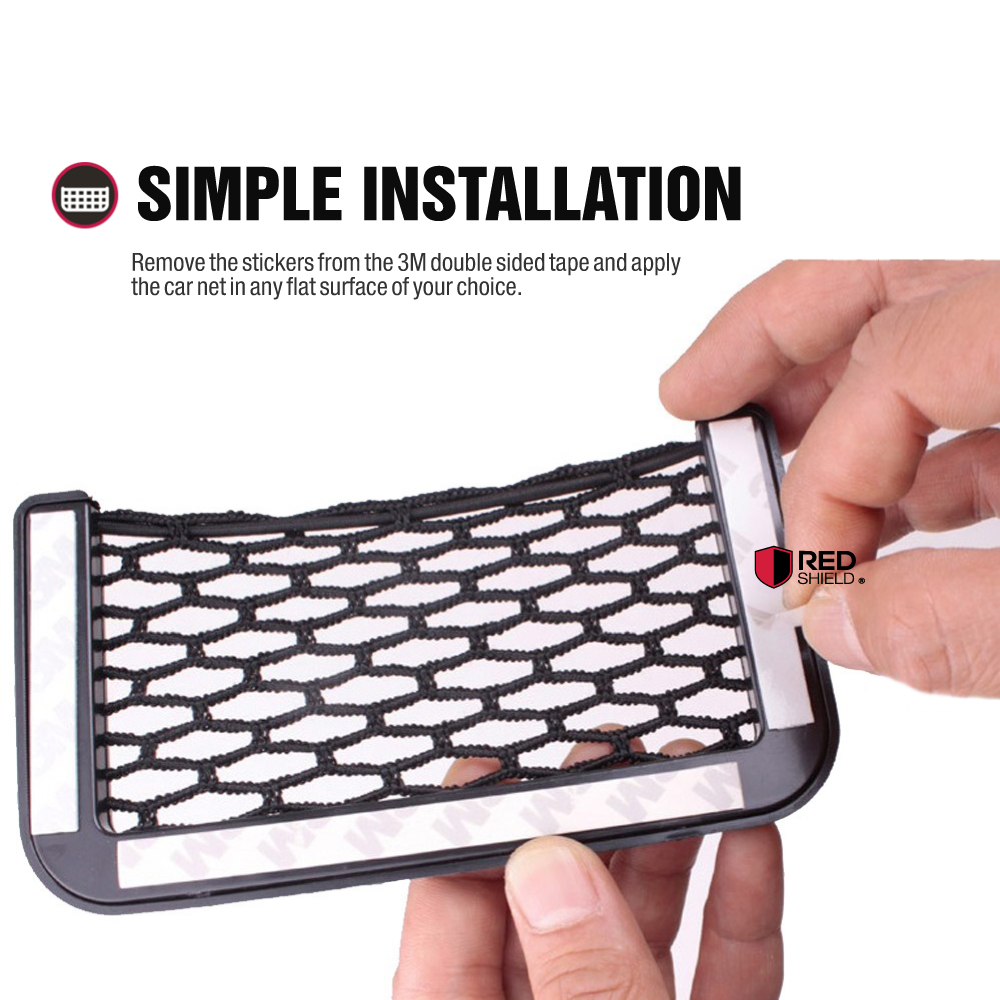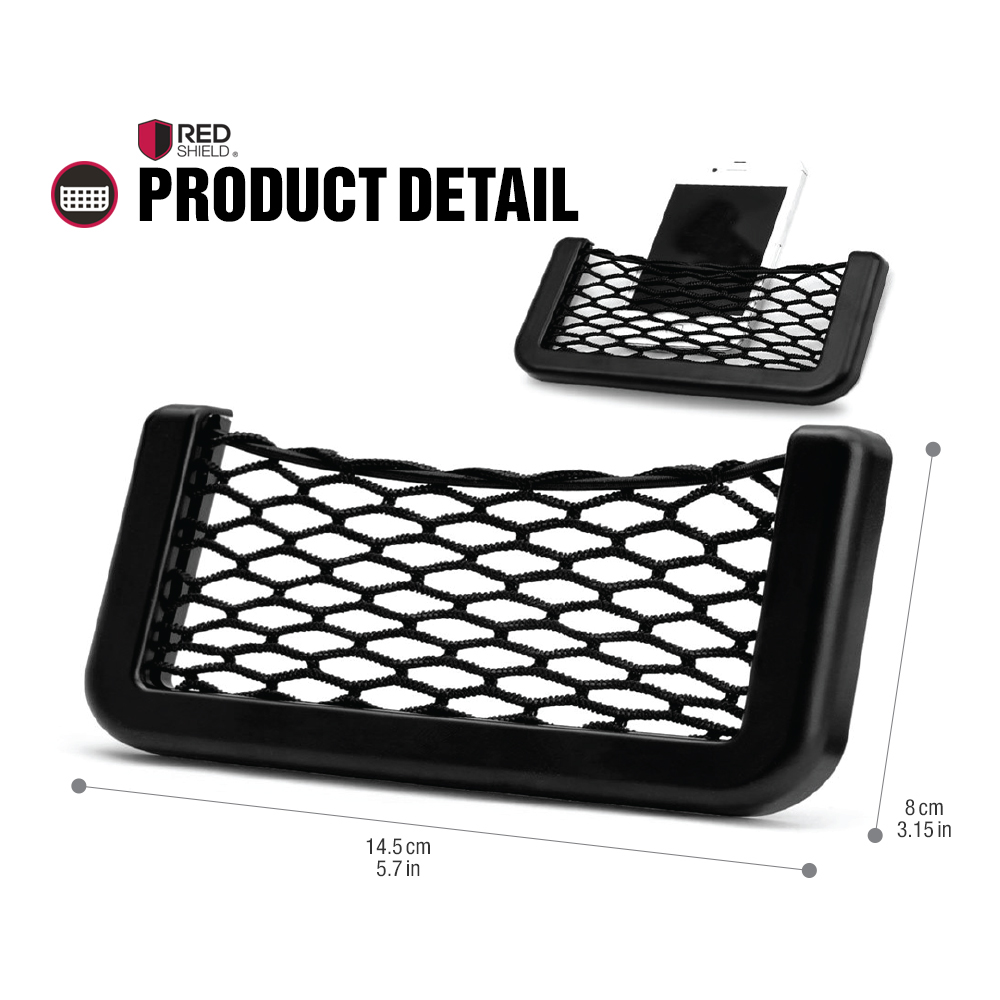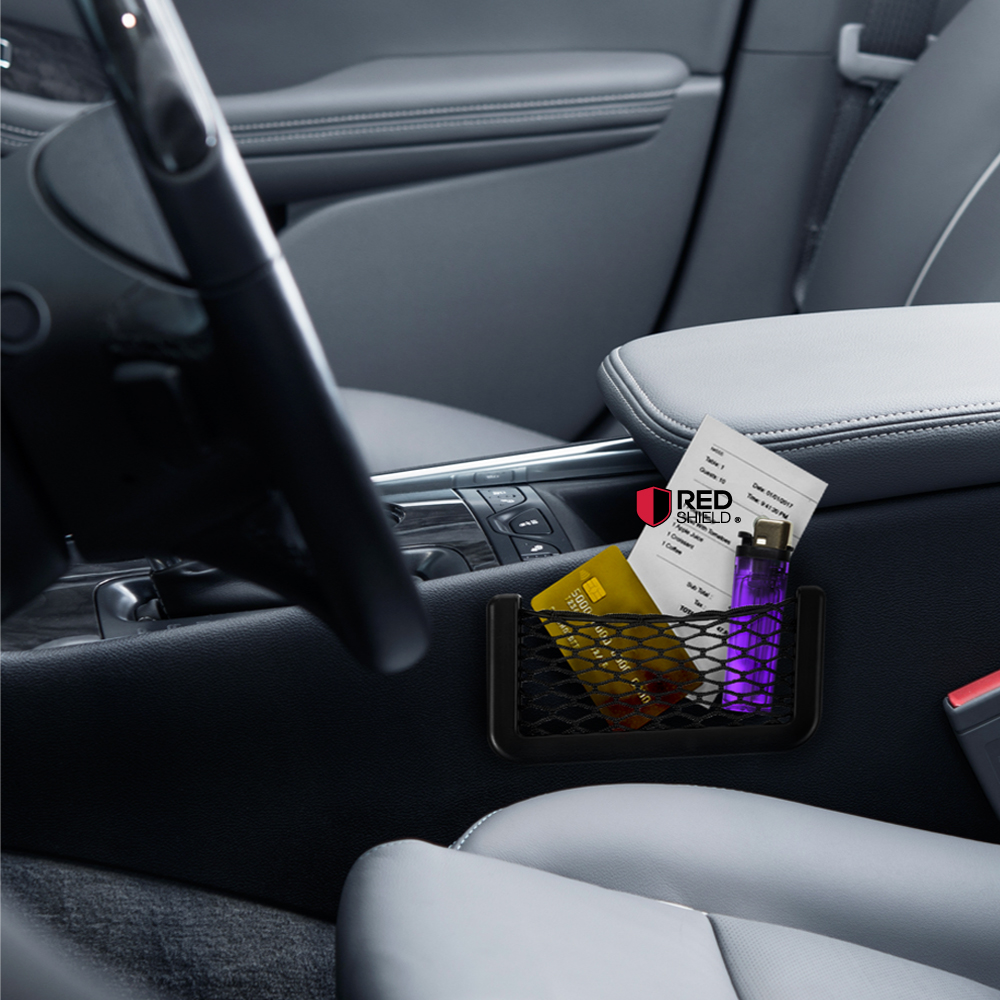 You Might Also Be Interested
Customers Who Viewed This Item Also View
Customer Reviews
Corniel Brown
Jun 4, 2019 10:54:11 PM
just what I was looking for
This is a great add-a-pocket item for just about anywhere! Super easy to install and this gave me some extra door storage on my toyota pickup. Just what I was looking for!

Joshua Orleans
Jun 4, 2019 10:48:56 PM
works awesome
Happy with the purchase. This is a good quality and the velcro sticks well. Super easty to install and keep my phone for easy access. It looks great and works awesome!

Peter Lambert
Apr 16, 2019 11:00:04 PM
perfect organizer in my car
I bought this net car bag holder to get more space for my mobile phones, card, cigarette or other things. This is a perfect organizer in my car!
Jimmy Park
Jan 23, 2019 6:02:00 PM
great product
Everyone that gets into my car sees this pocket organizer and they put their phone in while their phone charges. Great product!

Peter Lambert
Jan 22, 2019 8:39:44 PM
fits great
Very well made and stylish for my console. Fits great and has saved me many times from items falling between the seats.

Jacob hopkins
Dec 14, 2018 12:48:15 AM
easy to install
Easy to install and does not appear to damage the lining on the walls. They grip well in my trunk and already filled with the little things I carry with me.
Paul Moore
Dec 14, 2018 12:22:10 AM
great value for the money
Great value for this product! Good quality, it so spacious to organize my phone, keys, and cards while traveling for easy access. Definitely, recommend to others.
Leo Martin
Dec 3, 2018 4:09:27 PM
worth buying
Bought two, one for each side of my center console. Handy place to put my phone while it's plugged into my car. Worth buying!
Joseph Jack
Nov 13, 2018 11:23:02 PM
safe place to keep my phone
Pretty cool and great deal! Going on a trip and wanted a safe place to keep my phone that is easy to reach! Perfect for the driver passenger sides!

Arthur Lambert
Oct 22, 2018 12:34:05 AM
good value for the price
Just what I was looking for. Very practical and handy for any small objects to keep things organized in my car. Good value for the price!
Eric Miller
Oct 9, 2018 10:32:23 PM
easy to install
Super easy to install. This is durable and gave me some extra storage. Never had a problem with them staying in place! Thanks!
Leo Parker
Oct 9, 2018 2:29:57 AM
works wonderfully
Works wonderfully! Super easy to install. This gave me some extra storage on my Toyota pick up. Such a great buy!
Julie Fraser
Aug 13, 2018 1:12:09 AM
great organizer
Great organizer! Very well built and strong velcro just like a super glue. This is practical and inexpensive the pocket are wide enough to store my things.
Alexandra Black
Aug 6, 2018 1:13:24 AM
genius little thing
Genius little thing that serves double duty as a nifty and handy place to store stuff you need while driving. Very quick and easy to install.
Lauren Brown
Aug 3, 2018 1:56:16 AM
create more storage in my trunk
I have been looking for a way to create more storage in my trunk without adding the bulk. These have been a life saver! Thanks!
Joey Barney
Jul 25, 2018 1:31:41 AM
great pocket and have stayed in place
So great for me at least. I was always having a phone holder around in my trunk. No more rattling from those items both fit great into these pockets & have stayed in place.
Aljur Douglas
Jul 18, 2018 9:29:12 PM
help keep loose object organized
Easy to use and these work great for my phone and other small things. It really helps keep loose object organized and prevents them from rolling around.
Stephen Ferguson
Jul 2, 2018 9:55:49 PM
it was well stick
Exactly what I want to place my keys, phone, pens and more. It looks simple, clear for car storage and it was well stick.
Marlene Churchill
May 8, 2018 6:08:27 PM
perfect organizer
The nets are strong, fully flexible, and velcro sticks very well. This is a perfect organizer in my car to hold my phone and other small things.
Vans Walker
Apr 27, 2018 12:30:02 AM
perfect fit for my vehicle
Perfect fit for my vehicle, stylish and convenient to use. I purchased two and I love them! Fits my phone, receipts, pens and other small items.
Jasmine Black
Apr 25, 2018 11:27:22 PM
keep everything well organized
Put them in the back seat and I really like it. The velcro holds up really well and I put quite a bit of stuff in them. Keep everything well organized.
Amelia Gordon
Apr 23, 2018 12:47:17 AM
works great
Works great and very useful to hold my wallet, money, parking tickets. It's just like super glue and its stick well onto my back seats.
Angela Keit
Feb 12, 2018 10:46:56 PM
just what I was looking for
Just what I was looking for. It will stick better, strong and hold my phone, keys, and lot more... Very please with this product!
Olivia Newton
Feb 7, 2018 8:58:18 PM
works great
Works great to add a little extra storage space to a dead space in my truck. Very sturdy fits snugly to put my lighter, keys, pen, cellphone and more.
John Mcgrath
Dec 6, 2017 5:27:17 PM
fast access
Awesome! Shipping was fast, easy to install and great for my wallet, phone, pen, keys etc. Fast access and it's out of sight. Many thanks!
Isaac Meyer
Nov 28, 2017 3:59:28 PM
worked well
Worked well in every travel. No need to use the screws placed them at the back of my car. Perfect for my needs to hold my phone. Very useful.
Eric Howard
Nov 27, 2017 7:30:48 PM
very useful
Very useful. Installed in the back box. This is little piece of lightweight, awesome perfect size storage for my phone, key, card and even my cigarette. Great!
Frank Clark
Sep 24, 2017 3:56:52 PM
great design
Yes, it was great and was exactly what I wanted and needed. It stuck firmly and is useful! Used it in the car to hold my cards and stuff sticks great!
Thomas Greene
Sep 6, 2017 5:05:27 PM
affordable
I really like this net bag, this is very strong, small and sturdy. Net attaches at the back seat, was very easy to assemble, to keep my phone safe and secured. Affordable!
Jasmine Grant
Jun 6, 2017 9:14:58 PM
works great
Small enough for my super stuff like wallet, keys, phone, clip and more. I like having things off the seat but in reach. Works great!
Dick Park
Jun 4, 2017 7:47:07 PM
works like a charm!
Great addition, does really well with holding stuff, quick access for my phone. Works like a charm!
Nicola Russel
Mar 19, 2017 10:49:33 PM
wonderful ideas
Wonderful ideas! It's add a nice net small bag yet give an extra storage for my phone and other small things. Very helpful:)
Joshua Gibson
Mar 9, 2017 9:36:45 PM
it works perfectly for what I needed
Arrived exactly as it appears. I love the idea of this product it works perfectly for what I needed. Inexpensive and well worth the price.
Robert Lee
Mar 1, 2017 6:27:14 PM
fantastic little thing
Fantastic! Does a good job as a net bag for somethings that we bring on the car instead of putting them on the floor. Very convenient and useful.
Richard Lee
Jan 8, 2017 10:16:20 PM
convenient, nice and neat
Keeps my things organized where I can reach them without climbing into the back. Very convenient, nice and neat.
David Clark
Dec 15, 2016 3:27:06 PM
works and very useful
It works and very useful! I Love this. Every car should come with one of these as standard equipment. It was very easy to attach and stays where you put it. Best gift too.
Lily Martin
Dec 14, 2016 8:26:44 PM
it works great
Simple little car cell holder is the best one we have had. This is exactly what my husband wanted for his car. It works great! Best gift idea, and reasonable price.
Jennifer Edmunds
Nov 28, 2016 7:37:17 PM
this holder is great
I like the concept of this holder everything about this idea is great! This is simple and easy to install, I can put my phone, keys and even letters. Wonderful! Highly recommend
Gabrielle James
Oct 12, 2016 6:33:18 PM
Happy
It served the purposed. Its sturdy little organizer. This is basically live in my car. Now I can easily found my phone and other small things. happy for this:)
Dorothy Clark
Oct 9, 2016 7:51:38 PM
job done!
Gets the job done! Less mess in my car can hold my phone in proper place, or other stuff. Definitely recommend to other.
Wanda
Sep 2, 2016 1:50:57 AM
Good idea
Very useful, this is a good idea, perfectly for my stuff.
REBECCA L
Jul 6, 2016 12:42:51 AM
Five Stars
this was perfect to give me an extra place to put things in my car!
Jessica M
Jun 30, 2016 7:23:22 AM
Love it!
If you are a hoarder of a lot of stuff, this is a must-have! From receipts to phones, this pocket comes really handy! I'd buy another one and place one on dad's car.
CountryMan
Jun 29, 2016 11:18:41 PM
Nice looking
Quality product that was inexpensive and well worth the price. My Uber and Lyft customer love it!
K Smith
Jun 27, 2016 11:55:07 PM
Simple but Useful!
I had this on my car! I always put my iPhone there whenever I drive and just grab it when need in reach of hand!
Daisy
Nov 7, 2015 7:18:25 PM
Would like to give it 5 stars but
I really haven't used the item. I bought them as Christmas stocking stuffer gifts and they look SO nice. I'm sure they'll be fine - very nice looking and useful.
The Dom
Oct 16, 2015 4:00:09 PM
Nifty
I am a neat freak both home and auto. Own an award winning Corvette and would not blemish it with an inferior product. This item is not only neat in appearance but quite functional as well. Great bargain.
JM
Aug 25, 2015 5:23:28 AM
Great product
This product is great for sedans that lack space in the center console. The adhesive is great and durable. The black color is also great as it makes the item look standard to the car.
I only wish it was a little deeper as new phones are larger now a days. Aside from that my iPod, Business cards, gas cards all that fits perfectly. Very happy with it.
Jax
Aug 21, 2015 8:56:29 AM
Might not work on your car's interior surface
These little pockets are a great idea for holding a cell phone or small items, especially if your car's interior doesn't have a lot of room. However, be careful where you try to install it. The interior of my car has a rough surface to it and the adhesive did not stick...could have been it wasn't thoroughly cleaned first or it was too hot inside the car. I'll try a different adhesive material and see if it makes a difference.
dr bill
Aug 21, 2015 3:30:42 AM
work well
these work well in our camper van as space is limited in dash area
Woody
Jul 18, 2015 10:22:50 PM
Very well made holders
The netting is tight, the adhesive is great. Now I can find my chapstick when I need it along with anything else I place in it.
Buggles
Jul 18, 2015 12:12:22 AM
Wonderful
I actually ordered one of these about a month and a half ago and after it arrived I wished I had ordered more. Well, last week they had a "2-fer" deal, so I got 2 more!! I LOVE them!!! It's crazy fast how quickly they arrive ... GREAT job on the speedy delivery.
Buggles
Jul 4, 2015 2:54:19 PM
Great
I LOVE this little pocket! The only thing I DON'T like is that I didn't think of it first!!! It's a handy size to hold your phone or a notepad and pen. It's a handy size and, being black, blends right in if it's empty. Love, love, love it!!!
Write Your Own Review