Features & Highlights
Why you should buy this product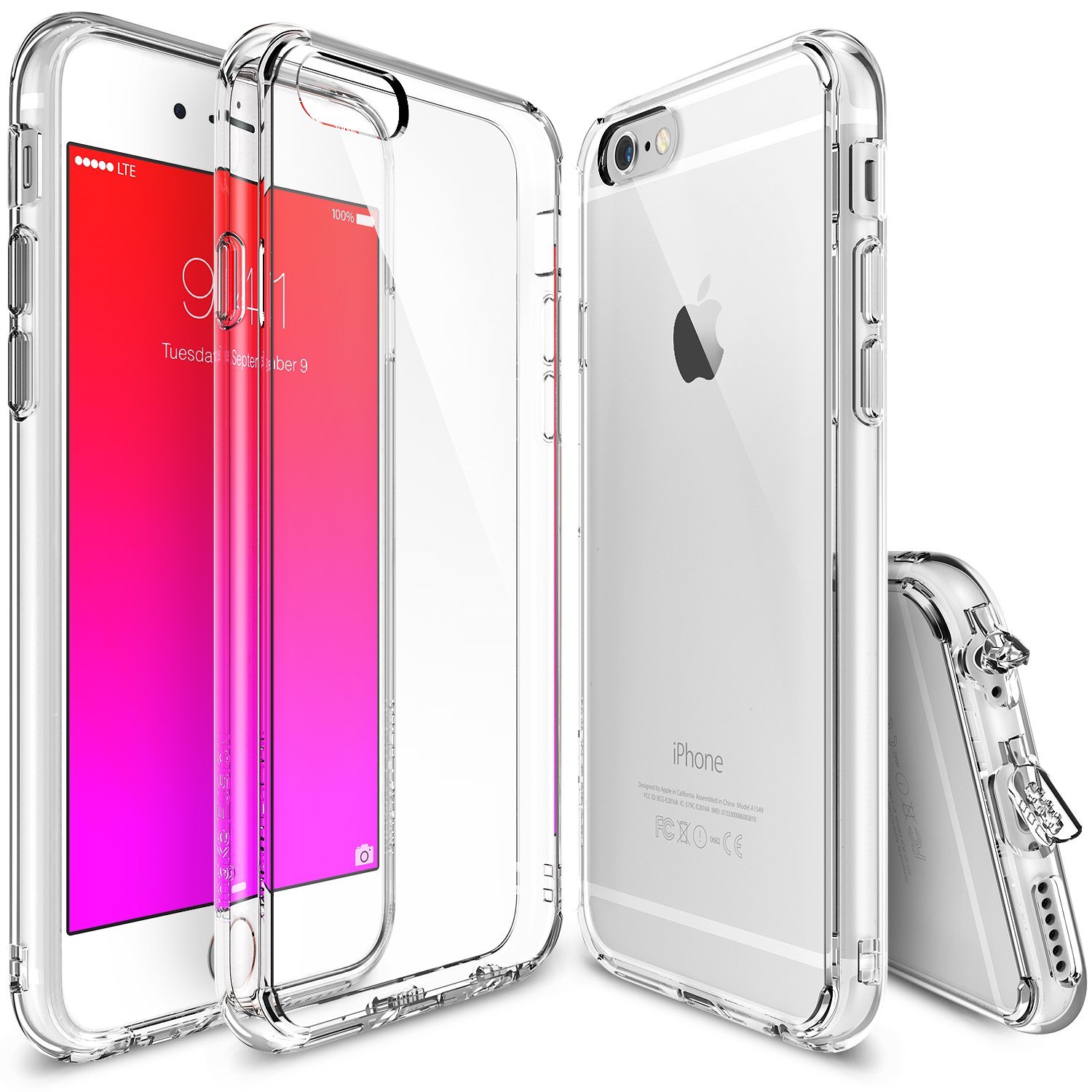 Apple iPhone 6/ 6S Case, Ringke [Clear] FUSION Series Slim & Protective Crystal Glossy Snap-on Hard Polycarbonate Plastic Case Cover w/ Dust Drop Protection
More About Ringke FUSION Case

World's clearest and hardest hybrid case, the Ringke FUSION is completed with an anti-scratch coated PC back. The transparent background provides slim and crisp view of the device. Ringke FUSION has a tapered lip and lifted camera bezel that raises your phone to a comfortable height off the surface, keeping the phone safe and protected.
Ringke FUSION is designed to keep your phone protected in everyday use. The TPU cushion absorbs the shock to keep your phone protected.
There are four-point rear defenders on the back. The rear guard props the cases safely above surface to keep your device free from any harm. Ringke FUSION help the responsiveness of your phone's buttons while maintaining the slim design with full access to all functions and ports. The Active Touch design of Ringke Fusion will help you to use your device easier and protect it at the same time.

Use the guiding template (DIY tool) to design and define your own case. Capture and share your best memories, hobbies or important people. Ringke FUSION will be unique, only for you!

No more tiny dusts out to attack your phone!
Attached Dust Cap: Ringke's more details to protect your phone!
We paid attention to every details when it comes to protecting your phone.
All you have to do is simply pull on the caps when using the ports on your phones. Have the caps closed to keep the dusts out.
The bump on the cap needs to be fitted into the hole on the case to keep the caps properly closed.

What to Expect in the Package
Ringke FUSION Apple iPhone 6 4.7" Case comes with template and instruction guide.

You Might Also Be Interested
Customers Who Viewed This Item Also View
Customer Reviews
Dorothy
Nov 14, 2016 7:50:17 PM
good quality and crystal clear
It protects my iPhone 6S from several and different drops. i love this case, it has a good quality and nice crystal glossy, it was awesome! Highly recommend
CC
Mar 24, 2016 2:28:01 PM
My daughter loves it
This case is exactly what my daughter was looking for. Good fit and looks great!
Margaritamarcia
Dec 2, 2015 4:35:10 AM
Super protection slim fit
Great case offering protection without bulk. Slim fit. Love the clear plastic. Opening plugs aren't something I would have thought of as necessary (still don't) but I guess they keep dirt out if you're a in the dirt/mud/water phone klutz.
i2k
Nov 5, 2015 8:20:33 PM
Great Case
Slim, sleek, and completely clear ( if you choose clear color). Even came with screen protector which I did not expect.
Sharon
Oct 30, 2015 6:15:28 AM
It feels great & look great!
I love the feel and security of this case! its looks great and its stylist. I would recommend it.
Random reviewer
Oct 29, 2015 9:01:39 PM
A must have!
This case is perfect. It show's off the phone beautifully. The port caps are the best part. No more alleged water damage. Every iPhone I've ever had, has allegedly been water damaged... Yet I have never exposed my phones to water. As much as I love apple's iPhone, they are designed to last for a few years at the maximum, without issue. I loved this case so much, I ordered two!
howd
Oct 1, 2015 7:58:28 PM
looks good
designed is good for purpose
Steven
Nov 16, 2014 11:18:48 PM
Topnotch case
This is a very good minimalist case that shows off iPhone 6 nicely. I have white case on while phone it's barely there. Blends well with phone. It feels good in the hand. This is one of the best case available for iPhone 6, the design and how it's made is topnotch.
Paul
Nov 14, 2014 12:25:07 AM
Highly recommended
I bought this Ringke Slim case because I'm a big fan of slim cases overall. These snap on style cases help protect your device from scratching without adding much bulk. This is a must buy for iPhone 6 owners, highly recommended !
Write Your Own Review