Features & Highlights
Why you should buy this product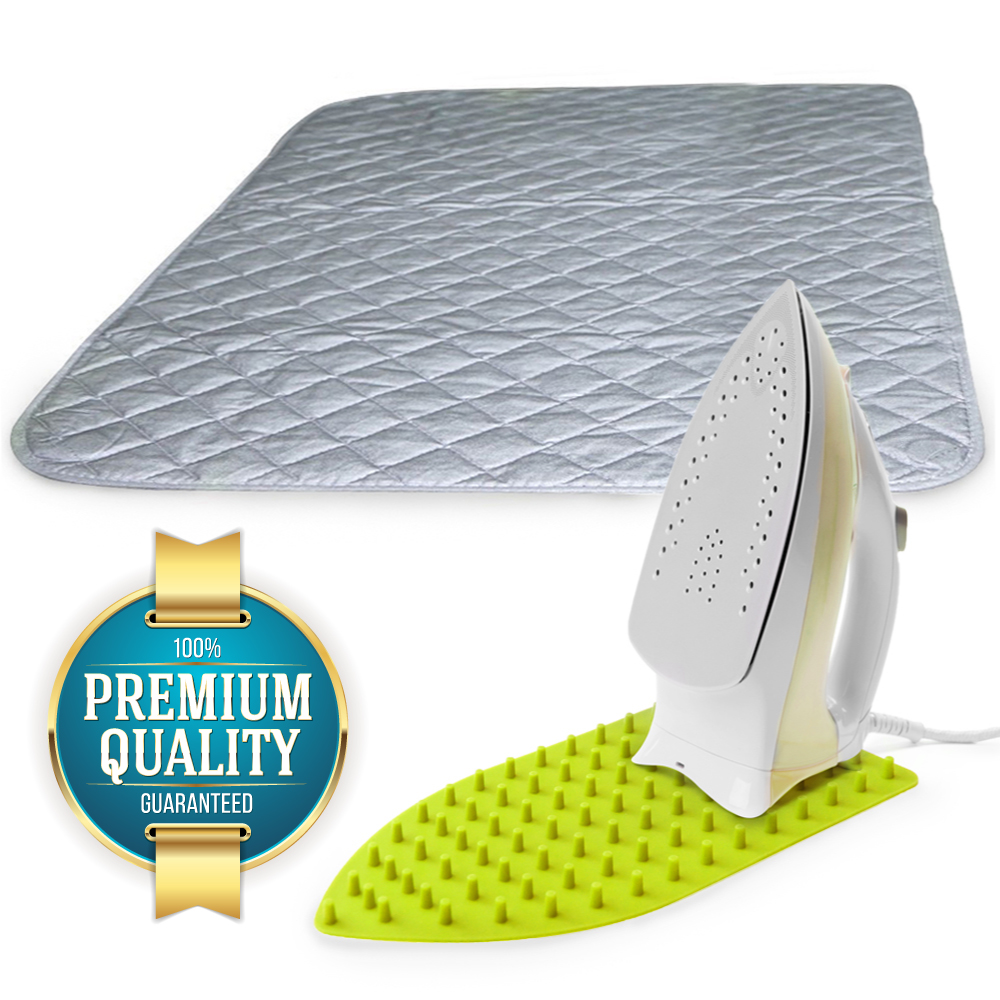 Eutuxia's Ironing Mat transforms the top of laundry appliances into an instant compact ironing board. Place the wide magnetic, heat resistant, quilted pad over a washer, dryer or any metal surface and press clothes immediately. Fold, roll or hang when done. Great for homes, apartments, dorms and RVs where space is valuable. .
The compact size of 23" x 20.5" allows for the quick pressing of the collars and sleeves of garments right after the dry cycle. The quilted cover is 100% cotton, which can withstand the 400F temperatures of most irons. Inserted at the corners are 4 magnets to keep the pad taut and flat when ironing. When you're finished, you can leave the mat attached to the appliance.
With this combo you also get a silicone resting pad! This nifty silicone mat keeps your iron away from scratches while preventing burns and scorches on their surfaces, as well as your household surfaces! You can lay your iron down while ironing, or rest it on this silicone mat while it cools down. You can place iron down and it doesn't scorch at all and it doesn't move out of place. There are bumps on it to allow for good air flow to cool the iron down faster.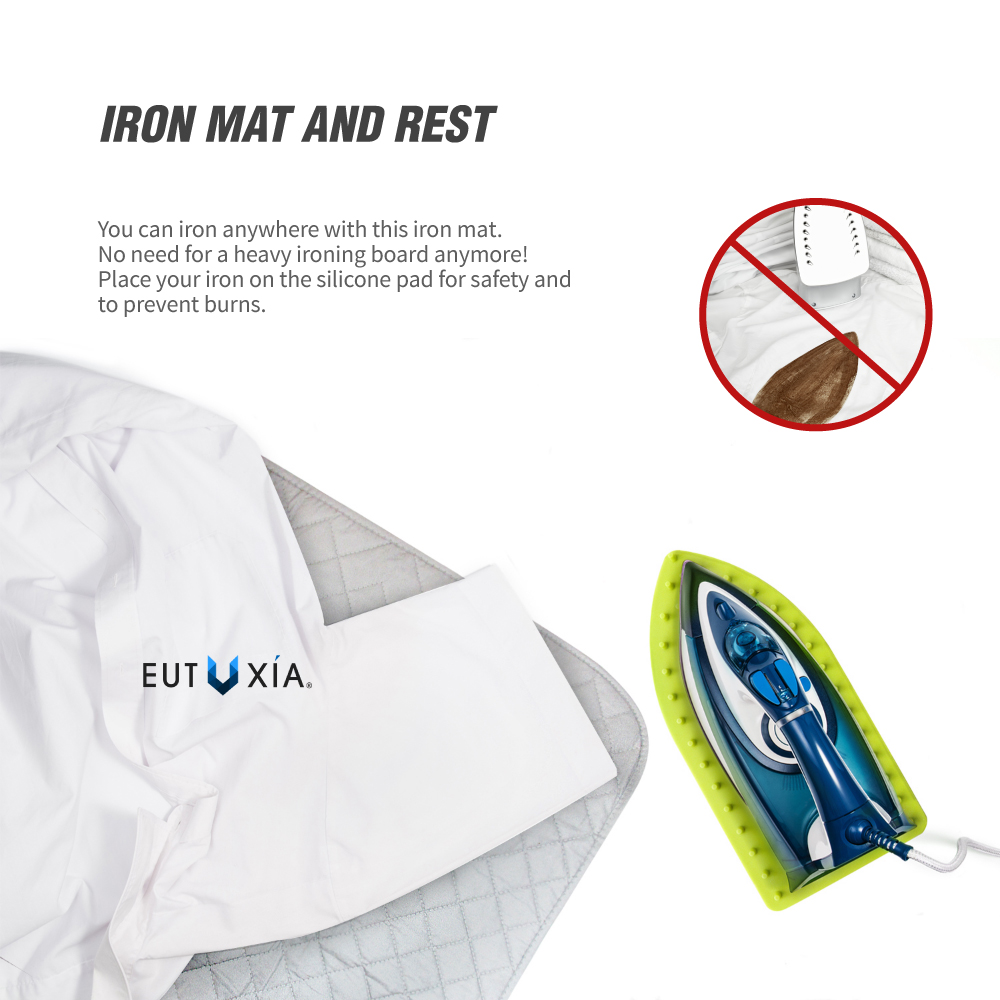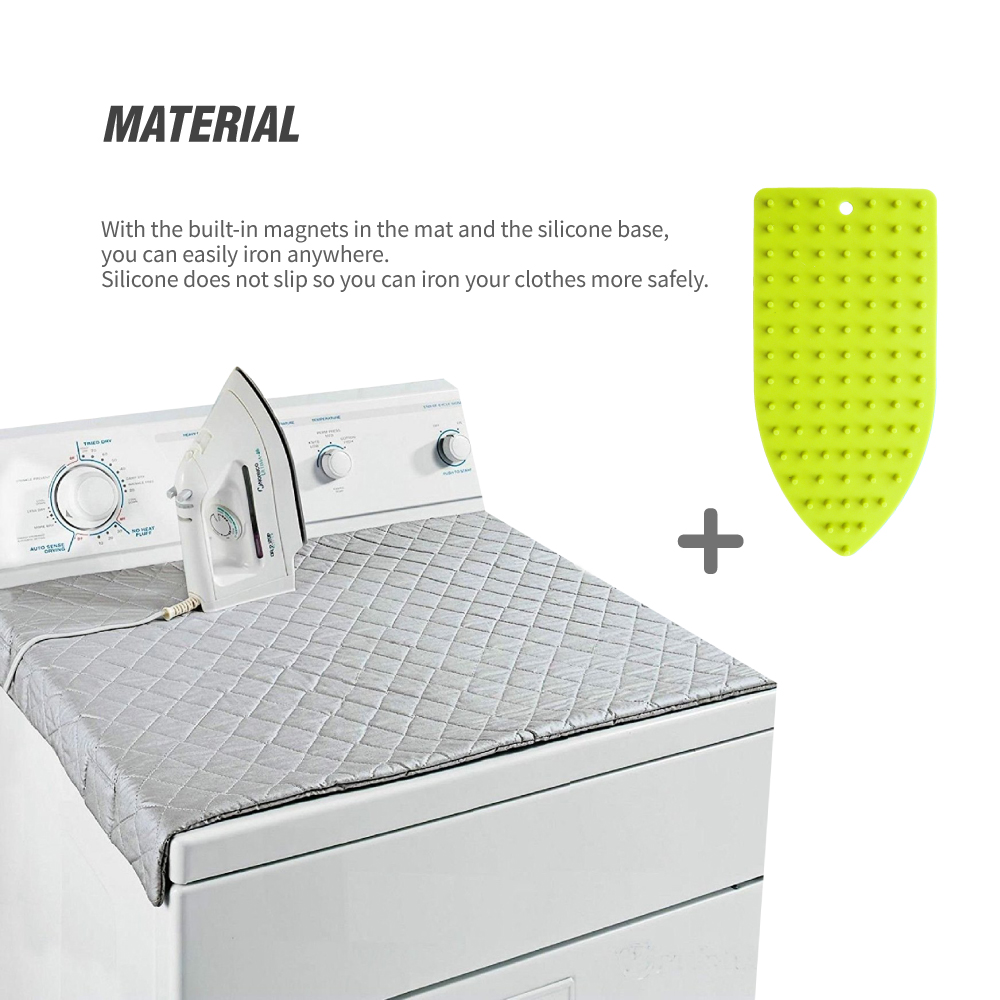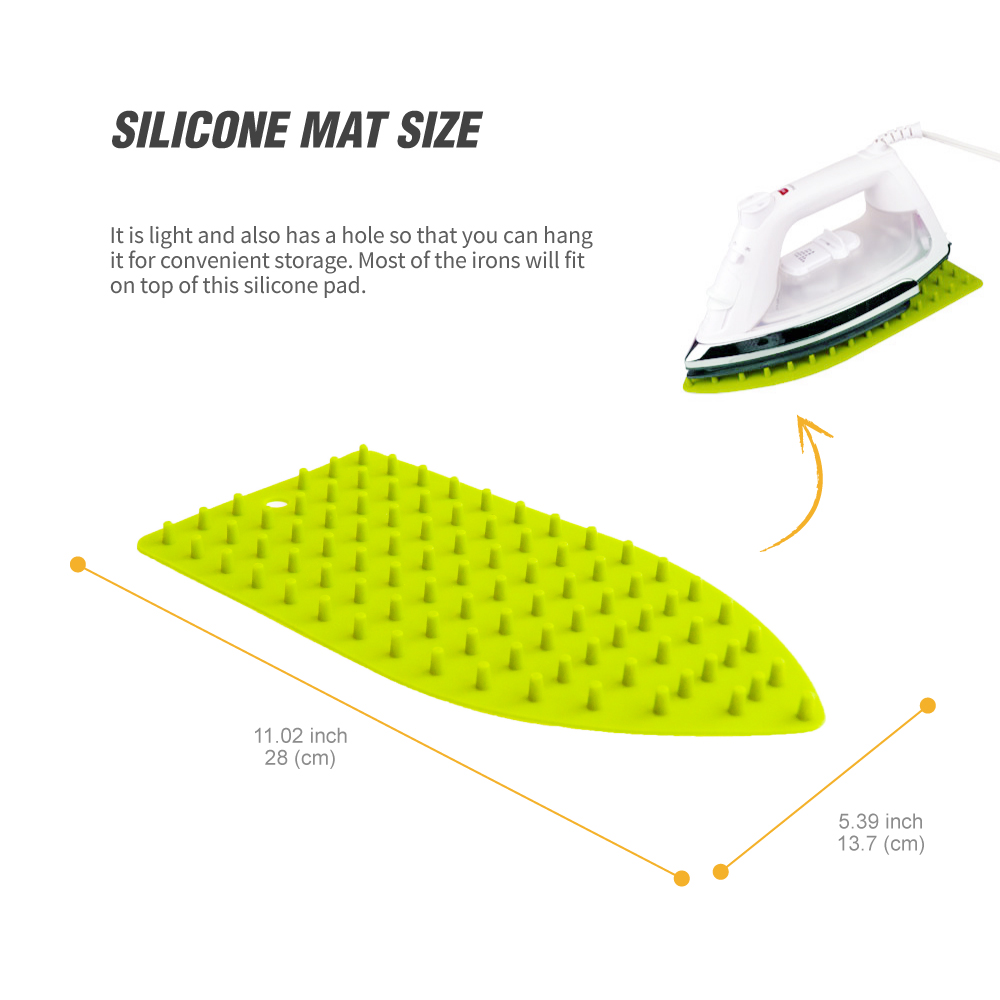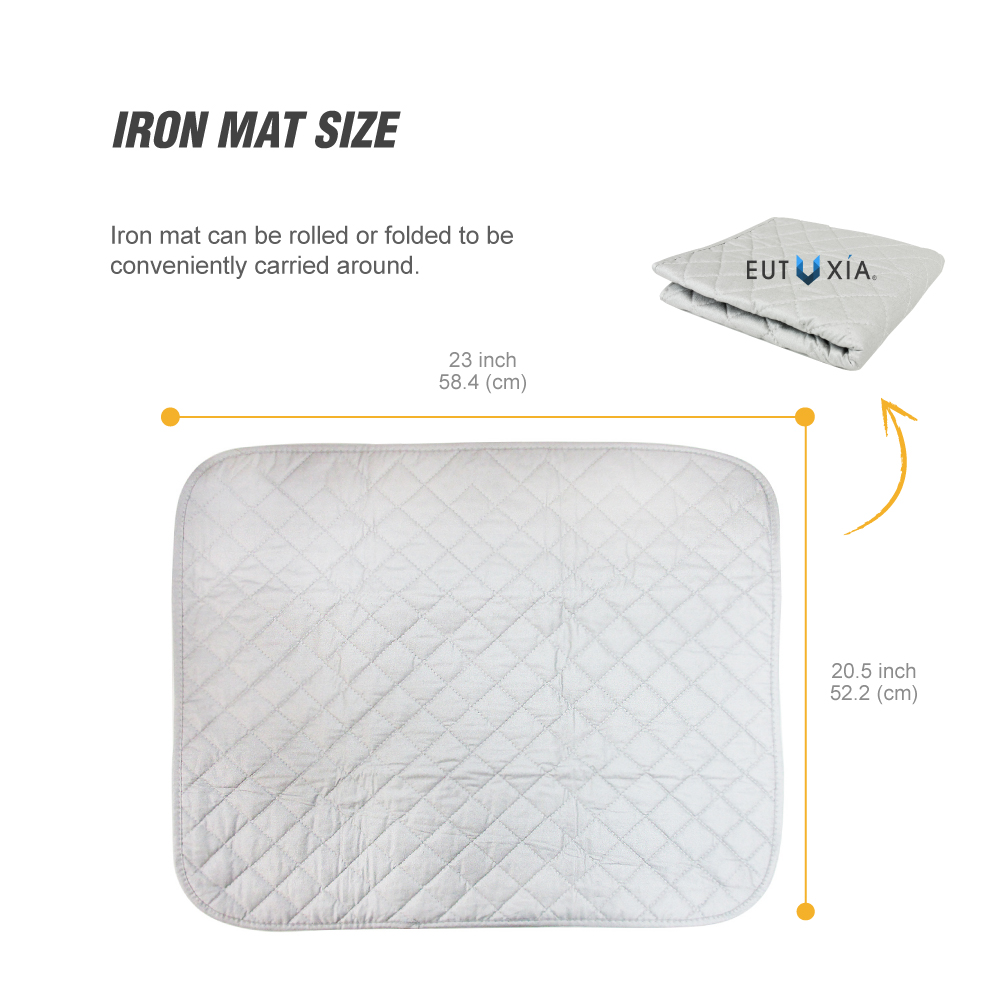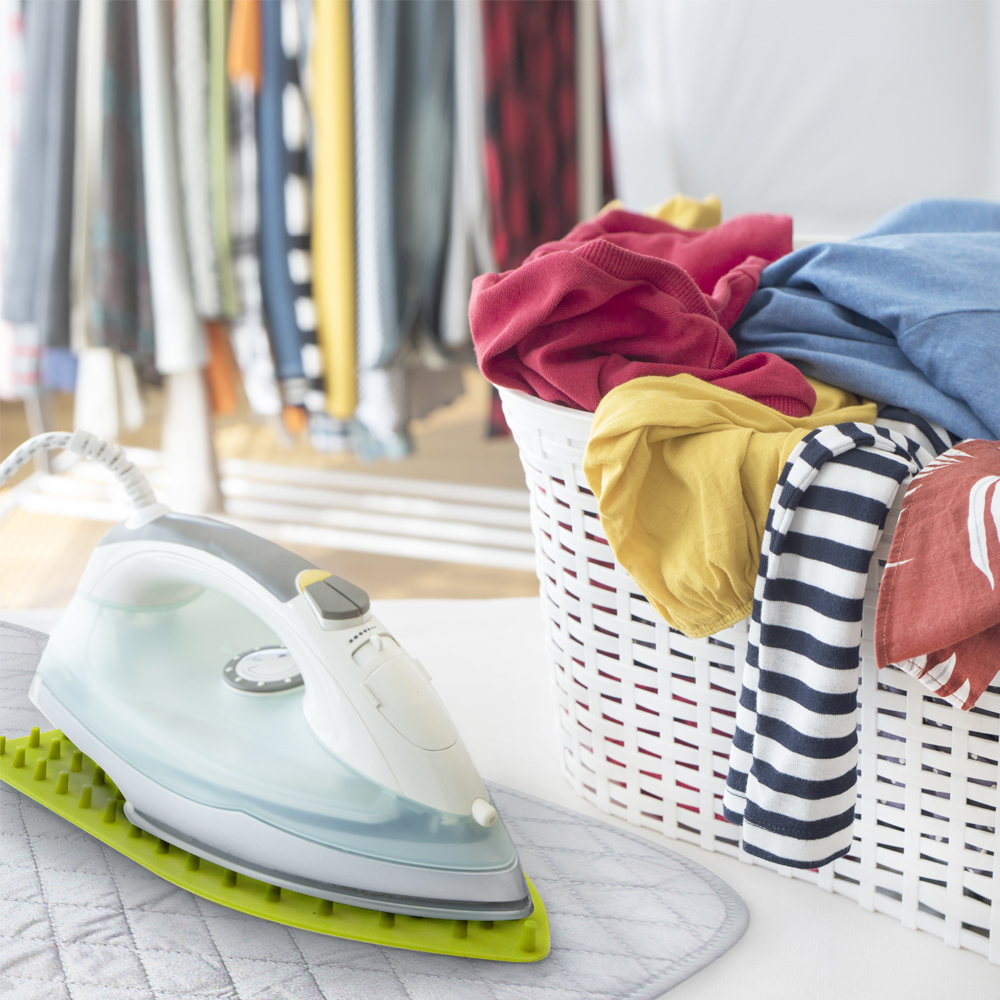 - Color:
You Might Also Be Interested
Customers Who Viewed This Item Also View
Customer Reviews
Michelle Moore
Feb 25, 2019 9:40:06 PM
what a great deal
Such a great buy for these combo! It comes with the silicone heat pad as well as heat resistant ironing pad. It fits nicely right on the top of the dryer and you can iron as you are folding.
James Mcleod
Dec 27, 2018 12:57:08 AM
very helpful
Great item! This ironing mat and silicone pad combo are good for your travel needs and it's perfect to put on top of washing machine, dryer or on a table. Very helpful!
Kylie Hopkins
Nov 20, 2018 10:15:51 PM
very useful and functional
Works just as intended. It good for using on top of the dryer to iron clothes instead of pulling out an ironing table. So, this helps out in the process of ironing itself!

Angela Jackson
Oct 30, 2018 8:25:45 PM
super easy to travel
I was looking for an easy solution to iron without having to unfold the ironing board and I thought about an ironing pad so I went for it. This pack is really complete! Super easy to travel with and store away.
Andrea Bailey
Sep 25, 2018 12:33:58 AM
great purchase
This is the best option for those who need to iron small items or touch-ups. Very well made and the thickness products our dryer while the reflective surface speeds the ironing process. Great purchase!
Tracey Lincoln
Sep 24, 2018 1:34:44 AM
great ironng blanket
Great ironing blanket and silicon pad for small space. This was a temporary solution that turned into more. I will definitely use it for traveling, quilting or when I don't want to pull out the big ironing board.
Marlene Jocson
Sep 18, 2018 6:09:28 PM
best value for the money
Very handy ironing pad. This is perfect 'to go' when you're in a rush and don't have time to set up your ironing board. Super love these Ironing blanket, mat & silicone. Best value for the money!
Lovely Brown
Sep 18, 2018 2:42:14 AM
very helpful
The size of the fold is just right, easy to store, and soft to feel. The thickness is just fine. The surface is smooth and the quality is good. Love it very helpful!
Evelyn Douglas
Sep 16, 2018 10:15:24 PM
perfect for traveling and very handy
Perfect for traveling and very handy. I gave one to my sister lives in a small apartment and was able to iron a dress shirt with success. The iron-shaped pad was good for resting the hot iron.
Joan Blare
Sep 9, 2018 11:18:19 PM
works great for the small area
Works great for the small area. I use this for quick touch ups with my steam iron. The magnets could be a smidge more powerful and it covers a small dent on the top of my washing machine.
John Robert
Nov 29, 2017 11:59:08 PM
good quality
It feels like a good quality item, I used it on my dining table with no issues. So convenient to fold up and tuck away in a closet. Great value too!
Write Your Own Review