Features & Highlights
Why you should buy this product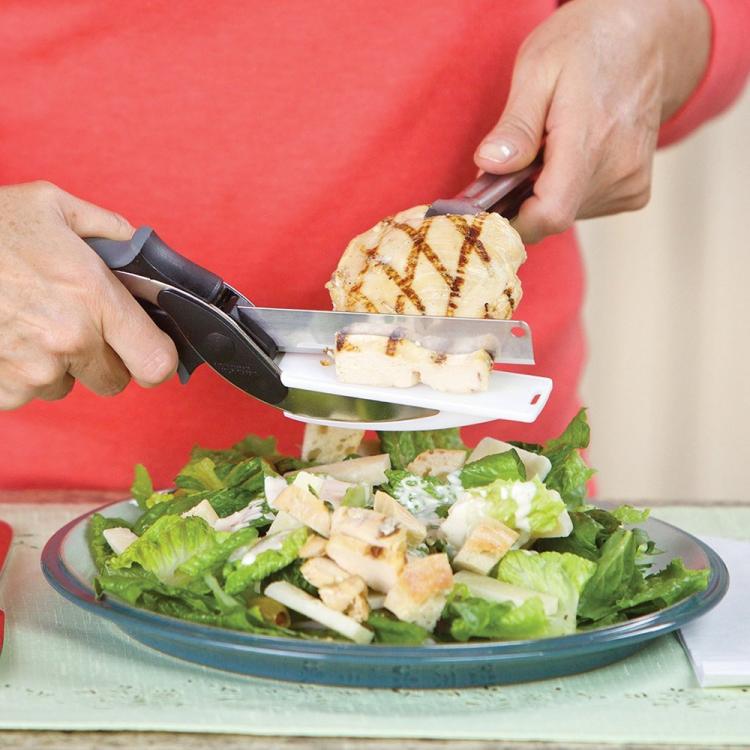 Kitchen Shears With Built-in Cutting Board - Multipurpose Kitchen Scissors - Use Anywhere!
These snazzy Kitchen Shears With Built-in Cutting Board are designed with an angled blade that keeps its sharpness! Because of the single edge design (similar to the design of a razor) we do not recommend sharpening the blade with a traditional kitchen knife sharpener.. They can be cleaned either by hand or in the dishwasher. No Messy Cleanup! Quickly cut up veggies, fruits, cheese, meats, and more! Makes for easy prep and easy cleanup!
2-IN-1 KNIFE AND CUTTING BOARD - Combination food chopper and carving board makes cutting, slicing and dicing easy and fast or used separately as knife or cutting board to replace your kitchen knives and cutlery.
HIGH QUALITY - Super sharp blade made from high quality stainless steel is food-safe and rust-resistant. Kitchen scissor with durable PP material cutting board easily and safely slices foods without messy cleanup.
CONVENIENT AND EASY TO USE Replace all your kitchen knives and cutlery with one easy clever cutter tool, ready to use device Locking safety hinge helps prevent accidental cuts. Stainless Steel blades. Dishwasher-safe for easy cleaning.
CHOPS AND SLICES IN SECONDS- Combination food chopper and carving board makes cutting, slicing and dicing easy and fast. Great For Cutting/Slicing/Chopping Veggies, Fruits, Meat, Cheese, and More
ERGONOMIC DESIGN- Long silicone grips are aimed to deliver you from tiredness while operating this scissor, don't need worry about the pained hands or suffering from arthritis. A perfect and fabulous gift for that special person in your life, creating a total new approach in cooking.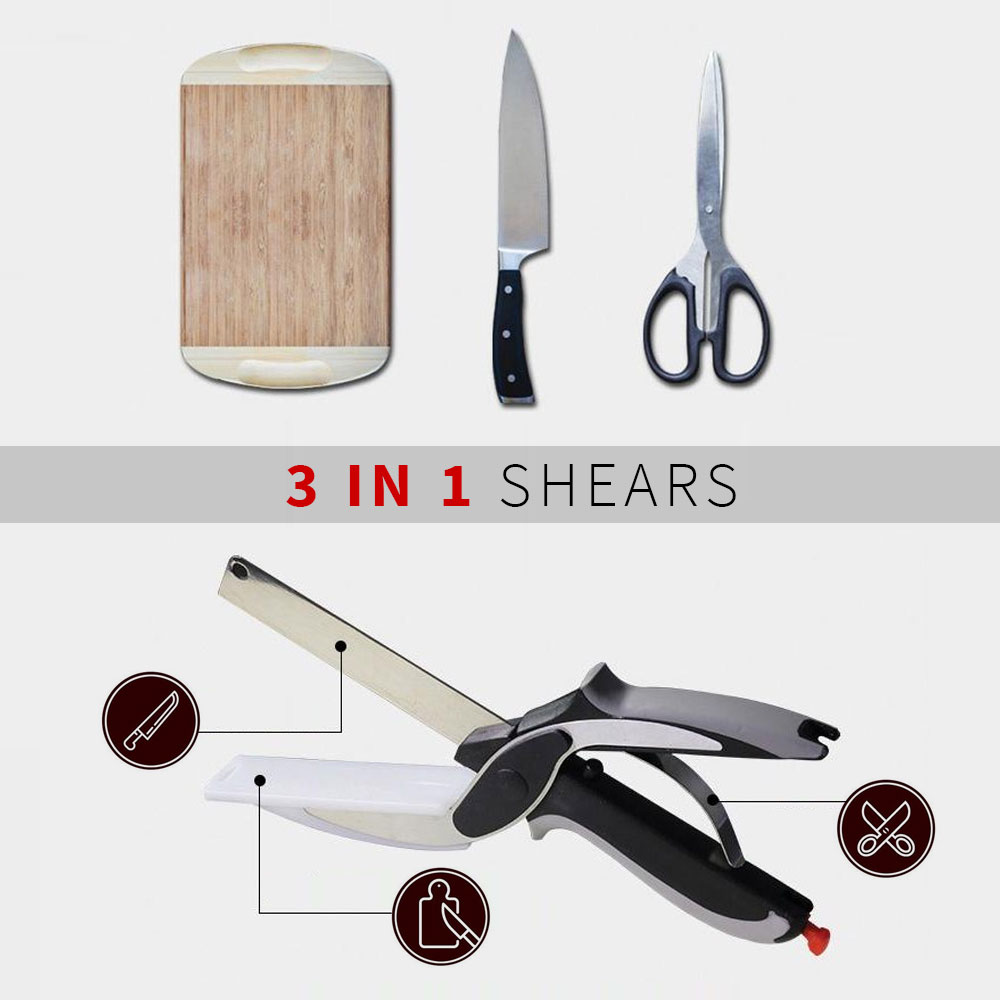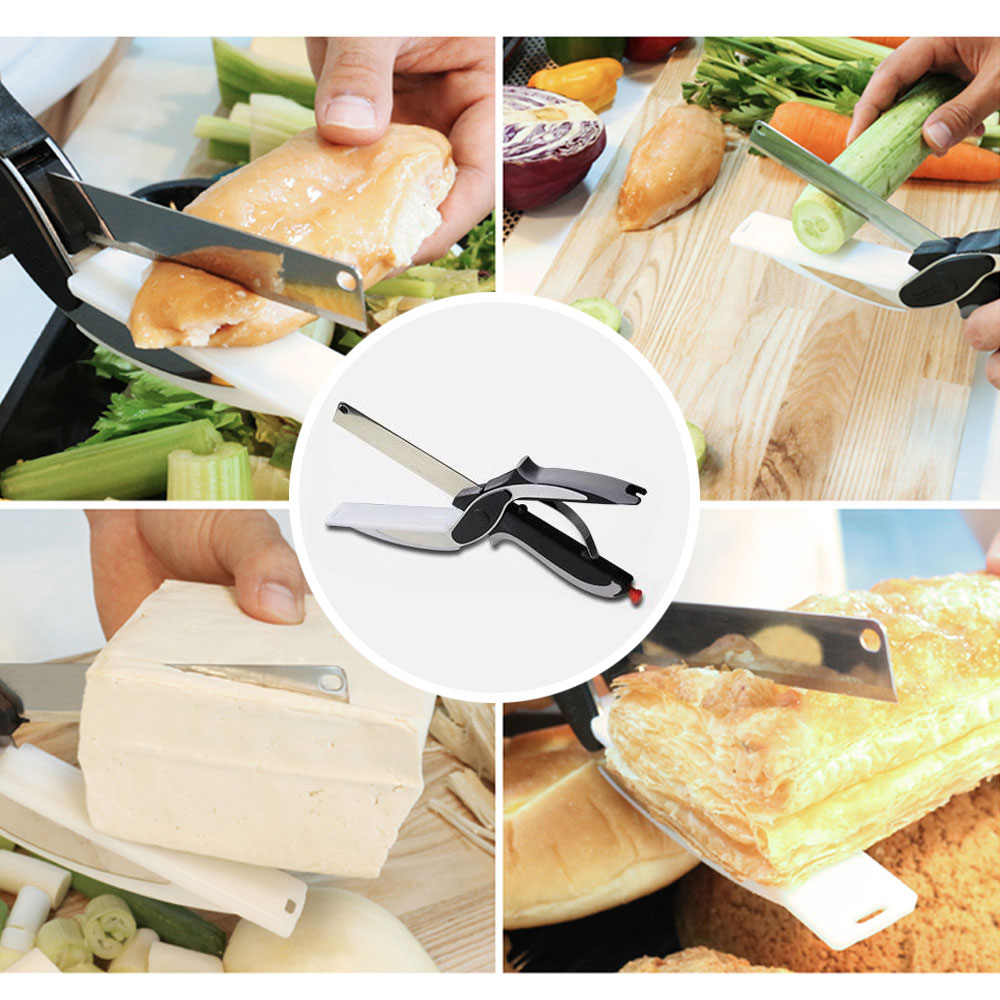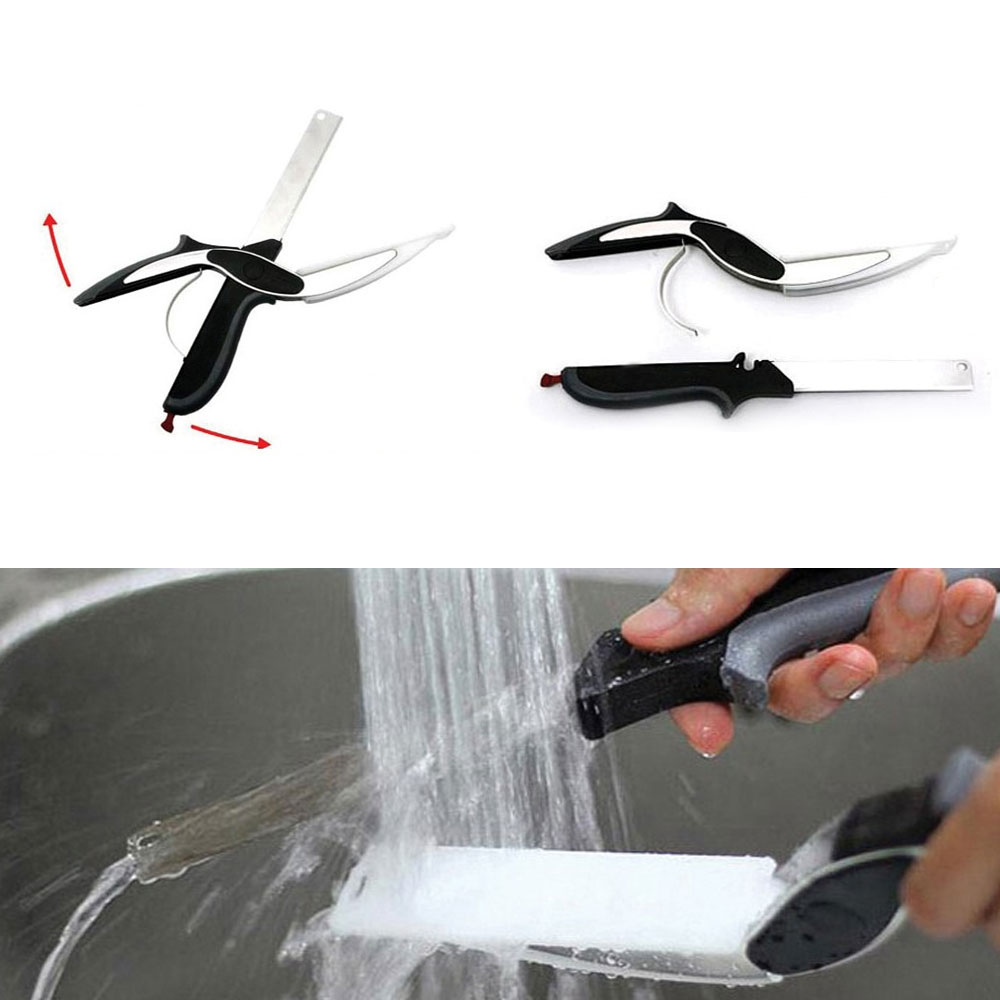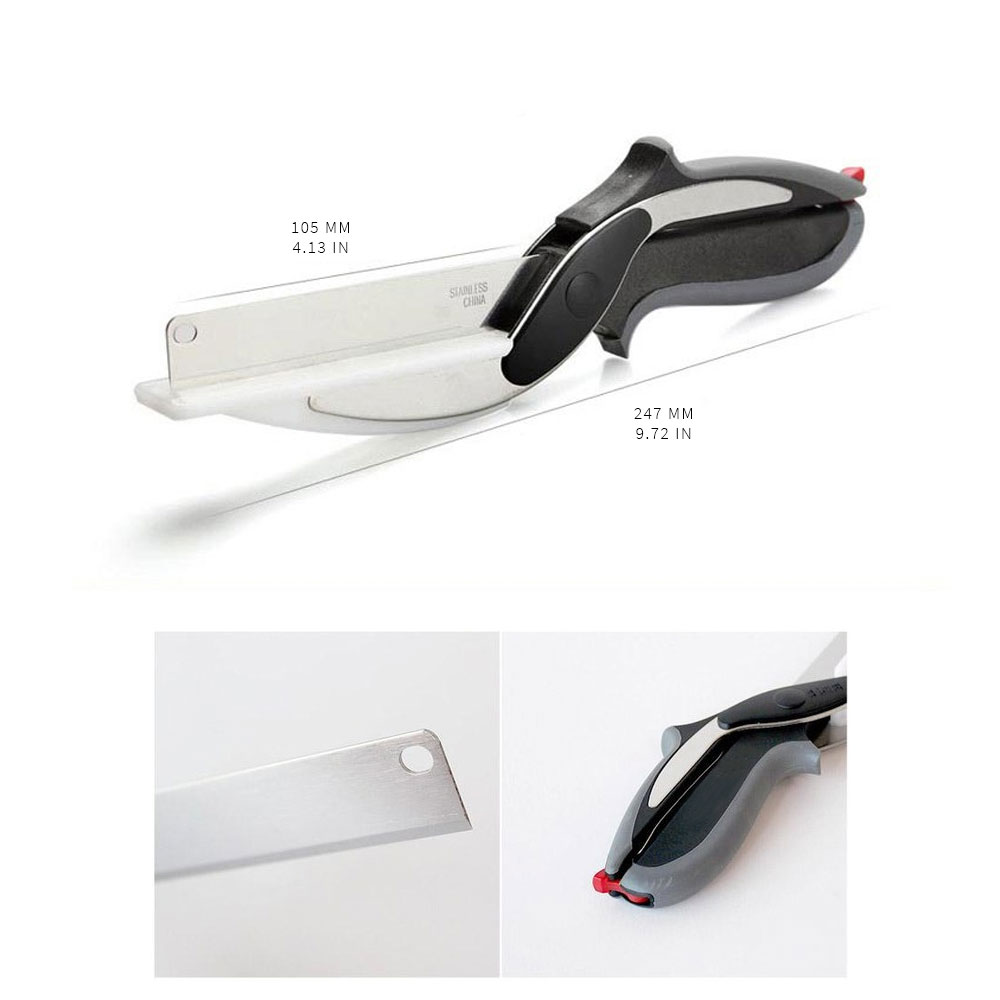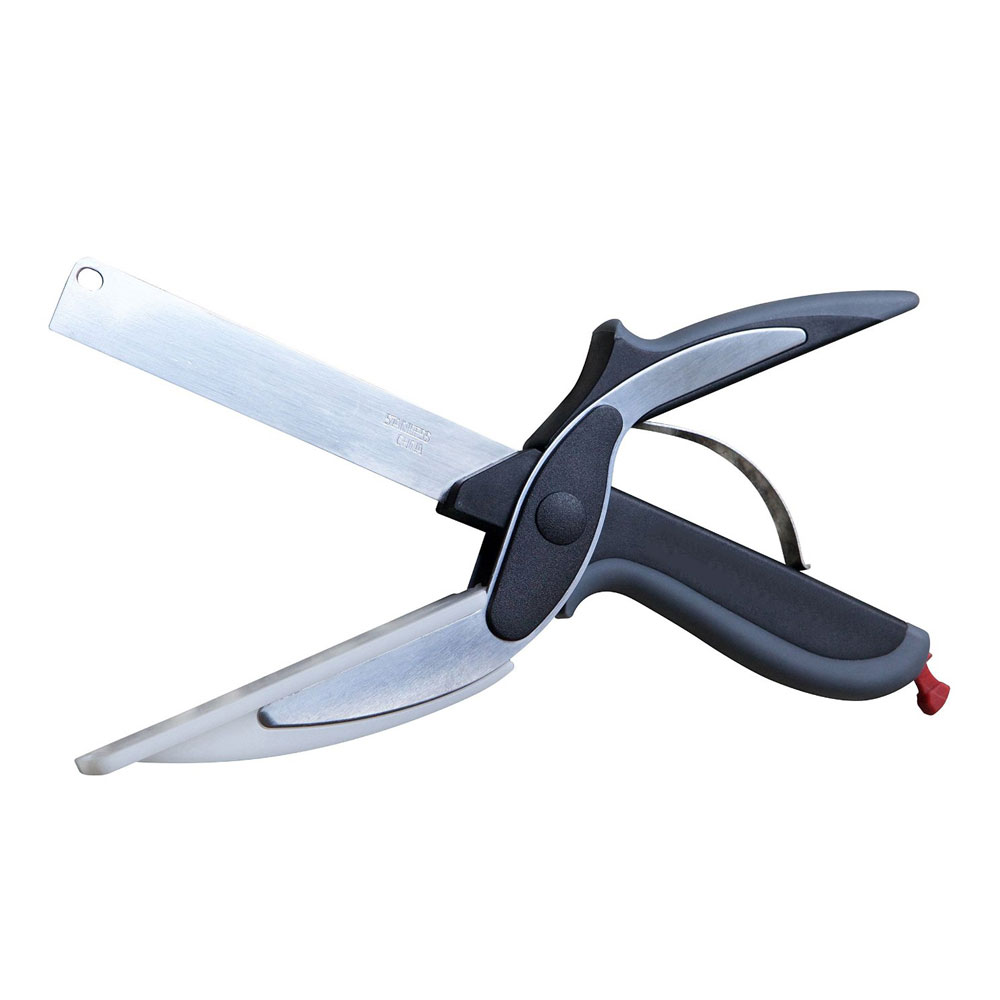 You Might Also Be Interested
Customers Who Viewed This Item Also View
Customer Reviews
Sally Mcbride
Oct 9, 2018 11:04:18 PM
very good chopper
I like the idea, definitely make my life easy! Very good chopper, very sharp, and I use it for meat, vegetables, and cheese too! Great invention!
Marlene Jackson
Sep 4, 2018 12:49:50 AM
great kitchen tool
Great kitchen tool! It works just like scissors, no need for cutting boards, so easy to use and great for outdoors snacks! Easy to clean and safe when not in use.
Myline Knox
Aug 30, 2018 10:25:27 PM
i love this food cutter
I love this food cutter. It saves me using a knife and chopping board, plus my cuts are way more uniform! Perfect for veggie for salads, soup etc., it works well for chicken too!
Glorie Miller
Aug 29, 2018 4:42:48 PM
fun to use
It's fun to use! A clever idea to create such a very cool food cutter. I've always been a little cautions about so many different types of cutters. I absolutely love how easy this cutter is to use and what a great job it does!
Michael Mclean
Jul 17, 2018 8:40:36 PM
what a great product
What a great product! I like the idea definitely make my life easy, very good chopper,and very sharp. I used it for meat, vegetable and cheese too! This chopper cuts fast and meticulously!
Marlene Jocson
May 31, 2018 6:47:30 PM
a clever kitchen tool
A clever kitchen tool! Works just like scissors no need for cutting board! Great for outdoor snacks, easy to clean, safety tech that locks and keeps the sharp part protected. Love it!
Yvonne Brown
Feb 28, 2018 11:11:08 PM
making my life easier
I finally used this kitchen shears and it does work well!Used so far for fresh basil, broccoli and chicken. It has been making my life easier!
Jessica Chapman
May 17, 2017 11:45:05 PM
cut everything
I feels like a professional chef:) Super kitchen shears so far. They have cut everything so easily and cleanly. Thanks for a good product!
Gabrielle North
May 17, 2017 12:53:39 AM
excellent quality for the purpose
Super sharp and very sturdy in construction. The stainless steel quality of the blades is excellent. Great buy!
Donna Butler
Jan 24, 2017 8:05:23 PM
excellent kitchen shears
Excellent kitchen shears, very sharp and easy to use. Price is great! Thank you.
Jasmine Ellison
Jan 23, 2017 7:27:50 PM
excellent product for everyday used
Excellent product and well worth the purchase. It cuts through everything quickly and clean up so easy. Very useful and thank you i used it everyday! Worth the price.
Write Your Own Review