Features & Highlights
Why you should buy this product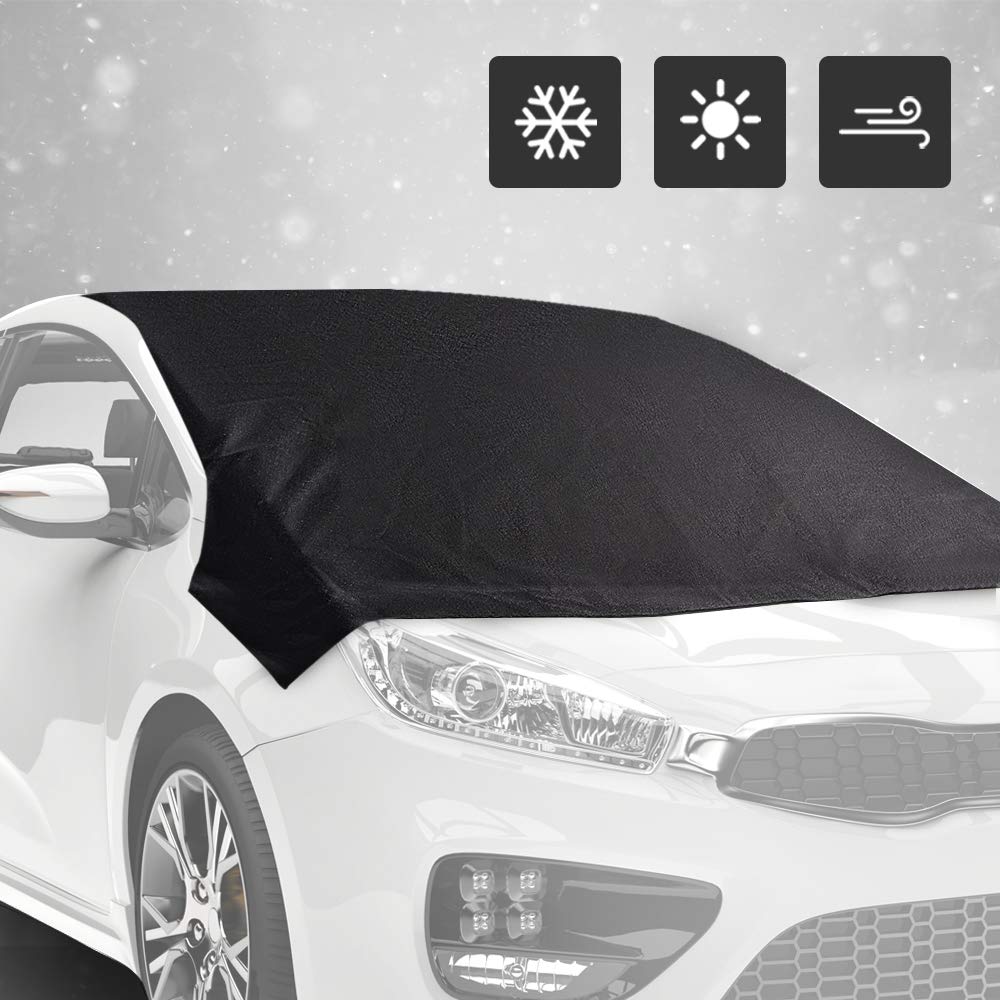 Windshield Snow Cover - Ice Sun Frost and Wind Proof in All Weather, Fits for Most Vehicles
Shelter windshields from ice, frost, tree sap and bird droppings with this heavy duty cover; and keep interiors cooler in summer! Multi-purpose, suitable for yoga mat, picnic mat, outdoor table cloth and so on.
NO MORE SCRAPING - The Weather Shield car windshield cover keeps snow, ice, and frost off your windshield to save you valuable time and energy on those chilly mornings. Just peel off the auto windshield cover, shake off the ice, and drive away in no time.
WEATHER LOCK - Four pieces of elastic with hooks can be fixed on the wheel, reducing wind blowing effectively.
PREMIUM QUALITY POLYESTER FABRIC - We made our windshield guard from a thick, heavy duty, durable material to keep it from moving around, blowing away or tearing
SIMPLE AND SECURE ATTACHMENT - It takes just a couple of minutes to unfold your car windshield cover across your front windshield.
USE ALL YEAR ROUND - Don't limit the frost guard windshield cover to just the winter. Use it during spring to keep pollen and bugs away, during the fall to keep leaves at bay, and during summer as a truly effective windshield cover for sun and that dangerous UV radiation.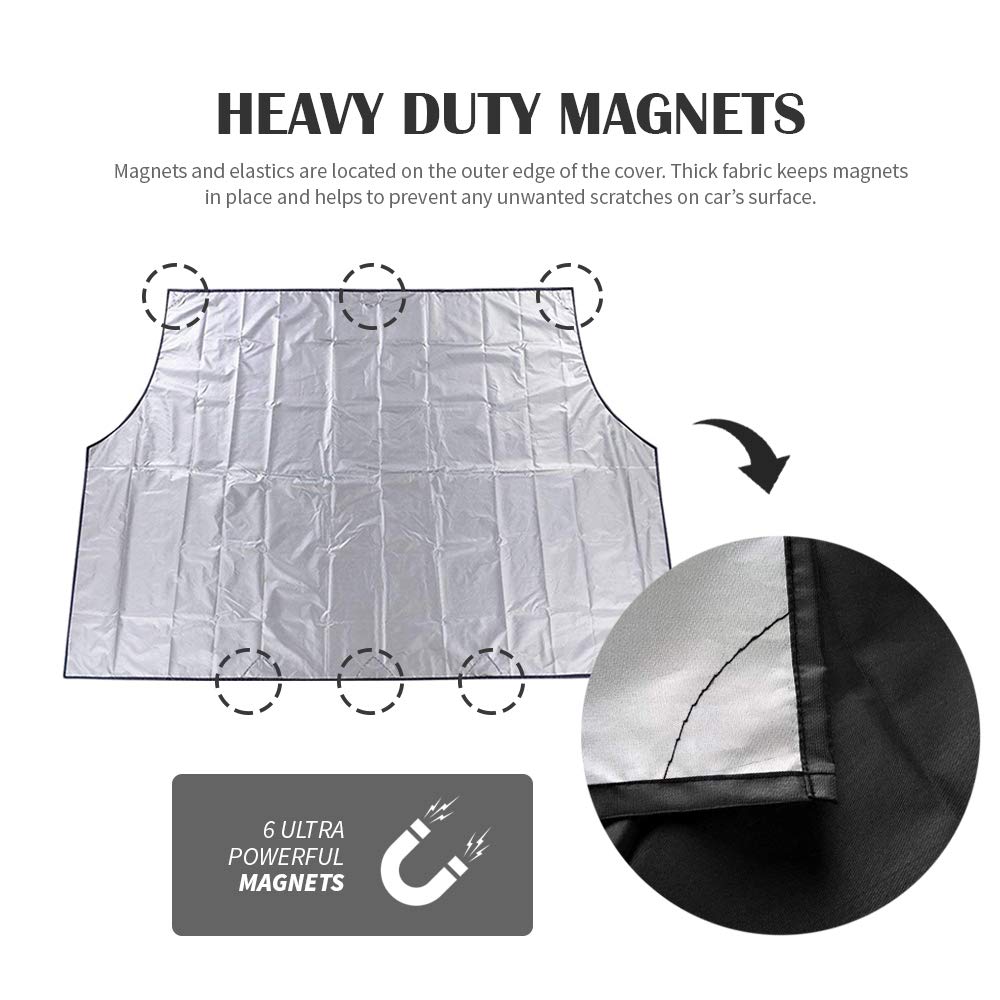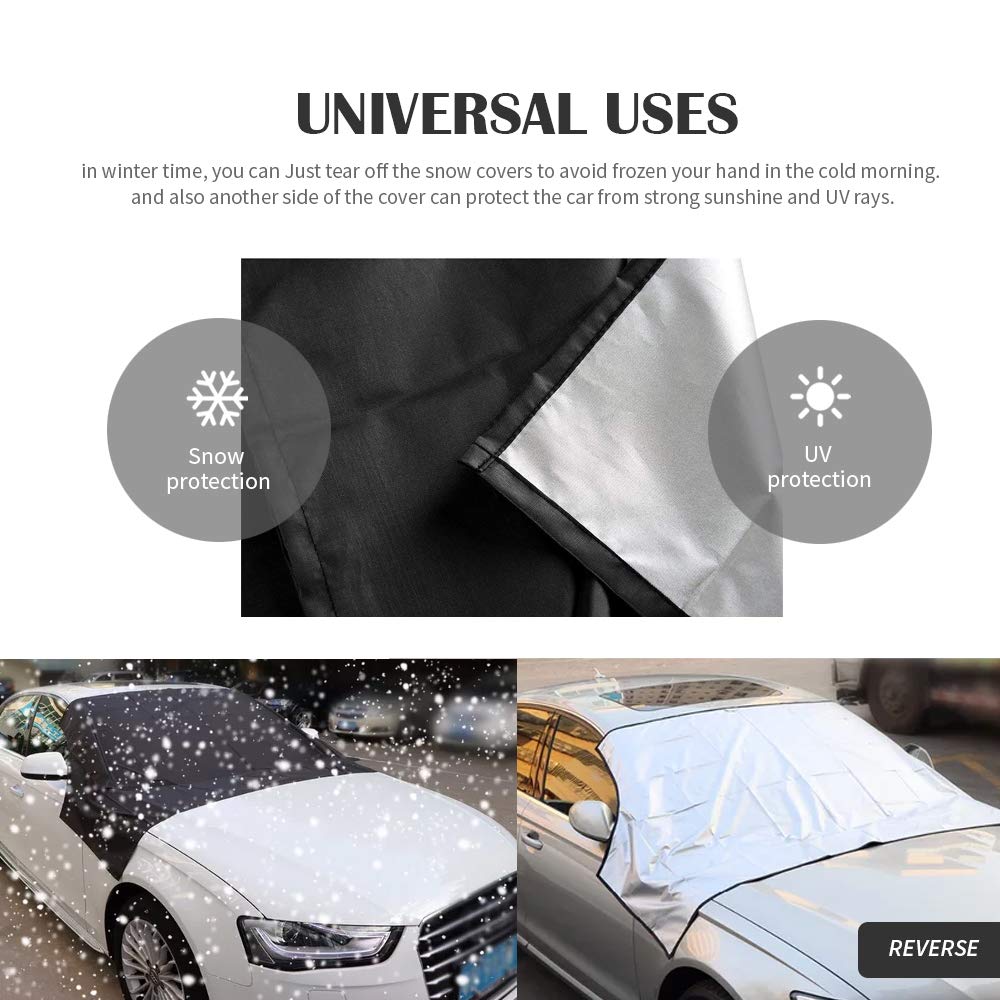 You Might Also Be Interested
Customers Who Viewed This Item Also View
Customer Reviews
Marlene Lim
Jun 10, 2019 8:31:57 PM
great deal for 2
Great deal for 2! Easy to install. No need to shovel or scrape the windshield after it snows. Totally recommend getting it if you can't park in a garage or have your car outside in the snow.

Mario Lambert
Feb 12, 2019 9:19:57 PM
best buy for two
Fits perfectly on my new car, it cover's the whole windshield across and comes down nicely over the wiper blades and a litle onto the hood. Nice snuck fit, material is a nice weight, and this is best buy for two!
Joseph Moore
Jan 6, 2019 7:45:11 PM
save a lot of time to clear my car
I used this item several times over the winter and it served its purpose. Quick and easy to put on and take off! This came in so handy and saved a lot of time trying to clear my car to get ready for work.
Robert Brown
Dec 19, 2018 8:22:42 PM
keep my winshield clean and snow free
Exactly what we needed for the sub-freezing temp and moisture. Easy to use for my wife at 5:30 in the morning in the elements. Kept my windshield ice and snow free. Happy for 2 pack!
Gary Moore
Dec 19, 2018 7:20:38 PM
easy to put on and off
Extremely happy with this windshield cover! I have used it several times and it has kept snow and ice off my windshield. Durable, quick and easy to put on and take off!
Angie Black
Dec 18, 2018 9:13:47 PM
keep my windshield safe
Best windshield snow cover I have ever had. Quick, easy to put on and take off. It keeps my windshield clean and safe. I highly recommend this product.
James Lee
Mar 14, 2018 8:22:04 PM
worked great
I used it several times for the winter months and it worked great to keep ice and snow off the windshield. The side wings work great for holding the screen on the windshield and not flying off.
Jasmine Harvard
Feb 12, 2018 9:32:11 PM
worth buying
Worth buying for 2 pack! Was a gift for my mother, she said it's easy to put on and saves her shoulder/arms from having to scrape ice. She loves it!


Jason Howard
Feb 12, 2018 6:31:34 PM
awesome fits great
Awesome! This cover fit on my car well. Our area starts to snow and frost and this saves a lot of time for me when I go to work and come back home. No need to clean the window anymore.
Mary Megan
Jan 26, 2018 1:31:06 AM
great idea
Great idea! This little piece of fabric has saved me countless hours scrapping the windshield on my van. It hold the cover in place and this covers the entire windshield. Thanks!
Kimberly Grant
Nov 9, 2017 4:13:52 PM
really help
Very glad to have 2 pack:) Fits and works as advertised. It saves the trouble currently of dirt and debris from trees. This cover will help tremendously with frost and ice. Many thanks.

William Cameron
Nov 8, 2017 5:05:20 PM
happy with purchase
It includes a complete set for a better snow windshield. It is reflective, it keeps the car much cooler than the darken shades, includes a pouch when you collapse them for storage. Happy for 2 pack:) Thanks!

Jojo Mcdonald
Oct 18, 2017 6:28:07 PM
very happy for 2 pack
We finally got our first big snowfall of the season and this worked perfectly. Very happy for the 2 pack available one for my car and another for my wife. It is very nice to not have to scrape windows covered with frost.
Joan Gibson
Feb 27, 2017 6:07:28 PM
very useful
Excellent product, very useful when it snows!!! Fits my car perfectly.
Frank Poole
Jan 26, 2017 9:58:01 PM
keeping the snow off my winshield
It covers my car and is easy to use as well as keeping the snow off the windshield. Very helpful for icy conditions. Great product for amazing price!
Write Your Own Review