Geeky Gifts Not From Grandma
Features & Highlights
Why you should buy this product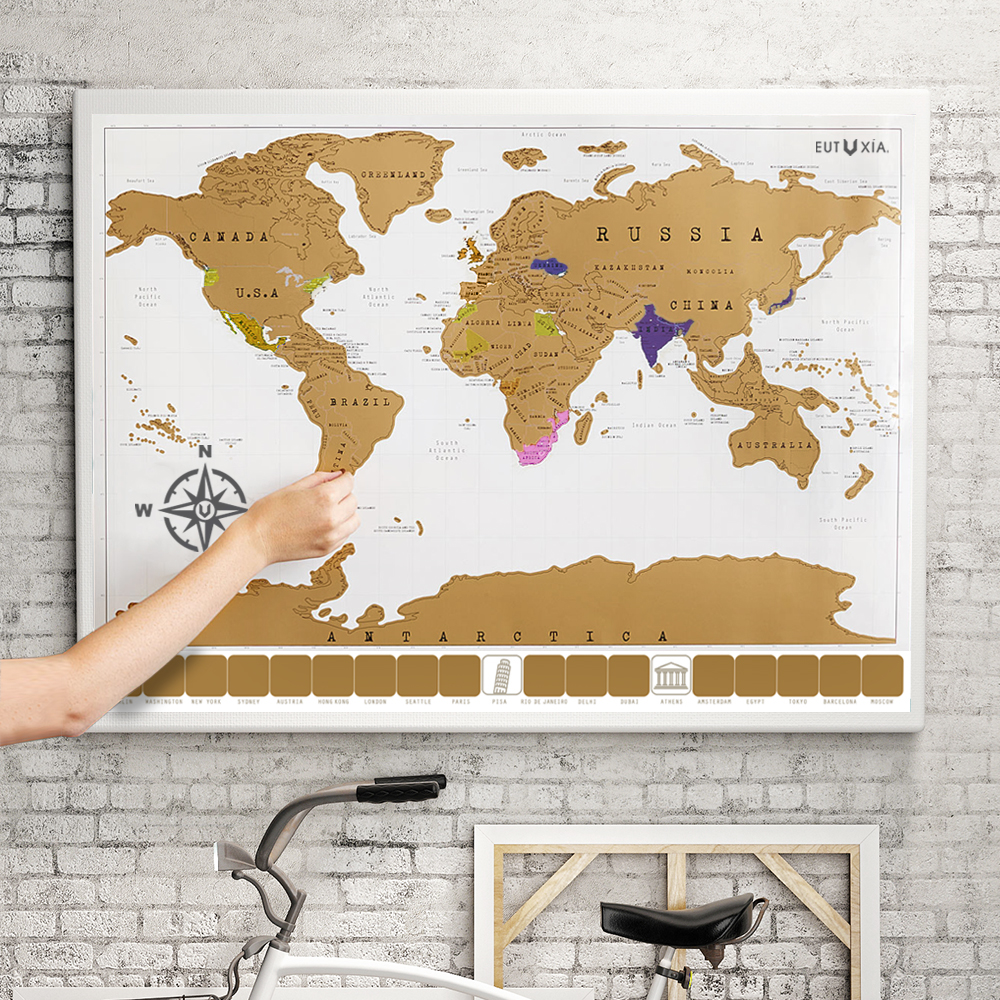 Eutuxia Travel Scratch World Map (34x20 inch) - Track Places Where You've Been To!
Where in the world have you already been Its not always easy to keep track of countries and destinations that youve been able to visit. Eutuxia Travel Scratch World Map is very useful tools for the traveler, and that's to track the places where you've already been to. The Eutuxia Scratch Map is pretty and presentable enough to hang on your wall for all to see. If you've been to a certain destination already, just get a penny and start scratching away at the foil covering that area on the map to reveal a colored version of the map below it. Scratch Map is brilliant! Its the perfect way to show off where you've been traveling while livening up your wall with a colorful world map. Scratch Map is an amazingly high quality, upper-massive wall map, featuring a gold top foil layer.You get a unique, slick looking gold wall map to start with, and the idea is that you then scratch off all the places you've visited to reveal a whole new world below, featuring color and geographical detail. The result is a totally unique and personalized world map. What a great gift for the go-getting traveling-type! The Scratch Map comes packaged in a slick tube so its also easy to transport.
Size 34"x20" Scratch off visited destinations' to reveal the world map underneath The intricate geographical details will also serve as a reminder of how many countries you have not visited This scratch map is an ideal gift for people who love to travel and explore the world The scratch off world map will motivate you to get out of your comfort zone and explore!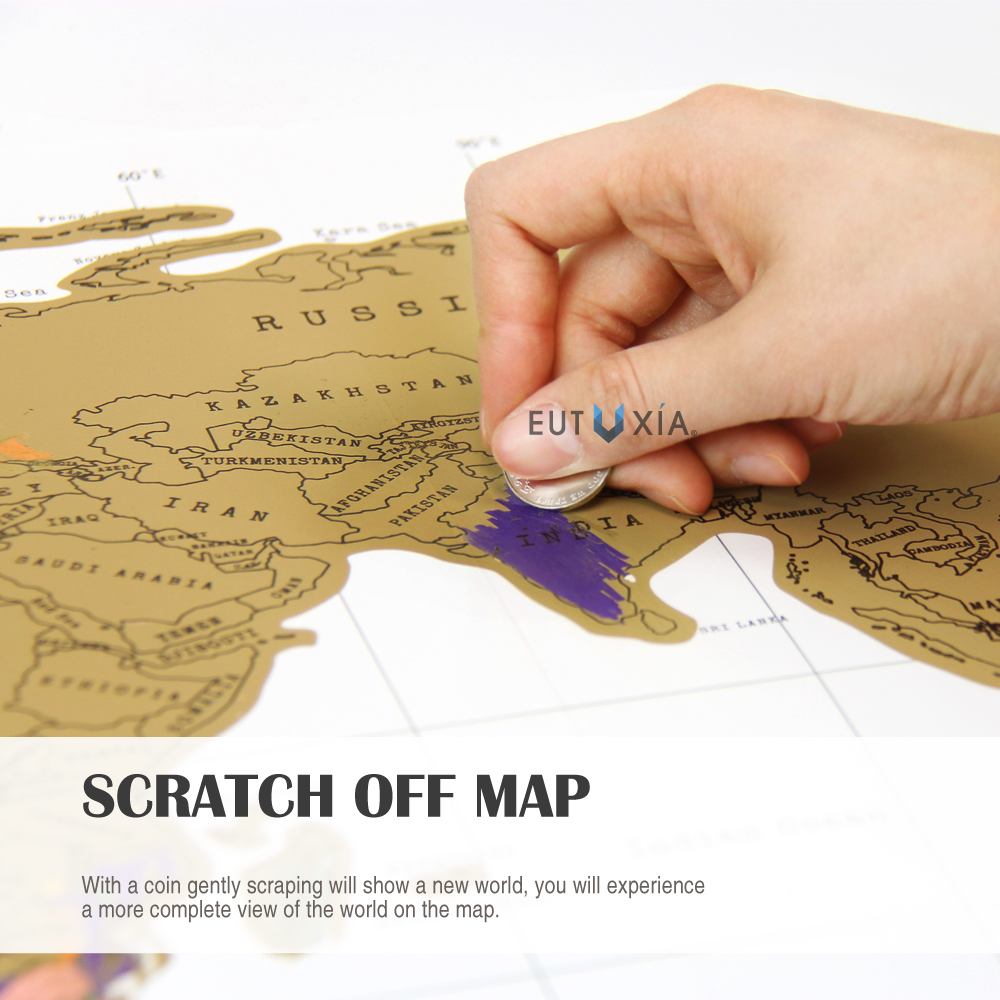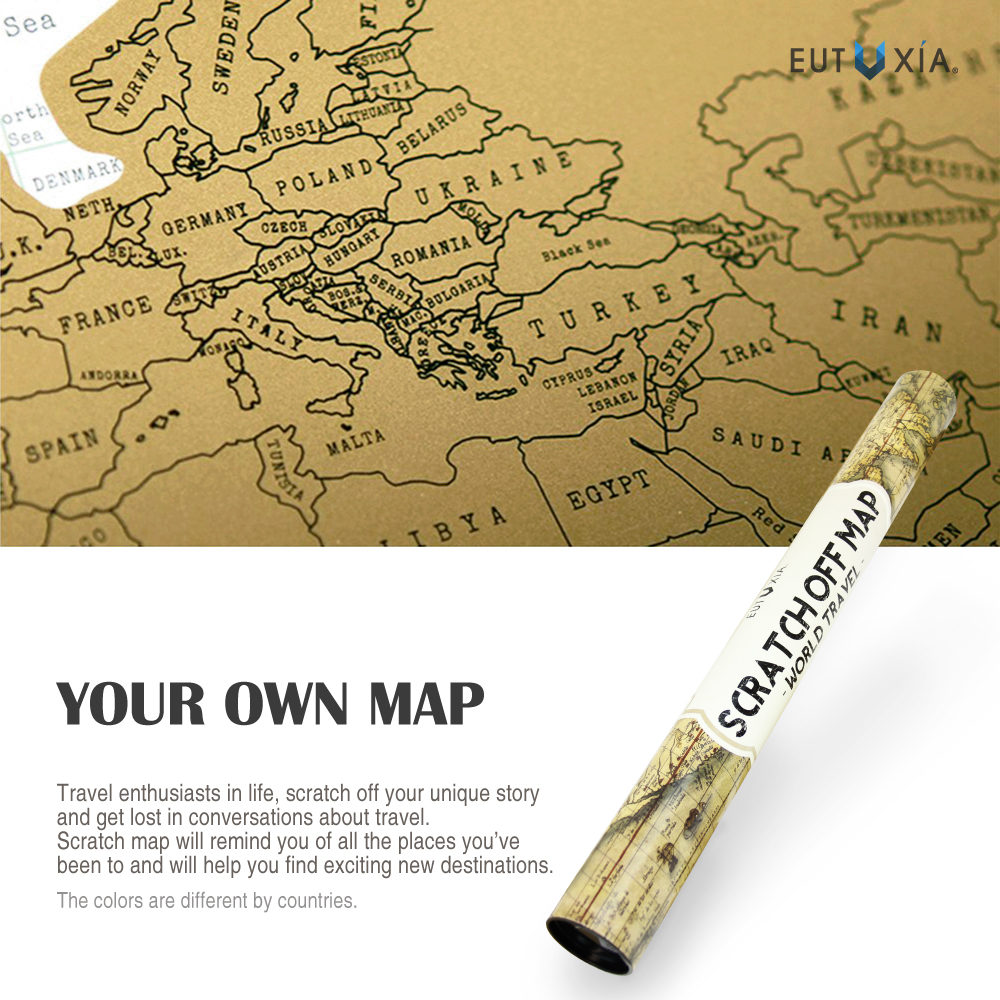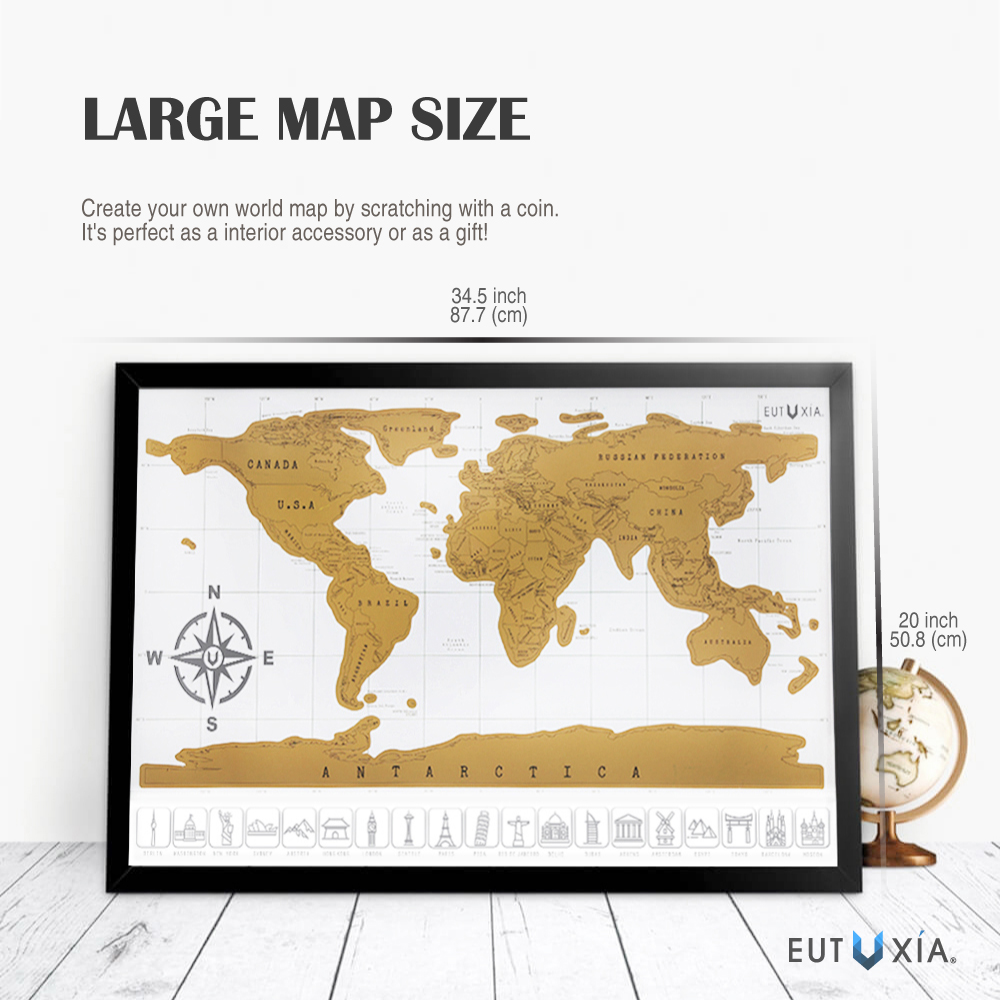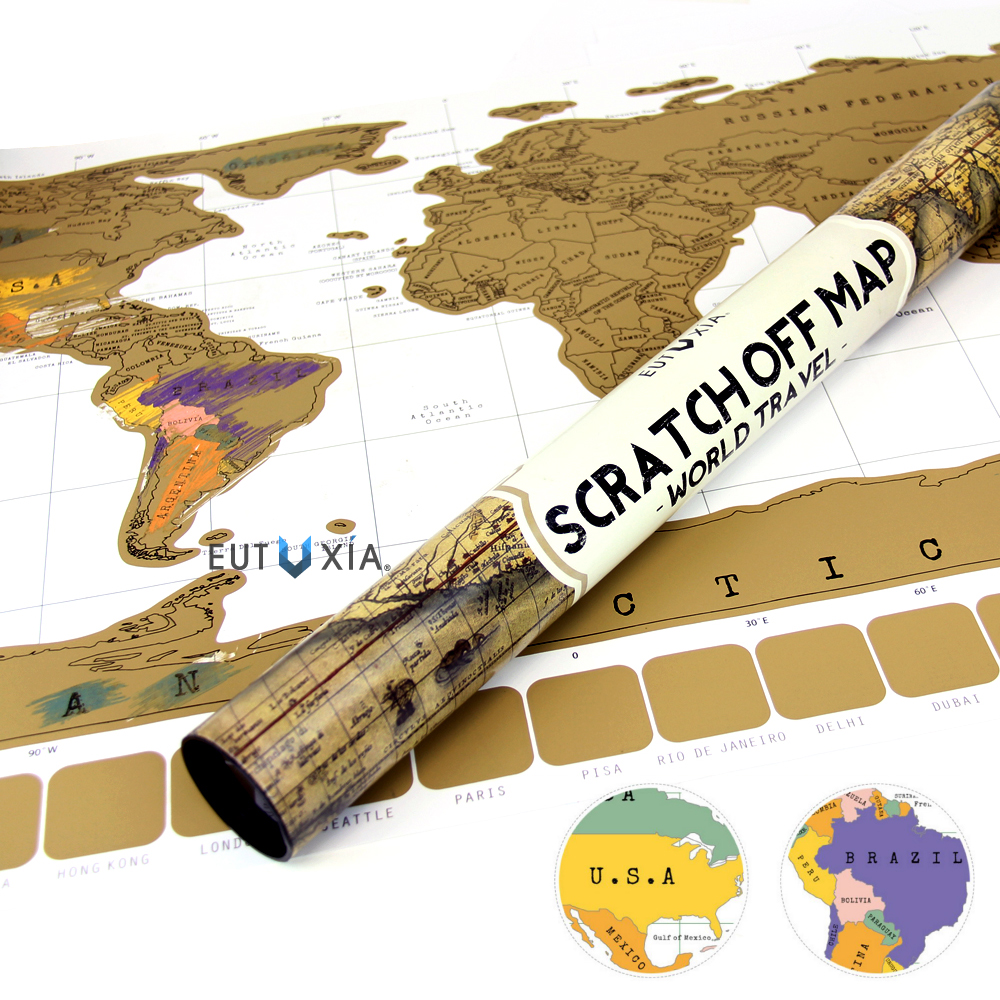 You Might Also Be Interested
Customers Who Viewed This Item Also View
Customer Reviews
Joseph Parker
Feb 25, 2019 10:28:52 PM
best deal for 2 pack
My girlfriend is a big traveler and she loves it! Scratches off well, and it looks great, smooth design and the countries are color codes once you scratch, it's really stand out! Happy I got one for myself!
Marjorie Barney
Dec 27, 2018 9:29:09 PM
a gift to someone who like to travel
I gave this as a gift to a traveler. He really liked the way it is and when I informed him that you scratch off all the countries he visited he was so surprised. Thanks, Geeks!
Oscar Taylor
May 6, 2018 8:48:08 PM
best deal ever!
A perfect way to keep track of our travels. It's fun to do and it looks great. Makes to realize all the places still have to travel. Best deal for 2 pack!
Steven Davidson
May 22, 2017 8:18:21 PM
kids love it
My kids loves it! Excited and have fun scratching the places they have been through. It motivates them to go out and explore the world. Great educational too! Great for 2 pack.:)

Rebecca Murray
May 21, 2017 9:05:08 PM
just want I was looking for
Perfect! Just want I was looking for! It brightens up my study room. And reminds me my successful travel destinations. Thanks:)
Kylie Edmund
May 3, 2017 8:35:25 PM
absolutely love it!
We absolutely love this piece for our living room. It is as clear and beautiful as we had hoped and definitely recommend it. I put the other one in my office. Thanks:)
Sam Cornish
Apr 18, 2017 7:04:21 PM
great deal for 2 pack
I was very pleased with these 2 packs of world map. One for our living room and one for travel loving daughter and hanging on the wall in her room. Great deal for 2 pack. Thank you.
Tomas Greene
Dec 20, 2016 7:56:14 PM
scratching is fun
I am so excited to use this Scratch World Map in two pack. I have been inspired and motivate to visit and started scratching off places I've already been. Can't wait to work on scratching off even more. Great gift and awesome price for 2.:)
Irene Peterson
Dec 12, 2016 11:09:02 PM
best gift idea
High quality paper. Beautiful Maps! We can used it for study and travel marks. This is perfect maps to know about World geography. I'm glad to have this 2 pack one for our living room and another at my office. Fantastic! Unique and best gift idea.
Diana Bell
Dec 8, 2016 9:00:20 PM
well done world map
Well done world map. Kids are using it as a study guide for 5th grade Social Studies and and have excited to scratch the places they have been thru. They are motivated to go out and explore the world. I glad to have another one for my sister. Happy in my purchased.
Joan Clark
Dec 6, 2016 6:16:31 PM
exceed my expectations
It's big enough to match my world map and has everything I would expect from a inexpensive well product. Perfect for wall laminated at my living room. Awesome, for the fact it come with 2 pack:) I will give the other one to my mother who love to travel a lot...Best gift ever.
Amanda Jackson
Dec 5, 2016 7:56:32 PM
gorgeous gifts!
A gorgeous birthday gift for a world traveler. It was well made product, elegant to frame and solid quality print. A must have souvenir of your life journey and it was motivate you to travel more. Best gift for Christmas, get yours now!
Elizabeth Brown
Dec 4, 2016 3:32:10 PM
best gift ever
What a fun piece for my mother's birthday. She really enjoys taking every opportunity to travel the world. And I'm happy it was packed in 2 pcs, so I gave the another copy to my best fried who loves to travel too. Great gift for a well traveled person. Best gift ever! The price is right for two.

Katherine Forsyth
Nov 30, 2016 8:15:43 PM
excellent world map for two
Excellent World Map in our living room. It comes in well made quality paper, durable and huge map. I absolutely happy and best bundle for these 2 pack, great for the price! I will buy more for my love ones this Christmas. Highly recommend
Michelle King
Nov 29, 2016 6:38:35 PM
best and ideal gifts
We are very happy in this World Map, to the fact it has 2 pcs. given away! Beautiful and best idea for gift this coming holiday... I will definite buy more for my relatives and friends. Highly recommend
Julia Gibson
Nov 28, 2016 7:50:26 PM
beautiful world map
Beautiful World Map. It brightens up my study room. It looks expensive, well made product, Great price considering it was 2 pcs.:) I gave the other one for my sister. Best gift this coming Christmas.
Gabrielle Lambert
Nov 21, 2016 8:19:16 PM
unique gifts for my love ones!
Awesome product of highest quality. This was an awesome unique gifts for my loves ones. Best gift this coming Christmas. Worth my money for 2 pcs of world map, thank you.
Angela Graham
Nov 7, 2016 7:51:37 PM
Great product and good gift!
Beautiful product! I love the concept of this great product for 2, One for our living room and one for my moms office, and she really love it! I am satisfied customer. I definitely buy more as a gift for my love ones. So gets yours, in this best bundle offer!
Kimberly
Oct 25, 2016 7:53:16 PM
worth the price
Beautiful and very attractive map! This is amazing and well worth the price! It serves the purpose, very satisfied and surely buy more for coming christmas season as a gifts.


Yvonne Jackson
Sep 12, 2016 1:04:30 AM
Very useful
I travel a lot, I want to explore different places definitely around the world. This Travel Scratch World Map motivate, challenge and help me to track places and destinations that I wanted to be, always bring it in my journey. Very useful.

Carlos Gonzales
Jul 13, 2016 2:50:29 AM
Great Map with best price!
Glad to find 2 for 26.99, I give the other to my uncle! his family love to travel this will be a useful map to them!
Write Your Own Review