Features & Highlights
Why you should buy this product
[Magstorage Solutions] MSSPMH, Pistol Magazine Holder - Organize Your Pistol Magazines & Ammo!
If you are looking for an easy way to store and organize your pistols, then you have found the perfect product! This strong and durable magazine holder rack from Mag Storage Solutions is the perfect organizer you need for your gun safe, weapons room, or ammo locker. The holder stores six 30-round AR-15 magazines at a time, helping you keep all of your mags in one place. Magazines snap easily in/out and remain firmly in place. High quality, heavy duty build designed and manufactured in the USA. This pistol mag holder is compatible with most .223 and 5.56 caliber mags. For magazine compatibility, check here: http://magstoragesolutions.com/compatible-magazines.php
100% Made in the U.S.A.
Easily store and organize your Pistol magazines and Ammo
Holds 8 - 9 single or double-stack mags
Consumer Adjustable Dividers with 60 adjustment slots
Will accommodate loaded/unloaded mags, polymer or steel, single or double-stack
Magazine round count indicator windows are visible
Ideal for standard pistol magazines .22cal thru .45 cal.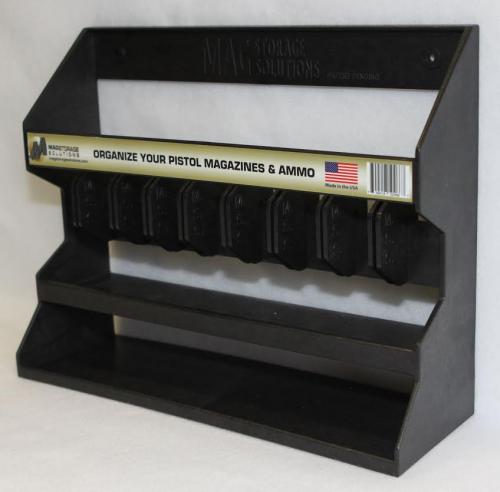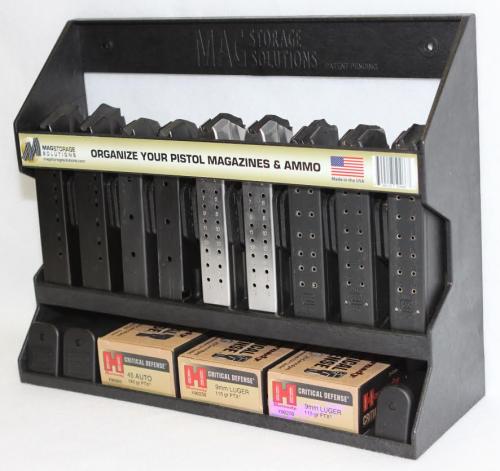 You Might Also Be Interested
Customers Who Viewed This Item Also View
Customer Reviews
Victor Hopkins
Sep 10, 2018 10:54:17 PM
seems to be a good product
Love this thing! It was extremely fast delivery. It seems to be a really good product and a great storage solution in keeping loaded mags for easy access.
Rachel Black
Nov 23, 2017 4:04:13 PM
works great
Works great, plan to buy more as soon as I can make more room in my ammo bunker...Love it, keep it well organized.
Write Your Own Review