Features & Highlights
Why you should buy this product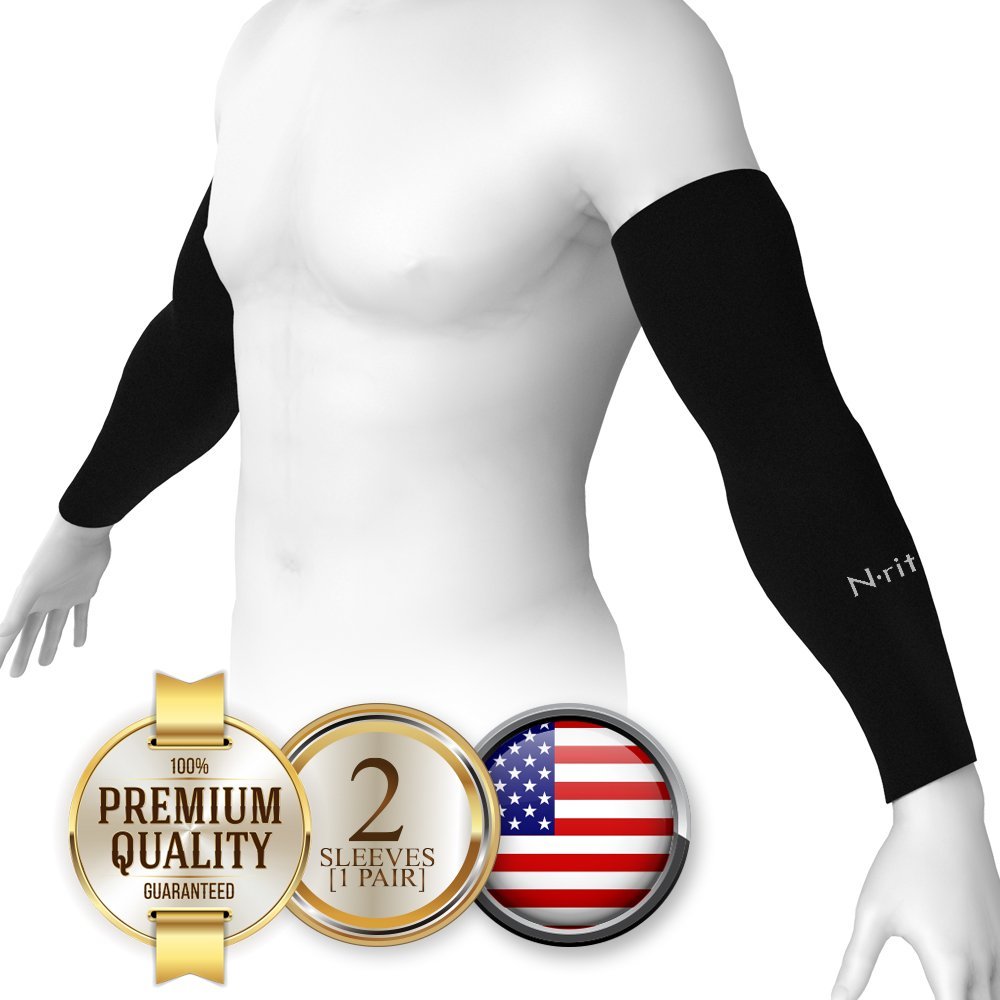 N-Rit Tube 9 Coolet 2 Cooling Compression Sports Arm Sleeve [Black] w/ 99% UV Protection for Outdoor Activities (Golf Training Cycling etc)
This Cooling Compression Sports Arm Sleeve is the perfect accessory for golfing, sports training, racing, biking, weightlifting, injury recovery, and muscle recovery. Its compression technology reduces muscle damage and minimizes muscle fatigue/soreness. Boost performance with increased circulation and speed up recovery at the same time with this premium Cooling Compression sports arm sleeve!
Product Features:
• Compression technology allows for improved muscle recovery and reduces fatigue/soreness
• Cool-X Technology keeps the arm cool and dry quickly
• Protect your arms: UPF 50+ sun protection provides 99% UV protection so you don't need to worry about sun damage
• High quality fabric is soft, lightweight, and absorbs sweat/moisture rapidly, allowing you to keep cool in the heat
• Material: 80% Nylon, 13% Polyurethane, 7% Polyester
• One Size Fits Most
Suitable For:
- Golf
- Basketball
- Baseball/ Softball/ Cricket
- Runners/ Joggers/ Crosscountry Runners /Marathon Runners
- Weightlifters
- Athletes
- Cyclists / Motorcylists
- Gym Workouts/ Cross Training
- Fishing
- Tennis
- Hiking/ Trekking
- Volleyball/ Racquetball
- Truck drivers
- Driving to work
- Those out in the sun
- Any activities where you need to cool your arms, boost muscle performance, and speed recovery
High Performance Fabric - Aqua X technology keeps you cool, and protects your arm from harmful UV rays (UPF : 50+)
Proven Compression Technology - Actively supports your muscles tight; offers great forearm protection & minimizes injury
Flat Lock Seams Stitching - Seamless knit structure allows flexible mobility
Anti Odor & Anti Itch Material - Pulls moisture away from the skin and dries quickly; comfortable even with longer use
Material : Aqua X (84% Nylon, 14% Polyurethan, 2% Polyester) Fits most junior to adult (15")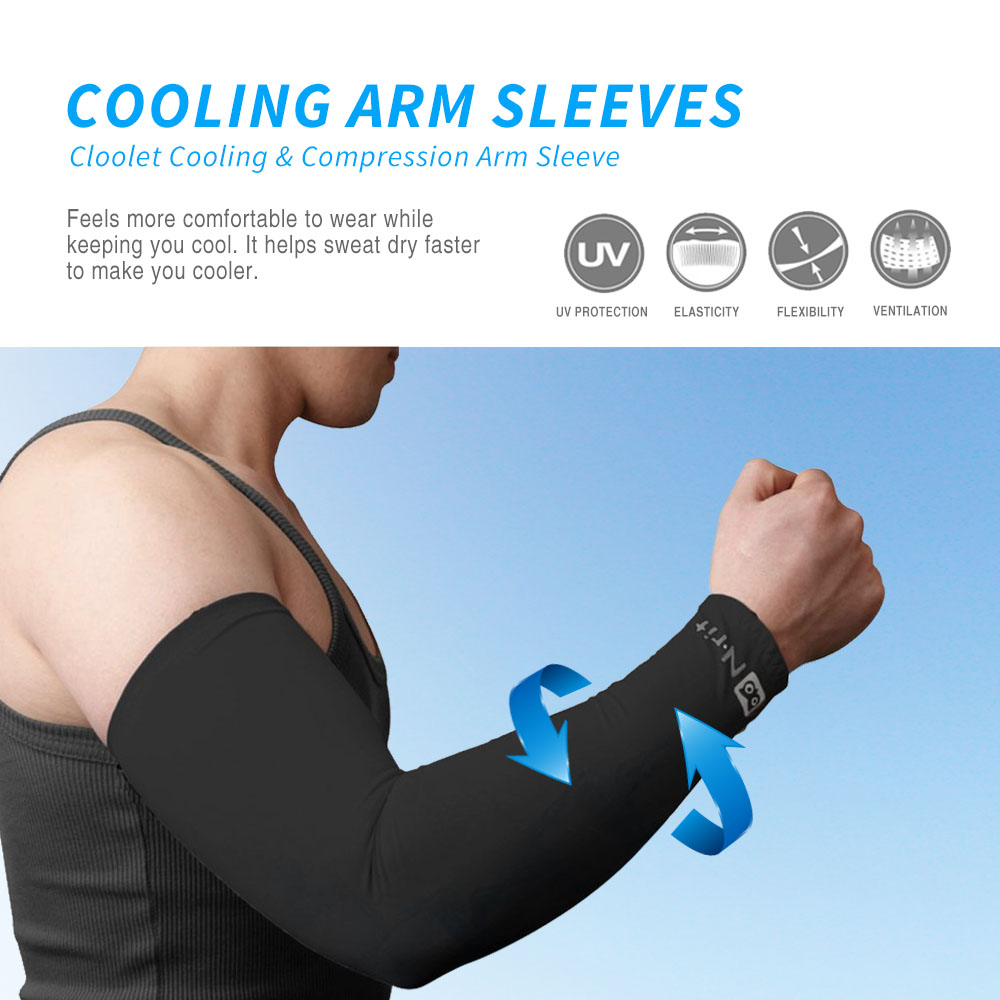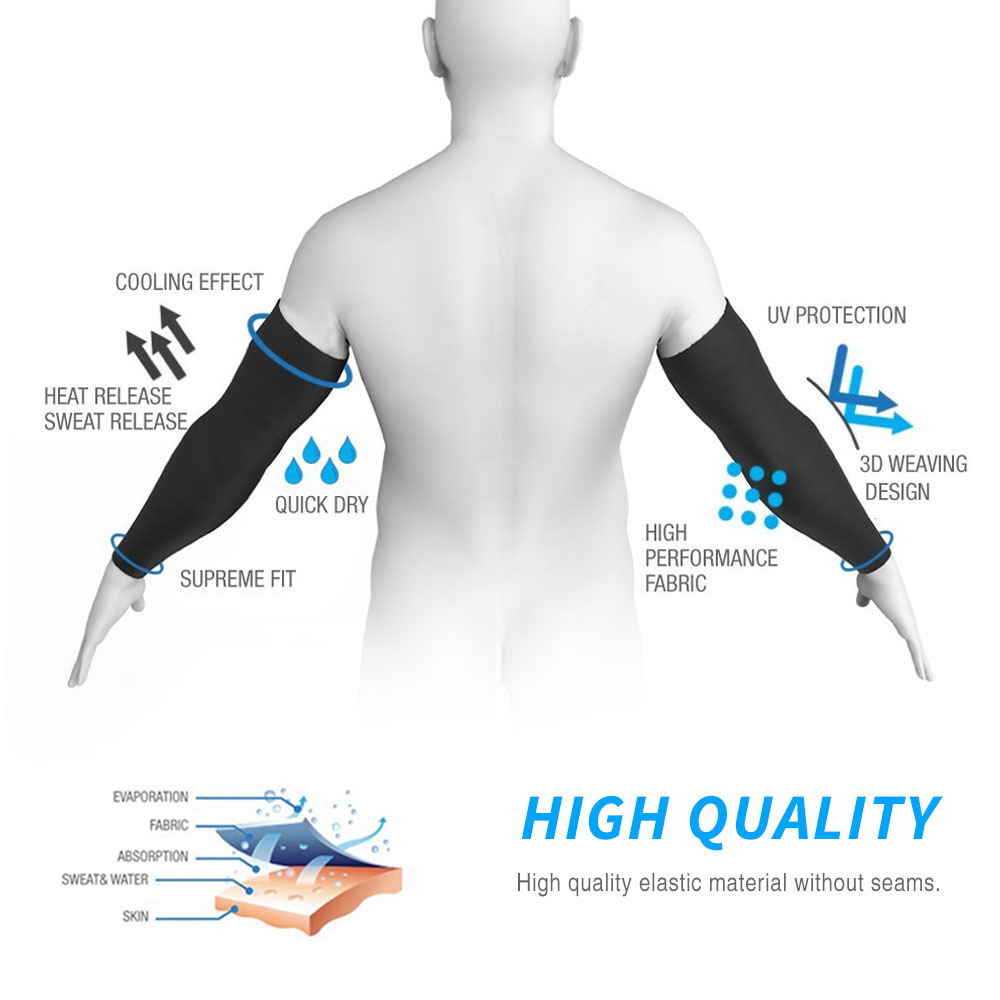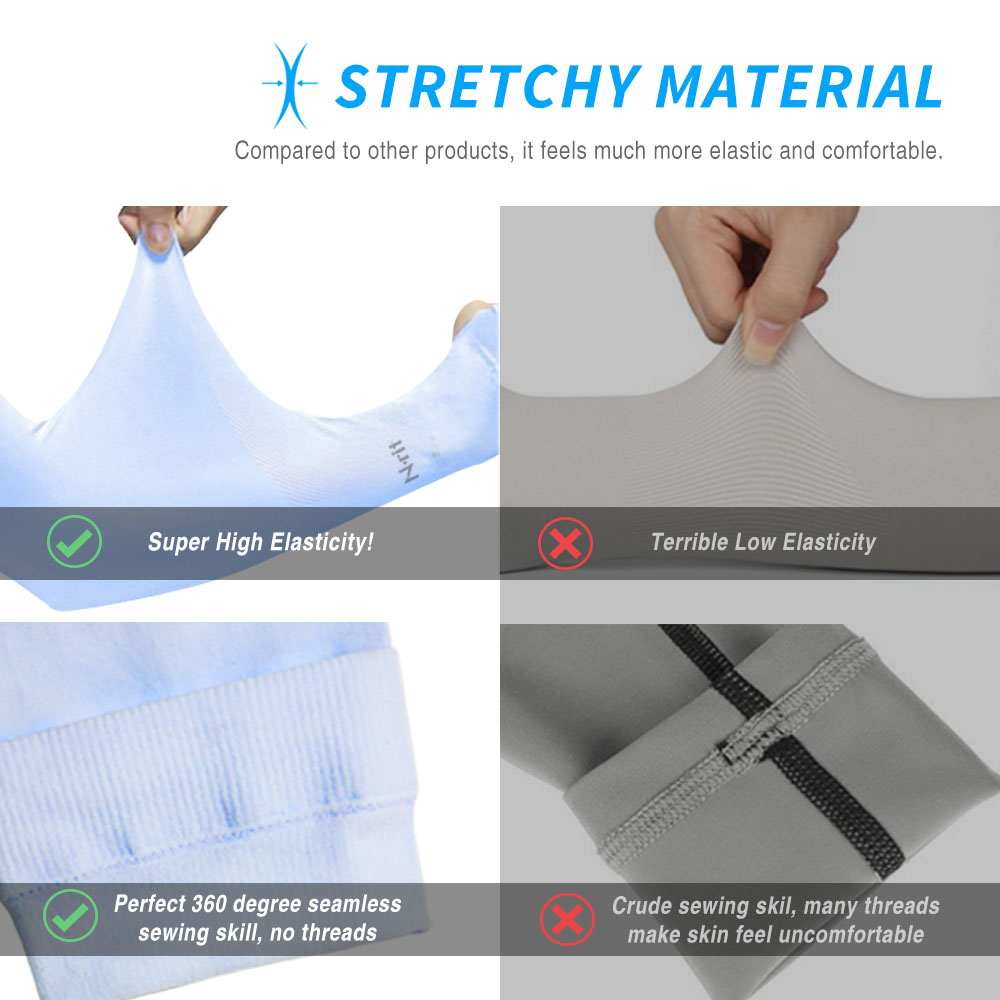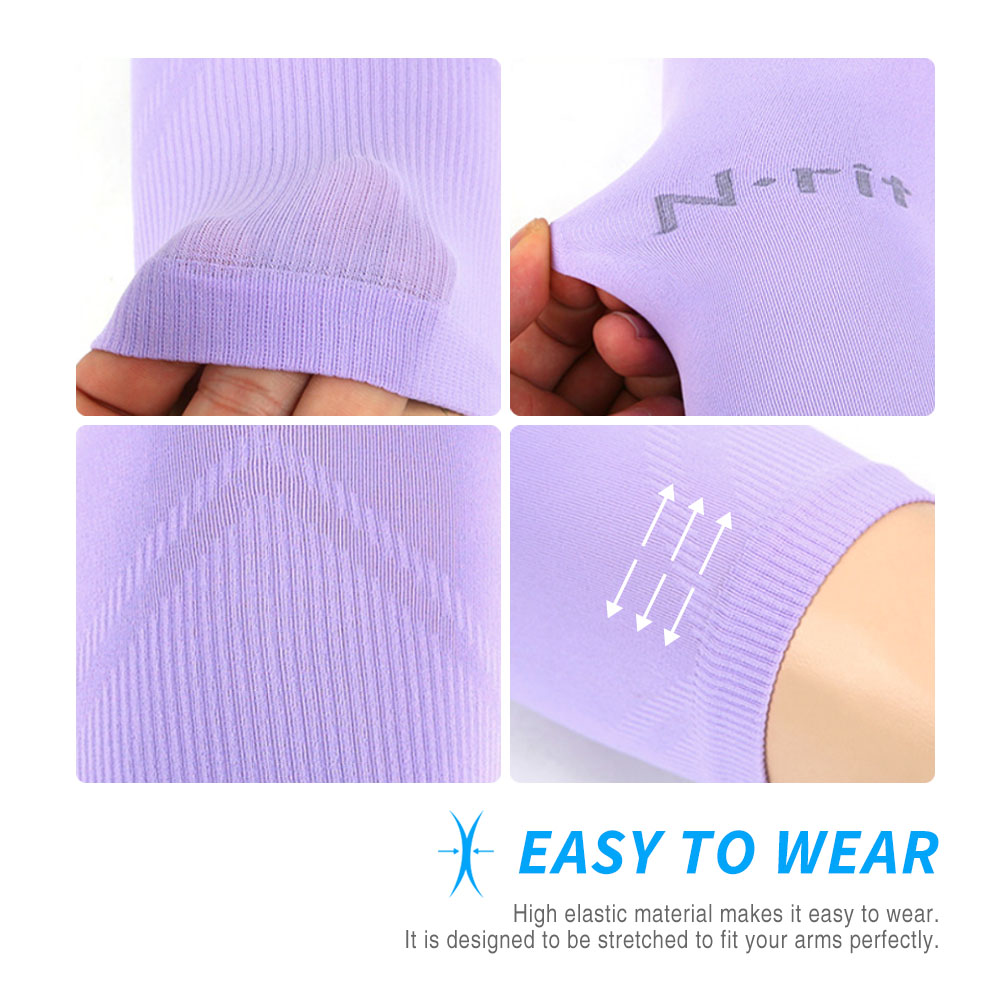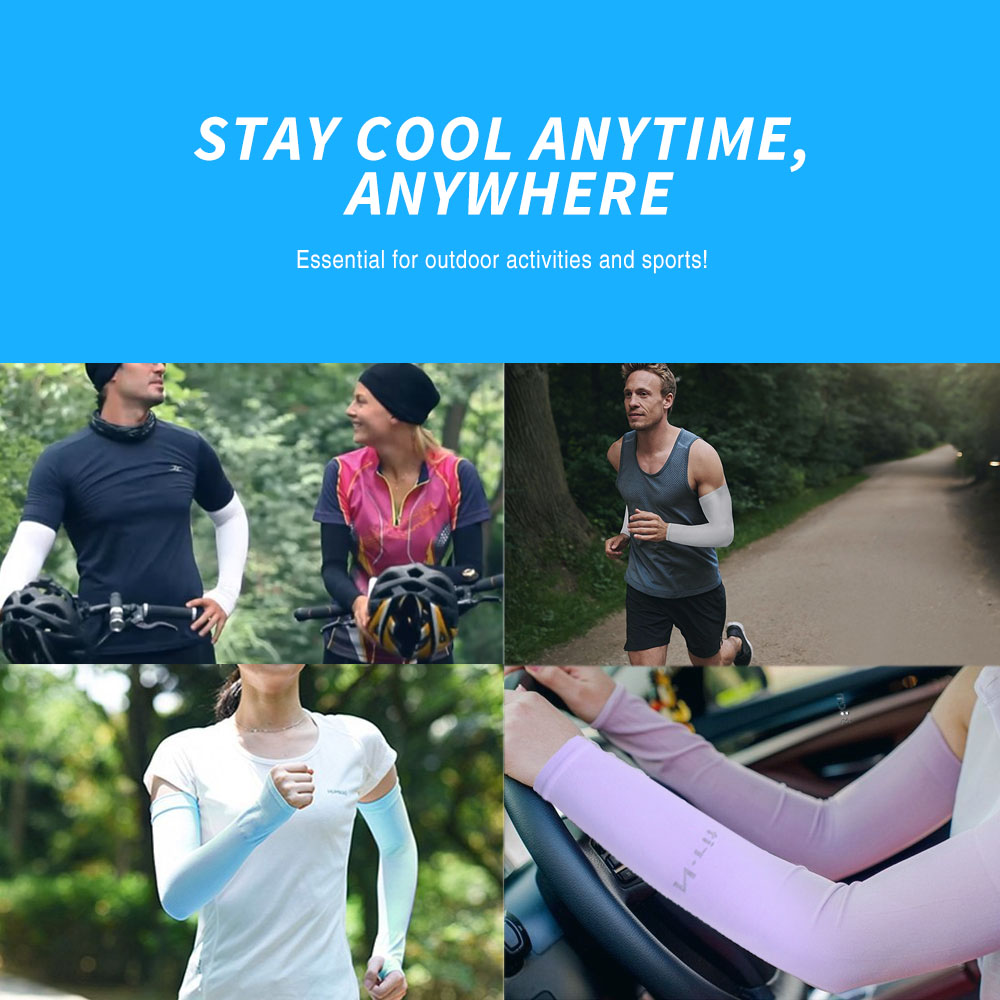 You Might Also Be Interested
Customers Who Viewed This Item Also View
Customer Reviews
Joey Harvard
Mar 22, 2019 12:13:28 AM
great sun protector
Great arm sleeves! I wear black while playing golf a bit snug at the top of the bicep but the compression is very good and sun coverage nicely. Great sun protector!

Wendy Moore
Jan 3, 2019 9:25:43 PM
it's protect my arms
Got these to protect my arms from the sun while playing golf. I love the compression fit, not too tight, not loose just right for me. It really likes air conditioning in my arms.

Jonathan Bailey
Oct 14, 2018 8:48:56 PM
worked fined
I wear them to work every day with my scrubs to keep my arm warm and they are perfect for that. And also, wore these playing golf and these worked fine, no slipping, and the material seems breathable.
Frank Gavin
Oct 4, 2018 4:46:39 PM
best protection
My dermatologist told me to cover my arms during tennis and golf. So, I ordered these sleeves and they are great! Just give the best protection and work great in the warm and cold temp. Pretty cool!
Jonathan Ribs
Feb 25, 2018 9:45:41 PM
finally found a sports sun sleeve that fits me
Finally found a sports sun sleeve that fits me! These sleeved cover my arm from the arm pit all the way down over my wrist. Perfect, no more tan lines in weir places. Quickly dry and comfortable to wear!
Michael Hill
Jul 13, 2017 10:08:25 PM
great package deal
I wear these at work in the summer due to skin problem. They fit great up until the biceps.Good fit, breathable and great package deal! I got a lot of compliments all the time when I wear these pair.
Charles Butler
Jun 11, 2017 9:12:58 PM
perfect for my needs
I absolutely love these sleeves! Good fit, keeps my arms cool, I like to keep them in my car and use them while driving. Perfect!
John Butler
Jun 4, 2017 8:16:39 PM
keep my arms cool
I use this mainly to keep my arms from sweating while on an elliptical and it works. I was also impressed at how these made my arms feel a little cooler as well. Convenient to use.
Sean Scott
Apr 30, 2017 9:29:41 PM
works great
Just what I needed at the right price! Lightweight and keep my arms protected on the hot summer. Works Great!
Carolyn Dowd
Mar 22, 2017 8:02:15 PM
pretty cool arm sleeves
Pretty cool arm sleeves. It does my arm cool and this is really strong with premium quality materials. Great for outdoors activities. Thanks.
Nicolai Parsons
Feb 16, 2017 4:46:21 PM
excellent sleeves
Excellent sleeves. I used them every day, it helps protect my skin from chaffing and getting all scratched up and burn. It does wonderful! Great for the price!
Michael Graham
Dec 6, 2016 8:06:30 PM
my arm protection against sun damage
A must have!!! These cooling compression sport arm sleeves are amazing... I wear them everyday specially on my outdoor activities. It keeps me cool, comfortable to wear and it helps my arm protected from sun damage. My great companion, I love it!
Virginia Marshall
Nov 17, 2016 6:08:03 PM
happy in my purchased
I purchased this for my husband to wear while he is working outs and runs. These sleeves provide protection against sun damaged and He loves it! He ask me to buy more, He is very happy in my purchased. Highly recommend.
Joan Langdon
Oct 3, 2016 7:35:58 PM
very useful
Nice price for these sleeves, they fit well. Great to wear specially in outdoor activities such as, biking, running, gardening, etc. Very useful to protect my arm in sun burn and UV protection. thanks
Victor Greene
Sep 19, 2016 11:45:50 PM
arm protection
It keeps my arms cooler , block and protected from the sun. Great value for the price.
Warren Welch
Aug 2, 2016 1:03:00 AM
Pleasantly surprised at the flexibility
Upon opening the package, I was prepared for disappointment. Each sleeve looked no longer than my forearm. I'm glad I put them on anyways, because they stretch comfortably longer than my arm. They stay up without problems, breathe well, and feel great. I'll be getting several more pairs, as they work great when riding the motorcycle to prevent sunburn.
Catherine
Jul 21, 2016 7:32:15 PM
Great for gardening outside!
I bought these to wear while gardening. As a fair-skinned redhead whose father died from melanoma, I look for anything that will help block the sun while I'm outside. At first, I ordered three different brands - the other two had seams the length of the sleeve and were very tight. I'm saving those for my redheaded grandson the next time he visits. This brand was perfect - fit snugly and stayed up all day without falling or cutting off circulation. As a bonus, I spray them lightly with bug repellent so they do dual-duty! But the "no seams" is the deal-maker for me - Love these sleeves!
BobRobinson
Jul 20, 2016 10:15:11 PM
Sunblock
I drive a truck so these sleeves are great for the arm always in the sun and the cooling effects are a bonus
Bill R
Jul 19, 2016 7:53:23 PM
Protect arms from cancer causing sun.
These are great for me, a golfer with the beginnings of skin cancer. I was wearing long sleeve shirts and now I can wear more comfortable golf shirts. Very comfortable and seems to totally protect my arms from the sun.
Andrew Hernandez
Jul 14, 2016 8:34:47 PM
Great for Intended use
These are great for my use. I have a sleeve tattoo and these protect it from the sun very well. Had my doubts about the 'cooling' factor and the size. Almost instantly felt my arms cooling off. As far as sizing; with rather large arms they felt great after first use (started out feeling a little tight, but after 1 wear, conformed to a nice fit.
Great product at a great price.
Write Your Own Review