Features & Highlights
Why you should buy this product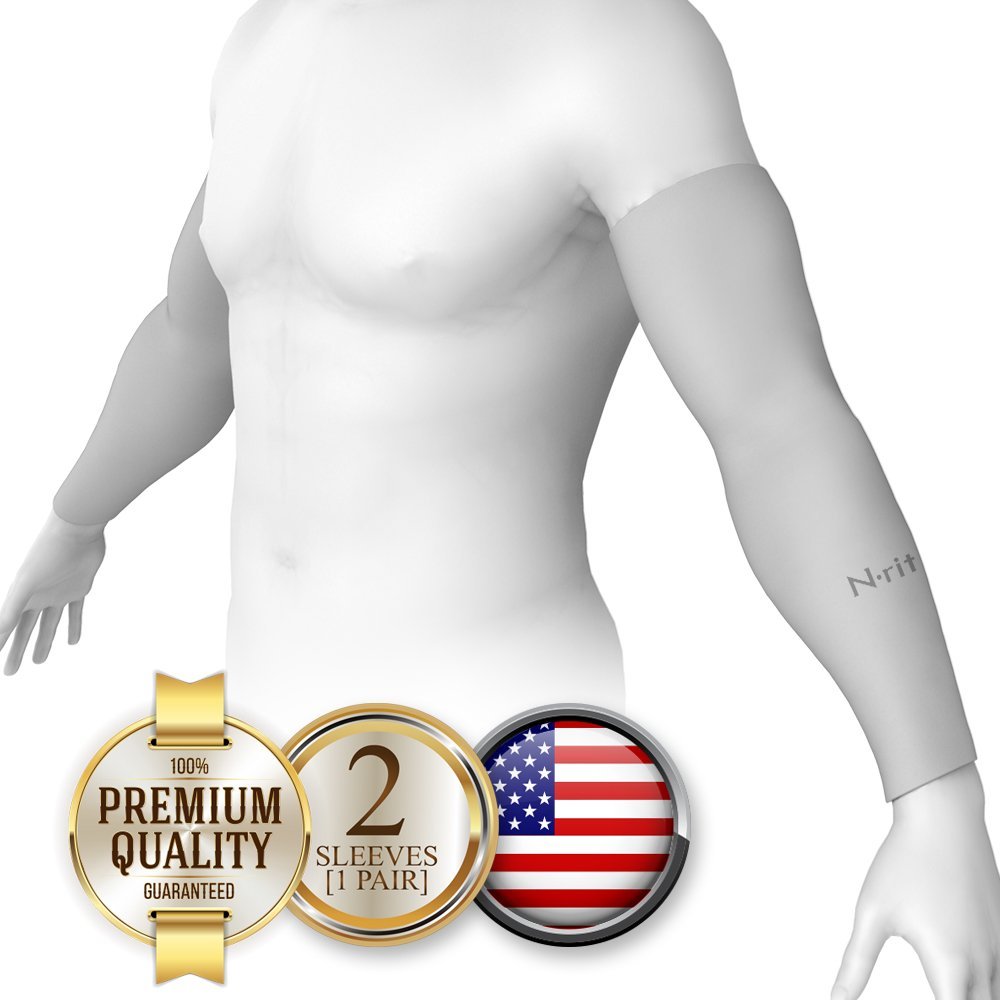 N-Rit Tube 9 Coolet 2 Cooling Compression Sports Arm Sleeve [Light Gray] w/ 99% UV Protection for Outdoor Activities (Golf Training Cycling etc)
This Cooling Compression Sports Arm Sleeve is the perfect accessory for golfing, sports training, racing, biking, weightlifting, injury recovery, and muscle recovery. Its compression technology reduces muscle damage and minimizes muscle fatigue/soreness. Boost performance with increased circulation and speed up recovery at the same time with this premium Cooling Compression sports arm sleeve!
Product Features:
• Compression technology allows for improved muscle recovery and reduces fatigue/soreness
• Cool-X Technology keeps the arm cool and dry quickly
• Protect your arms: UPF 50+ sun protection provides 99% UV protection so you don't need to worry about sun damage
• High quality fabric is soft, lightweight, and absorbs sweat/moisture rapidly, allowing you to keep cool in the heat
• Material: Aerocool Fabric (80% Nylon, 13% Polyurethane, 7% Polyester)
• One Size Fits Most
Suitable For:
- Golf
- Basketball
- Baseball/ Softball/ Cricket
- Runners/ Joggers/ Crosscountry Runners /Marathon Runners
- Weightlifters
- Athletes
- Cyclists / Motorcylists
- Gym Workouts/ Cross Training
- Fishing
- Tennis
- Hiking/ Trekking
- Volleyball/ Racquetball
- Truck drivers
- Driving to work
- Those out in the sun - Any activities where you need to cool your arms, boost muscle performance, and speed recovery


High Performance Fabric - Aqua X technology keeps you cool, and protects your arm from harmful UV rays (UPF : 50+)
Proven Compression Technology - Actively supports your muscles tight; offers great forearm protection & minimizes injury
Flat Lock Seams Stitching - Seamless knit structure allows flexible mobility
Anti Odor & Anti Itch Material - Pulls moisture away from the skin and dries quickly; comfortable even with longer use
Material : Aqua X (84% Nylon, 14% Polyurethan, 2% Polyester) Fits most junior to adult (15")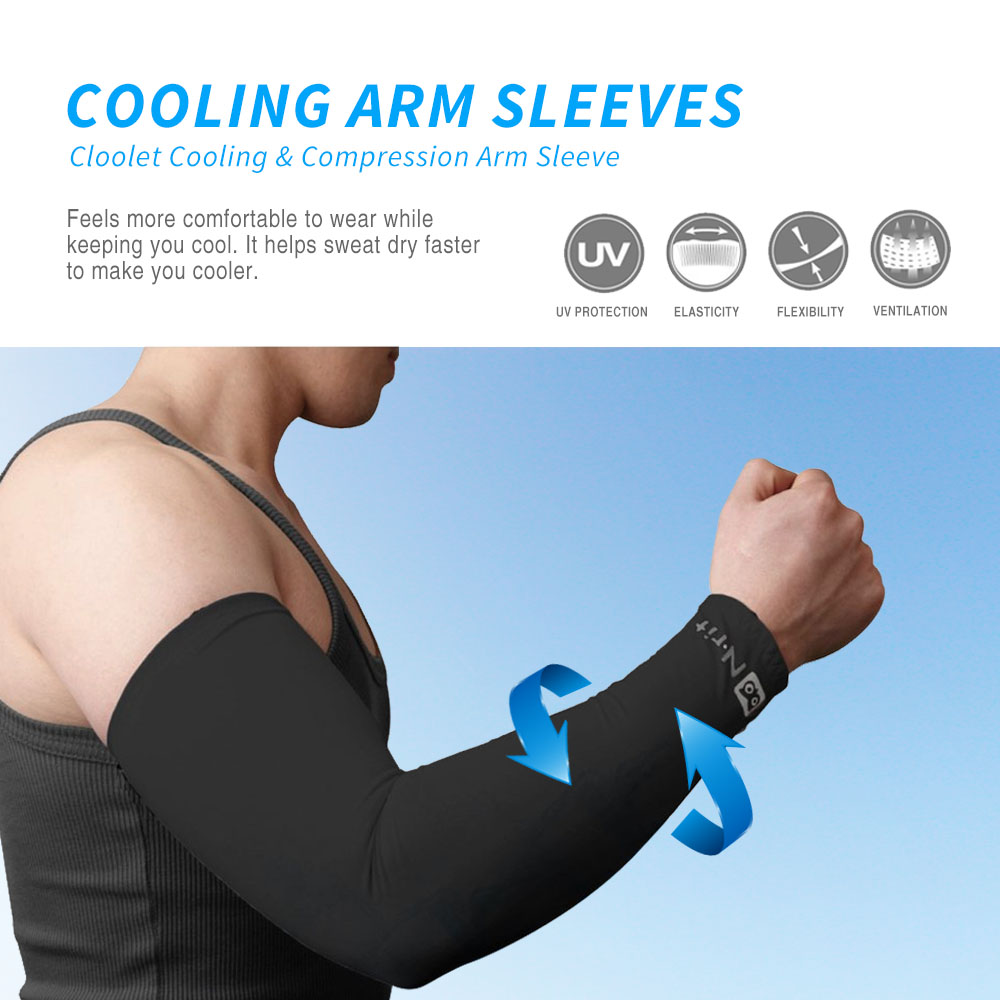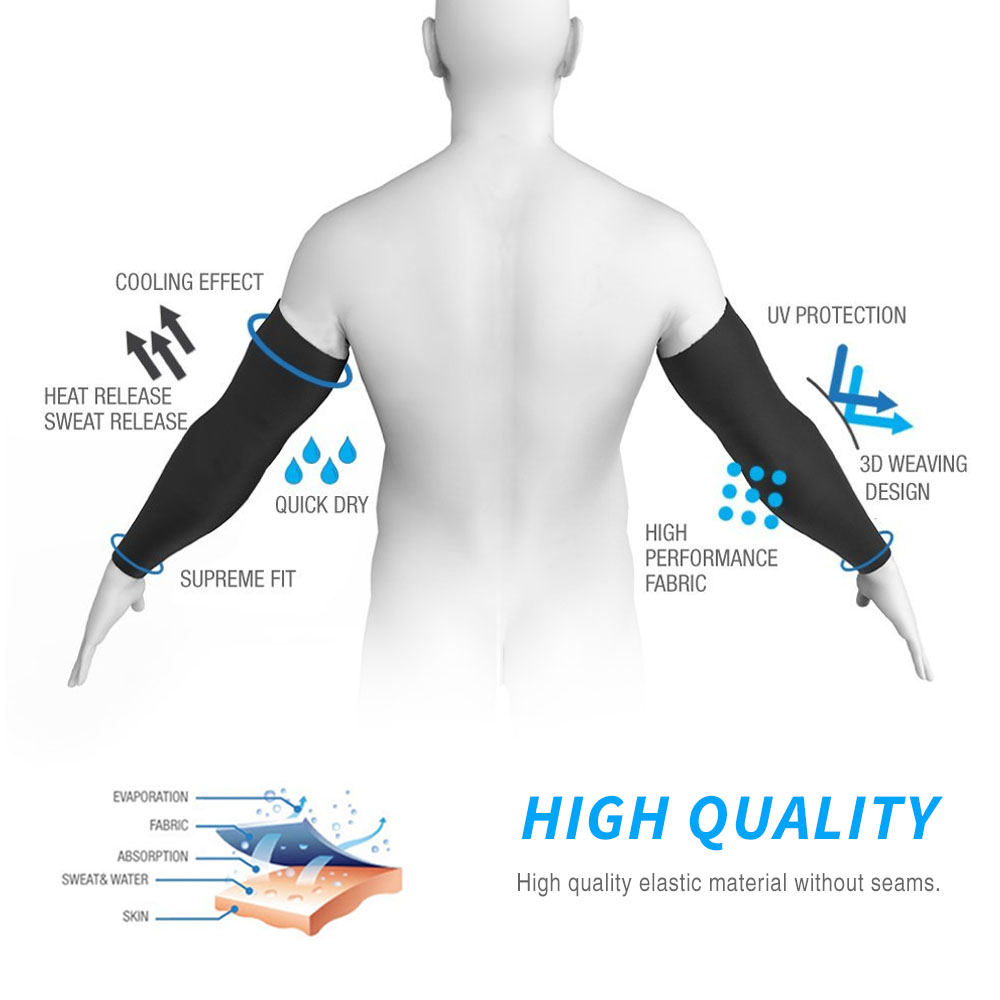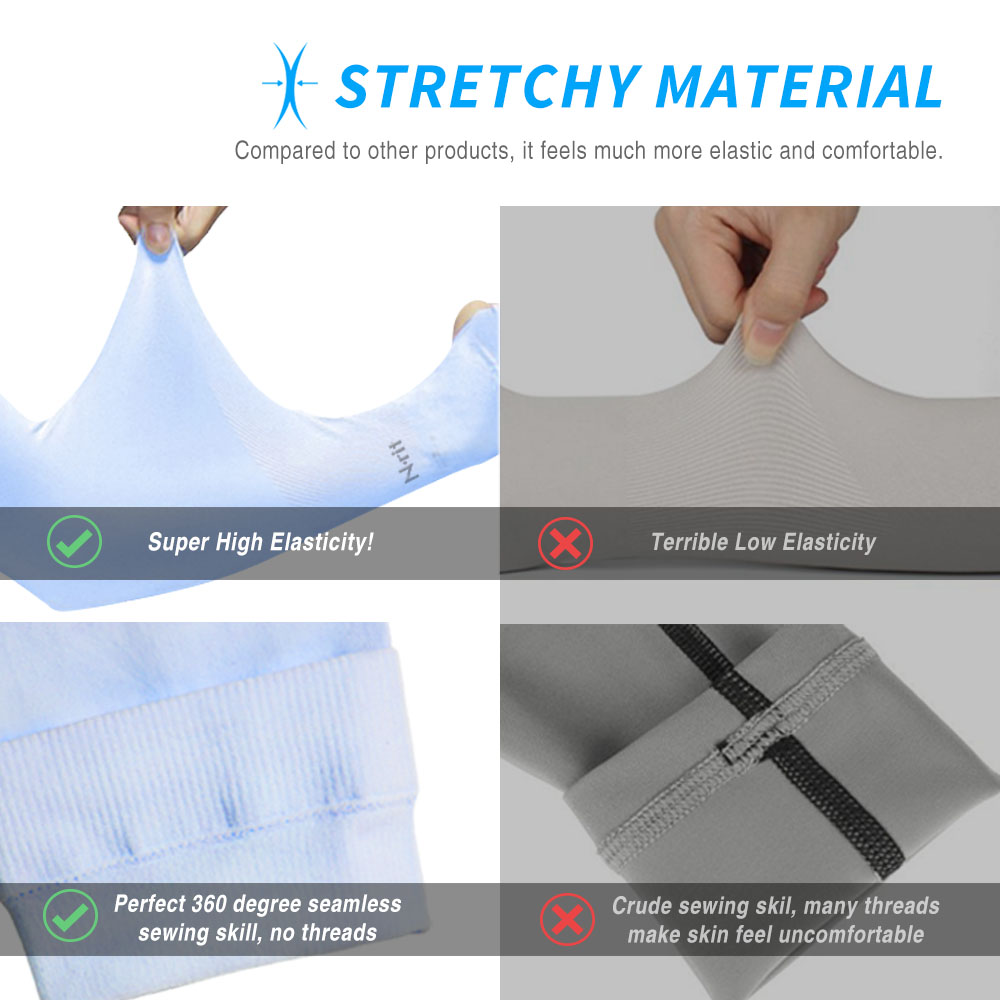 You Might Also Be Interested
Customers Who Viewed This Item Also View
Customer Reviews
Joey Orleans
Mar 26, 2019 12:15:42 AM
very comfortable to wear
I really like these arm sleeves, it gives me great comfort when I'm doing my barbell work outs in my arm curls. This is well made, seamless, and very comfortable to wear.

Stephanie Cortis
Jan 3, 2019 9:28:27 PM
very comfortable to use
Pretty cool! It stretches a lot and it's still comfortable, its cover the whole arm, and it has good air flow. Great price and the material is very comfortable.

Arnold Mcdonald
Nov 28, 2018 11:47:54 PM
very nice arm sleeves
Very nice arm sleeves and I use them at work so when I'm outside the sun doesn't burn my arms. They are very snug and breathable. I will definitely order more in the future!

Julia Hamilton
Jul 13, 2017 8:34:54 PM
wonderful
Wonderful! I used them to commute, or while I ride my bike. And it gives like a fresh feeling while wearing them. Good compression, I used them to keep the sun off my arms!
Matt Ellisson
Jun 27, 2017 1:00:05 AM
works great
Works great and they are cooler than I expected. I love these, They save me from wearing long sleeves in the hot summer.

Peter Jackson
May 24, 2017 7:13:08 PM
it works well
These definitely blocked the sun. I used them for road biking, perfect for golf and other outdoor activities. It works well and it looks great!
Sonia Mcdonald
Apr 12, 2017 1:18:34 AM
fit great and very useful
Have used many times! These fit great and I was surprised that in the summer my arms actually feel cooler and protected. Highly recommended.
Brian Kelly
Apr 6, 2017 12:47:43 AM
satisfied and very useful
Extremely satisfied with these arm sleeves. Strong and very stretchy material. It cool at the slightest breeze and they protected my arms from being sunburn. Great product for the price!
Dylan Mitchell
Feb 14, 2017 9:50:06 PM
keeps my arms warm and protected
Keeps my arms warm and protected. Well made quality, comfortable to wear and very useful. Great value for the price.
Robert
Feb 9, 2016 10:25:52 PM
Perfect Fit
Purchased 4 of these sleeves. They fit perfectly unlike others that have been on the short side.
Write Your Own Review