Features & Highlights
Why you should buy this product
N-Rit Tube 9 Coolet 2 Cooling Compression Sports Arm Sleeve [White] w/ 99% UV Protection for Outdoor Activities (Golf Training Cycling etc)
This Cooling Compression Sports Arm Sleeve is the perfect accessory for golfing, sports training, racing, biking, weightlifting, injury recovery, and muscle recovery. Its compression technology reduces muscle damage and minimizes muscle fatigue/soreness. Boost performance with increased circulation and speed up recovery at the same time with this premium Cooling Compression sports arm sleeve!
Product Features:
• Compression technology allows for improved muscle recovery and reduces fatigue/soreness
• Cool-X Technology keeps the arm cool and dry quickly
• Protect your arms: UPF 50+ sun protection provides 99% UV protection so you don't need to worry about sun damage
• High quality fabric is soft, lightweight, and absorbs sweat/moisture rapidly, allowing you to keep cool in the heat
• One Size Fits Most
Suitable For:
- Golf
- Basketball
- Baseball/ Softball/ Cricket
- Runners/ Joggers/ Crosscountry Runners /Marathon Runners
- Weightlifters
- Athletes
- Cyclists / Motorcylists
- Gym Workouts/ Cross Training
- Fishing
- Tennis
- Hiking/ Trekking
- Volleyball/ Racquetball
- Truck drivers
- Driving to work
- Those out in the sun - Any activities where you need to cool your arms, boost muscle performance, and speed recovery


Proven Compression Technology - Promotes faster muscle recovery & blood circulation; offers great forearm protection & minimizes injury!
High Performance Fabric - Keeps you cool in hot environments, keeps you warm in cold environments
Performance fabric is designed to absorb moisture away from your body, keeping you dry and comfortable during your physical activities
UPC 50+ provides 99% UV Protection so your arms are protected from the harmful rays of the sun
One Size Fits Most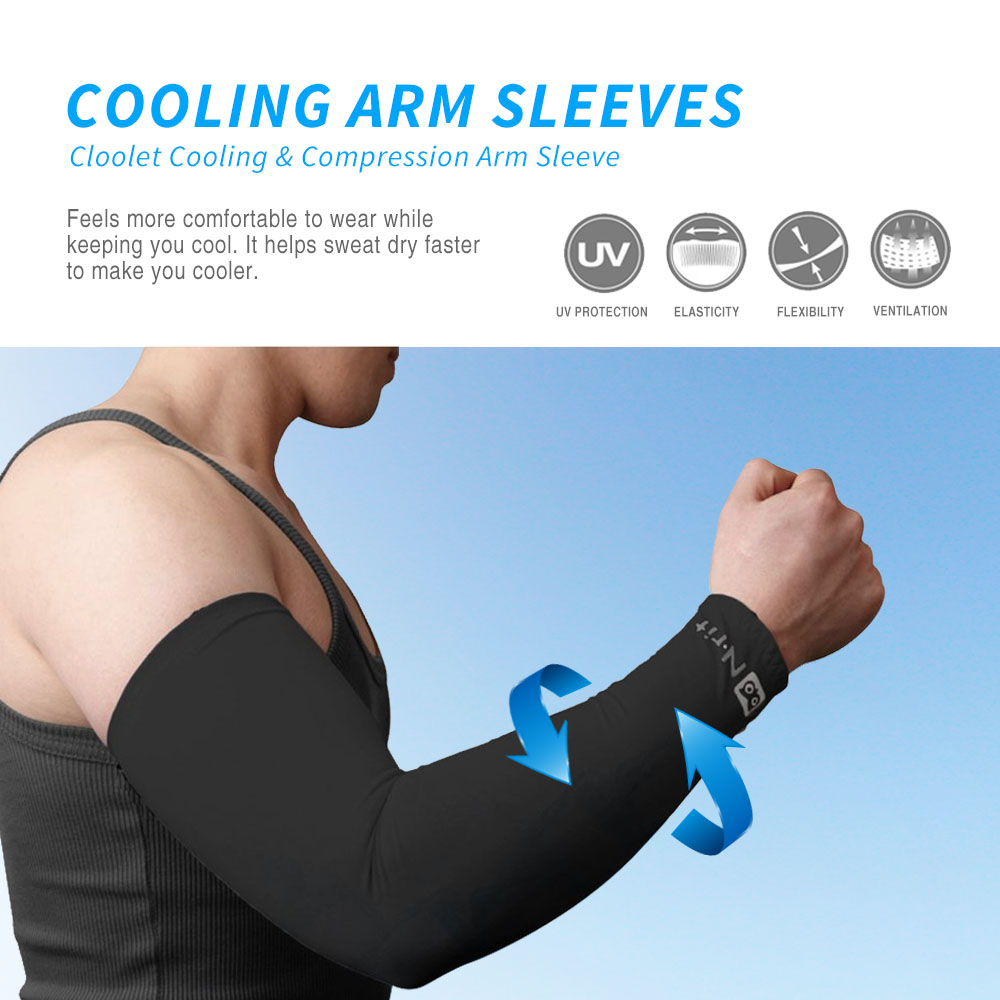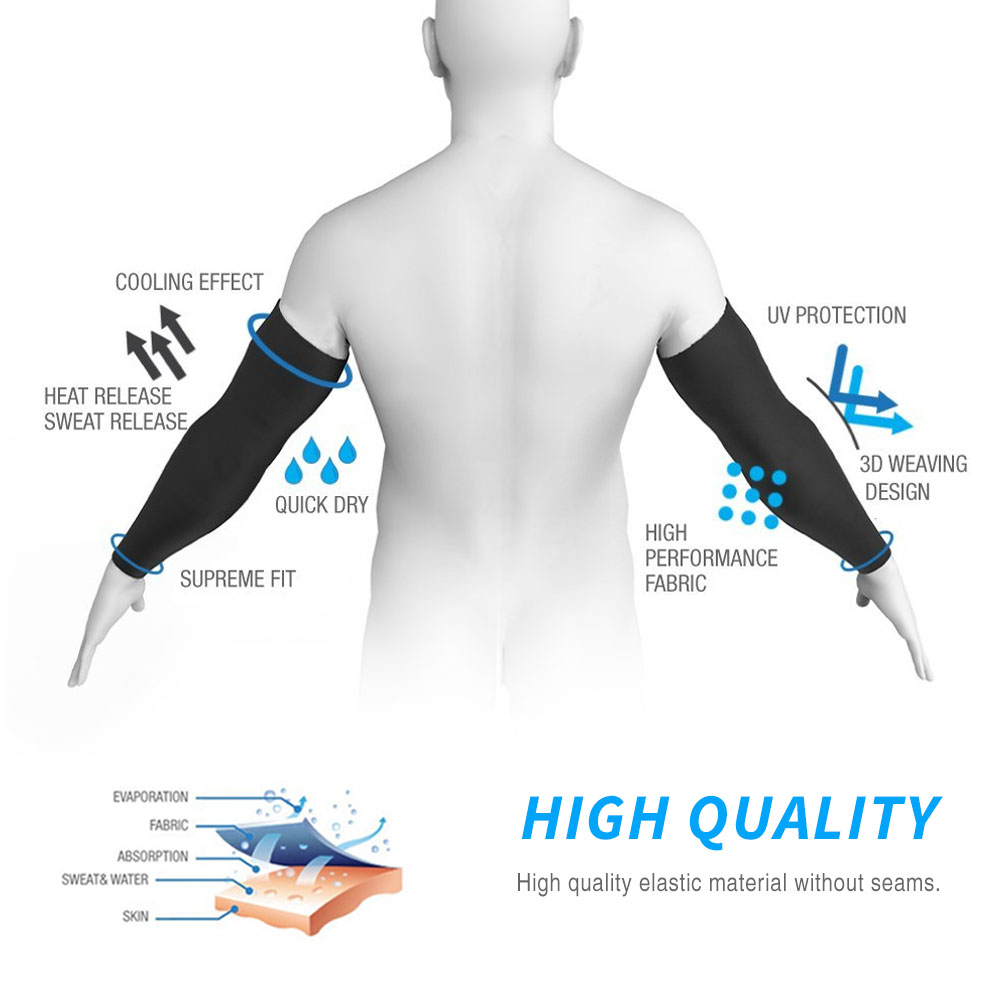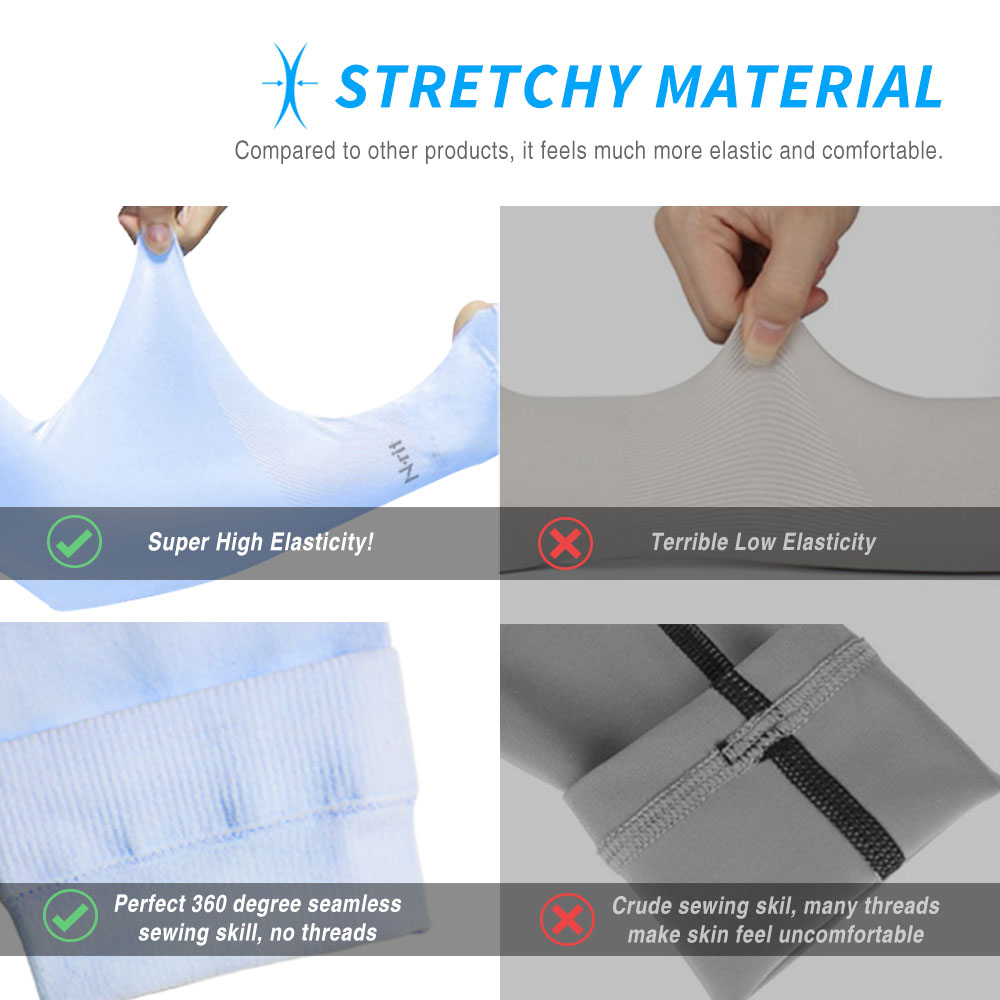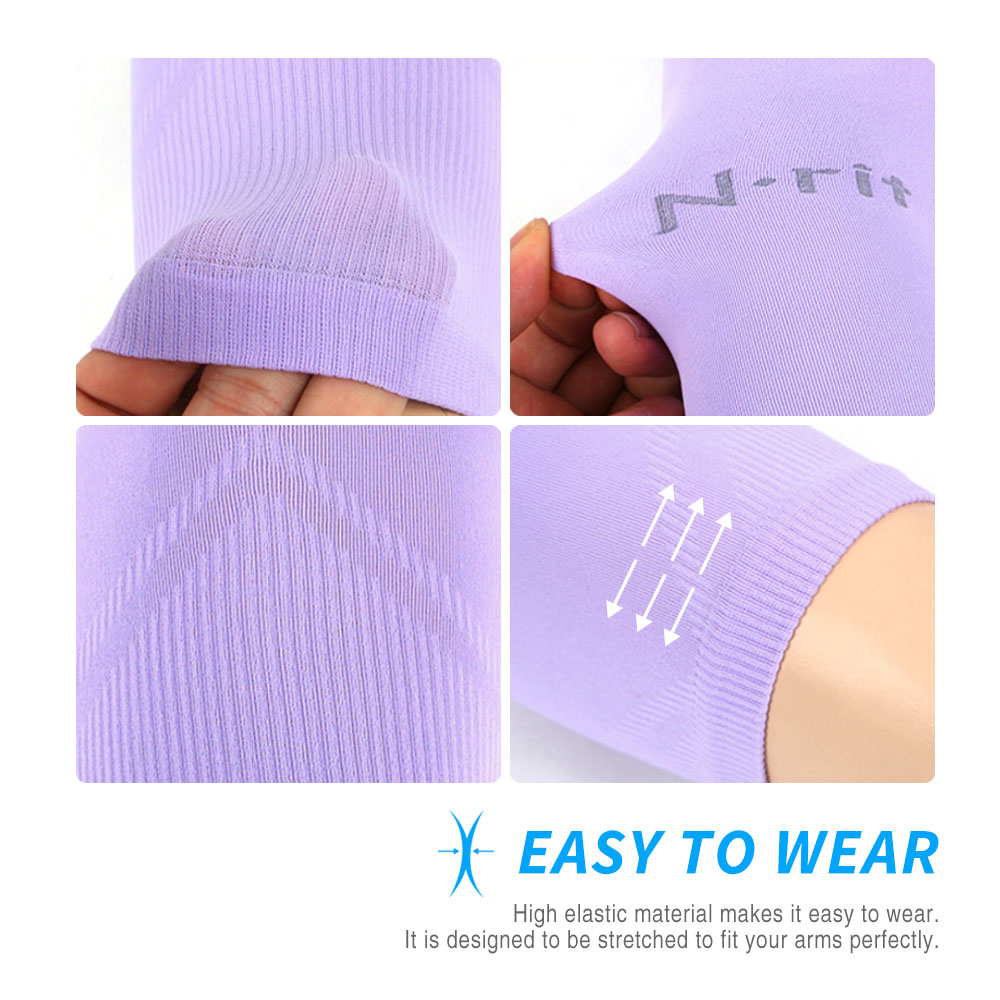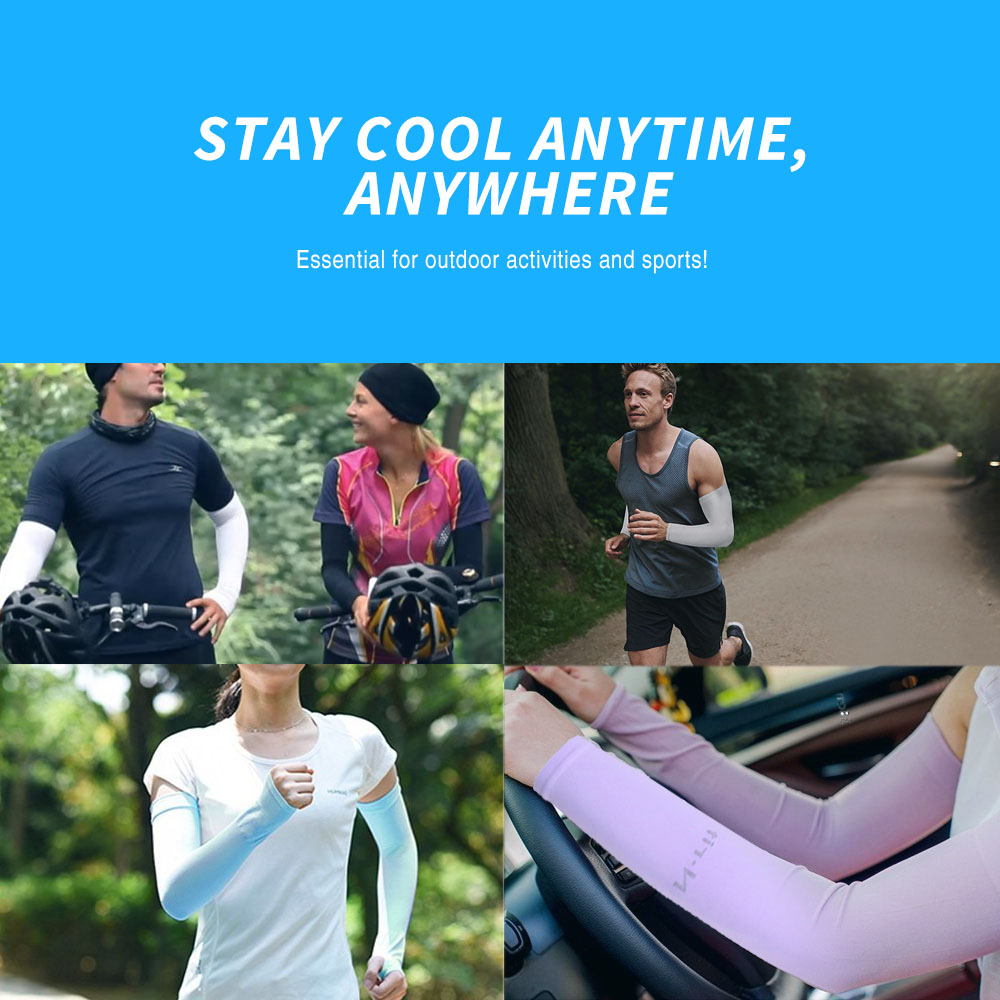 You Might Also Be Interested
Customers Who Viewed This Item Also View
Customer Reviews
Joey Lincoln
Mar 26, 2019 12:14:23 AM
excellent quality
These are great! They provide both support and warth when used for tennis. Quick delivery and each and every item was of excellent quality! Thanks, Geeks!

Megan Tucker
Jan 3, 2019 9:27:08 PM
extremely pleased with the purchase
I'm extremely pleased with this product. Used it for gardening and save me the hassle of putting sunscreen. I would buy again as the need to replace arises. Thanks, Geeks!

Orlie Hudson
Nov 28, 2018 11:46:14 PM
such a great buy
Great product! I use these sleeves to cover up my tattoos at work, so they get daily use. The fabric is very nice, fits great and firm and snug the way I needed. Such a great deal!

Manny Harvard
Oct 14, 2018 8:06:04 PM
keep my skin well protected
What a deal! These are perfect for my everyday summer wear when playing, working in the garden, or working out. Compression is very light, really cool, and keep my skin well protected.
Joey Tim
Jun 7, 2018 11:34:41 PM
feeling cool and warm
Fit perfectly and is comfortable to wear while playing softball. Great product that offers good support and keeps me feeling cool and warm.

Denmark Douglas
May 28, 2018 8:32:31 PM
help heal my skin
I bought them funny enough not to work out but work to cover my really bad eczema all over my arms without having to wear layers in the hot summer. They didn't cover but actually help heal my skin.
Noel Park
May 15, 2018 11:51:55 PM
feel so good!
It's great and affordable. Seems seamless and definitely help keep my arm warm. Also, I wear them while riding my motorcycle in the summer heat. They feel so good!

Michelle Owen
Feb 25, 2018 10:12:58 PM
good quality
Fit well, not too tight, and good quality materials. These are perfect outside with short sleeves and still want to golf. I have never had a sunburn while wearing these sleeves.
Antonio Ferguson
Sep 28, 2017 6:38:31 PM
happy with my purchase
I've been very happy with my arm protection. They wash well stay put on my arms. Surprisingly comfortable and keep the sun off my arms and they never slip down. Always good to wash in cold and hang dry.
Annalene Murray
Sep 18, 2017 8:34:35 PM
great sleeves
Great sleeves... It almost perfect! I bought this arm sleeves for my husband and he used them in Arizona when golfing to block the UV rays. Thanks Geeks!
Abigail Bond
Aug 22, 2017 8:38:55 PM
keep my arm nice and cool
I wear them in the summer while riding my motorcycle. It help to keep my arms nice and cool. Material feels way better than other compression sleeves I have purchased in the past.
Madelaine Gordon
Aug 14, 2017 12:13:40 AM
a life saver against sun damage
I used them as well I'm at the gym on my arms days and I also wear them several hours at outside activities afterwards. These are a lifesaver to protect my arm against sun protection.
Tim Cornish
Aug 10, 2017 6:36:48 PM
good quality
Good quality product at a great price. Good arm sleeves compression and I use them to keep the sun off my arms. Arrived on time, thanks Geeks!
Samson Grey
Aug 6, 2017 4:57:17 PM
excellent sleeves
Excellent sleeves, I was needed requirement in a hot working environment and wearing a long sleeves shirt for sun protection. I will be purchasing more for the holidays.
Claire Hunter
Aug 2, 2017 5:37:02 PM
good quality
I got these for my son who does a lot of bike riding. This will help and protect him from the sun'strong UV Rays. It gives just enough comfort, good quality and affordable.
Frank Gibson
Jul 27, 2017 9:11:00 PM
surprisingly comfortable
Surprisingly comfortable. They keep the sun off my arms and they never slip down. Amazingly cool in the sun while playing golf. Highly recommended.
Jack Smith
Jul 26, 2017 11:10:28 PM
very impressed
I use this mainly to keep my arms from sweating while on an elliptical and it works. I was also impressed at how these made my arms feel a little cooler as well.

Rachel Park
Jul 23, 2017 11:05:11 PM
great fit
I love them! Great fit and the fabric is very smooth and comfortable to wear. Keeps my arms cool and protected from sun damage.
Jason Lambert
Jul 19, 2017 5:08:12 PM
pretty cool
Pretty cool! It fits very well, very useful and very comfortable. I can used it in biking, gardening and other outside activities. Feels me cool in hot summer!
Jack Smith
Jul 9, 2017 10:45:39 PM
block the sun for my arms
Definitely block the sun for my arms! I used them for road biking and driving a car. These are awesome sleeves! And price was good. I highly recommend them. Thanks Geeks!
Joshua Lee
Jul 5, 2017 10:00:33 PM
very satisfied
Very satisfied! Every time I wear it, I am surprised that I feels coolers even in direct sunlight. Helps keep me cool, I work all day as food service delivery and they help in the hot summer.
Elizabeth Gibson
Jun 28, 2017 10:37:21 PM
well made quality
Well made quality product and this is very comfortable to wear. I use this mainly to keep my arms from sweating while driving or works. Made my arms feel a little cooler as well.
Andrew Smith
Jun 22, 2017 4:53:34 AM
well made product
Great price, well made quality arm sleeve, and great fit. These arm sleeves completely met my expectations:)

Paul Berry
Jun 14, 2017 7:50:50 PM
just love it!
Just love this arm sleeves! Perfect for needs specially on my everyday jogging, biking and other outside activities. Provides a great protections against the sun. Keeps me cool!
Nick Jackson
Jun 11, 2017 8:45:23 PM
great product
Thank you for these arm sleeves. I am wearing them in Arizona while bike riding and playing basketball. Great product for the purpose.
Richard Hill
Jun 8, 2017 7:30:14 PM
perfect for my needs
I just love these! Perfect for my needs. I will keep ordering as I use them all the time. Thanks!
Joshua King
Jun 4, 2017 8:28:50 PM
keep my arms cool
My husband wear these arms sleeves on his golfing. They are cool in the summer and warm in the winter. It has allowed the sun damage on his arms to heal.
Neil Cameron
May 31, 2017 5:36:18 PM
awesome
Awesome and nice arm sleeves. A great way to protect my arm against sun damage. Very happy, worth buying and the price isn't bad either.:)
Faith Carr
May 30, 2017 9:18:44 PM
wonderful arm sleeves
Finally I got these wonderful arm sleeves that give protection against sun damage. Very useful and convenient to use. I will definitely buy it again.
Richard Brown
May 23, 2017 7:41:20 PM
great protection
Great protection for outdoor activities. Every time I wear these it feels cooler even in direct sunlight. Very satisfied!
Adam Abraham
May 22, 2017 5:04:46 PM
very good quality
Very good quality. I play golf regularly and they keep my arms cooler and protected from the heat of the sun. Super comfortable and very useful.
Anthony Clark
May 21, 2017 8:20:54 PM
great for outdoor activities
Great for outdoor activities. Super comfortable and protect my arms fro the heat of the sun. Perfect for my golf time with friends:)
James Jackson
May 18, 2017 4:55:53 PM
nice product for the price
Allows me to be out in the sun without to put sunscreen on my arms. They keep my arms cooler and protected in hot summer. Nice product especially for the price.

Gabrielle Ferguson
May 17, 2017 10:43:37 PM
super comfortable to used
Great and super comfortable to use. Keeps and protect my arms from the sun when I'm playing soccer during the afternoon. Great price too!
Edward Levis
May 16, 2017 11:23:16 PM
love these sleeves
Absolutely love these arm sleeves. It fits great and cover my arms from heat of the sun. Highly recommended.
Charles Lee
May 14, 2017 7:29:23 PM
good quality
Good quality arm sleeve. It does my arm cool, really strong and well made. I will definitely buy it again.
Keith Clark
May 10, 2017 11:26:19 PM
keeps me cool
Keeps my arms cooler in the hot summer. Allows me to be out in the sun even without having sunscreen on my arms. Thanks!
Steve Smith
May 9, 2017 7:03:11 PM
to protect my arms
I love this arm sleeves! They are very useful since i was working in construction site and I like how they feel and it fits for my purpose. To protect my arms. Great and highly recommended.
Natalie Fisher
May 3, 2017 8:39:00 PM
great sun protection
Came in on time and they are nice. Good compression. Sleeves are really nice and great sun protection.
Harry Taylor
Apr 30, 2017 9:52:04 PM
great sleeves
Great sleeves and super comfortable to protect my arm from the sun during my outdoor activities. Highly recommended as they feel awesome and not expensive at all.
Oliver Harris
Apr 26, 2017 8:05:12 PM
great value
Keep my arms cool! High quality material and it provide sun protections specially on my outdoor activities. Great value!
Kevin Lee
Apr 25, 2017 6:17:19 PM
keep me cool!
Awesome Sleeves! It provides sun protection and keep my arms cooler even on outside activities. Price is right and fast shipment! Thanks Geeks!
Melanie Scott
Apr 18, 2017 7:27:17 PM
pretty good
Pretty good. These are super comfortable and protect my arm from the sun. Great for outdoor activities. Highly recommend as they feel awesome and are not expensive at all.
Emily Gill
Apr 2, 2017 6:39:05 PM
great sleeves
Great sleeves. Fit perfectly and are not too snug at all. I use them for work outside and they feel great with the heat. Keeps me protected from the sun.
Michelle Peter
Feb 16, 2017 4:52:46 PM
very helpful and i am very pleased
I bought these sleeves for a friend with an injured arm. These sleeves help protect it and reduce the pain. Very helpful and I am very pleased.
Rose Lee
Jan 11, 2017 9:18:16 PM
i'm feel protected
Wearing this cooling compression sleeves feels me cool and comfortable. This is durable, beneficial especial on my outside activities. I'm very happy with these, I'm feel protected.
Markitay Nixon
Nov 13, 2016 6:03:03 PM
I wanna share this protection for my friends as a gift!
It keeps my arm cool, Awesome! And this is really strong and well made product, lightweight, cool & UV Protection. I will definitely but it again for my self and friends as a gift for coming Christmas.
Dorothy Cornish
Oct 6, 2016 5:36:31 PM
pretty cool!
Its pretty good and cool! Great cooling compression, its protect my arm during my gardening and other outdoor activities:) Happy in my purchased.
Nadie
Sep 29, 2016 3:13:44 AM
very useful
It fits well and does the job of protecting from the sun, i can used it in biking, gardening and other outside activities. very useful
Michelle Miller
Sep 26, 2016 8:44:06 PM
great fit
Great fit, good quality materials, stay tucked and do not slide down my arms. I wear this in my biking, gardening and other outdoor activities. Job well done with priced right.
Madelaine
Sep 21, 2016 11:24:58 PM
Satisfied
Every time I put it on, I am surprised that it feels cooler even in direct sunlight. Definitely, i will ordering more of these! Satisfied.
Lilly Blake
Sep 1, 2016 2:17:13 AM
Cool!
I've used them several times and they do a great job, good quality, cooling sun protection, and great value. Cool!
Lucas Hill
Aug 7, 2016 8:51:07 PM
Nice arm sleeves!
They really do the trick, are very comfortable and are very reasonably priced.The fit is good though they are a little long - rolling up a turn or two works fine. They are comfy and easy to put on and of . I will recommend is product to my relatives.
Anthony Skinner
Aug 1, 2016 2:35:25 AM
Works great
I received these sleeves at the perfect time. I had just had a PICC line put in my left arm and had fallen. Which caused an injury to my right arm. At first look I was a bit concerned about using them. Because of the black elastic strap at the top. I was worried it might cut of my circulation. Well they didn't they fit snugly. They stayed in place and covered my arm preventing it from infection. It also kept my tubing I place so that it wasn't hanging out everywhere from my PICC line. I know that using them for the reasons I did are above and beyond what they are made for. Their performance was second to none. They washed and dried perfectly. I used a garment bag on cold and air dried them in the dryer. They also didn't generate a lot heat. So I didn't feel like I was sweating all the time under them.
LaurenStewart
Jul 21, 2016 8:27:46 PM
Best in my kiddos
Purchase these for both kiddos for sports practices and games, they absolutely LOVE them!! My son even wears them to school on sunny days to cool his arms during yard play. It helps my daughters sensitive skin getting bumps from over exposure under the sun. They are true to size, fit great and do not run off!!!

Evelyn Smith
Jul 20, 2016 10:27:13 PM
I borrowed these from my husband and he will never get them back!
I originally bought these for my husband for sun protection while golfing then borrowed them today to try out myself for tennis. They are great! They provide sun protection without sunscreen and they did seem to keep my arms cooler in the sun! So I just bought a second pair to keep everybody happy!
theironboy
Jul 14, 2016 8:36:21 PM
Awesome!
These sleeves are awesome! I have used them to on several runs in the heat and they do keep me cooler. They don't slide at all. Great price and speedy delivery!
Aiden Reed
Jul 11, 2016 3:35:22 AM
This is the Compression Sleeve to get.
Awesome product. I ordered it because of pain I was having in my arm and it worked out great and I feel much better. I ordered the medium and it was just the right fit, not too tight, not too loose.
Hagarth
Sep 4, 2015 7:38:30 PM
good quality
This is the second pair I have bought. I have not received them yet but if they are like the first pair, Great!
Hagarth
Jul 8, 2015 4:43:06 PM
good quality
The quality of these sleeves were way better than the other sleeves I had purchased from Amazon. They fit good and felt comfortable. I don't know about the uv protection yet, haven't used them enough times to tell. My guess is they will help with the uv. I will buy another pair soon.
Write Your Own Review