Features & Highlights
Why you should buy this product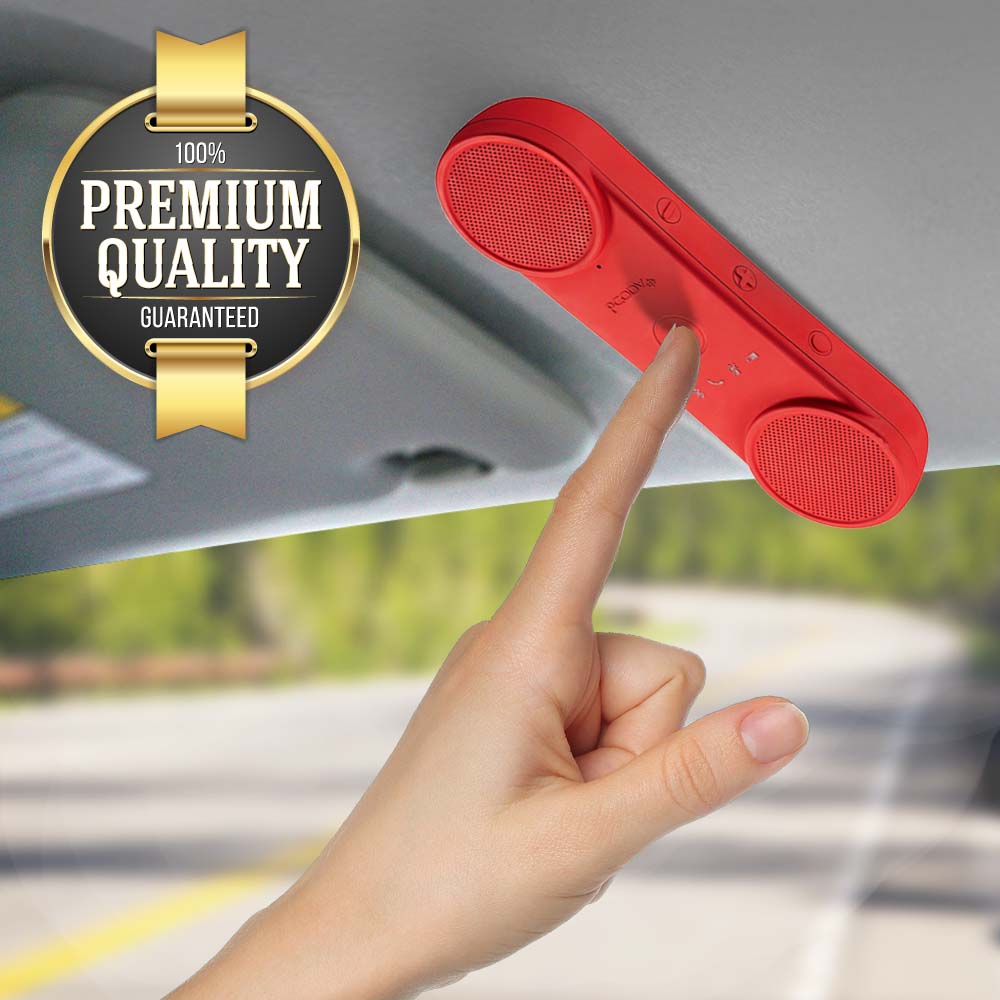 Red Universal 3-in-1 Portable Bluetooth Stereo Speaker Handset w/ Bike Mount, Sun Visor Clip, & Outdoor cradle
Carry Bluetooth speaker anywhere at home, work, or inside a car
Attach it to a refrigerator magnet on a metal surface
Play music on portable speaker mode in high quality sound
Pause music and take incoming calls at your will
Answer calls on speaker phone mode, all the while your smartphone is tucked away somewhere and hooked up to a charger
Switch to handset mode with a press of a button, and answer private calls
Free yourself from mobile phone radiation worries
Simply link Bluetooth Stereo Speaker to your smartphone via Bluetooth, and let it handle all your audio needs
Be dazzled with Bluetooth Stereo Speaker, a perfect companion to your smartphone

Color : RED (Click here for color Black)
Bluetooth : V 3.0 / EDR compliant
Spear Unit : 3W X 2 (stereo)
RF power : Class 2
Profile : Speaker, Handset, Handsfree
Acoustic Quality : Echo cancellation, Noise reduction, Full duplex
Microphone : Dual microphone (End-fire array)
Advanced UI : Voice prompts,TTS, Voice recognition
Multi Pairing : Up to 8
Multi Point : √
Power : Li-poly battery
Battery : 1100mA, up to 15 hrs music playback, 20 hrs talk time
Stand by time : 40 days
Firmware : Upgrade via USB
Etc. : Micro USB connector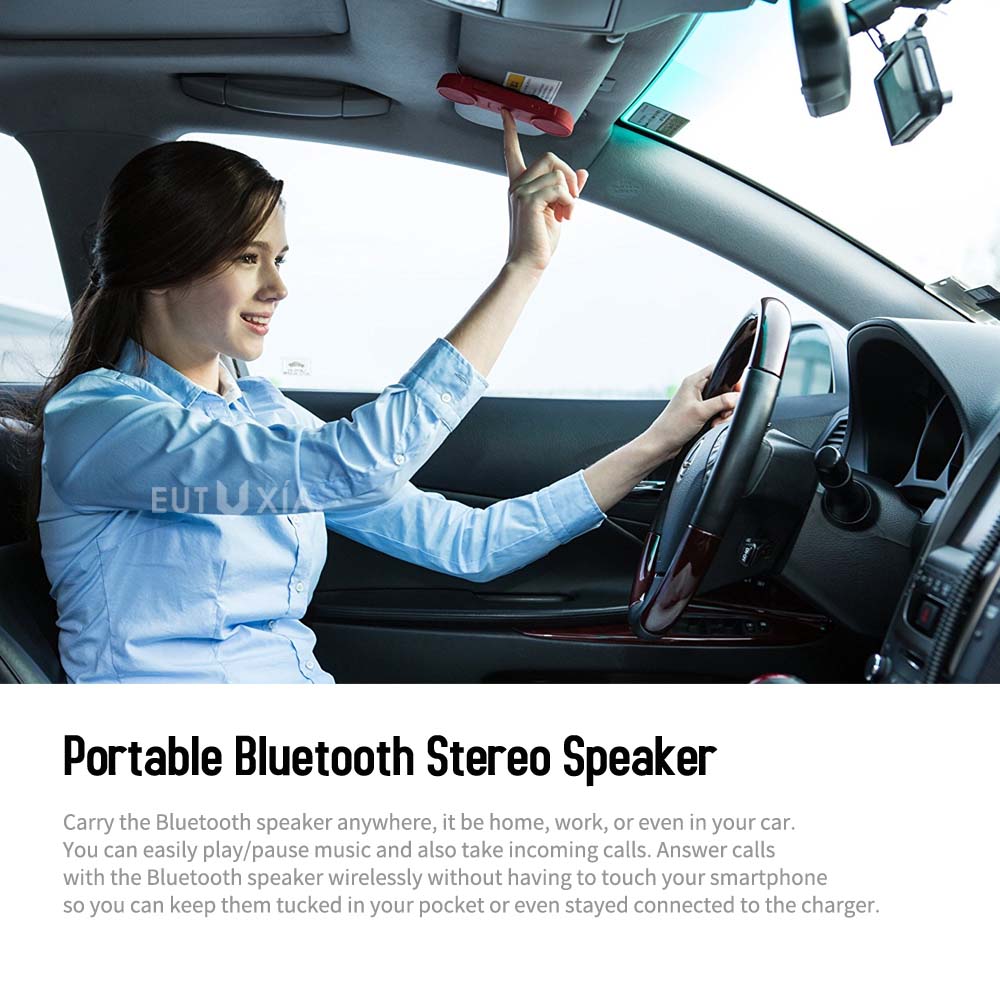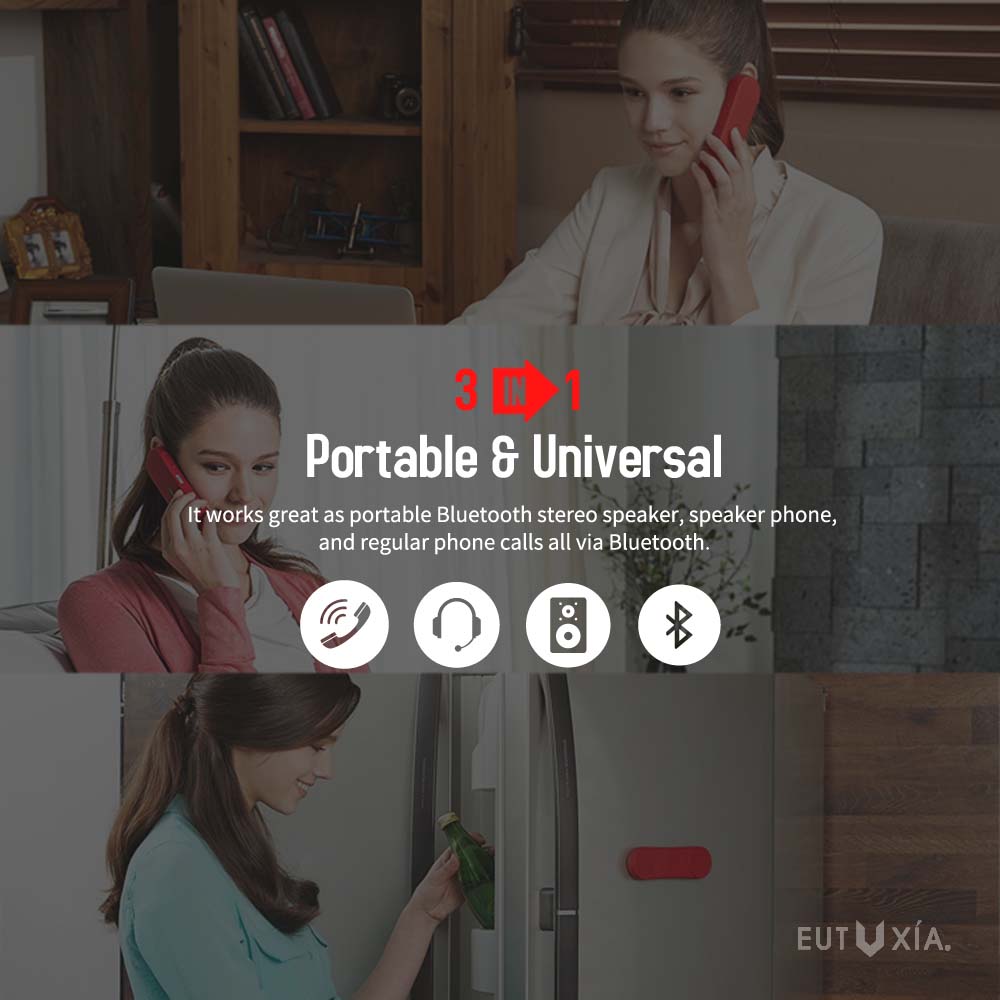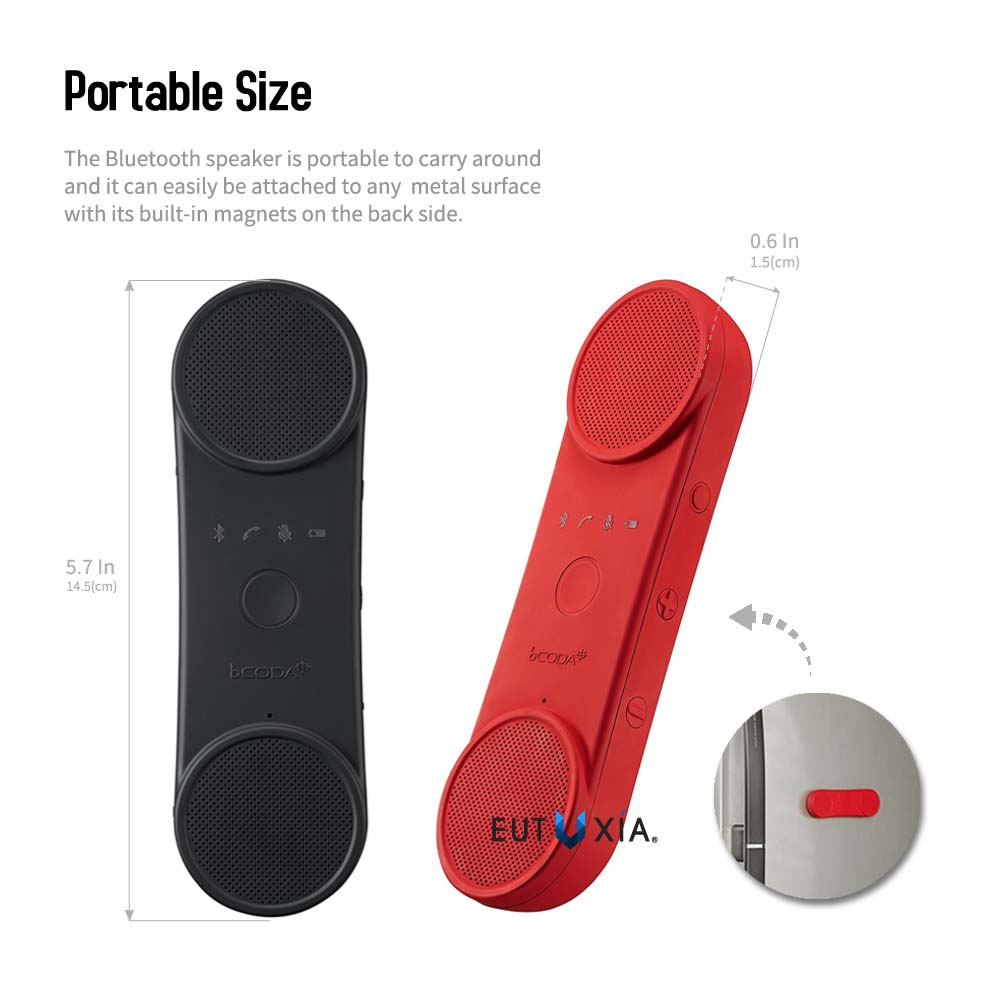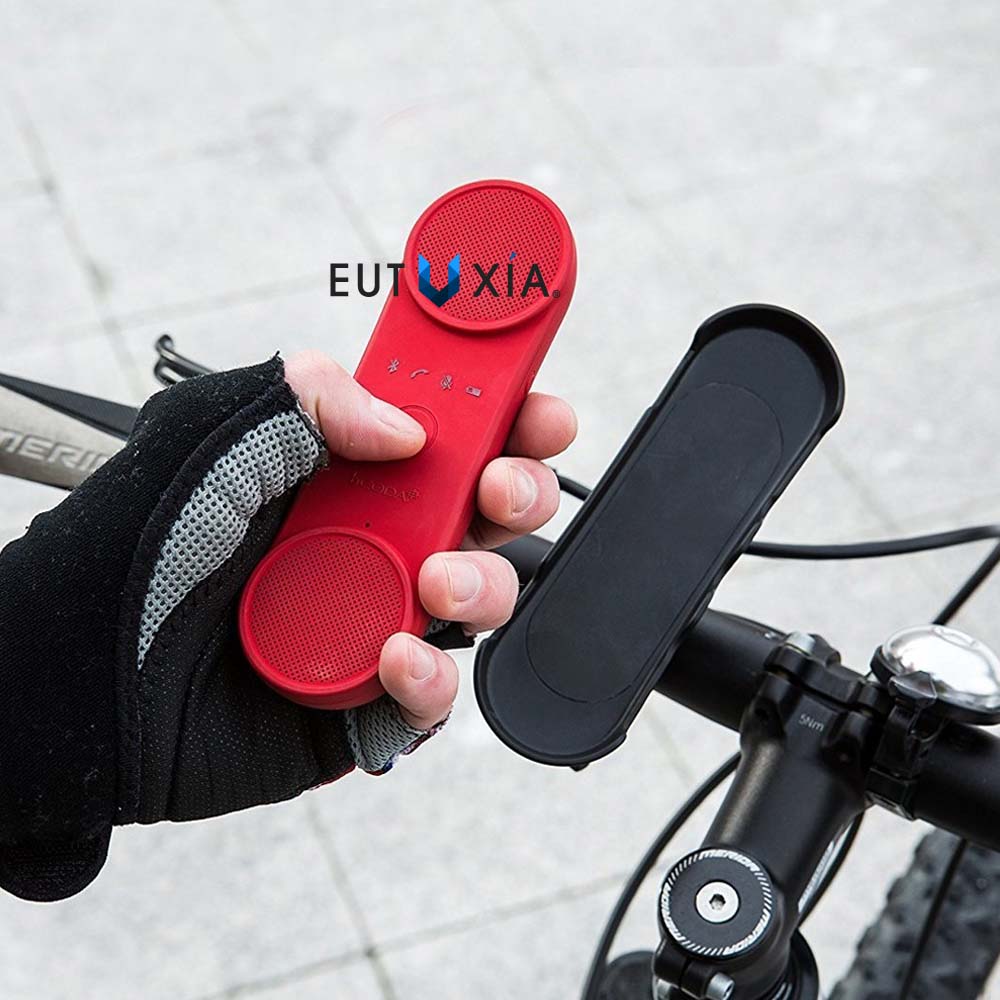 You Might Also Be Interested
Customers Who Viewed This Item Also View
Customer Reviews
Rebecca King
Nov 29, 2016 7:22:41 PM
i love this little speaker
I love this little guy! It works perfectly, my good companion! Very functional and sound is great! I'm so glad I bought 10 of them for each family this Christmas.
Owen Hamilton
Nov 28, 2016 8:29:33 PM
awesome and fantastic speaker
Awesome and fantastic bluetooth speaker! Great looking and very convenient to carry. Sounds good and very useful and functional. My good companion! Good and best gift for love ones.
Carol Cameron
Nov 28, 2016 1:39:04 AM
great speaker
Great speaker! Very good voice and Beautiful design! So far I love this thing good quality for the cost is great! Best gift idea for Christmas!
Tracy Thompson
Nov 23, 2016 7:50:04 PM
my best buddy!
Easy to connect sounds excellent! My best buddy! I can bring it anywhere, I can used it inside the house,car work, camping as a walkie talkie and a lot more. Very satisfied with my purchased and will buy more for my family and friends.
Anna Blake
Nov 22, 2016 8:33:52 PM
just love this little speaker
I just love this little speaker. It gives a wonderful feeling every time I used it. Great sound, very useful, free radiation, bring it in my biking activities. I am very impressed, I will order another one for my sister. Best gift for Christmas.
Dorothy Jones
Nov 21, 2016 9:06:41 PM
best gift for christmas
I have purchased multiple of this Bluetooth speaker for gifts this Christmas. I wanna share with them the joy and satisfaction I get in this wonderful speaker. Wonderful and Fantastic well made speaker. Highly recommend
Samantha Peter
Nov 20, 2016 9:13:05 PM
nice, good sound , useful, and best gift!
I am Happy with my purchased. Nice bluetooth speaker, good sound, very useful, value the price and best gift for Christmas. I really love it! highly recommend
Victor Morgan
Nov 17, 2016 6:33:43 PM
Amazing speaker
I use my bike to commute around town, I would play music out loud from this fantastic bluetooth speaker. This speaker completely changed my bike experience. The audio make me feel like I'm riding in a car! Amazing! Will buy one for my brother this christmas.
Rebecca Quinn
Nov 16, 2016 7:56:58 PM
free in radiation is awesome!
Good sound and built quality, easy to answer calls which is super nice while in the kitchen. This speaker is worth the money! Looks good and sound is clear, free in radiation is awesome! I would definite buy more for my son. Highly recommend
Samantha Myer
Nov 15, 2016 8:20:55 PM
Fantastic Bluetooth Speaker!
Fantastic Bluetooth Speaker, I really love it! Great sound for such a small speaker. I can used it as handset, speaker, attached it to refrigerator magnet and even in my bike and inside my car. I was impressed and love this multi tasker speaker. I definitely buy more as a gift this coming Christmas.
Jennifer Davies
Nov 14, 2016 9:19:26 PM
Amazing and wonderful speaker
Just what I wanted and more than I expected. The sound is wonderful, I can used it as speaker, handset or even walki talie. We have ours and purchased one for each of our kids! No worry in phone radiation. Amazing!
Marlene Lambert
Nov 13, 2016 8:01:59 PM
Great gift for Christmas!
WOW! I love this speaker. Fantastic product and great sound quality. The controls are simple, connectivity was fast and easy. My great companion inside and outdoors activities. So much impressed! It has multi functional and unique features, great gift for music lovers like me.

Write Your Own Review