Features & Highlights
Why you should buy this product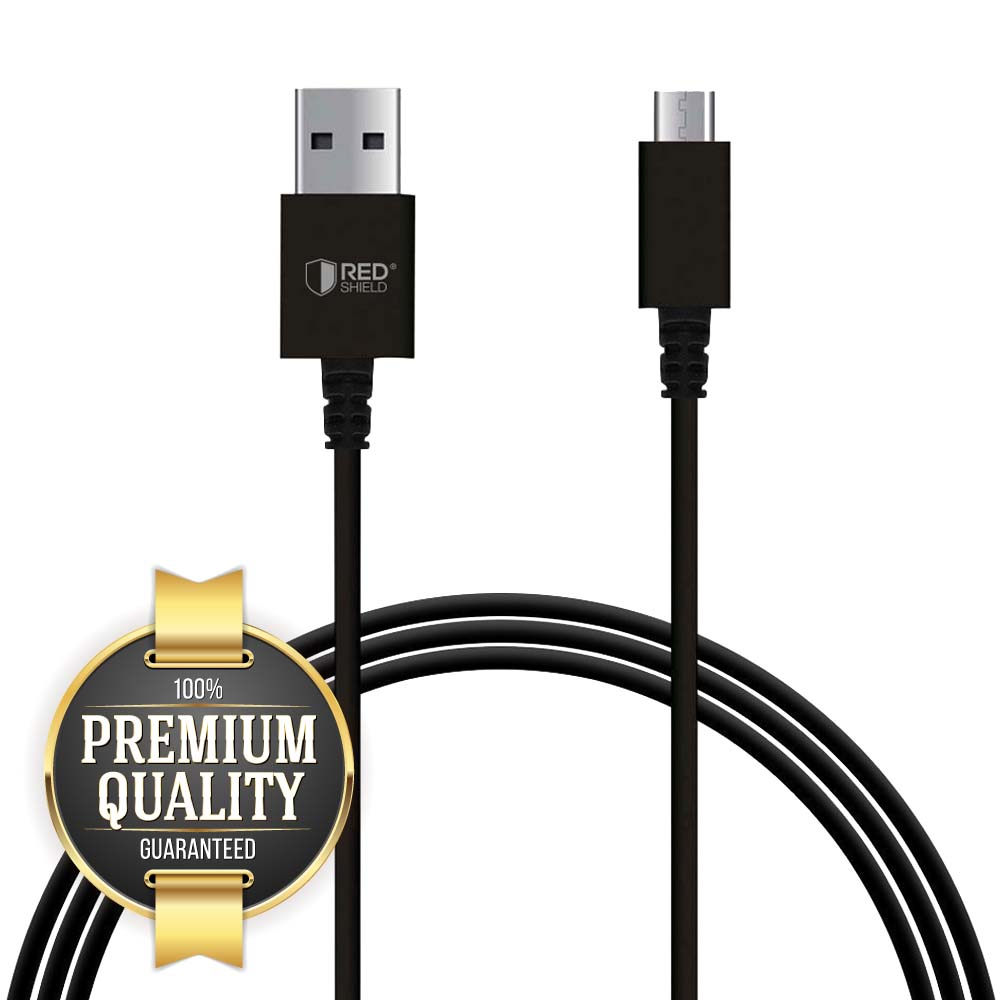 REDShield® Micro USB 2.0 Sync & Charge Data Transfer Cable [3 Feet]
The REDShield Premium USB 2.0 Data Cable provides high-speed USB 2.0 data transfer rates while simultaneously charging your cellular phone through your computer's USB port. Transferring files are safe and easy! Organize digital files (music, images, and contacts) on your PC, then transfer files directly to your cell phone using this USB cable.
Compatible with any device that accepts a micro-USB cable Compact and durable, convenient for travel. Supports data transfer speeds of USB 2.0 standard Top quality design and materials Includes Cable Only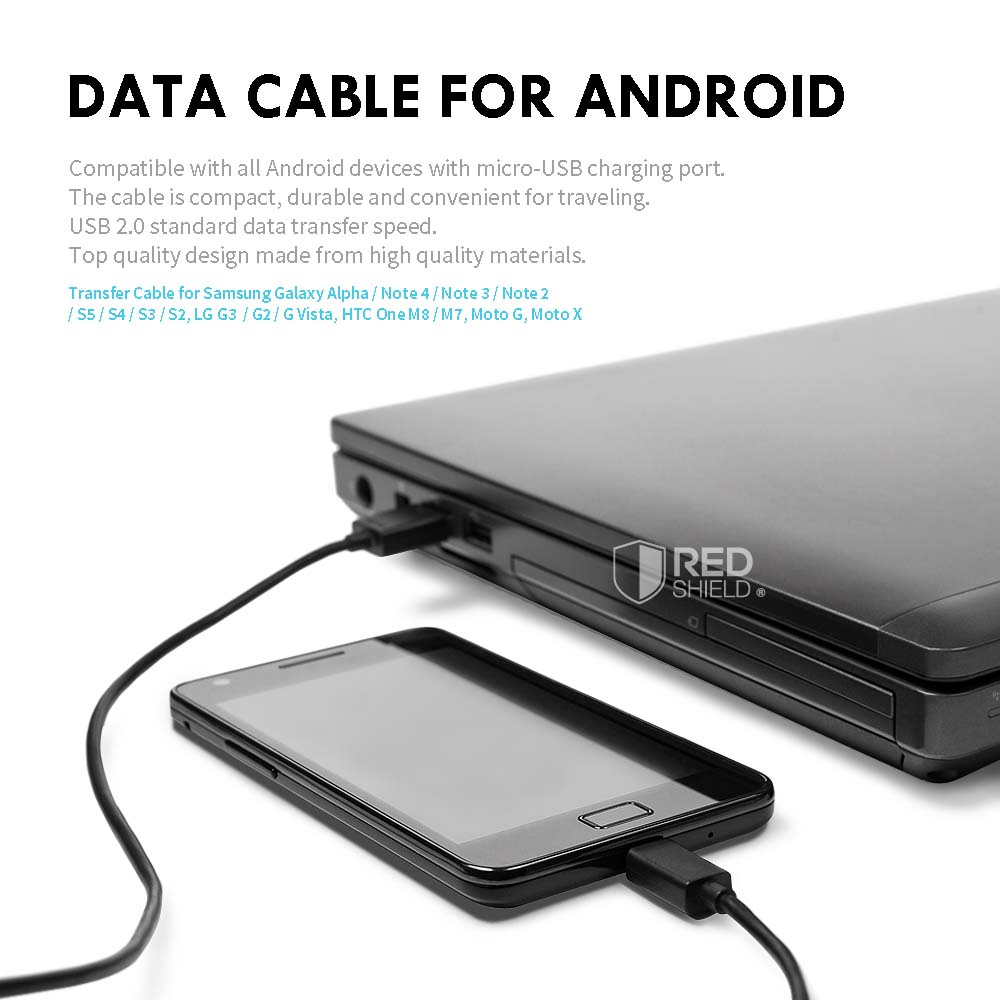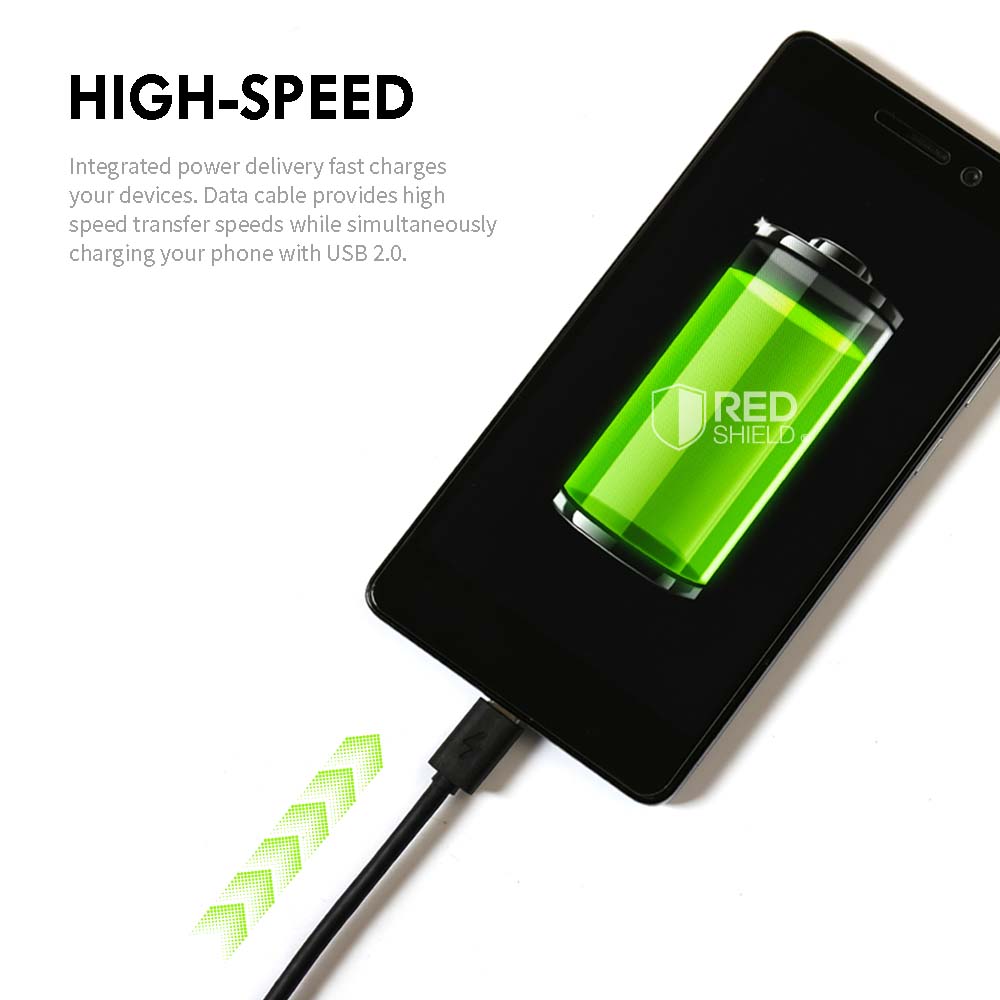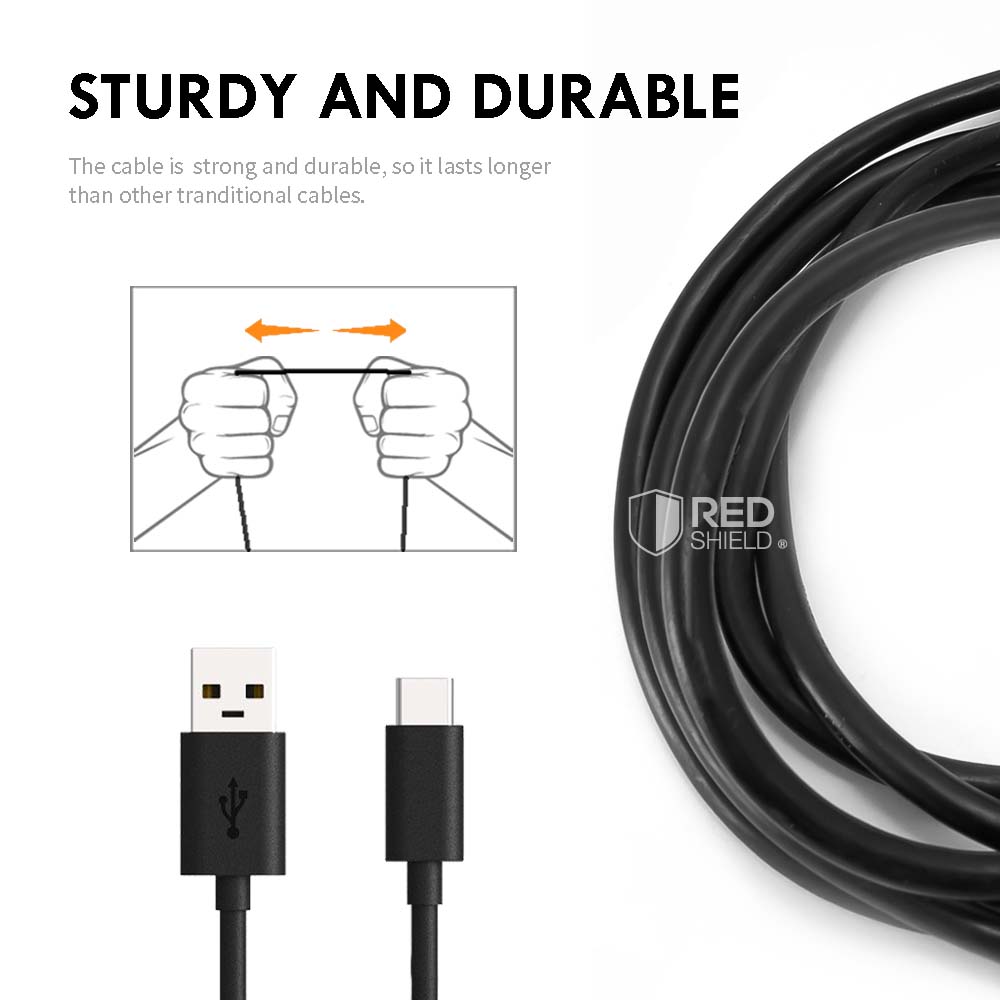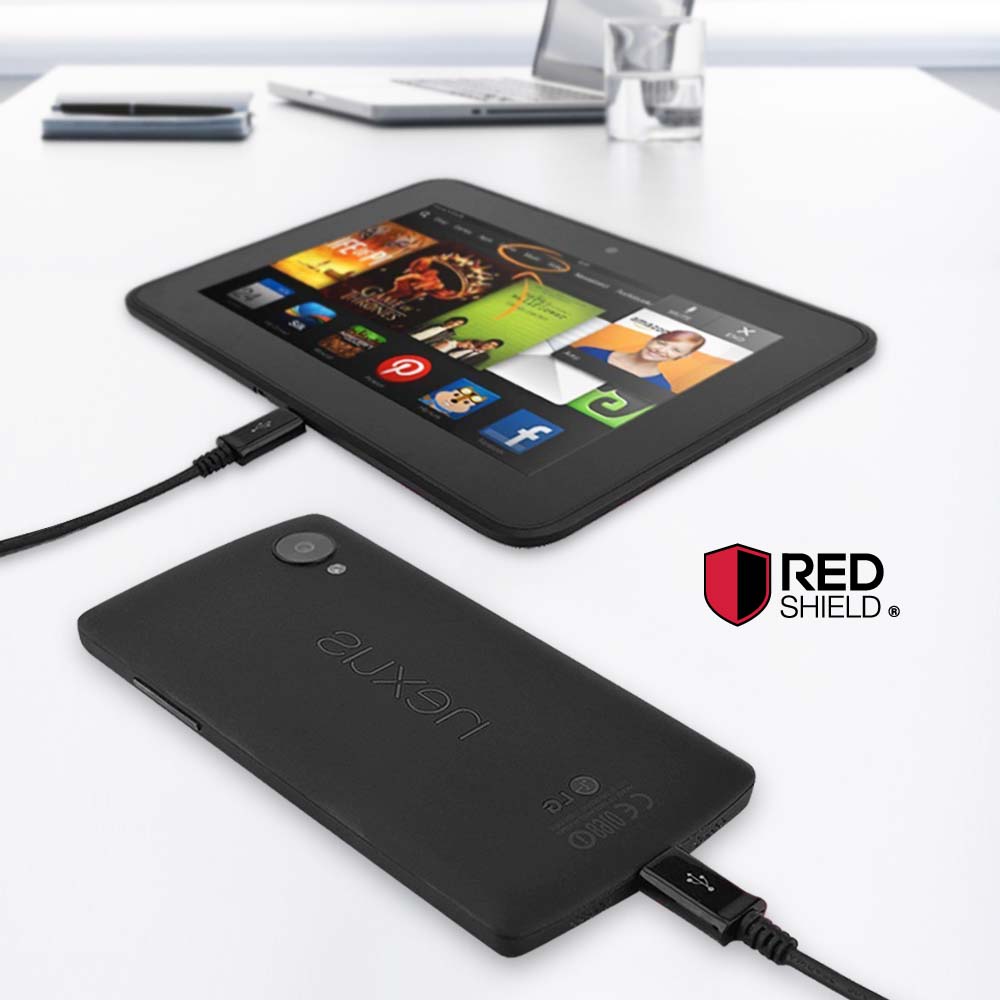 You Might Also Be Interested
Customers Who Viewed This Item Also View
Customer Reviews
Joel Fox
Feb 14, 2019 10:04:50 PM
well worth the price
Very good cable and it charges fast. I find it very useful and comfortable to use. I like the snug fit when it is inserted in the charging port of the tablet. Well worth the purchase.

John Pullman
Dec 20, 2018 11:02:18 PM
quick and fast charger
It's really a durable cable for such a good price! Super thick and fit nice and tight. The 3 ft. length is awesome because we can sit back comfortably on our couch, this is a quick and fast charger!

Jack Douglas
Nov 28, 2018 7:41:11 PM
functional and quick charger
Absolutely love this cord! The structure of the cable is sturdy, the length is great and the price doesn't break the wallet. Quick charge and functional. Couldn't ask for anything more!
Melchor Miller
Sep 27, 2018 7:33:05 PM
very good product
So far from what I have seen in these cables, they are good quality and bend very well. This is a quick charge, sturdy, and very good product for the price!
Richard Hunter
Sep 5, 2018 12:03:17 AM
extremely well crafted
They are extremely well crafted, durable, sturdy, solid and the connectors fit nice and snug. I use them to charge my various gadgets for charging and transferring important documents and files. Happy!
Allison Bower
Jul 17, 2018 7:41:49 PM
a charger that works
Finally! A charger cable that works. It fits into my phone snug and is excellent quality. I've been using these for almost a month now with no issues.
Felicity Blake
Jun 25, 2018 10:57:50 PM
great for travel
Excellent cord cable and it works great! The cable is made of high quality material, strong and durable. Very helpful to organized files and great for travel!
Andrea Jackson
Feb 18, 2018 8:20:20 PM
worth buying for the purpose
Worth buying for the purpose! My perfect companion on travel. I used it everyday for charging and transferring data without any issues. Great!
Leo Smith
Jan 25, 2018 6:35:25 PM
a lifesaver
Perfect for traveling when there are limited outlet in a hotel room. Always great to have around the house and the cable is a lifesaver!
Trevor Bailey
Dec 5, 2017 7:24:19 PM
very good quality
Very good quality! This is nice cables, great length, and it fast charging cable. They seem durable and the braiding gives good texture.
Warren Harris
Oct 16, 2017 8:15:07 PM
strong and durable cable
Strong and durable cable! It's super long so you never have to worry about a short cable. My wife recommends this for the amazing cheap price listed.
Ryan Bang
Oct 10, 2017 11:53:40 PM
great product
Great product! This cables all work and feel more substantial than other cable I've used. It does its job, it charges and allows for data transfers. Highly recommended.
Jake Hunter
Aug 16, 2017 4:36:11 PM
excellent cable
Excellent charging and data cable, perfect size, well constructed and worth the price. Thanks Geeks!
Leo Buckland
Jul 13, 2017 1:42:38 AM
good quality
Good quality for the price. This cable was really good and charge my devices more quickly than standard cords. Perfect! Thanks Geeks!

Sean Lambert
Apr 6, 2017 10:50:42 PM
durable and well made product
I am very pleased with my purchased. It was light and easy to cart around. USB cord charger was quite durable and well made product. Highly recommended.
Edward Henderson
Nov 16, 2016 7:10:53 PM
excellent and inexpensive cable
Excellent and inexpensive cable I have ever had. This cable are phenomenal, it connects and fits exceptionally well and is not loose whatsoever. Well made product, durable and very useful. Highly recommend
Carolyn Butler
Nov 15, 2016 4:10:53 PM
charger was durable and well made
Amazing USB Cord Charger this cord quite durable and well made. I can plug it in half way across the room. It is light and easy to cart around. Happy in my purchased.
Alan Sutherland
Aug 25, 2016 10:57:39 PM
great cable
This cable has held up very well and still maintains the fast charging speeds for my phone. It seems to be well made, and I haven't ran into any issues with the pins on the back on the micro-usb connector getting damaged and not "hooking" into the device anymore.And also this cables work perfectly with my car USB charger and the USB wall plug that came with the phone.
Zoe Roberts
Aug 15, 2016 12:10:35 AM
Best charging cable
Best charging cable I have ever purchased! If needed a lightning cable for my bedside charger, which everyone in the house seems to use at some point during the day. This cable holds u much better than the stock cable, due to its durable outer coating and reinforced cable connection areas. Solidly performs for me ,I was very impressed with this company and how willing they were to help and make sure that you were satisfied with the product. I recommend them to all my friends.

Clarence
Nov 25, 2014 10:33:31 PM
Impressive quality
I have been using the cables for a month now. No issues so far. I think it's a good cable to have, and the quality is impressive.
Earl
Nov 25, 2014 10:16:03 PM
Rigid and quality made
The cables are very rigid and quality made. Works as expected in all aspects. Good product and will recommended to those who needs a cable of this sort.
Dane
Nov 25, 2014 10:11:38 PM
Great quality ! Great price !
It has a very good quality. For the price, it is great value, especially when compared to prices in local electronics stores. Thanks for this Geeks ! :)
Write Your Own Review