Features & Highlights
Why you should buy this product
Redshield [Qualcomm Quick Charge 2.0] USB Car Charger - Charge Up to 75% Faster!
The Redshield charges all Qualcomm Quick Charge 2.0 enabled devices 75% faster versus conventional USB charging. This single output USB charger will recharge your device up quickly; on average take your battery from 0% to 25 % in 12 minutes, and fully charge it in a little over an hour and a half depending on your device. Its fast charging feature will guarantee you a fully charged device by the time you reach your destination! Charges USB micro devices at their fastest rate, including devices with Qualcomm Quick Charge 2.0 technology, at up to 75% faster than a standard USB charger Backwards compatibility between Quick Charge 1.0 and Quick Charge 2.0 For vehicle and travel Compatible w/ micro USB devices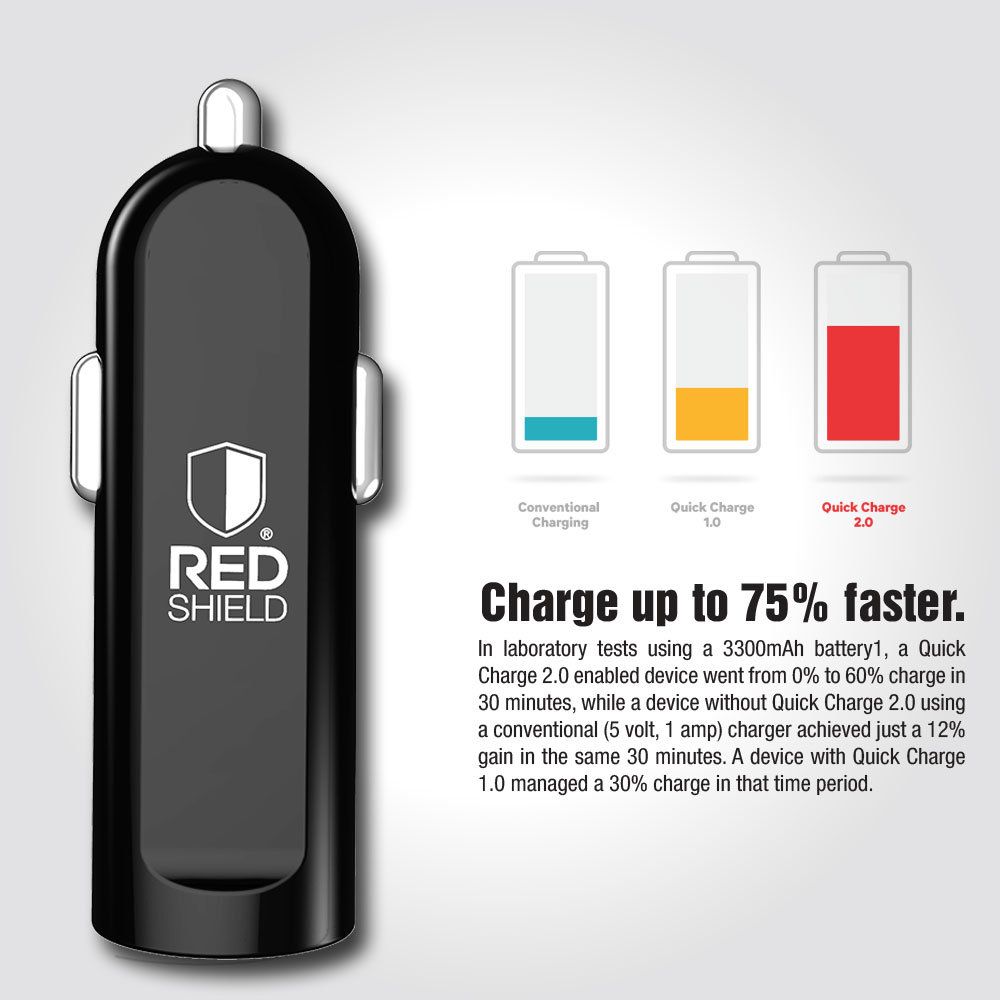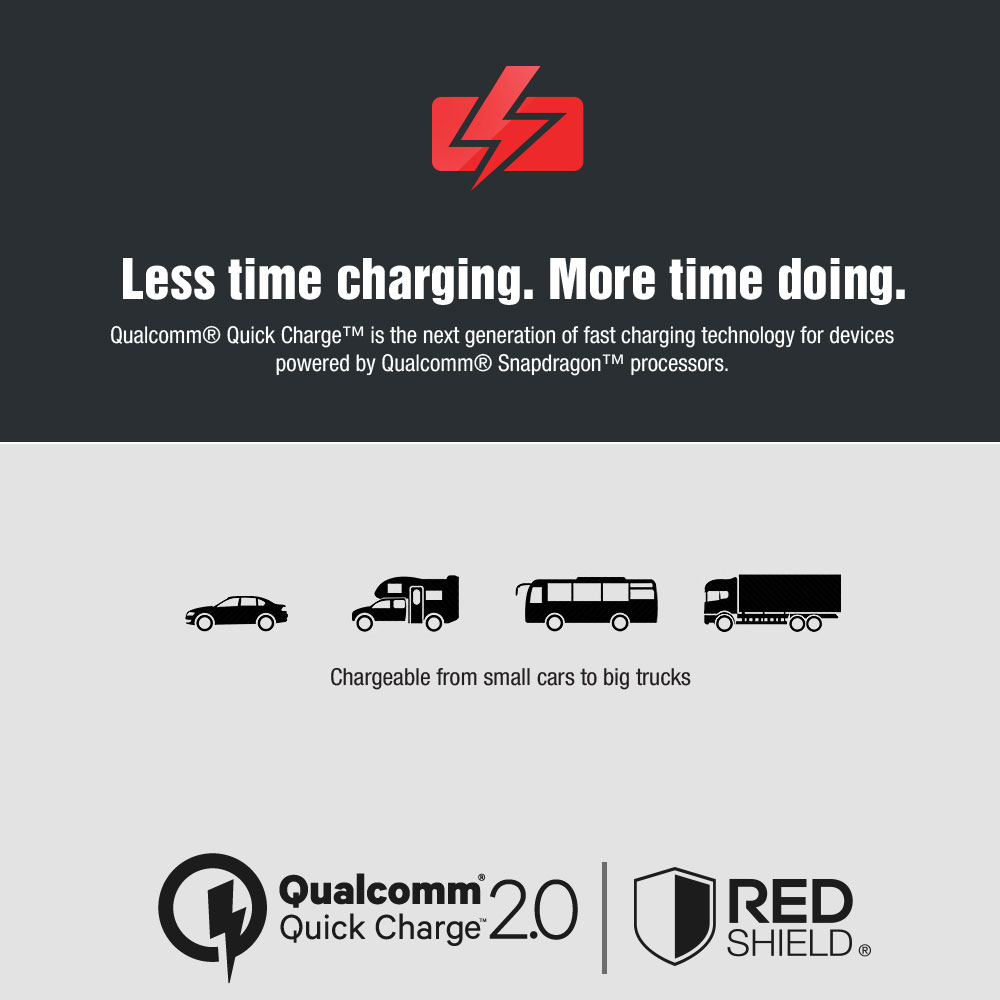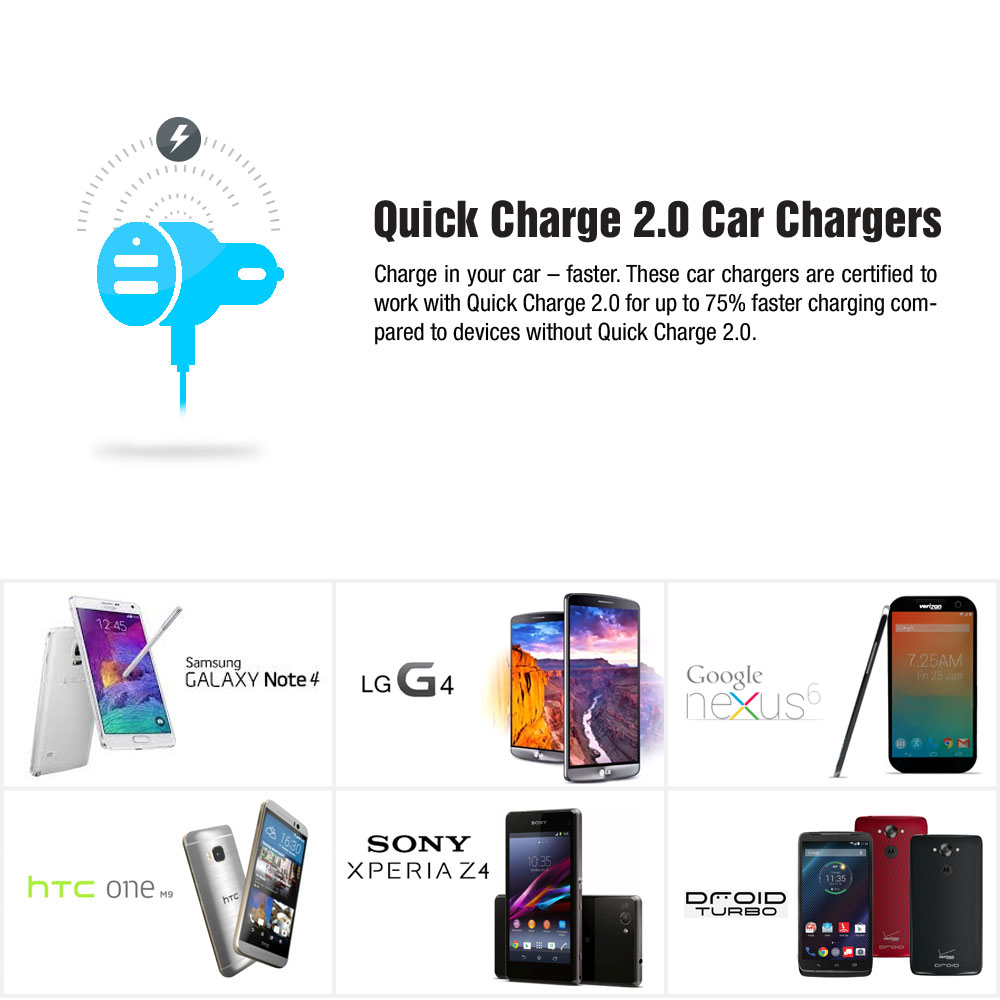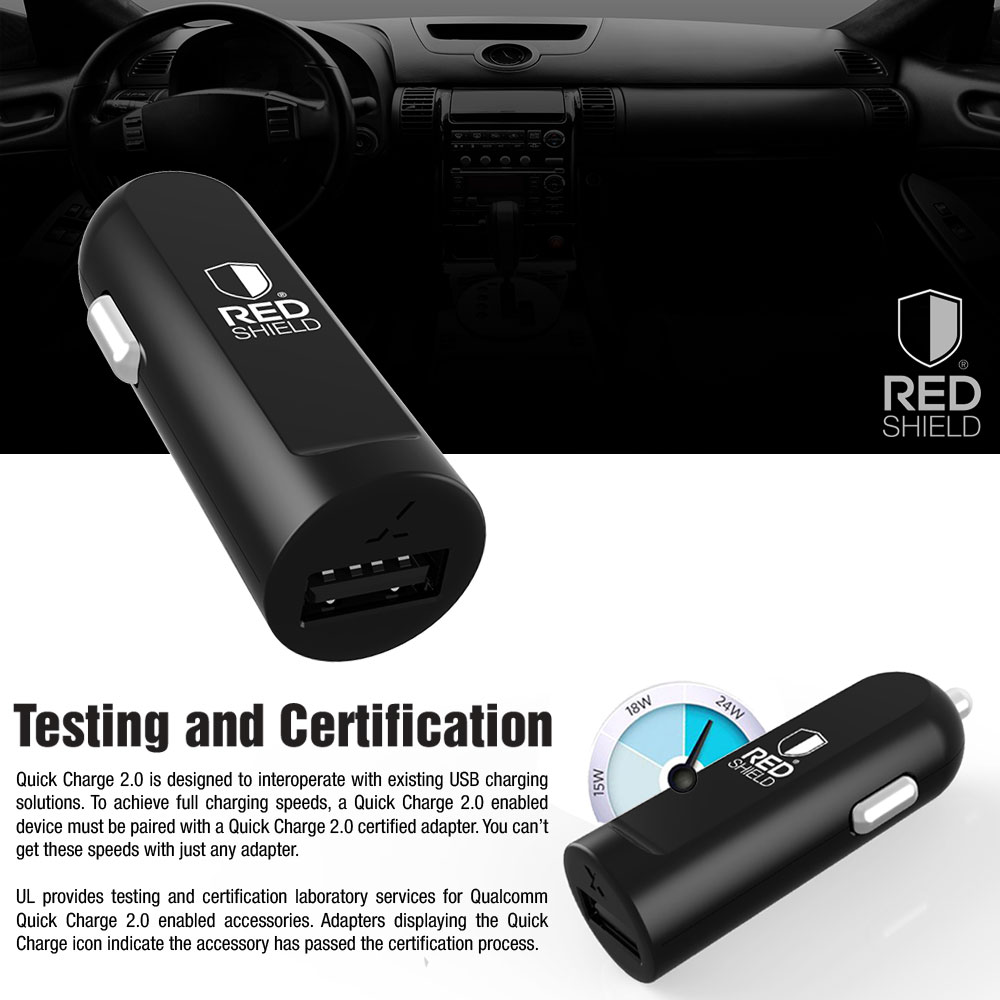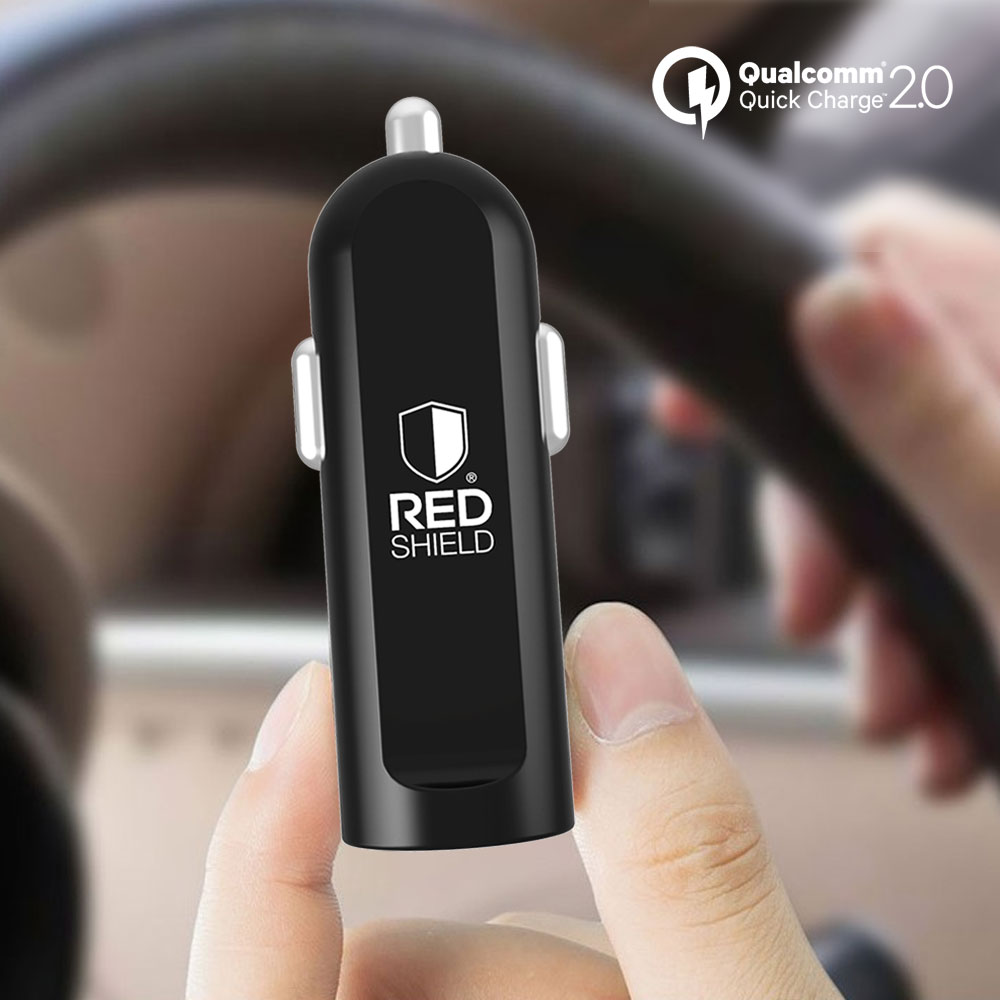 You Might Also Be Interested
Customers Who Viewed This Item Also View
Customer Reviews
Nick Jackson
Feb 14, 2019 4:23:22 PM
it works just fine
I have been using this quick car charger and it has been performing well and works just fine! Get this good stuff once in a while! Your life will be better!
Douglas Lincoln
Jan 29, 2019 4:10:52 PM
fast charger
Great car charger for my Samsung Note! It charges my phone quickly just like my home charger does. Very useful, with fairly price and it works flawlessly. Wonderful!
Kathlyn Young
Dec 20, 2018 11:05:02 PM
love this fast charger
I bought this car charger for my mom who needed it to charge for her new phone in her car and she loves it! Super small, compact, and lightweight. Love the fact that this is a fast charger!

Richard Russell
Nov 19, 2018 12:12:05 AM
good value and great connection
Pretty cool and compact charger that works for my phone. It provides quick charging and maintains a great connection. Very consistent quality and good value!
Mylene Quizon
Oct 23, 2018 6:19:19 PM
happy with my purchase
Extremely happy with this charger! This is small, good quality USB charger, and a very slim profile. This was a much better value and I can leave the charger plugged in my car.
Andy Turcker
Oct 2, 2018 10:06:55 PM
fast charging
Fast charging for my phone in the car. It fits snug into the port, unlike my old one which always slipped out. Very small enough in the purse on the go. Great for the price!
Jasmine Howard
Sep 4, 2018 11:07:39 PM
works great
Works as expected. I bought this charger to use in my car and it charged my phone much faster than my old one. My husband was so impressed with how fast it charges!

Michael Miller
Aug 8, 2018 1:24:28 AM
works better than expected
Finally a charger that actually charges quickly! My phone charges even with multiple apps running simultaneously while driving. Works better than expected.
Antonio Graham
Jun 10, 2018 6:53:38 PM
best car accessories so far
Best car accessory so far! I generally drive with my google map to save time during traffic hours which use to leave my phone battery drained. With this little thing, I always have fully charged when I get out of my car.
Eric Hunter
Jun 5, 2018 1:46:56 AM
very powerful charger
Very powerful car charger it's better than the one I bought at best buy for more money. This charger works very well and feels much more durable and sturdy.
Harry Smith
Mar 1, 2018 5:04:35 PM
good car charger
Good car charger, lightweight and convenient to carry when I travel by car. It works perfectly and charge so fast.
Abby Cameron
Aug 23, 2017 6:31:55 PM
love this quick charger
I recently purchased this car charger as my travel companion. It rapidly charges my phone, just plug in, strong and well built. Love this quick charger!

Ryan Bell
Jul 20, 2017 10:58:10 PM
excellent charger
Excellent charger. Just got back from a long trip and we used this the whole way! Well made, it charge really fast, handy and very useful.
Sally Murray
May 15, 2017 6:37:37 PM
excellent charger
Excellent fast charger. This is small, quality made and quick charge. Highly recommended
Rebecca Gibson
Feb 23, 2017 5:33:42 PM
simply a great unit
Simply a great unit, works well for me. Fastest and best charger I have found. Totally recommended.
axman7469
Feb 14, 2016 2:00:29 PM
Faster charge than I expected!
This car charger is faster than I expected. On a normal drive with a dieing mobile phone battery, my usual car charger would maybe charge up to 20%. With this RedShield charger my phone was charged before my destination! Awesome!
GeekStuff
Dec 11, 2015 9:03:41 PM
Works Great
Works great for a good price!!
Geeks_stuff
Dec 10, 2015 8:50:50 PM
Works great
Good product for a great price
shankapie
Aug 29, 2015 3:33:53 PM
I love it!
This product is very fast! You will love it!
Write Your Own Review