Features & Highlights
Why you should buy this product
RedShield [Type S] [Artic White] Windshield Dashboard Universal Car Mount Smart Phone & GPS Holder
RedShield Type S is a universal smart phone and GPS holder that focuses on functionality. The improved utilitarian design makes the Type S fully adjustable to allow for optimal, 360-degree viewing conditions. The simplistic, effortless mounting system enables the driver to securely and safely lock their devices into place. Once locked, the strong suction cup base and soft, foam padding, ensure the ongoing protection of your device, even on the roughest of terrain. One-handed Operation. The elongated upper hook allows for your device to lock into the mount with a one-handed upwards motion so you can enjoy all the benefits of a hands-free experience. Universal Compatibility. The spring jaw design provides a firm grip diameter of 4 inches. The REDShield Type S will securely hold your device regardless of the size of your phone or any bulk added by a protective skin/case. Protective Cushioning. The foam padding located on the gripping hooks provides an extra layer of protection for your device by absorbing impact and preventing scratches to the side of your phone. Flexible Positioning. Mount the REDShield Type S anywhere, from the windshield of your car, your desk, your wall or dashboard for maximum visibility. Adjustable Viewing. The pivot ball's 36? rotation makes it a breeze to switch between portrait and landscape mode. The tightening belt locks down the viewing angle while navigating rough roads. Renewable Suction. Should it loose its original ability to "stick", simply wash the suction cup with warm, running water and then allow to air dry.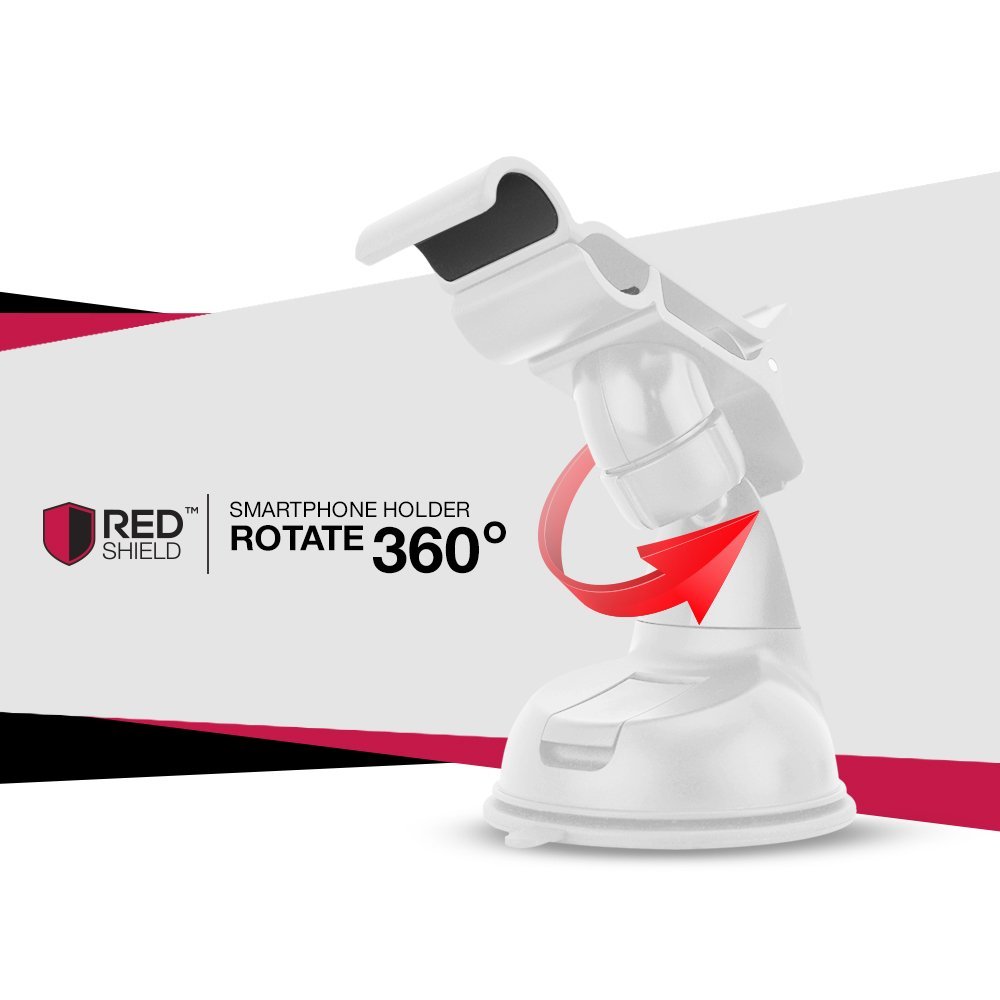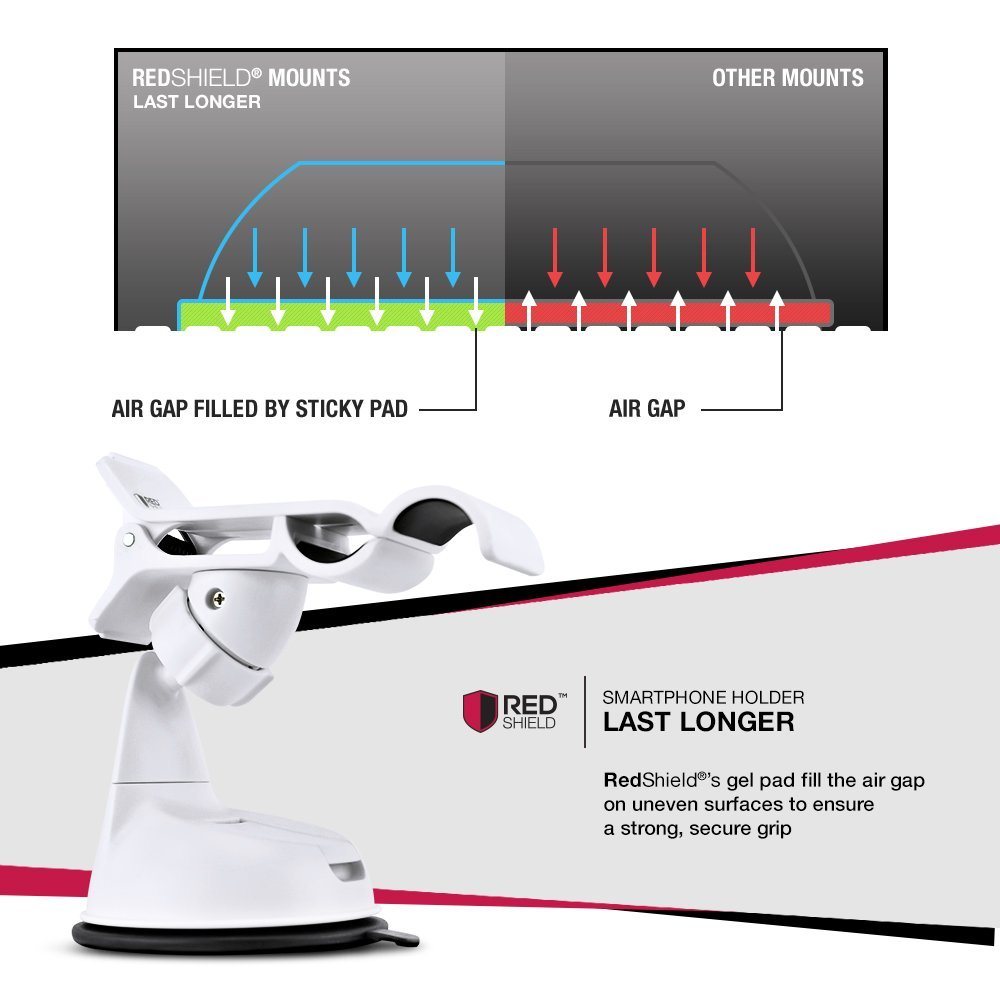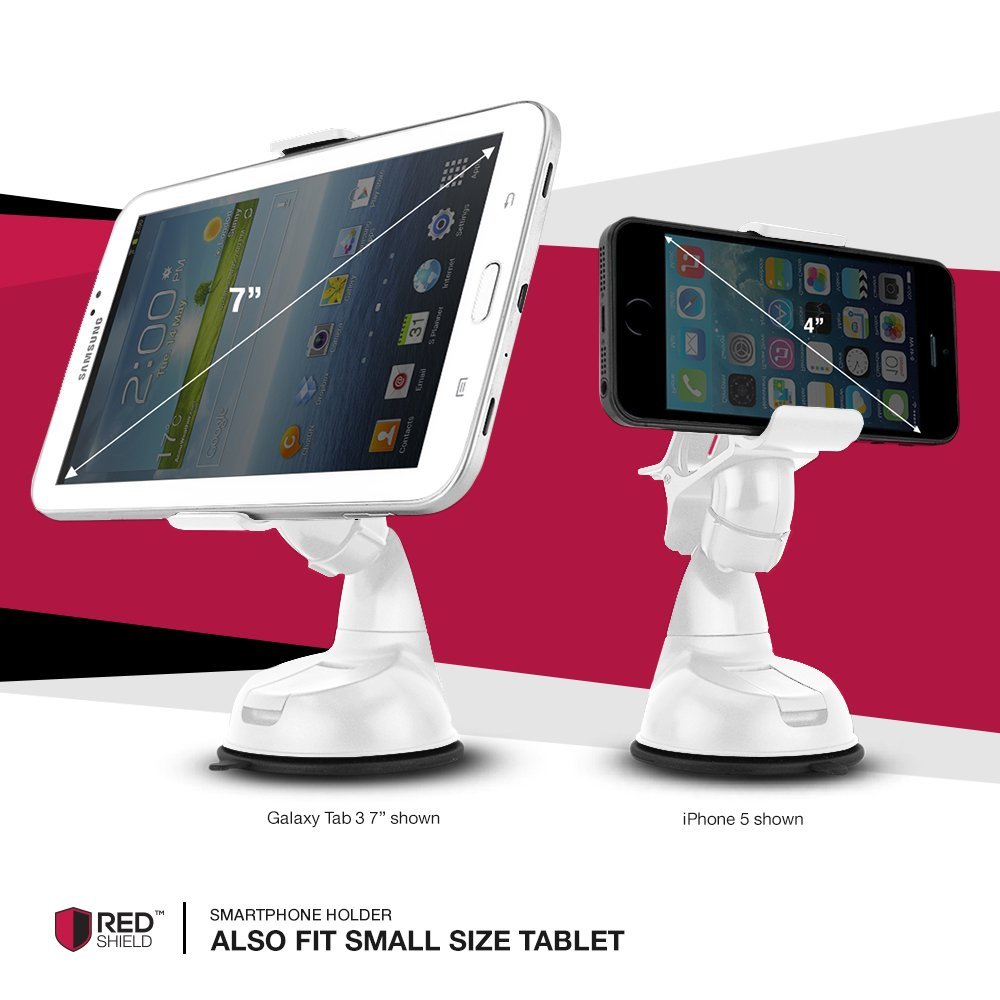 You Might Also Be Interested
Customers Who Viewed This Item Also View
Customer Reviews
Cathy Brown
Jun 11, 2019 7:54:40 PM
flexible and good position
Very pleased. It's better than I expected. Sticks to the winshield like a champ and provide great viewing and minimal blockage of visibility. This is much more flexible and good position.

Peter Jack
Jan 31, 2019 7:46:03 PM
very versatile phone holser
Great purchase! It was very easy to install, it hasn't moved at all since I installed it. Very versatile regarding cases on my phone. Also, I like that I can tilt up, down, and side to side.

Martine Jack
Dec 17, 2018 1:28:18 AM
very functional and durable
This might be the smartest device I have. It is the perfect size for my car, was easy to assemble and keeps my phone in plain view. Well made and very functional product!
Mary Landong
Aug 26, 2018 8:41:25 PM
easy to install and very sturdy
Easy to install and very sturdy. This is very strong enough to keep even heavy phone from wobbling as you drive. I've bought one for each car.
Abraham Miller
Mar 21, 2018 12:00:27 AM
fit my phone just fine
Seems better constructed than some of the mounts I've seen! Fit my phone just fine, perfect and very comfortable with the windshield at long driving...
Jannah Jordan
Jan 15, 2018 11:37:22 PM
Very good quality and worth the price
My husband uses this and this is very functional. It's able to extend so he can see his phone on/near the dashboard. Very good quality and worth the price.
Leonard Bower
Nov 26, 2017 8:47:29 PM
works well
Works well and brings my phone nice and close to me. The suction cup that sticks to the windshield keeps it place. The holder works perfectly for me!
jewel
May 14, 2015 1:47:11 AM
Still working!
Very useful and I love the color since it's the same color with my car. One of the better products I have tried and haven't destroyed yet.
Michael L.
May 13, 2015 12:33:14 AM
Five stars
This is an awesome product, very well made and holds my device firmly. I have no worries while using it on my travels that if my device might felt off. using it in my car to hold my GPS it's really convenient and comfortable to use. Definitely five stars for this item.
Sean
Nov 25, 2014 10:07:34 PM
Excellent and Stable product !
I recommend others to use this product, I have tried other similar products and had a bad experience which I ended up returning them. This product is excellent and stable.
Aaron
Nov 25, 2014 10:03:51 PM
Very sturdy holder
The unit seems to be very sturdy. I have been using it for over a week now, every day. My phone sits very well. Easy to adjust at any angle. Suction cup is very strong.
Brenda
Nov 25, 2014 9:59:35 PM
Worked better than I imagined
I have used several stands and none compare to this one. This stand is sturdy and the suction is very strong! With the sticky suction it makes this so easy to use. The price for this stand is awesome don't think twice just buy it. This worked better than I imagined it would.

Write Your Own Review