Features & Highlights
Why you should buy this product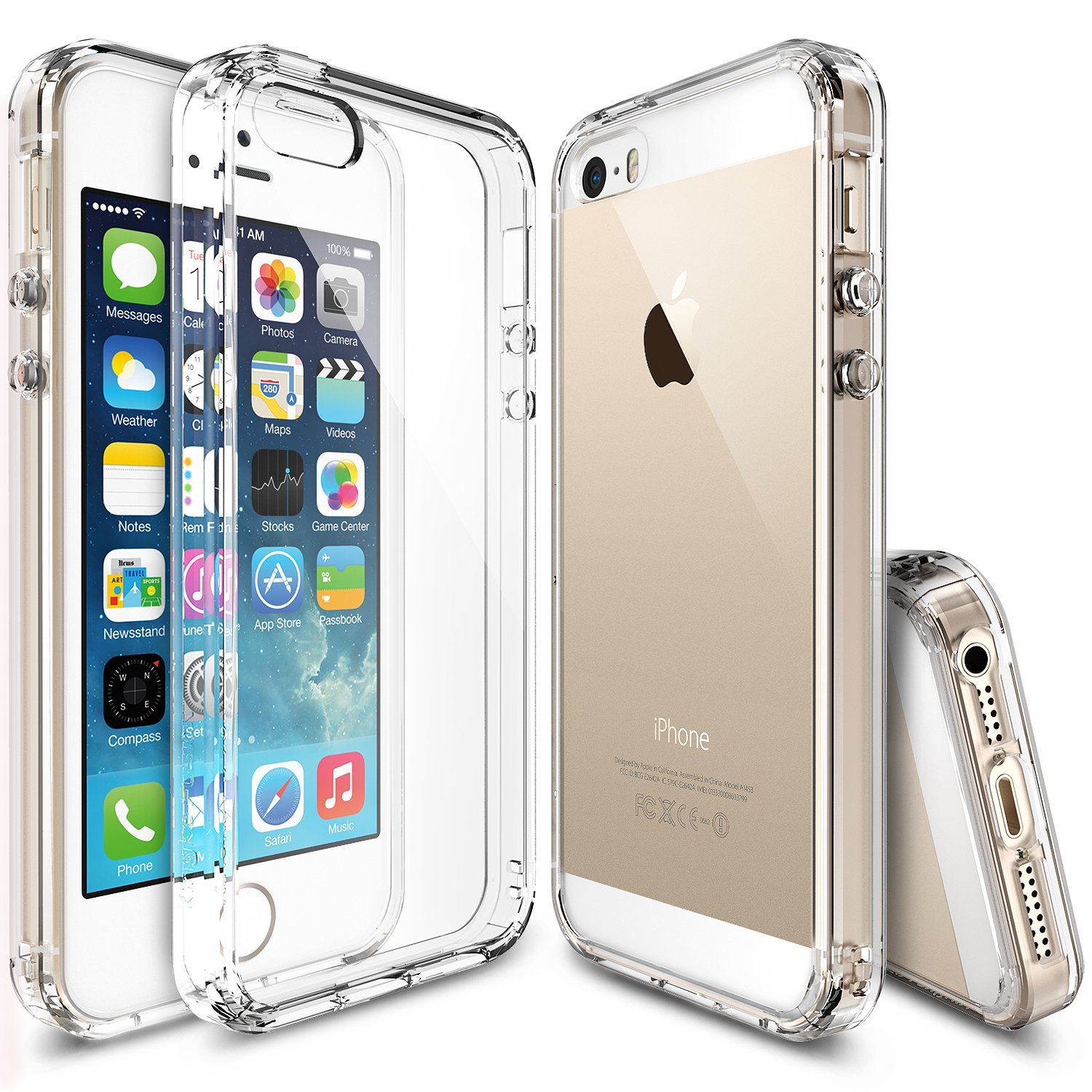 Apple iPhone SE / 5 / 5S Case, Ringke [Clear] FUSION Series Crystal Clear PC Back TPU Bumper Case
Ringke FUSION Case for Apple iPhone SE / 5 / 5S 2016 / 5S 2013 / 5 2012Perfect Fit
Fits perfectly on the Apple iPhone SE 2016 / 5S 2013 / 5 2012 to show off the natural shape and design.
Ultra-slim design with a perfect fit for all-around protection with minimal bulk.
Transparent TPU bumper protects all well rounded sides and perfectly contours all edges. Say goodbye to pesky gaps and loose edges!
Protection
High quality crystal clear back panel and specially formed TPU border to tightly grip all sides for better protection.
Innovation in Technology
Designed with Anti-Scratch and Enhanced Dual Coating Technology to defend with 2x longer lasting durability.
New Active Touch Technology buttons are specially designed for a more natural responsive feel when pushing the volume and power button.
Innovative technologies such as Anti-Static Elements also prevents your phone against more dirt and dust than other brands.
Fully Customizable
The possibilities are endless!
Unique tool for your creative side with free DIY template.
Ringke's Design It Yourself provides you with a free template to help as you unleash your creativity and personalize your own fully customizable Ringke FUSION protective case.
It's our way of helping you become one simple step closer to suit all your aesthetic needs.

You Might Also Be Interested
Customers Who Viewed This Item Also View
Customer Reviews
Eric Clarkson
Dec 14, 2017 3:59:56 PM
great case
Great case! Definitely feels sturdy and durable. It allows my phone color choices to be seen perfectly. The screen protect the most vulnerable spots during accidental drops. Good price!
Carol Clark
Jun 21, 2017 11:20:52 PM
perfectly fit
It's perfectly fit for my iPhone. I was pleasantly surprised on the protection given. I have dropped the phone twice, amazingly there's no scratch. Many thanks:)
Andrew Ball
Jun 19, 2017 8:41:26 PM
awesome case
Awesome case! This case feels safe and does not add any extra bulk and lip side protection are superb. Perfect case for me!
Ruth Lambon
May 3, 2017 9:05:46 PM
great clear case
Great case. It leaves the entire phone visible so it shows off the beauty of my expensive phone. It also offers great protection and grip. Absolutely love it!
Lauren Smith
Jan 11, 2017 9:06:28 PM
feels great and look good
It feels good in my hand. Simple, clear and slightest case, not adding much bulk to my iPhone. It was easy to put on and take off. Great protection from occasionally drops and falls. Good deal!
Donna Dyerr
Jan 2, 2017 10:33:29 PM
fits well and looks great!
Fits well and looks great! Very happy with this case. It provides adequate all around protection, stylish and i love the show off the natural beauty of my phone design. Price was amazing!
Molly Quin
Dec 30, 2016 1:44:47 AM
great case
Exactly what I wanted. Great fit and nice feel! Flexible and grip to surfaces without being sticky!
Wanda Rees
Dec 30, 2016 1:34:15 AM
super clear case
Fit my phone perfectly and it's super clear. This is a great way to protect my expensive phone. Great case and great price!
Rebecca Jackson
Dec 4, 2016 4:37:26 PM
great case it match my rose gold phone
Great case, color match my rose gold iPhone S5. Has already saved my phone from sudden drop. Great price and I love it! Highly recommend
Hermie
Sep 29, 2016 3:03:40 AM
like it
Pretty cool, it fits perfectly, easy to install, sturdy and durable, I really like it.
Amanda Berry
Sep 18, 2016 6:37:33 PM
Highly recommended
I drop my phone every day and this case takes all the abuse with no damage to my phone. Highly recommended.
Nica Buckland
Sep 14, 2016 5:49:27 PM
perfect
All of the buttons and hole line up perfectly, I have no issues with overlapping the camera or flash. This case is great, its protects my phone.
Ynah Johson
Aug 30, 2016 1:52:29 AM
I really like this
I like the simplicity of this case, it fits very tightly onto my iPhone SE and is flexible enough to take off and put on with no scratches. I was looking for a clear case that wasn't bulky and I really like this one.The buttons remain nicely clicky, it prevents the lock button on my phone from rattling, nicely shows off the design of the phone and the wrist strap attachment is a very nice touch.

Thomas
Jul 26, 2016 11:48:07 PM
Protection without bulk
Just the right amount of case to protect my phone but without adding bulk. The "bumper" keeps the screen safe on impact. I have purchased 1 clear case for the 5S, Plenty of dropped phones within that bunch, and the cases have done their jobs. One small drawback: the case does discolor over time but the low price-point allows me to replace it every ~9 months.
Write Your Own Review