Features & Highlights
Why you should buy this product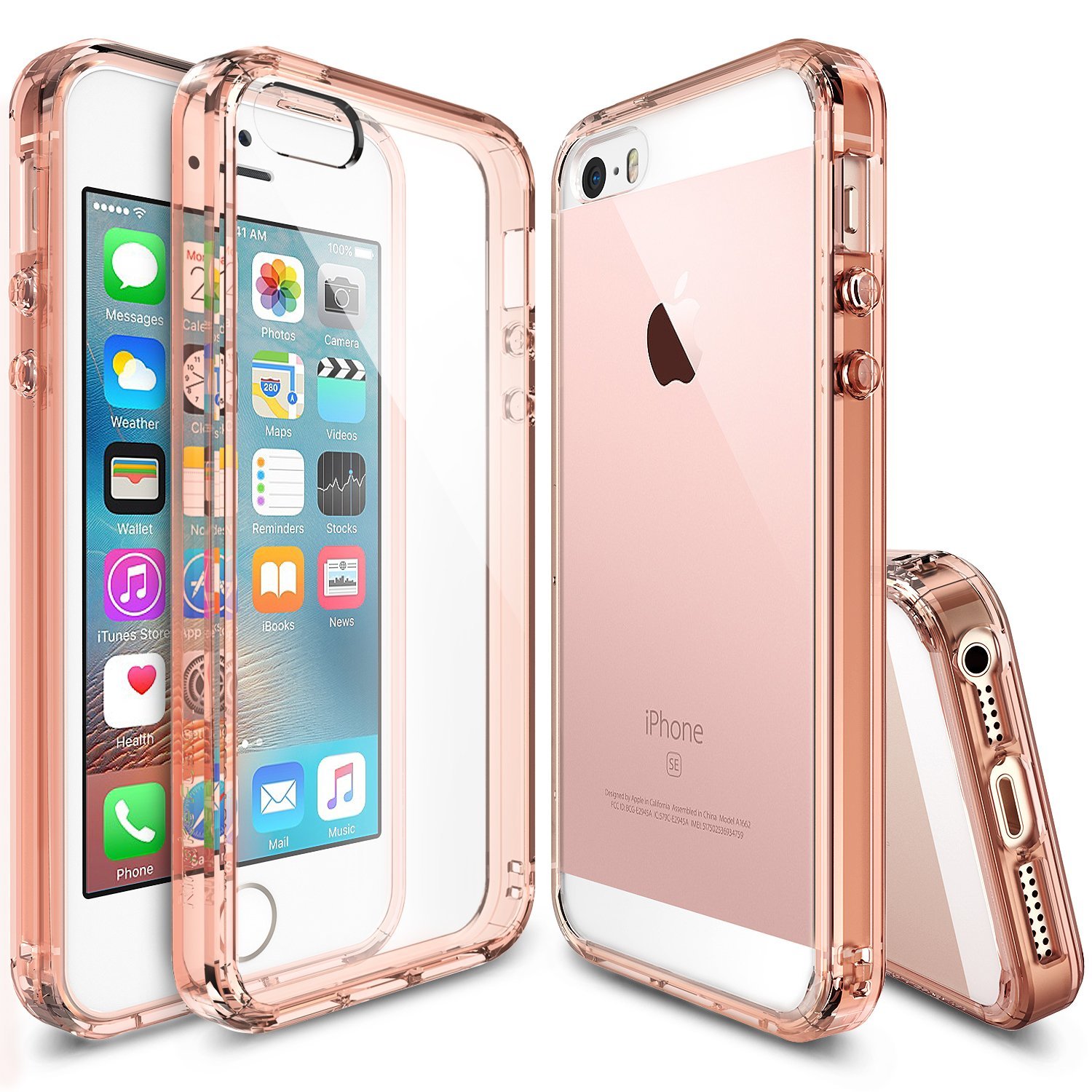 Apple iPhone SE / 5 / 5S Case, Ringke [Rose Gold] FUSION Series Crystal Clear PC Back TPU Bumper Case
Perfect Fit
Fits perfectly on the Apple iPhone SE 2016 / 5S 2013 / 5 2012 to show off the natural shape and design.
Ultra-slim design with a perfect fit for all-around protection with minimal bulk.
Transparent TPU bumper protects all well rounded sides and perfectly contours all edges. Say goodbye to pesky gaps and loose edges!

Protection
High quality crystal clear back panel and specially formed TPU border to tightly grip all sides for better protection.

Innovation in Technology
Designed with Anti-Scratch and Enhanced Dual Coating Technology to defend with 2x longer lasting durability.
New Active Touch Technology buttons are specially designed for a more natural responsive feel when pushing the volume and power button.
Innovative technologies such as Anti-Static Elements also prevents your phone against more dirt and dust than other brands.

Fully Customizable
The possibilities are endless!
Unique tool for your creative side with free DIY template.
Ringke's Design It Yourself provides you with a free template to help as you unleash your creativity and personalize your own fully customizable Ringke FUSION protective case.
It's our way of helping you become one simple step closer to suit all your aesthetic needs.
You Might Also Be Interested
Customers Who Viewed This Item Also View
Customer Reviews
Rebecca Hudson
Apr 29, 2018 8:23:49 PM
great shield
My favorite case and I really love it! I've always wanted a clear case to show my phone color. I love how it has bumpers in case that I dropped it.. it won't break! Great shield!
Edward Bailey
Apr 3, 2018 8:51:22 PM
best choice
Best choice and great protection. I'm very happy with this clear and this case resists most smudges for everyday used. Great price too!
Samantha Park
Oct 19, 2017 5:28:41 PM
a great case!
A great case! Perfectly clear so the rose gold color of my phone is visible. It feels good in my hand with just the right amount of grip.
Dorothy Anderson
Sep 20, 2017 10:18:38 PM
very happy
I like the simplicity of this case, it fits very tightly onto my phone and is flexible enough to take off and put on with no scratches. This is a great case for the price! Very happy!
Caroline Gibson
Sep 14, 2017 7:13:00 PM
so perfect
So perfect, easy to get on and off.. I like the way it feels and I've dropped my phone multiple times and it hasn't been scratched so I'm happy:) Great clear case for daily used.
Warren Howard
Aug 31, 2017 6:04:48 PM
great case for the price
Great case for the price. It seems to protect well. I wanted a clear case to see my phone color. Very satisfied with the purchased. Awesome!
Andrei Hamilton
Aug 29, 2017 9:03:33 PM
pretty clear case
Pretty clear case and I love it! It provides good grip as well, durable and great protection. I dropped my phone twice on the street, with this case didn't get damaged at all.
Jenina Lopes
Aug 24, 2017 7:14:46 PM
I love it
Inexpensive and versatile case. I love being clear, very stylish and great protection. Pretty color and simple design but provides great protection.
Sofie North
Jan 11, 2017 8:04:11 PM
case fits well
Case fits well onto my iPhone 5s phone. Durable, simple and clear case that keeps my phone scratch free and lightweight. Reasonable price. Highly recommended.
Lilian Smith
Oct 2, 2016 6:10:31 PM
worth it!
Works very well. Easy to install. An excellent product, i love the way it protect my phone. Highly recommended
Dann Clark
Sep 18, 2016 5:59:33 PM
good quality
I really like my iPhone 5 case, perfectly fit, well made, good quality, sturdy, highly recommend to my friends.
Madelaine
Sep 13, 2016 8:19:39 PM
Great
It's fits, protects and looks fine. Great product.
Yvonne Thomson
Sep 6, 2016 11:53:17 PM
No worries
Perfect protection for my iphone, it feels pretty sturdy and protective. I have dropped my phone several times and found no scratches at all. No worries, and I love it!
Audrey Skinner
Aug 31, 2016 1:38:16 AM
Thank you
Thank you for making such a great product, easy to apply, it was great!


Leo
Aug 31, 2016 12:33:58 AM
well designed
I got this package of screen protectors last week and immediately tried to install one on my phone 5,. It's a very well-designed bit of engineering that enhances and protects the phone without interfering with any of the function, and it shows off the rose gold color rather than covering it up. If you want something that you can run over with your car, this isn't it. But if you want something to keep your phone secure in your hand while protecting the sides and back from life's little nips and scratches, this is it.
Felicity Browing
Aug 21, 2016 5:04:36 PM
OMG LOVING IT!
I had just got the iPhone SE; rose gold 3 days ago, and decided to not cover the amazing color. So i looked up clear cases and this was the only case i could find with GREAT protection. I love expressing the pop of color of my phone so this is a winner, for sure!!
John Martin
Jul 26, 2016 11:40:23 PM
Very Cool Case
Bought 2 rose gold of these and didn't know what to expect. Very pleased. Fits thin and snug, light weight and next best thing to a naked iphone. The power on and volume buttons are plastic, which I was skeptical, but are actually nice. I even added a small strap to the phone to hang on the wrist. Great Value and clarity.Hope the review helps.
Sandy
Jul 20, 2016 1:57:15 PM
Love this clear case!
I just got my new IPhone SE a week ago which I absolutely LOVE! I bought the Rose Gold color. I didn't want to cover up this beautiful phone with a solid color case. I went with this clear case and I am more the pleased. It does a good job protecting it. I also got the glass screen protector. You can't go wrong with this case.
Jasmine Curtis
Jul 19, 2016 7:59:30 PM
Best Case I Used Ever
I love this case! It is sleek and small, not bulky at all, yet I still feel confident that it will protect my phone if (more like when) I drop it. This, with a nice screen protector, and I'm loving my new iPhone, without worrying about it getting broken.
Write Your Own Review