Sports Wear and Equipment
Features & Highlights
Why you should buy this product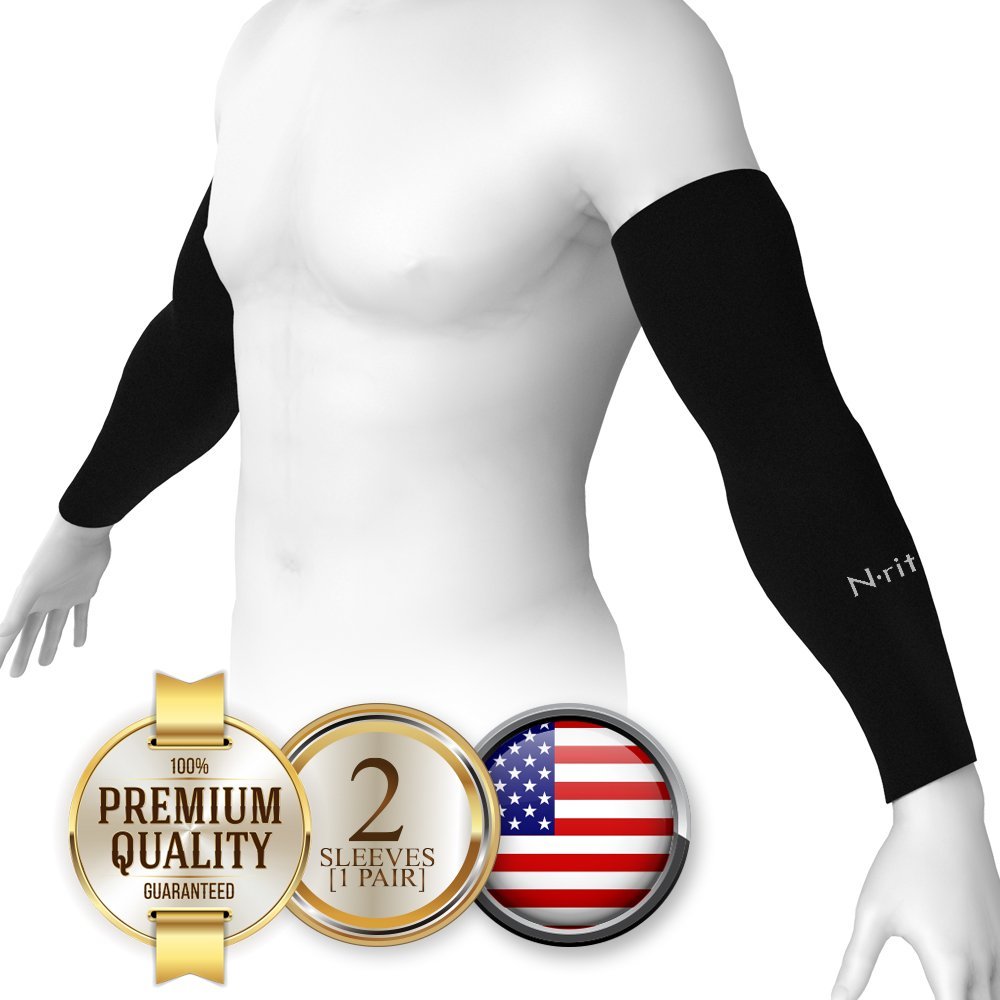 N-Rit Tube 9 Coolet 2 Cooling Compression Sports Arm Sleeve [Black] w/ 99% UV Protection for Outdoor Activities (Golf Training Cycling etc)
This Cooling Compression Sports Arm Sleeve is the perfect accessory for golfing, sports training, racing, biking, weightlifting, injury recovery, and muscle recovery. Its compression technology reduces muscle damage and minimizes muscle fatigue/soreness. Boost performance with increased circulation and speed up recovery at the same time with this premium Cooling Compression sports arm sleeve!
Product Features:
• Compression technology allows for improved muscle recovery and reduces fatigue/soreness
• Cool-X Technology keeps the arm cool and dry quickly
• Protect your arms: UPF 50+ sun protection provides 99% UV protection so you don't need to worry about sun damage
• High quality fabric is soft, lightweight, and absorbs sweat/moisture rapidly, allowing you to keep cool in the heat
• Material: 80% Nylon, 13% Polyurethane, 7% Polyester
• One Size Fits Most
Suitable For:
- Golf
- Basketball
- Baseball/ Softball/ Cricket
- Runners/ Joggers/ Crosscountry Runners /Marathon Runners
- Weightlifters
- Athletes
- Cyclists / Motorcylists
- Gym Workouts/ Cross Training
- Fishing
- Tennis
- Hiking/ Trekking
- Volleyball/ Racquetball
- Truck drivers
- Driving to work
- Those out in the sun
- Any activities where you need to cool your arms, boost muscle performance, and speed recovery
High Performance Fabric - Aqua X technology keeps you cool, and protects your arm from harmful UV rays (UPF : 50+)
Proven Compression Technology - Actively supports your muscles tight; offers great forearm protection & minimizes injury
Flat Lock Seams Stitching - Seamless knit structure allows flexible mobility
Anti Odor & Anti Itch Material - Pulls moisture away from the skin and dries quickly; comfortable even with longer use
Material : Aqua X (84% Nylon, 14% Polyurethan, 2% Polyester) Fits most junior to adult (15")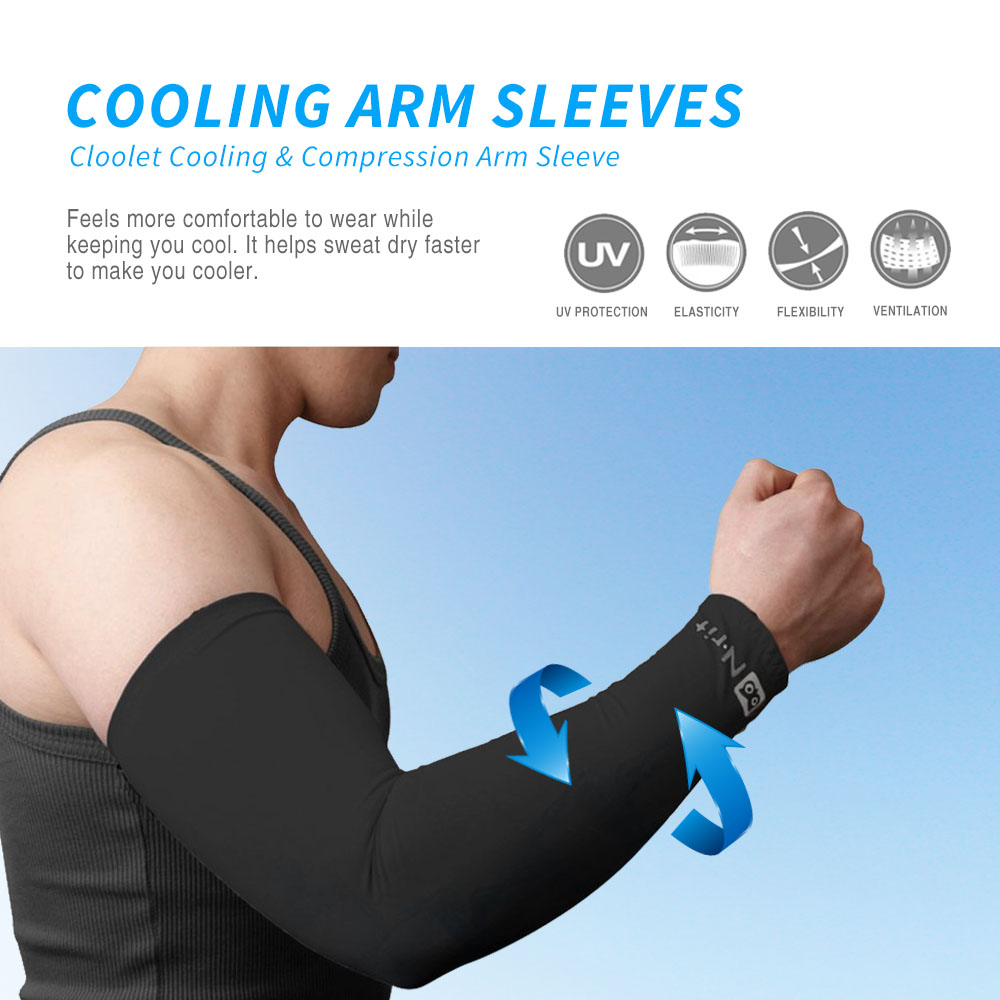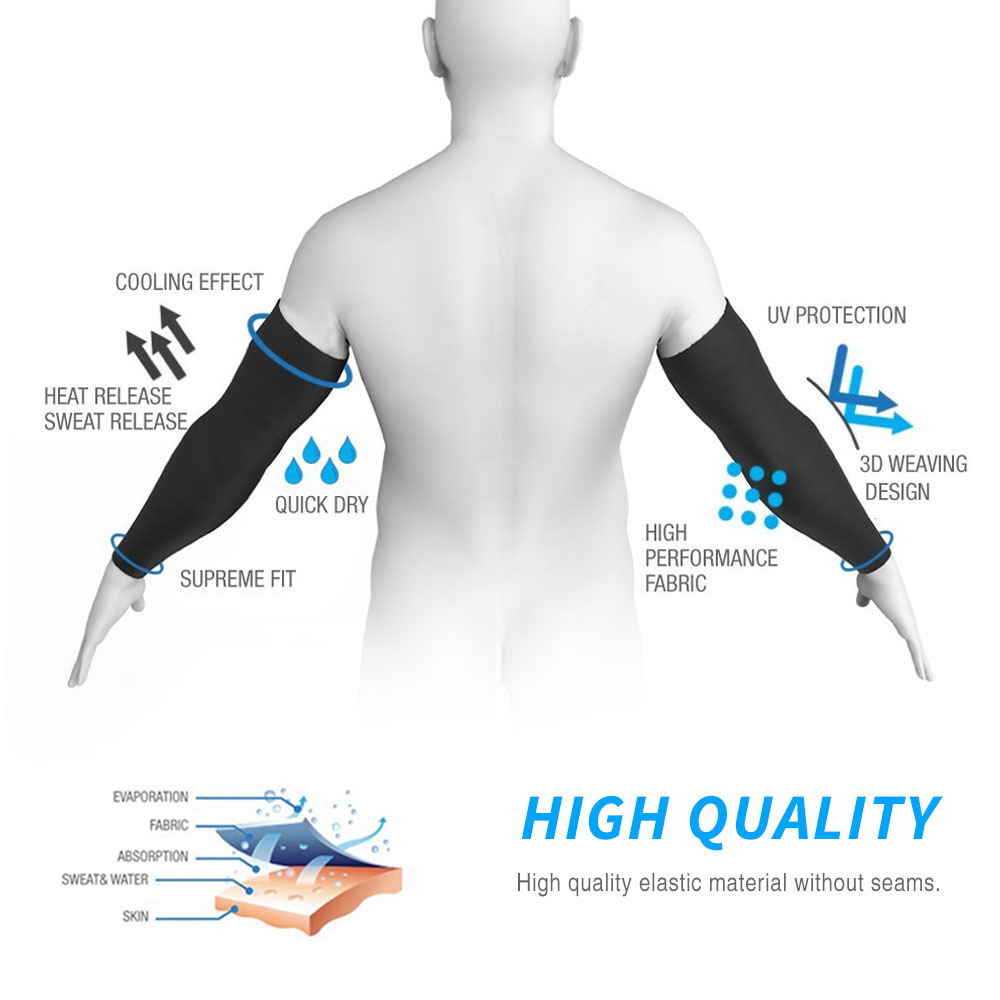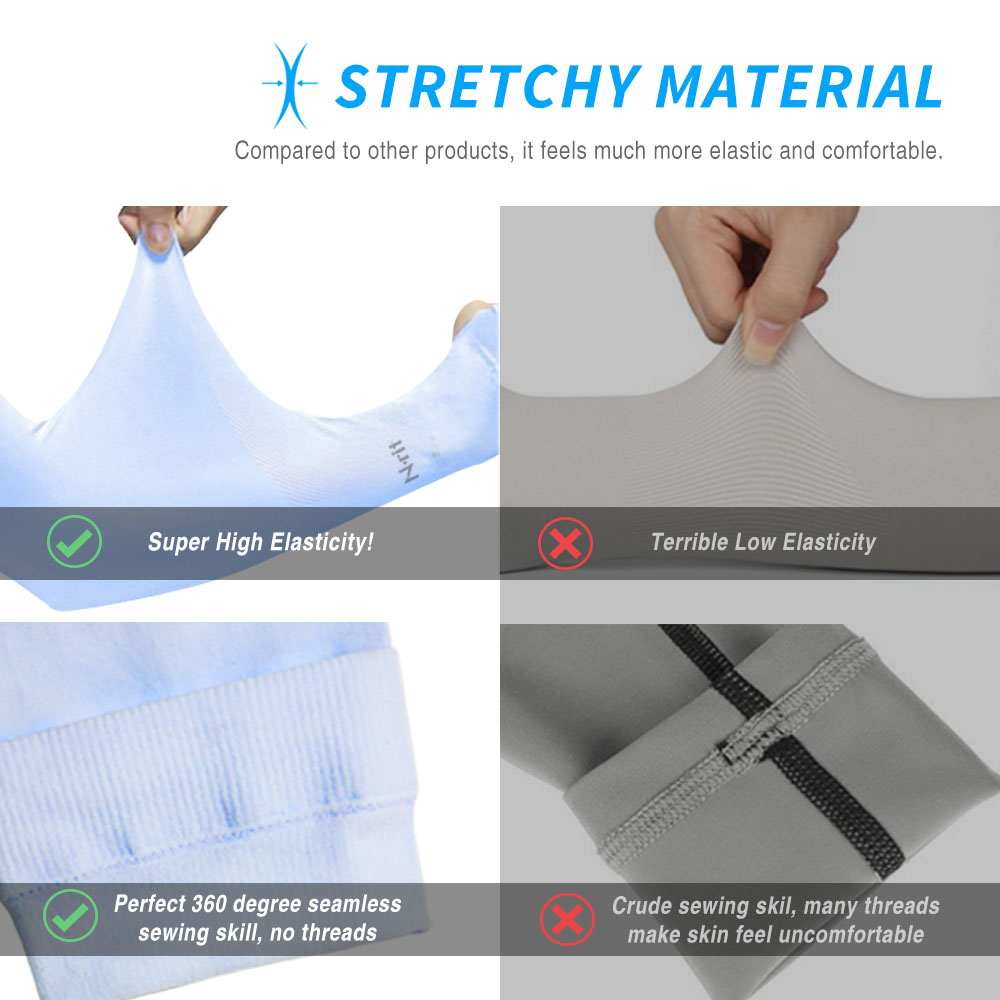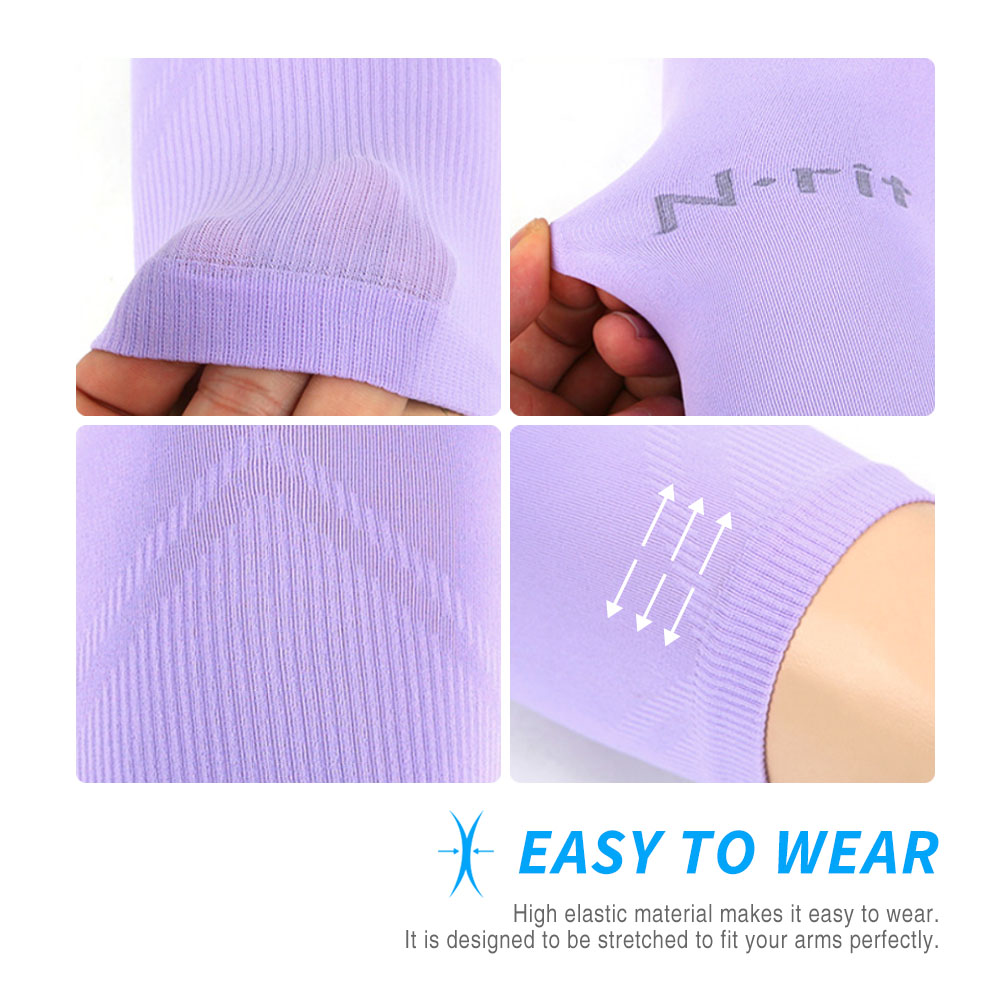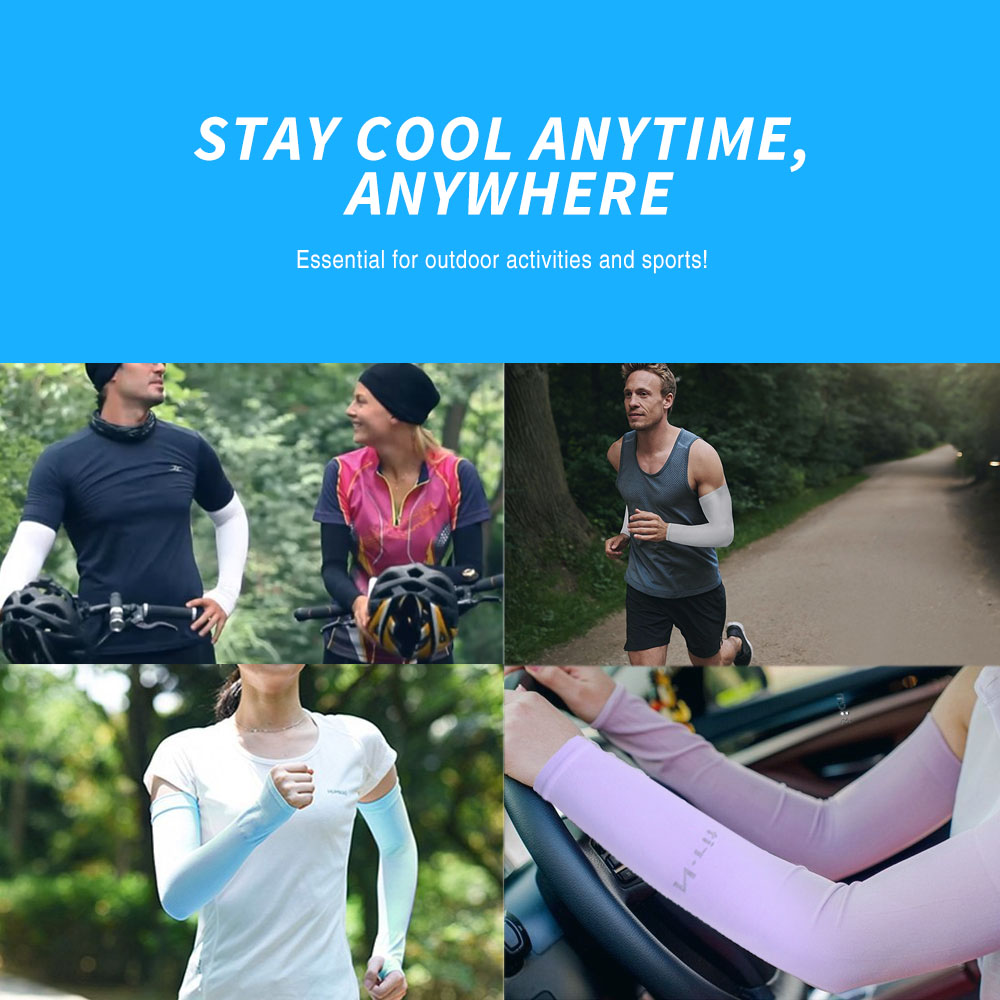 You Might Also Be Interested
Customers Who Viewed This Item Also View
Customer Reviews
Marlene Moore
Mar 27, 2019 5:27:55 PM
provides enough protection
Exactly what i was looking for! My arm skin is very thin and the slightest bump can tear it and cause it to bleed. I needed something for extra protection. Glad have found these, it provides enough protection.
Arnold Cornish
Oct 14, 2018 8:11:26 PM
provides excellent protection
They provide excellent sun protection and are extremely comfortable to wear. I use them when I play golf. They are much better to wear playing golf than a long sleeves shirt.
Ruth Kelly
Feb 25, 2018 10:38:21 PM
perfect for sun protection
Perfect for sun protection. These sleeves are top quality for the price point and they are extremely breathable and comfortable to wear. Great for 2 pack!
Autumn
Jul 21, 2016 8:16:35 PM
Great sun protection and wash up great!
I purchased these arm protectors for my husband for when he does yard work. We live in Florida, so sun protection is important. He really loves them; he says they are very absorbent of sweat, and he loves not having to use sunscreen on his arms! I have found that they wash up great in the laundry. I use cold water and hang to dry. We can highly recommend this product!
DylanTorres
Jul 20, 2016 10:30:36 PM
The Cooling Effect!!
I bought these sleeves because I wasn't sure if I would be comfortable wearing just sleeves under my t-shirt. Long story short, I've used these for hiking and they work great. My hands didn't go numb after walking/ jogging for over an hour and a half. I didn't believe in the cooling effect but having wore them out in the SoCal summer sun I can honestly say you do feel a cooling sensation. I would definitely hand wash these.
Michael White
Jul 14, 2016 8:33:00 PM
Compression sleeve
This is a very comfortable sleeve, both in terms of fit as well as fabric. It has just the right amount of compression and flexibility that I need. i ordered this as a recommendation from my therapist to control complex regional pain disorder in my right arm and hand. Wearing a compression sleeve during exercise or activity that triggers the pain syndrome should mitigate these episodes without resorting to medication. The only possible point of discomfort is the band at the top of the sleeve, designed to keep the sleeve from slipping or rolling. When pulled up to the correct point on the upper arm, it is snug but not uncomfortable.
Write Your Own Review