Features & Highlights
Why you should buy this product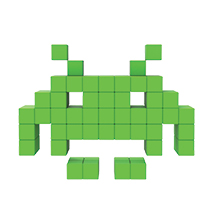 Geek's Reviewed
If you are in need of a universal battery charger to charge your phone batteries, we have the right one just for you! The Universal Battery Charger w/ LCD Screen is lightweight and very easy to use. The LCD screen gives you a status on your battery when it is charging and will also tell you when it's done!
RED SHIELD Universal Battery Charger with Intelligent LCD Indicator Display & USB Output Port for Charging Smartphones. Suitable for 3.6V~3.7V Lithium-Ion Cell Phone & Camera Batteries. Auto Shut-Off.
Do you have a cell phone or a camera that always die too early in the day? With our universal battery charger, you can carry this around with extra batteries (if you don't like the downtime) to help get through your day. It also has a USB output port so that you can also charge your smartphone conveniently. It plugs to the wall outlet and will work for most cell phone and camera batteries (Li-Ion 3.6V ~ 3.7V). The clip will help battery stay in place, so you don't have to worry about it sliding or falling out. Auto polarity detection and auto shut off features makes it convenient to charge your battery while preventing it from overcharging. The easy to read intelligent LCD indicator screen shows the charging process of your cell phone or camera battery with 4 bars, each showing approximately 25% charged. The charger is compatible with most cell phones: Samsung, LG, HTC, Nokia, Motorola, etc. as long as they have removable batteries.
LCD display shows charging battery symbol during recharging
Easy to use: insert battery, line up the clips with the battery pins, and plug in!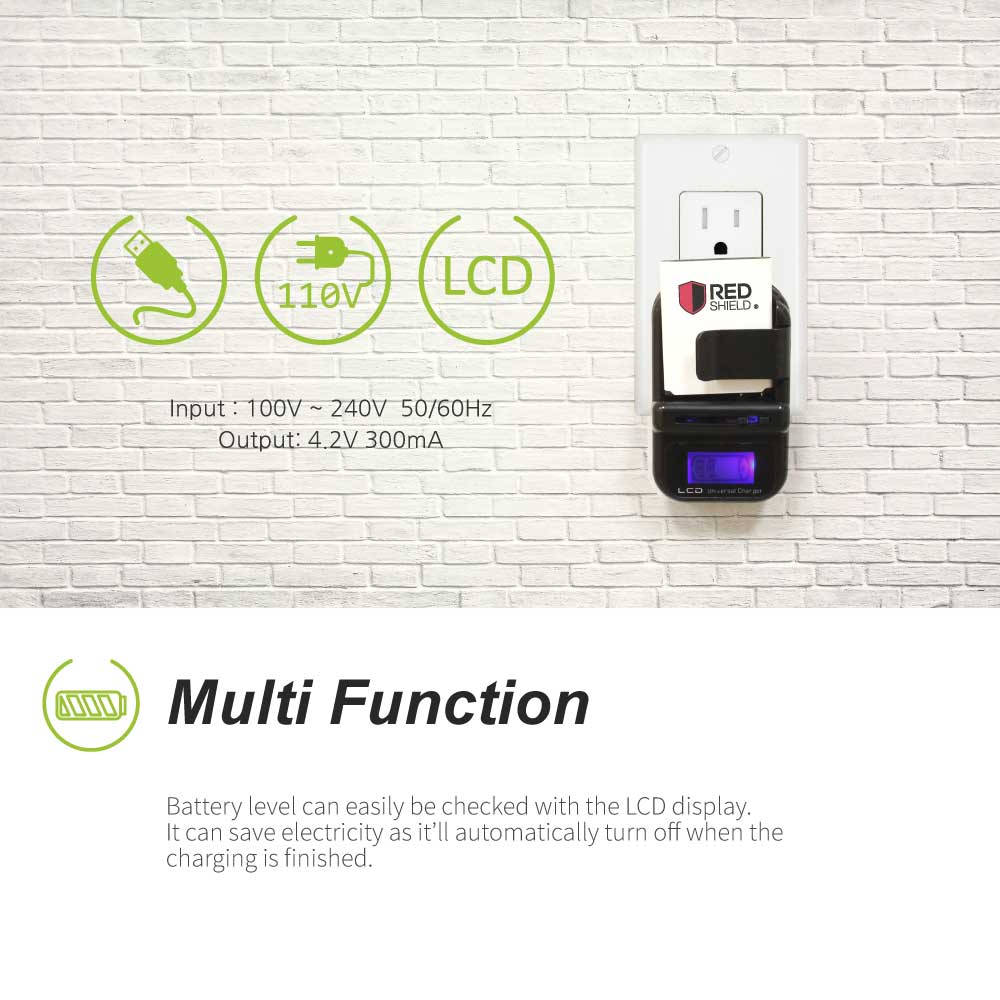 Wall outlet adapter for 110-240V AC outlets (standard US outlets)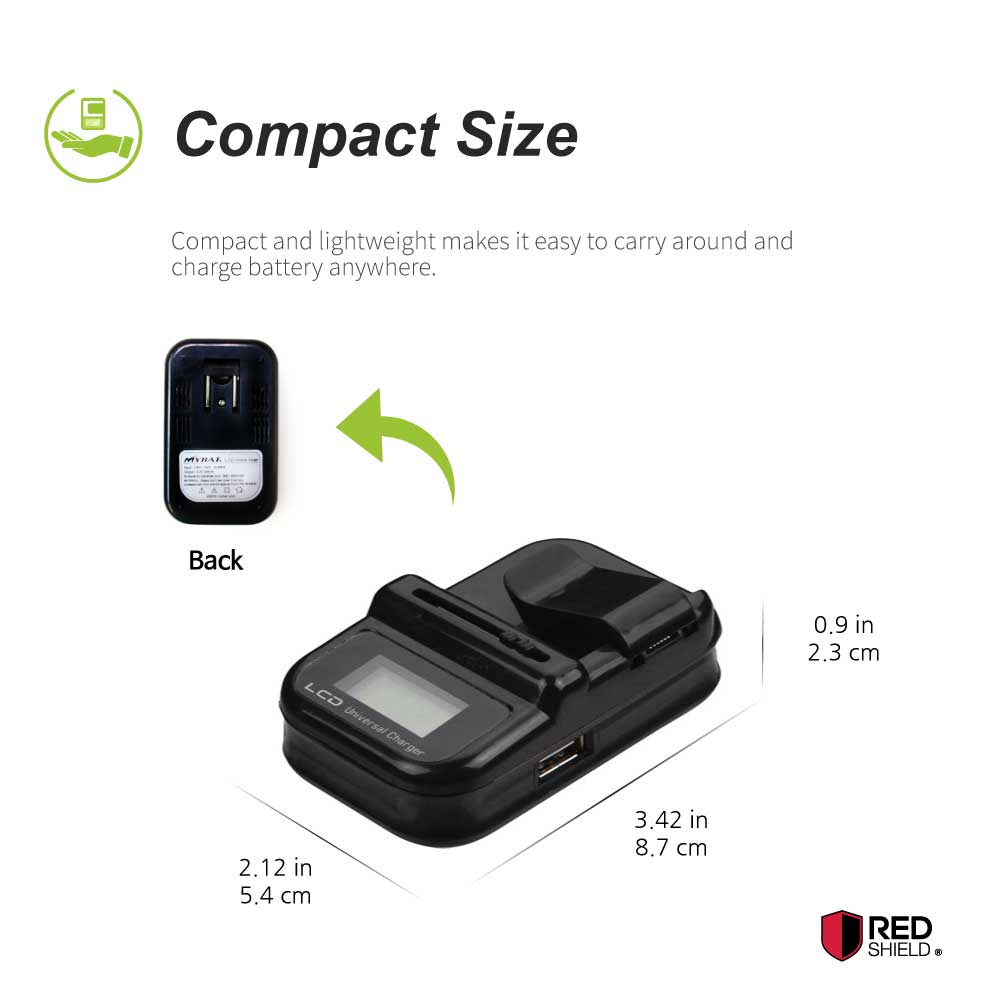 You Might Also Be Interested
Customers Who Viewed This Item Also View
Customer Reviews
Michelle Douglas
Apr 9, 2019 7:43:06 PM
well worth buying
A great way to charge an extra battery for backup. This charger will charge any flat battery. The light up screen tells you the status of your charging. Well worth buying!
Liam Blake
Feb 12, 2019 9:37:50 PM
great way to charge my battery
Greatest invention ever! A great way to charge an extra batterry for backup and this helped out so much. Very handy and the light up screen tells the status of your charging.

Frank Alsop
Feb 12, 2019 9:36:12 PM
hold my battery securely
Starter using this battery charger right away. It made of good workmanship and holds the battery securely. Love the light up feature which shows when it is fully charged.

Eric Mathi
Dec 29, 2018 10:02:43 PM
great extra battery back up
Extremely simple too use and did exactly what it was supposed to in a short period of time. This is a great way to charge an extra battery for backup.
Joey Miller
Dec 19, 2018 10:42:31 PM
great product for the price
Plug and play out of the box. Just plug it in and put your batteries in and this charger figures out what your batteries need. Great product for the price!

Noah Howard
Dec 11, 2018 10:17:00 PM
very happy customer
Easy to use and convenient small-size charger. It charges quickly and I like that it will let you know when they are fully charged. Very happy!
Keith Graham
Aug 8, 2018 11:12:41 PM
it's pretty easy to use
So far so good! I love the ability to set it to charge the batteries more quickly when they're needed. It's pretty easy to use!
Anthony Cameron
Jun 25, 2018 12:11:10 AM
works like a charm
Works like a charm and saved me from spending hundred of dollars on a replacement hotspot. I simply charge the battery with the charger. Very useful and affordable.
Kate Lambert
Jun 6, 2018 12:12:21 AM
works well
Works very well! Charges battery as stated with LED display to indicate a level of charge. Extremely inexpensive and this charger saved us from having to update cell phone before the plan expired.
Arthur Hudson
Apr 25, 2018 11:03:58 PM
well worth it
Well worth it! Saved my phone's battery life when it started refusing to connect to a charging port. Easy to use and very reliable!
Mel Langdon
Mar 27, 2018 2:27:49 AM
great way to charge an extra battery
Great way to charge an extra battery for backup. This charger will charge any flat battery. The light up screen tells you the status of your charging. Handy little item to have around. And at under $4 it's well worth it.
Leonard Gibson
Dec 5, 2017 7:58:35 PM
very happy
I am very happy with this purchase, I keep an extra back up battery charger for my phone in my camera pack and have used this to save my day of photography. Perfect!
Benjamin Alsop
Aug 30, 2017 8:39:46 PM
best invention ever
Best invention ever! Works great on the go, its quick charges and great LCD display. This battery charges is great, accurate and it serves many functions.
Leaf Lover
Nov 21, 2015 7:42:28 PM
Great!
This is an excellent, inexpensive charger! Does what it says. My phone goes through batteries like a hot knife through butter so I tried one of these. Liked it so much I got another one. Now I've always got a charged battery on hand.
cap
Oct 18, 2015 1:04:15 PM
Good idea
I like this item because I don't have to carry so many chargers when I travel. 4 stars was because I had to add a rubber band around the small battery so it would stay in contact with the charging pins.
YSQR
Aug 8, 2015 8:05:14 PM
Pretty Good, useful
The price is up $2 since about a year ago, from 4.99 to 6.99. That's a bit much, percentage-wise. I believe the quality is down, too - the new ones have a weaker clip & flimsy feel. Having said that, these chargers are very useful - a sensible solution at a reasonable price.
Gene001
Jul 19, 2015 2:38:57 PM
Good
Clip is not that strong, takes long time to charge but overall does its job with great lcd readout.
Nikka
May 14, 2015 1:13:39 AM
Great product
Works great but takes too long to charge my battery, but that's to be expected. It works very well and for the price this was a good deal.
charisa
May 13, 2015 1:34:55 AM
lifesaver
This charger makes me able to keep a fully charged backup battery in my purse at all times. Inexpensive, fast shipping and durable. If you have a need for it don't hesitate to get one!
James
Sep 14, 2014 11:29:20 PM
Very Useful Charger!
This is great! I love that this has a USB port. I can either charge just my Blackberry battery itself, or while still in the phone.
Jane
Nov 12, 2012 2:27:01 AM
Battery Charger - Cell Phone
This battery charger is easy to use. The LCD screen lets you know when it is charged.

Pros:
Easy to use.

Cons:
You have to take the phone apart to change out the battery.
Ray
Nov 11, 2012 11:32:47 PM
Works great!
This universal charger worked great right out of the box. My daughters phone would no longer charge the battery using the phone port and we were not prepared to purchase another phone. This charger solved the problem. We also purchased a second battery so that she can charge one and use the other. So glad to have it!

Pros:
Easy to use
Visual charge indicator

Cons:
nothing to dislike!
Ester
Oct 3, 2012 3:56:34 AM
Very helpful
This item was very useful. We ordered one and we decided we needed one more. It comes in handy for our family.

Pros:
easy to use, small,
Anthony
Sep 22, 2012 7:29:53 AM
very good
works good . second one owned
Jon
Sep 8, 2012 4:44:22 AM
Simple, inexpensive cell charger
This is my second order for this charger. It works great, but is a little fragile. The first one broke after a couple months usage. It's a very cost effective solution to a problem I've had trying to keep my android phone charged.

Pros:
Simple, easy to use and cost effective

Cons:
fragile
Sue
Aug 23, 2012 5:37:02 AM
Excellent
Exactly what I was looking for. Took my cell phone batteries and charged them perfectly. Phone worked fine, but must have had some damage to the charger connector. This solved the problem without having to purchase a new phone!

Pros:
Everything

Cons:
Nothing
Carey V
Aug 21, 2012 4:03:20 PM
Good product (:
Product did as claimed .. I have an Samsung Galaxy Prevail .. Happy with the charger, very simple and very easy to use .. Only wish that it didn't take as long as it does to charge ..

Pros:
no need for cords (:

Cons:
charging time
RR
Jul 11, 2012 11:34:41 PM
Worked with my Samsung battery
After reading a few other reviews I was concerned that the charger may not work with my Samsung Galaxy S battery. It works just fine. The charger works as advertised. Price was great and it arrived quickly after ordering.

Pros:
Price. It works.

Cons:
Nothing.
Mike
Jun 15, 2012 4:29:08 PM
Nice charger
A fairly solid charger with reasonable quality. Good for phones with marginal connectors that don't charge well. I rotate between two batteries and charge overnight. Good deal for batteries with side contacts.

Pros:
LCD is nice, clearly shows correct hookup
Warren
Jan 14, 2012 11:47:05 AM
All that was advertised
Very easy to use and screen makes it simple to see charging level

Pros:
Screen and clamp

Cons:
Having to choose positive and negative pins
Gerry
Dec 11, 2011 9:46:06 PM
does all
Seems to work fine with both cell phone batteries and a camera battery.

Pros:
Ease of use.

Cons:
Lack of instructions particularly regarding polarity.
Deb
Dec 8, 2011 7:21:34 AM
My Significant Other bought one from a different source ---
It is EXACTLY the same item and works very well. I haven't used mine yet because the second battery I bought on eBay has not arrived yet. >:( He got his for a bit cheaper, but that is probably because it is lime green and no one wanted that.

AccessoryGeeks got my unit to me in record time (unlike my battery from CellBatt on eBay). I am anxious to use it!

AccessoryGeeks is a rockin' outfit and I will use them again in the future!

Pros:
- Easy to use
- It works!

Cons:
- Can't think of a thing
Geek's Staff
Nov 8, 2011 5:59:26 AM
Geek's Staff Review
Hey guys John here with accessorygeeks.com. And you may be wondering why I
Cherrie
Oct 24, 2011 1:46:57 AM
Great little charger. :)
The first few times I tried to use it, it took forever to charge & never finished. Then I just made sure the contacts met perfectly & was plugged into the outlet facing down. Has been working great since! Think it was coming out of outlet a bit when heavy end was on top. Plus battery contacts need to be wiggled a little for best connection when putting in battery.

Pros:
Small size
Easy to move to any outlet
Easy to insert battery
Ben
Jul 23, 2011 2:54:20 PM
Works great as long as your contact points are on the side
Easy ordering! Fast shipping! (2 days in my hands to Wisconsin!) Works great!

I gave 5 stars cause it does work well - just needs to be stated that it only works on side contacts!

I am ordering the clip style with the contact points on top also - hope it works as good as this one! I liked the lcd read out on this one.

Pros:
- Easy to use
- Works exactly as the video shows

Cons:
- ONLY WORKS WITH CONTACTS ON THE SIDES OF THE BATTERY!!! (I did some modifications and used some alligator leads)

- Slow charging but this was stated elsewhere - but it works great!
Ernie
May 16, 2011 7:51:50 AM
Does a great job
Nice little charger, just not super fast. But I like the features it has, like folding plug and clip to hold battery, also the LCD display is handy.
Donald Seward
May 5, 2011 4:38:02 AM
Very Happy with item and service
Thanks,Great transaction
Susan
Apr 16, 2011 5:24:45 PM
Universal Battery Charger
I bought a similar charger from a different store and id didn't really look right so I was afraid to use it. So i bought this one and it works great.

Pros:
lcd display
HW
Apr 13, 2011 3:39:54 AM
Fit my Cell Phone Needs
After some research online I found this charger for the best price on this site. The charger arrive in quickly and in good condition. I am pleased with the service and my purchase from Accessorygeeks.com.
Kathleen
Apr 4, 2011 5:24:55 AM
Great value
This is my third charger and I am really happy with it. It is much less flimsy and fragile than the previous 2 which I managed to break pretty quickly, and doesn't seem to take as long to charge. (The 1st 2 were a lot more expensive too)!

Pros:
Sturdy and easy to position and great price
Tim
Apr 1, 2011 5:10:31 AM
Excellent
It looked so simple on arrival that I was concerned until I plugged it in and charged my two batteries.
It looks like it would hold just about anything and I could not be more pleased

Pros:
So easy to use

Cons:
doesn't apply
Luckey Nowlin
Mar 27, 2011 9:26:44 AM
A money saver that works great!
This product is a gem! Works with most any cell phone battery. Easy to set the pins to the correct connection point on the battery and just plug it in. I bought one for home and one for work. Am never without a spare fully charged battery. Thanks Accessory Geeks!

Pros:
Simple and truly universal!

Cons:
Nothing!
Rich
Mar 26, 2011 3:41:39 PM
Simple, efficient, and a great value.
This flexible little charger has been working perfectly for me. I rotate my (two) batteries as needed, always having a charged battery handy.

Pros:
Reasonably priced.

Cons:
Nothing
Iluvrhv4s
Mar 23, 2011 1:56:56 PM
Nice Charger - Easy to use.
I purchased several types of battery chargers when the USB charger slot in my phone had several pins bent. I figured I would use an external charger with extra batteries and swap them as required. Of the chargers I bought, this one is easy to use, works well and has a great method of holding in the battery.

Pros:
Easy to use. Good battery clamp.

Cons:
Takes a while to charge the battery. Seeing that I use a battery rotation system, this does not effect my use.
jessie aust
Mar 19, 2011 9:47:41 PM
Ken
Mar 14, 2011 11:53:14 AM
Best Yet!!
Best universal charger to date, easy to use, works excellent!

Pros:
Small, easy to use, status indicator.
Andrea Bearden-Kuhns
Mar 12, 2011 3:23:15 AM
Great Gadget!
Having a Virgin Mobile Mantra 340, we needed an extra measure against low or no, battery. This little gem takes care of that problem at a great price.

Pros:
Ease of use, adaptability to other battery sizes.

Cons:
Nothing
Droid user
Mar 6, 2011 5:38:14 AM
Works just as advertised
Directions were clear. The charger worrked as advertised. This is not a quick charger but works fine. Good value.

Pros:
That it works as advertised
Chris
Mar 2, 2011 9:43:27 AM
WORKS GREAT!
I used this with my original factory HTC battery for my HD7 phone.

The charger is very easy to use.
Good one Accessory Geeks!

Pros:
Easy to use.

Cons:
sometimes batteries take longer than 3 hours for a full charge.
tim
Feb 28, 2011 9:07:45 AM
great bargain, but a slow charge
for the money, this charger can't be beat! i use it for my spare phone battery. it works great, but it is a bit slow to fully charge the battery, then it recommends leaving the fully charged battery on the charger for a couple extra hours for a really full charge. i'd buy it again.

Pros:
price..and it charges most batteries

Cons:
takes a long time to charge the battery
David
Feb 27, 2011 8:58:47 AM
Excellent product
The charger is exactly as described, and works perfectly. I got free shipping on the item and expected it to arrive at the end of the "two to eight business days", and I was pleasantly surprised when it arrived after just ONE business day!

Pros:
Price
Performance
Ease of use
Easy to read display
dewey
Feb 26, 2011 12:14:26 AM
universal battery charger
very easy to use, works great so far

Pros:
ease of use

Cons:
nothing so far
Steve
Feb 8, 2011 12:49:55 PM
Huh?
Charger works as described!

Pros:
Same.

Cons:
No cons.
Write Your Own Review